Welcome to my Affiliate Recruiter Pro 2.0 review!
If you heard about Affiliate Recruiter Pro 2.0 from your friends or on affiliate network sites like Clickbank or clickBetter, and you are wondering if it is a legit program or a scam, you have come to the right place.
Throughout this review, I will show you what Affiliate Recruiter Pro 2.0 is and how it works.
And I will also go through its pros and cons and finally, I will give you my final point of view.
Affiliate Recruiter Pro 2.0 review summary
Product Name: Affiliate Recruiter Pro 2.0
Product Creator: Hiden
Launch Date: 22nd October 2019
Product link: howtogetaffiliates.online
Product Type: DFY Affiliate Recruiter Funnel
Price: $97
SOW YOUR SEED RATING: 1/10
SCAM OR LEGIT?: SCAM
Do I Recommended this: No
Tired of scams? Check out my #1 money-making program to learn how to build your own long-term online business.
What is Affiliate Recruiter Pro 2.0?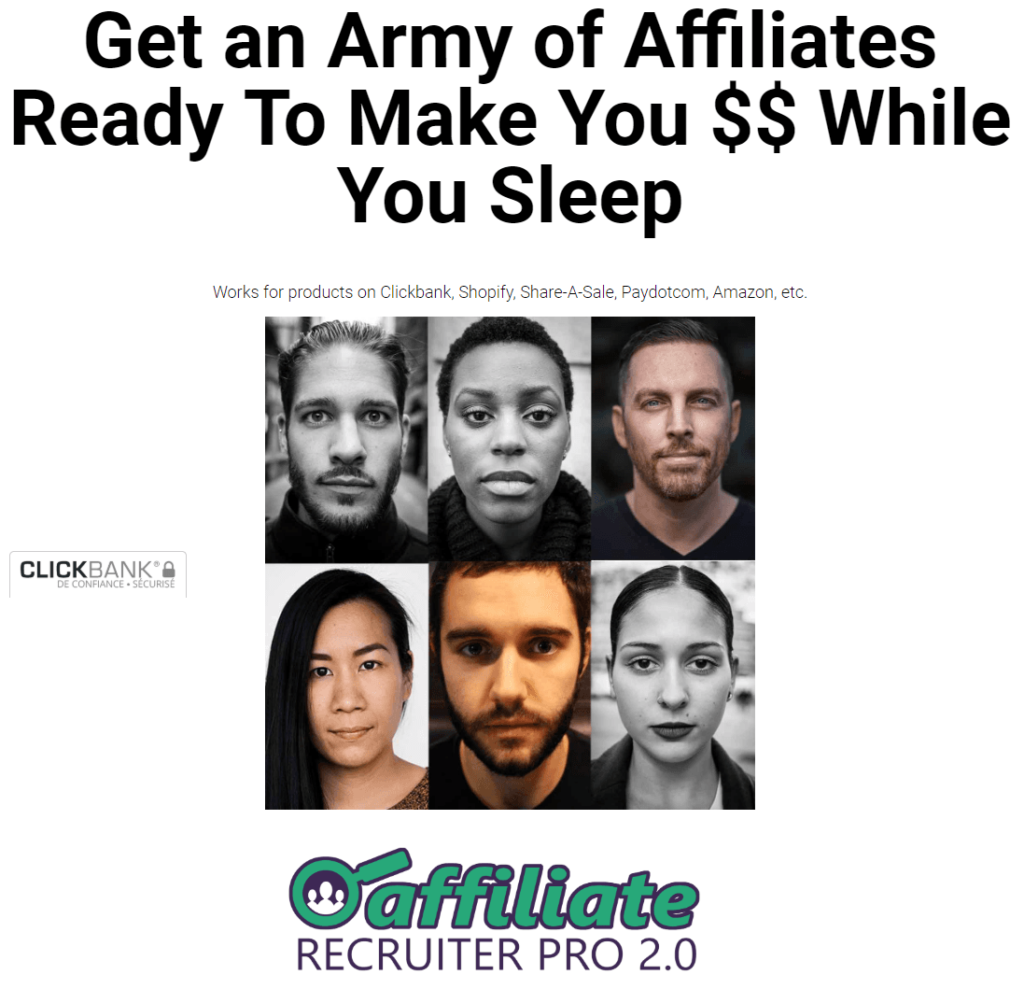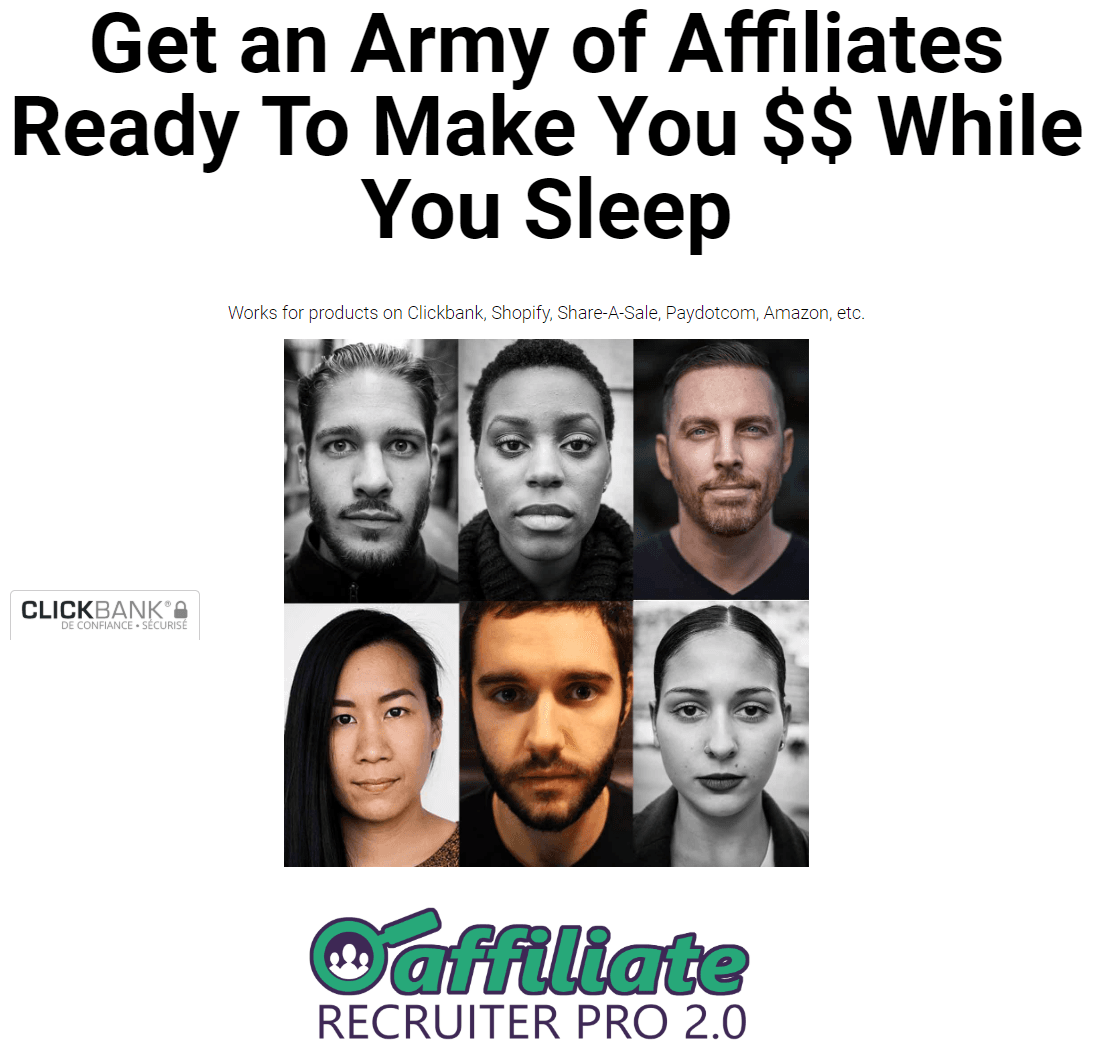 Affiliate recruiter Pro 2.0 (ARP) is software combined with some material of training designed to help online entrepreneurs who are struggling to drive traffic and sales for their products.
The folk behind this program claim they can help you recruit an army of affiliates that will promote your product and make you money while you sleep.
Sound good?
However, I am skeptical about such a claim. For your information, the product that claims to help you recruit quality affiliates who will work for you while you sleep is on ClickBank's marketplace looking for people to promote it in order to get some bucks to its owner. Isn't that paradoxical?
Affiliate Recruiter Pro 2.0 owner is certainly looking to rip off your hard-earned cash.
They can't help you recruit affiliates that will promote your products for you while you sleep as they state on their sales page. Because their presence on ClickBank is already proof, that they are struggling to find promoters.
The truth is that If you create a good product that gives value to your audience, you will not lack Affiliate Marketers to promote your product or buyers to buy it.
On the other hand, if your product is poor and does not provide value, regardless of your marketing expertise and sales strategy, you will have neither customers nor affiliates to help you promote it.
Also, read my TwentyXpro review to find out if this program can help you make money in 2021.
How does Affiliate Recruiter Pro 2.0 work?
First, you need to buy their DFY recruiter software and download it on your device.
They claim they have templates (number not determined) and all you need to do is to introduce your product name and information in the template provided, and the software will generate a message for your product promotors (affiliates).
Keep in mind they don't state clearly "sale page" but I know they mean "sale page" and perhaps it is this same software that generated their product sale page for them.
If my guess is right, I am disappointed because this software doesn't worth it. I am not a copywriter, but I have to say that this sale page isn't convincing.
Keep also in mind that it is the software which is their main product. But they also claim that they will provide training and full guidance.
On their sale page, they state they will teach you step-by-step how to find quality affiliates in your product niche that will drive a ton of traffic to your product sale page and make you passive income.
They also claim they will teach you:
what to say to your recruiter,
how to reply to their query,
and how to grow your earnings by increasing your affiliates who will send you tons of traffic and sales on autopilot.
Also, read Income School Project 24 review – an affiliate marketing course
How much does Affiliate Recruiter Pro 2.0 cost?
At the time I was writing this review about Affiliate Recruiter Pro 2.0, the price to get their program is $97.
He doesn't offer a free trial and I don't have any doubt: This price is to have you at the door. There will be additional fees to get the full program.
Is there a money-back guarantee?
Yes, there is a money-back guarantee.
They state on their sale page that it is a risk-free way to grow your business exponentially. They say they offer 60-day money guarantees.
What you need to know is that: If you buy the product on ClickBank, it is possible that if you are not satisfied with the product, you will receive a refund. This is their guarantee.
As for me, I guarantee you absolutely nothing but disappointment!
I have little experience in the field of E-business. And even a promising program that seems to be legitimate can sometimes be a scam.
Also, read my Legendary Marketer review – Scam or legit high ticket program?
Is Affiliate Recruiter Pro 2.0 et scam?
This product has been introduced on the market only one week ago and it requires audacity to say if it is a scam or not.
However, my little experience in the field of E-biz has allowed me to discover some suspicious things about Affiliate Recruiter Pro 2.0. I discovered some red flags on Affiliate Recruiter Pro 2.0 I will share with you.
It is what we will discover together in the following lines that will allow you and me to judge if it is a scam or not. Is it worth your hard-earned cash or not?
Some red flags I discovered about Affiliate Recruiter Pro 2.0
Red flag #1: lies on customers review (fake testimonials)
On the Affiliate Recruiter Pro 2.0 sales page, the creator of this product tries to convince you he has satisfied and happy customers. This sales tactic is not new on the web and it is not lacking on many landing pages. It's just a marketing strategy to get you to buy the product and no more.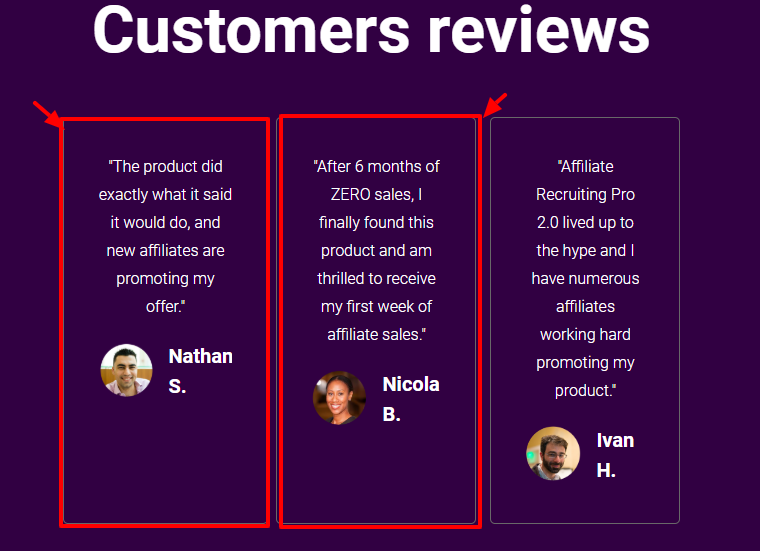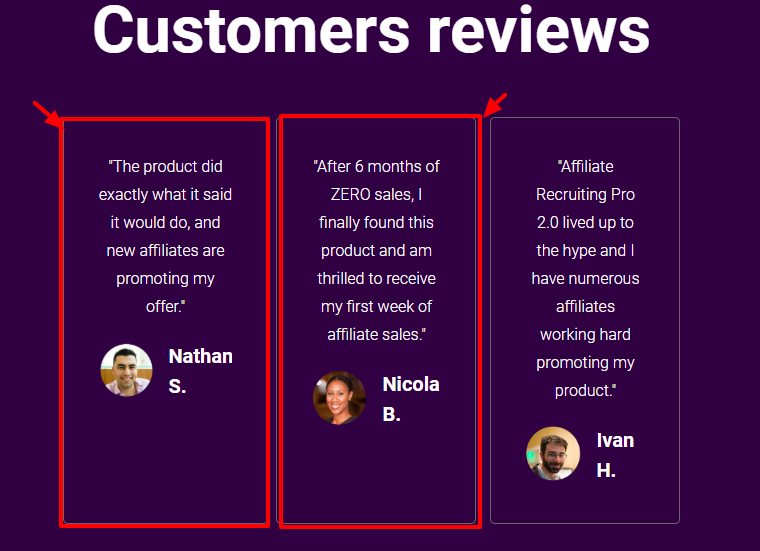 As you can see in the photo below, the first customer named Nathan S. who says that the product did exactly what it said, and he got new affiliates promoting his offer is a fake testimonial.
I founded this photo on flickr.com.
The Affiliate Recruiter Pro 2.0 owner has certainly paid for or downloaded this photo from this site to wow you. He's not a real person.

The second image they named Nicola B. and states: "After 6 months of ZERO sales, I finally found this product and am thrilled to receive my first week of affiliate sales" is a photo they downloaded on pixabay.com, a free stock image site. Again, he is not a real person, and all that is not true.
Red flag #2: The owner of this program hid his identity
Why is he hiding his identity?
People hide their identities on the web for several reasons. One of these reasons is that what they promote is not legitimate. Not wanting to be exposed, they hide their identity from people.
This way they can create other fake programs and keep scamming more people.
Are you ready to pay for a product with someone who has a veiled face? Who hides their identity from their customers?
I don't think so.
Another great review: Crowd1 review – Scam or Ponzi scheme?
Can Affiliate Recruiter Pro 2.0 make you money?
They claim that through their program, you will be able to recruit affiliates who will be ready to drive tons of visitors and sales on your product and make you earn money while you sleep.
Can this program really accomplish what it says?
My answer is no. Affiliate Recruiter Pro 2.0 can't do what it says.
Why?
1. These folk use affiliate networks to get some sales. they struggle to get affiliates and sales themselves.
If they could do what they say, he would not offer his product on an affiliate network platform like ClickBank to get affiliates promoting their products.
For me, pretending to be able to help someone in a field where you need help yourself is a utopia.
2. The fakes testimonies and lack of adequate marketing on their sales page is proof that these folk can in no way provide you with anything of value.
Affiliate Recruiter Pro 2.0 pros and cons
What is good with Affiliate Recruiter Pro 2.O
Video step by step training available
What is bad with Affiliate Recruiter Pro 2.O
Fake customers reviews – that lead me to say this is a scam,
The program can't provide what it claims.
Alternative to Affiliate Recruiter Pro 2.0
Also, read Onpassive review: Scam or legit and easy way to make money online?
If you are struggling to get traffic for your products or if you want to leverage your affiliate marketing I recommend the #1 Affiliate marketing training platform.
Whether you are a product creator, a blogger, a newbie in the affiliate marketing industry or a seasoned affiliate marketer who wants to learn how to take your business from level A to level B, this platform is what you need.
This platform trained millions of people like you and they are making a full-time income working online.
Do you want to find more information about it?
So, read my full review of Wealthy Affiliate here.
Conclusion and my final word
Affiliate Recruiter Pro 2.0 is a software combined with some training materials that claims can help you recruit an army of affiliates ready to make you money while you sleep.
But honestly, the folks behind this program can't meet their claims. Because they are themselves looking for affiliates to promote their program.
And the way they found is to put their product on ClickBank's marketplace and attach a 75% commission to their product in order to have people promoting them.
Putting your product on ClickBank is known by everyone – this is not secret. So what do these people have to teach you?
As for their software that they claim can generate a sale page automatically for your affiliates, I remain skeptical.
What's the deal? Just software that generates a sale page for your product.
Personally, I'm not ready to pay for such software.
Nowadays you can learn everything on the web with little or no money. My advice for you is that if you really want to be an expert in your field and succeed in your online business, avoid the Done-For-You (DFY) programs.
Everything can be taken away from you, but knowledge is a wealth from which no one can steal So always learn – always learn!
In my humble opinion if Affiliate Recruiter Pro 2.0 is really Pro, if it is a really good product, it should be able to stand on its two feet and face the competition in the market. It would not be on an affiliate network like ClickBank. I am not denigrating ClickBank; What I am trying to point there is that this product cannot work as its claims.
Related Posts:
E-learning Marketing System review – Is this course worth it?
Ai Marketing review – make your money work for you while you sleep?
The 30 Minute Workday review – Easy system for cash?
Be ACTION taker, SOW YOUR SEED TODAY!!
To your success!!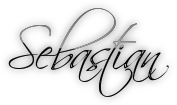 You may also like…
Welcome to my Fat Stacks review of 2023. Want to know if the Niche Site…