Welcome to my Astra Pro theme review for 2022.
If you are looking for an honest and unbiased Astra Theme review to make an informed decision or if you want to learn how this multi-purpose and fast-loading theme can help you grow your blogging business quickly, you are in the right place.
In this review of the Astra Pro theme we will delve deeper into the following points:
What is Astra Theme about?
Astra Theme features,
Astra Theme pricing,
Who is Astra for?
The pros and cons and my final points of view.
But before we get into the Astra WordPress Theme review, let me be clear with you.
This content contains affiliate links. That means if you click on one of these links and you buy a product or a service we may receive a small commission on your purchase without any extra cost to you. I can make money on any product but I only recommend products and services I use and believe will add value to your business.
Plus I am a customer of this company. That means I use their service and products myself. In this site I use Astra Pro Theme. So this review is based on my own experience and not based on research.
That being clear, let's now dive in with our Astra Pro review.
Don't have your blog live yet? Check out this post to get started with Wealthy Affiliate or this one to learn how to start a blog with Bluehost.
Astra WordPress theme review summary: company overview
Company name: Brainstorm Force
Product name: Astra Pro theme
Owners: Sujay Pawar & Abhijeet Kaldate
Website: https://wpastra.com/
SOW YOUR SEED TODAY rating: 9.8/10
Do I recommend this? Highly recommended.
What is Astra Theme about?
Brainstorm Force is the company behind this Astra WordPress theme.
It is one of the most popular, fastest-growing, and highest-rated WordPress themes today.
In fact, Astra Theme power over 1 million sites out there with a five-star rating score from over 4,936 clients when I was writing this review.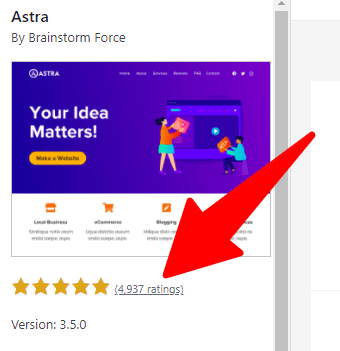 That means they are doing great.
Right?
I think so. Because when your client's database grows, it is not easy to maintain such a high rating score from clients.
But what is Astra Theme do great and why it is the popular and high rated theme?
We will cover these points in this Astra WordPress Theme review.
But before we get there, let me get one point out of the road now.
Who is Astra Theme for?
Yes, let me save your time by telling you who is Astra Theme for.
As you know there are over 58 million websites that use WordPress and all these websites don't use Astra.
Right?
So who is Astra Theme for?
Astra Theme is for those who care about performance.
Yes, if your website performance is important for you, this theme is for you as it was built with performance in mind.
It is also for those who want a WordPress theme that supports most page builder plugins such as Elementor, Gutenberg, Beaver Builder, ect without sacrificing their page speed and performance.
Astra theme is for bloggers:
who also want more customization options,
who want to access pre-made website templates they can pick and quick-start their business while making the design fit their brand needs.

They offer over 100 free template users have access and if you are starting out this features can help you speed up your website building process.
Astra Theme is also for freelancers, designers, and agencies who create websites for clients. With the Astra Agency plan, you have access to hundreds of premium pre-made websites you can pick, customize and design for your clients.
Don't want your clients to complain with you because their websites slow down?
Astra Agency is what you need.
And I think this is the best choice for those who want to give a good experience to their clients.
Why I choose Astra for all my sites and why the pro version?
First off, actually, performance is my main focus and this is for a reason: site speed is now one of the Google important ranking factors.
And since my overall goal is to drive organic traffic on my website and then make money from it, I value performance over a nice-looking site.
After all, I can make my website more attractive. But not my goal for now.
When I first started my blogging journey in 2019, my main focus is making a nice-looking website. How beautiful it looks – that was my focus and I chose OceanWP.
To be honest it is a nice-looking theme with a lot of customization options than Astra.
But where this theme fails is its performance after you have activated certain modules that enhance your site look.
Since this is not a comparison post between both themes I will keep the story short.
But I witched to Astra because I wanted a fast-loading theme. And since I installed Astra Theme, I never looked back because of its performance.
To give you an idea of what I mean, take a look at the image below.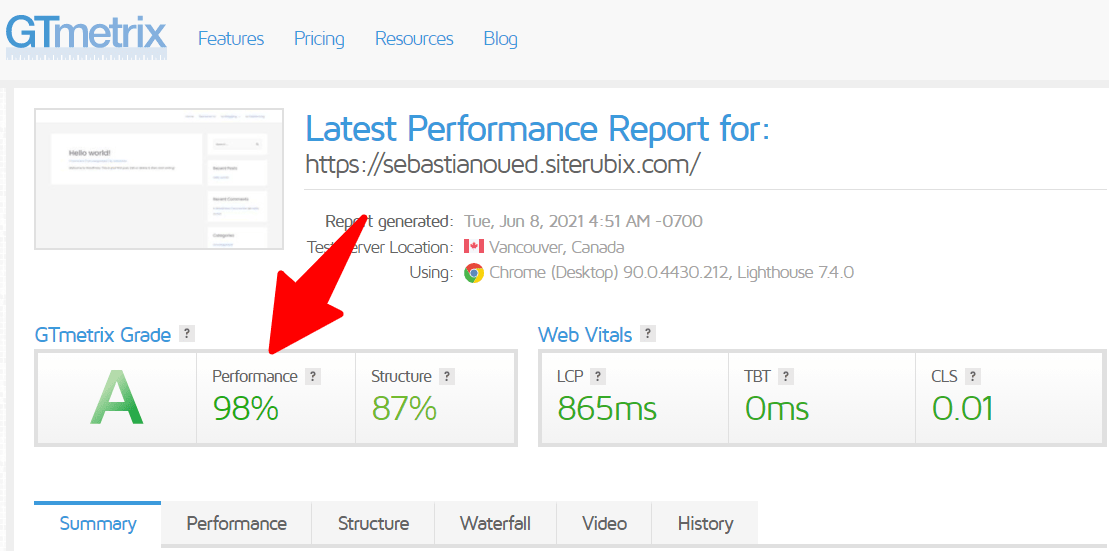 This image below is the performance of Astra free Theme on a new website without any content but 3 plugins activated such as:
Google Analytics – slow down pages
Kraken Image Optimizer,
Astra starters templates.
As you can see, despite the fact there are plugins on the site and plugins like Google Analytics that slow down pages, the site speed is still on top.
Let me activate Astra Pro on the same site.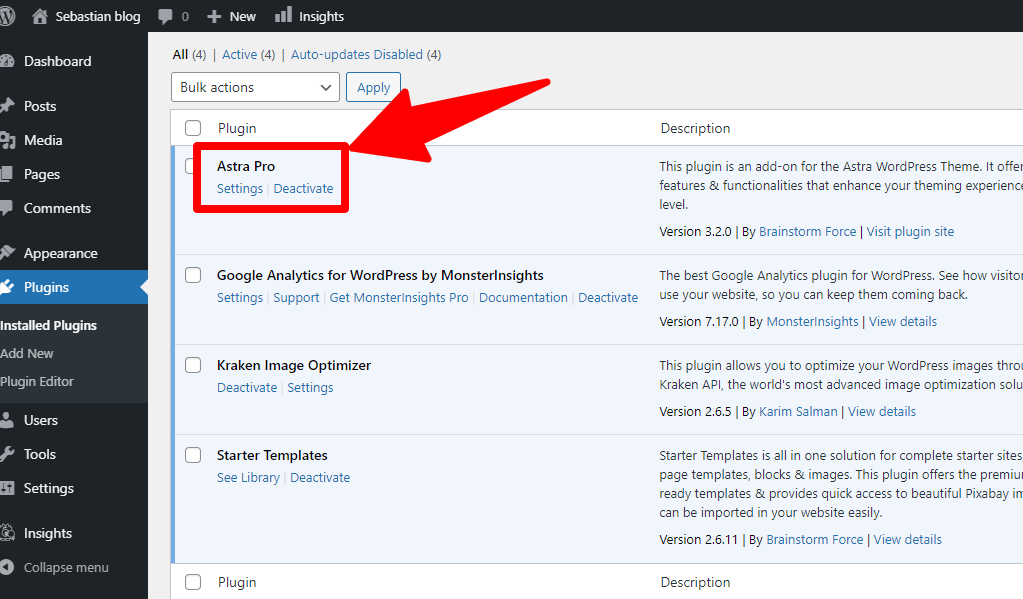 Let me test the site performance now.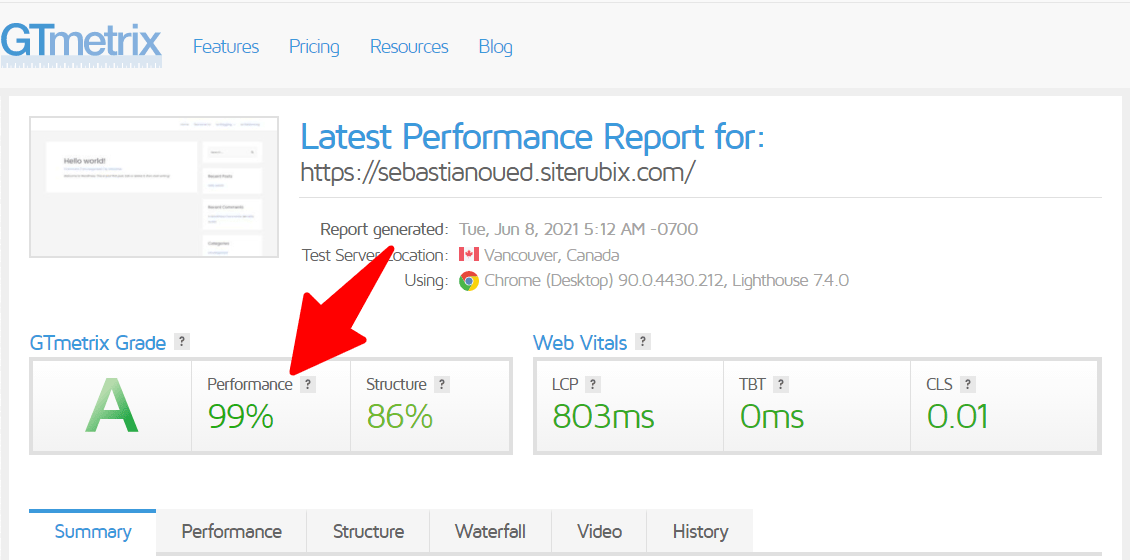 As you can the performance has been enhanced a bit. And when looking at the LCP tab, you will see the time it takes for the largest content element to load has been reduced. This is very important as core web vitals impact your site ranking.
And what is magic with Astra Pro Theme is in the next section of this review.
PS: it is important to understand that what can slow down sites are plugins, images, low-performance servers. The list goes on but these are the most important issues.
So if you have a good web host like Bluehost or Wealthy Affiliate and you size your images correctly you will still have a fast-loading site with Astra theme (even the free version).
Must read post: How to improve website load time and performance.
Astra Theme key features
In this section of my Astra Theme review, I want to show you the key features of the theme so that you can find out if on top of the performance this is a theme to consider or not.
Stunning and beautiful site templates ready to use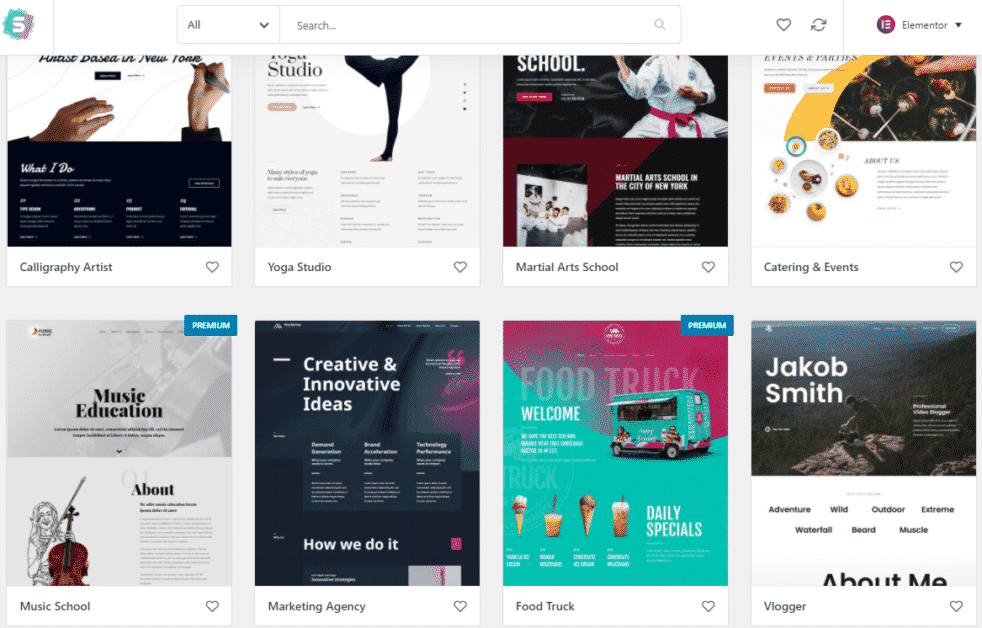 One thing that makes Astra Theme unique is its stunning and pre-made website templates you can choose and build websites such as simple blog sites, e-commerce, portfolio website, business website, etc faster and easier.
There are over 100 free starter templates to use. And no matters the type of website you want to build you will find templates that fit your need to pick and customize as you want.
Premium templates are also available and more stunning you can pick to quick start your business depending your subscription plan.
Speed is where Astra theme stand behind
I already addressed this point in the previous section of my Astra Pro theme review.
One of the Astra pro theme's key features is its performance.
With Astra pro, you can be reassured to not having slow pages (if you apply good image guidelines and have a good web host provider like Wealthy Affiliate or Bluehost).
I was facing core web vitals issues and I have been amazing with my site speed and performance when I upgraded to Astra Pro.
In fact, the pro version comes with the option to generate CSC code that enhances the site speed a bit. If you are facing CSC code issues on the google speed test, this feature can be useful.
I use also WP rocket on this website. So to give you an idea about what I mean here, I will just active this module with the same test website above.
To enable the CSC file generation, go to Appearance, then Astra options, and then look at the right side as below. Click on the "enable file generation button.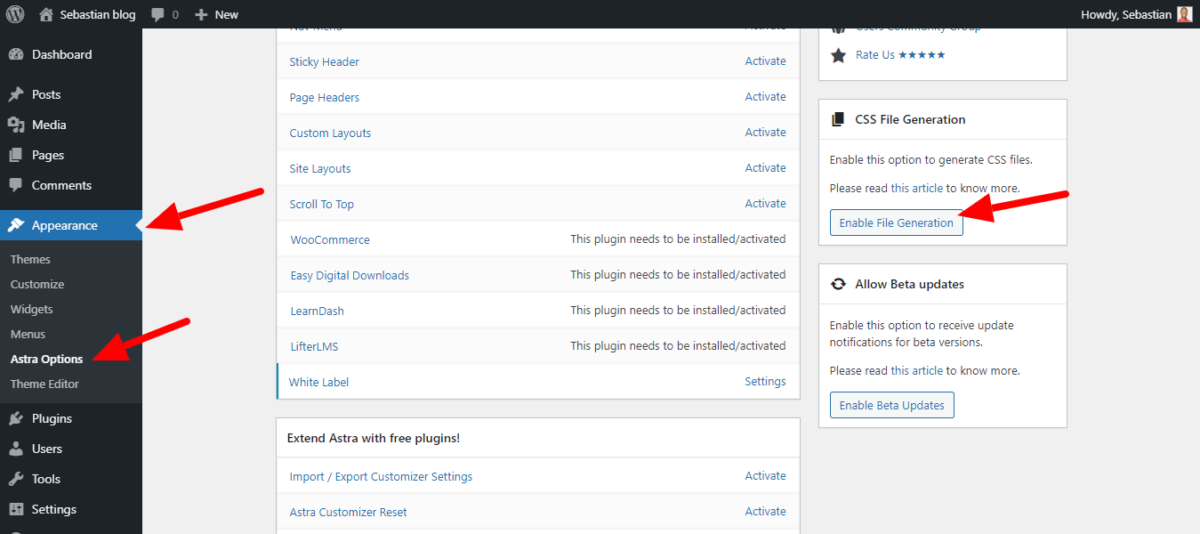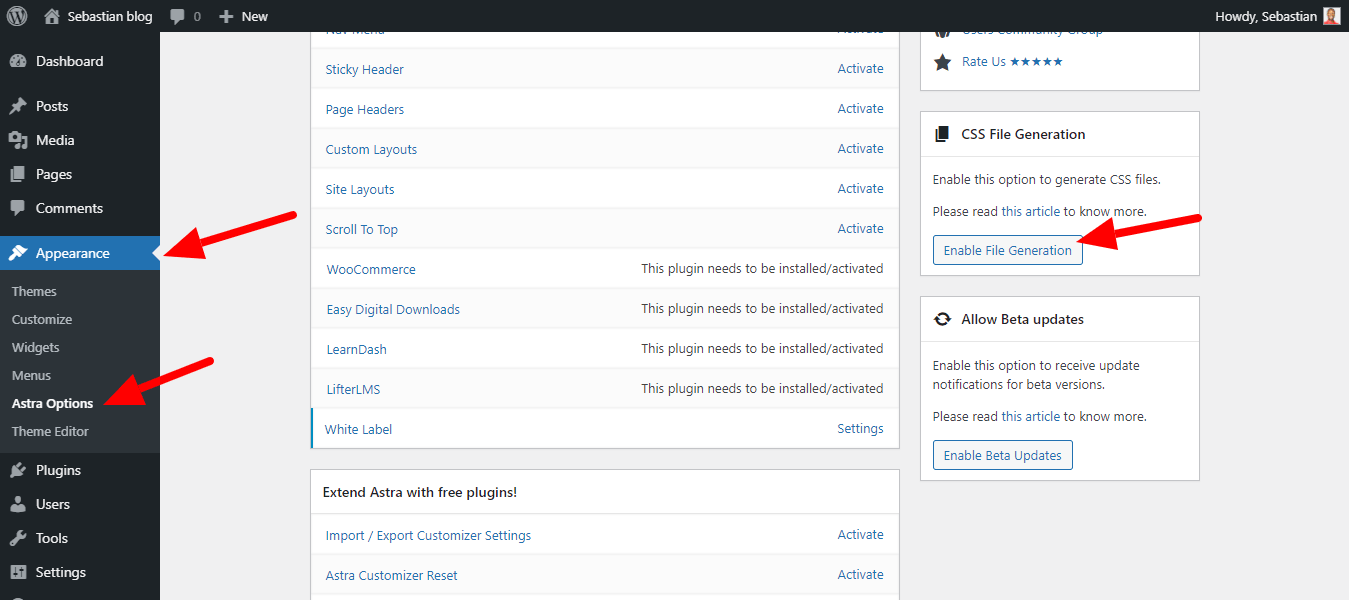 Every second is important when it comes to making your site load fast and this feature has been a good help for my site.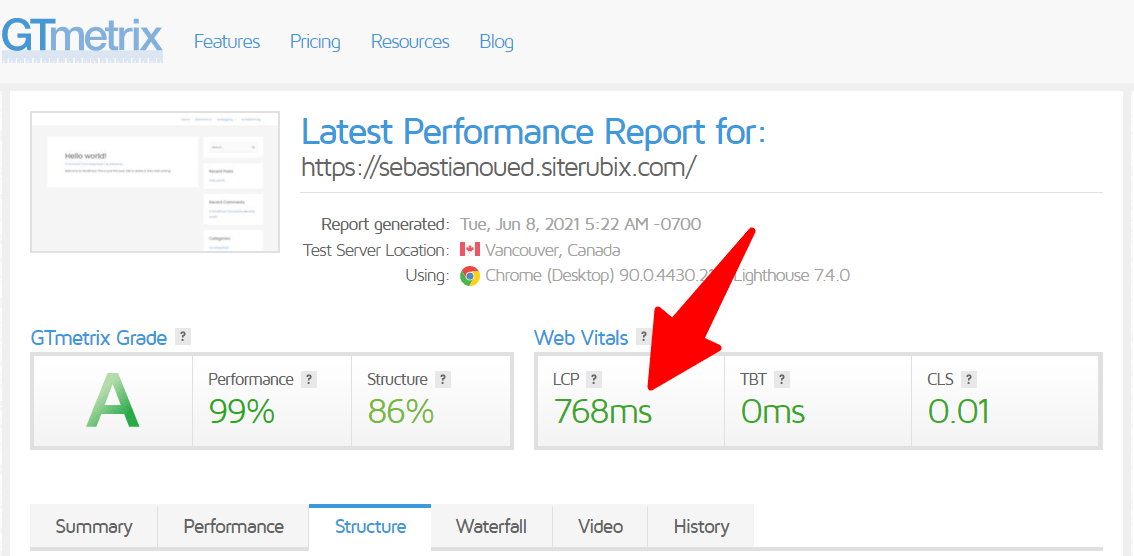 As you can see above, there is no change in the site performance. But the Largest Contentful Paint (LCP) load time has been reduced to 768 milliseconds.
More customization options to enable you to create high converting site
What I like about the Astra Pro theme is that not only it is a lightweight theme but it comes with more customization options to choose from and makes your site look like what you want it to be.
In fact, with the Astra theme, you can decide to remove the sidebar in a specific blog post or page. That is great when you have a post you want to make like a landing page, reduce the level of distraction for readers.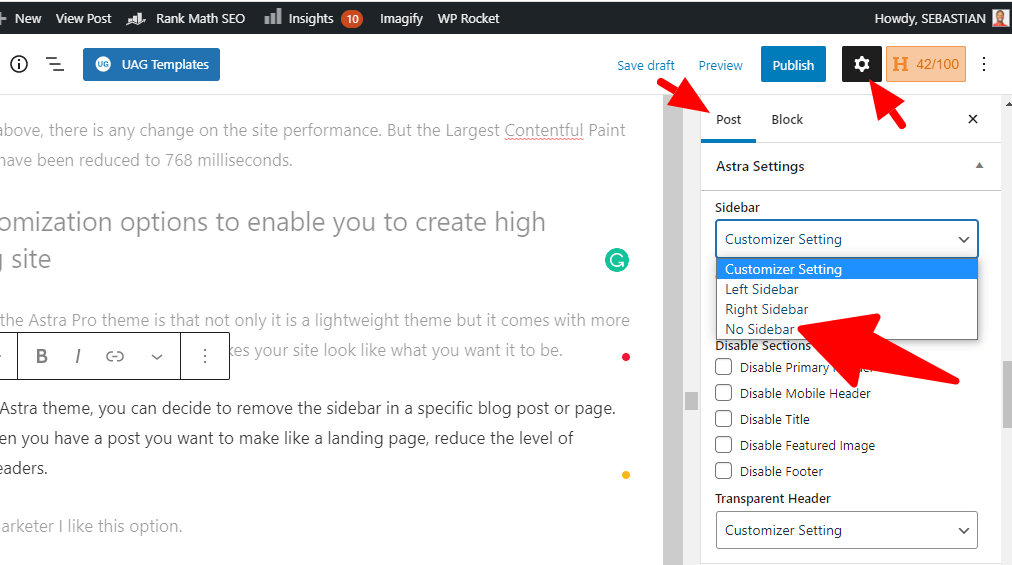 As An affiliate marketer, this is very useful in some cases.
Astra Custom layout
Astra Custom layout enables you to create custom layouts you can display either in the
the header;
the footer,
Inside Post/Page Content.
You can also with the custom layout feature create a custom 404 page, and hooks.
The custom layout feature is the Astra Pro module and this feature is very useful.
For example, you can create hooks like an advertising message to display on your header or footer section.
You can also create a custom header or footer, to display either on your whole site or on a specific post, etc.
And the best part, Astra Pro comes with another useful feature called sidebar manager. This module helps you place specific elements you want to be in the sidebar on a specific blog post or page.
For example, if you have a blog post on how to start a blog with Bluehost and you just want on your sidebar to show your 5 days ecourse opt-in form, you can add that only to the sidebar and remove the other elements from there
This also another great feature I value.
There are many customization options and I will just name a few of them:
Color & background that allows you to control the background color of the header, footer, posts, and pages, etc.
Blog Layouts that enable you to control your blog structure, display your article in grid or list layout, post pagination, the width of your content, ect.
You can transparent header, sticky header, mega menu, etc.
Just like Avada and Divi and OceanWP, Astra on top of being a fast loading theme allows users to build nice-looking and high conversation sites.
Possibility to use page builder tool
Not any theme was built to be used with page builder tools or plugins.
With Astra theme, you can use Elementor, Gutenberg, Beaver builder, to create stunning and beautiful websites without compromising your site speed too much.
I don't say these pages don't slow down a website.
Use one of these page builder plugins on a theme that doesn't have a good performance score and you will see the results.
A side note: If your site performance is your overall focus and you want to rank higher on search engines, avoid page builder plugins.
With Astra's existing templates and plug-in like Gutenberg add-ons, you can still build a nice-looking site without these plugins that slow down your site.
Otherwise, use a plugin like WP Rocket to boost your site performance.
Astra integrations
On top of being a fast, lightweight, and multi-purpose WordPress theme, Astra Theme is a WooCommerce ready theme. That means it integrates smoothly with the Woocommerce plugin enabling you to build a beautiful and high-converting eCommerce site with WordPress.
And that is not all.
Astra integrates with Learndash and LifterLMS and other LMS WordPress plugins. That is great for online course creators who want to use WordPress to run their membership site.
Astra theme is an SEO and mobile-friendly theme
Businesses that rely on organic traffic to generate leads and sales make SEO their overall goal.
It is better to make your blog posts optimized but also your whole site including your theme and plugins must be SEO friendly.
But some SEO principle requires coding and technical skills to be done.
Thankfully the Astra WordPress theme is an SEO Optimized theme with schema integrated. That helps search engines understand your website better.
Astra support
Astra has a good support theme and you can reach out to them 24/7 via email as a pro member.
It also has knowledge and tutorials on video and text format you can access to design your site your website the right way.
Astra Pricing
Astra offers 3 membership plan options people can choose based on their budget and goals.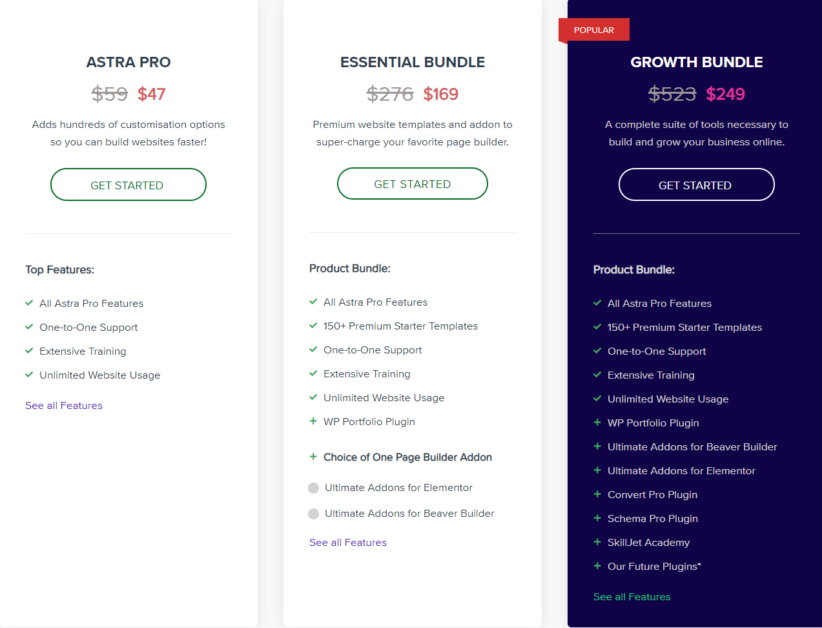 Astra Pro: it costs $47 per month with an option to buy a lifetime license for just $249.
Essential bundle: it costs $169 per year. If you want to buy a lifetime license you just need $499. This plan gives you access to premium starters site templates you can use to build a beautiful and high converting site.
Growth bundle: this membership plan costs $249 per year or $699 lifetime.
With the Growth Bundle plan you have access to advanced templates including the premium templates in the bundle plan.
You may be now wondering which plan to choose.
So let's get in it.
Which Astra Pro Plan to choose?
It all depends on your business goal and your budget as well.
As you can see there are options to pay for one year or to buy a lifetime license.
Going with the yearly plan means each year you have to pay $59.
Going with the lifetime license means you pay once and get access to even future updates.
Though the lifetime license that is "pay and forget" is a good deal in the long run as you will be saving more money.
Plus that saves you with renewal headache.
As for the membership plans you can choose the one that fits your needs.
If you are a blogger the pro membership plan will be okay as it allows you to use it on many sites with the same license.
The next plan will be also okay for people who want premium starter templates they can use and build their business faster instead of starting the design from scratch.
When it comes to the Groth bundle membership plan this plan is good for freelancers and agencies who create websites for clients.
Astra theme Pros and Cons
? Astra theme review – the Pros
✔ The theme has built with performance in mind,
✔ Possibility to use the most page builder plugins like Elementor
✔ A lot of customization option,
✔ A multi-purpose and lightweight theme,
✔ A lot of starters sites to choose from and set your business on the go,
✔ Woocommerce ready theme,
✔ They offer top-notch support to clients,
✔ Value for money – only $59 per year.
? Astra theme review – the Cons
❌ You need to upgrade to the pro version to unlock the most amazing features, but the pro version is cheap.
❌ No chat support.
My Astra theme review's FAQs
What is Astra Theme?
Astra theme is a fast-loading and multi-purpose WordPress theme built by Brainstorm Force, a team of developers. It powers over 1 million websites out there with a 5 five rating score from users.
Is Astra Theme free?
Yes, the Astra theme is free and you can download it here. The free version offers great features and comes with free starter templates you can use to build beautiful websites of any kind.
What is Astra Pro?
Astra Pro is the premium version of the Astra theme and it comes with advanced features and customization options you can use to design a high-converting and SEO-friendly website.
How much does Atra Pro cost?
Astra Pro costs only $47 per year (normal price $59 per year). If you want premium starters templates you can buy the Essential bundle or the Growth bundle plan.
How to install Astra's starter template on my website?
Before you are able to install or load a starter template on your website, you need to install the Astra theme and also the starter site importer plugin. Once that is done, go to Appearance, then starter templates. Choose the template you want to use on your website and then import it. Now you have to customize and design it as you want.
Which page builder tools or plugins Astra Theme support?
Astra theme supports most page builder tools. The page builder plugin that works smoothly with Astra is Elementor. But it supports Beaver builder, Gutenberg, Brizy, and other page builders.
Astra Pro Theme Review: final thoughts
Astra Theme is one of the popular WordPress themes out there with over 1 million users and thousands of happy users including myself.
I am a big fan of the Astra theme as it offers what I value when it comes to building a website.
It is my #1 recommended theme I always recommended to my students and readers and this is for good reasons I have outlined above.
I think when we build a business our goal is to make it successful.
And when it comes to getting ranked and getting a better conversation rate, speed and design are most important.
That makes it the best choice for those who care about their site performance.
I hope you found my Astra pro Theme review helpful.
Do you have a question? Drop it in the comment section below and I will respond to you ASAP.
Are you an Astra Theme fan like me? Or are you a user? Share your thoughts and experience with us.
I like reading your thoughts and I always respond to any comments you left.
Be an ACTION taker, SOW YOUR SEED TODAY!
To your success!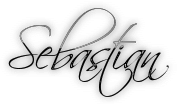 You may also like….