Are you looking for ways to make money with your blog or ways to increase your blog income?
If yes, you are in the right place.
In my previous post, I covered a topic about how to make money blogging.
And I promised I will cover in another post the best ways you can make money blogging in 2022 even if you don't have a huge following.
Here we are!
Today in this post I will show you 8 best and practical ways to make money with your blog in 2022.
If you didn't create your blog yet make sure you check out my step by step guide on how to start a blog with Bluehost in 2022. If you want an all-in-one platform that gives you all the necessary tools in one roof (like me), check out this post and learn how to create a money-making website with WA.
Without further ado, let's dive in.
8 Best ways to make money with your blog in 2022 (even if you are starting out)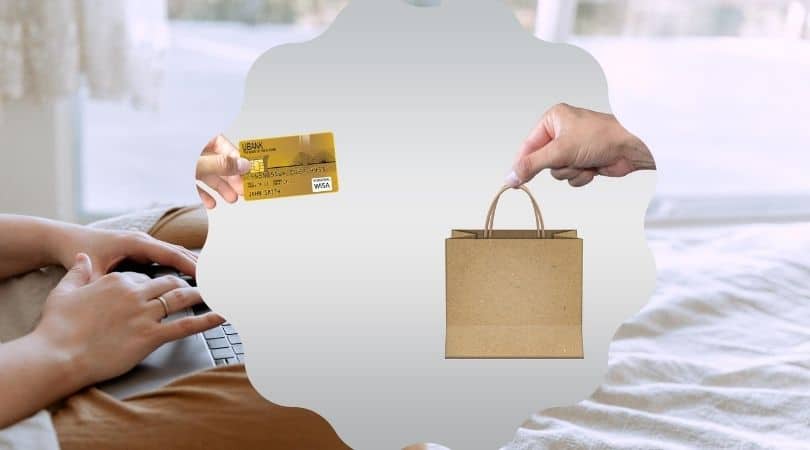 There is a reason this way to make money with a blog comes on the top of my list.
In fact, affiliate marketing is the way most bloggers (including myself) make money online.
In my opinion, it is the easiest way to make money with your website because even with a little traffic you can monetize your site as long as you are getting a targeted traffic and your website is optimized for conversion.
But if you don't know what affiliate marketing is, let me define it in my manner for you.
Affiliate marketing is the process of selling other people's (or company's) products or services and getting paid each time a customer buys your advertiser's product or service throughout your unique affiliate link.
You can learn more about this business model and how it work in this detailed article.
As a blogger or affiliate marketer, you have a choice to choose the company or the person you want to partner with and you also have the choice to choose the product or service you are proud of promoting.
How much money can you make as an affiliate marketer with your blog?
There is no limit on the amount of money you can make with your blog doing affiliate marketing. But there are 2 factors that can make you more money or less money.
Your website sale conversation rate (the percentage of visitors to your website that ends up buying your affiliate product out of the total number of visitors).
The amount of money you get from each sale. I mean the cost of the product you are selling and the commission rate of that product or service.
If you market high ticket products (like $2000 that offer at least 50% commission even with less traffic, you can make a decent income.
Agreed, making money with your blog doing affiliate marketing is easier said than done. But if you know what you're doing, it could be your best way to make money with your website or to monetize your content.
Therefore getting trained is very important if you want to be a successful affiliate marketer throughout blogging.
Check out our hand-picked best affiliate marketing training courses of 2022 to get trained.
2. Join CPC (Cost Per Click) ad networks to monetize your blog content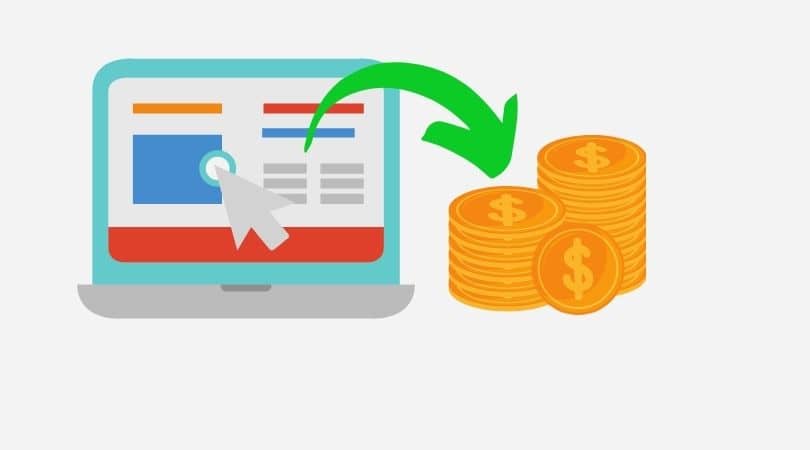 First off, CPC (Cost Per Click) also called Pay Per Click (PPC), is a paid advertising term where an advertiser pays a publisher each time an ad was clicked inside the publisher's website.
It is also another great way for bloggers to make money with their blog content.
The concept is simple:
You join a CPC ad network,
You get an HTML code you can place on your website,
The ad network displays relevant ads in your content based on its proprietary algorithms, and
each time your website visitors click on those ads, you make money.
If you are interested in making money with ads, the easiest way to getting started is to sign up with Google's AdSense program. It is free to sign up and once approved you can start making money from your website. That is beneficial for both you, the publisher and your audience.
In fact, Ads google will display on your content are ads that are relevant to your niche. So your audience gets something they may be interested in, and you also get paid from their clicks.
What I like with Google AdSense is that even little traffic, your application can be approved.
But keep in mind they also have some requirements and policies you need to comply with.
For instance,…
your blog must be at least 6 months old.
You must also have legal pages such as privacy policy and contact pages.
Your content must be unique and quality.
How much money can you make as a blogger with Google Ads?
Your income potential depends on 2 factors:
The amount of targeted traffic to your website and their location.
The CPC in your niche. Some niches are most profitable than other when it comes to making money with Google Adsense.
Results are not typical but here is a guy who made over $1700 ads income without selling nothing.
3. Join CPM ad networks to increase your ad revenue
Google Adsense is not the only ad network out there.
Instead of settling with just Google Adsense, you can join CPM ad networks if you want to make extra money from your content.
Those kinds of ad networks can bring more extra income than CPC ads but it requires decent traffic because they pay based on the number of impressions.
Learn how to do keyword research and increase your website traffic here.
CPM stands for Cost Per Thousand and unlike CPC ads network, they pay you based on the impressions you deliver.
I can cite:
Ezoic, you must have at least 10. 000 pages view per month,
Mediavine, 25 000 monthly pages views to be approved
Adthrive you need at least 100 000 page views per month (mostly us traffic) to get approved, good for the food niche
Media.net, is one of the leading ad networks with a global presence
4. Brand partnerships or collaborations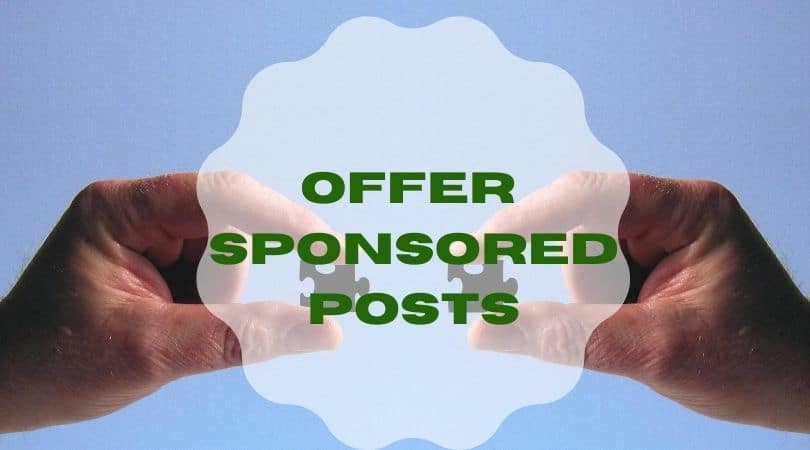 If don't like annoying your readers with ads, another best option and the smart way to still making money with your blog is to post sponsored content in your blog.
Why do I say it is the smartest way?
Because with ads network you don't have any control over the kinds of ads that will be displayed on your website.
Another reason is that people nowadays use adblocker tools to surf the Internet. And that can reduce your earning potential because you make money when people click the ads on your site.
So the best way to monetize a blog with advertising is through sponsorships.
And here is how it works.
A company "A "pays you to represent their product or brand on your website. You create content about their product or brand; you promote it to your readers, and you get paid for that.
That I'd beneficial for not only the advertiser and you the publisher but also for your audience or readers because the product obviously is a product that might be relevant to your niche; a product that meets their needs.
How to get started with sponsored posts?
You have the choice to:
1. Create profiles on sponsored opportunities' websites
One of the easiest ways to get noticed by brands is by creating a profile on sponsored opportunities' websites.
Here are some of the sponsored websites I suggest if you want to monetize your website throughout sponsored post instead of Google ads:
2. Create a media kit page
Instead of going with the previous option, you can create a media kit page on your blog and use it to pitch brands that are interested for sponsored posts opportunities.
It offers you a way to showcase your traffic stats and your audience demographics, your social media audience size, and any other data that will make your site more appealing to advertisers.
3. Reach out to brands
Another easiest and quickest way of getting started with sponsored posts is to reach out to brands in your niche directly instead of using third parties websites as mentioned above.
Just look for brands in your niche and pitch them for a paid sponsored posts.
Here is an example of collaboration pitch letter:
Hi, (company's brand name).
I hope you're having a great week so far! My name is – and I am the owner of (yourwebsitename.com).
I am reaching out to you in regards to your product X. I was wondering if you are open for sponsored posts. I have been using your product for X months/years and have seen good results.
I'd love to feature the product along with my results in a detailed post that will get my audience's attention to your product X.
I know my readers would really enjoy learning more about your product.
Currently, I receive X page views on my blog each month and have over X followers on X and X social media platforms.
I really do think that a partnership would be very beneficial to both parties since yourblogname.com is about (your niche).
I would love to discuss a way we can work together to promote this product to my audience.
Instead of pitching, you can be pitched by brands if you are doing great with your website.
Here is a screenshot of what I mean.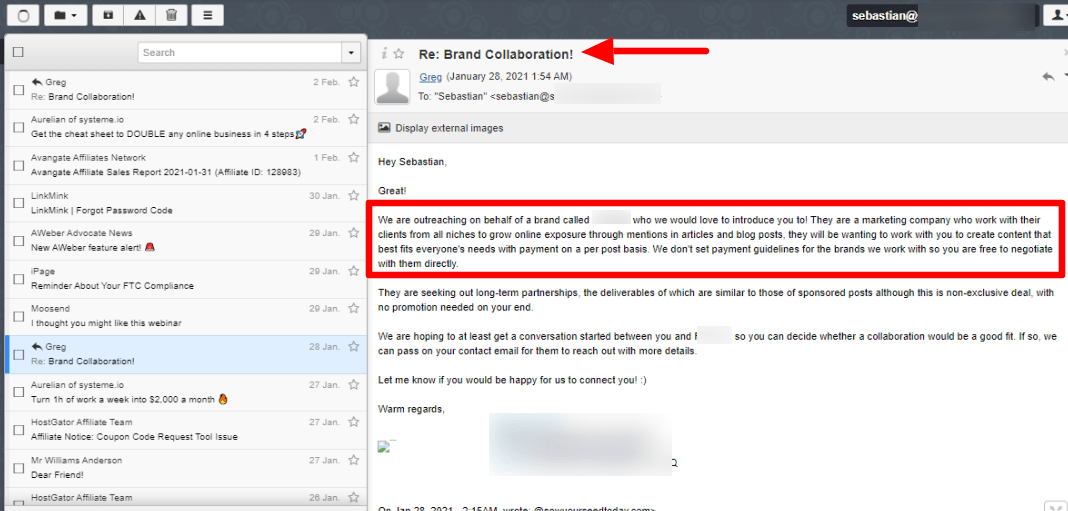 Related post: How to make money on Opera News hub ($300 a week for free).
5. Sell ad space directly to advertisers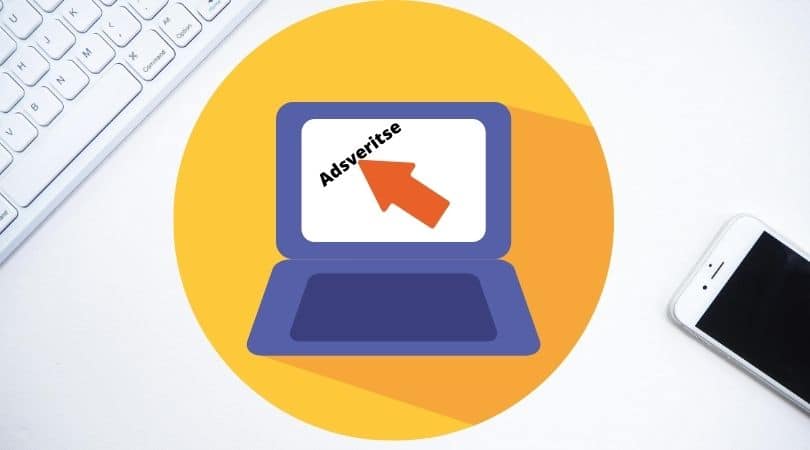 Another way to make extra money with your blog is to sell advertising space to brands in your niche instead of using a middleman like ad networks.
It works in the same manner as sponsored posts but here, instead of writing content for the brand, the brand itself provides you the publishing materials to you to publish. You just renter the space on your blog for the advertiser and the content can be in text format, banner, etc.
This a perfect option if you are not good in writing.
In certain niches, that can be a good way to make easy money with their blog.
Note that will help you make much money, but it is an option for making money with ads.
6. Sell your own service
Your blog can be a great way to sell your own service whether it is related to your niche or blog content or not.
Your business is about your audience.
If you are blogging a while, chances are you got some emails from your audience asking for advice about something related to your niche or business. Right?
It may be about your blog or images design, advice about a topic, and help about resolving a crucial pain or problem, etc.
Why not create a page about this service to show your website's visitors that you offer services in this area instead of giving it away for free?
You can offer a service like coaching or 1-one-1 consultation in this case.
This is just an example, and the list goes on and on.
You can be a virtual assistant or a social media manager.
Really?
Yes…
As a blogger, you are a multi tache handler. You are promoting your blog using various social media platforms (on Pinterest, Facebook, Instagram, etc), you are a publisher, a Data Analyst, etc. Right?
Without a doubt, you're one step ahead of those who are just starting out and want to expand their business quickly without going through the hassle you've had.
Should I mention individuals like the 9 to 5 workers who started their side hustle and don't have enough time to develop their business?
Make sense?
I think this is a great and the easiest way to add extra income to your blogging income.
And to get started?
Create services sales page using page builder Plugin like Elementor,
add it to your site menu to for maximum exposure and don't forget to mention about your service when creating new blog posts,
Get a booking tool such as Simply Book Me, You Can Book Me, Calendly, etc.
Some come with Payment gateways integration, but if you want, you can just create and add a PayPal button on your sale page to collect payments.
7. Selling your own product as a way to make money with your blog
It seems it is the same way as the previous, but it isn't.
Here I am talking about selling a real product. It can be a physical product or a digital product like an ebook, an online course, etc.
Personally I prefer selling digital products because not only it is the easiest way to getting started but also it is a great way to make passive income over and over again.
For instance, creating or writing an eBook would not be difficult since you are blogging about a topic and have visitors coming on your website. Just find out your readers pain and come up with a product (eBook or training) idea. Even you are good at writing like me, you can hire a writer on Fiverr to do the hard work for you.
And to get started?
It is easy like 1,2,3.
With a WordPress blog, it is easy to turn your blog into an eCommerce store if you want. What you need is just a WordPress theme like Astra theme and Woocommerce plugin to build a conversion-oriented eCommerce store and start selling your products (physical or digital).
If it is digital products like eBooks only, you can just use a plugin like "Easy Digital Download" and start selling.
You have also an option to using an external tool if you don't want to slow down your website using too many plugins. And selly.io or Systeme.io is a great option to start selling and delivering your digital products to your customers.
Best of all, it's easy and user-friendly for beginners. All it takes is a simple code to integrate into your WordPress blog and that's it!
Related post: How to write and sell an eBook to make money online (step by step guide to get started)
8. Make money with your website by flipping websites
Flipping website means you buy an existing website, improve his value, and then reselling it for a higher profit margin. It also means starting one from scratch, developing it then selling it later.
If you are just starting out, I think the next option is a great point to test the waters of this business model before committing yourself to the first one option.
Chances are…
As a blogger, you already know how to create a website, create SEO friendly content, and increase your website traffic. That means you have one step ahead of most people.
The truth is that many entrepreneurs these days are lazy and prefer to pay for a ready-made site instead of starting one from scratch. This is a great way to make money with your website.
I admit, almost everyone can create a website today. But everyone doesn't know how to rank a website and get visitors for free on it.
Website flipping: Find out how 2 posts a week can make you easy $11, 000 in just a year.
Really?
Yes, really.
If till now you don't know a website is an online real estate, take a look at the image below.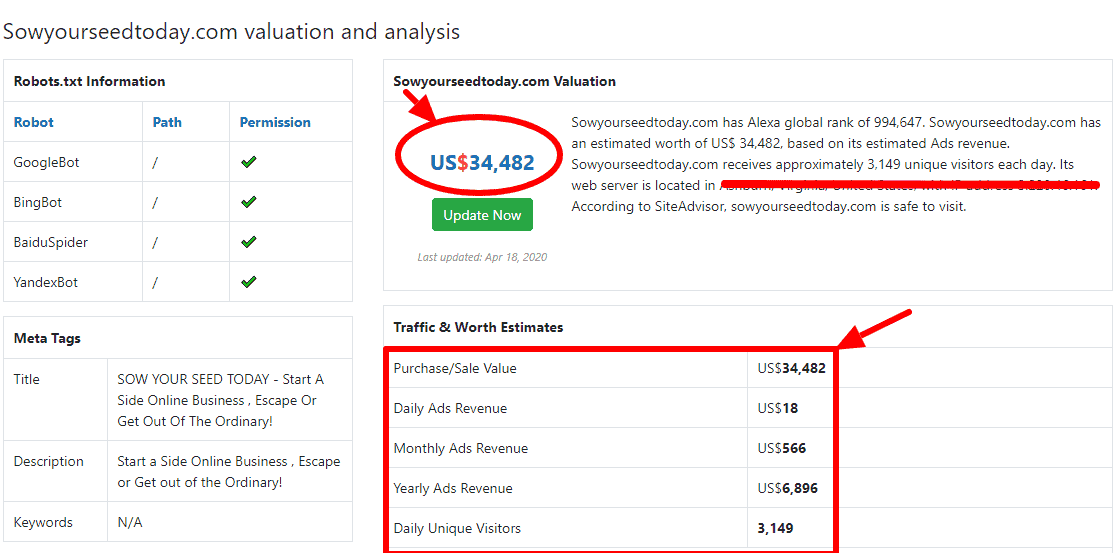 Also, read how to make extra money from home (even if you are a full time worker)
Conclusion on Ways Too Make Money With your Blog
If you are asking yourself "what are the ways bloggers make money?", my answer is: various ways because opportunities are endless for bloggers who are set themselves to succeed.
In this post, I just covered only 8 ways you can make money with your blog and here they are:
2. Make money with PPC ads (Google Adsense)
3. Make money with CPM ads networks
4. Make money with a sponsored post or sponsored review
5. Sell ads space to advertisers directly on your website
6. Make money selling your own service online (online course, coaching, etc)
7. Make money selling your own product online
8. Make money flipping websites
Among all these ways affiliate marketing is my favorite way of making money with my website.
I want to hear from you in the comment section. What is your best pick or which way do you use to monetize your website?
I hope you found this post helpful. And if you didn't start your blog yet, though it is time for you to get started. Don't be distant and only a reader. Start your own. It can be a gaming changing career for you.
Want more motivation? Read, 10 reasons why you should start a blog.
Be an ACTION taker, SOW YOUR SEED TODAY!
To your success!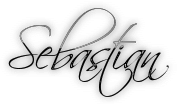 You may also like…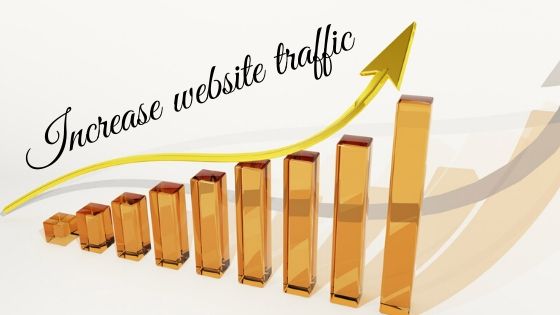 Do you want to increase your website traffic for free to over 200% or higher…