First off, this Ecom Warrior Academy review has been suggested by Brian, one of my loyal blog readers.
And I want by the way to say "a BIG thank you" to him for giving me the opportunity to give my point of view about Matthew Lepre's course.
When looking for information about the Ecom Warrior Academy, I noticed some people are asking themselves if Mattew Lepre is a scam. Some are looking for "Matthew Lepre review".
How do you look for a review on someone? Or wonder if X or Y person is a scam or not.
For me, we can look for a review on a product or service. Not about someone!
haha…
But I understand, you also want to know if the product owner is a person you can trust or not.
Alright.
In this review, I will not only talk about the Ecom Warrior Academy but I will also talk about the creator of the course, Matt Lepre.
But before we get there, I want in a full transparency notice I am not affiliated with the Ecom Warrior Academy course nor with Matthew himself. This review is based on my opinion and researched with information and/or testimonials that are available online in the public domain. Any recommendations are strictly an opinion and may not apply to, or agree with, all persons or situations.
That being said, let's dive in…
Ecom Warrior Academy Review summary: Company overview
PRODUCT NAME: Ecom Warrior Academy (EWA)
OWNER: Matthew Lepre
WEBSITE: https://ecomwarrioracademy.com/
TYPE OF PRODUCT: dropshipping course
COST: $4000
IS THE ECOM WARRIOR ACADEMY A SCAM? No
SOW YOUR SEED TODAY RATING: 6/10
DO I RECOMMEND THIS?: No
Want the best and cheaper alternative?
What is the Ecom Warrior Academy about?
The Ecom Warrior Academy is an online course designed by Matthew Lepre, an Australian 6-figure E-commerce Entrepreneur that made his first steps in the eCommerce industry when he was 20.
The course is about dropshipping and was designed to teach people who want to enter into this industry how to build a profitable online store using Shopify.
Having been in the industry for some time and having had tremendous success in his eCommerce business, Matthew Lepre decided to set up an education program for newcomers and those who are struggling with their eCommerce business and need a coach to help them figure things out.
One more…
About Matthew Lepre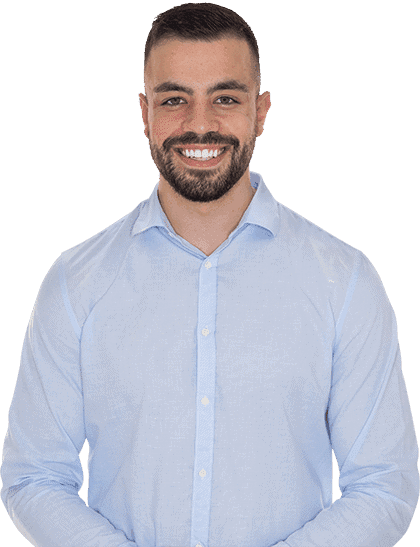 Matthew Lepre is a young Australian online entrepreneur living in Western Sydney.
A university dropout he has student loans to feed when he first started his eCommerce business that he managed to turn into profit in a sort of time.
As you know, in businesses you have 2 choices when it comes to growing it:
Invest your money and make it work for you (the fatest way) or
Let the time help you grow your business (the slowest way).
It seems Matthew chose the first option spending thousands of dollars to learn from the best in the industry, taking action, testing, analyzing what works, and what doesn't along the way till he found the perfect way to turn his business into profit and that in a short time.
Isn't that he is trying to sell to newcomers in the industry?
He spent thousands of dollars learning from the experts, it's normal that he charges you thousands of dollars to learn from his experience. Right?
Looks like Mathew Lepre has a lot of fans and followers on the social media platform.
For example on his YouTube channel, he has more than 68.4K subscribers with about 35 videos and some of his videos reach 3K views (at the time I was writing this review).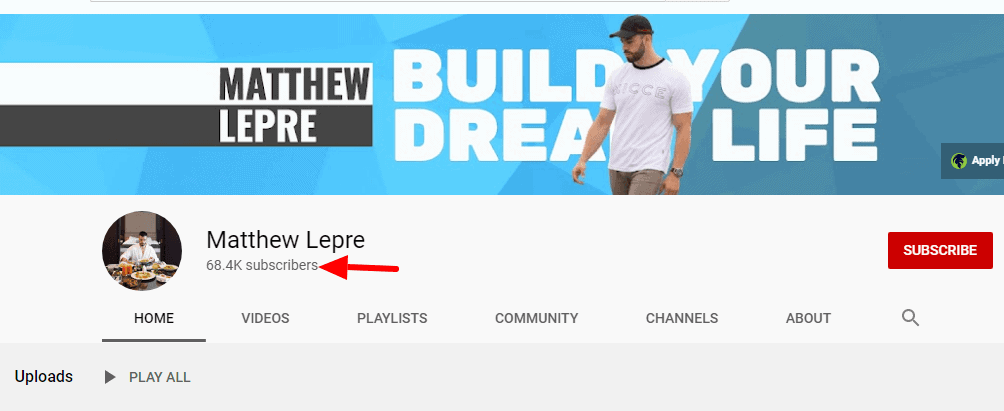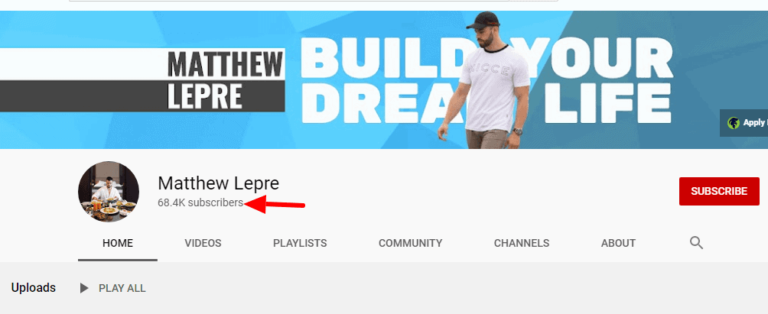 Unless it is your first time reading my reviews, I'm a man who doesn't stop at the superfluous.
Matthew Lepre offers education and coaching service. Right?
Personally, I haven't paid for his product and I can't say much about the quality of this product (which I personally find very expensive).
But take a lot at the image below.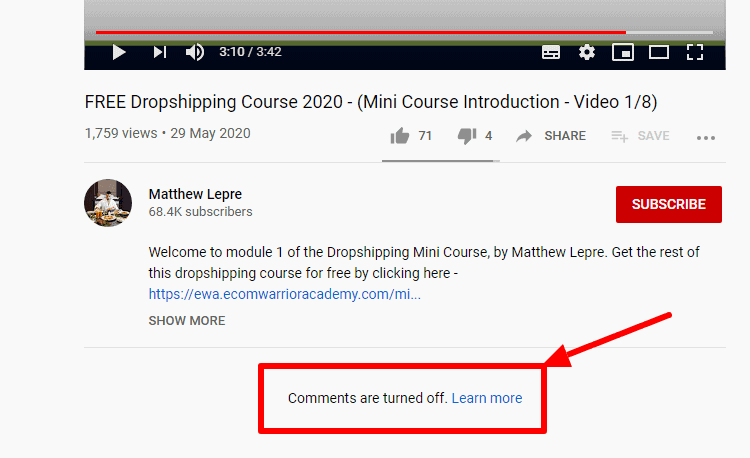 Only Matt can tell us the reason for turning this video's comment off.
Maybe it's because of the spammers. Who knows?
What can you learn in the Ecom Warrior Academy?
He will teach you a step by step:
How to build your dropshipping store from scratch using Shopify.
How to find on-demand products for your store.
How to generate leads using social media such as Facebook, Instagram.
How to provide good customer service, branding & logistics, etc.
You have lifetime access to the training that is in video format.
According to his promise, new training materials are added every month.
What also EWA offers on top of the training?
On top of the training, Matthew Lepre offers coaching and support to his students.
You get the following when you purchase his training:
Access to the private Facebook group,
2 group Q&A mentoring calls per month,
Daily Life Growth and feedback calls,
Unlimited access and mentoring through direct emails,
Let move into the next section of my Ecom Warrior Academy review to find out how much it will cost you to get inside Matt Lepre's course.
Recommended reading: Amazon FBA Ninja review
How much Matthew Lepre's course cost?
The minimum amount of money required to access Matthew Lepre's training is $4000.
Expensive! Right?
Personally, I find this course very EXPENSIVE when compared to other similar training courses in the eCommerce or Dropshipping industry that offer courses for a low-cost entrance fee than this one.
But since he didn't offer details about his course I can't say if it is a very good value for money either.
What I know is that he has been successful in this industry and he has some very useful knowledge to pass on to you. But is it worth the price? It is something I don't know.
The Ecom Warrior Academy pros and cons
The Ecom Warrior Academy Pros
✔ The course is designed by well-known and trusted experts in the dropshipping industry,
✔ Training gets updated regularly,
✔ 1-on-1 coaching session from a six-figure earner,
The Ecom Warrior Academy review Cons
❌ The course is a bit expensive,
❌ The sale page lack detailed information about what the student will learn,
❌ An extra investment involved (tools to set up your store, advertising budget, etc).
Is the Ecom Warrior Academy a scam?
No. The Ecom Warrior Academy is not a scam per se. But this is not a course I recommend for 2 reasons:
First, Matt didn't offer much information about his training: I don't know about you before I go into something that requires an investment I want first to know what I get for my money. The only way for you to know what you will get for your investment is to book a call with him. That is purely a sale pitch call.
Secondly, the course is very expensive. And in my opinion, if you are starting out investing such money on training while knowing you'll have other expenses related to your business such as tools and marketing budget require courage.
In fact, you have other expenses that will be added to this such as domain name, your shopping store fee, ads budget, etc.
My final thoughts and recommendation
Matthew Lepre is a well-known and eCommerce entrepreneur who has been able to enter into the 6 figure per month businessman circle in a short time by investing thousands of dollars in mentoring, education, testing, and analyzing strategies till he found what strategy works.
With his Ecom Warrior Acameny course, he aims to teach you how to start and grow a dropshipping or eCommerce store using Shopify.
Dropshipping is a great business model just like affiliate marketing.
I appreciate the effort he put into creating this course and I think it's not a bad idea to get trained before getting into any business.
I also trained myself in affiliate marketing and blogging before launching this website.
And it's still a good idea to have an expert in the field you want to get into as a mentor and consultant. That's what I also did when I chose Wealthy Affiliate, an all-in-one platform that offers evergreen affiliate marketing training and online tools to people who want to enter into the affiliate marketing industry.
But it seems that Matt spent thousands of dollars learning from experts as I pointed out earlier and it seems that he wants to do the same with those who are just starting out too.
But I'd like you to answer two questions before you jump into it:
First off, Is dropshipping the right business model for you in 2022?
I think the reason you're here is probably that you're interested in starting your own business in this industry.
But it's a question that you have to think about before you start.
Personally, I prefer Affiliate marketing because it is the best way to make passive income online. Plus there is no customer support to worry about contrary to dropshipping.
And what about the profit margin?
While affiliate marketing allows me to earn over $220+ per sale, with the dropshipping it would be difficult to earn such a profit in a single sale. Am I wrong?
The second important question that needs to be answered if your answer is yes to the previous question is: is building your eCommerce or drop shipping store with Shopify a good choice for you?
It's simple and easy to set up but in my opinion, even if their platform has been recently improved for SEO, it's very far to compare to WordPress which offers you all the flexibility to optimize your store and drive a ton of traffic for free on it without having to spend your hard-earned cash on ads.
In case you want to rely on free traffic from search engines like Google, I think you need to think twice before launching your eCommerce website with Shopify.
Learn how to build a conversion-oriented eCommerce store with WordPress.
Now If your answer is yes for both questions,…
Are you ready to invest at least $4000 when starting out your dropshipping business?
That's the cost to get access to Matthew Lepre's Ecom Warrior academy course.
Maybe on the call with Matt or his team, you will have the privilege to negotiate and pay in installments of 12 months or 24 months. I don't know.
Personally (if I am starting out) I am not ready to invest $4000 on a course if I know I can get one in the industry twice or even three times cheaper.
And it's not all your expenses because as I said earlier, there are extra expenses (tools to set up your store and advertising budget too) involved.
And keep in mind there is no guarantee that you will be as successful as Matt.
My Ecom Warrior Academy's FAQ
What is the eCommerce Warrior Academy about?
Who is Matthew Lepre?
Matthew Lepre is a young Australian online entrepreneur living in Western Sydney. He is the CEO of the founder Ecom Warrior Acamedy where he coaches and teaches people what he learned in his dropshipping journey.
What is Matthew Lepre's net worth?
According to News.com and Elitereaders.com, Matt is making $120 000 with his e-commerce business. That is enough money for a young of 26 years old to live a life everyone is dreaming of. Right?
Is Matthew Lepre a scam?
No. Matthew Lepre is not a scam. He is a real person and a six-figure business coach who is traveling all over the world to coach other people on Ecom business building.
How much does the eCom Warrior Academy cost?
the eCom Warrior Academy costs at least $4000 with ongoing expenses if you want to apply what was taught in the training.
is the Ecom Warrior Academy course free?
No Mathew Lepre's Ecom course is not free. Sure you won't see the cost on the sale page. But it is a high ticket e-commerce course.
Up to you…
I hope you found my Ecom Warrior Academy review helpful.
I did my best by highlighting how the course is about, what you can expect from Matthew Lepre's course, and all the facets it involves.
From now, you are in a good position to make an informed decision to shape your financial future.
What do you think about Matt's Ecom Warrior Academy?
Looking to hear from you in the comment section below.
Sharing is caring!
Don't hesitate to share this post with your friends if you like it.
Be an ACTION taker, SOW YOUR SEED TODAY!
To your success!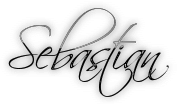 You may also like…