This is my honest and unbiased Freedom Breakthrough review for 2022.
If you have been introduced to the Freedom Breakthrough 2.0 program and you are wondering if it is a scam or a legit program to make money online, you are in the right place.
If it is your first time on my website, my name is Sebastian. I am the guy behind this website and my goal throughout this site is to create resourceful articles that can help my audience make an informed decision.
Any program that doesn't provide value or was designed to rip off people's money, we expose them.
So don't worry because my goal is not to sell you this course.
I have reviewed hundreds of courses and I know which program can benefit my audience and which ones won't.
I share my opinion – the final decision is up to you.
So what to expect from me in this Jonathan Montoya course review?
Throughout this review, I will show you:
What this course is about,
The owner's business track record so
that you can see by yourself if this course delivers or not.
How much it cost and what you get in return,
The pros and cons and my final honest point of view.
By the end, you finish reading this review you will be able to make an informed decision.
Without further ado, let's dive in.
Freedom Breakthrough review summary- company overview
Product Name: Freedom Breakthrough
Owner: Jonathan Montoya
Website: https://www.jonathanmontoyalive.com/
Is Freedom Breakthrough a scam? No
SOW YOUR SEED TODAY RATING: 9/10
Do I recommend this? Yes but not for people on a budget.
What is Freedom Breakthrough about?
Freedom Breakthrough is an online course that teaches aspiring online entrepreneurs how to make money online with affiliate marketing.
This is a legit and complete affiliate marketing that teaches you from start to finish how to start an affiliate marketing business from scratch.
The course covers a lot of topics related to online marketing starting from choosing a niche, building your affiliate marketing site, and customizing it, setting up your funnels, driving traffic via SEO, social media platforms, and even paid ads.
The course has been created by Jonathan Montoya.
Jonathan Montoya is a well-known and a successful internet marketer making a six-figure income with affiliate marketing.
But…
Is it a legit and good course or just an under-delivered course like most of the courses out there?
To know the answer to this question, move with me to the next section of my Freedom Breakthrough review to find more about the owner of this business track record.
About Jonathan Montoya, the course owner
Jonathan Montoya is the Freedom Breakthrough owner and a well-known internet marketer.
H enjoys a good Social Media following, with 30.7K Youtube subscribers, and some of his videos have 10k+ views at the time I was writing this review.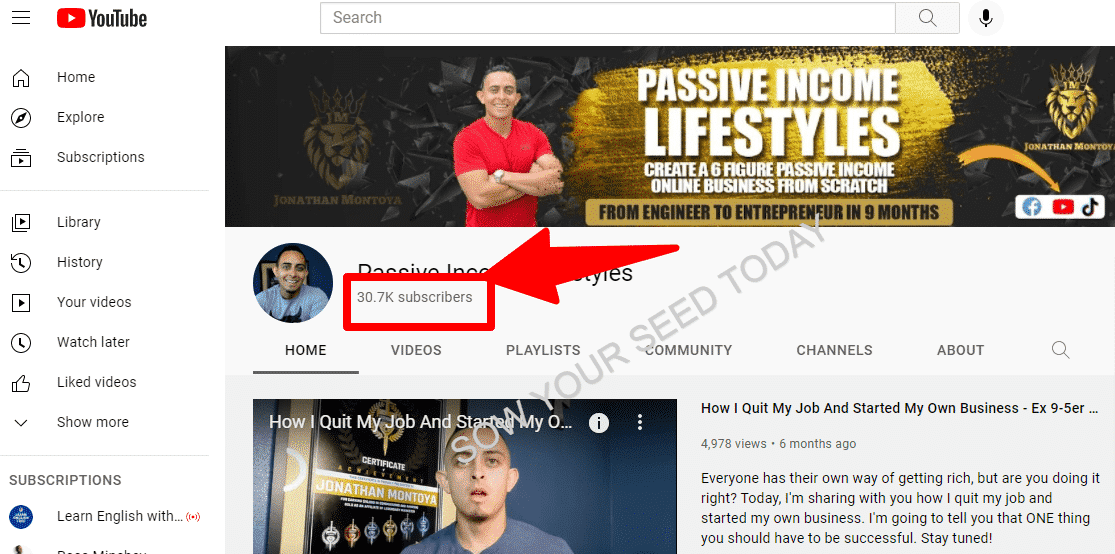 That is pretty good when we know he started this channel in May 2019.
His official Instagram profile has 14.3k+ followers and over 75k followers on TikTok.
Jonathan Montoya now enjoys the laptop lifestyle and has been featured on Anik Singal's YouTube channel.
But before he get there, he was working on a day job as an electrical engineer.
His success doesn't come by chance, he started from scratch like most of us.
But…
Having the skills and the knowledge is one thing, and having the ability to effiscently transmit or teach it to other people to get results is another thing.
As for him, he promise he will teach you how to quit your day job and achieve financial freedom.
Can Jonathan Montoya walk his talk?
In other words, does Jonathan Montoya deliver his promise?
To find out, move with me in the next section of my review and let's take a look at the course content.
What is inside Course Freedom Breakthrough?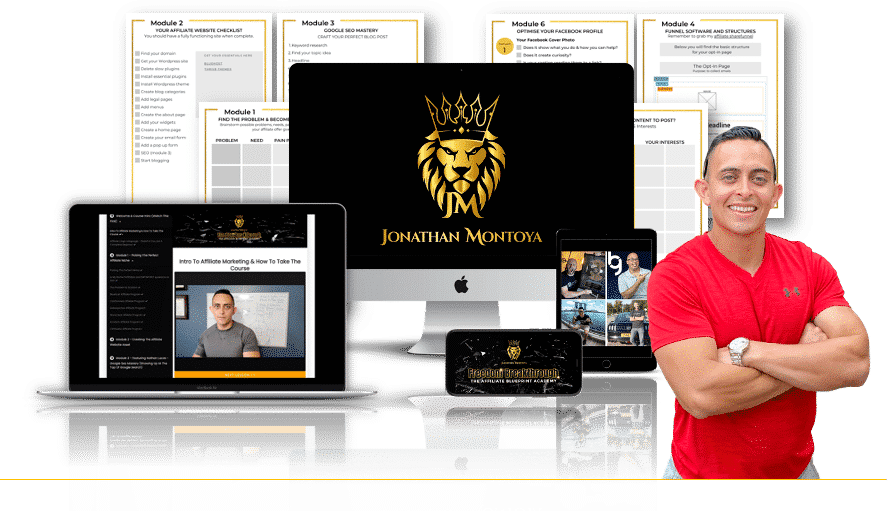 As I said, Jonathan Montoya's affiliate marketing training course is an affiliate marketing training that teaches people how to make money with affiliate marketing.
There are several methods you can use to promote your affiliate offer and make money online.
These methods can be grouped into 2: inbound marketing and outbound marketing.
Which inbound marketing the marketer attracts his audience with methods like content marketing, SEO, blogging. Here it is the customer that decides to find you.
In outbound marketing, the affiliate has to reach out to his audience by using marketing methods like paid ads. Instead of attracting them, you have to go out to reach them.
Certain courses focus on one of these promotion methods.
But the Freedom Breakthrough combines both methods making it a complete affiliate marketing training designed for beginners and advanced affiliate marketers.
Here is what you will learn inside this course:
Module1: The Affiliate Stacking Ecosystem
In this module, Jonathan will take you to the affiliate marketing ecosystem, give you an overview of the course, how affiliate marketing works, the long term process to making money with affiliate marketing, and also the short term so that you can start making money faster while you are building your empire.
By the end of this module, you will know how to get your business up and running for the long term.
Module 2: The Perfect Affiliate Funnel
This module is about funnel building. You will learn how to build and set up a money-making system that will make you commission on auto-pilot.
Though your goal when starting a side business is not to add another job to the existing one but to have more free time to enjoy your life.
These days with the meant of online automatic tools, you can free up your time.
This module will show you step by step how to set up a system that will not only generate leads and commission for you but also that will give you more time.
The recommended tool is ClickFunnels (the basic plan costs $97 per month). But you can use a free and cheaper all-in-one alternative tool like Systeme.io.
Module 3: The Online ATM Machine (Emails)
This module is about email marketing.
Here Jonathan will show you how to follow up with your subscribers using email marketing.
And the best part, he will share with you proven 6 figure monthly done-for-you email templates and the tool he uses to create his emails.
The recommended tool is Getresponse.
Module 4: YouTube
Once your funnels and email ATM is set up, you need to drive traffic to your funnel. Because, no traffic, no sale. So no commission.
In this module, Jonathan starts with what he master the best – YouTube marketing.
Over 30K subscribers in a short time with thousands in affiliate revenue that is not common in the affiliate marketing field.
Here he will teach you how to leverage YouTube marketing to make money with affiliate marketing without even showing your face on the camera.
From setting up your YouTube channel to creating content, and building raving fans and subscribers – all are covered in this module.
Module 5: TikTok
Tiktok is a fast-growing social network marketers leverage to grow their online business.
As I said in the previous section of my Freedom Breakthrough review, he grew his audience to 75k+ followers.
In this module, he will teach you how to create short videos (8 to 15-second long) to build your audience and then grow your business faster.
This is pretty good because creating these short videos doesn't take too much time and the power of these videos is incredible as they will generate leads and sales very quickly.
Module 6: Facebook Groups
In this module, the Freedom Breakthrough owner, Jonathan Montoya will teach you how to generate leads and sales with Facebook by building your own Facebook group.
And the best part he will show the same strategies he uses to build authority and trust with his audience he manages to turn into customers.
Module 7: Daniel Chou's High Ticket Sales
This module is covered by Daniel Chou. I didn't find more information about him. But in his YouTube channel, I do see him reporting making 4 figures a day selling high ticket products.
I believe if he is on the FB teachers list, it is because he is doing pretty good in this field.
Throughout this module, he will teach you how to close high ticket sales faster with organic traffic.
Module 8: Joshua Ong's Facebook Profile Funnel
Joshua Ong is one of my Facebook friends and I know what this guy does.
By seeing him among the teachers, I am confident the rest of the teachers have been wisely selected with the goal to provide more value to students.
In this module, Joshua Ong will teach you how to turn your Facebook profile into a lead generation machine and then into lifetime buyers.
The best part is that it is a Facebook organic method and you don't need to spend money on ads.
Module 9: Create A Website For Blogging
This is my favored method when it comes to making money with affiliate marketing and the reason is that a website is an asset.
This module is covered by Jonathan himself and throughout this training, you will be learning how to create your own money-making website, optimize it for both SEO and conversion.
Despite the other methods taught inside this course, it takes time to yield results but it is worth it – mainly if you don't want to spend your money on ads or do video marketing.
If you are considering joining this course, make sure to don't ignore this method.
I myself do affiliate marketing through blogging and I know the benefits. The recommended tool is Bluehost (about $71 to get started)
Module 10: Nathan Lucus – Google SEO Mastery
Nathan Lucus is a 7-Figure affiliate marketer and a blogger.
When I noticed there is a blogging course included in this training course, I the teacher is Jonathan himself,
started to find out if he has a blog or a website. I didn't be able to see any website under his name, to be honest.
But again everything is built to give value. Jonathan's focus is the basics like finding a profitable niche, setting up your site, design and optimizing it for conversion.
I believe with a little effort, everyone can do it today.
The most important part of blogging is optimizing it for SEO and growing it organically.
This is where Nathan Lucus comes in as he was doing it for years now.
In this video, you will be learning SEO. In other words, you will learn how to rank your site higher on search engines and then drive tons of traffic to your website and then turn your visitors into leads and customers.
Module 11: Google Ads
This module is about using Google and YouTube ads to generate leads and scale your business to another level.
In this module, Jonathan Montoya will show you how he leverages paid ads to make money with affiliate marketing.
Module 12: Launch Jacking
Launch Jacking is the process of profiting off the buzz around new a launched product or service by creating a piece of content (such as reviews, tutorials) around that product that is launching.
Here you will be learning how to take advantage of this strategy to promote products that haven't been released to make money from it.
This is the easy way no matter the method you will be using to promote your offer to make affiliate commission quickly.
Freedom Breakthrough bonuses
Here are the bonuses you will get if you decide to buy this course:
FREE BONUS #1: My 3 Day Challenge White Label Course
FREE BONUS #2: YouTube Ads Breakthrough
FREE BONUS #3: 75% Commissions For Life
FREE BONUS #4: Private Facebook Community
How much does course Freedom Breakthrough cost?
The Freedom Breakthrough course is a complete affiliate marketing course designed to help you build a six-figure affiliate marketing business from the ground up.
The initial cost of the Freedom Breakthrough was $997. But since the recent update, the price has been lifted to $1497. This is a one-time payment with an option to pay $597 in 3 months' installment.
At this point, you're probably wondering if there's a discount available for Freedom Breakthrough.
Unfortunately, the Freedom Breakthrough doesn't offer a discount at the time I was writing this review.
If you are interested to join Jonathan Montoya's course, I advise you to go through his free webinar first.
Who is Jonathan Montoya's course for?
The Freedom Breakthrough is for everyone who wants to make money online with affiliate marketing.
Apart from the $1497 price tag that is challenging for some, this is for you if:
You are a full-time worker and you want to start a part-time online business that will lead you to quit your job, this is for you.
You want to learn several methods (Facebook organic method, Tittok, and YouTube marketing with paid ads) you can use to make money with affiliate marketing.
You are ready to invest in yourself. If you are not ready to invest over $1000+ in an online course this is not for you.
This is a complete affiliate marketing course and no matter if you are a beginner or an advanced affiliate marketer, this course is for you.
Is Freedom Breakthrough a scam?
No, Freedom Breakthrough is not a scam. This is a legit a complete affiliate marketing course
with a six-figure earner behind it.
By going through this training you will have access to the Freedom Breakthrough course that will help you develop marketing skills to be successful
in the industry.
I know there are several reasons a course can be tagged as a scam like not delivering any results.
For example, if the course doesn't deliver any results, it is a course to avoid.
It is definitely not a scam.
But…
Does the course worth it?
To get an answer to this question, see students' testimonials here.
The pros and cons of Jonathan Montoya's Freedom Breakthrough course
Like any online course, the program is not 100% good.
So…
What are the pros
✔ Jonathan Montoya has a good background in affiliate marketing and there are other experts behind it as teachers.
✔ This is a complete affiliate marketing course designed for beginner and advanced affiliate marketers
✔ Your payment is protected with 14 days money-back guarantee,
✔ A dynamic and supportive Facebook group for support,
✔ Possibility to a=have access to the program with a low entrance fee ($7 one time fee),
✔ The training covers several marketing methods giving students an array of options,
✔ Short-term and long-term marketing strategies covered.
What are the cons
❌ The price is a bit expensive and not for people on a budget,
❌ Most income report I see comes from affiliates, but since it is a new brand program it is comprehensible.
❌ David Shou doesn't have a solid business background – but since it is just his own strategies he shares, it is okay for me.
❌ Extra cost involved – you need to buy tools like domain name hosting, and marketing tools to run your business. And if you will go with paid ads, this adds up to your expenses.
Freedom Breakthrough alternative
Jonathan Mantola's course is a complete affiliate marketing course.
For one reason or another like the cost, it may not be your first rodeo.
So if you are looking for the Freedom Breakthrough alternative, and you are on a budget, Wealthy Affiliate is the program I recommend for a couple of reasons:
This program costs only $49 per month with a 59% discount for your first month.
You get access to an evergreen affiliate marketing training course,
Tools you can use to build your affiliate marketing business
Access to an online entrepreneur community with over 2 million members and more.
You can read my wealthy Affiliate unbiased review for more information or check out my top best affiliate marketing training courses to choose one and get started.
My Freedom Breakthrough review final thoughts
Like any review, my aim is to give you an honest and unbiased review to help my readers make an informed decision.
This is a complete online course for everyone who wants to learn how to make money with affiliate marketing. And the best part it covers several methods ranging from organic traffic to paid traffic. That gives the students more options.
The only downside is the price tag that will be a barrier for people on a tight budget.
If you can afford it, I recommend you give it a try. It comes with 14 days money-back guarantee. So if you are not happy with the content, you can ask for a refund within the 14 first days of your subscription.
Another option is to go with the 3 day Freedom Breakthrough challenge. It cost only $7 one time and that will give access to the program the time you decide.
That being said, I hope you found my Freedom Breakthrough review helpful.
Do you have a question? Drop it down below and I will respond to you ASAP!
Are you a current FB member, share your experience with us.
Be an ACTION taker, SOW YOUR SEED TODAY!
To your success!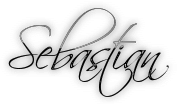 Related post: The 3 Day Business Breakthrough Challenge review.