The e-commerce industry is booming and more and more brick-and-mortar businesses are turning to the online space to expand their business reach and grow their revenue.
In fact, it is estimated that global retail eCommerce sales will exceed $7.3 trillion by 2025.
Setting up an online store today is easy and quick and you don't even need coding or web development skills to get your store live.
And that thanks to eCommerce builder platforms like Shopify, Prestashop, Magento, and WordPress plugins like Woocommerce (for WordPress fans).
But one thing is getting your store live another one is optimizing it for more conversion and most importantly running it on complete autopilot so that you can enjoy more time.
This article is about Getresponse for eCommerce and we will show you how to use Getresponse, one of the leading email marketing and automation tools to boost your revenue and most importantly automate your entire business.
But first and foremost…
What is Getresponse?
Getresponse is an all-in-one platform marketing platform designed for small and medium businesses and mainly for eCommerce store owners. I even call it an eCommerce-centric email marketing and automation tool.
Here are what you can do and the benefits of using the Getresponse eCommerce integration for your eCommerce business:
Send personalized recommendations and automatic abandoned cart messages,
Build post-purchase workflows or customer segmentation. They all help you promote your products and grow your customer base.
Send abandoned cart email sequences (email series ) to your clients who did complete their purchase – this is one way to recover your lost sales,
Easily boost your revenue on complete autopilot with smart selling – integrate and synchronize your promo code from your e-commerce store with the Getresponse software and automatically deliver them to your clients based on their behavior and purchase history,
Send automated transactional Emails to your potential clients such as purchase confirmation emails, abandoned cart emails (a great way to recover your lost sales and increase revenue),
Use Getresponse code-free and drag-and-drop builder to create stunning popups, and landing pages to generate leads and then convert your leads into lifetime customers effortlessly,
Reach your customers where ever they are with their omnichannel feature to build brand awareness, and trust and then grow your revenue,
Increase your client's purchase value with the Getresponse product recommendations tool,
Track and measure your email campaigns, even your sales, and much more.
On top of that there more things you can do with Getresponse to grow your eCommerce business.
You can:
Create stunning sales pages to sell your products or services,
Create a website with their code free and drag and drop website builder to showcase your products or services, drive more traffic and build brand awareness,
Getresponse for eCommerce – Integrations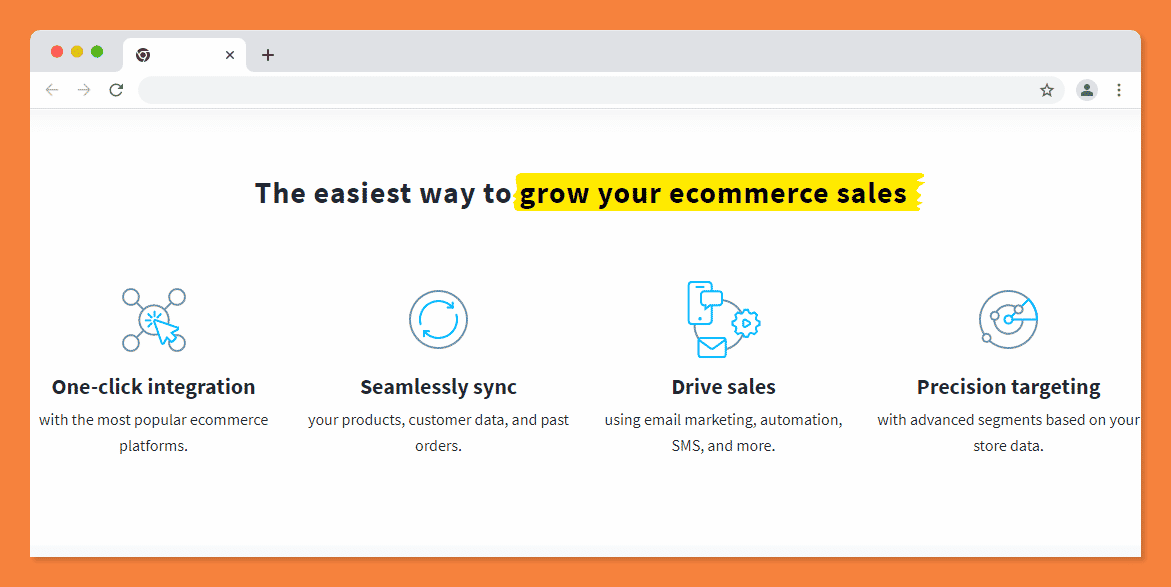 Getresponse seamlessly integrates with Woocommerce, Prestashop, Magento, and Shopify.
With their one-click integration, you can easily integrate your eCommerce store with their email marketing and automation tool, and get all your eCommerce store data (inventory, customer data, and even their past purchase) displayed on your Getresponse dashboard.
And the best part you can start segmenting your customer with their advanced segmenting and tagging feature to then deliver a better and more personalized experience to your customers.
That can boost your sales conversion rate.
So if you are using one of these platforms for your eCommerce business then read on as I will show you how to use Getresponse to increase your conversion rate and make more money with your eCommerce business.
How Getresponse can help you grow your eCommerce business?
Generate more leads, build Your email list
You know striving businesses rely on returning customers. And one of the best ways you can get your old customers to come back to your store and buy your products or services after their first purchase is to get their contacts and maintain a good relationship with them.
This is where Getresponse eCommerce marketing automation comes into play. Because with this tool integrated with your eCommerce store you can easily build high-converting landing pages, and pop-ups and smartly get your store visitors' contact easily.
Here below is an example of a pop-up that can be used to generate leads or get your customers' contacts upon a purchase.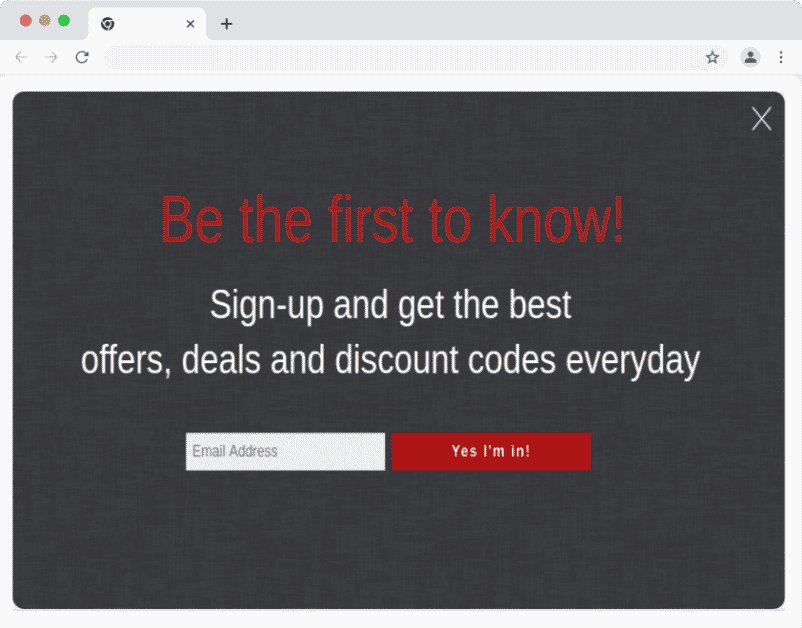 You have several options when it comes to generating leads for your eCommerce business.
Generally, we use what we call in marketing a lead magnet. As an online store owner, your lead magnet can be coupon codes, free delivery, etc.
Here are examples of lead magnet ideas for your eCommerce store if you are selling physical products:
Offer coupon codes – Offering a discount code as a lead magnet can increase not only your email list but can also boost your sales conversion rate.
Here is an example of a lead magnet that can be used with an exit-intent pop-up to convert your customers when they try to abandon their cart.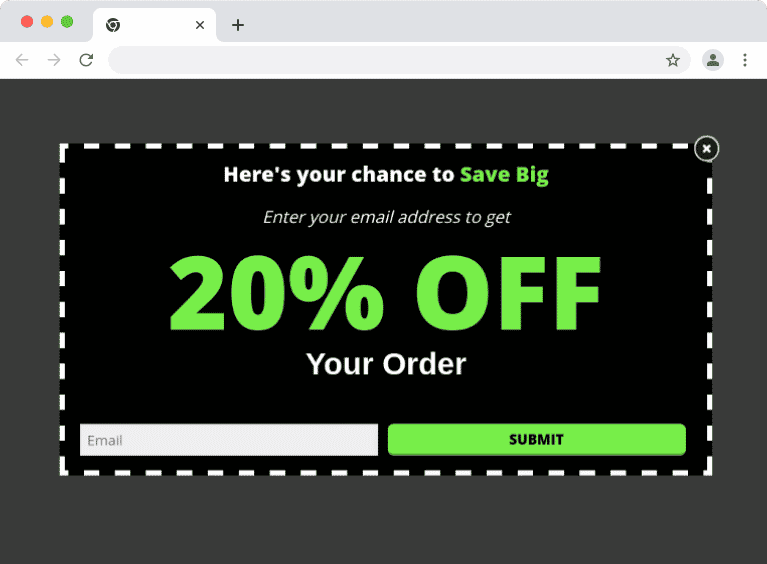 Offer free gifts – who can refuse a gift? Using a free gift can boost your revenue.
Here is a lead magnet sample that offers a free gift after purchase. It can be used to promote a specific/category of products in your store like your best-selling products/services.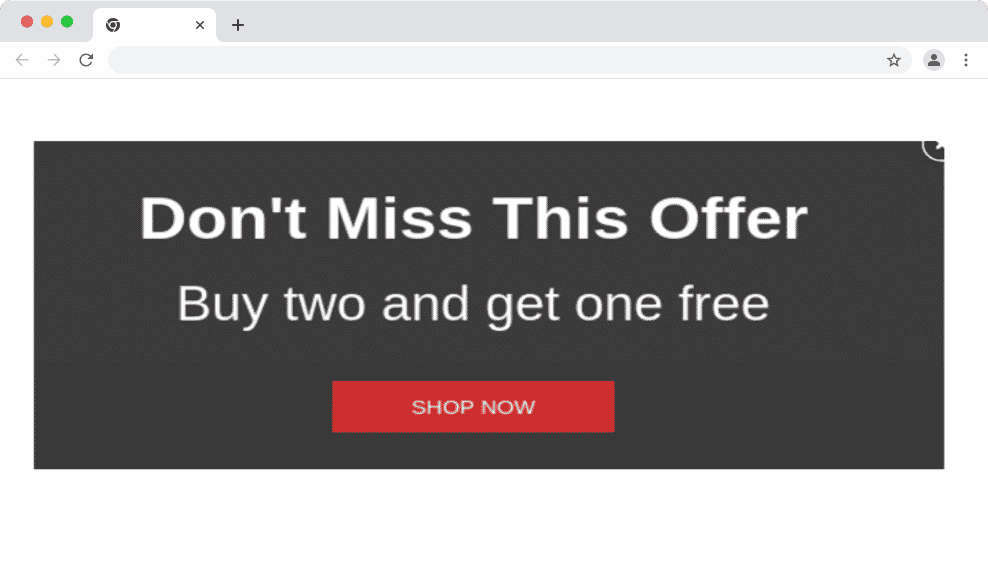 Pro tips: Instead of sending your customers directly to the products catalog, you can get their email addresses before you lead them to your desired page where they can buy the product.
You can also offer:
Host a giveaway,
Run a contest,
Offer free shipping, and much more.
If your store is related to digital products, here are lead magnet ideas:
Free eBook,
Create educational videos or training videos,
Create swipe files,
Offer a free webinar,…
Note: The pop-ups above were built with the Icegram popup builder. The good news you can integrate it to your store no matter the platform you use for your e-commerce business. You can also use the Getresponse Popup builder on your store. Your creativity is your limitation.
Nurture and convert your leads into customers
Transactions are always made based on trust.
Before a customer takes his credit card to buy a product from your store they have to buy you first. In other words, they should trust your business or your product or service.
And one of the best ways to build that trust is through email marketing.
Getresponse is the right tool when it comes to nurturing your leads.
You can with their tagging and triggering system deliver tailored messages to your customers based on their behavior, and needs.
That can lead to more engagement and more trust.
And more trust in your business means more sales.
And what is very important is that you can build automated email campaigns that will be delivered to your subscribers automatically without the need you sending them manually.
That saves you more time you can exploit to focus on other important parts of your business or enjoy with your loved ones.
Build a returning customers database and grow your revenue online
As I said previously, if you want to build a returning customers database, you should focus on lead generation.
It is more difficult to convert new customers into buyers than to get the existing ones to purchase from you again- unless you didn't manage to offer a better customer experience.
With the Getresponse email marketing and automation tool, you can get your existing customers to buy your products or services again.
One of the best ways to get them to buy from you again is by offering coupon codes or discounts to your existing customers.
The best part is that with Getresponse eCommerce integrations you can automatically insert your coupon codes in your newsletters or email campaigns, add countdown timers, and any scarcity to entice your customers to take action.
The Getresponse eCommerce Key features
Advanced segmenting & tagging
As I said previously, Getresponse offers a one-click integration, and all your e-commerce store data will be displayed on your Getresponse dashboard.
You can start segmenting your customers based on their interest, purchase history, etc.
And once you have segmented your existing customers, you can build relevant email campaigns to re-engage your customers, increase trust relationships and get them to buy your products again.
Upsell and cross-sell made easy
Getresponse is an e-commerce-centric email marketing and automation tool. It comes with a powerful tool called product recommendations – which is a data-driven tool that digs deeper into your customers' behaviors, purchase history, etc to suggest related products they may be interested in.
This is a smart way to silently upsell to your customer and increase their purchase cart value – a great way to increase your revenue.
And the best is that the Getresponse products recommendations tool is just a drag-and-drop box you can insert into your email campaigns and it will recommend other products from your store to them based on their preference or needs.
Abandoned card follow up
Imagine a minute. A customer started to place an order and get distracted. Or maybe he found the product is expensive. And he then decided to abandon his purchase.
Now imagine you have the possibility to track the client's abandoned cart, and most importantly to follow him back with automated email series.
You have the chance to convert that customer no matter the reasons he/she left your store without completing his order.
For example, you can offer coupon codes, engage the customer and then take him back to his abandoned cart item to complete the order.
This is exactly what Getresponse can help you achieve with their eCommerce store integration.
Want to learn more, read my Getresponse review.
How to use promo codes to increase sales
To start sending promo codes to your existing subscribers or abandoned card clients, you first need to generate the promo code in your store.
Once you've created your promo code, go into the GetResponse Email Creator and drag the promo code box into your message.
That will pop up the list of your available promo codes for you to select.
Here is an example.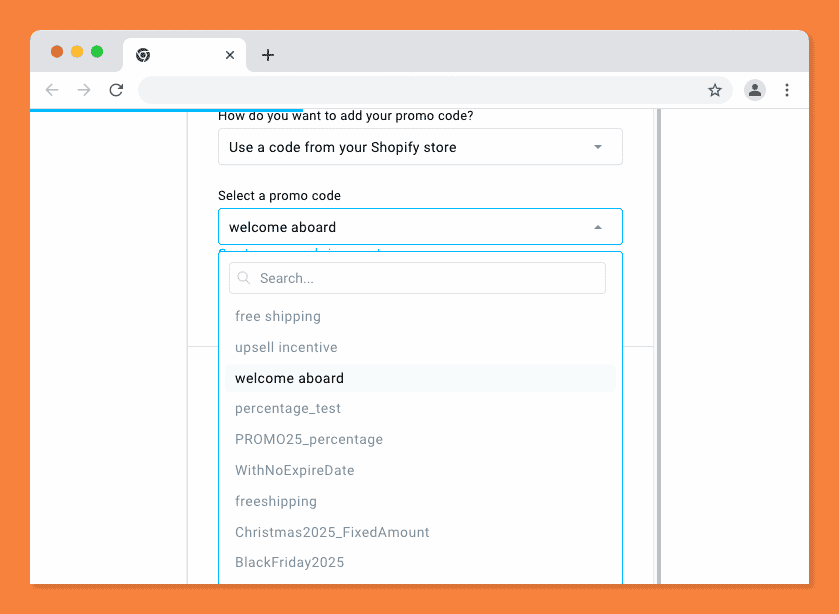 Make sure your store is integrated with the Getresponse software.
Otherwise, you will have to add them manually in your emails.
Now, let's take a look at the Getresponse pricing.
How much does Getresponse cost?
Getresponse is a freemium all-in-one marketing platform – meaning that they offer a free plan and premium plans where you can access more advanced features.
Getresponse Free Plan
The Getresponse free plan is where to start if you are on a budget and don't have money to invest upfront. It comes with some limitations but you will have access to useful features certain key competitors charge for money.
Here is what you get with your free Getresponse membership:
Create 1 landing page to build your email list faster,
Create your own website using their drag-and-drop website builder,
Possibility to connect your own domain name to your website or landing page,
Build up to 500 subscribers for free,
Send unlimited emails to your subscribers every month,
Possibility to try Getresponse premium features for 30 days, and much more.
That gives you an overview of what you will be getting with your premium membership if you decide to top up your membership to premium.
Getresponse premium membership
Getresponse offers 3 premium plans and depending on your business needs you can choose which plan to go with.
Let's take a look at these membership plans and their offerings.
The Email marketing plan – $19 per month or $15.58 per month if billed yearly
Here is what you can accomplish with this membership plan:
Set up autoresponders,
Create unlimited landing pages,
Access to more advanced features inside the website builder,
Segment your email list or subscribers based on their contact details,
stored in your account,
Create and send email series to your subscribers – Email scheduling,
Integrate Getresponse with third party platform you are using for your business, and much more.
Note: You get access to all the free membership features.
The Email Automation Plan – $59 per month or $48.38 per month if billed yearly
As its name suggests, this plan is where to start if you want more advanced segmenting, and email automation to run your entire business on auto pilot.
On top of the email marketing feature you have access to, here are the perks that come with this membership plan:
Marketing automation,
Event-based automation,
Webinars,
Advanced segmentation,
Contact scoring,
Sales funnels, and much more.
The Ecommerce Marketing Plan – $119 per month or $97.58 per month if billed yearly
This membership plan is where to start if you want more advanced features tailored for your eCommerce business growth.
With this membership you have access to the following features on top of the previous membership plan's features:
Quick transactional emails,
Ecommerce segmentation,
Abandoned cart recovery,
Promo codes,
Product recommendations,
Web push notifications, and much more.
Last thoughts…
Getresponse is a great tool designed for eCommerce owners and online entrepreneurs in general.
It is a feature rich-eCommerce automation tool. It comes with advanced segmenting and automation features that can help you grow your eCommerce business effortlessly and free up your time.
With their one-click eCommerce integrations feature, you can seamlessly integrate Woocommerce, Shopify, Magento, or your Prestashop store with this leading marketing tool to boost your sales conversion rate and make more money online.
I hope you enjoy reading this Getresponse for eCommerce guide for beginners.
Don't have your eCommerce live yet?
Learn how to build a successful and conversion-oriented eCommerce store with WordPress.
Do you have a question, leave it below in the comment section, and I will respond to you ASAP!
Be an ACTION taker, SOW YOUR SEED TODAY!