Welcome to my HoneyGain review where I will be covering all the questions you may have about this platform that promises passive income for users.
If you come here with questions such as:
What is HoneyGain?
Is HoneyGain a real or fake (scam or legit)?
Is Hiney Gian safe to use?
How to make money with Honey Gain? and so on, you are in the right place.
Because this review will cover all these questions and even more it will help you to get a better understanding of how this platform.
But first and foremost, let me introduce myself if it is your first time on my website.
I am Sebastian, a journalist by day and a side blogger by night.
I have created this website in 2019 after I have wasted my valuable time and thousands of dollars on under-delivered products and scams site to help people avoid the same mistake I made while showing them what worked for me.
After 2 years with my blog, I now make a 4 figures monthly income from this website.
You can get my full report by clicking on the button below.
Here is what I will be covering in this review.
Since this is an in-depth review, make sure to click the section you want.
HoneyGain review summary – company overview
Company Name: HoneyGain
Website: https://honeygain.com
Cost: free
Is HoneyGain a scam? No
Sow Your Seed Today rating: 6/10
Do I recommend this? Yes
Lets's now dive in and find out what is HoneyGain about?
What is HoneyGain?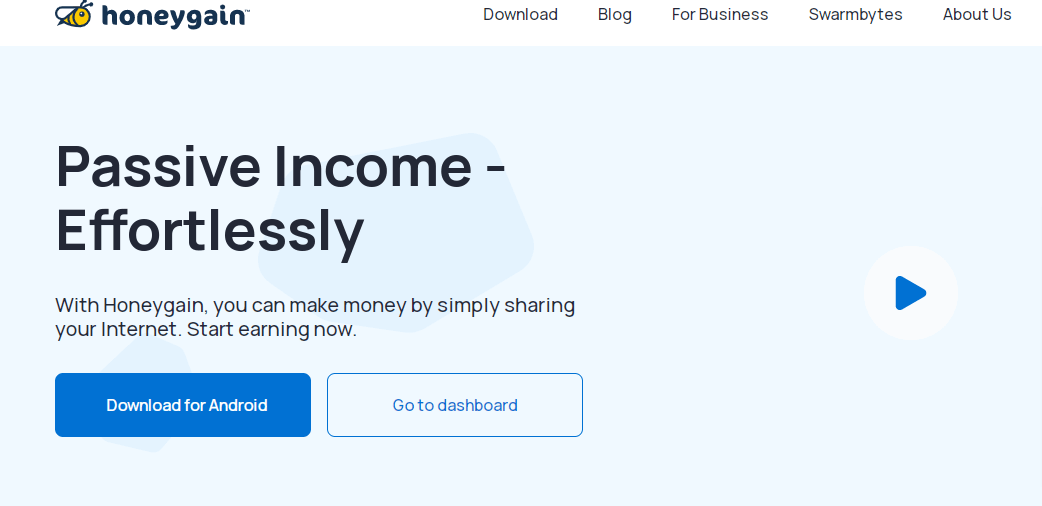 HoneyGain is a crowdsourced residential proxy network that allows users to make a passive income by sharing their internet connexion with them.
created in 2018, HoneyGain has over 1 million users on its belt with a good rating score on Trustpilot.
They have Apps you must download on your smartphone, iPhone or Laptop and then set the amount of internet connection you are ready to share for cash.
The more internet connection you share with the company, the more passive income you earn.
The best part you can install the Apps on all your devices to maximize your results.
PS: They offer a 5$ sign-up bonus and creating multiple accounts is strictly against their rules. So make sure you connect one account with all your devices and don't try to game the system.
I know that you may be wondering if it is safe to use HoneyGain since they have access to your network or internet connection and they share it with third parties companies that are their partners.
But you can be assured because this platform is 100% safe to use and they only share your internet connection with trusted and reliable brands for market research only.
The Apps never ask to have access to your device storage or browsers.
I think that if you have a full-time worker like me and you spend at least 40 hours a week working with an internet connection, most of your internet connection remains idle.
This is a great way to make a passive income without doing anything by just sharing your idle internet connection while you're not using it.
Isn't this gold mine called a passive income everyone dig to make on a daily basis?
So don't miss this opportunity.
Get a $5 bonus with this link here.
Or…
If you are not convinced yet, let's move into the next section of my HoneyGain review where I will show you how HoneyGain works.
Also, read my iHub Global review to learn how to make HNT (Helium token) for free.
How does HoneyGain work?
As explained above, HoneyGain is a company that works with third parties companies.
They allow companies to access the World Wide Web without any location restrictions for censorship. And tasks these companies operate through their network include market research, SEO, price comparison, Ad Verification, Content Delivery, Apps testing, etc.
These are important data companies need to have in order to improve their products or services for their audience and to stay out from the crowd.
They have software or Apps users must install in their device and then share a part of their bandwidth connection with them for real cash.
Once again, the Apps don't access your device data, nor spy on you. It does not even have access to your internet search via your browser.
It only uses your unused bandwidth connection to allow its partners to do a search on the internet.
In other words, it is like you are rentering your internet connection to companies via the HoneyGain Apps.
From here, you can see that HoneyGain acts as a middleman between companies and their Apps users and this creates a win-win-win situation for each party.
You and I as a user benefit from this App by just sharing a certain percentage of our internet connection with brands for market research. That is easy and passive for us.
Companies in some cases are not able to access the world due to certain restrictions and censorship can thanks to HoneyGain Network have access to the world for data collection to improve their products or services in order to say from the crowd.
HoneyGain itself makes money thanks to these companies and our collaboration.
In case you still wondering how everyone is a winner here, let me go ahead and explain a bit.
These companies who want to use HoneyGain Network pay him to have access to their users' internet connection.
In other words, Honeygain charges them a fee.
A part of what HoneyGain makes or gets from these companies is shared with you and me as a user.
Clear now.
Right?
So make sure you click on the button below to get your $5 sign-up bonus.
Is HoneyGain a scam?
No HoneyGain is not a scam. This is a legit and trustworthy network that works with trusted companies and unlike certain websites, they pay their users.
According to the company they have an average of $23.65 per payout.
And since it is free to join, you have nothing to lose but a lot to win as you will get a $5 bonus when you sign up.
But…
Is HoneyGain safe to use?
Yes, HoneyGain is safe to use. And you don't have to worry about it.
We have tested it for you.
The company is clear with the users on their website. The only thing they get from you is your internet connection. And the best part you have control over the amount of your internet connection data you share.
You can fix a limit of the amount of data they can get from you on a monthly basis.
As I said the higher your internet connection data shared the higher your earnings potential.
It is simple like this.
You have also control over the area of your device you want to allow them to access.
And according to the company they care about the security and privacy of their users. And for that, they have a dedicated team that diligently examines companies' data in order to make sure they have a good reputation.
How to get started with Honeey Gain?
Getting started with HoneyGain is easy like 1, 2, 3.
You just need to click on this link.
You will see a page like this one below. Just click on the "claim $5 now" button.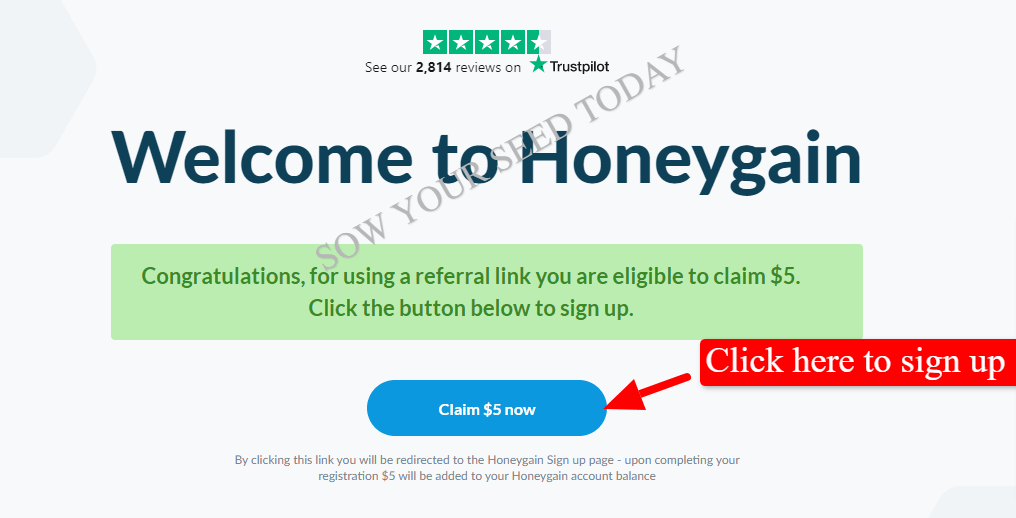 When you click on the button, you will be taken to the sign-up page where you just need to use your email address to sign up.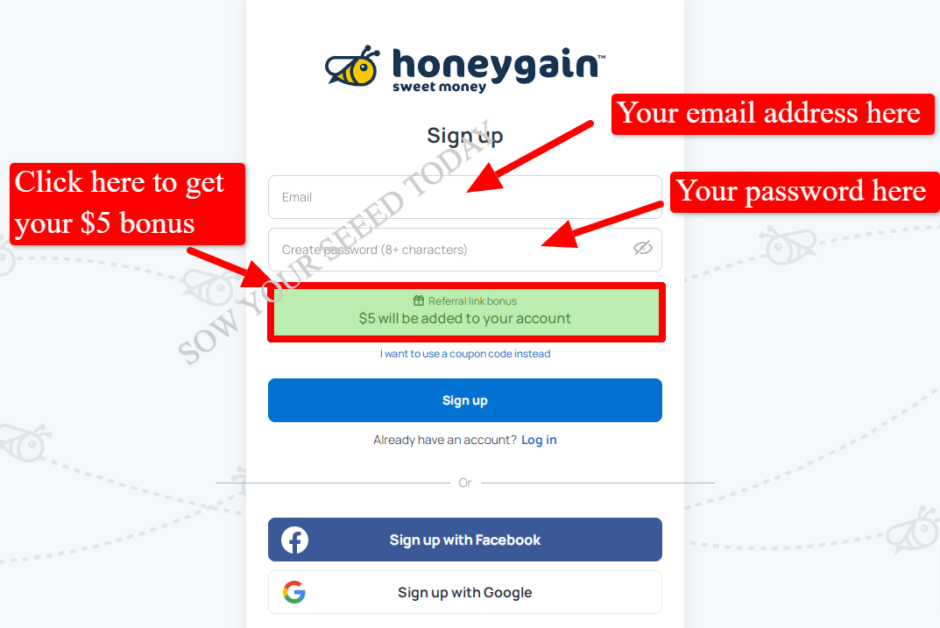 Click on the button outlined above to sign up. Then confirm your email address and download the HoneyGain App on your preferred device and start making passive income.
Honeygain payment methods – how do you get paid?
HoneyGain offer 2 payments methods at the time I was writing this review.
You can get paid through coin payment (Bitcoin) or through your PayPal account.
If you are from a country where PayPal is not available, you can use Bitcoin as a cash-out method.
What is the minimum payment threshold?
With HoneyGain you can get paid once you have in your account the minimum payment threshold that is $20.
And once you have such an amount of money in your account you can cash out immediately.
No waiting for weeks or months to get paid.
Based on the earnings potential that is limited, $20 seems to be high.
But the good news is that they offer a referral program that pays 10% on their earnings for a lifetime. That means by sharing the news with your friends and others you can maximize your earnings potential.
Plus with the $5 sign-up bonus, your first payment may not take too long.
Also, read my MarketPlace SuperHeroes review to learn how to make money with Amazon.
How much can you make with HoneyGain?
How much you get paid depends on many factors:
The megabytes (MB) you share on the platform
Remember I said earlier in this HoneyGain review that the more Internet connection you share, the higher your earnings.
The number of active referrals you have
The more active referrals you have, the more passive income you earn.
For example, if you have 50 referrals and each of them makes $100.
You will get $100 x 50 x 10%. That is $500.
Imagine if you have 100 referrals?
And since people can get a $5 sign-up bonus via your link, getting referrals is easy.
The number of devices you have connected to your HoneyGain account
The more devices you sign up from, the more passive income you will generate.
The Apps is available for any kind of device such as Smartphone, iPhone, and laptop.
Your location
Recently HoneyGain added another feature called Content Delivery. With this service users of certain countries have the chance to maximize their earning potential.
Here is the list of the countries the CD program is available: Argentina, Australia, Austria, Belgium, Brazil, Canada, China, Colombia, Czech Republic, Denmark, Finland, France, Germany, Greece, Hong Kong, Hungary, India, Ireland, Italy, Japan, Malaysia, Mexico, Netherlands, New Zealand, Norway, Poland, Philippines, Portugal, Romania, Russia, Singapore, South Africa, South Korea, Spain, Sweden, Switzerland, Taiwan, Turkey, United Kingdom, and United States of America
Note that the CDN program started with only 2 countries that were USA and UK and it has been extended to the countries listed above.
We believe the company is working to extend it worldwide.
PS: Note that this program will not make you rich overnight.
What is cool with this program is that you don't have anything to do than to sign up, open the Apps 2- 5 time a day to earn.
If you want to build a business that will help you bring food to the table, I highly recommend you join this platform.
How to make money with HoneyGain?
To make money with HoneyGain, you have 3 steps to follow:
By joining HoneyGain via an invite link like this one, you will get a $5 bonus than going directly with the platform direct link.
Install the Apps on each of your devices (smartphone, laptop, tablet, etc) and run it 2 – 5 times daily. You will get a $5 welcome bonus once you install the Apps.
Refer your friends and earn a 10% lifetime commission on their earnings.
After you have installed the Apps, you can get an affiliate link you can use to invite other people to install the HoneyGain Apps too.
They will get a $5 bonus if they sign up. HoneyGain will also compensate you with a 10% commission on their daily earnings.
These earnings will l help you boost your income potential. That means you can reach the minimum payment threshold faster than your bandwidth connection allows you to.
Pros and cons of using HoneyGain
The Pros
The app is safe to use,
Getting started with HoneyGain is straightforward and easy,
You get a $5 sign up bonus that can help you reach the minimum payment threshold faster,
Rewarding and great referral program to boost your earnings,
Good rating score on Trustpilot
The Cons
You are trading your data for cash,
The earnings potential is limited,
You have to open the Apps each day to earn,
If you allow the Apps to run app running on your device 24/7 in the background it can reduce your battery life,
Multiple devices usage is great but you still need to get them connected to earn,
The minimum payment threshold is high based on earnings that range from $1- $2 a day.
Final thoughts…
HoneyGain is a platform that allows people to make extra and passive income by sharing their internet connection data with companies.
It is a legit Company and the Apps is safe to use…
Only the earnings potential is limited.
While this is true, we believe that it remains a good passive income source for those who are looking for a way to earn money without doing much.
As I said earlier, this app won't make you rich or help you quit your day job.
If getting a few bucks worth any work is okay for you, then go for it.
However, if you want to make a passive and consistent income from home that will enable you to pay your bills and be financially free over time, starting your own online business is the best way to go in my opinion.
.
That being said, I hope you found my HoneyGain review helpful.
From now, if you have come here with questions such as:
Is HoneyGain a scam?
Is HoneyGain safe to use?
How to make money with HoneyGain?
Most of them have been answered in this review.
If you have a question, drop it down in the comment section.
If you are a user of this App share your experience with us.
We would like to read your thoughts.
Thank you for reading my HoneyGain review.
Be an ACTION taker, SOW YOUR SEED TODAY!
To your success!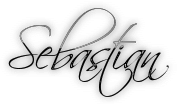 You may also like…
Welcome to my Fat Stacks review of 2023. Want to know if the Niche Site…