Want to learn how to do keyword research for SEO and get ranked higher on Google?
If yes, you are in the right place.
In fact, the ultimate goal of any blogger, online business owner, or web content creator is to get his pages or blog posts ranked #1 on the first page of search engines, get a high click-through rate (CTR) and get a high conversion rate.
DOn't have your blog yet, follow this step-by-step guide to get started today.
But one of the key factors that can help you achieve this is to target the right and low competition long-tail keywords that target your audience by doing in-depth SEO keyword research.
Whether you are a starter in blogging or at an advanced level in your blogging journey, if you want to learn how to do keyword research for SEO and write articles that will be ranked #1 on Google or any search engine on the first page, you've come to the right place.
Through this post, I will guide you step by step on how to perform keyword research for SEO by using my favored keyword research tool (Jaaxy) and extra tips to get your pages on top of the SERP (Search Engine Results Pages) easily.
But rest assured that even if it's not Jaxxy you're using as a keyword research tool, this post will still help you apply it with any keyword research tool you use or will use.
But before getting to the point, let's find out why it is important to do keyword research for SEO before you start crafting words for your blog post and publish it.
Why it is important to do keyword research for SEO before you write your post?
If you're wondering how to perform keyword research, that means you know what a keyword is. Otherwise, a keyword is a word or group of words that people type into their browser to find information on a specific topic.
For example, a user who wants to pay for a video camera but doesn't know which camera to choose will use keywords such as:
A video camera buying guide for beginners,
How to choose a video camera,
Beginner guide to choosing a video camera, etc.
This is a short keyword definition to just help you get on the same page with me.
So why is it important for you as a content creator or blogger to do keyword research for SEO?
First of all, you need to know that a keyword is a basic element for your SEO without which your blog or website will never be known.
So if you don't want your blog to be known by only your friends and your family members, you need to learn how to find the right keyword for all your blog posts.
Don't get me wrong.
Believe it or not, even if your on-page SEO and off-page SEO is at the top, if you have not chosen the right keyword that targets your audience, it will be difficult even impossible to get your post on the top pages on SERPs.
So the first reason is that a keyword, if well chosen, will help your site to be ranked on search engines and will help your target audience to find you easily when doing searches online.
Second reason: It allows you to properly target your target audience and meet their needs.
Third reason: A keyword allows the search engine to understand the subject and theme of your site and to serve the users or your audience when a query is occurred related to this keyword. Without it will be difficult for search engines to understand what your post or site is about.
Now that you know the importance of choosing keywords for your posts, let's get into the nitty-gritty of how to do keyword research for SEO.
How to do keyword research for SEO? (In 3 easy steps)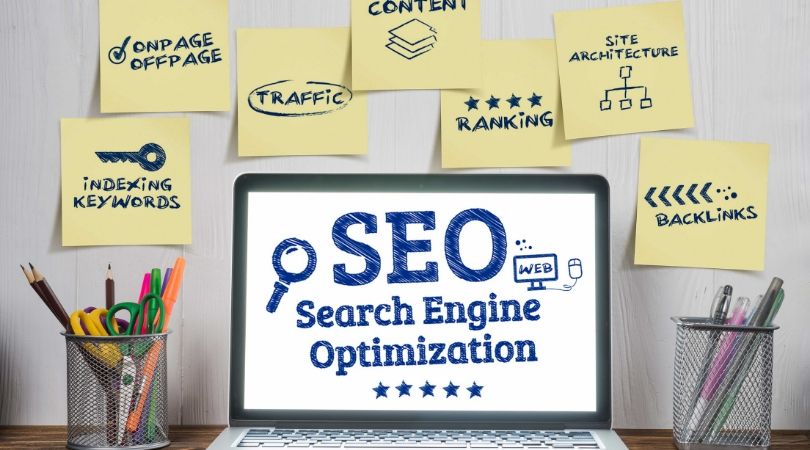 1. Know your niche
The first step to start doing keyword research for your posts is to know your niche. It's knowing the topic you're blogging about. Searching for keywords without knowing your niche is like looking for a needle in a haystack.
Who is your targeted audience?
What are they looking for and what do they want?
Answering all these questions will help you start your keyword research process in an efficient way and meet your audience's needs.
2. Find keyword ideas for SEO within your niche
Once you know your niche, you can now search for keyword ideas.
So get your brains in gear. Brainstorm some keyword ideas within your niche and write them down.
Let's say you are in the tech niche and you promote products related to digital cameras.
Put yourself into your targeted audience's shoes.
The question you have to ask yourself is who is your audience in that niche? What are they looking for?
Or what are the questions or phrase terms they may type on their browser search bar to perform a search online?
This can help you brainstorm keyword ideas and answer their questions or search queries.
Here are some keyword ideas you may already have in mind:
Where can I buy a digital camera online?
Best digital camera for Youtube,
Beginner's guide to buying a digital camera, etc.
If you can't come up with more ideas, follow my keyword research tips to find even more keyword ideas.
keyword research tips: 4 easy tips to find keyword ideas
1. Use Google suggest
When it comes to finding a keyword idea, Google is a place to gather a myriad of keyword ideas.
Let's say you're in the health and fitness niche.
If you don't have a keyword idea you can try to write the main keyword of your niche in Google's search bar and then use the alphabet soup technique to come up with a lot of keywords ideas.
If you don't know what the alphabet soup technique is, let me give you a brief definition.
What is the alphabet soup technique for SEO?
The Alphabet soup technique is a method of finding keywords using the Google Instant feature and the alphabet. what you need is to just use the letters of the alphabet to help you come up with new keyword results.
You noticed when you are typing Google will show you related keywords. These are the most searched keywords and it means there are a lot of searches that occurred on these keywords.
A live example: Let's type "lose weight" on the Google search bar.
We get results like in the image below.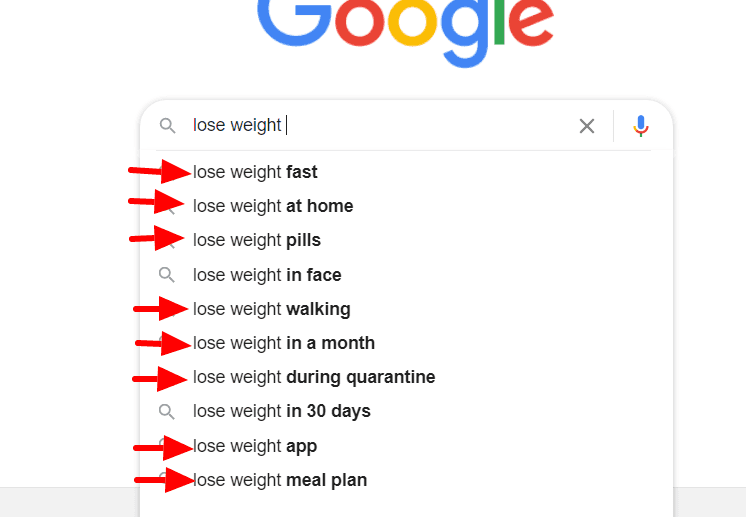 Now, let use the alphabet soup technique: lose weight +a
We get results like in the image below.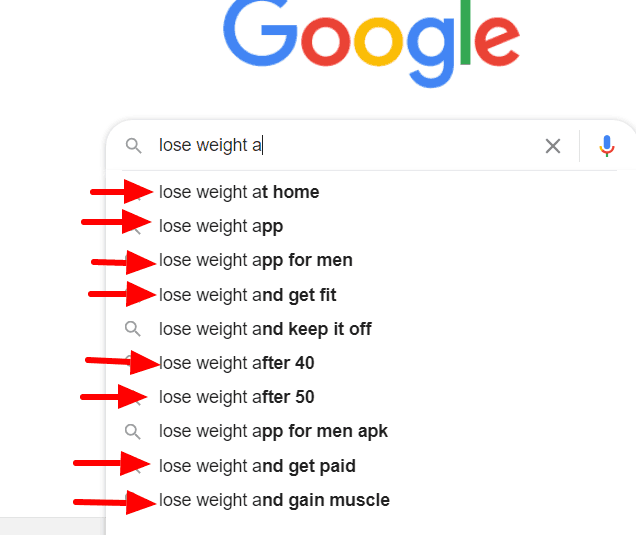 Now, let take "lose weight" + b
We get results like in the image below again.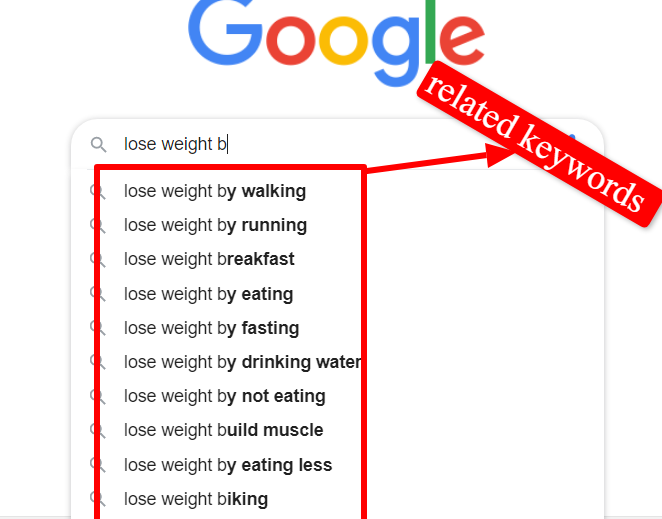 I guess you understand the process. You can use this technique and put together a bunch of keyword ideas.
For example, to all these keywords we have, we can use them to create "how-to" blog posts such as:
how to lose weight by running
how to lose weight by fasting
how to lose weight after 40
how to lose weight walking,…
We can even move forward if we want long-tail keywords.
Let's type lose weight fast + "na". We got results like this.?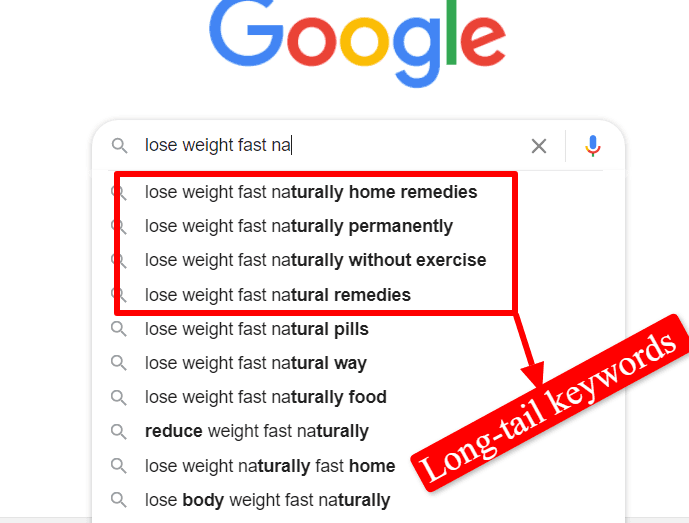 2. Use Google & Bing related search results
You've already noticed that when you search on Google or Bing, they show you other search terms that internet users search very often.
These are the related keywords I got when I do research on Google with the keywords "how to lose weight walking".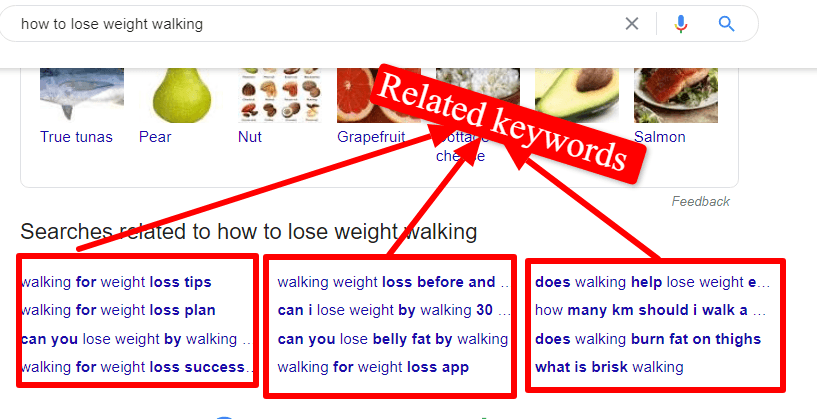 3. Use Q&A site as Quora or Yahoo Answer
The next step to finding keyword ideas is to use Q&A site like Quora or Yahoo Answer
Quora is a question and answer site where people ask questions that are not answered on the net.
It's really a goldmine for finding keyword ideas. You just have to register on Quora and choose the themes that are related to your niche and you can find hundreds of questions that you can source.
And what's important is that like Google is that Quora also shows you related questions and the one you have visited.
For example, with this keyword related to SEO: "How we can rank keywords easily via SEO".
It's a keyword that doesn't make sense but allows you to have ideas about other keywords related to this topic.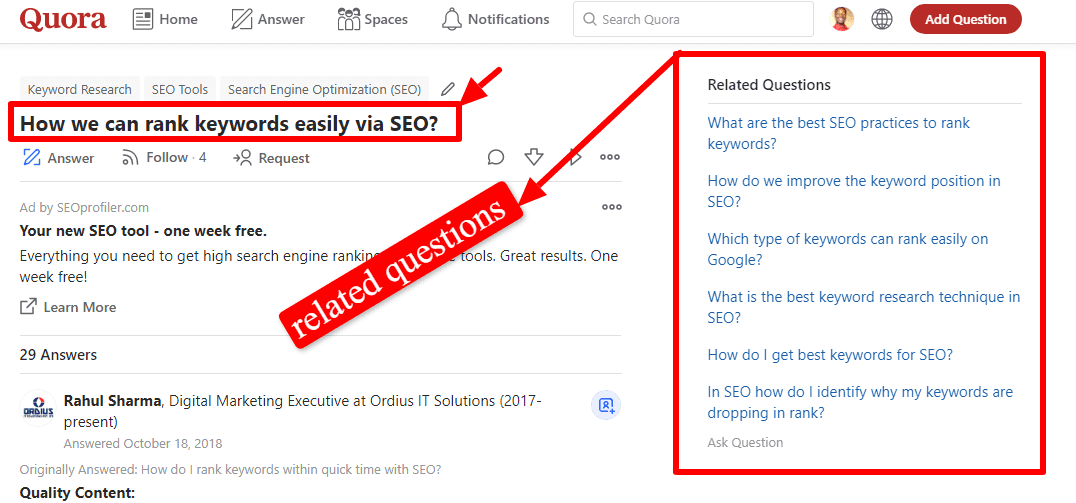 For each question you check out, you will find related questions and all these are keywords ideas.
The next tip to finding keyword ideas is to use a keyword research tool and Jaaxy is the best for that as it offers an alphabet soup feature.
All these methods mentioned above require a lot of time for you to come up with keywords ideas.
For example, using the soup alphabet technique with Google, we can waste an hour just to find some keyword ideas.
But the Jaaxy keyword research tool can help you to find countless keywords ideas in 1 min.
For instance, when I enter the keyword "video came for Youtube" in Jaaxy's alphabet soup search bar, it gives me all the keywords from A to Z that people type on search engines.
Here are the results I get for b & c. ?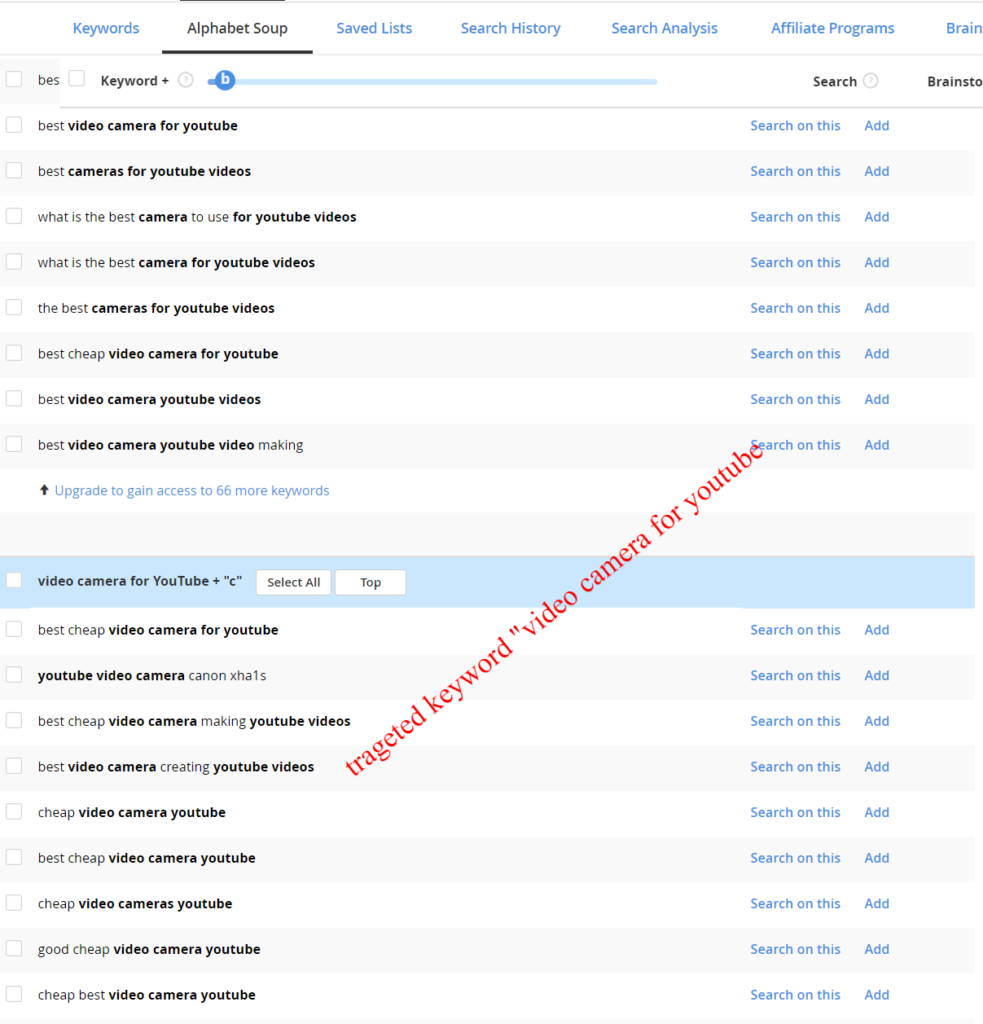 I hope my keyword research guide or tips will help you find keywords ideas for your next post.
Now, let's move into the next section on how to do keyword research for SEO and find out how to choose the right keywords for your post.
Also, read the best blogging tools for beginners.
3. Choose the right keyword to write about
After gathering keyword ideas, the next step is to choose the right keywords that will allow you to rank higher and easily on Google.
You may wonder but how to choose the right keyword?
All right!
You will have to base your choice on 4 factors:
Search volume: The number of searches occurred on the keyword per month.
Competition level: Low, medium, or hight.
Relevance: Is the keyword target your audience or niche topic?
Buying intend: Keywords are more specific and often result in a high conversion rate.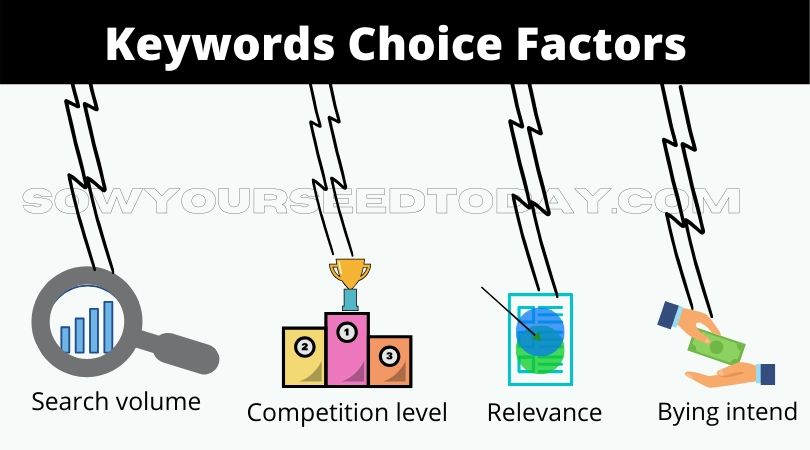 Whatever the keyword research tool you use, you will get search metrics that you need to understand in order to pick the right keyword.
With Jaaxy, here are the search metrics you will find:
Avg: Show us the average search the keyword got per month
Traffic: Show us the number of visitors you can get if you manage to rank on Google first page,
QSR: Show us the competition level,
KQI: Indique the quality of the keyword,
SEO: Give us the SEO score – The higher it is, the higher the likelihood of ranking for that keyword.
I use Jaaxy, one of the best SEO keyword research tools for my keyword research. So we'll use it for this tutorial.
If we introduce the keyword "how to lose weight by fasting" in the search bar, we get this result: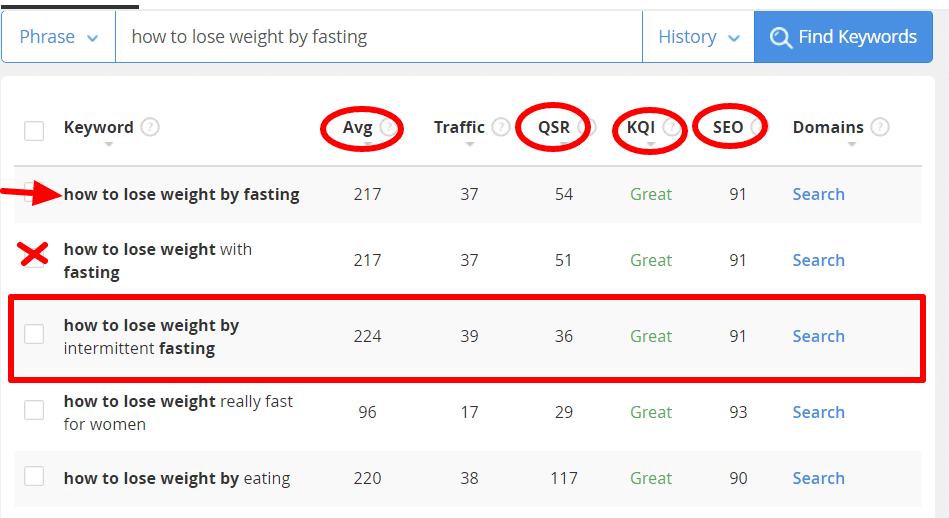 I've highlighted the metrics you need to give more credit to.
And among these results "How to lose weight by intermittent fasting" is my best choice.
Why?
Here are the reasons for my choice:
1. With this keyword, I can even rank for the keyword "how to lose weight by fasting".
2. Long-tail keyword and the competition level is low (QSR = 36),
3. Search volume equals 224. That is good for a long-tail keyword,
4. SEO score is high (91),
5. Relevant if I am in the weight loss niche.
Now, you can find keyword ideas following this keyword research guide and you can also choose the right keyword for your next post. Let's move into the next section of my ultimate beginner's guide on how to do keyword research for SEO and find out why I chose Jaaxy as my keyword research tool.
Why I use Jaaxy to do keyword research for SEO
This keywords research tool is my best choice when it comes to finding an untapped niche or the right keywords for my posts.
Here are the reasons I choose Jaaxy:
Jaaxy allows me to find long-tail keywords easily,
The search metrics it provides is very accurate. This data is based on the search metrics of the internet users and allows to drive free traffic to your site.
The data provided allows me to see the monthly search volume, competition level and SEO score which are very important data to be indexed by search on Google.
Jaaxy is a keyword research and analysis tool. So it allows me to make an in-depth analysis of the competition on my keywords with the top 10 pages on Google targeting the same keywords. Want the best keyword analysis tool, don't look furthermore.
Jaaxy has a feature that allows me to come up with keyword ideas when I'm out of ideas by using the alphabet soup feature. And it can be done in simple clicks of the mouse.
Jaaxy keyword research tool allows me to save my keywords I find useful for my website with their data for future reference.
It allows me to consult the history of all the keywords I've had to do for months. And this has often helped me when I lose my internet connection and I forget to save a keyword that I thought was useful.
It allows me to find an affiliate program in my niche easily to join. And even more to analyze the reliability of the products I want to promote.
And this is very important when you know that promoting a product that does not bring value to customers is compromising the success of your business.
Jaaxy is my best SEO keyword research tool because I got real results using it
Thanks to this keyword research tool, I managed to hit 2k+ visitors a day with my new brand website.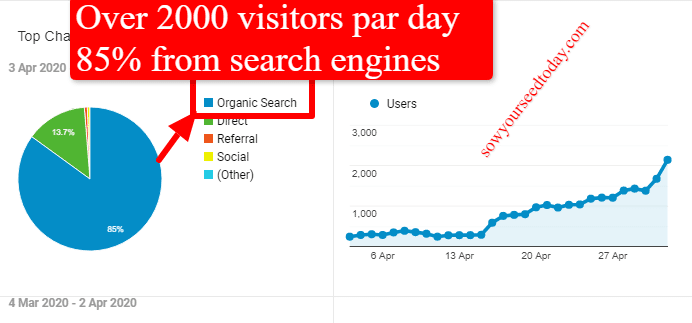 You read my full Jaaxy review here.
In order to give you an overview point on how to do keyword research for SEO, let me wrap it up.
Wrapping up…
Having your blog ranked #1 on Google's first page is the goal of every blogger.
But this can only be done by choosing the right keywords, improving your SEO.
It's not a rocky science. It's something you can learn and master.
For example, if you run out of keyword ideas for your post, you can follow these tips:
Use Google suggest by using the technical soup alphabet.
Use Google and Bing related search results
Use Q&A site like Quora or Yahoo Answer
And once you have your keyword ideas, you can use a keyword research tool of your choice to figure out if it is worth writing your blog post about it or not while considering these 4 keywords choice factors:
I hope this how to do keyword research for SEOguide has been helpful to you and will help you choose the right keywords for your next blog post and get ranked #1 on the search engines.
If you have a question or want to share your thought, you are welcome. Drop it in the comment section and I will respond to you ASAP.
Sharing is caring! Share this post with your friends if you found it helpful. It will benefit them too.
Be an ACTION taker, SOW YOUR SEED TODAY.
To your success!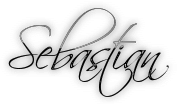 You may also like…
Do you have your own website or blog and now looking for affiliate programs to…