Do you want to learn how to start a side hustle online business when working full time?
If yes, you are in the right place.
In fact, we created this site to help 9 – to – 5 workers like you get started their side hustle online business in the right paths. Our aim is to educate, encourage and inspire you by providing reliable and trustworthy resources that will help you succeed in your new online venture.
So if you want to learn how to start a successful side hustle online business, keep reading…
But, before we get into the meat of how to start your side hustle online business successfully, let's discuss some reasons to start a side online business in this modern world while working full time.
4 reasons to start a side hustle online business while working full time
1. Starting a side hustle business can help you develop new skills and establish yourself as an expert
In today's world, having skills in several fields opens up a world of opportunities for you. The more skills you have, the more opportunities you can access.
So if you want to acquire new skills and broaden your action fields, be solicited for your skills, and make extra money then it's time to get started.
2. Starting a side hustle business can help you build a business for your own and get you out of your 9-5 day job
Who doesn't want to be his own BOSS? Who wouldn't want to have a flexible schedule? Spend more time with his family?
May he raise his hand!
If you didn't raise your hand, it means you love freedom and flexibility. This means that you want to be your own BOSS.
But you will never be your own BOSS if you don't build a business on the side of your day job. Or at least by taking a risk to leave your day job and set up your own business as Jeff Bezos, Amazon's founder did.
It's a big risk to quit your job and start a new venture, isn't it?
Instead of taking this risk, you can start a business on the side while working full time, Invest your free time in it and make it grow.
Once your revenue multiply two or three times your salary, you can leave your full-time job, kiss your boss goodbye and start working on your own. No more personal accountability, no more 9-5 work.
3. Starting a side hustle business can make you extra income – even full-time income
Starting a side hustle online business can make you an extra income and even a full-time income over time.
Making an extra income can change your living conditions and give you more freedom. And the only way to maximize your revenue is to multiply your income source.
Proverbs 14: 23

All hard work brings a profit, but mere talk leads only to poverty.
And my advice is not to focus on short-term results (immediate results) but in the long term.
Personally, I would prefer to work on side projects that would not give me a consistent and immediate results today (even $0 profit), but that could help me in the long run to reach my financial goals
And I still prefer a job that I will do once and harvest the fruits over and over again.
4. Starting a side hustle business can help you take early retirement
When it comes to how to take early retirement, the first advice many financial advisors will give you is to save money and invest in market stocks.
However, I think that starting a side business can be a way to achieve your early retirement goal very early.
Indeed, Sam Dogen, a blogger who lives in San Francisco retires at 34 in 2012 thanks to his side hustle blog Financial Samurai on which he currently works full time.
You can be next if it's your dream too. All you have to do is start a side hustle business today.
This is what he said:
San Francisco

Starting a blog changed my life for the better and I recommend everybody do the same to at least build your brand online.
Now, you know the benefits of starting a side hustle online business when you have always a salary to support your family, let's find out…
How to start a side hustle online business in 2023?
In this 21st century, starting a side hustle is easier than ever. Yes, even working full-time you can start a side business. What you need to do is to organize your side business while managing wisely your spare time.
Excited? Let move on…
Here is the way to go if you really want to start a side business for your own.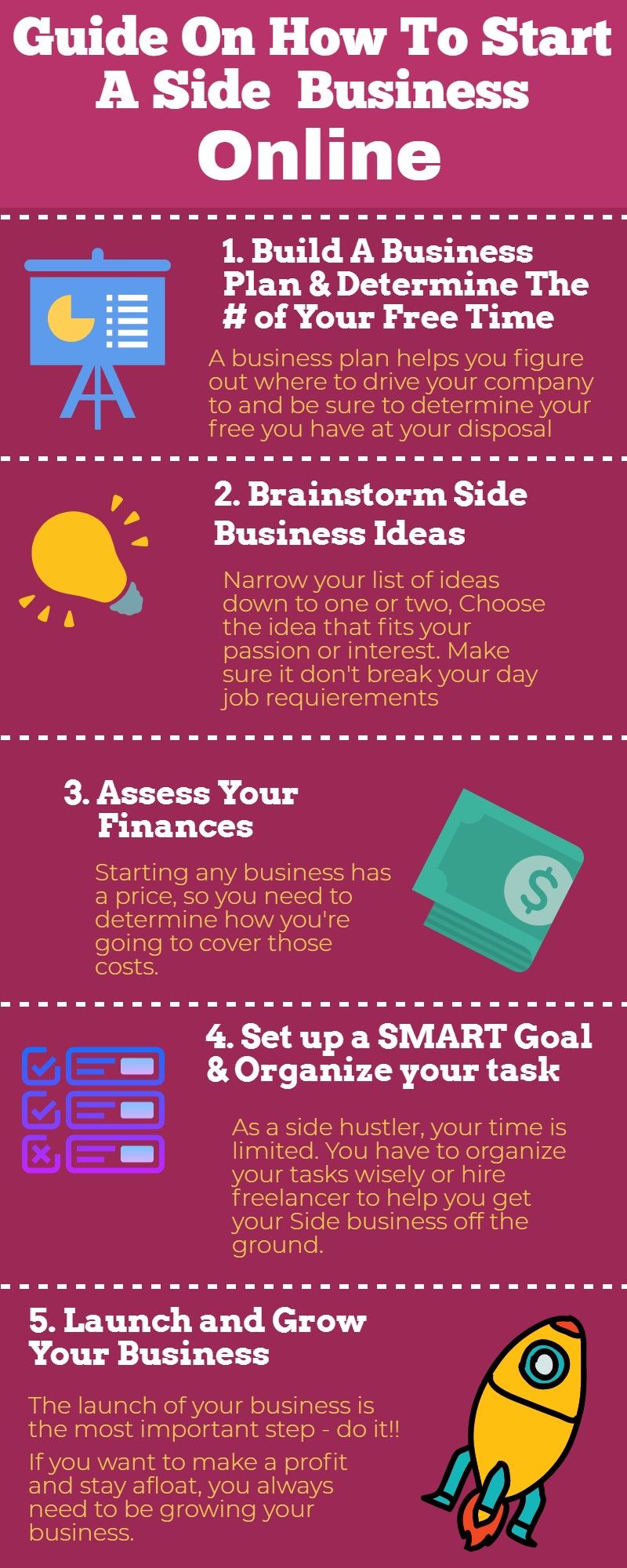 Determine the number of free hours you have in a week.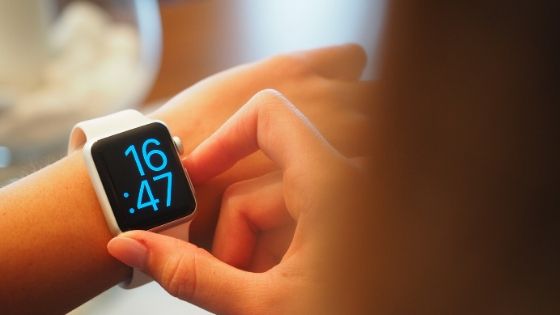 Running a side hustle is committing yourself to work on the side of your day job, which requires a little time of workflow.
So, before you think about which side business you can start, it is necessary to determine how much free time (hours) you have at your disposal in a week.
This will help you and serve as a basis for choosing your side business idea.
What you should know is that it is up to you to determine when to work on your side project.
For example, you can spend 2 hours each evening on your side hustle business after work and during the weekends.
As you can relax in the evenings after work and get up early in the morning to work on your side business before you go to work for your boss.
That's what I'm doing with this blog. It requires sacrifice, but over time, your hard work will pay off.
Find a side hustle business idea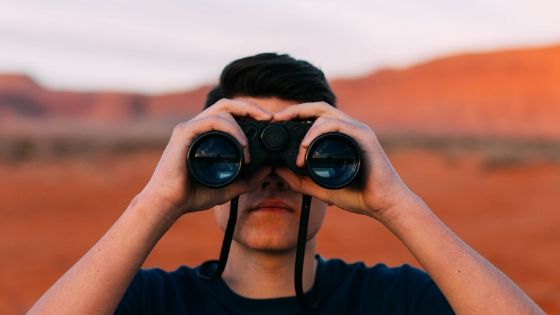 Keep in mind, your side hustle is a real business you must handle in a serious way.
What is a side hustle business idea?
A side hustle business idea, in a nutshell, is a business idea you can implement on the side of your day job.
It is an idea which implementation doesn't break your day job requirements.
How to find side hustle business idea
This basic step is where many people stop and give up their dream.
However, finding a business idea is not rocky science.
In fact, you can base on your career: the skills you developed over time in your career, on your hobbies and interests – all these are a field you can explore and find out an idea and get started.
Side hustles ideas you can start today and make a living online
Here are some side hustles ideas you can consider:
1. Blogging
Blogging is my best friend and the business model I love spending my free time doing. It is very fun and something that passionate me a lot.
Starting a blogging career doesn't require a huge budget and won't break your saving bank account.
However, it allows you to build multiples streams of passive income, develop some new skills, and many more advantages.
Related post: How to start a profitable blog on the side
2. Coaching service
This business model doesn't require you a hundred hours per week to run it.
However, you need to showcase your skills and talents in your field, build a relationship of trust with your audience before hoping to reap the reward of your hard work.
When it comes to setting up your coaching service an all in one tool like Systeme.io or Corex Funnels will be a great help.
3. Write an eBook/book and sell it
A simple eBook can make you a passive income.
I receive sometimes emails from certain of my readers telling me: "I love the idea of making money with an eBook, but I don't have any idea".
Some said they don't have some skills in writing.
However, you don't have to be the second William Shakespeare in writing to get your own eBook/book on the market to make money on the side.
In this modern world, you can get your own eBook without crafting a word.
In fact, you can hire a freelance writer on Upwork or Fiverr to do the hard work for you.
You have also the choice to submit your ebook subject to Ghostwriters on WriteArticlesforme.com or WritingSubmit.com and get writers that will handle all the hard work for you.
Related post: How to write and sell an eBook to make extra money
4. Start a YouTube channel
If you are not good at writing or if you don't have an interest in blogging or writing ebooks/books, you can start a YouTube channel.
Indeed YouTube is the second largest search engine after Google. It is about 300 hours of video that are uploaded every single minute to the platform. And what is important is that you don't need a huge budget to get started.
When it comes to monetizing your YouTube channel, there are several ways to do so:
You can earn money through advertisements (YouTube ads that also work like Google Ads and direct advertisements).
Another way (the best according to me) to monetize your channel is through affiliate sales and product promotion or creating and selling your own product or service. Sure – if you play your cards right, you can make a living on YouTube doing that.
And the best way you can do it without even showing your face on the camera.
Find out how this kid is making a six-figure on YouTube doing it.
Related post: 10 side hustle ideas for moms and dads.
Assess your Finance
Starting a business has a price. Whatever it is a side business or a full-time business, there is a start-up cost involved. So you need to determine how much money it will cost you to get started and also how you are going to cover these costs.
Fortunately, in the online space, there are countless side business opportunities you can start with a little money or zero cost.
For instance, with under $100 you can start a blog with Bluehost.
Plan and organize your tasks wisely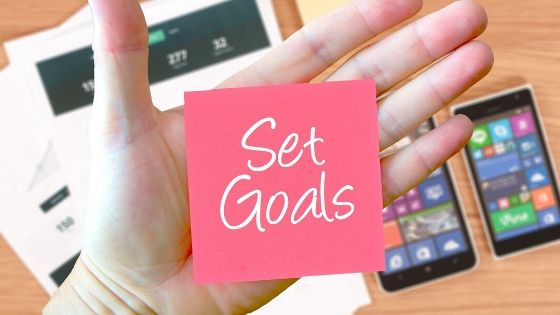 As in any business, what makes the difference between successful and unsuccessful entrepreneurs is the way they plan and organize their business.
As a side hustler with a crucial lack of time, planning and organization is more than ever a necessity if you want to be more productive and successful in your side business.
Indeed, planning and organizing your tasks will allow you to prioritize and focus on the most important tasks that can help you grow faster instead of dispersing your energy and time in things that will not make your business grow.
The best way to plan and organize is to:
Determine a SMART goal for your side business,
Set up a do-list.
For example, if you want to start a side blog, you can have a list of tasks as the following:
Find 10 keywords to target for your first articles.
Write 5 articles before the launch of your blog.
Launch and design your blog (create a menu, write about me page, customize your site for SEO, etc.
…
As you see, when you plan your tasks, you have visibility on what you need to do.
This is just a simple example for someone who wants to launch a blog. And you can apply it in all areas.
Launch your side business – stop procrastinating!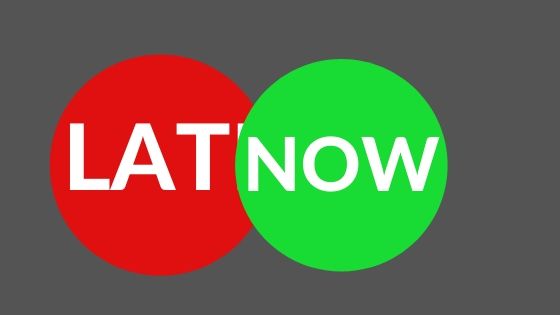 After finding your side business idea and planning and organizing the tasks, the most important phase is the launch. An idea as brilliant as it is, if it is not in implementation, it is useless.
So it's time to sweep away your doubts and overcome your fear, to stop procrastinating and launch your side hustle online business.
Don't try to perfect everything, don't try to be totally ready either. You'll never be ready. Just do it!
― Mark Twain

Never put off till tomorrow what may be done day after tomorrow just as well.
Invest in yourself – never stop learning
Whether you are an expert in your field or a learner, the best way to stay ahead and be at the top with your competitors is to keep learning and never give up.
Some entrepreneurs fall into this trap when their business grows. However, we are in a changing world. Especially in the ICT field.
Your today's expertise may be out of phase tomorrow. That is why lifelong learning is the key to lasting success.
To stop learning is to refuse to progress.
Delegate tasks outside of your expertise
Do you have things related to your side business that you don't master? Things that escape your expertise? Learn to be a good manager and delegate these tasks to people who can do it better.
You launched your side hustle business. Certainly, you have knowledge in your field. But admit that you can't know everything.
If you want to be a successful side hustler, you will have to not only be a lifelong learner but also to be humble and delegate what you don't master to other people.
For example if blogging is your field of interest and you are not good at writing, you can just outsource a writer on a platform like Fiverr or Upwork.
Conclusion and final word
Starting a side hustle business, whether it is an online business or offline business give you a countless benefit like:
Developing new skills and establish yourself as an expert,
Building your own business,
Taking an earlier retirement.
But as in any business, to start a successful side hustle business, you need a business idea that you will implement by setting up your business.
I hope you found my guide on how to start an online side hustle business helful.
Don't hesitate to let me know.. which side hustle idea do you like to start with?
Be an ACTION taker, SOW YOUR SEED TODAY!
To your Success!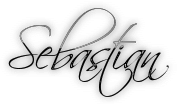 You may also like…