Welcome to my Global Domain International review for 2021.
Is GDI a scam or a legit company that can help you reach your dream of making passive income? This is the main question I will try to answer in this GDI review.
You have likely heard about GDI, known as Global Domains International. Perhaps from your friends or on the traffic exchange sites, and you intend to join it as they offer an opportunity to make passive income for life and be financially free. At less this is their claims?
But before joining this program, you would like to have an answer to this question in order to make sure that you will not lose your hard-earned cash in a program that is not worth it.
Is it for this reason you come here? If Yes, you are in the right place.
In fact, I have been in GDI for 6 months and I'm in a better position to tell you if GDI is a scam or not or if it is worth your hard-earned cash or not.
But before I show you what to expect from me in this GDI review, let me congratulate you for doing your own research to find out if GDI is a scam or a legitimate company to join or not.
On the one hand, this attitude can prevent you from falling into scam sites. And on the other hand, it can help you find a legitimate way to make money online.
What you can expect from me in this GDI review?
Here are the points I will cover throughout this post:
What is GDI (Global Domains International?
GDI products and services,
Global Domain International review summary: company overview
Business Name: Global Domains International Inc.
Owners: Michael Starr & Alan Ezeir
Website: website.ws
Products: .ws domain name registration service, Webhosting, web building software
Price: 7-day free trial, then 10$ per month
Suitable for: Seasoned Network Marketers – not for newbies
Is GDI a scam?: No
Do I recommend this? No – read my full review to discover why
Find out how this platform leads me to $100 a day after failed with GDI and SFI.
What is GDI (Global Domains International)?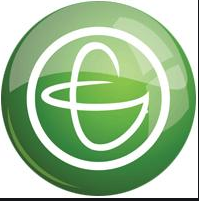 GDI, known as Global Domains International, is a US-based MLM company that has acquired the distribution rights of the ".ws" domain name extension.
Created in 1999 by Michael Starr and Alan, GDI is a well-known company in the MLM industry that offers domain names and basic website hosting services to people who want to build their online presence.
On top of the service it offers to users, GDI offers an opportunity to them (customers) to make money by promoting their products and service like any MLM company.
How does GDI work?
To partner with GDI and enjoy their services and the business opportunity (their MLM program), you will need to register with an existing independent member. You can also check out their company website to register.
Note that during the registration process, you will need to choose a domain name. Once your registration completed, you will receive an email from GDI with your affiliate links + a sale page (pre-made blog post) that you can already start sharing with your friends.
And as I said earlier you have a 7-day free trial to test the platform. After these 7 days, you will be charged $10 per month.
What you will be charging per month is for domain name and web hosting.
That being said, you can use their website builder to build your own website and/or WordPress blog, to promote GDI or any other products you want.
But sometimes what is more important to those who join MLM companies is not the product itself.
So they don't care about the quality of the product. What interests them is the opportunity of making money they think will be done easily and quickly.
I have to say that 95% of those who join GDI don't take the time to build a website or a blog in order to learn how to make money from it. They focus on promoting GDI using traditional methods: bothering their friends, family members, and coworkers. Spamming their friends on social media platforms.
Those who are smart use a lead capture page and traffic exchange sites like LeadsLeap to build their mailing list while promoting their business.
Sadly like most MLM companies, GDI emphasis recruiting more new clients than improving the quality of their products/services.
No training on how to build a real business using their tools. Nada!
What interests you is probably the opportunity of making money with GDI.
Right?
So let's discover the opportunity GDI offers.
Like any MLM, you will need to be able to recruit new customers (referrals) in order to earn. Then you will have to help your direct referrals get their partners. They will need in turn, to do the same and so on in order to make your dream of making passive income with GDI true.
Without this, you cannot be successful in the MLM industry. GDI pays you a 10% commission on each of your direct referrals and on the referrals of your referrals up to 5 levels.
We will cover their compensation plan deeper in the next section of this Global Domain International review.
But let's discover what they offer as services or products first.
GDI at the glance – What you get as a member
Service they offer
Domains name (.ws)
Obviously, the first service that GDI offers to its customers is a domain name registration service. But unlike other domain name registrars companies like Namecheap, which offer several domain name extensions such as ".com", ".net", ".org",… to their customers, GDI offers only a ".ws" extension.
That said, you cannot pay for a domain name with the extension ".com" or ".net" with GDI. Likewise, you can't get a domain name with the extension ".ws" with another domain name registrar company.
Basic web hosting service
Starting a blog requires you have a web host that will store your site contents (images, video, and other files) in their server and get your site live 24/24/7. With your .ws domain name, GDI offers you a hosting service for your site.
But the problem with their hosting service is that they use outdated technology and the features they offer are basic and limited.
For example, they do not have a MySQL database on their servers which will turn off people who want to extend their site using third-party software.
And the worth part, with over 30 years of operation, we cannot see a website hosted by GDI with the extension .WS ranked higher on search engines.
Email service
GDI offers its members 10 email addresses on each registered domain name.
This service is useful if you want to do email marketing.
Website builder
A website builder is a software that allows you to create a website without technical or coding skills.
With their website builder, you can create a website and make it live in a few clicks.
However, the lack of adequate tutorials makes the use of this tool annoying for beginners.
Another problem I found here is that the number of templates is very limited.
And the worst part, they are not responsive or mobile-friendly. As a result, it is impossible to rank on Google as this is one of the Google ranking factors.
My advice if you want to use Global Domain International services to build your side online business is to create your site using WordPress.
It will be built on a sub-domain name like blog.yourblogane.ws. This is exactly what I did but I had an issue due to their outdated tools. I will address this point as well in the next section of my Global Domain International review.
Also, read TwentyXpro review.
Income opportunity
GDI offers its members the opportunity to make money while building their existent business.
But as I mentioned earlier, GDI is an MLM company. That means you need to be first a customer in order to be able to promote their services and products for a commission.

As a client, you have the opportunity to earn money throughout their MLM program. For each sale, you make a10% commission (that's $1). The MLM program reward you 5 level deep and you with still make 10% commission on your team sales.
Let's now take a look at the GDI compensation plan.
GDI compensation plan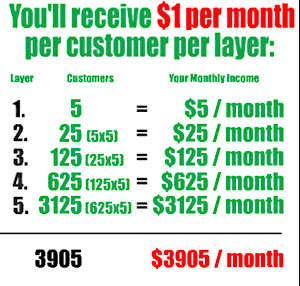 GDI Compensation Plan is based on a Uni-Level model with a 5×5 matrix.
That means you're not limited to the number of partners you can create in your first level. You have the opportunity to refer as many people as you can.
And you earn $1 per month on each referral up to 5 levels. If you refer 5 people and each of them refer 5 people, you have 30 referrals in your team. That means they will get paid a $30 recurring and passive income every month. This is what makes most people exciting when they are introduced to the program.
But what they don't know is that there is a better business model than this one where they can make passive income without recruiting a team. Check out this business model here.
GDI Bonuses
GDI offers bonuses to their active members to encourage them for their effort.
On each 5 registered paid members per week, you get a $100 bonus.
Refer 10 people and win a $200 bonus.
My experience with GDI
First off, the reason I joined GDI was that I wanted to build a blog to promote other products as well as GDI. In a word, to do affiliate marketing.
At that time, I found that their offer was really affordable – $10 a month for a domain name + Hosting and email service? This is a deal. Right?
But as the saying goes, "what we pay for is what we get"!
While some of GDI members choose to promote GDI through social media platforms like Facebook, I was just publishing new content on my blog and promoting my blog to get traffic and hopefully have sign-ups.
After 4 months of hard work, I encountered a problem with my blog.
In fact, the PHP was a very outdated version and did not allow some plugins like Google Analytics to work smoothly.
See the image below.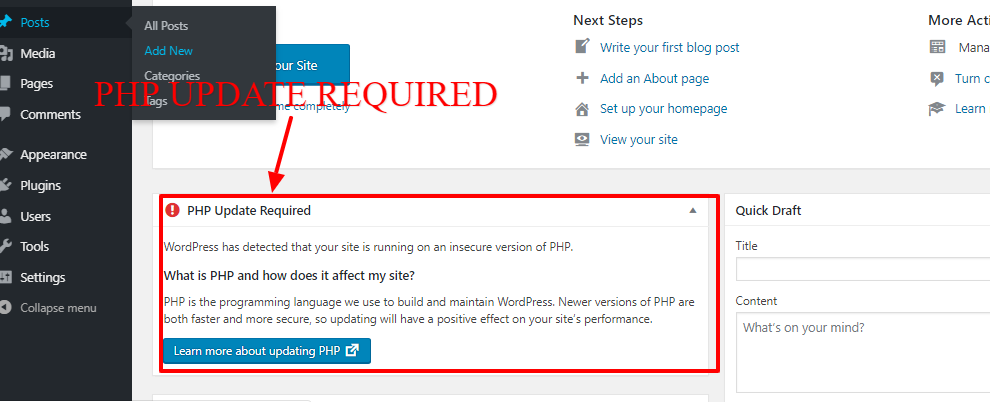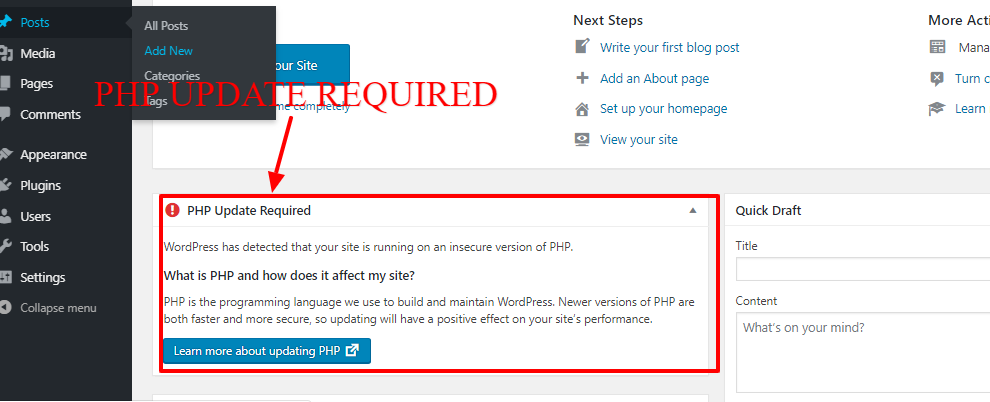 I quickly contacted their tech support to outline the issue. And they answered that in a month, the problem would be solved.
See the screenshot below.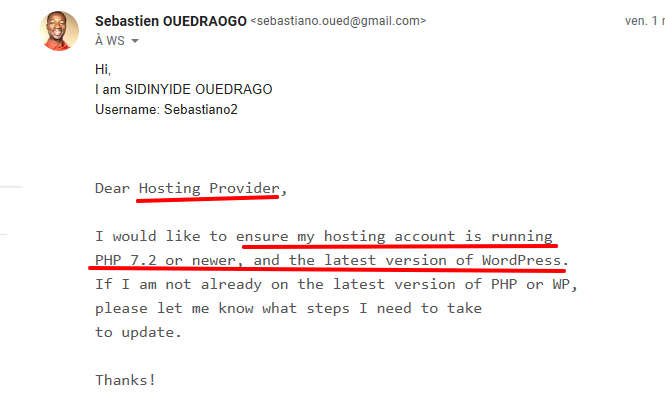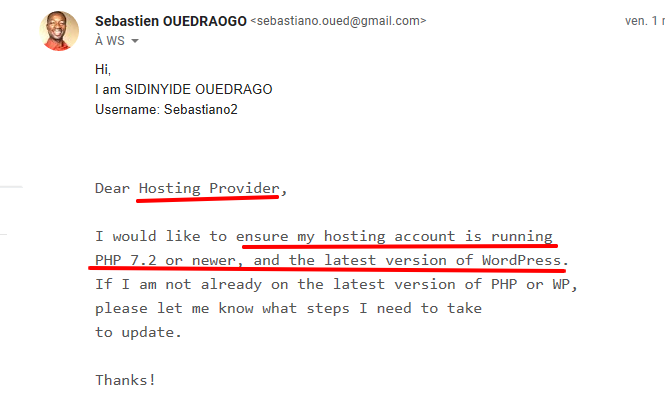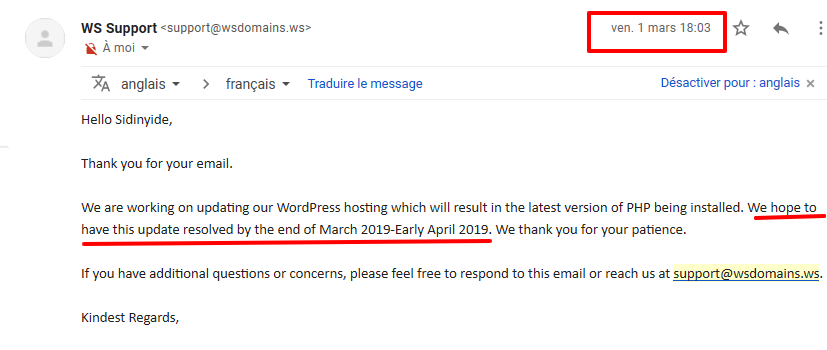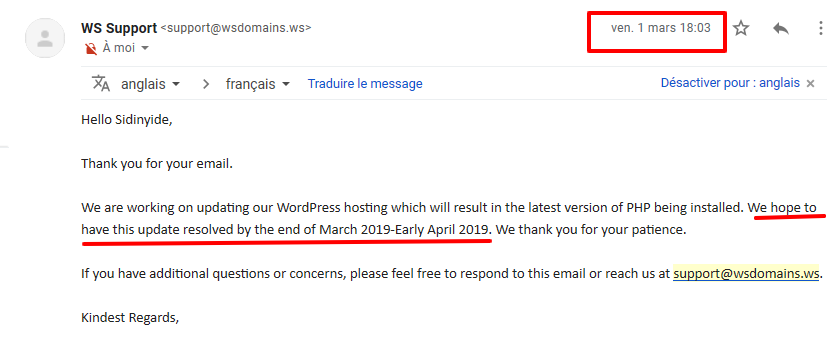 A month to update a PHP? I'm not tech-savvy, but does it take that long to do it?
But I took my time and kept working. A month has passed, and they have not solved the problem. Then two months and no way out.
Do you think I can run a successful blog with a web host like this one that doesn't care about their customers' success?
No, I can't. So I quit!
GDI pros and cons
GDI Pros
They offer a 7-day free trial,
The start-up cost is low – so you can test the waters of MLM without risking so much money,
Their compensation plan is unique and attractive,
Lack of competition – there is not another MLM company that offers the same service.
GDI Cons
.ws domain don't rank well on the search engines,
MLM does not have a good reputation – having referrals is really hard even though the price of the product is cheaper,
Lack of MySQL database in their server: If you don't pay your monthly fees on time and they suspend your account, you will lose all your hard work. Same if you cancel your account and come back. Impossible to recover your hard work – even if you come back 2 days later.
Is GDI a scam or legit?
No, I don't think GDI is a scam. Unlike many disappointed people who say that GDI is a scam because they simply didn't get what they wanted, I have to be honest.
GDI is a legit MLM company where seasoned network marketers are making money.
They even have a good rating (A+) from BBB, a non-profit organization whose role is to build a relationship of trust between consumers and businesses.
The problem is that like most MLM business, there is not appropriate training to help you succeed. Plus you can rely on their service to build a long term and profitable online business. They do have a generous compensation plan. But if you don't have marketing background, and good at recruiting and maintaining a dynamic team, you will not be able to make money from it.
Check ou this free guide to learn how to recruit in MLM like a Pro.
Can I make money with GDI?
No and yes.
No, if you are a beginner and don't have internet marketing skills and not ready to invest your time and money in yourself. Recruiting people is not easy. Most think because the price is low and the income opportunity is higher, by introducing the offer to their friends they will jump in.
It doesn't work like that. You need targeted traffic to make money online with any offer. That means people who are interested in the product or service you promote.
In short, if you have the ability to recruit new referrals and help them do the same and so on, then you can make money promoting GDI.
Also, if you have the ability to create a blog and drive traffic to your site with a well-implemented marketing strategy, then you can also make money promoting GDI.
However, if you are a starter looking for a way to make money online and you think because the start-up cost of GDI is cheap, you will have sign-ups easily you will be disappointed?
If you want to build your own online business (my case) and you think GDI is the way to go because they offer a cheaper service, you are also wrong.
Is GDI really cheaper?
My answer is no. GDI is not cheap as you might think.
I think I did a beginner mistake when I started my blogging journey with GDI.
That's the reason:
Let me remain you that GDI costs $10 per month. That is $120 a year.
Let's take a web host company like Bluehost:
Domain name cost = $11.99 per year (free for the first year)
Web hosting cost = $3.95 per month (even $2.95 sometimes)
When we make a calculation, the annual cost of your site is $59.39 per year, unlike GDI which is $120.
Let's go even further with the calculations, and you'll find that GDI is very expensive.
Let's make a quick calculation for 3 years:
A membership plan with Bluehost for 3 years only costs $154, unlike GDI which is $360.
You see, in the long term, GDI is twice as expensive.
While the service Bluehost offer has 100 times more quality than their service.
Related post: How to start a blog with Bluehost in 7 easy steps.
Even if GDI is not a scam if you want to build a sustainable online business, choose a platform that will allow you to build a business for a long-term run.
Is MLM the best business model for you in 2021?
MLM or network marketing is a rewarding business model. But it is not for everyone. For instance if you are not good at recruiting and communicating with your team, it will be difficult to succeed in this industry.
I have failed in this industry back in 2018. Now thanks to the skills I have developed and the appropriate tools I use, I found success.
Before you take this route, I would like you check out this post MLM vs Affiliate marketing to find out which one is the right business model to choose in 2021.
GDI review – my final words
The answer you were looking for was: Is GDI a scam?
And I think through this post I have gone beyond that. I have helped you understand what GDI is, the services it offers, and the opportunity provided.
And I will say it again: GDI is not a scam. It is a legitimate company that has a good rating on the BBB.
However, the service they offer is very poor and is also linked to an MLM system. That said, getting new referrals is a struggling game (poor service & MLM does not have a good reputation).
If you are a newbie and you are looking for a genuine and proven way to make money online, for experience, I don't think GDI is the way to go.
But if you can recruit new customers effortlessly, go for it!
That being said, I hope you found my Global Domain International review helpful.
Do you have a question? Are you a GDI member? We would like to hear you in the comment section below.
Be an ACTION taker, SOW YOUR SEED TODAY!
To your success!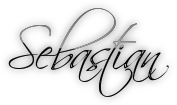 You may also like…
Email marketing is the most direct and effective way of communicating with your leads or…