Welcome to my Loadedlab review.
Affiliate marketing is one of the most popular ways to make money online.
And many people including me are leveraging it to make an extra income to their existing salary. Others are doing it full-time or working as online nomads.
Because of the high interest in the subject, many online courses are popping up day in and day out. So it can be difficult to know which one to choose since each guru is promising to teach you how to master the art of affiliate marketing.
In this review, we'll take a closer look at the Loadedlab course by Liam James, and figure out whether it's worth your time and investment.
To help you in your decision-making about this course,…
here is what I will be covering in this review:
Without further Ado, let's dive in.
Review Summary
LoadedLab is a training platform that provides training courses in various subjects such as native ads, Google ads, affiliate marketing, Print-on-demand, Youtube SEO, and much more. It is also an online community where you can get support and help from other students and even from James himself.
The cost to is $49.99 per month. But they offer a $1 3-day trial. Click on the button below for your 3-day trial.
What is Loadedlab?
Loadedlab is an educational training platform that provides training courses designed to help you acquire the required skills to build a successful and long-term online business in the affiliate marketing industry.
It is also a private community where you can network with long-minded people, and get the help and support you need.
There are 4 courses inside the platform and students can access them at conveniently.
The course is designed by Liam James Kay with the aim of teaching you everything you need to know about affiliate marketing, from choosing a niche to driving traffic to your offers and making money as an affiliate.
Who is Liam James Kay?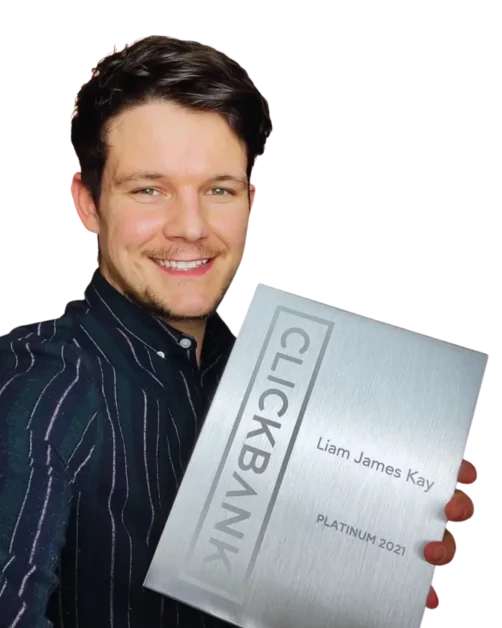 Liam James Kay is one of the most successful super affiliates of several programs such as Kartra, BuilderAll, and Clickbank.
He has generated millions of dollars in affiliate commissions by following simple formula and this is what he actually shares with his students.
James is also a successful YouTuber with thousands of subscribers.
If you are been looking for strategies to make money with affiliate marketing on YouTube you probably come across his channel.
He shares tips and useful topics related to affiliate marketing.
He is doing great but you need to access his premium course which offers more comprehensive training on all aspects of affiliate marketing.
He is dedicated to helping others achieve success in affiliate marketing.
Loadedlab Training Courses Overview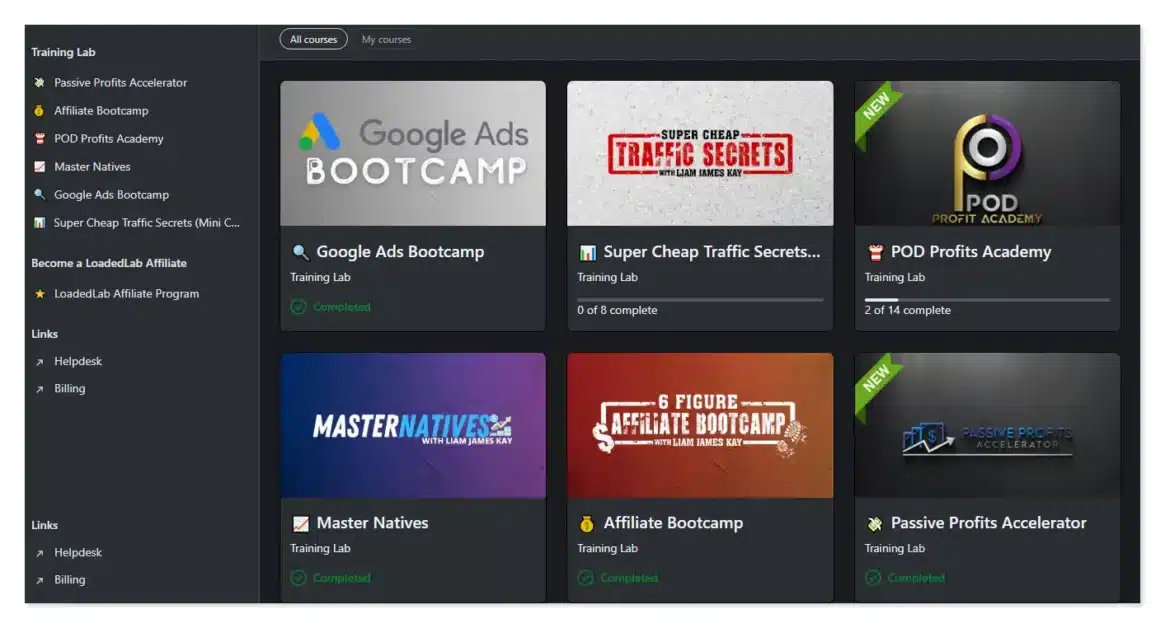 As said previously in this Loadedlab review, Loadedlab is an online education platform that offers a wide range of courses on various topics, including native ads, Google ads, affiliate marketing, email marketing, lead generation, and more.
The Loadedlab's courses are a good fit to affiliate marketers of all levels, from beginners to advanced affiliate marketers.
And the great news is students can download Loadedlab's mobile App to access their courses and resources without logging into their accounts.
Let's take a look at the courses inside:
Google Ads
Google Ads is the type of ads you can find on Google search results pages, YouTube videos, Google Maps, and other websites that partner with Google.
In this course, James will teach you how to use Google Ads to create effective and successful advertising campaigns to promote your affiliate offer and then make money from it.
In a nutshell,…
here is what you will be learning in this course:
Native ads
Native ads are a form of online advertising that blends seamlessly with the content and design of the website or platform on which they appear.
One of the advantages of native ads is that they tend to be more effective than traditional ads because they are less disruptive and more engaging
This is course has been broken down into 6 chapters with a total of 37 lessons.
And here is basically what you will be learning in this course:
Affiliate Bootcamp
The Loadedlab's affiliate Bootcamp course has been broken down into 56 lessons Departed into 12 chapters.
No matter if you already have experience in affiliate marketing or just starting out, this course covers various subjects such as niche choice, product selection, traffic generation from various sources, sales funnels, email marketing, and more.
The course basically teaches you how to become a successful affiliate marketer by promoting products and services you love.
In a nutshell,…
here is what you will be learning in this course:
Passive income accelerator
The passive income accelerator course is designed to help students make a recurring commission as faster as possible.
The course comes with resources such as DFY sales funnels and other resources you can use to kick-start your affiliate marketing business.
It is a complete blueprint and step-by-step blueprint you can follow to get results as fast as possible.
Basically you will learn in this course,…
POS Profit Academy
Print on Demand Profit Academy is a course that teaches you how to create and sell custom-designed products using print-on-demand services.
The course is designed for beginners who want to start an e-commerce business without holding inventory or handling shipping.
Here is what you will be learning in this course:
How much does it cost?
The cost to access the Loadedlab courses and community is only $49.99 per month.
The great news is they offer a $1 3-day trial which allows you to access everything before you commit to paying the monthly fee.
They also offer a 30-day money-back guarantee. So if after your purchase you are. Or happy you can just send a message to their support team to get your money back.
If you want also to cancel your membership you can do it yourself in your dashboard.
The Loadedlab's affiliate program: How to make money promoting the program?
The Loadedlab's affiliate program is based on a 2-tiers rewarding system.
Meaning that if you refer someone and this person also refers another person, you will get paid for both sales.
And the great news is you make 30% commissions on your direct referrals and indirect referrals.
For example, if you have 50 referrals and each of them has 10 referrals, you will be making $14.70×50 which is a total of $735. Plus another $14.70x50x10 which is a total of $7,350 from your indirect referrals.
So a total of $8085 recurring commission.
What if you have 100 referrals and each has more than 10 referrals?
Now…
How to join the Loadedlab affiliate program?
First off, the Loadedlab affiliate program is a private affiliate program.
In order to be able to join the affiliate program you should first be a customer.
Thankfully, they offer a $1 3-day trial.
Is the Loadedlab worth the investment?
When considering whether a course is worth investing in, it's important to look at the value it offers. A high-quality course should provide you with practical skills and knowledge that you can apply immediately in your business.
Another factor to consider is the support provided and sure the cost.
Loadedlab offers training courses designed to take you from a beginner to becoming a super affiliate marketer.
And with all the topics covered, everyone can find his way.
Plus the platform provides a private community where you can get support and network with like-minded people all over the world.
And the great news is that Liam James update the training and he continues to add new courses.
On top of that, there are lives calls where you will have the chance to hang out with Liam and other super affiliates in the industry.
In my opinion, the Loadedlab training course is worth it.
The course is affordable and well-priced.
The Loadedlab alternative
I believe Liam James has done a great job. It is a new program but he didn't leave a stone unturned.
But for one reason or another, this platform may not be a good fit for you.
If the Loadedlab is not your first rodeo, here is a better alternative to consider:
Wealthy Affiliate: If you have been in the industry for a while I am sure you already hear about this platform.
Wealthy Affiliate is an all-in-one marketing platform that provides training courses and an online community just like Loadedlab. The difference compared to Loadedlab is that on top of the training and community, the platform provides online tools you can use to build your online business without no extra cost.
Plus, they offer a free lifetime membership.
Read my Wealthy Affiliate review to learn more.
If you want more options, you can check my top best affiliate marketing training courses of 2023.
That being said, I hope you found my LoadedLab review helpful.
If you have a question, let me know in the comment section.