Are you about to launch your website or a blog? Or is it an e-commerce site? Whether it is a blog or an e-commerce site, it is very important to find the best place to buy your domain name as long as it is one of the key elements of your website.
But before I show you where to find the best place to buy your domain name, it is important you know what a domain name is – and how to choose one for your online business. Right?
What is a domain name?
Every business needs an address. It is indeed this address that will allow customers to find your company, to identify it among so many others, and to be able to come back to it later, if they need your company's services.
In online business, it is the same process. Whether it is a blog or website or an e-commerce site, small or big, you need an address. And your domain name is your address on the Internet.
In fact, your domain name is the only way that Internet users can land on your site.
In a nutshell, it is the name of your site that people type in their web browser to access your site.
It is necessary to keep in mind that each domain name is unique and specific to each website. This means that it is impossible to have two sites with the same domain name.
For example, if you type my domain name, "sowyourseedtoday.com", you can't land on another site other than this one.
That's why, it's necessary when you have a project you want to launch, to secure your company's brand (your domain name).
By doing what?
By registering or purchasing a domain name with domain name registrars companies.
This is also important and will avoid you with unpleasant surprises like what happened to me.
Yes, "sowyourseed.com" became "sowyourseedtoday.com" (more than 15 characters😢).
But not with just any one of them!
You must find the best place to buy your domain name. Is that the reason you're here?
So keep reading!!
How to choose a domain name for your business?
There are several million websites that are created every day. There are also, thousands of domain names that are sold every month. To simply say that, it is difficult to find a good domain name easily for your website.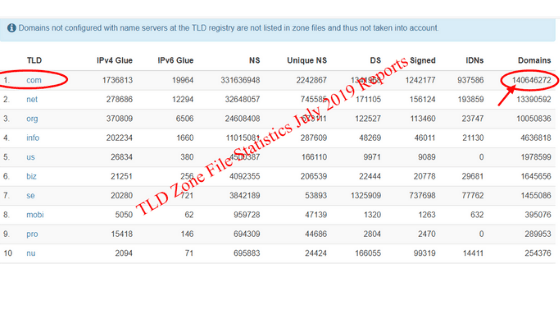 Source: StatDNS
But if you follow these following tips and tricks, you will find one that will be perfect for your website.
1. Find a domain name that meets and describes your business
As I pointed out in the introduction, your domain name is your address. In a nutshell, it is the name of your business. Before you decide to find the best place to buy your domain name, first take the time to define the name of your business and come up with a domain name that describes it.
If for example, your website is about coaching, you can use your first name or your nickname as your domain name. This will help you to brand yourself and get more popularity in your field.
Another example: suppose your website is about personal development, finding a meaningful and poignant domain name like "daretoshine.com" or "lifebooster.com" seems to be perfect. These are just some examples.
Simply remember that your domain name must match your business and be meaningful for your audience.
2. Check your business name availability before you buy it
Do you have the domain name that you think is perfect for your business?
If yes, you can check your domain name availability before looking for the best place to buy or register it.
Why?
In fact, you will have to think in the long term.
Imagine that you create your website (yourdomainname.com) and then you want to use social media to promote your business. And to your surprise, on facebook, Pinterest, Instagram, youtube, in short on almost all popular social media platforms, the name of your business (yourdomainname) is already taken.
What will you do about it?
Will you change your company name?
What a disappointment and what mistake!!
This is why you will have to find out if the name of your business is available on social media platforms and if there are no registered trademarks for this name.
How to do that?
To do that, use a tool like KnowEm to check your business name availability. In fact, KnowEm can help you in some way to know if your business name is available on most social media platforms.
Also, you will have an idea of whether your domain name is available or not.
Alternative to KnowEm:
1. Namechk give business name availability on social media platform in graphical form
2. Namecheckr also works like Namechk
You do not yet have your domain name or your domain name has already been registered by someone else?
Don't worry about it. I have some good news for you!
Even if you haven't yet found what you think is perfect for your business, or if your domain name/business name is not available, there is always a solution.
You can use a domain name generator that will allow you to broaden your search and find new ideas.
Use a tool like Lean Domain Search.
This domain name generator adds new words that match with your business name. Very useful especially in case your domain name is not available.
3. Use the right domain name extension for your business
Once you have found the domain name (your business name) for your website, choose the extension that fits with your business.
For that, define what kind of business you want to start.
Is your business a local business?
If yes, you must use country-code Top-Level Domain or ccTLD. It is country-specific domain names that end with a country-code extension.
A business that covers Canada, for example, will be "yourdomainname.ca" and for a country like Burkina Faso, it will be "yourdomainname.bf", etc.
PS: This does not mean that you cannot use a domain name like ".com" or ".net" for local business. But think that a domain name with the extension of your country is perfect and easily memorable for your targeted audience.
But if your business is not local, focus on the ".com" domain extension. Indeed, ".com" is the most popular domain name extension and easy to remember.
But if ".com" is not available, use ".net" or ".org"(if your business in a non-profit business) for this, and avoid extensions such as ".xyz", ".biz", etc.
Some criteria to take into account to find a perfect domain name
1. Your domain name must reflect your business
It should be short (between 6-15 characters) and easy to memorize and pronounce to allow your customers or readers to return to your site. If you choose a domain name with more than 15 characters, make sure it is easy to pronounce.
The domain name must not contain hyphens or numbers (as far as possible)
To close this section, I think with these tips, you have an idea to how you can choose a perfect domain name for your business or website.
Now, Let's see what you need to know about your domain registrar company before you buy a domain name for your blog or website with it.
4 smart questions to ask yourself before you buy a domain name with a domain registrar company
Before buying or registering your domain name with any company, be sure to check some factors that may cause you pain in the long term.
These are for example the hidden price, domain transfer (the most important factor to consider, add-on service availability and fee associated, etc.
I have put together 4 questions whose answers can help you determine which domain name registrar company is right for your business.
Let's go!!!
1. Does the company provide a domain transfer service? And at what cost?
Indeed, any domain registrar company must give its users the possibility to transfer their domain name from their company to another one. But you have to be careful because some will charge you fees while others allow you to make the transfer for free. While others make the transfer easy, others complicate the process.
2. At what price does the company charge you annually?
The price of a domain name varies from one company to another. But the price of a domain name must not exceed $15 per year – unless it has add-on fees included.
With promotions, some companies can make you an attractive offer and charge you higher the following year at the renewal time. Then take the time to know the exact fee of your domain name (renewal price).
3. What add-on service is available with your domain package? And what price?
Services such as WHOIS protection, email forward, extended expiration protection, etc. may not seem important right now, but it is necessary to check if available with your registrar company for future needs.
4. Does the company offer a grace period for renewal? If not, is there an auto-renew option?
When you buy a domain name for two years for example, after those two years if your payment has not been renewed, your domain name expires. But there are companies that offer a grace period to allow their customers to renew their service.
However, there are others it does not offer a grace period. In this case, your domain name can be made available for other customers.
Therefore, it is necessary to take the necessary measures to avoid these inconveniences.
Now, Let's see where you can find the best place to buy a domain name for your blog or website.
Where is the best place to buy a domain name for your website?
There are currently, about 3000 accredited domain name registrars companies all over the world. And all these companies offer almost the same services. However, depending on your needs, certain specific factors may determine your choice.
I will answer your question on "where to find the best company to buy a domain name" by showing you two (02) of the best domain registrars companies to buy or register a domain name for your business.
GoDaddy is the market giant in the registrar domain name industry. Indeed, GoDaddy alone holds more than 16% of the market share among the more than 3000 accredited domain registrars companies. This company has already registered around 75 million domain names with more than 17 million customers. In addition to being a domain registrar company, GoDaddy offers web hosting, web security, online marketing tools, and more…
This is an excellent option for anyone looking for an all-in-one platform.
But compared to other companies like Namecheap, GoDaddy is a little expensive. Indeed their renewal price for a ".com" domain is around $15, but with the promotions, it often offers a ".com" domain name at $0.99 for the first year.
GoDaddy pros and cons
GoDaddy pros
A trusted brand in the domain registrar company
ICANN Accredited company
Customers support is available 7/24 and good (telephone and live chat support available)
With GoDaddy, you can get a wide range of service
GoDaddy provides a limited hosted package and photo storage for free for 1 year
Good discounts on new domains registrations for time to time (0.99$)
GoDaddy cons
The domain transfer process is not easy
Charges an additional fee for custom name servers
Charges an additional fee for WHOIS guard (7,99$ per year)
Offers email as an upsell package (4,49$ per month)
SSL certificate is about 55,99$ per year
Offers a reliable DNS, but the site has been hacked
Aggressive and pushy upsell during the checkout process
Namecheap like Goddady it is a well-known company in the domain registrar field. Accredited by ICANN it is founded in 2000 and has sold more than 4 million domain names all over the world. Their website is very intuitive and they offer reasonable priced domains with excellent DNS tools, WHOIS protection, hosting service, etc.
With NameCheap, renewal price is 10,98$ per year for a ".com" domain and 8,88$ + 0,18 ICANN fee for new domain purchase.
NameCheap pros and cons
NameCheap pros
ICANN Accredited company
Price is affordable
Free email forwarding services
Free SSL certificate offer for One year, then 1,99$
WHOISGuard protection is bundled
Domains transfer is easy and no extra cost
Reliable DNS service (no history of company being hacked)
24/7 customer support (chat support)
Free custom name servers
Domain registration is quick and seamless (no upsell to disturb you)
NameCheap cons
New domains extension is expensive
Support service needs improving
Bonus!!!!
Bluehost is known as a reliable and trusted website hosting company as well as Wealthy Affiliate. It is about 2 million websites hosted with them. But in addition to being a hosting company, it also offers a domain name registration service. The price of a domain name with Bluehost is around $11,99 per year. But you can win a domain name for free + free SSL Certificate, for one year, if you pay for one of their hosting packages which start with 2,95$ per month (renewal price is 7,95$ per month). If you want a domain name with a hosting service on the same platform, then Bluehost will be very beneficial.
Bluehost pros and cons
Bluehost pros
Reliable and trusted hosting provider
24/7 live chat, email and phone support available
You get one domain free with each hosting package
Domain transfer is possible
Bluehost cons
If you plan to host your website elsewhere, you will pay 0,99$ for your privacy protection. This about 11,88$ per year + your domain name price (11,99$). This a total of so 23,87$
Site transfer is not free
Which one is the best domain registrar to buy your domain name?
It is up to you to decide which of these three (03) is the best option for you!
If you do not want to have a domain name with hosting on the same platform, and if you need a cheap domain name, then you will have to take into account Namecheap. Domain transfer is easy and the price it offers is affordable. This will be a good option if you are building a long-term site.
However, if you want a platform on which you can buy a domain name and host your site at the same time without the need for transfer and at the same time save money, then Bluehost is a better choice for you. You will get a domain name + SSL certificate for free (for the first year) with each hosting package purchased.
If you need a company that is expensive but offers you more customization and additional features, GoDaddy is a better choice.
Be ACTIONS taker, SOW YOUR SEED TODAY!!
Sebastian,
To your success!!!