Welcome, and thank you for taking the time to check out my Kibo Code Quantum review.
I have heard about the Kibo Code course by Aidan Booth and Steve Clayton in 2020 and I have reviewed it at that time.
In 2021 they have released an update of the product they named Kibo Code Quantum. This is the new version of the Kibo Code.
So you have heard about this program, and you are wondering if it is a legit program that will help you make BIG bucks or just a big scam trying to reap off your hard-earned cash, you have come to the right place.
If you have been looking for a review of this program for a while on the web, you have noticed it seems this program is the perfect program for anyone who wants to enter into the eCommerce industry.
Right? But…
Is it really the perfect program and the golden opportunity for eCommerce savvy entrepreneurs to make big bucks in 2021 and beyond?
Will Aidan Booth and Steve Clayton can walk their talk? Or it is just another hyped program.
By the end of this Kibo Code review, you will know if this program is worth it or not.
Before we get into the meat of the Kibo Code Quantum review, I would like to warm you congratulation for taking the time to do your diligent research about this program before buying it.
Doing so will usually prevent you from getting scammed or wasting your valuable and precious time in a program that doesn't even worth your attention. It can also at the same time help you find a genuine and legit program to make a living online.
A quick note: Aidan Booth created a new program called 123 Profit.
If you want to learn more about this program you can check it out.
Kibo Code Quantum review summary:
Product name: The Kibo Code Quantum
Website: https://www.thekibocode.com
Owners: Aidan Booth, Steve Clayton
Product niche: eCommerce
Product type: software combined with an eCommerce training course
Kibo Code Price: $3497 (Instalment Option Available)
Course Duration: 8 Weeks
Legit or Scam: Legit
Sow Your Seed Today Rating: 5/10
Find out how I make a 4 figure passive income online by doing what I like doing.
What is the Kibo Code Quantum about?
Kibo Code Quantum is a new version of the Kibo Code and it is an eCommerce training course designed by Aidan Booth, Steve Clayton, well-known for their other products such as:
100K factory launched in 2015 and released twice into 100K factory Ultra in 2016 then 100K factory revolution back in 2017,
7 figure cycle launched in 2018,
Parallel profits launched in 2019.
The Online Marketing Classroom.
I'll talk about those courses in the next sections.
In this year 2021, they came with a new version of their 2020 program called Kibo Code. They claim it is an eCommerce course never taught before, where they will teach you a new eCommerce model you can implement by setting up an online store money-making system that will generate thousands of dollars for you.
In this eCommerce training course, they will teach you in 8 weeks how to set up an eCommerce in few steps and without any hassle because all the hassle was taken into account in the software.
They claim the method they will teach you is based on a model a famous brick & mortar store in Tokyo, Japan uses to make billions of dollars every year selling all kinds of products you can imagine.
About Aidan Booth and Steve Clayton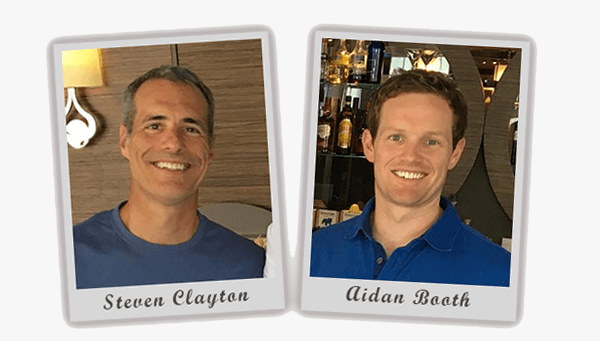 Aidan Booth and Steven Clayton are 2 successful and serial entrepreneurs who work together from 2015 until now.
Since 2015, these two entrepreneurs have combined their talents and expertise and come up with a new program every year.
Let's take a look at their business track record
About Aidan Booth, the Kibo Code creator
Aidan Booth has almost two decades of experience in the internet marketing and eCommerce field.
After unsuccessfully launched his first website in 2005, Aidan compiled the lessons he learned from his failure, and his experience and launched other affiliate marketing websites, eCommerce stores, and niches websites that helped him make good money. Here is one of his lifestyle websites where he offers his own service such as business coaching, Training classes, etc.
He later met his friend and mentor G. Johnson and partnered with him to create his first online training course, designed to teach aspiring online entrepreneurs how to make money online through niche websites. They recruited about 2000 students, and it has been a success.
Back in 2013, he met Steven Clayton, since then it's like they've managed to come up with a new program every year. They launched their first course in 2015, and since then every year, they come with a new program. The one planned for this year is Kibo Code, which we are reviewing.
Unlike other programs out there where the owners hid their identity, you check out these folks are real people.
You can check out Aidan's Facebook page here and his YouTube channel here.
About Steven Clayton, the Kibo Code creator
Former CEO of one of the well-known companies – Fortune 500, Steven is an expert in PPC advertising, SEO, and internet marketing.
Before joining Aidan, he partnered with Tim Godfrey, where he earned a 7-figure profit during his first year as an Internet marketer. Together, they created courses such as SEO Blueprint, Commission Blueprint, which they sold over 20,000 copies, and Eformula Revolution (an eCommerce training course), which they launched with Aidan Booth himself.
I haven't been able to find his current profiles, but I have to say this famous Tim Godfrey is a real person who contributed to the eBiz revolution when we know the Keyword Blaze Pro (a keyword research tool) is part of the tools they created.
So, you can be confident. This guy has something to share with you, given his many years of experience in the Internet business field.
About their previous courses
In order for you to decide if you can trust Aidan and Steven, I looked back to see how their previous course went.
These are the courses they have created from 2015 until today:
100K factory launched in 2015
100K Factory Ultra in 2016 (the same course updated)
100K factory revolution in 2017 (an update of the same course)
7 figure cycle launched in 2018
Parallel profits launched in 2019
All these courses have benefited many students. Some people have become millionaires thanks to these courses.
For example, with their 7 figure Cycle course, there was a student who testified that he earned more than $3,000,000 in profits in less than a year thanks to this course.
Others also testified that they earned about $10,000 per day in profits thanks to their course.
However, there have been complaints with the 7 Figure Cycle course that you can see for yourself on BBB here.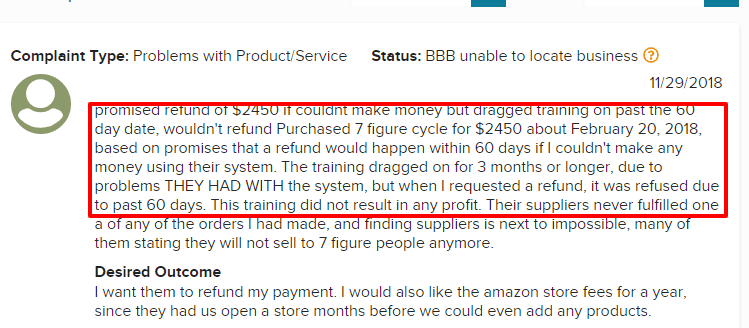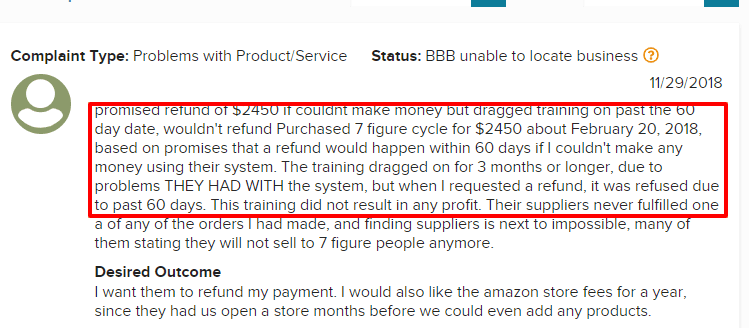 A side note: All these programs don't exist anymore. In fact when they create a program and it gets flagged they create a new one. After the Kibo Code this year (2023), they come up with a new one and you can check out my review here.
How does the Kibo Code Quantum work?
We will wait for the program to be live to get trustworthy information for you. All the info you can see below is about the Kibo Code. So stay stunning.
As I pointed above, the Kibo Code system is an eCommerce course combined with software that will help you set up your money-making machine in a few steps.
Here is how the program works:
First off, they will teach in 8 weeks period how the system works and how to market your store properly.
After that, you have to implement what you are learning in the course by using their software to set up your online store.
Choose a branded domain name by using its domain name generator within the Kibo Code software.
Set up your eCommerce store and choose a premium, beautiful, and visual catching theme template to maximize your conversion rate.
Use the software to find profitable products or items (among +3 million) to sell
Upload these products you chose into your website and then send targeted traffic to your listing products.
When someone buys a product, suppliers outside the USA will handle the shipping for you – so you don't need to worry about inventory, chipping, etc.
How is this program unique?
The Kibo Code eCommerce model doesn't require you to choose a niche or a product related to a niche to market.
You just need to choose profitable products that interest you and upload them to your online store. No need to upload images or create text for the products because the system does it automatically for you.
Your role is to optimize your product listings while featuring profitable products on your store, replacing those that are not selling with other new products.
You don't need to run Facebook Ads to sell your product. There are instant, cheap, untapped, and underrated traffic sources in the software you can use to drive targeted traffic to your store.
With the Kibo Code system, you don't need to deal with the warehouse, suppliers, purchase upfront products, inventory, or get involved with Amazon FBA.
Now, let's move on to the next point of our Kibo code review to find out what you will get inside if you end up buying this product.
What will you get inside the Kibo Code program?
As I pointed out above, the Kibo Code is about eCommerce training that comes with a new eCommerce model to teach you how you can make a huge profit with it.
Here is what you get as a member of the Kibo Code system:
1. Central Intelligence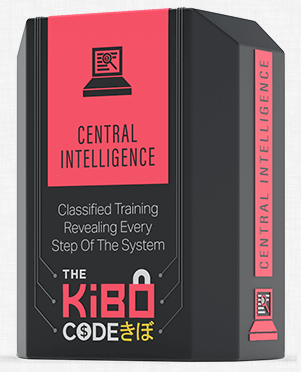 The first component of the Kibo Code is 'Central Intelligence'.
This is their core 8-week training where they will teach you how to build your profitable new eCommerce store and make money.
2. StoreStorm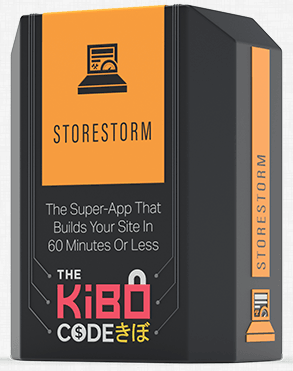 The StoreStorm is part of The Kibo Code software package that'll allow you to set up your website easily.
With this software, you will be able to create, design and launch your website in a few mins (their claims).
3. Five hand-picked products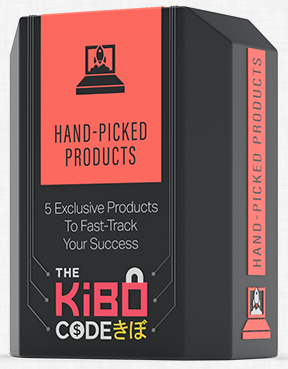 The Kibo Code owners claim they will teach you in their core training how to pick winning products to sell.
But here they will show you five unique "Hand-Picked" products that will fast-track your success.
4. Profit Vault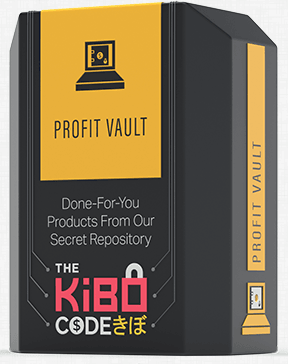 This is one of their software components that will help you pinpoint the highest quality and most profitable products to sell. They claim the software can analyze tens of thousands of products in a matter of seconds with just a few clicks of the mouse.
5. The Traffic Black Box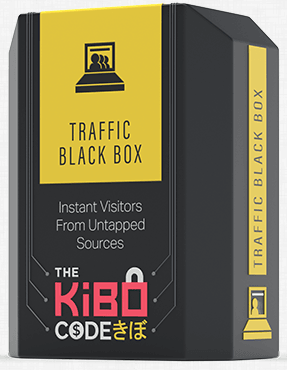 This is one part of their core training. They claim they will show you the secret traffic source they use where people have their credit card in hand and are looking to buy the products you are selling.
6. Oracle X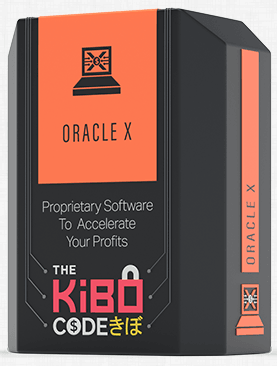 This is one component of their software designed to help you generate the right domain, create a logo, list your product and get your website up, running in record time without any coding skill.
7. Kibo Code Academy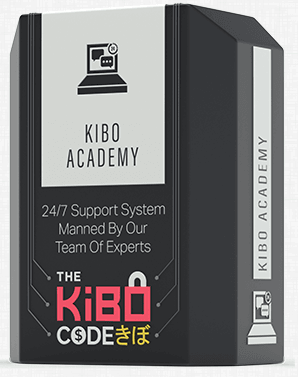 Do you think it is another training? Think again!!
This is an exclusive community and support desk where you can get assistance and support when you are facing an issue with the software or your eCom store. No more, no less!!
To wrap up, here is what you will get inside:
A new eCommerce model training course
Application software that comes with helpful tools inside it
Storefront premium and eye-catching theme templates to choose
Build-in products listing tools
Access to over 3 million products database
Targeted traffic generating tools
Coaching and support from other successful eCommercants
Access to their private Facebook and forum community
Now you know what you will get inside the Kibo code course, let's move on to our Kibo review to find out how much all these will cost you.
How much the Kibo Code cost?
The Kibo code costs a $3497 one-time fee. Very expensive!! Right?
The Kibo Code total value
Aidan Booth and Steven Clayton claim the true value of what you will receive in the Kibo Code is huge. This was valued at $49,476.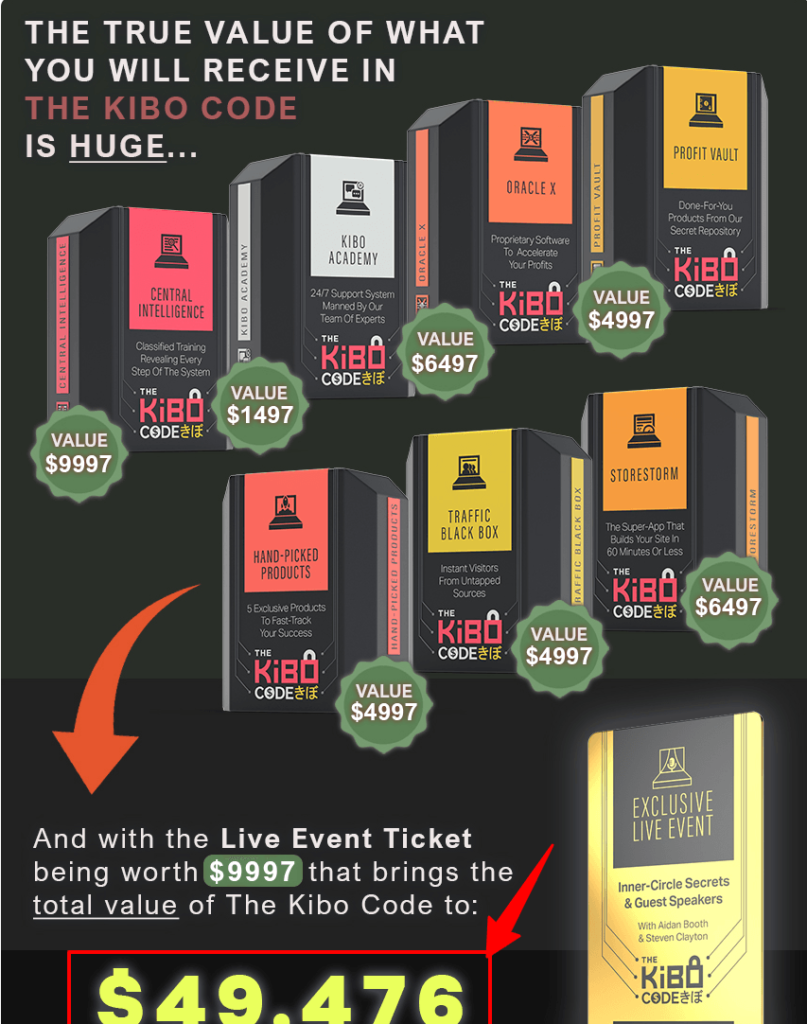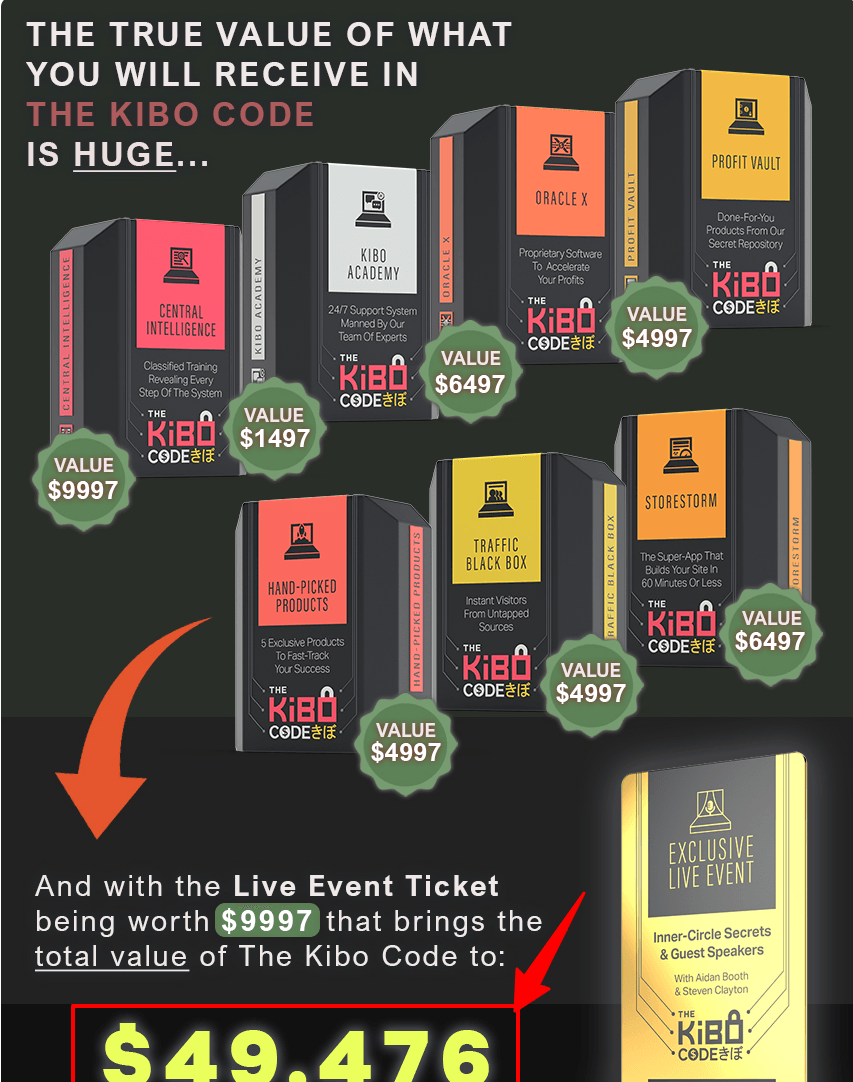 Sales pitch or really?
The Kibo code costs $3 497 (a one-time fee).
Now, what do you think when a product of value $49 476 is given at the price of $3 497?
Who is the Kibo Code for?
Aidan Booth and Steven Clayton claim this is "the most unique, predictable and money-making system they have ever taught".
They also claim it is "easy to do and literally anyone can make money with this method."
Hype and sales pitches or reality?
I have nothing against Aidan Booth's Kibo Code course, but I'd like you to know that like any business, this program won't work for everyone.
You must work hard to make it work as you have to compete with other members who have the same program and mainly the same products too.
Their claims are just a marketing strategy.
In fact, if the program can work for everyone, then everyone would be a millionaire by 2020.
Don't tell me I'm exaggerating! Yes, it's an exaggeration because even if we said that the program is free and that at 100% it works, there will always be poor people there! Sorry!!
But the truth is that…
If a product is good and made for everyone, it's not good and made for no one.
As for me, you can buy the Kibo Code course if:
You have an internet marketing background
You failed in eCommerce and want to test a new eCommerce model.
I don't recommend you to join this program if you are a beginner in eCommerce or in the internet marketing space.
While you still are still here, check out the platform that helped me add a 3 digit income to my day job salary.
When is the Kibo Code going to be Launched?
The Kibo Code course will be in pre-launch on January 22, 2020. The training will be accessible to registered members from January 28th till February 6th.
Is the Kibo Code a scam?
Definitely, the Kibo Code is not a scam. This is a legit new eCommerce model designed by successful and well-known experts in the eCommerce and Internet marketing field. Aidan Booth and Steven Clayton have both a good business track and I think they can walk their talk.
The Kibo Code Pros and Cons
The Kibo Code Pros
✔ The course is designed by well-known and trusted experts in the eCom industry
✔ Actionable and resourceful training
✔ 60-days money-back guarantee
✔ Great business model
✔ Support and coaching provided
The Kibo Code Cons
❌ The course is a bit expensive
❌ Unrealistic claims
❌ Hight risk for beginners
❌ Total value – not realistic
❌ An extra investment involved such as a domain name, Shopify, and other plugins.
Before I finish my Kibo Code review, I want to give you my final thoughts and point of view.
My final thoughts
Yes, the Kibo Code is definitely not a scam. Designed by experts and well-known internet marketers, I have nothing against it.
However, I don't think this is the best program for newbies unlike what many internets marketers claim.
As for me, if you join as a beginner without a clue on how eCommerce or internet marketing works it will be difficult to make it work and make the most of your investment.
Here is a perfect program designed for beginners. The program helped me add a 3 digit income to my day job salary.
Risk-free – no credit card required!!
Kibo Code alternatives
Here are Kibo Code alternatives if you are looking to start an eCommerce business:
The Amazon FBA Ninja course: This is an Amazon FBA course to help you become a successful seller on Amazon.
The Marketplace Superheroes: My best and #1 Amazon FBA course.
Up to you…
I hope that my Kibo Code review has made you aware of all the facets involved in this program.
From now, you are in a position to make an informed decision to shape your financial future.
It seems it is a new revolutionary eCommerce model for 2020. What do you think about it?
Let me know your thoughts on the comment section below.
If you like this review of the Kibo Code, make sure you share it with your friend and help them find out what this new program is about.
Be an ACTION taker, Sow Your Seed Today!!
To your success!!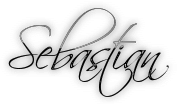 You may also like…
Welcome to my Fat Stacks review of 2023. Want to know if the Niche Site…