So, you finally decided to join the blogging community by creating your blog with Bluehost? But you don't know how to start a blog with Bluehost? If yes, you've come to the right place. Throughout this ultimate guide for beginners, I will walk you step-by-step to have your blog live today.
But before we dive into it, let me tell you why creating your blog with Bluehost is a good choice.
Disclosure: I want to notice that in the spirit of full transparency, this post about "How to start a blog with Bluehost" contains affiliate links. This means if you make a purchase through these links, I may receive a small commission at no extra cost to you. I can get a commission from any company, but I only recommend products/services I truly believe will give value to my readers.
Why create your blog with Bluehost?
Bluehost is a reliable web hosting company with thousands of customers over the world. In this industry, Bluehost has a good reputation from companies and individuals.
As I mentioned in my previous post, before you buy a host with a web hosting provider, there are some criteria you must take into account to not compromise your business success.
For reminder here are these criteria (let's look for if Bluehost meets them):
Safety and Security:
Is your site safe and secured with Bluehost?
Yes! Bluehost comes up with an SSL certificate that can protect your site and your visitors from cybercriminals and viruses.
Site speed:
Can you have a website with high speed to give your readers a good experience with Bluehost?
Yes! According to your business size, you can get a website with a speed with fits your needs.
Support:
When something is wrong with your site, can you get a quick reply from Bluehost to fix it?
Yes – you can reach them 24/7 in chat or via phone.
Features: Is Bluehost allows you to access your control panel? – to get an FTP account? – email account? etc.
Yes! You can get all these things with Bluehost.
What else?
Price: Bluehost offers an affordable price to its customers. With only 2,95$ per month, you can have your blog live.
Also, WordPress trust Bluehost and recommend them.
So I can say that learning how to start your blog with Bluehost is a good choice and you will regret doing it.
Now you know the benefices you get using Bluehost as your website host provider, let's see how to start your blog with Bluehost in 5 simple steps.
7 easy steps to how to start a blog with Bluehost?
1. Choose a domain name
Every website needs a domain name to be found on the Internet.
Indeed, to create a professional website or blog, you need a domain name.
A domain is your internet address. It is the unique address that allows people to know your website, to distinguish him among millions of websites, and to come back when they want.
Therefore, when choosing your domain name, keep it short and easy to pronounce. As a result, people can memorize it and return to your site if they want to.
Avoid also a domain name with hyphens and numbers on it.
When it comes for your domain extension choice, privilege ".com" or ".net", ".org" and avoid domain name with ".xyz" which will not be ranked in Search Engines.
With Bluehost, you can get a free domain name for one year. But if you don't want to have your eggs in the same basket, domain name range between $12-$15 per year.
You can get on for 12,56$ per year with a reliable domain registrar company like Namecheap here. It comes with domain privacy (keep your information private) and email forward accounts for free.
Now, you have your domain it is the time to set up your blog with Bluehost.
Related post: How to choose a domain name for your online business?
2. Set up your website with Bluehost
To start a blog with Bluehost is easy. Click this button below to open Bluehost in a new tab and come to follow this tutorial to get your blog live in 5-10 min.
Once the page is loaded, click on "get started button"
1. Choose your hosting plan
Bluehost comes up with 4 membership plan – basic, plus, plus choice, and pro. According to your business and what you are planning to do with your website, you can find the plan that fits your needs. However, if you are a starter, my advice is to start with the "basic plan". When your business growth you can upgrade to the next plan.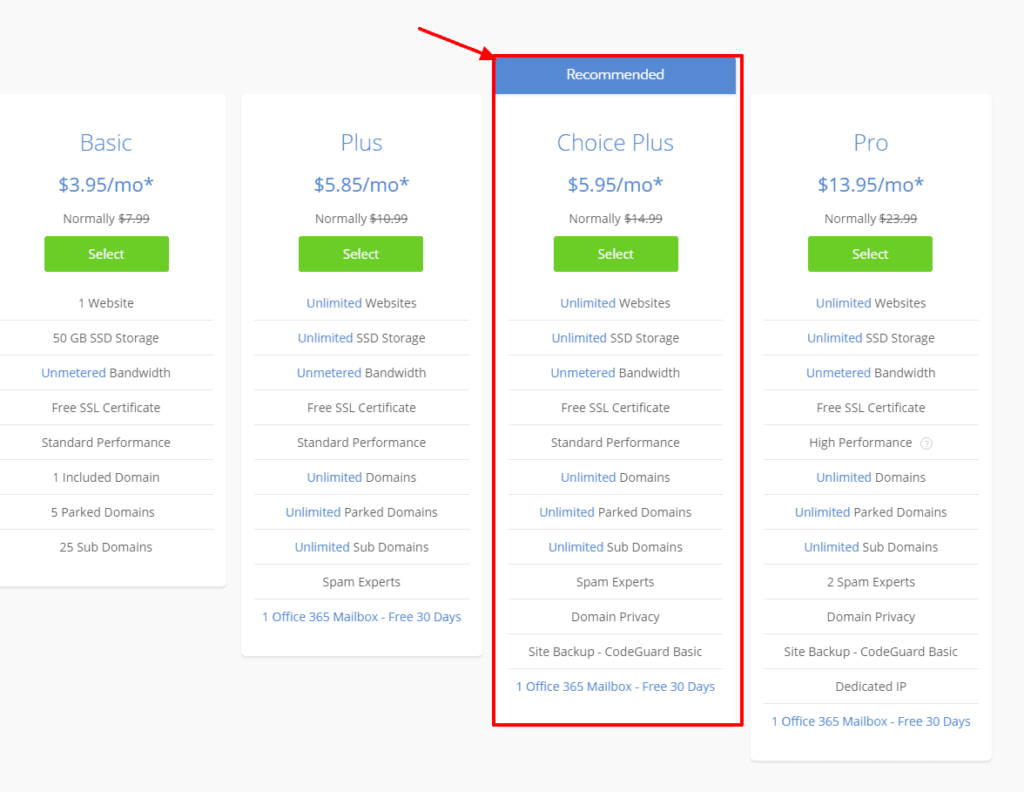 2. Choose a domain name for your blog
Once you choose, your membership plan, the second step is to choose a domain name, if you plan to get a free domain name for one year with Bluehost.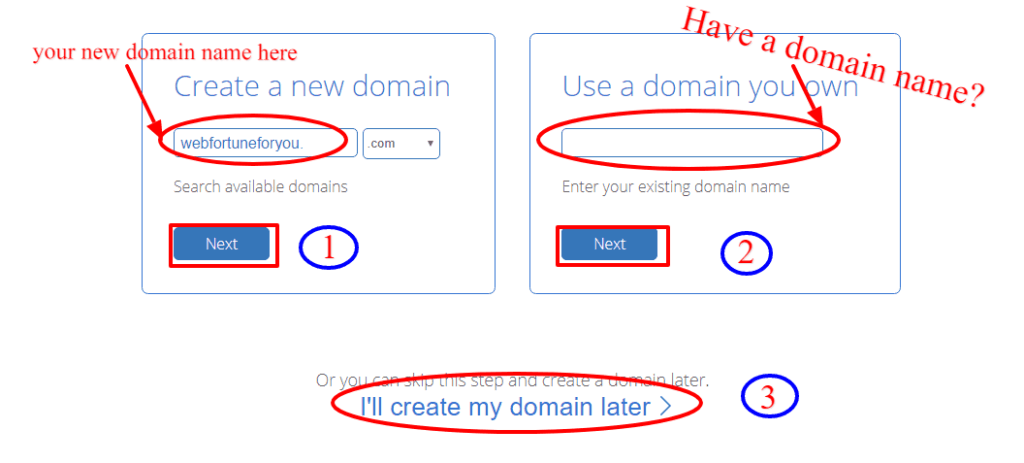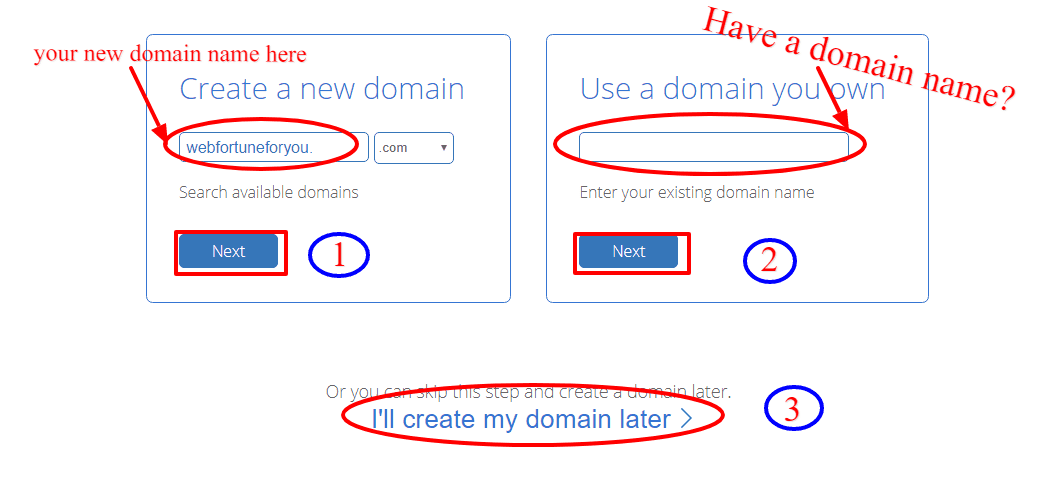 Just enter your domain name in the box and click "next".
If your domain name is available, you will see the image below and this leads us to another step.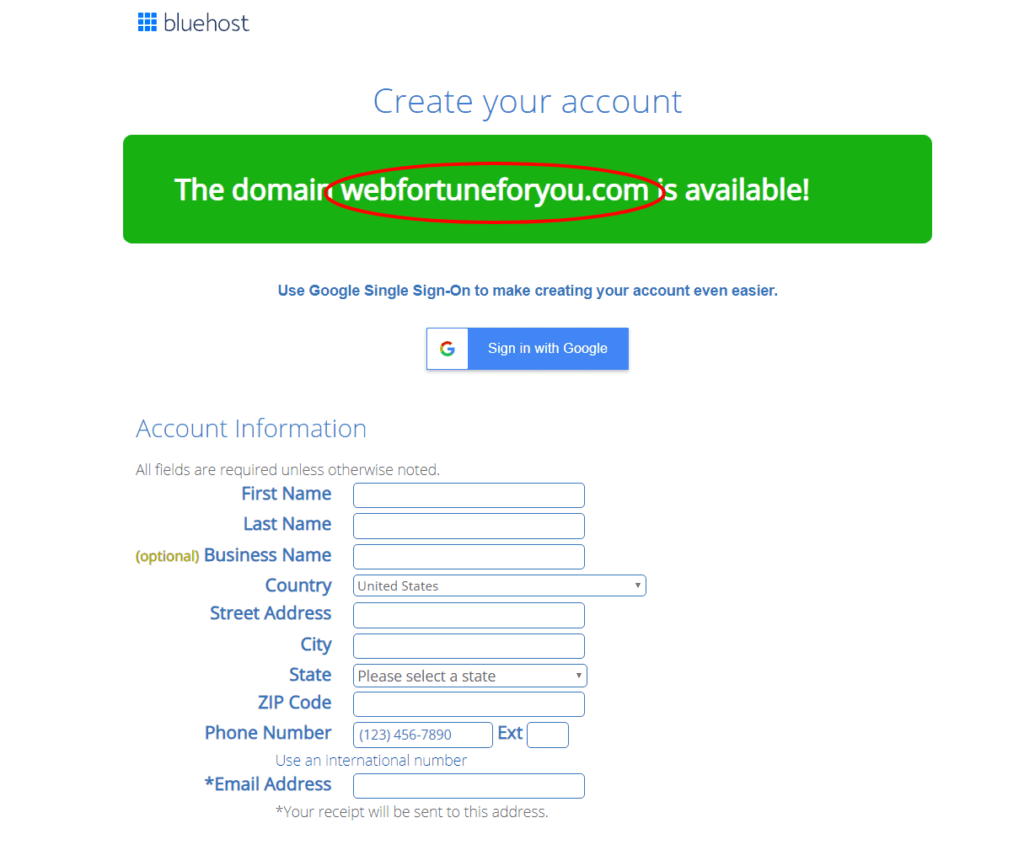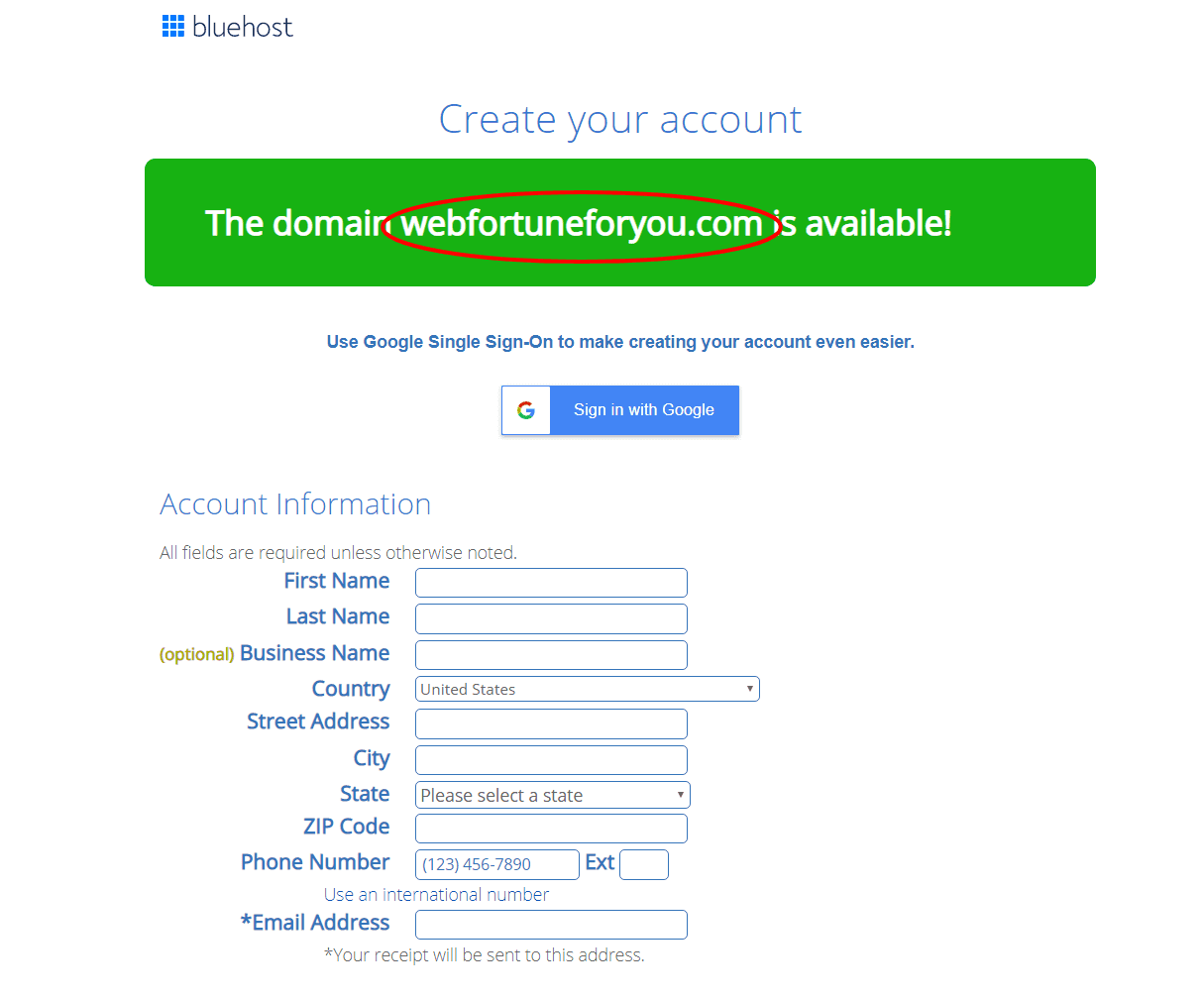 In case you bought a domain name with NameCheap or another domain registrar company, put it in section 2 and submit by clicking on the button "next".
However, if you don't have a domain name or if you have difficulties to choose one click on "choose my domain name later".
3. Create your account with Bluehost
Now, it is time to create your account with Bluehost. Just fill out this form below when completing your details in the field required.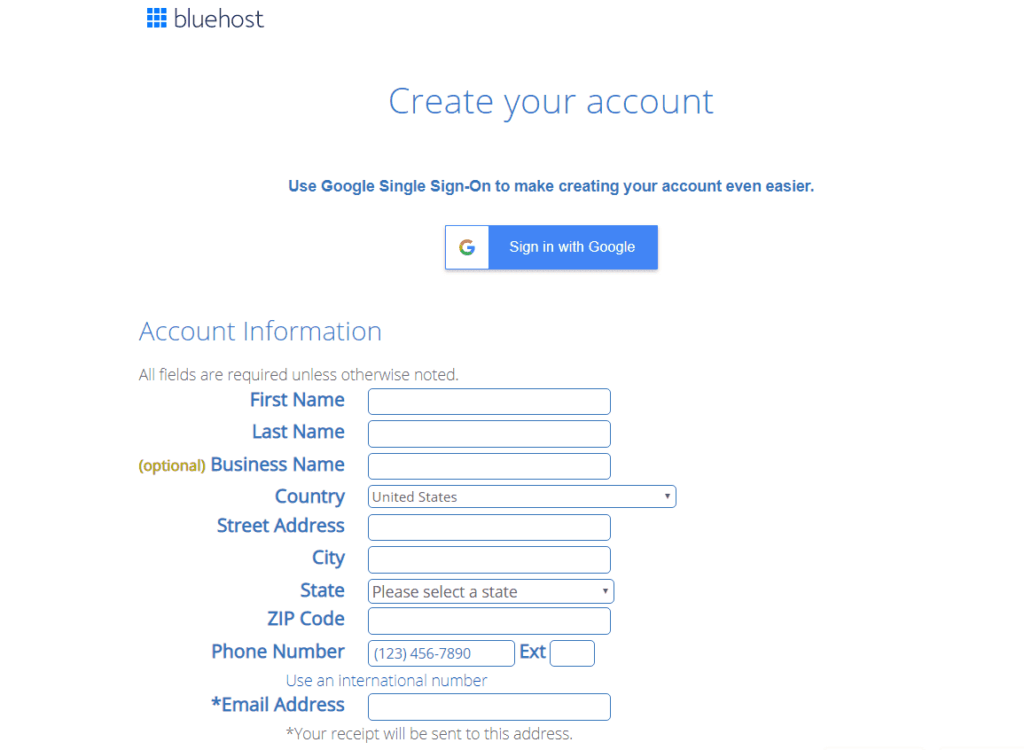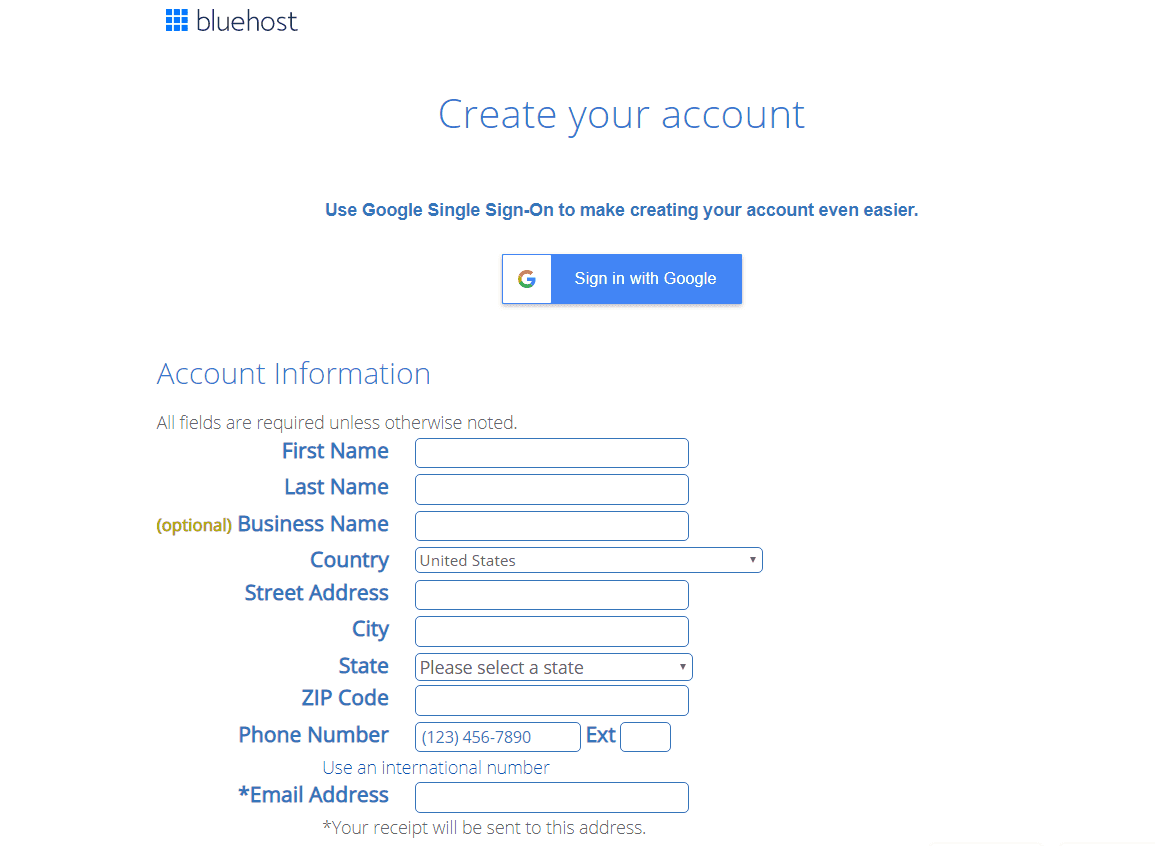 4. Choose your hosting package
here you can pay for your hosting service for 1, 2 or 3 years. Price extra varies according to the membership plan you choose, and also to the hosting package you choose. If you want to save more money, pay for 3 years. It will cost you about 142 (less than $50 per year).

5. Choose your package extra
There are extra services you can buy if you want. Some of them are important but other services you can get elsewhere. In this section, what I recommend to check is "domain privacy".
As I mentioned, in the beginning, this feature is very necessary. It protects your details (name, e-mail address, phone number, etc.)private. With only 0,99$ per month, you can get your information protected.
This is when you choose "starter" membership. When you choose the "pro" membership, you get your domain privacy is free.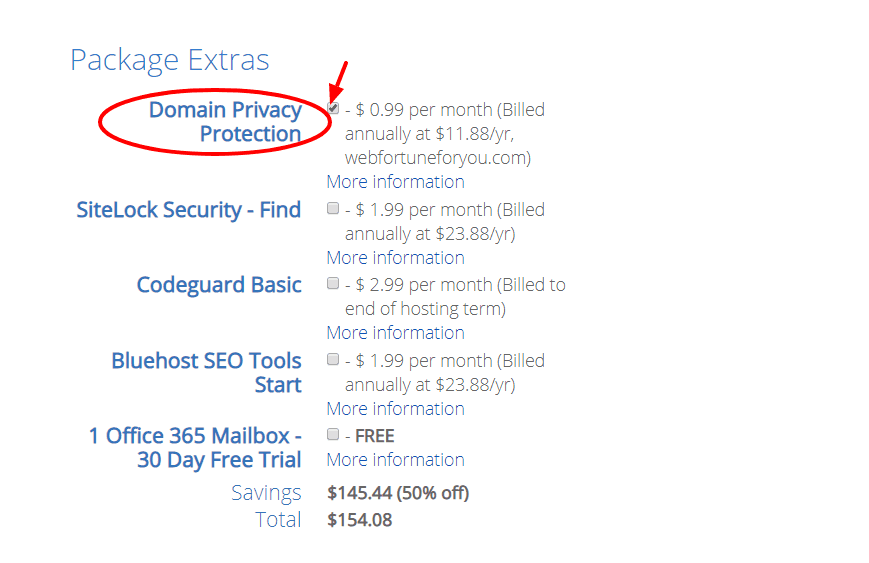 6. Fill out for billing information and validate
Choose how you will pay for your service: Is it with PayPal or with a credit card? If it is with a credit card, just provide your card information (credit card number, CVV2 code, and expired date) and hit the "submit button" to validate it.
7. log in to your control panel and install WordPress
Just go to Bluehost's main page and click the "login" button. Enter your account credentials and then hit "submit"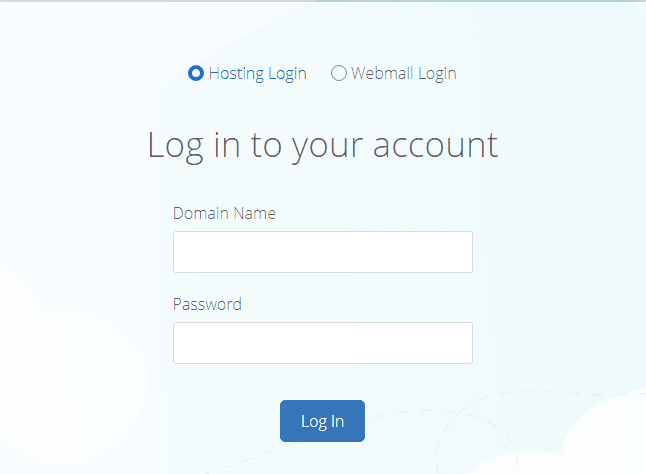 Are you on your dashboard now? If yes, let's install your WordPress blog in one min. Once in your Bluehost dashboard, click on "control panel", you are two options to install WordPress: you can do it manually or by using the "one-click button".
We will use the second option: click on install WordPress in one click
Welcome to the blogging community
Congratulation!! Your website is live now!


Want to learn how to design your blog, visit this post.
Conclusion and my final word
Bluehost is a trusted brand in the web hosting industry and starting your blog with them is great choice. And even more, their prices are really affordable.
With only about $154, you can host your blog for 3 years. It means that you don't have to pay a penny for it if it's only after the 3 years. Bluehost will not charge you for your hosting service until after this date. It is the costs of your domain name they will be invoiced from the second year.
NB: This illustration is based on the basic plan that will allow you to build your online presence.
It is up to you to decide according to the vision you have of your business what plan is right for you.
For instance, if you have a long vision with your business, I advise you to choose the "Choice Plus" plan. It offers you an unlimited number of websites (i.e. you can host as many sites as you want without extra cost – apart from the cost of your domain name) and also unlimited storage.
In addition to this, you get your domain privacy protection free forever and a 60% discount if you bought a 3-year membership plan. This allows you to save $325.44 during these 3 years. In this case, the total price to pay is $238.08 for the 3 years if you checked SiteLock security or $214.20 if you uncheck it.
I think this is a good deal to compare with the "PLUS" plan, where you will have to pay $226.08 for the 3 years – more than $214.20 for the "Choice Plus" plan.
The best alternative to Bluehost
If Bluehost is not your first rodeo, HostGator is another best web host service provider you can use.
With only 2.75$ per month you can get your blogging rolling in a min.
Up to you
I think this post about how to start a blog with Bluehost can help you create your blog or website from scratch and without headaches.
Don't hesitate to share it with your friends – maybe it can also help them start their own blog or website thanks to you.
In case you have a question about this post, drop it down on the comment section below. I will answer you ASAP.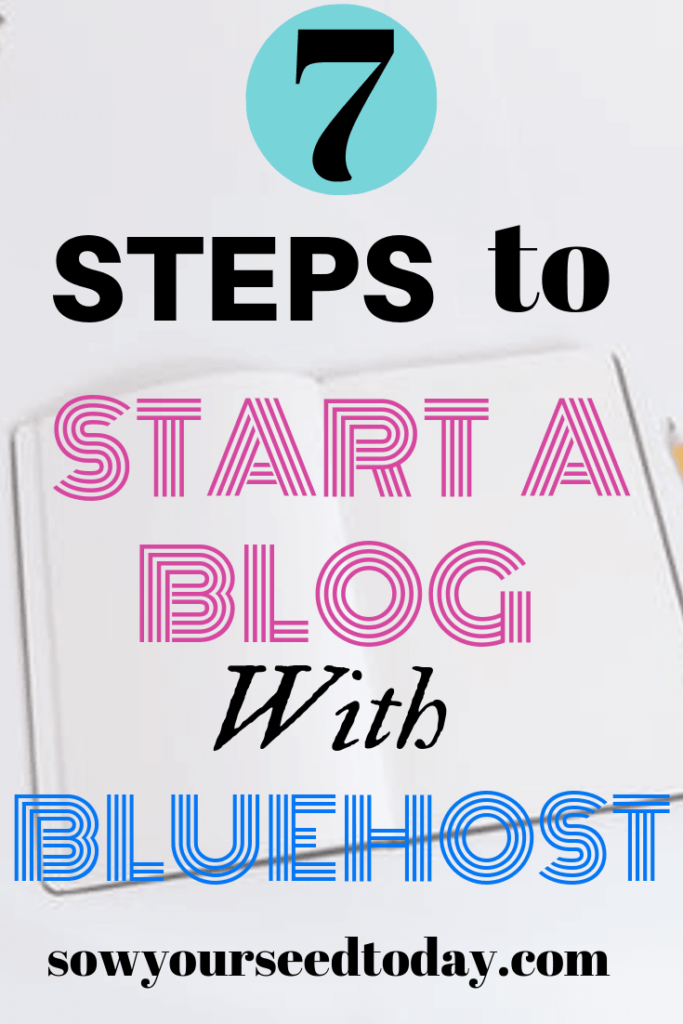 Be an ACTION taker, SOW YOUR SEED TODAY!!
To your success!