Do you want to create a website and make money on the side?
Ready to start your side hustle blogging business today?
If yes, you are in the right place.
I have been blogging since 2018 and I have managed to add 4 figure monthly income to my day job salary by doing it part-time.
The good news is everyone can do it.
Because you don't need to be tech-savvy or a web developer to create a website nowadays.
Even my 6-year-old daughter can do it nowadays!! Yes, you read me right!!.
Don't worry if you don't know how to get started as I will be walking you through the process of building your money-making website from Start to finish.
This is what you will learn in this money-making website-building guide for beginners.
But before we get into the meat of how to build your money-making website, let me show you why you need to start a blog or website right now.
reasons to start a blog or a website right now
There are several reasons to start a blog.
But in this guide, I will show you just 3 reasons you should start a blog starting today:
A blog is a marketing and cost-effective way to increase your brand awareness, generate more leads and sales for your business
When it comes to increasing your brand awareness and getting your targeted audience to know you or your business, getting targeted and quality traffic comes into play.
With a blog, you can drive free and targeted traffic from search engines like Google, Bing, and Yahoo to your website. That tends to convert better compared to paid ads where you take the initiative to reach out to your audience.
Blogging can be a good income source for you
Trust it or not, millions of people around the world (including myself) make a passive and recurring income from their blogs. And some managed to turn their blogs into six-figure businesses.
And when it comes to monetizing your blog there are several ways such as affiliate marketing, paid ads, sponsored posts, etc.
Another reason to start a blog is that the start-up cost is low.
In fact, with under $100 you can build your own money-making website and start making money right away.
Find out how much it costs to start a professional blog in 2022.
Now let's go straight to the subject of the day.
How to create a website and make money on the side?
Here below are the steps to follow to start building your money-making website from scratch:
1. Choose a profitable niche to create your money-making website
All successful and profitable business starts with a profitable business idea.
While many bloggers neglect or ignore this step, my advice is to find or choose a profitable niche if you want to create your website and make money from it on the side.
In fact, starting a money-making blog is like starting a real business.
You need a profitable business idea with a good marketing strategy or plan to make it.
Sure, your niche alone will not make your website successful, but it plays a very important role in its success.
Now you may be wondering what a niche is.
To put it simply, a niche is a subject or theme you will be blogging about.
It allows you to determine which audience (the kind of people) to target – to which kinds of people to write for (their gender, age, geographical situation, culture and lifestyle, purchasing power, etc.).
Related post: how to choose a profitable niche and validate its profitability in 4 steps.
2. Choose a domain name
Once you know your niche or which type of people you want to serve or do business with, the next step to building your money-making website is to choose a domain name.
The choice of a domain name, as well as the choice of your niche, is very crucial to the success of your business.
In fact, your niche gives you an idea of who your targeted audience is, and the keywords you should target in your content development in order to attract them to your site.
But your domain name is your address on the internet and the way people (your targeted audience) will come to your blog – the way they will find you.
You may be wondering how to choose a domain name for your business.
Here are tips for choosing a domain name:
I guess you are wondering where to register your domain name.
Alright!
There are countless domain name registrar companies out there. But their service quality and pricing are different.
Here are our domain name registrar companies to consider.
Bluehost: A domain name at Bluehost costs $12.99 for your first year. But if you buy one of their hosting plans, you get a free domain name for one year.
Side note: While the domain name itself is free for the first year, you still pay $14+ for a domain add-on (privacy protection). So at the renewal, your domain name cost can go up to $28 per year (renewal price + domain privacy).
Namecheap: Namecheap is an affordable domain name registrar company. A ".com" domain name costs $9.06 per year including domain name privacy.
So if you are on a budget and you don't want to have all your eggs in one basket, you can register your domain name with Namecheap and buy your hosting with Bluehost or any web hosting service provider of your choice. We will talk about hosting later.
Wealthy Affiliate: Wealthy Affiliate is not just a domain name registrar company but an all-in-one platform for bloggers, affiliate marketers, and entrepreneurs.
A domain name costs $14.99 per year including domain name privacy, a professional email hosting (what certain domain name registrar companies like NameCheap charge for $10.88 to $43.88 per year).
Related post: Best domain name registrar companies for 2022.
3. Choose a hosting platform to create your website
Web hosting is necessary for any online business. Whether it is an e-commerce site, a niche site, or a blog you need a web hosting service provider that will host your website's files such as videos, and images, and keep it live and accessible to Internet users on the Internet – 24/7.
Now you may be wondering how to pick the best web hosting service provider to start your blogging business.
I get you…
There are many hosting service provider companies in the world. All these companies provide almost the same services, but the quality of their service is not the same.
And when it comes to choosing the right web host for your business, security, reliability, scalability, and Trustworthy are all important aspects to take into account.
Here are 4 elements that will have an impact on the future of your business that you need to know and take into account when choosing a web hosting provider:
1. Safety & Security: Is an SSL certificate provided?
2. Speed: Bandwidth provided – Make sure your visitors won't wait for hours (don't tell me I'm exaggerating!) before they can access your site or page. You know what you'll lose in this case!!!!!!!
3. Technical Support: Before you buy a web hosting service with a company make sure that when you will have an urgent query, you can get a reply quickly from them.
4. Features: control panel, email, multiple domains hosting, PHP, MySQL, FTP, etc.
Whatever the company with which you are going to buy hosting for your website, do not neglect these elements.
Now that you know what elements are important for your site, you are wondering where to get a reliable web host.
Right?
Here are our top web hosting service providers to consider:
Bluehost: Bluehost is one of the reliable and well-known web hosting service provider companies in the web hosting industry.
Their hosting plan cost starts at $2.95 per month and the best part is you get a free domain name for your first year.
Plus, they provide top-notch technical support via chat, phone, and email.
Hostgator: Hostgator is also a reliable and affordable web hosting service provider. Their hosting plan cost starts at $2.75 per month and their support team is also responsive and helpful.
Wealthy Affiliate: Wealthy Affiliate is more than a web hosting company. This is the platform I use myself and they offer a managed web hosting service that is better than shared hosting.
On top of being a managed web hosting platform, it also provides affiliate marketing training courses through its training portal called Wealthy Affiliate University. This is where you can learn how to build your affiliate marketing website, rank it higher on search engines and then make money from it.
Why did I choose Wealthy Affiliate as my web host provider?
The reason I chose Wealthy Affiliate as a web host provider is that in addition to everything I just mentioned above(quality of hosting service, affiliate marketing training, etc.).
Their membership comes with a robust keyword research tool worth $19/month, an online entrepreneur community for networking, and more on top fo the training course.
Plus their premium membership is affordable considering the value I get inside.
In fact, with only $49 per month or $495 per year, you can host up to 25 websites, and access their training courses, and other tools to run your business without any extra cost.
They do offer a free membership plan for those who want to try before they decide to invest in their business – no credit card required.
Let's now build your money-making website now if these steps have been well followed!
4. Set up your WordPress website
Have you chosen the company with which you will host your site?
If so, let's go.
In this tutorial, I will use the Wealthy Affiliate SiteRubix site builder as an illustration.
If you have chosen Bluehost over Wealthy Affiliate as your web host provider, go here and follow my step-by-step guide on how to start a blog with Bluehost.
How to set up your WordPress website with Wealthy Affiliate?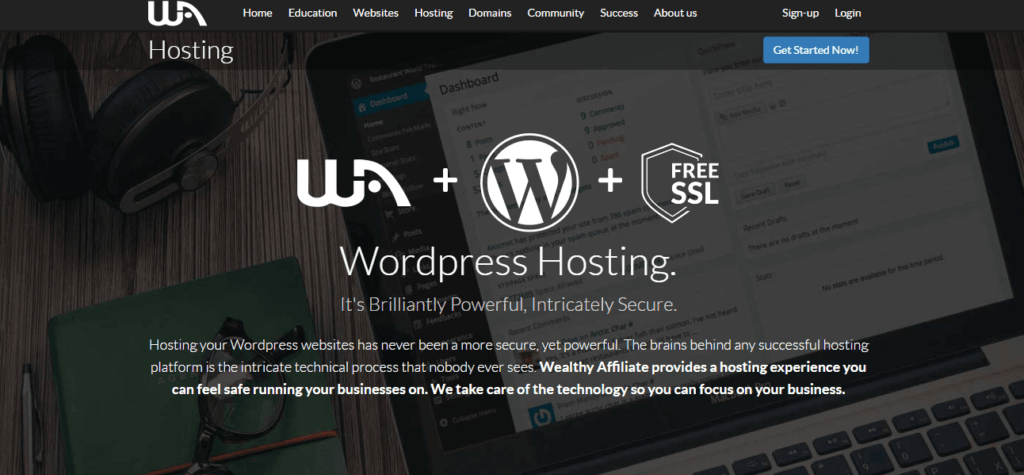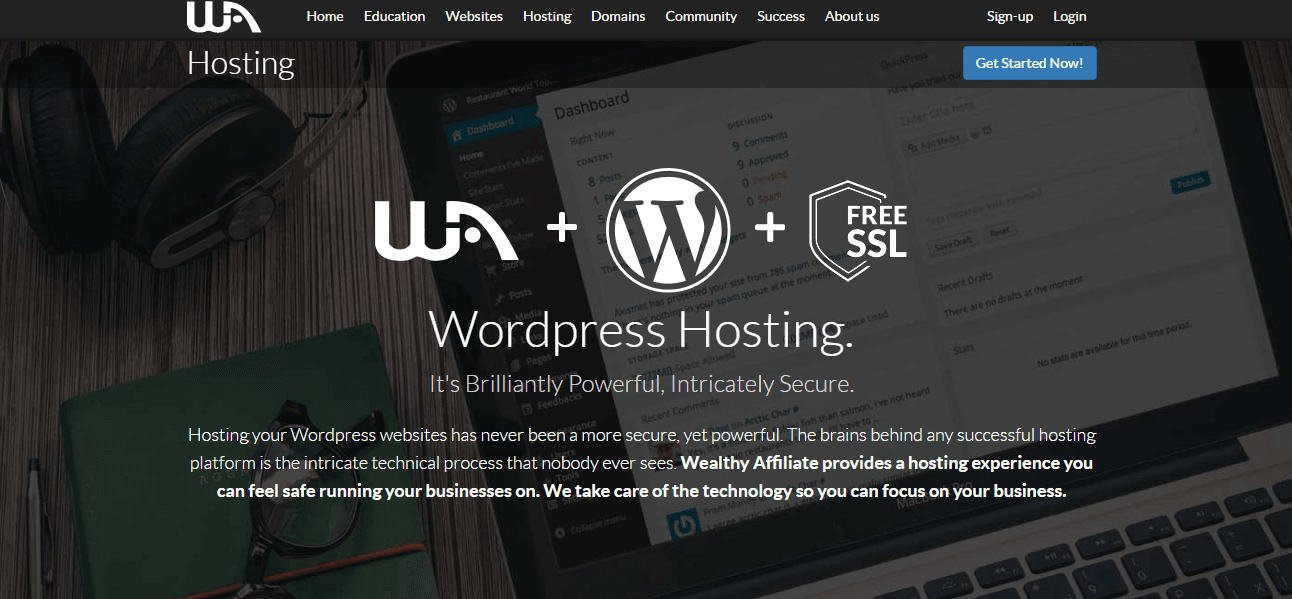 1. Create your free Wealthy Affiliate Account
To get started with Wealthy Affiliate you need first to create your free account with Wealthy Affiliate.
To do that click the button below.
Fill out your details on the registration page and click on the "Create your account button".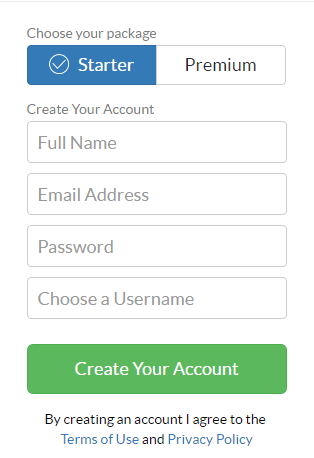 An email with a link will be sent to your mailbox. Check your mailbox and click on this link to validate your registration.
Once this is done, you must log in to your account using your login credentials. You will see your dashboard like this one.


2. Upgrade your account to a premium membership
Before you are able to create your money-making website, you need to upgrade your account – click on the "upgrade button" then choose the membership plan that is right for you, and then choose the payment method you would like to use (Paypal or Credit card).
3. Set up your WordPress website with Wealthy Affiliate
Once this step is completed, all we have to do is to set up your website.
"To do this, click on "Website", then Site Builder".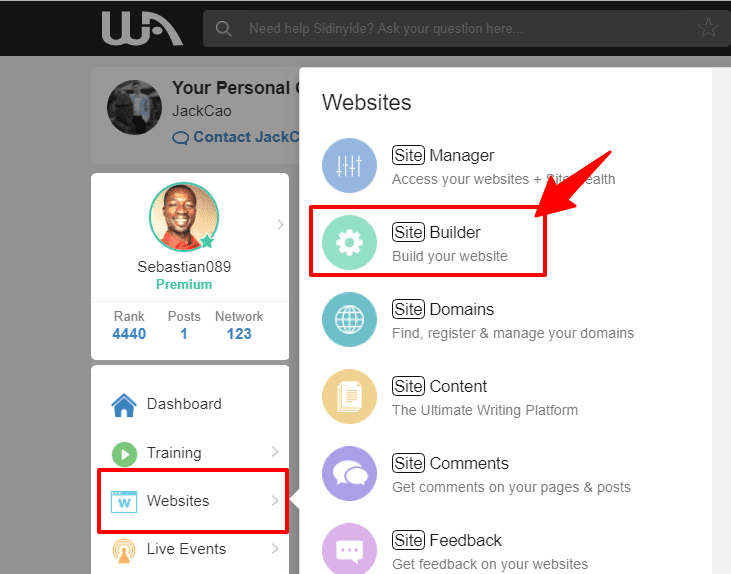 If you don't have a domain name and you want to have one with Wealthy Affiliate, you can click on the "register a domain" button. Then, choose your domain name.
However, if you already have a domain name, all you have to do is to click on the button below.

This will take you to the last phase where you will have to create your website in 3 simple steps:
1. Inter or choose your domain name.
2. Give your site a name – don't worry if you don't have a name for your site right now. Give any name – you can change it after.

3. Choose a WordPress theme for your website and then click on the button below! You can choose any WordPress theme you wish. Later you can change it within your WordPress dashboard.

By clicking on the button above, it will take only a few seconds for your WordPress site to be ready.
Once it is completed you can now log into your WordPress dashboard.
Congratulations and welcome to the blogging community!


5. Design your money-making Website
Once your site is live, the next step is to start designing it.
Designing your site means you already have an idea of what you want to accomplish with your business and what might catch and captivate your readers' attention – your future customers.
But since it's something you can change as your business grows, don't worry about it!
1. Choose/change a theme for your website
To design your site, log in to your WordPress dashboard.
Where can you find a free theme to install?
Your website has been installed with a default theme depending on your web host. And you have the possibility to change it later.
For example with Wealthy Affiliate, when creating your website, if you already know the theme that suits your needs, you can choose it from the thousands of themes and install it once and for all.
Let's go and change your theme!
To change your WordPress theme, click on "Appearance", then click on the "Add new" button.
That will take you to this section below.
You can tape your site name in the search box. WordPress will bring all the themes that meet the keyword you typed in the search box.
For this tutorial purpose, I will type "Astra" which is my favored WordPress Theme.
As you can see, this is the Astra Theme below. I just click on "install" to install it.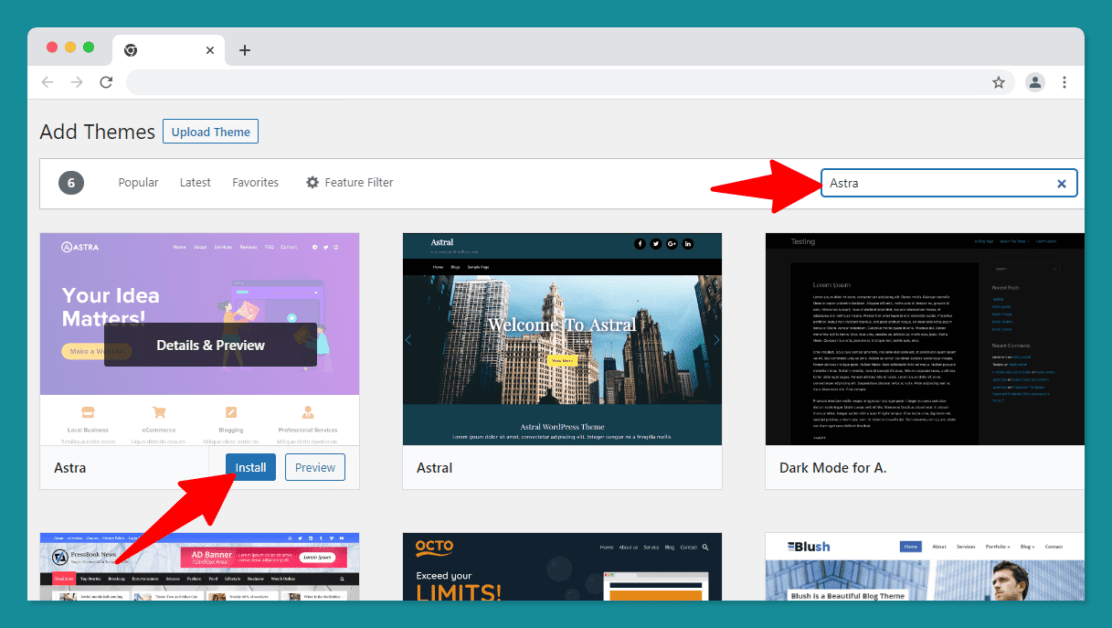 After that just click on the "activate" button to activate it.
Don't worry if your theme doesn't suit your needs at the moment. You have the time to change it and test others until you find what is best for you.
A side note: Just because you have installed a WordPress theme that looks good is a synonym it is a good WordPress theme.
3 criteria to take into account before you install a theme on your site:
1. Make sure your Word¨Press Theme is responsive (mobile friendly)
Most Internet users nowadays use their smartphones and tablets for Internet research.
Depending on the type of audience you plan to target if your theme is not mobile-friendly you will lose a lot of your potential readers.
For example, more than 32% of my readers use smartphones, and 6% tablets. Just to say that if my theme is not mobile-friendly, 38% of my readers will not experience a better experience surfing my pages.
However, a bad user experience leads to low ranking.
How to find out if your WordPress theme is mobile-friendly?
To check out if your WordPress theme is mobile-friendly, use Google's Mobile-friendly tool. Just copy the link of the theme demo you want to install into the Google Mobile-friendly bar and hit the "Test URL" button.
If you are using a platform like Wealthy Affiliate, you can just create a test site under their sub-domain to test your theme's speed and responsiveness before you install it on your official site.
This is the result I get for my own website.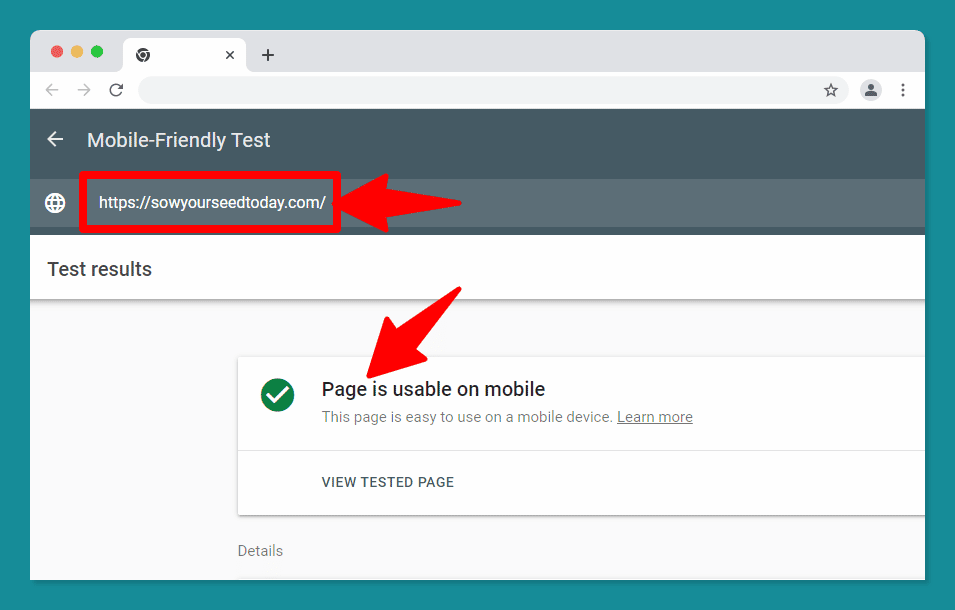 2. Make sure your theme is SEO-friendly
Choosing an SEO-friendly WordPress is important as it can negatively impact your SEO effort.
Indeed, there are themes that use bulky code that is very difficult for search engines to read properly your content. But unfortunately, there is no way to find out if the theme is optimized for SEO or not.
What you can do is to use a valid code markup tool to find out if your theme doesn't have a lot of errors.
For that, you can use the W3C markup validator tool. If you find a lot of errors, choose another WordPress Theme.
3. Make sure that your site works well on most web browsers (this is after installation that you can check it)
Another element to check is how your site works on most web browsers – you don't know which web browsers your readers use the most. Right?
To know it, simply type the address of your website on the different browsers you have on your laptop and smartphone and see how results you get with each of them.
2. Install plugins to add features to your website.
Plugins are add-ons that allow your website to have an excellent appearance.
Here are the plugins I recommend you install from day one:
YOAST SEO: YOAST SEO is a plugin that will be useful for your website optimization. There are other alternatives to YOST SEO like SEO Optimizer, but YOAST SEO is a beginner-friendly SEO plugin.
It makes suggestions throughout your content such as the length of the title of your post, meta description, the number of keywords in the content (if it is too much or too little), etc.
MonsterInsights: It is a plugin that will allow you to better understand the behaviors of your readers (how they land on your site, how long they stick around, which page they visit more, etc.). This is the best Google Analytics plugin for WordPress that you can connect to your Google Analytics account.
You can create a Google Analytics account here if you don't have one.
WP Rocket: It optimizes the loading time of your site and gives a good experience to your website's readers.
Social Snap: social share plugin that can help you boost your website traffic and build your business on autopilot.
2 Important settings you will need to make to avoid compromising your SEO
1. Change the permalink of your site
Have you ever clicked on a site link and can't access it? Sure !!!
This is often due to a change in the structure of the permalink. The permalink structure is often by default like this: yoursiteName.com/archives/123/
When it looks like the one above, search engines can't read your content properly. That impact your SEO effort.
Now…
Imagine that you published 10 articles under the default permalink structure, and then changed it to something like this one: yoursiteName.com/post-name/.
All the content of your site that you have shared with your friends and others will no longer be able to access your articles. Which impacts your traffic.
So once your site is live, make sure you change your site permalink structure to something like this: yoursiteName.com/Your-post-name/.
Where can you find the permalink of your site to change it?
Go to settings, then permalinks, and check "post name".


2. Allow the search engine to know what your website Is About
After adjusting the optimization of your website by changing the structure of your permalink, another very important element to take into account is to describe your home page to allow search engines to know what your site is about.
This is really important especially if your domain name does not contain any keywords from your niche like mine. Doing so, it will allow both search engines and your visitors to know what kind of business you are doing.
Keep also in mind that this is what will make Internet users want to click on your link and visit your site. So be accurate and short and use at least one keyword in the description of your home page.
To do that, just click on "settings" and you will see a page (see image below). Give a title to your website and describe what your website is about on the "tagline".


3 Create Your Must-have pages
1. Your "about me" page
Your "about me" page is a page that you will have to create from the moment your site is launched. It is the page that new visitors like to visit to find out who is behind the site.
This page is important for your blog because it allows you to tell your site visitors who you are and how you can help them, to make a connection with your readers.
Tips to help you get started with your "about me" page:
A short presentation of yourself,
Describe what your site is about: who is your site for?
Make your visitors want to connect with you by showing the values you can give them,
Allow your readers to contact or connect with you via your social profiles,
and publish your about me page as a post instead of a page so that your readers can leave a comment – unlike a page.
2. Privacy policy
The privacy policy is the page that informs visitors about how you collect their information, how you store and use their information, etc.
3. Affiliate Disclosure
Talking about how to create a website and make money, means that you could have affiliate links on your site. So it is imperative, for legal concerns to have an "affiliate disclosure" page on your website.
6. Create your first post
3 steps to create content that attracts readers
Your post that you will have to write must be in line with your niche. And the keyword you will need to use in your content must be a keyword that will attract your target audience. But it is not just any keyword that will attract your targeted audience to your site you should use and expect to succeed.
You have to choose a keyword that has a high search volume, but that has less competition with a high SEO score. This will give your post a better chance of being ranked on Google. This is why it is useful to have a keyword research tool like JAAXY that Wealthy Affiliate offers in their premium membership plan.
Use JAAXY and find a rich keyword.
2. Choose a headline that makes your readers want to click on it
After finding your keyword, the next step is to brainstorm and find a headline that will make people want to click on your link. Keep in mind that your headline must contain your keyword and preferably put it at the beginning of your headline (especially in case it is long) so that the search engines can read and index it correctly.
3. Write your content
The time for real blogging has come! It is time to put your hands in the "pulp", to show your knowledge to your audience.
It's not easy at the beginning but don't let anything stop you from moving forward.
To create a post go to the post section, then click on "new post". This action will take you to the writing page like this one below where you can start writing your post.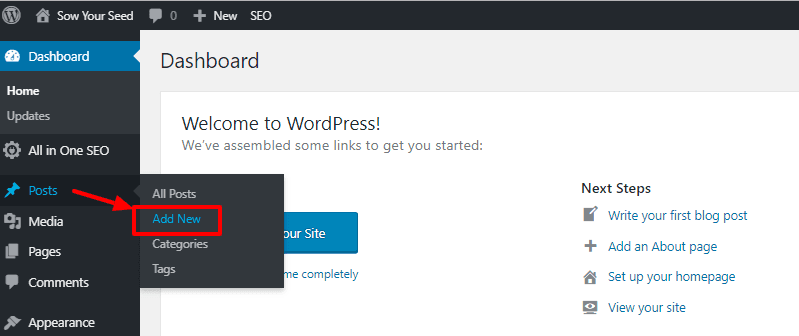 5 tips to write a friendly readership and SEO-friendly post to get ranked higher on search engines:
Related post: How to write a blog post when you feel you are not a good writer.*
5 best image stock sites to find images for your blog
1. Canva: Canva is not an image stock website but an image editing website where you can design all kinds of designs for your blog post and for your social media post.
2. Pexels: Pexels is my favorite free photo stock image.
3. Unsplash: it's a free stock photo site where you can find all kinds of images for your blog.
4. Pixabay: free to use – this site offers high qualities images and also free vectors and illustrator
From now, you have your website designed and you have also content on it.
Let's not find out how you can make money from it.
There are numerous ways to make money with your blog:
1. Earn money with affiliate marketing
Affiliate marketing is the best way that many bloggers use to make money with their blogs.
It consists of promoting a company's or someone's product or service you love, to your audience, and getting paid every time a customer purchases the product/service through your affiliate link.
The principle is to write content that is related to the product or service you are promoting while inserting your affiliate link into it.
You can check out my step-by-step guide on how to start an affiliate marketing business in 2021 to learn more.
2. Make money by selling your own product
As a blogger, you can create your own product and sell it on your website. For example, you can offer a coaching service or write an ebook and sell it to your audience.
But before you sell a product like an ebook to your audience, you will have to publish quality content that engages your readers. You need to have a faithful audience that trusts what you do.
Otherwise, you can publish it on self-publishing platforms like Amazon KDP where there is an established customer ready to buy your eBook.
Yes, it will not happen overnight. But over time, when you will have developed more skills and expertise in your niche, you can really make money by writing and selling your own ebooks.
3. Make money as a freelance writer
One of the quickest ways to make money with a website is by applying for a freelance writing job. This is the fastest and easiest way to start monetizing your blog. If you produce good quality content that engages your readers, you can apply for a freelance job on freelance portal sites like Flexjobs, Problogger, etc.
For example, Problogger is a freelance portal site that you can visit from time to time and search for a freelance job according to your niche or skills.
You do not need to register on the site or spend any money to apply for a job. And your chance to bag a customer is great since you already have some articles that you have published on your site as a sample.
4. Make money by creating an online course on your blog
If you have skills or experience in a field and you perceive that it meets your audience's needs, why not create an online course to help them?
You can combine all your knowledge in videos or content formats and your audience will pay to have access to it.
Here are platforms where you can create and sell online courses:
5. Make money with Google ads
Another way to make money with your blog is to sign up for the Google ads program. So Google will give you a code that you will place on your site, and ads relevant to your niche will be displayed in your blog via the Google ads platform.
You will be rewarded per click, and the amount you can earn per click depends on the quality of traffic and your niche.
Related post: Top 8 best ways to make money with your blog in 2022
8. Promote your blog to make money
When learning how to create a website and make money on the side, you will also need to learn how to promote your website. Indeed, with no traffic, you can't make money with your website even if it is plenty of good and quality content. Just to say you need to drive targeted traffic to your blog to make money. As you know, this traffic will not come to your site if you don't prompt it.
So instead of waiting for "the giant Google" to do you a favor, you have to start promoting your blog.
Where can you promote your blog
1. Social media
Social media such as Pinterest, Facebook, Instagram, Twitter, etc. are ways you can use to drive traffic to your site. Note that these social media work differently and the results you get from each of them will not be the same.
As a full-time worker like me, trying to be present on all these social media at the same time is impossible – or at least you won't get away with it.
But with tools like Tailwind and Hootsuite you can schedule your posts in a few minutes, and use the rest of your time for something else.
Otherwise, my advice is to put your energy into one or two of these social media (mainly Pinterest and Facebook).
When it comes to choosing one from these social media platforms, Pinterest must come first because the result you will get is amazing and for the long term. Indeed your pins can be pined by other people and displayed on their boards.
This increases your chance of getting some clicks and visitors to your website.
How to get started with Pinterest?
To start with Pinterest, you will need to create a professional Pinterest account, claim your site – in less than 24 hours Pinterest will proceed with the validation of your site, and as soon as it is done, you can create boards, and pins in your account.
Facebook is also a great source of traffic. One of the best ways to promote your blog on Facebook is to create a fan page, that will allow you to connect with your audience.
Joining a Facebook group in your niche is also a good way to get in touch with other bloggers, and to get traffic on your website.
2. On forums related to your niche
Forums are also one of the best ways to drive traffic to your blog. But you will have to use them wisely. When I talk about forums, I refer to forums within your niche. Find a relevant forum for your niche and join it.
Join beermoneyforum if you are in the "make money online" niche.
Of course, it is not all about signing up, placing your link anywhere, and waiting for people to click on it. You have to be active in treads – to give accurate and helpful answers to other members' questions about the topics you have already posted on your blog, by placing a backlink to your article for more information.
3. Answer questions on QA sites like Quora & Yahoo answer
Quora is a free platform that is accessible to everyone and covers all kinds of topics. Whatever your niche is, you had the opportunity to find a question related to your niche or the posts you published on your website to answer.
You're wondering, how do I find a question from my niche and answer it?
All right!!
The answer is simple.
Create a free profile with Quora. When creating your account, a variety of topics such as entrepreneurship, start-up, culture, politics, travel, etc will be presented to you allowing you to choose those that interest you. You just need to choose only those topics that are related to your niche.
If you are active, each time a question has been asked, and that is related to your niche, Quora will send you a notification.
Pro tip: Every time you publish an article, you can perform some searches on Google using your keyword – your chance to find a question according to your article to answer is higher. Give quality and reliable answers and place a backlink to your post for more information.
Related post: Quora Marketing for beginners – Learn how to leverage Quora to grow your blog traffic.
4 Summit posts on medium for publication
Medium is also a free platform for readers and writers that you can join and submit an article for publication. Like Quora, this site is open to all niches and you can find your place there. Write a quality article and submit it to Medium.
5 Guest posting
Guest posting is the perfect way to have an authoritative website. It also helps with your website ranking.
It consists of contacting bloggers in your niche who already have a well-established audience, writing an article, and asking them to publish it on their blog in exchange for one or two backlinks to your blog or website. This practice can provide you with quality traffic since this traffic comes from sites that are relevant to your niche.
Related post: 10 proven ways to drive traffic for your blog and get your first 1000 readers.
My final thought and advice
Our step-by-step guide on how to create a site and make money ends here. Many people have created their websites and they are making a living income now.
So, if you want to create a website and make money on the side when working as a full-time employee, it's possible.
Follow this simple guide on how to create a website and make money and join the blogging community today.
As for how to monetize your blog, there are plenty of ways to earn money with your blog. As I said create quality content and give value to your audience and help them as much as you can. Obviously, the money will follow.
If this guide has been useful to you and has helped you or if you have a question do not hesitate to leave a comment in the comment section below. I'd be happy to answer you.
If you like this article on how to create a website and make money, don't hesitate to share it with your friends either.
Be an ACTION taker, SOW YOUR SEED TODAY!
To your success!!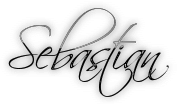 You may also like…