Do you want to know if Aweber is the right tool for you or not?
If yes, you are in the right place.
In this review, I will take a close look at the Aweber pricing, features the pros and cons so that you can find by yourself if this email Marketing tool is a good fit for your online business or not.
But before we get into the nitty-gritty of the Aweber review, I want to notice that in the spirit of full transparency, this post contains affiliate links. That means if you make a purchase through these links, I may receive a small commission at no extra cost to you. I can get a commission from any company, but I only recommend products/services I truly believe will give value to my readers. Read my full disclosure here.
Without future ado, let's dive in.
Aweber review summary: company overview
Company name: Aweber
Product type: Email marketing software
Owner: Tom Kulzer
Website: https://aweber.com
Price: Free for 500 email list size & pro membership start at $19.99 per month for 500 email contacts – $16.15 per month if billed yearly.
Sow Your Seed Today rating: 8/10
Do I recommend this? Yes
Before we go into the nitty-gritty of the Aweber pricing and features, I want to address the pros and cons of Aweber so that you can make a quick decision.
Aweber Pros and Cons
Aweber Pros
✔ Now you can get a free membership for 500 emails list size with most features you can't get from some of its key competitors like MailChimp.
✔ It comes with a very large range of templates — considerably more than its key competitors.
✔ It's reasonably priced — whilst not the cheapest product of its kind out there, it is cheaper than several similar solutions.
✔ Possibility to get a sharing link of the opt-in form you create without having to host it on your own website. I found it useful for people who don't have a website but want to build their email list.
✔ Aweber provides detailed analytics making it easy to identify who received, opened, and clicked the links within your emails and who has not and send emails to list segments based on opens / non-opens.
✔ Great email deliverability email marketing tool.
✔ Landing page builder available – even in free membership.
✔ Possibility to build your email list on a single or double opt-in basis.
✔ Possibility to trigger and add tags to segment your subscribers.
✔ Importing emails from another service to Aweber is easy.
✔ It integrates with a decent range of third-party tools and apps.
✔ Easy to set up time-based email automation.
✔ Responsive email templates and capture page builder.
✔ Beginner-friendly and easy-to-use email marketing platform.
✔ Top-notch support that includes phone, email, and live chat.
✔ Free training in video and text formats, and free live webinars.
✔ Access to Aweber eCommerce feature – great for eCommerce owners (1% transactions fees).
Aweber Cons
❌ There are cheaper options out there that offer considerably more features in the marketing automation arena and at a lower price like Getresponse.
❌ The landing page builder doesn't provide A/B testing for the moment.
❌ Some of the templates need improvement.e
❌ Subscribers that are on multiple lists and people that have unsubscribed are still counted towards your total subscriber quota.
❌ You're not allowed to import the subscribers that have been bought from third-party platforms.
❌ It's not really easy or intuitive to get the automation workflow set up (not to be confused with campaign automation).
I hope you can base on the pros of cons of using Aweber to find out if this email marketing tool is for you or not.
But…
If you want to know more about Aweber keep reading while we move on to the next section of my Aweber review.
What is Aweber?
Founded in 1998, AWeber is a US-based email marketing company that serves more than one million customers worldwide.
The Aweber email marketing tool allows you to:
create Landing pages and sign-up forms to capture leads into your mailing list
build your email list easily and faster with popups or using their landing page,
create and send email newsletters or emails campaigns to your subscribers,
automate your emails marketing campaigns,
Manage & segment your subscribers based on certain criteria,
and view and analyze statistics related to your email marketing campaigns.
Aweber key features and benefits
In this section of my Aweber review, I just want to show you the key features of Aweber so that you can see by yourself if this email marketing tool will be a good fit for your email marketing business or not.
Choose or create stunning Sign-up forms to generate leads and grow your list
With over hundreds of pre-made templates in their database, designing professional sign-up or opt-in forms become easy. You have the option to choose one, customize it to match your brand or create one from scratch.
And what I like, you can embed your form on your content or integrate it with your WordPress blog.
Even if you don't have a blog you can just get a link to your opt-in form to share or just integrate it with your Facebook page to generate leads from your Facebook page.
Create Autoresponder email sequences – automation
Email automation allows you to create timely and relevant messages that will be delivered automatically to your subscribers on a schedule or when specific conditions are met.
It saves you time and energy and the best part of Aweber's email automation feature you can deliver relevant messages to your subscribers by using their segmentation and tag features.
That helps you build relationships, establish trust and credibility with your audience, and then make more affiliate sales.
This is an example of automation campaigns I created and it was trigged based on the location of my subscribers.
This image below is one of the email campaigns I trigged based on my subscriber's location.

And this one below from a specific location.

Unlike some of its key competitors like MailChimp, Aweber offer full access to email campaign automation to its users (even free users have access to this feature).
Create landing pages to grow your mailing list fast
Aweber offers a landing page builder its users can use to grow their email list and sell their product or service easily and quickly thanks to their pre-made landing page templates.
And the best part you don't need a website to build and publish your landing pages to grow your business.
Plus you can add a video to your landing page to engage your audience and then increase your conversion rate.
It also offers you the possibility to tag subscribers through the form used to segment your list and then deliver a targeted and relevant message to them.
In the past, it is not possible to track your landing page traffic with Google Analytics and Facebook Pixel. Now Aweber made it possible. So you can easily track the traffic you get when for example you are running Ad campaigns on Facebook.
Here is an example of a landing page I designed using their landing page builder.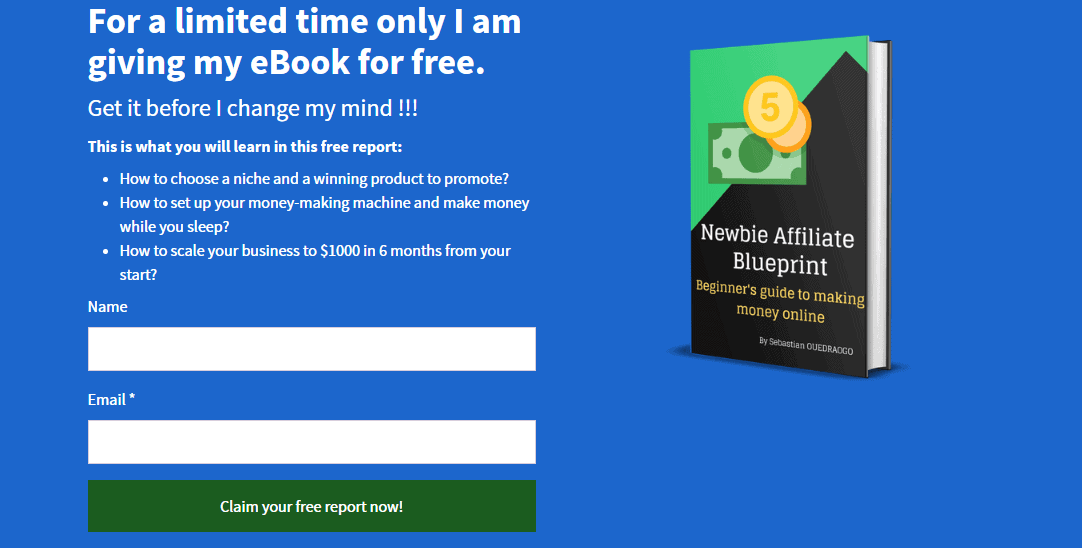 Choose Pre-made emails templates to create your email campaign
Being in email marketing for 20+ years so far, Aweber has 100s of email templates users can choose from and easily create their email campaigns easily.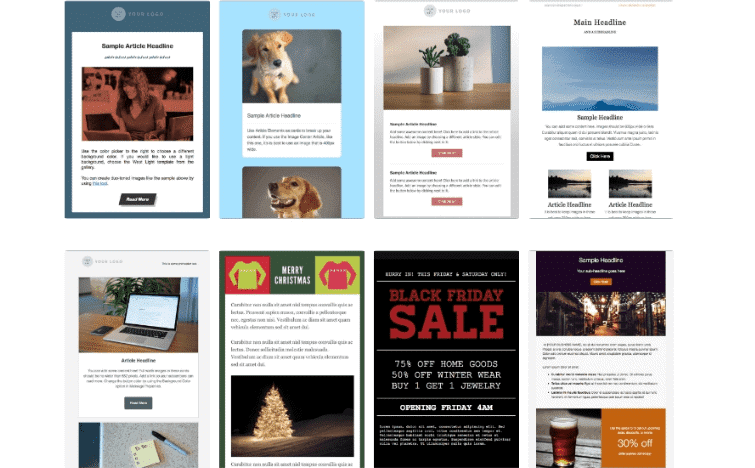 With their drag-and-drop email editor, designing emails that fit your brand is easy even if you don't know how to code. Just pick one from their email templates library to go.
Or if you want, start designing one from scratch, and add your logo, images, and video to engage your subscribers.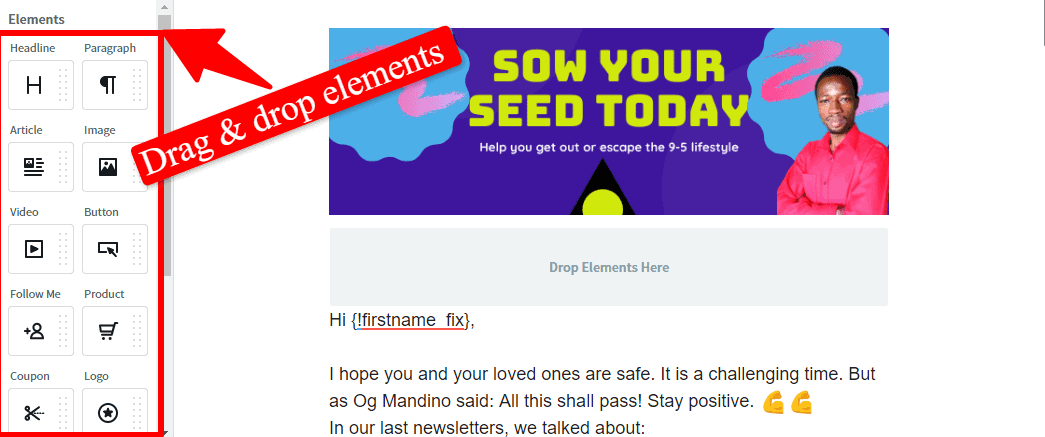 Integrate With Your Favorite Tools and Apps
Email marketing is a powerful tool that allows you to send emails to your subscribers in order to get them to accomplish desired results.
But sometimes you need more tools to run your business efficiently and having the possibility to connect your email marketing tool to the tools you use can help you create a complete and effective marketing strategy to boost your business.
Let's say you want to run webinars in order to get more engagement with your audience, increase the trust relationships with your audience and then generate more leads and sales.
This is where Aweber integration comes to play.
You can integrate your webinar tool with Aweber and add more subscribers to your mailing list.
And the number of tools you can integrate with your AWeber account is countless. You can connect it to:
social media pages like Facebook,
Sales funnels and landing page builder tools such as CoreX Funnels, Leadpages or Intapage,
eCommerce platforms like Woocommerce, Shopify,
Payment gateway like Paypal and Stripe.
And much more.
Also read, how to build a successful eCommerce store with WordPress.
Track and analyze your campaigns with detailed reporting
In order to be able to improve your email campaign and grow your business, you need a detailed picture of your customers' and prospects' behaviors. This is where the Aweber analytics and reporting feature comes from. It allows you to measure your email campaign.
In fact, with Aweber, you have the tracking metrics like open rates, CTR, bounce rate, sale rate, etc.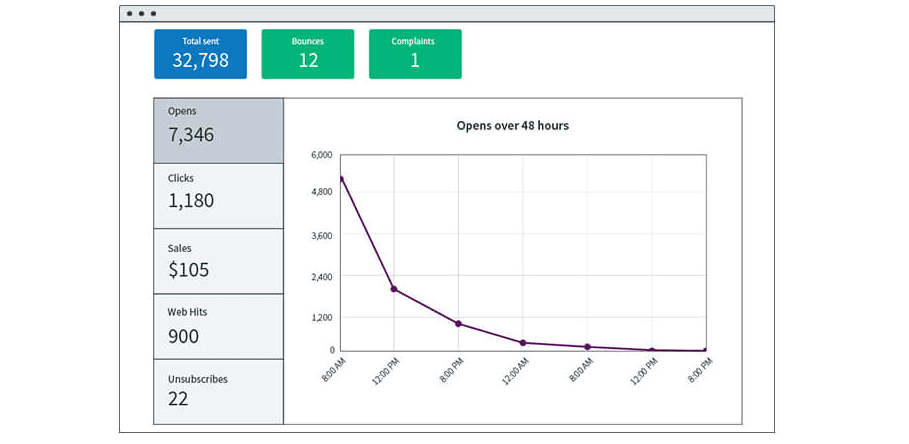 You can also know where your subscribers come from and the device they use, etc.
You can also download the Aweber App on Playstore to get an overview of your email campaigns and subscribers at any time.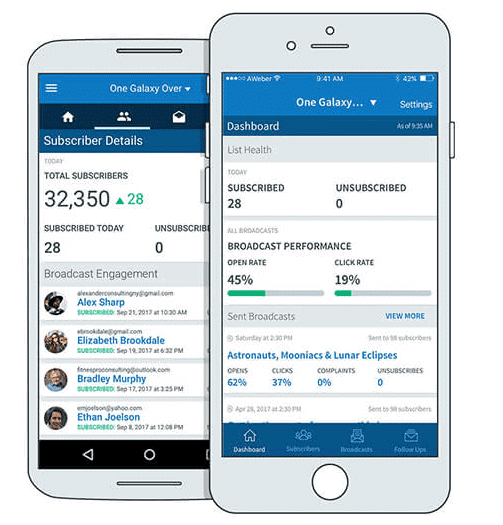 These are some of the Aweber key features.
Let's now move into the next section of my review to find out who can use this tool and who can't use it.
Who is Aweber for?
I want in this section of my Aweber review to help you decide if Aweber is for you or not.
AWeber is tailored for small- to medium-sized businesses, those who desire advanced functionality an email marketing and list building system can offer, without the need to use a complex interface.
Here are those who will find Aweber useful:
Bloggers or entrepreneurs who are just starting out and want a free email marketing tool to build their business,
Online course creators, bloggers, affiliate marketers, Coaches/consultants, and trainers looking to grow their email list,
People who need an email marketing tool and landing page builder under one roof to grow their business,
For affiliate marketers who don't have a website but want to build an email list fast – Aweber is a solution since they allow you to get a sharing link of your opt-in forms and didn't have affiliate links inclusion policy like Mailchimp.
Anyone who takes email deliverability seriously,
Entrepreneurs who need high-quality customer support.
Who is AWeber not for?
Aweber could not be for you if you are:
A marketer looking for advanced tracking and automation features for your email campaigns.
An affiliate marketer promoting adult or financial services/products.
Marketers who buy leads on a platform like MLG.
An eCommerce store owner looking for advanced tracking and automation like abandoned cart sequences.
Aweber pricing and free trial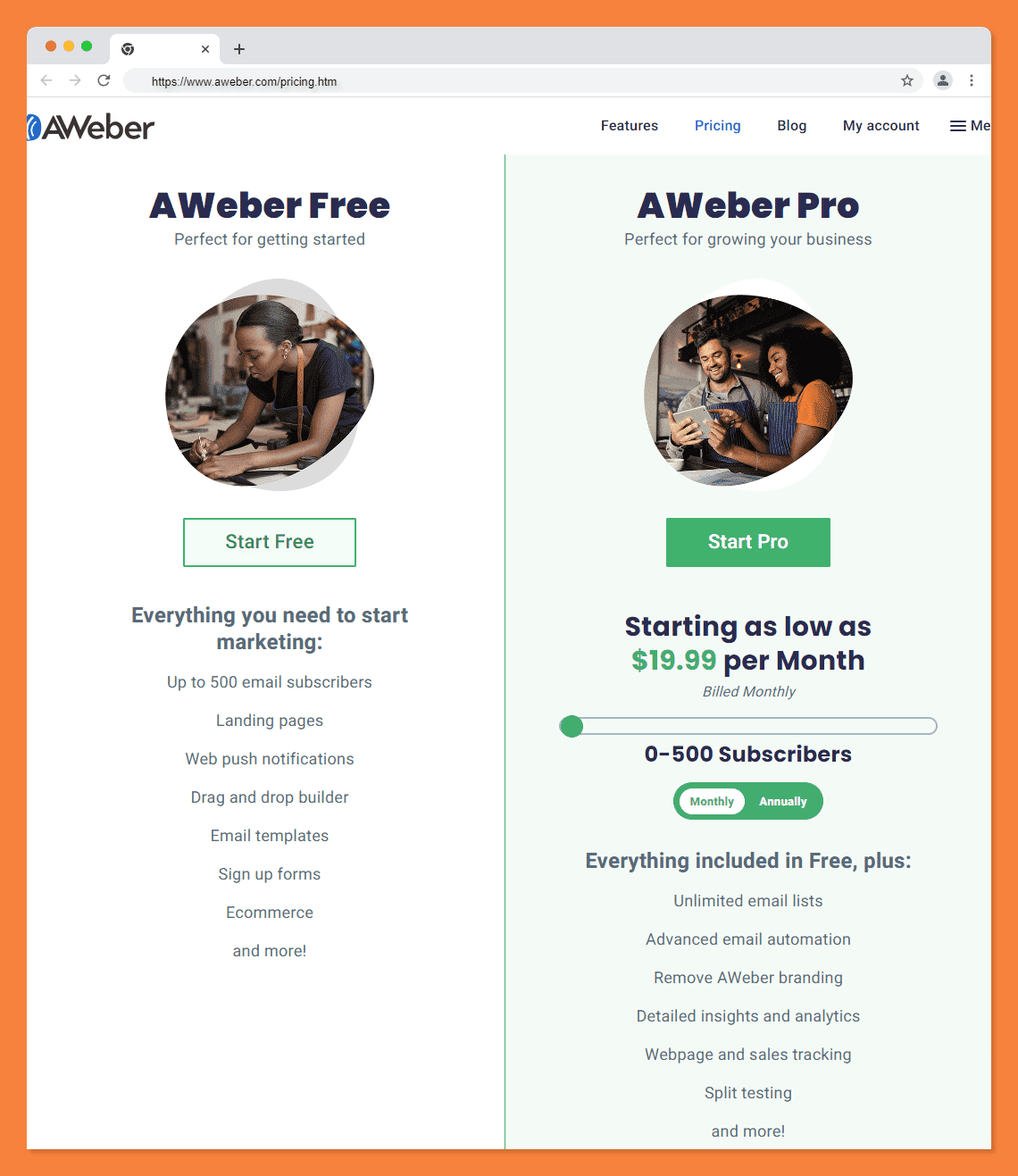 From July 14, 2020, Aweber offers 2 membership plans to its users:
Free membership plan
Aweber's free membership plan comes with the following benefits:
Possibility to send up to 3000 emails each month,
You can create and send newsletters using their automation feature (what some of its key competitors charge for),
Get access to 100s of email templates and thousands of professionals images,
Create unlimited landing pages and sign-up forms,
Get access to their stunning landing page templates (the possibility to create even a video landing page if you want),
Possibility to segment your list using tags,
Access to email campaign reporting (open and link clicks),
Possibility to integrate it with most tools and Apps like WordPress or your eCommerce store (Shopify),
24/7 Live support (phone/email/chat) – unlike some of its competitors
Pro membership plan – comes with a 30-day free trial
Update – Aweber changed its pricing structure. They only offer one premium membership plan with access to all their features. But the membership price has been increased.
Aweber offers discounts for yearly membership plans and a free 30-day trial so that you can test the platform before you decide to invest your money in it.
Aweber pro membership plan price is structured like this:
| | | |
| --- | --- | --- |
| Subscriber count | Monthly billing cycle | Yearly billing cycle |
| 0-500 | $19.99 | $16.15 |
| 501-2,500 | $29.99 | $26.15 |
| 2,501 – 5,000 | $49.99 | $49.15 |
| 5,001 – 10,000 | $69.99 | $66.15 |
The best part with Aweber compared to some of its competitors like Getresponse is that the pro membership gives you access to all their features.
What I mean is that with the pro membership plan, you get access to all the Aweber's email marketing features.
On top of the features the free plan offer, here are the key features you get in the pro plan:
Sign up form and Email Split testing,
Automate your messages based on your audience's behavior,
Advanced message analytics, audience/account analytics,
Sales tracking and Cart abandonment / Purchase tagging (for eCommerce store),
Let's go with the next section of my Aweber review and compare it with some of its key competitors.
Aweber vs. some of its key competitors
Aweber vs Mailchimp
Aweber and Mailchimp are tools that allow you to import and host, create newsletters and send to your subscribers, automate your email campaigns and get reports of your business, etc.
Both Mailchimp and Aweber allow you to create simple 'time-based' autoresponders — a series of emails based on time intervals
Both allow email segmentation but while you can get it even with the free plan of Aweber, with Mailchimp you will need to be on the prohibitively expensive Mailchimp 'Premium' plan, which starts at a whopping $299 per month.
Plus Aweber allows you to broadcast to multiple lists at the same time. With Mailchimp, you can't and on top of that, you are limited in terms of the number of emails you can send to your subscribers per month.
For these reasons, I prefer Aweber over Mailchimp.
Mailchimp is useful if you have over 500 emails list and want advanced automation. Or if you are an eCommerce store owner. It is not for affiliate marketers due to their policies.
Aweber vs Getresponse
Aweber and Getresponse are tools that allow you to import and host, create newsletters and send to your subscribers, automate your email campaigns and get reports of your business, etc.
On the price side, Getresponse is cheaper than Aweber because the Getresponse basic plan starts at $19 for 1000 email contacts compared to Aweber ($29.99 for 1000 contacts).
But that's if we consider only the basic plan of both and also the features offered.
In terms of features and automation, Getresponse is clear the winner because of its advanced automationfeatures, and eCommerce integration.
Not to mention Getresonse is an All-In-One email marketing tool that allows even Webinars hosting and funnel building.
Getresponse would be my first pick if I need a rich-feature and advanced email marketing tool.
Aweber alternatives
If Aweber is not your first rodeo, here are Aweber alternatives:
Getresponse: It is the best pick for eCommerce owners and small businesses that need advanced email automation features, webinars, and funnels builder tools to grow their business in one room. The basic plan starts at $19.99 per month. Now they also offer a free plan with a 30-days free trial on their premium features. So if you are looking for a cheaper and rich-feature email marketing tool, Getresponse will be a good fit for you.
Check out my Getresponse review for more information.
Moosend: Moosend is a new email marketing platform that offers a free membership plan to up to 500 emails. Their paid membership plan starts at $10 for over 1000 subscribers. It is also cheaper than Aweber.
Read my Moosend review for more information.
Mailchimp: Mailchimp is one of the oldest email marketing company like Aweber. It offers a free plan to up to 2000 emails list. Great tool if you are not for affiliate marketers.
CoreX Funnels – An all in one marketing tools that provide a complete drag and drop website and funnel builder, e-commerce and membership site builder, email marketing and automation tool and more.
While its focus is not the email marketing side, it remains a great email marketing tool for entrepreners who want to build their email list faster, create and automate their email campaigns, A/B test their emails, ect.
Learn more about CoreX Funnels in this guide.
Systeme.io – Another great and all-in-one platform that offers all the tools you need to start and grow your business. Just like Mainchip, they offer 2k subscribers for free. And the best part you get access to other tools useful tools you may need to grow your business.
My AWeber review's Frequently Asked Questions (FAQs)
What is Aweber?
Aweber is a US-based email marketing company that helps people create opt-in forms, and landing pages to generate leads, send awesome emails to their subscribers.
Is Aweber free?
Yes, Aweber now offers a free plan to people who are just starting out and are not ready to pay for an email marketing service. Their free plan allows you to build up to 500 emails, send up to 3000 emails each month, and the best part you have access to features such as autoresponder, automation, landing page builder, 100s of email templates, and email campaign reporting. I found their free plan more value compared to most of its competitors like Mailchimps, Moosend, etc.
What is Aweber used for?
Like any email marketing tool, Aweber is a tool that helps you build an email list, send targeted and relevant emails to your subscribers (leads) to build a trust relationship with them, and then convert your leads into sales.
Does Aweber have landing page builder?
Yes. Aweber has a landing page builder that allows users to create stunning landing pages to generate more leads and grow their business.
How much does Aweber cost?
Aweber is a freemium email marketing tool. That means there are a free version and a premium version. The paid plan starts at $19.99 per month for 500 emails size and the price can go up to $69 per month if you have 5000+ emails list.
Does Aweber offer an affiliate program?
Yes, Aweber has an affiliate program open to everyone who is ready to promote its email marketing tool. You can be a customer and an affiliate at the same time or join their affiliate program here. You get a recurring 30% commission for each sale you make.
Aweber free plan vs Mailchimp free plan: with is the best for internet marketers?
While Mailchimp free plan allows users to build up to 2000 emails list, Aweber free plan allows you to build only 500 emails list. But in terms of features, Aweber is the winner because you have access to almost all the features it offers such as campaign automation, more in-depth email tracking and analytics, etc. On top of that, you can include affiliate links in your campaign without the risk of having your account suspended without notice – unlike Mailchimp.
Aweber Review: My Final thoughts
Aweber is one of the oldest and a robust email marketing tool with over 100 000 users. It is a great tool for small businesses, entrepreneurs, and bloggers who are looking for a simple to use and affordable email marketing tool to grow their online business.
What matters if you are just starting out or not, or if you have a website or not, Aweber is a great tool to grow your online business.
I hope you found this review of the Aweber email marketing tool helpful.
From now, you know what Aweber is, the features it offers, how much it cost and the best part you can weight the pros and cons of this tool to make an informed decision.
If you have a question regarding my Aweber review or my whole site, drop in the comment section below.
Sharing is caring, don't hesitate to share this post with your friends if you like it.
Be an ACTION taker? SOW YOUR SEED TODAY!
To your success!