Hi, and welcome to SOW YOUR SEED TODAY! I am so glad you stumble upon here!
I really have headaches when I'm asked to introduce myself to someone!😃
But since we are in the digital space, I know everyone who lands on this site will want to know who is this guy behind this website.
Well!
Then I have to tell you who I am!
Who I am?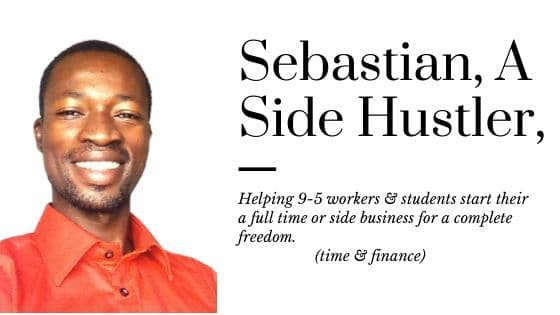 Here is Sebastian!!!
Serial Side Hustler, I am a Christian, a journalist by day and side hustler blogger by night.
I like to devote my spare time to learning and building my side businesses.
Digital addict, it is since 2013 that I have taken a serious interest in online business.
Actually, I have 2 side online businesses that help me add extra income to my day job salary. And I am constantly looking for some ways to optimize my life while pursuing my independence goal.
There are only 2 things I like in my life: FLEXIBILITY & FREEDOM!
What motivated me to build this blog?
What motivated me initially was the idea of living a life on my own terms. The classic approach of going to school, study, and getting a job, then working 40 years, living paycheck to paycheck and retire with barely enough to survive is not the lifestyle I like.
I know, like me, you don't like this lifestyle!!!
And the great question – how to hold on, when we can no longer work or when we will be fired?
I was aware of all this very early on but I fell on my bad foot several times.
I was scammed several times and I lost a lot of money and my valuable time on these bogus sites until I come across Wealthy Affiliate, an Affiliate marketing training, and an online entrepreneurs community platform and online tools provider. This platform is the one that changed my online experience.
Thanks to their training I have been able to add a side income to my day job salary.
Maybe you're aware of that and you're looking for some proven ways to get out or escape this lifestyle too.
But you don't know where to get started? This is the answer this website will answer: provide you a trustworthy and valuable resource to help you start your online business on the right paths while avoiding you from scams sites.
That said, here on this website, you will find honest and in-depth reviews that will help you make an informed decision, tips and advice to build a successful online business that will make you a sustainable income over time!
Why Sow Your Seed Today?
I was inspired by the book of Ecclesiastes 11:6 to pick this domain name which is more than just a brand for me.
Here is what this verse says:
"Sow your seed in the morning,
and at evening let your hands not be idle,
for you do not know which will succeed,
whether this or that,
or whether both will do equally well."
This domain name gives me an attitude that I adopted, a lifestyle I am sharing here!!
Sow your seed Today is a call to action. No more, no less.
It is the only thing that can lead you to achieve the success or dream you have.
It is also the common thing of all those who succeed in life. Having a business idea is good, but if you don't take action, whatever your idea is, it doesn't make any sense.
Indeed, between the idea you have and your dream, there are only ACTIONS that matter.
As Solomon said so well in this passage, instead of finding excuses that will hold you back and prevent you from starting what really matters to you, you must take note. That is what Solomon says again:
Ecclesiastes11: 4

"Whoever watches the wind will not plant;
whoever looks at the clouds will not reap."
That's why I'm telling you: you, who are reading me here, Sow Your Seed Today, to harvest tomorrow!
Sow Your Seed Today = start a side business, build multiple streams of income
Yes!!!
Sow Your Seed Today is also an invitation to build multiple streams of income, to start a side hustle as recommended by the BIBLE.
Ecclesiastes 11: 6

"Sow your seed in the morning,
and at evening let your hands not be idle,
for you do not know which will succeed,
whether this or that,
or whether both will do equally well.
It gives me a lifestyle, an attitude to adopt."
Do you want seriously to get started with a side online business that will help you quit your day job later?
If your answer is yes, Get in touch with me here. I will help you on your journey.
Sow Your Seed is an invitation to invest
I believe that everyone has a talent, a gift that God has entrusted to them. And it is the responsibility of everyone to put this to the benefit of others.
We are useful in serving others and there is no wealth without men".Right?
So, invest your time, money and energy in what matters to you.
Word of the Wisest of the Earth (always Salomon) under divine inspiration:
Ecclesiastes 11: 1-2

"Ship your grain across the sea;
after many days you may receive a return.
Invest in seven ventures, yes, in eight;
you do not know what disaster may come upon the land."
Whether you are a believer or not, you will not deny these meaningful words.
Without investment, whether in time, money or both, you can't expect a profit or a harvest!
Without sowing your seed, you cannot expect a harvest!
The goal of Sow Your Seed Today
Sow Your Seed Today aimed to inspire, educate and empower people to BE ACTION TAKERS.
Our goal is also to help:
unsatisfied 9 to 5 workers to get out of their 9 to 5 grind by starting a side business on the right path,
Students escape the 9 to 5 life by building their own online business.
If you are one of these people who want to start their own or side profitable online business for a passive income, this website is one to consider.
You will also discover legitimate money-making opportunities, tips, and tricks that will help you start and grow your online business.
Thank you for your time!
If you ever need a hand or have any questions, feel free to leave them below and I will be more than happy to help you out.
If you want to get in touch with my feel free to send me a message here.
Be an ACTION taker, Sow Your Seed Today!
To your success!!