This is my definitive Affiliate Marketing Mastery Review for 2023.
If you have been looking for affiliate marketing training courses, chance are you come across Stefan James's Affiliate Marketing Mastery course.
But before you go ahead and invest your hard-earned cash, you want to find out if this high ticket online course worth your money or not.
You made a good decision checking out because, in these days and age where affiliate marketing is on the rise, there are more and more courses that penetrate the market and most of them are under-delivered products.
Is this course different?
You will know it by the end of this post.
What to expect from me in this review?
In this review of the Affiliate marketing Mastery course, your will show you:
What is Affiliate Marketing Mastery?
About Stefan James and his business track record,
The cost and what you will inside this training course,
Who is the course for?
What I like and don't like, and my final point of view.
Affiliate Marketing Mastery review: company's overview
Product Name: Affiliate Marketing Mastery
Website: https://www.affiliatemarketingmastery.co/
Owner: Stefan James
Product Type: Affiliate Marketing course
Price: $997 one time or $397 in 3 monthly payments
Is Affiliate Marketing Mastery a scam? No
SOW YOUR SEED TODAY Rating: 7/10
Do I recommend this? Yes if you can afford the cost
What is the course about?
The Affiliate Marketing Mastery is an affiliate marketing training course designed by Stefan James, a successful and six-figure internet marketer. The owner claims he will teach you how to build a successful affiliate marketing business and then make passive income online.
The course has been created in 2016. This is 7 years so far.
Just like Wealthy Affiliate, the Affiliate marketing Mastery training course not only teaches you how to do affiliate marketing using free traffic sources but also paid traffic sources.
But note that the course aims to teach you the free traffic method. And this is great for people who are just started out and don't have a lot of money to invest in paid ads.
To develop a business you have 2 options:
Use your money to grow your business faster, or
Use your time to grow your business surely but slowly.
It seems the AMM course aims for the second route just like the Wealthy Affiliate, Income School, and Authority Hacker course.
If you want to take the faster route – means doing affiliate marketing using paid ads, take a look at this course instead.
Who is Stefan James?
Stefan James is an online entrepreneur, a speaker, life and business coach, and the founder of Project Life Mastery which is a business and personal development site.
He is also online course creator since 2016 and has made millions of dollars on the internet and here below are some of his courses:
Mastering book publishing,
Life Mastery Accelerator,
Morning Ritual Mastery,
Online business Mastery, and
the Affiliate Marketing Mastery course (the one we are reviewing).
When I checked for his social proof I found he has over a million followers on Youtube, and thousands of follers on Facebook, Instagram, and Twitter.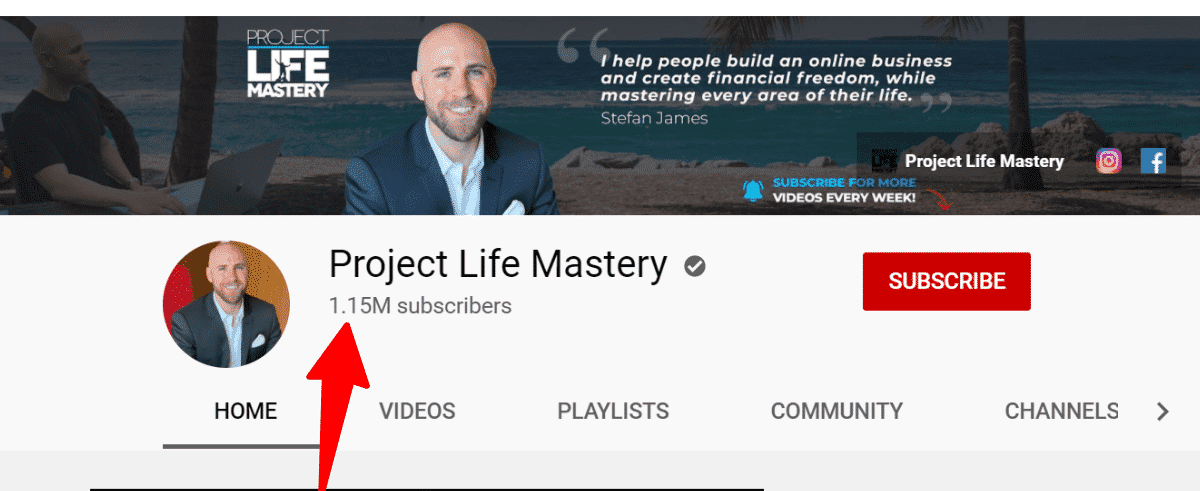 This is a good point because it is a proof the course creator is a real person and may care about your success.
But what is important for someone who is looking for affiliate marketing courses to buy is not the number of people that follow the course creator but the quality of the course itself. Does the course work? Do people have success after taking the course?
This is what matters. Right?
Stefan James had success and he lives a luxurious life and most people will be following him for this lifestyle alone.
Here below is Stefan showing his luxury apartment to people on YouTube.
So does Stefan James walk his talk in this course? Or it is just a bold claim?
In other words, can he be able to help you turn your hobby into
a profitable career with affiliate marketing?
Can he help you quit your job and live your life on your own terms?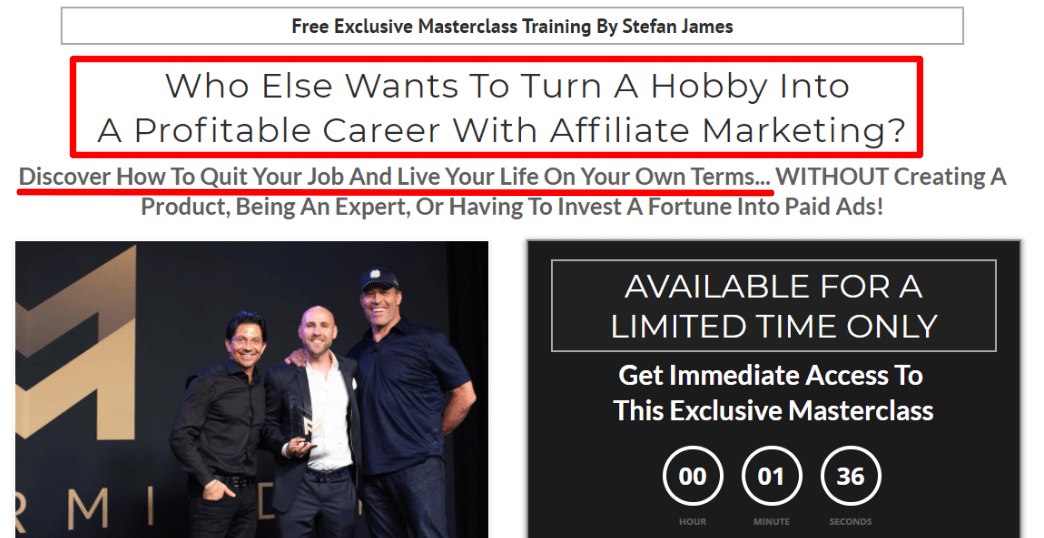 It seems these are his claims.
Move with me in the next section of my Affiliate Marketing Mastery review to find out if you can have success with the course or not.
What is inside the Affiliate Marketing Mastery course?
The Affiliate Marketing Mastery Course is a 50 videos course subdivided into 7 modules. The training teaches step by step how to build a money-printing machine that will generate a passive income for you. Here below are the subject covered:
Module 1: Introduction, Strategy & mindset
This is where you will be introduced to a series of videos talking about mindset, success principle, and goal settings.
One of the reasons most people fail in business is not having the right mindset. And I am glad he addresses this subject earlier in the training course.
Module 2: Market Research & Keywords
In this module, you will learn how to do market and keyword research, pick a profitable niche.
Where to find products to promote (digital or/and physical products) – ups and downs of each type of product covered to help you decide.
How to find products to promote?
He also shows you affiliate networks and a list of affiliate programs you can join
Module 3: Creating Your Online Brand And Presence
This is where serious things start to come up.
In this module, you will be learning how to build your online presence the right way.
Here are the subjects covered:
Marketing Channels
Brand Name
Domain & Hosting
Setup Your Blog
WordPress Plugins
Logo & Branding
Blog Design
SEO
Setup YouTube
Setup Facebook
Setup Twitter
Setup Instagram
There are Website and Affiliate Marketing Funnel Setup Services offered as bonuses.
Module 4: Content Creation
In this module, Stefan James will teach you how to create content for your various promotional channels such as blogging, YouTube, and also your social media accounts.
In a nutshell, you will be learning how to create quality content.
He will also show you content strategies and laws of successful çontent to apply when crafting content for your business.
Module 5: Visitors, Followers & Building Your List
This is where Stefan shares his marketing strategies with students. You will be learning in this module how to promote your business on Youtube; and also on various social media platforms such as Facebook, Twitter, Instagram.
You will also learn how to build your mailing list, create squeeze pages, etc.
Module 6: Earning Revenue & Monetizing Your Traffic
This module is what you are waiting for. It is about how to monetize your different marketing channels which are your blog, YouTube, and social media accounts.
He will also in this module show you the 10 rules of selling, and affiliate programs you can join.
Module 7: Performance & Analytics
This module is about analytics and reporting of your marketing campaigns.
Here are the subjects covered:
Troubleshooting
Google Analytics
YouTube Analytics
Email Analytics
Survey Subscribers
Split Testing
7 Keys To Success
Content creation, Promoting your business and attracting visitors, building your audience and fans base throughout email marketing,
Monetizing your website and increasing revenue, performance, and analytics.
How Much Does The Course Cost?
In this section of my Affiliate Marketing Mastery review, I will not only show you how much you will need to get out of your pocket to buy this course but also the extra cost they didn't tell you so that you can by yourself if this course is the right for you.
Let's find out!
The Affiliate Marketing mastery costs $997 – a one-time fee. This is another high-ticket affiliate marketing training course out there.
If you are just a starter investing such an amount of money in a course to learn the ropes of affiliate marketing can be challenging when we know that is not all your affiliate marketing business start-up cost.
In fact, if your goal is to generate free traffic from Google, you will need to start a blog.
And here the required tools to get started:
A web host (at least $100 a year),
A domain name ($14 – $23),
A keyword research tool (at least $25 per month),
An email marketing software, etc to apply what was taught inside the course.
For email marketing tools you can just use free tools like Moosend, Aweber, MailChimp, etc when you are starting out, to run your business.
As for the rest, they are necessary tools and you will need to invest your money to get your business out of the ground. Yes, there is free keyword research tool like Ubersuggest, but they are limited.
Before we move on, note that they give you the option to pay $397 for 3 months.
If you want to go for it, it is better to do with the one-time payment of $997. That will save you money and reduce your start-up cost as well.
The best part the Affiliate Marketing Mastery offers a 30-day money-back guarantee.
What do you get for your money?
On top of the training materials you have access to, you will get:
IM30 bonus lessons: training courses that cover advanced marketing strategies, Case studies,
Expert reviews,
Website reviews and feedback on your website.
Access to a private Facebook group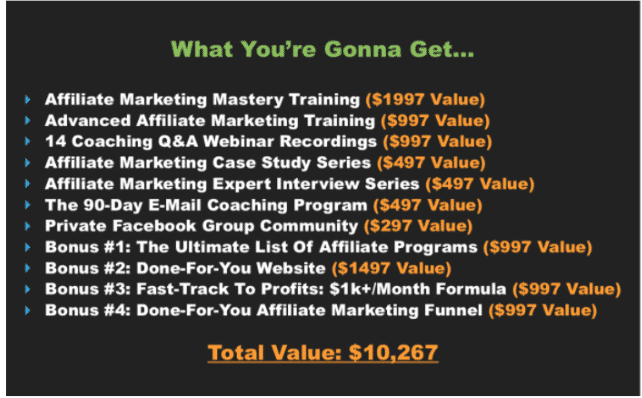 Is the Affiliate Marketing Mastery a scam?
The Affiliate Marketing Mastery is not a scam. This is a legit affiliate marketing training course that teaches you how to make money with affiliate marketing.
Affiliate marketing is a legit business model and the owner has made most of his money doing it. So I have to say he has a lot to share.
However, since the course launch in 2016, we can see only a few people who had success by following James's AMM course.
There are several reasons when we see most people fail to make the training work.
Either the training fails to deliver its promise. Or maybe the students didn't apply what was taught.
In most cases, most people end up following the course they bought till the end. Most have unrealistic expectations and give up very soon when they encounter a small difficulty.
So I can know for sure, the course doesn't deliver.
But for such a time period and its price tag, I would like to see more people making thousands of dollars thanks to the course.
I am not holding some with you. Just go here to see students' testimonials.
Apart from the 6 six people you can find in this testimonial video who had success, there are few people. I can name:
Kev Blackburn, who have joined the course at its launch in 2016 that claims to have made £100,000.
I don't say they are the only students who make money online since there are almost 2k students. But the truth is the success rate is relatively low for its price tag.
It should also be noted that most of the people who testified to having had success are nowhere to be found. Have they given up the venture? And for what reason? We don't know!
The bottom line is, Affiliate Marketing Mastery is a legit program, but overpriced and a few success stories.
The Affiliate marketing Mastery pros and cons
The pros
Stefan James has a good business track record,
30-day money-back guarantee,
Training may work if you apply what was taught,
The Cons
No free trial,
The training cost can be out of most people budget – mainly starters who are looking to make their way in this industry,
5 years teaching affiliate marketing but not many success stories,
Extra cost involved – you will need to spend money on tools like hosting, domain name, keyword research tool, etc to run your business.
Facebook support can be annoying for some
An alternative to the Affiliate Marketing Mastery course
The Affiliate Marketing Mastery is a legit affiliate marketing course and I like the fact they taught white-hat SEO strategy. That means you will be able to build a long-lasting affiliate marketing business.
But its price tag can be a challenge for you when we know you will need to invest extra money on online tools to get your business rolling.
Here is an alternative to the Affiliate Marketing Master where you can not only get access to an evergreen affiliate marketing training course that teaches the same method but also offer you tools such as web hosting, and keyword research tool ($19 per month value for free) to start and grow your online business.
The best part you don't need to invest hundreds of dollars to get started.
Check my review to learn more about this platform.
My final thoughts…
Affiliate marketing is a great business model where you can meet your goal of making a passive income while enjoying your life. And James aims to give you the skills and knowledge you must have to be successful in this industry.
The course is packed with valuable training materials and Stefan James himself is a leading and well-known expert in this field.
Apart from the cost, I found expensive and the low success rate, I don't find anything wrong with this training course.
So my verdict – not bad.
Want to try other courses? Take a look at my top best affiliate marketing training courses for 2023.
I hope you found my Affiliate Marketing Mastery review for 2023 helpful.
Do you have a question? Or any experience to share? Let me know in the comment section below.
Be an ACTION taker, SOW YOUR SEED TODAY!
To your success!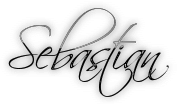 You may also like…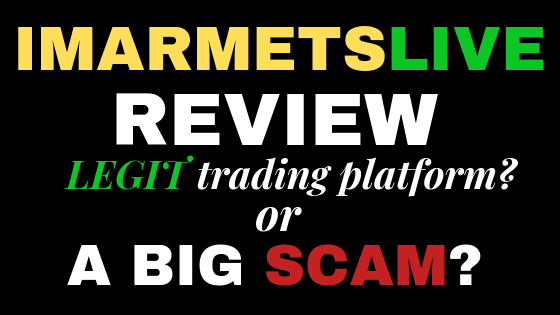 Welcome to my IM Mastery Academy review for 2023. If you heard about iMarketsLive known…