Are you looking for an honest and unbiased Affilorama review for 2022?
Or just answer to questions like:
What is Affilorama? or
Is Affilorama a scam?
Whatever you are looking to know about this platform this post will answer the most of your questions and get you to have a better understanding of it.
Indeed, in this review of Affilorama, I will cover the following points:
I'm going to tell you what Affilorama is all about…
The products they offer, pricing – so that you can decide for yourself if it worth your money or not
What I like and don't like and my final point of view.
Without further ado, let's dive in.
Affilorama review summary – company overview
Company name: Affilorama
Website: affilorama.com
Owner: Mark Ling
Founded: 2006
Products/services: Affiliate marketing training, Web tracking and analysis tool, and DFY websites (AffiloJetpact)
Price: Free – $37 – $997
Suitable for: Suitable beginners
Is Affilorama a scam? no (this is a legit platform)
Sow Your Seed Today rating: 5/10
Do I Recommend this? – Yes but not all there products (I will explain)
What is Affilorama?
Affilorama is a New-Zealand based company creared in 2006 by a well-known and successful affiliate marketer Mark Ling.
This is an education platform that teaches online entrepreneurs how to make money doing affiliate marketing. It is one of the free affiliate marketing programs where you can get some basics knowledge about affiliate marketing.
With more than 950,000 members, affilorama is an oldest company that has stood the test of time and has managed to stand on his feet against the competition till now.
But the impression I have is that Mark Ling's training platform has been struggling over the last few years to provide adequate service to its members.
In fact, from their premium membership where they offer to members premium training and web hosting to affiloblueprint which was a premium training with 90 videos, affilorama today has only 3 products that we will discuss in detail in this review.
For those who are looking for mark ling's Affiloblueprint 3.0 product or their premium membership, I am sorry. At the time I was writing this Affilorama review, these products are no longer available anymore.
It doesn't make sense to search for AffiloBlueprint review because it's a product that no longer exists.
Now…
They offer free membership and some premium products and tools to members and we're going to talk about that very soon.
Now that we know a little bit more about the Affilorama affiliate marketing platform, let's find out what exactly they offer.
Affilorama products and sercice – what you get inside
I discovered Affilorama in 2016 and if you knew this platform at that time, you will be
surprised the change happened in this platform.
I did some research on the company but I noticed that most of the reviews are outdated. Some reviewers still talking about Affilorama premium membership, AffiloBlueprint, etc that are no longer available on their platform.
Today's Affilorama is not the same as yesterday.
There is a change and I am a little disappointed.
What does Affilo really offer you?
That's what Affilorama offers right now on their platform:
Affilorama free membership: The free membership as its name suggest is free to join and it gives you access to over 100 videos and text formats affiliate marketing training. That is a lot of free stuff to learn but some of their lessons are outdated.
Path To Passive: This is an eBook (their core affiliate marketing training actually) that will teach you how to start your affiliate marketing business.
It is the first offer they will try to sell to you when you sign up for the free membership.
AffiloJetpack: This is a Done For You (DFY) niche websites you can buy if you need a ready to go niche website while avoiding the hassle of starting one from scratch.
To be honest I am not a fan of DFY stuffs. But if this is what you like, you will love this product. Note that on the Affilorama site you won't see it as a product they sell. It is an upsell.
Affilotools: this is a web analyzing and tracking tool like Google Analytics you can use. It is free to use but they offer a premium option if you want to access more and advanced features.
Affilorama forum: Like Wealthy Affiliate, Affilorama has a community where members can get help or supports from other like-minded people. But the hic, their community is not active.
Affilorama support: They have email and phone support. But I don't appreciate their support.
I tried to send an email support ticket several times and not be able to do that. Even worst they don't show what is the issue.
I am not fluent in English, so I didn't try their phone support.
Now let take a close look at their core products:
1. Free membersbip training
Affilorama free membership is full of a lot of information and it's really a place where you can learn the basics of affiliate marketing.
Indeed you have more than 100 lessons in videos and text format (tutorials & blog posts).
Only some of these training materials are outdated and need updates.
For example in the training, Mark Ling suggests some outdated tools like Dreamweaver as a website creation tool instead of WordPress that we all know.
When you sign up as a free member, you will have access to free lessons but also some downloadable materials like ebooks.
Personally I found their "quick start affiliate marketing" report useful. Whatever you are a full beginner or an advanced affiliate marketer you will found some tips and tricks that will help you get started with affiliate marketing.
2. Path To Passive (review)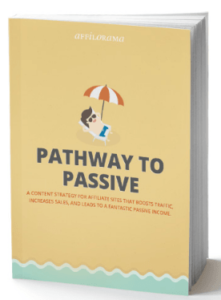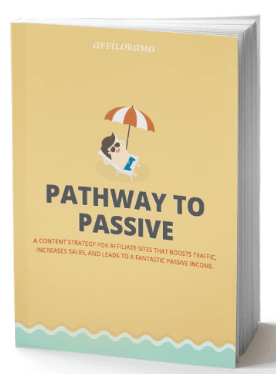 The Path2Passive is a training compiled in an ebook that teaches you how to build a successful affiliate marketing business.
The eBook has 7 chapters with 33 lessons in total.
Here the 7 chapters:
Chap 3: Problem solving content
Chap 4: Email and Newsletter list
Chap 6: Putting it all togheter
Here are the subjects covered in this eBook:
How to choose a niche and the right product to promote
How to create engaging and SEO-friendly content that will rank higher on search engines and bring tons of traffic
Attracting the right customers for better conversions,
The Path to Passive training is well structured unlike the free training, but there is no video material to illustrate certain points.
How much the Path To Passive ebook cost?
Pathway To Passive costs normally $37, but if you sign up for the Affilorama free membership you'll have three days to grab it at the discounted price of $19.
3. AffiloJetpack (review)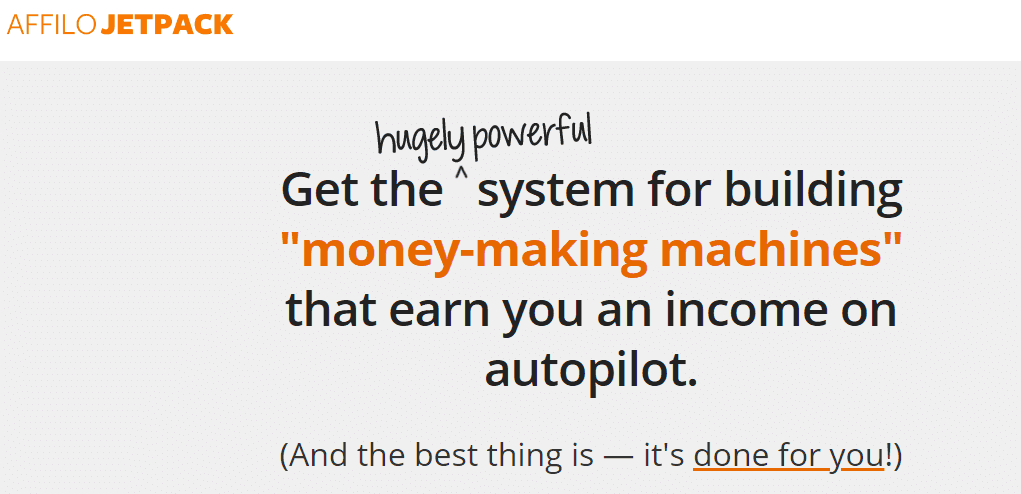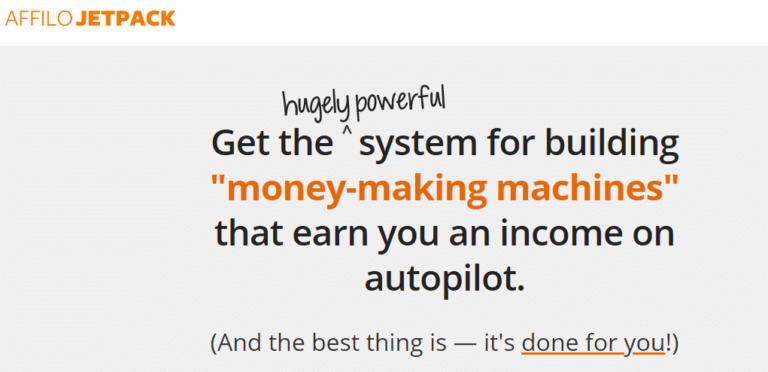 AffiloJetpack is a DFY affiliate marketing website designed by Mark Ling and his team you can buy if you don't want to go through the hassle of creating your website from scratch.
DFY means that 80 – 90% of the hard work is done for you and you only have to contribute 20 – 10% of your effort and make your business succeed.
Here the sites are already ready with their premium AffiloTheme installed, content, and sample email newsletters you can use.
Personally, I'm not a fan of the DFY product for the simple reason that you don't learn from the system.
For example, if you pay for these ready to go websites, you miss out on a lot of things you should learn from the beginning of your website creation such as setting up WordPress, choosing a theme and customizing your site, etc.
anyway all these are things you can learn later.
So it is no brainer if you want a ready-made website to quick start your affiliate marketing journey.
How does the AffiloJetpack cost?
The Affilojetpack costs $997 one time fee.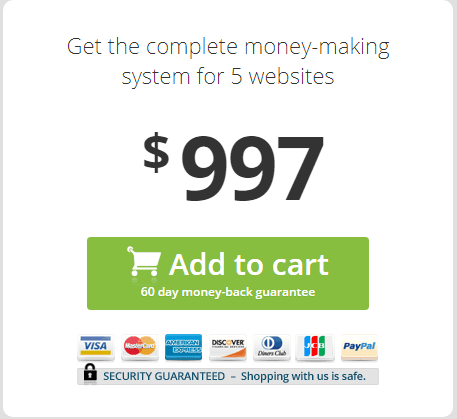 What is included?
20 content "cheat sheets"
12 months' hosting (I don't how much you will be charged after the first year),
5 DFY niche websites installed with AffiloTheme to choose from,
3 free reports + 3 ebook graphics yo can use as a lead magnet with your marketing funnel.
9O newsletter templates you can use to to send newsletters to your subscribers.
My personal thoughts about the AffiloJetpack DFY niches websites
If you buy this DFY product what you will need is only a domain name ($13 – $15 per year) + an autorespondeur service provider like Awerber – $19 per month with Aweber for 500 email list with +a free plan available if you can afford the premium subscription).
After the first year you will also need to pay for web hosting, and I don't know if AffiloTheme is free to use for life time. If not you will have to pay $97 per year for it.
Yes, it is DFY niche websites and Mark Ling claim that 80% of the hard work is done and just need to put 20 of effort to make passive income in a short time with your DFY affiliate marketing website.
Really?
Trust it or not, you have to put a lot of work into your business even if you purchase these DFY stuff.
For instance even if you have a ready to go website, squeeze page and lead magnet, you will need a targeted traffic in order to build your email list. That requires you write quality, valuable and unique content and promoting your website too. And that is the hardest part of blogging – trust me.
Once you get traffic and start getting susbcriber to your mailing list, another hard work is waiting for you. Even if you have newsletter tamplate to use, nuturing and building a trustworthy relationship with your audience cannot be done overnight.
And the issue with DFY stuff is that thousands of people get the same stuff and if you base yourself to what you have on your hand only, it will be very difficult for you to really get the best of it.
Let's say you subscribed to the newsltter of John and Marie.
They all use AlliloJetpack email template for their campaign and you are receving the same messages from John and Marie.
What do you think about them?
Imagine if this happens to your own subscribers !!
What you should do to avoid such scenario is to edit and add your own touch point to the DFY materials you got.
4. AffiloTool
AffiloTool is the SEO backlinks analysis, rankings checker, social monitoring, link finder tool.
This is a freemium tool and the free version allow you to monitor:
10 x Keywords per website (project).
2 x Search Engines per website.
Retrieve rankings monthly.
The paid version gives you the ability to track:
Keywords and SEO (Rankings and backlink analysis).
Revenue from affiliates (ClickBank, JVZoo, Shareasale, etc).
Social media and lots more.
How much the Affilotool premium tool costs?
Here is the premium plan
Bronze plan: $17 per month
Silver: $47 per month
Gold plan: $97 per month
Affilorama forum and support
Affilorama has its own forum where you can get support and help in your affiliate marketing business.
They offer email support and phone support too.
But to be honest, Affilorama forum is a dead forum.
If you have a screaming problem and you rely on the forum or their support, you will be disappointed.
To get help from members you will need to wait for at least a week or over.
I'm not exaggerating.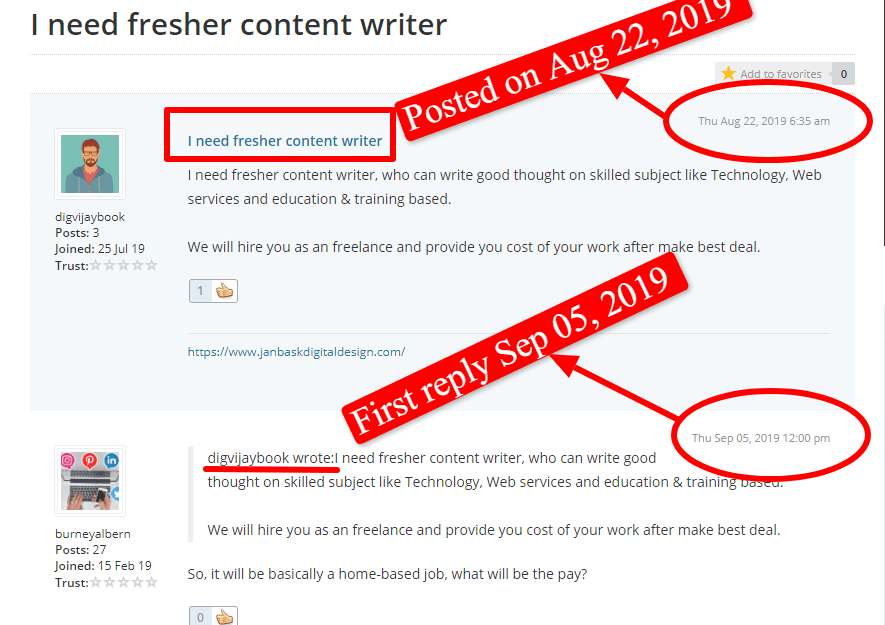 Do you know when their support team reacted or replied? After 10 months!!?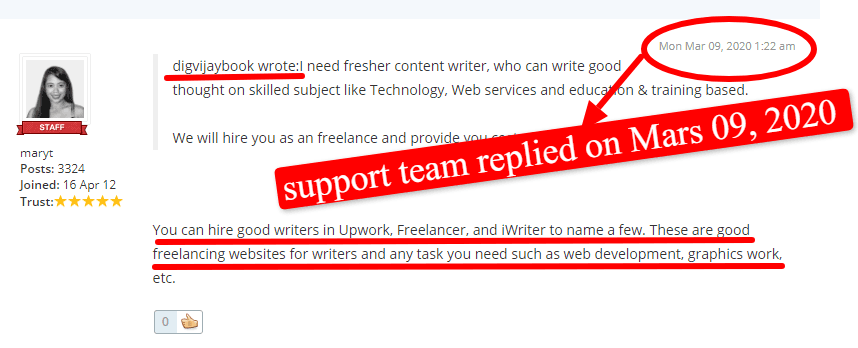 Another issue is the quality of the support you are getting.
As you can see in the image below, this person is looking for help with the latest techniques for SEO without link building or backlink.
I am really disappointed that their staffer member could not answer his question in a clear way.
If you're a beginner and you don't know anything about SEO, you won't understand what I'm pointing out here.
But I tried to Highline the answers that seem to help the person (not to say that there are no very good answers).
Take a look at the image below, read all their answers follow me.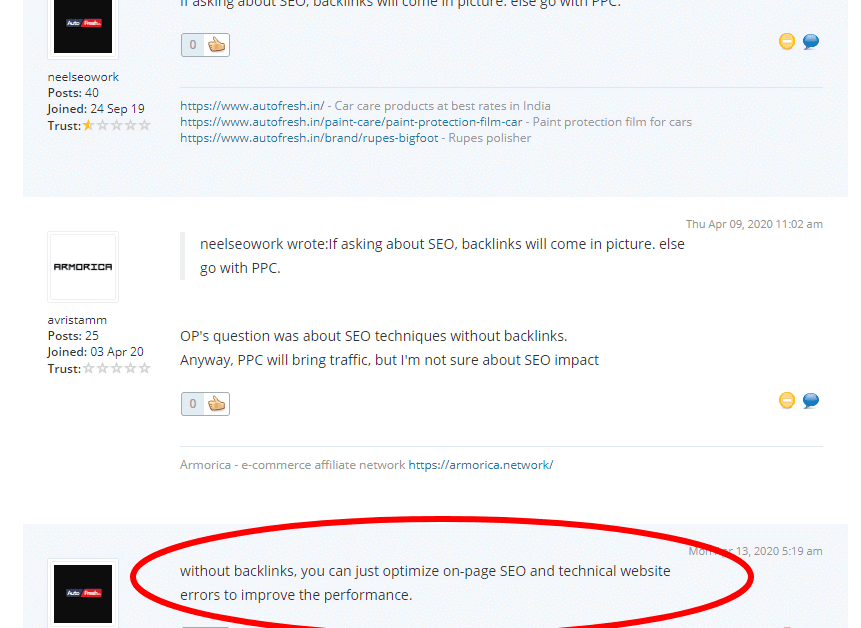 While the experts are talking about launch jacking, existing content upgrading, writing in-depth top list posts, these are answers Allilorama's members provide to my friend who is looking to boost his website rank.
Let's move into the next section of my affilorama review to find out if it is a scam or not.
Is Affilorama a scam?
No. Affilorama is not a scam per se. This is one of the oldest affiliate marketing training platforms where you can learn how to make money with affiliate marketing.
But this is not a platform that I would recommend for only one reason: lack of real support.
What I can recommend at Affilorama is their "Quickstart affiliate marketing report" and the Path To Passive if you want to go further.
Affilorama Review: Pros and Cons
Affilorama Pros
✔ Free to join ,
✔ 100 free video training and tutorials,
✔ 60 days money-back guarantee.
Affilorama Cons
❌ Low engagement on the forum,
❌ The creator is not involved,
❌ Some training materials are outdated,
❌ Poor members support and engagement.
Affilorama alternative
I guess, if you are here it is because you are looking for a best affiliate marketing training course that will help you build your affiliate marketing business and make money online.
If Affilorama is not your first rodeo, Wealthy Affiliate is the best alternative to Affilorama if you are a beginner and want to build a successful and long-term online business while focusing on SEO (free traffic).
To give you an overview just have a look at the table below.
Wealthy Affiliate vs Affilorama
Unlike Affilorama, in addition to training, you have quality tools you can use to start and grow your business online.
Here's what you get as a Wealthy Affiliate member:
A keyword research tool ($19 per month value),
Web hosting (50 websites),
Live chat and top-notch site support.
Affilorama Review's FAQ
What is Affilorama?
Affilorama is an affiliate marketing training platform that teaches people how to make money online doing affiliate marketing. They offer free membership and premium products you can buy.
Does Affilorama offer free membership?
Yes. Affilorama offers free membership. The signup process is easy and you will get access to their free training portal where you can learn the basics of Affiliate marketing.
Does Affilorama offer premium membership?
No. Actually, Affilorama premium membership is not available. It goes the same with their AffiloBlueprint. Mark Ling's AffiloBlueprint 3.0 is no more available (at the time I was writing this Affilorama review).
Is Affilorama a scam?
No. Affilorama is not a scam. I don't see how you can think Affilorama is a scam. 1) it is free and there is no credit card required to join.
2) If you have to spend your money you spend it with something in return. Not to mention the fact that there is a 60-day money-back guarantee.
Is there an alternative to Affilorama?
Yes. There are countless affiliate marketing training platform out there that can help you get started in Affiliate marketing if Affilorama is not what you need. Wealthy Affiliate the best one for the reasons I mentioned above.
My final thoughts
Affilorama is one the oldest affiliate marketing training course out there. But right now the owner and his team is struggling to provide descent training and support to students.
So if you are looking to build a long term and successful affiliate marketing business I will advise you look elsewhere – mainly if support is important for you – and it should be.
That being said, I hope you found my Affilorama review helpful.
From now you know what this affiliate marketing training platform is about, what you get inside, the products they offer and the cost of their products , and the best part you if you are wondering if Affilorama is a scam, now you know it is not.
Do you have a question regarding this review or my whole site, drop in the comment section.
Have you been (or are you) an Affilorama member? Share your thoughts about this review or your experience with us.
Sharing is caring, spread the word by clicking on the sharing buttons below, and help your friends to get informed.
Be an ACTION taker, SOW YOUR SEED TODAY.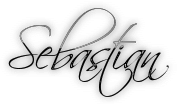 You may also like…