Welcome to my Ai Marketing review for 2021.
If you have heard about Ai Marketing and its partner INB Network on social media platforms like Facebook or from a video on YouTube, and you are wondering if it is a legit platform to invest your money or just another scam site that will rip off your money, you are in the right place.
Throughout this review about Ai Marketing and its partner INB Network, I will delve deeper into the following points so that you can judge by yourself if this platform worth your money or not:
What is Ai Marketing about?
How does Ai Marketing work?
How to make money with the Ai Marketing marketbot?
The pros and cons, and my final point of view.
Disclaimer:
This Ai Marketing review is strictly for educational purposes and I share my honest opinion about the program.
I am a member of this program and there is no guarantee that you will make these levels of income after joining this program. Know that there is a risk behind any investment you make and by joining you accept the risk involved.
If you are ready to dive in as I did, just click here to join (see how to sign up properly below), and don't invest any amount of money you are not ready to lose.
Without further ado, let's get into the meat of my Ai marketing review.
Ai Marketing Review summary: Company overview
Company Name: Ai Marketing
Owner: Wexford Alliance Limited
Website: https://ai.marketing/
Product Type: Cashback and adverting platform
Investment: starting at $10
Is Ai Marketing a scam? NO
SOW YOUR SEED TODAY Rating: 7/10
Do I Recommend this? Yes!
Claim your $50 sign up bonus here (refer to the guide below to sign properly)
What is Ai Marketing about?

Ai marketing is a cashback and online advertising platform that enable investors to make money through cashback from various companies. Wexford Alliance Limited is the parent company of AI Marketing, registered under number 2531493 at 111 Bonham Strand, MW Tower, 7 Floor, Sheung Wan, Hong Kong, China.
The company has been created on May 02, 2017, which operates in artificial intelligence and Internet marketing. As its name suggests, AI MARKETING combines marketing and artificial intelligence and you can invest in advertising and earn on average 25% to 35% of your investment.
That means you can be making money passively without even referring people to the platform. That is great for those who are not good at recruiting.
The company works hand in hand with INB network, an MLM company. So people who are interested to promote the company can build a career through it.
But before you get excited, read on till the end to find out if this is what you are looking for.
Also, read my TwentyXpro review to learn how you can make a passive income from it.
How does Ai Marketing work?
You know more and more tasks are being automated and artificial intelligence is gradually taking its place the recent years in our daily activities.
All the big companies such as Google, Apple, Amazon, Alibaba, Airbnb, Booking.com, Skyscanner, Uber, etc have developed by taking advantage of the technology.
In the same way, AI MARKETING positions itself on the same line as these big multinationals by digitalizing their marketing.
AI MARKETING, therefore, does mass advertising through its MarketBot, which generates sales for these companies and partners called aggregators.
These companies pay commissions (1.5 to 15% for physical products and 15 to 60% for digital products) in form of cashback to AI MARKETING as a reward for its marketing.
To make it simple, here is how it works:
Ai Marketing through its product analysis and promotion system does research and analysis on keywords related to the products and services of their partners or aggregators and makes the choice of keywords and trends that are gaining popularity at the regional level.
Then, the products and services corresponding to these regionally popular keywords are selected and the advertising marketing team orders ads according to the trends using advertising platforms such as Google AdWords, Yandex Direct, Facebook ads, etc.
These ads will certainly attract customers. If these customers purchase a product or service, the cashback program operator informs Ai Marketing of the cashback via the API, and an accumulation with the status "Pending" appears in your personal account.
For more information on cashback program operators, please visit this link.
There you will also find information about the cashback confirmation time, amounts, and individual confirmation rates for each operator.
After the cashback program operator has confirmed a purchase, Ai Marketing receives its commission in the form of cashback and in turn rewards you for using your money for advertising. The percentage you will receive will be 55% of the cashback amount while the platform keeps 45%.
What I mean is that if the customer does not ask for a refund of the product or service purchased you will still receive your 55% cashback.
So it is simple:
You deposit a budget, starting from 10$ (minimum recommended is $100)
The ROBOT (Marketbot) analyzes the markets and selects the most trendy keywords related to the products and services of its partners.
The AM advertising team makes the settings and launches your advertising campaigns.
You get your commissions back once the sales are completed.
You don't need to recruit or refer people to earn here.
Click on the button below to get a $50 bonus to start (see below how to sign up properly).
How much do you need to get started with Ai Marketing?
You can create your account for free. And once your account has been created, you will get $50 bonus to start. Note that this amount must be deducted from your earnings when you get your commission.
The minimum amount of money you can deposit is $10. The higher your investment, the higher your earnings potential.
My advice is to invest at least $100. That will prevent your ads budget to dry out and help you reach out the minimum to cash out quickly
How to make money with Ai Marketing?
First off, know that Ai Marketing is not a get-rich-quick scheme.
Unlike Ponzi schemes like PetronPay, Up2Give, Million Money ( just to name a few), Ai marketing rewards you through a cashback system from big companies. It also offers other ways to make money from the platform.
Here you can make money:
from the cashback program (25% to 35% on your investment),
by referring your friends to the site (5% on their investment),
by completing simple tasks (very limited), and
by getting cashback when shopping s or offline in certain stores.
Now you know the ways you can make money with Ai Marketing, let's move into the next section of my Ai Marketing review to find out how much you can expect from this program.
How much can you make with Ai Marketing?
Your earnings depend on your activities since they offer up to 5 ways to make money.
For example, if you refer a friend, you will be making a 5% commission on each deposit of your referrals.
But if you don't want to promote it here is how much you will be making if you invest $100 or $200.
With 100$ investment
After 3 months we end up with $246,
After 6 months we are back with $605,
After12 months we end up with 3,664$.
With 200$ investment
After 3 months we end up with 492$,
After 6 months we find ourselves with 1,210$,
After 12 months we end up with 7,328$
Here below is a screenshot of one of my upline's results.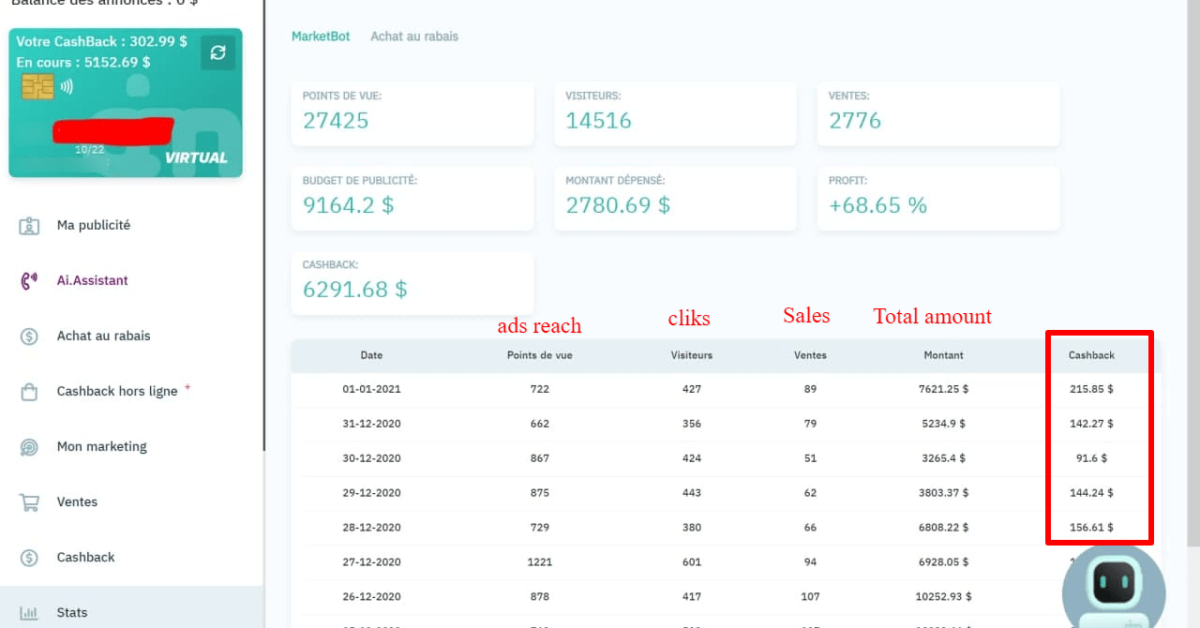 Who is this platform for?
Before we move on to the sign-up process, I want in this section of my INB and Ai Marketing review to show you who this platform is for.
Know that this platform is not for everyone.
This platform is for investors. That means for people who are ready to invest their money for a profit.
It is also for people who are shopping online and want to get cashback on their online purchases with big companies like Amazon. With Ai Marketing when shopping online throughout their partner's stores, you will get a discount for each purchase you make.
So if you are not shopping online and you are not an investor, this is not for you. Investors know that any investment involves risk. So if you are not ready to risk $10 or $100 you can keep your money in your bank account.
I personally invested $100 in it and it is working so far. But can I guarantee you will profit from it? Nope!
Where I can guarantee you will succeed is in a business where you have control of your money. And this taking the entrepreneurship route like starting a blog, or an affiliate marketing business.
With blogging or affiliate marketing, as long as you didn't give up, you will certainly make sustainable and passive income without the need of raising your hand.
I don't say Ai Marketing is a scam or you will lose your money. What I am pointing out here is that it is an investment platform and any investment involves risk. There are people who are making thousands of dollars monthly from it and I even profit from it.
That being said, let's know get into the next section of my INB Network review to find out how to get started if you are determined to plug in as I did.
Another great review: Easy1up review – scam or legit way to make a 100% commission?
Is Ai marketing a scam?
The company is legally registered and they provide services to companies. Based on the way it stands, I can say it operates in a transparent way. The company actually walks its talk and pay users since 2019. But this is not enough for me to judge its legitimacy right now as the company is new.
The claims can be different from the reality. But as time goes, I will be updating this review to let you know what is going on with this company.
If not, actually this is the best investment website to use.
For example, with my $100 out of my pocket here I am – already made $100 + in cash with $260 + cashback to be activated if customers didn't request a refund.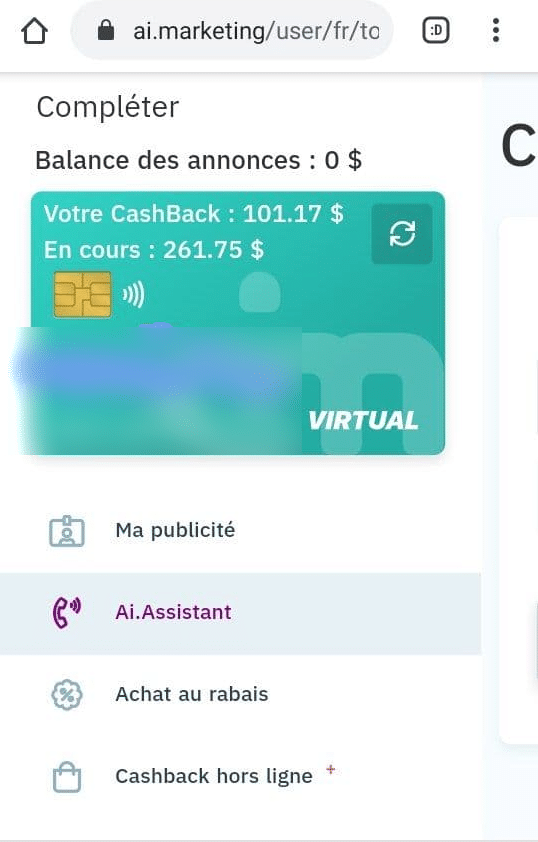 How to sign up with Ai Marketing?
Now, if you are convinced this is what you need, and are ready to sign up, follow this guide:
First, click on the button below – you will get $50 as a sign-up bonus (must be refunded after you earn).
Then, click on the icon I outlined below if you want to take full advantage of the program.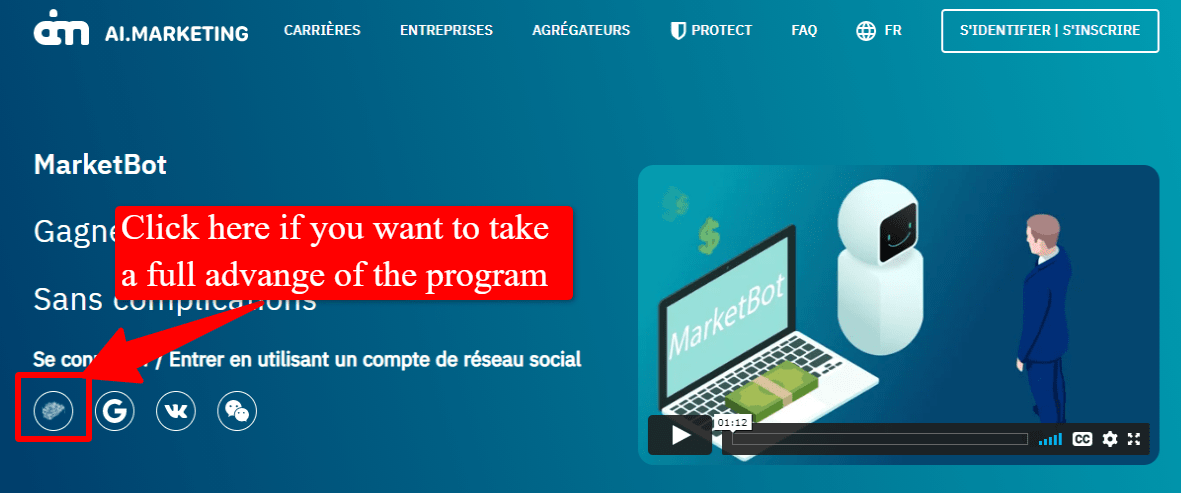 Then click the Register button and complete the sign-up form as below.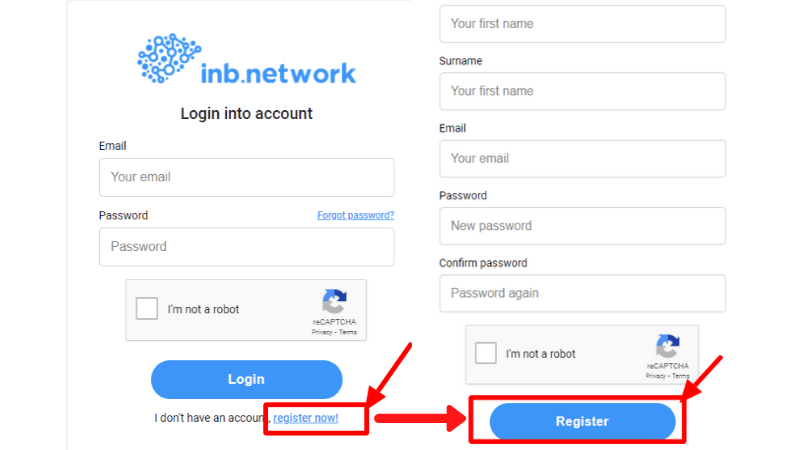 Once that is done, you will get access to your AM's dashboard where you can fund your account and start earning.
What is the payment methods available?
The same payments used to fund your account are the same used to cash out your money. And here are the payments methods available:
Credit card,
Bitcoin
ApplePay,
Payeer,
Perfect Money, and more.
Note that the minimum to cash out is $10.
In short of traffic and sign up? Get hands-free traffic with this advertising platform.
Ai Marketing review: the Pros and Cons
What I like
✔ Not a Ponzi scheme,
✔ The commission plan is reasonable,
✔ Possibility to make passive income on autopilot,
✔ You don't need to recruit to earn,
✔ Has a good rating Trustpilot score.
What I don't like
❌ The company is still young (only 2 years of operation so far),
❌ You need to invest at least $100 or more if you want to get an ROI quickly.
My Ai Marketing review's FAQs
What is Ai Marketing?
Ai Marketing is an investment platform investors can rely on to make money online. The platform works with cashback stores and rewards investors with 55% of the profit they make on each sale.
How much do I need to start with Ai Marketing?
The minimum investment required to get started with Ai Marketing is $10. But if you want to profit from the $50 gift card, the minimum I recommend is $100 because due to the terms linked to this gift card. Here is what Ai Marketing state: "Customer activating a Gift Certificate is agreeing that his first withdrawal will be limited to the amount no less than 100 USD". Do your math you will found that you need to invest at least $100 to be able to make your first Withdraws or your first reinvestment.
Is Ai Marketing fake?
I don't think Ai Marketing is fake. This is a company investors (including myself) use to make passive income online. Wexford Alliance Limited is the parent company of AI Marketing, registered under number 2531493 at 111 Bonham Strand, MW Tower, 7 Floor, Sheung Wan, Hong Kong, China.
How to fund your Ai Marketing account?
To fund your Ai Marketing account, log into your Ai Marketing dashboard, then go to "top up" and then choose your preferred payment method and the amount of money you are ready to invest, the details of your payment method, and then hit the "pay" button. Make sure to read carefully the instruction if you choose bitcoin as a payment method.
Why is my Ai Marketing robot off?
If your Ai Marketing robot is off, it means your advertising budget is dry. You need to invest again. Without money, the robot cannot work. It is like the fuel of your motor.
Can I cash out all my earnings?
Yes, you can cash out all your earnings. Only that will lead your robot to be off. So no money for you. The way you can still earn is to cash out a part of your earnings and invest the rest to prevent the robot to fail in off mode.
Can I invest without using the gift card?
Yes, you can? If you don't want to wait to get $100 to make your first withdrawal, you can sign up with this link. I don't know why to refuse the $50 sign-up bonus when this can bring you a $25 profit.
Ai Marketing Alternative
If you are looking for Ai Marketing alternative, a perfect alternative is Spikbuy Network.
This company also works like Ai Marketing and INB Network. But instead of working with cashback online stores, they have their own online store, and money was generated based on the sale they make selling products.
Sign up is by invite only and you can sign up here. Want more info? Watch my SpikBuy Network Review video here.
INB & Ai Marketing review: My final thoughts
Ai Marketing is a promising investment website where you can make passive income by investing your money in ads.
But the company is new and will need to stand out of the storms.
But it is up to you to decide.
You have the choice to invest in this program or to invest your money with a company that already changed the lives of thousands of people (including myself) over the years.
One thing is for sure, there is nothing for nothing. If you want to win, accept to take the risk. But take measurable risks.
My advice if you want to try any investment program is to invest an amount that you are willing to risk.
I invested just $100 and I am amazed at the return I get so far.
That being said, I hope you found my Ai Marketing review helpful. If this is the case don't hesitate to share it with your friend.
Do you have a question or an experience to share, let me know in the comment section.
Be an ACTION taker, SOW YOUR SEED TODAY!
To your success!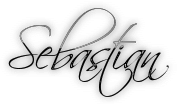 Related posts: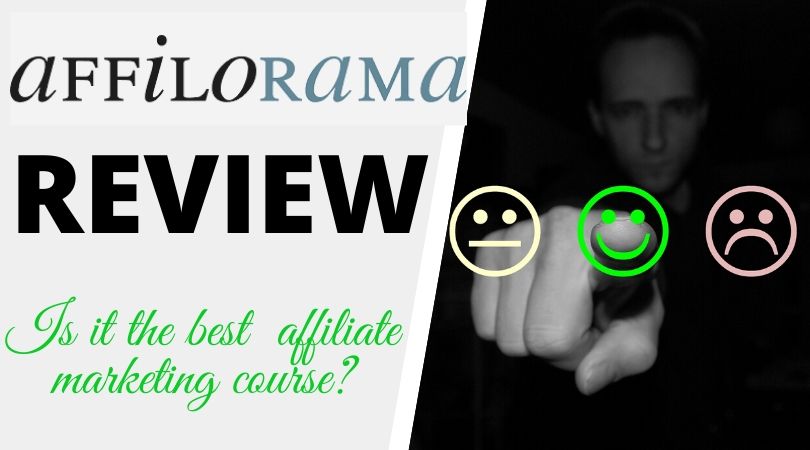 Are you looking for an honest and unbiased Affilorama review for 2022?Or just answer to…