Welcome to my AMZScout review for 2023.
Want to know if AMZSCout is the right Amazon product research tool to help grow your Amazon FBA business?
In this review,…
we will focus on the following points to help you make your decision easier:
But before we get there, I want to be clear with you. This review is not a sale pitch.
This is an honest review and our aim is to help find the right tool that is a good fit for your online business.
That said, let's dive in.
Review Summary
AMZScout is an Amazon product research tool sellers can use to find hot-selling products, keyword ideas, and do competition analysis. Click the button below to find out more.
What is AMZScout about?


AMZScout is an Amazon product research tool for Amazon sellers you can use to help you run and manage your Amazon FBA business.
It is a US-based brand and is trusted by over 500,000 users and top partners like One Dime, Entrepreneurship Decoded, and influencers like Tanner J Fox, a 7 figure Amazon seller.
With a 4.8 Trustpilot rating score from users, AMZScout is one of our top best Amazon FBA research tools for 2023 and it allows Amazon sellers to:
Find hot-selling products,
Do keyword research to find popular and easy to rank keywords,
Optimize their product listing for SEO,
Track their keyword and product ranking, revenue, and even spy on competitors by using the AMZScout Keyword Explorer and ASIN Keyword Lookup features,
Find suppliers or manufacturers where they can outsource their products and then sell them on Amazon for a profit,
Estimate sales using the AMZScout sales estimator, and much more.
AMZScout Key Features
AMZScout database – Identify Hot Selling Products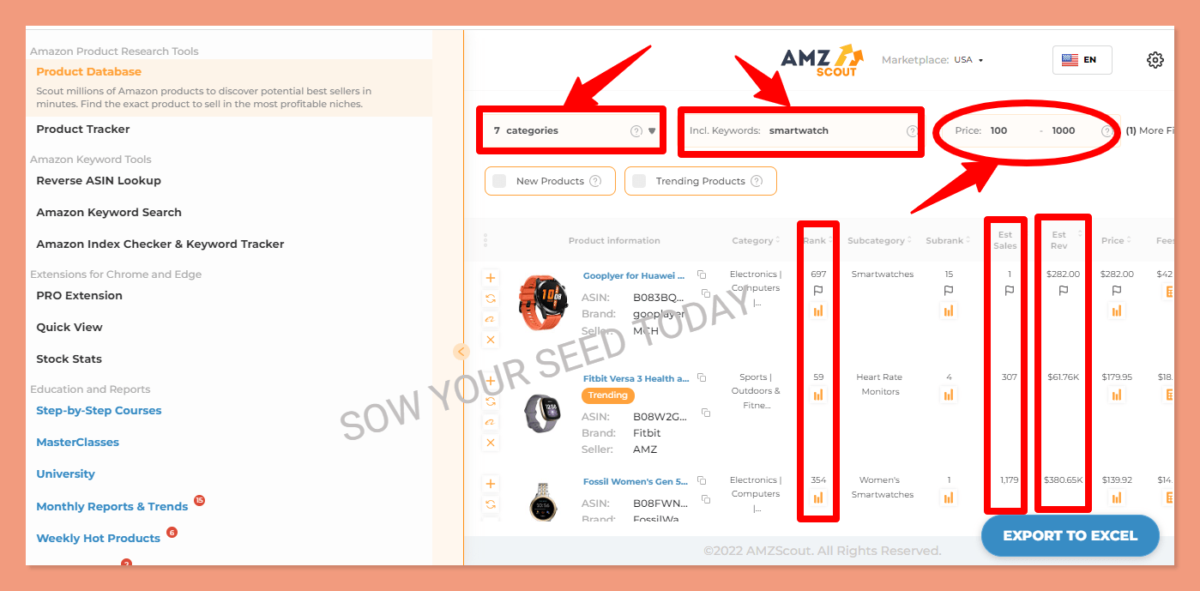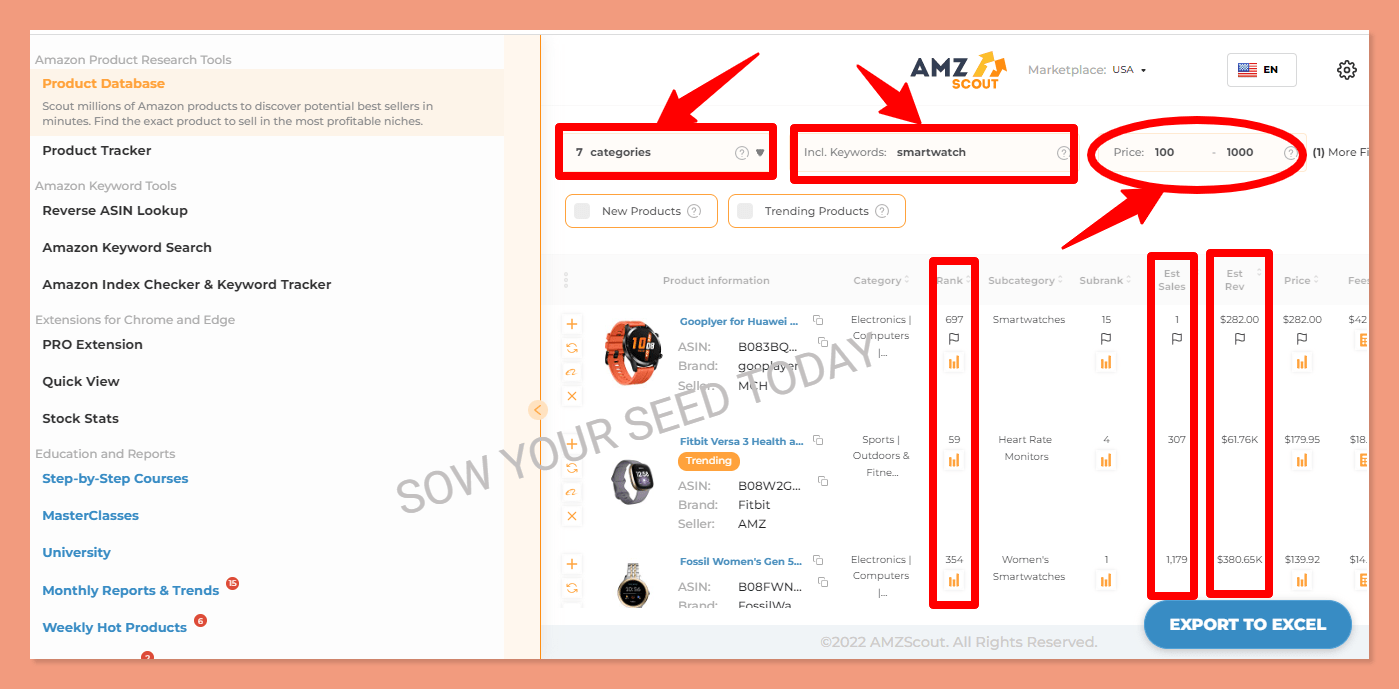 This is a very powerful feature that makes AMZScout stand out from similar tools. The product database tool is an easy-to-use interface that can show the latest sales and revenue statistics for any specific item.
See the example in the screenshot above.
With this feature, you can filter queries by keyword, category, price range, as well as a date range. This is a great way to see the top-selling products on Amazon.
Track and Manage Products using the Product Tracker Tool
The product tracker tool provides information on what buyers have purchased recently, as well as how much they paid for each product. It also shows where they're shipping from.
You can follow the progression of every single sale, which is excellent if you want to know exactly how much revenue your products are generating.
Keep Track of Product Sales
One of the primary reasons for using AMZScout is to keep track of inventory and sales for a certain period of time.
The product sales dashboard tracks the profit and revenue from your sales. This inventory management tool is significantly different from Amazon's official dashboard.
The great thing about the AMZScout App for Android is that you never have to leave your phone and go to Amazon for vital data. You can see the amount of money being made, customer reviews, and keywords being used.
The software offers a graphical representation of sales history with timely reports provided on a daily, weekly, monthly, and annual time period.
AMZScout will also show you your selling expenses and the number of successful selling days in a given period of time. This can give you an indication of what the market is like, and how much money can be made from products that are available on Amazon.
A simple system is in place to measure your performance. You'll have a sales target set by you or even the AMZScout software will provide you with a sales target based on your past performance.
This can be a great way to motivate yourself to make better decisions and also offer you a goal that is quite achievable.
Keyword Research and Tracking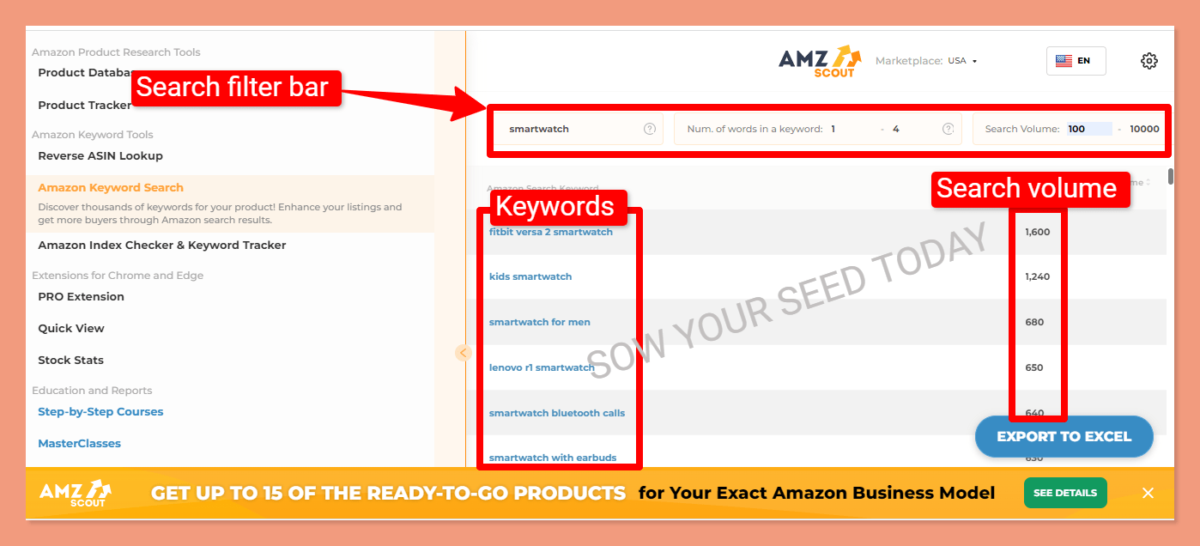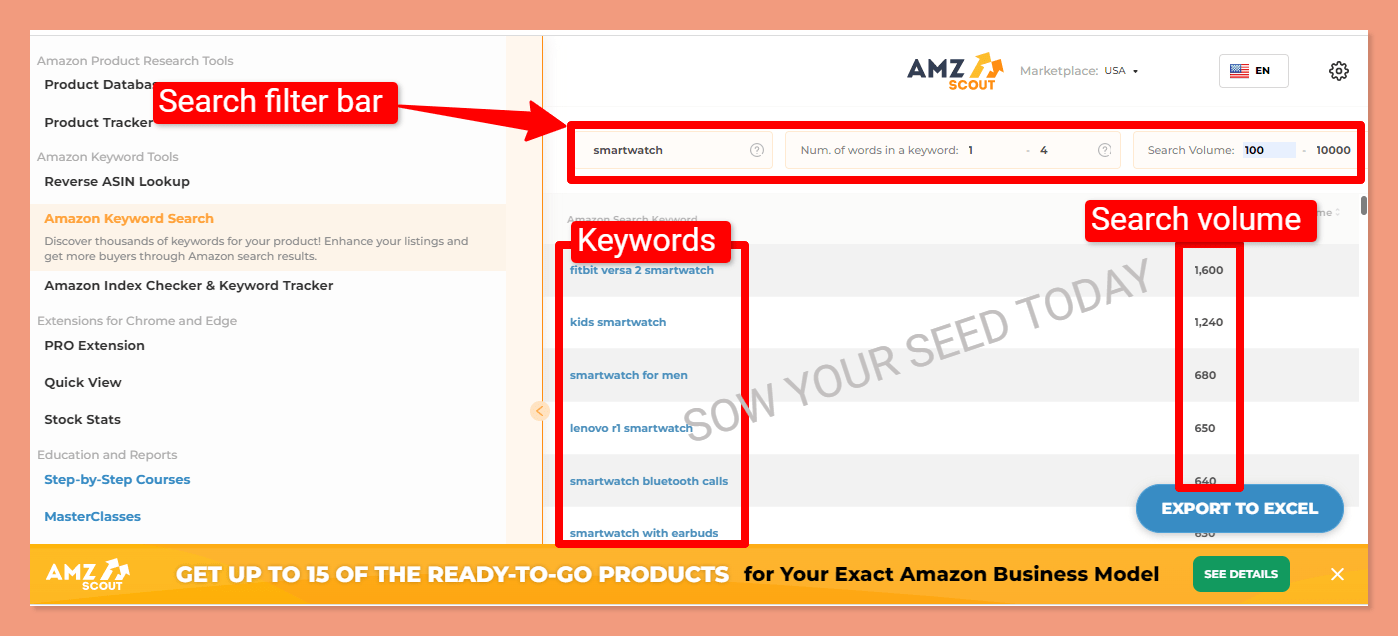 The AMZScout Application has the ability to perform keyword research and it works very well in this regard. The software pulls the keywords you enter into the application and looks for items that contain those keywords. It then creates an index of all the items found, ranging from those with high to low search volumes.
You should be aware of the products being sold by your competitors. The keyword research tool is helpful in this regard.
The software will show what products are currently selling well, and which don't have much traction. You can then use this information to determine which products should be avoided or purchased and to optimize your product listing.
The keyword feature can be accessed with the Reverse ASIN lookup tool to identify and select keywords that will make your products more profitable.
As for the AMZScout keyword tracker tool, it allows you to:
track your products' daily sales and rating changes,
keep your eyes on similar products other people are selling, and then
confirm viability before committing to outsource and sell those products on the Amazon marketplace
You can see how many times they've been used, how often they've been selected by customers, and how much revenue each one has generated.
The best with the AMZScout chrome extension makes the tracking process easy. You must have to add your favored product ASIN,
In short,…
the AMZScout keyword research tool allows you to:
Alibaba product search tool
AMZScout is a great tool for finding profitable products on the Alibaba marketplace. With the web app, you can easily source products on Alibaba if you are not ready to make a purchase immediately. You can keep track of the products by adding them to the monitoring list.
In addition, AMZScout will help you find potential suppliers who are selling what you want at a fair price. The tool is amazing in its ability to find potential suppliers based on your criteria.
Spy on Competitors
AMZScout has the ability to spy on competitors' products. The tool pulls information on products that are selling well and those that aren't doing so well.
By checking the competitor's daily sales, you can see what products are generating the most revenue.
You can then clone those products into your own inventory. The product tracker interface is very simple and easy to use, making it a great tool for any Amazon seller looking to improve their performance.
Daily Sales, Revenue, and Profit Estimates
The AMZScout software also has the ability to estimate your daily sales, revenue, and profit. The tool pulls information from the current Amazon inventory and then computes a daily estimate using an average of what's been selling recently.
AMZScout also gives recommendations on how much to list items on Amazon based on your historical data.
This is important because the tool takes into account how much you've been selling items at and recommends that you start selling through FBA yourself to increase profitability.
AMZScout sales Estimator – calculate Your Profit margin
The profit calculator is one of the most powerful features of AMZScout. It takes into account the cost and time to sell products and generates a profit margin.
You can also see how much money you would be making per day or week if you were doing all the selling yourself.
The tool also calculates how long it would take to sell your inventory completely, giving you a guideline for when you should move out of FBA.
Quality of Product Listing using Listing Quality Score (LQS)
AMZScout has the ability to perform a product listing quality score on Amazon. The tool showcases how good your product listings are and even provides a grade.
This can act as motivation for you because it shows how much work still needs to be done in order to optimize your listings, and it also helps you identify which listings need immediate attention.
AMZScout Exension Pro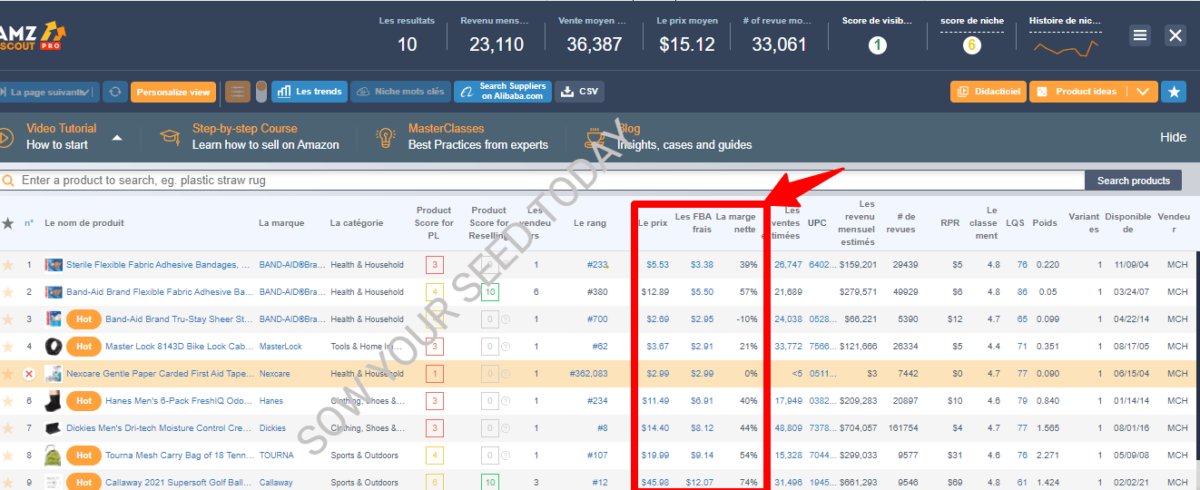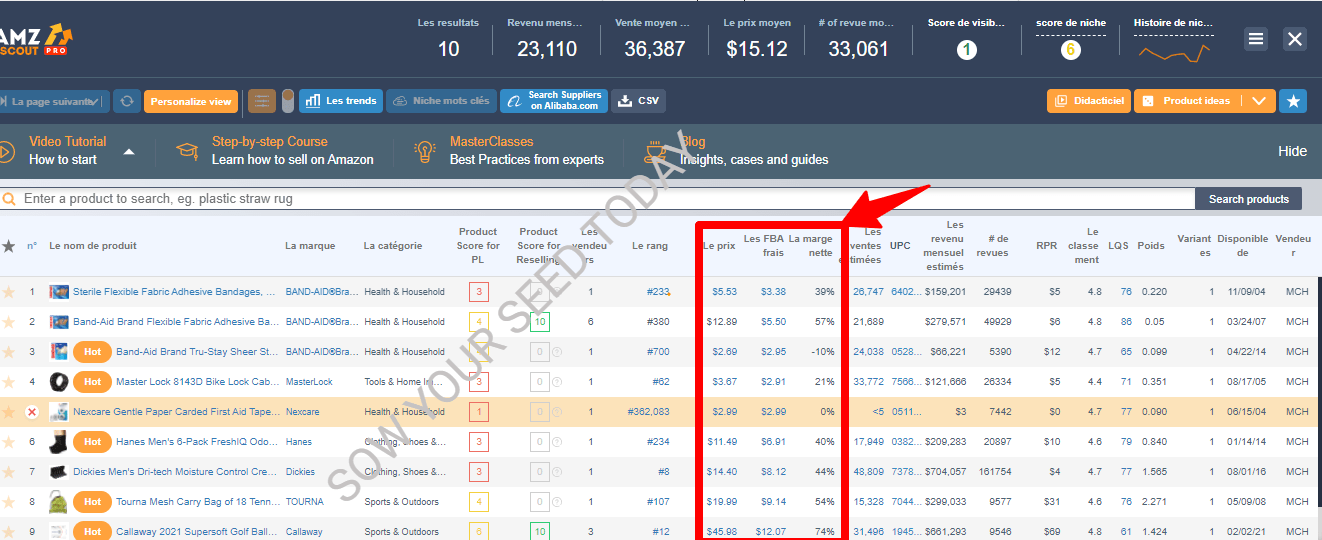 The AMZScout extension pro allows you to find hot-selling and trending products on the Amazon marketplace with a simple click of the mouse.
You can use this tool to find out a product price, amazon FBA fees, profit margin, buyers' review scores, other useful information about that specific product, and much more.
And the best part is you can track your products and find out their selling performance.
AMZcout pricing – How much does it cost?
AMZScout is one of the most affordable Amazon product research tools in the industry and it offers 2 premium subscription plans with an option to get a lifetime deal:
AMZScout Pro Extension costs $45.99 per month ($16.49/month if billed annually or $499 lifetime),
AMZScout Amazon Seller's Bundle costs $49.99/month ($29/month if billed annually or $1,499 lifetime).
Considering the pricing scheme, if AMZScout is the right tool for you, going with the bundle plan is the best option as it allows you to not only have access to the AMZScout pro extension but also other features which are not available in that plan.
Unlike certain Amazon research tools out there, you can create a free account, and try it to find out if it meets your business needs before upgrading to a premium plan.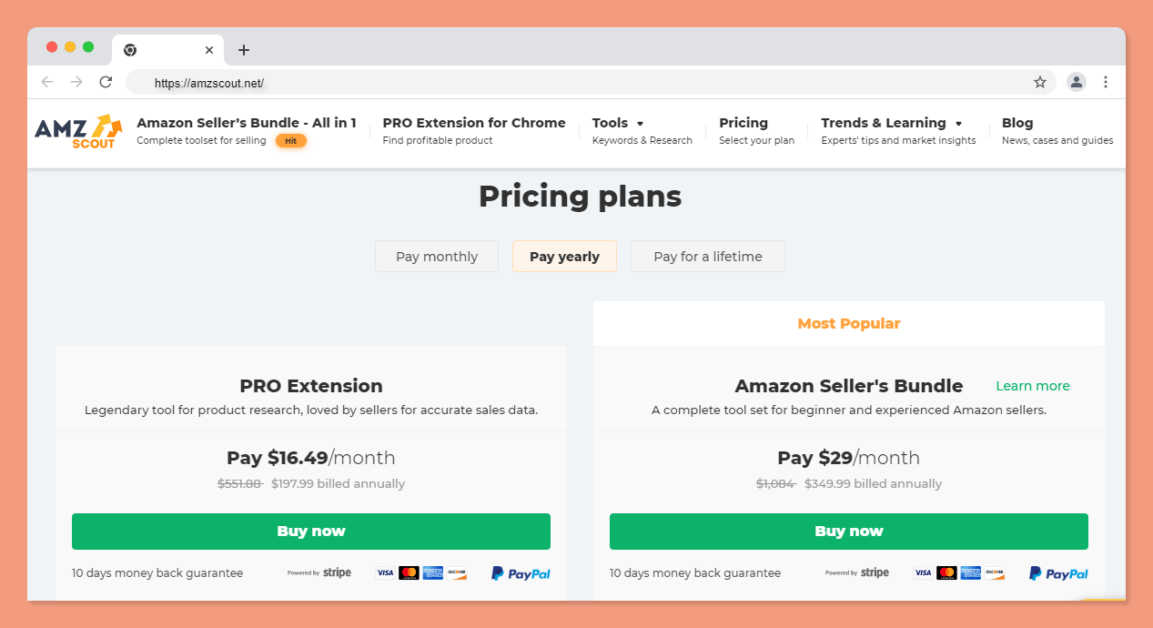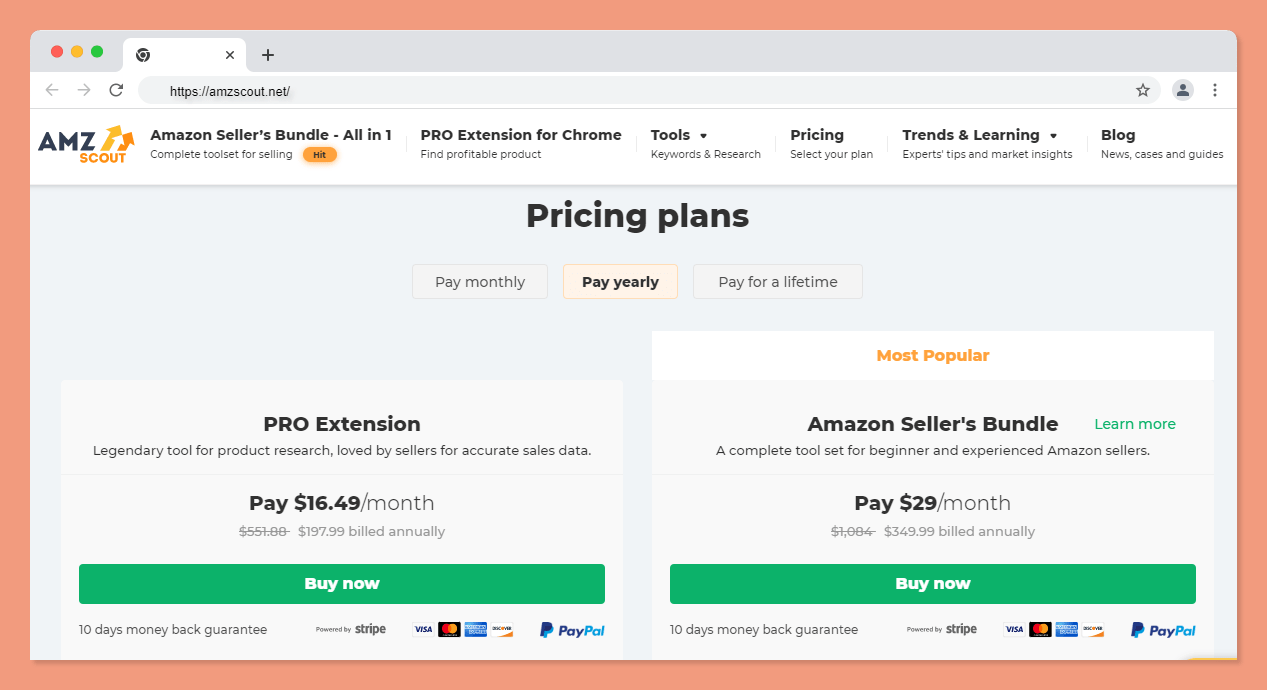 Wh is AMZScout for?
AMZScout is a great tool for people who are starting out as Amazon sellers and haven't yet registered a business with the platform. It's also perfect for experienced sellers who want to improve their profitability and increase sales.
If you are an experienced Amazon seller or a beginner, the AMZScout app is an amazing tool to have at your disposal. It helps you boost sales and profits, maximize profits, and find profitable products on Alibaba.
AMZScout alternatives
AMZScout is an affordable Amazon product research tool and very cool for product and niche research.
If this Amazon seller tool is not your first rodeo, here are the best alternatives to consider:
Helium 10 – Helium 10 is a complete all-in-one Amazon seller tool with tons of useful tools suite for running and managing your FBA business. Pricing starts at $39 per month with discounted yearly payment options. The best part is you can have access to the Freedom Ticket course worth $997 for free as a Helium 10 customer.
Jungle Scout – Jungle Scout is also a great amazon product research tool out there with a more advanced tools suite than AMZScout. Pricing starts at 49$ per month and the yearly membership cost starts at 29$ per month (billed yearly).
Just like AMZScout, you get access to free training resources that will help you learn
Want more Amazon product research tools options?
Check out our top best Amazon seller tools list for more information.
AMZScout review FAQs
What is AMZScout?
AMZScout is a US-based product research tool with over 500,000 users you can use to find hot-selling and trending products on Amazon.
What is AMZScout used for?
AMZScout is used for product and niche research, keyword and profit tracking, competition analysis, profit estimation, and much more.
How much does AMZScout cost?
AMZScout offers installment payment options with an option to acquire a lifetime license. That makes it a great way to save money in the long run.
How do I download AMZScout?
AMZScout is a web-based software. So you don't need to download software. Instead, you can install the AMZScout chrome extension on your chrome browser to make the research and tracking process easier and more convenient.
Is the AMZScout FBA calculator free of use?
Yes, you can use the AMZScout FBA calculator without spending a dime. Not an enough
Does AMZScout offer a free trial?
Yes, you can even try the software for free. A great way to evaluate it before making a commitment.
Does AMZScout offer a refund?
Yes, they do. They offer a 10-day money-back guarantee.
Final thoughts…
AMZScout is a small brother of the Jungle Scout with useful features you can use to find and outsource products to sell on Amazon.
The software pricing is affordable and comes with training resources and guides that can help you a better understanding of this business model.
The only downside is that the software lacks certain tools suite I think are important for growing and managing your FBA business.
In fact, the software allows you to see product reviews and other useful features. But you cannot request reviews or feedback from your buyers automatically, manage tax and accounting, etc.
Tools like Helium10 offer such tools suite and even more – making your store management easier.
If you are on a budget and want a great product research tool to start, you can give it a try.
That being said, I hope you found my AMZScout review helpful.
Are you an AMZScout user? Share your experience or the features you like the most with us.
Be an ACTION taker, SOW YOIUR SEED TODAY!
To your success!