Are you looking to start your brand new blog or are just looking for blogging tools to expand your blogging business?
Whether you are just starting out your blogging journey or you are looking to expand your business, this post will save you time and eventually money.
In fact, it is important to choose the right tool from day one of your start in order to prevent bad surprises along the way.
To help you quickstart your journey or to quickly grow your business I have searched and gathered the best tools you can use as a new blogger.
Without further ado, let me show you my top best blogging tools for new bloggers in 2021.
Top best blogging tools for beginners to use right now in 2023
To help you find out the type of tool you may be looking for I will group them by category.
Let's start with the best blogging platforms.
Tool #1: Blogging platform
The #1 blogging tool you will need as a new blogger is a blogging platform. And there are many blogging platforms out there.
Best blogging platforms for bloggers
WordPress.org
WordPress.org is an open-source and vide-used blogging platform. Wordperss.org is a self-hosted blogging platform and one of our top best blogging tools for beginners to use in 2023. It is free and easy to use and you don't need to be tech-savvy to start a blog using it.
What you just need is a domain name and a web host provider that will host your site files and make it live 24h/7.
Thanks to the numerous plugins and the vast array of free themes available, building a stunning and beautiful website with this platform is easy like 1,2,3.
WordPress.com
Some people confuse WordPress.org and WordPress.com. One (WordPress.org) is a self-hosted platform and the other one (WordPress.com) is a propriety blog hosting service provider.
It is the most popular free blogging platform in the world. Starting a free website or blog with this platform is easy thanks to its site builder tool.
Contrary to the previous one, you cannot install plugins to enhance your website look or customize it as you want – instead you will upgrade your account to one of its premium plans that start at $4 per month.
Weebly is a What-You-See-Is-What-Get (WYSIWYG) drag-and-drop site editor that allows newbies to create a beautiful website without a lot of hassle.
It is one of the best blogging platforms out there you can use to create a simple site or an e-commerce site.
Its premium plan starts at $5 per month if you want to start a simple blog or $10 per month if you want to build an eCommerce website.
Just like Weebly, Wix is a cloud-based site builder that provides a drag-and-drop editor that allows everyone to create a stunning website with no coding skills.
It is a free blogging platform that allows users to beautiful websites thanks to its add-ons and stunning templates users can choose and customize at their convenience.
Check out my top best blogging platforms for 2023 to find more.
Tool #2: Domain name
The #2 blogging tool you will need as a new blogger is a domain name. A domain name is your website address and this is what internet users will type on their browser in order to access your site.
Don't know how to choose a domain name? Check out my post on how to choose a domain name for your business.
Let me now show you the best domain name registrar company to register your domain name.
Best Domain name registrars companies for 2023
Founded in 2000, NameCheap is a well-known company in the domain registrar field. It is one of the cheapest domain name registrar companies out there after Wealthy Affiliate if we considered the access features and the renewal price.
GoDaddy
GoDaddy is the market giant in the registrar domain name industry. Indeed, GoDaddy alone holds more than 16% of the market share among the more than 3000 accredited domain registrar companies.
On the price side, I found it expensive to its competitors like NameCheap. In fact, the renewal price of the GoDaddy platform is $15 while NameCheap charges only $10.98.
First and foremost, Wealthy Affiliate is more than just a domain name registrar company. This is an all-in-one platform for entrepreneurs and people who are looking to build a successful and long-lasting online business in the affiliate marketing field.
But it offers a domain registration service to its members at a fixed price of $14 per year. And the best part is you get all the add-ons (like a professional email account, domain privacy protection, etc) charged by other domain registrar companies for free.
You can read my Wealthy Affiliate unbiased review if you want to learn more about this company.
Bluehost is a reliable and well-known hosting company that powers millions of websites out there. But it also offers domain name registration services to its customers.
For example, when you buy one of its hosting plans, you get a free domain name free for 1 year.
Its price is also affordable – just $7.95 if you buy hosting or $11.99 (if not).
Also, read my top best domain name registrar companies here.
#3 blogging tool for beginners: Web hosting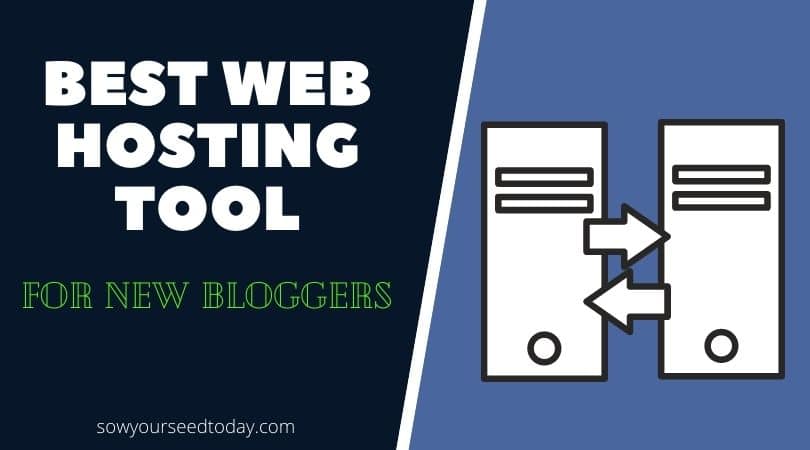 Once you have your blogging platform and your domain name ready, the next tool you will need to create your website is a web host.
Without a web host provider, you don't have a website. Or at least if you have, you don't own it.
An example is a free website with wordpress.com or blogger.com.
What I mean is that if you want to create a professional blog like mine, you will need a web host service provider, a self-hosted blogging platform (wordpress.org), and a domain name.
Thankfully, most web hosting providers have already wordpress.org open-source CMS installed on their servers. You just need to buy your hosting plan and then use the WordPress software to install your site.
Let me know show you the best hosting provider service to choose from.
Top best web hosting provider for 2023
Founded in 2003, Bluehost is one of the 20 largest web hosts that power over 2 million websites out there. It is a secured and reliable web hosting service provider trusted and recommended by even WordPress.
If you are just starting out the starter plan ($3.95 per month) may be a good fit for you. Note you can upgrade as your business grow. If you choose a higher plan and want to downgrade you can also do that.
Get started at $2.95 per month (instead of $3.95) with this link.
You can read my step-by-step guide on how to start your blog with Bluehost.
SiteRubix is the Wealthy Affiliate platform free site builder tool you can use to create your WordPress website in a matter of minutes and get it hosted on the platform.
This service comes with your Wealthy Affiliate premium membership. And as a premium member, you can create and host up to 50 websites.
As I said earlier, Wealthy Affiliate is an all-in-one platform. So in addition to the hosting service you are getting affiliate marketing training, a keyword research tool, coaching, weekly webinars, and other additional services.
Learn more by taking a look at my review here.
Just like Bluehost, HostGator is a reliable and trusted web host provider you can choose to build your website. Their pricing plans are affordable and their support team is responsive too.
Get started with HostGator here.
Related post: Top best web hosting provider for 2023.
#4 Best blogging tool: A WordPress fast-loading theme
It is an affordable web host provider. In fact, with only $52 you can buy hosting for your website for the entire year.
Any WordPress website or blog runs under a WordPress theme. The mine for example runs with the Astra theme.
So the next best blogging tool you will need is a WordPress theme.
Best WordPress Theme for new bloggers
Here below are my recommended WordPress themes:
Astra theme is my preferred and recommended WordPress theme for any new blogger who wants a fast-loading and beautiful theme.
It is a freemium theme you can install from your WordPress dashboard. That means they offer premium themes too. But if you are just starting out, a free theme will be fine.
If you want advanced features and more customization options, then you can just buy a license at the cost of $49 per year.
Read my Astra Pro Theme review to find out how this theme can help you increase your website performance and load time.
GeneratePress
After the Astra theme, GeneratePress is my second recommended WordPress theme for bloggers. It is also a fast-loading and SEO-friendly theme to use. Just like Astra, it is a freemium theme. So you have the option to use the free version or the paid version.
#5 best blogging tool for new bloggers: Keyword research tool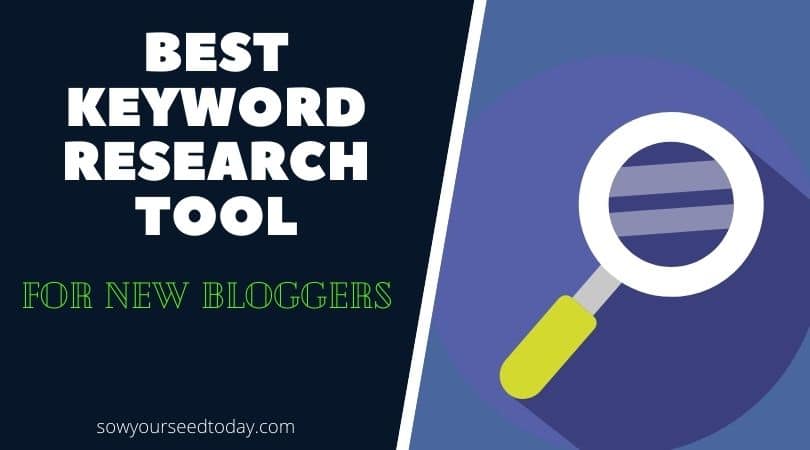 Most people make mistakes by thinking they just need to write content in order to rank their site. Let me tell you if you write to just write you won't get anywhere with your blog.
Before you write any blog post you must perform keyword research and then choose long-tail, low competition, and buying-intend keywords that will not only get ranked easily but also will probably convert to sales.
This is where a keyword research tool comes in.
To help you choose the right keyword research tool for your blog, I have gathered the best keyword research tool here for you.
Top best keyword research tool for new bloggers
Jaaxy is the world's most advanced keyword tool powered by Wealthy Affiliate and built for Internet marketers. It is one of the best blogging tools for beginners out there.
It is more than just a keyword research tool because of its features and what you can accomplish with it. It is my #1 keyword research tool and my top recommended tool for a new blogger for a reason.
Finding a long-tail keyword idea for your blog post is easy and doesn't take time. When you know time plays a great role in productivity, making such a tool your favorite is a no-brainer.
On top of its ease to use, the data provided by this tool is very accurate as it plugs into the recent search on Google and gathers keyword data directly from Google.
The starter plan is free and comes with 30 searches, 30 SiteRank analysis, and other useful features. The pro membership plan starts at $49 per month.
As a Wealthy Affiliate premium member, you get the lite version ($19 per month value) for free. Now the Jaaxy enterprise plan (that costs $99 per month) is bundled for Premium Plus members.
You can see you save more money by joining this all-in-one platform.
Long-tail Pro is another great keyword research tool out there. It offers a user-friendly interface and great features that can help you find long-tail keywords. It provides detailed information that can help you choose the right keyword easily and quickly. The starter plan costs $49 per month with an option to pay yearly.
Ubersugest makes our list of top blogging tools because it is free to use and it also gives you access to features some of its key competitors charge for money.
You can perform your search based on location, language, etc.
Note that its free plan allows you to do only 3 searches per day. If you want to unlock more daily searches you will need to upgrade to the pro version which costs $12 per month.
Twinword is a free keyword research tool for new bloggers and one of the best blogging tools you can use to do keyword research for your new blogging business.
it's one of the very best tools for finding synonyms.
You can sign up for free and do up to ten daily searches. Just like Jaaxy, they offer a paid version in case you want more advanced features. The price starts at $18 per month or $12 if you want to pay for the whole year.
SemRush is more than a simple keyword research tool for SEO. It is an all-in-one marketing tool that can help you improve your visibility and get advanced marketing insights into your website.
Unfortunately, it is an expensive tool because even its basic plan costs $99 per month. That can be daunting if you are just started out.
But each plan comes with a 7-days free trial. So you have the time to test it before you invest your hard-earned cash.
# 6 best blogging tool: Image editing tool
After you have your blog running, you will need images to use on your site.
Images help for readership enhancement and are even useful for SEO. But before you upload any image to your blog, you will need to edit it.
This is where an image editing tool comes for.
To help you make your blog posts' images stand out from the crowd, I have gathered my top best image editing tools for you.
Best image editing tools for new bloggers
Canva is an image editing and graphic design tool that allows users to create any kind of graphics such as social media graphics, presentations, posters, documents, and other visual content.
It is a freemium tool and even its free version is useful and great for creating beautiful visuals for your blog.
Snappa is also one of the best blogging tools new bloggers can use. It is an image editing tool just like Canva.
As a free user, you can only download 3 images per month; Contrary to Canva where you can edit and download unlimited images.
#7 blogging tool for new bloggers: Proofreading and grammar checker tools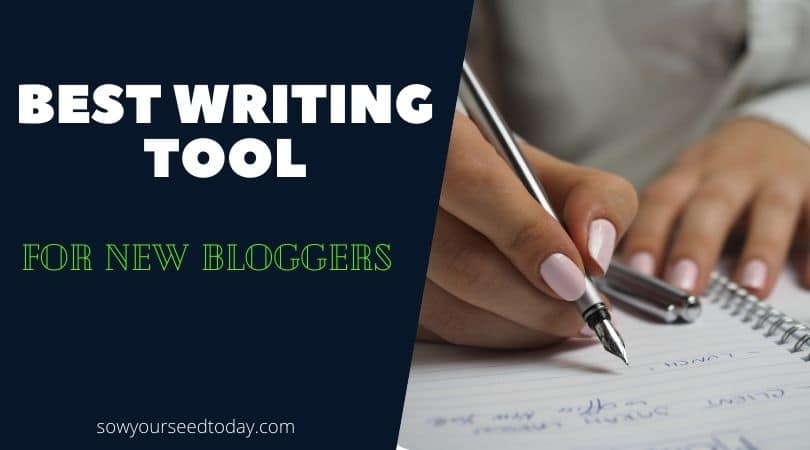 Are you poor in English like me? Even if you are good at English having a proofreading and grammar checker tool will help you make your writing errors-free -or at least improve your writing skills. SO it is one of the best blogging tools and a must-have tool for new bloggers.
Find out my top best writing tool below.
Top best writing tool for new bloggers
Grammarly is a free writing tool that can help you make your content writing clear and effective.
It comes with grammar checking and proofreading features.
It is easy to use. You can just add its chrome extension to your browser and it will check your written content for all types of mistakes like misused words, sentence structure, spelling, punctuation, and grammar.
ProWritingAid is one of our top best blogging tools for beginners because it is an easy-to-use tool and one of the best grammar and proofreading tools.
With this tool, you can check for grammar and styling errors to improve your writing and your content readability for free of charge.
They even offer a plagiarism checking feature. This is very important for any blogger who wants to create unique content and then rank his website as it is a ranking factor. What to say if you are buying content from platforms like Fiverr?
SiteContent
SiteContent is a content writing tool powered by Wealthy Affiliate. Now you see why I say it this platform is an all in one platform for online entrepreneurs.
With this tool, not only you can write your blog post, add images but you can also check grammar and spelling errors and even check for plagiarism and then publish your post on your website directly without logging into your WordPress account.
While you will need to pay for this feature on the previously mentioned writing tools, with SiteContent you can use it for free because it comes with your premium subscription.
#8 blogging tool for new bloggers: Email marketing tool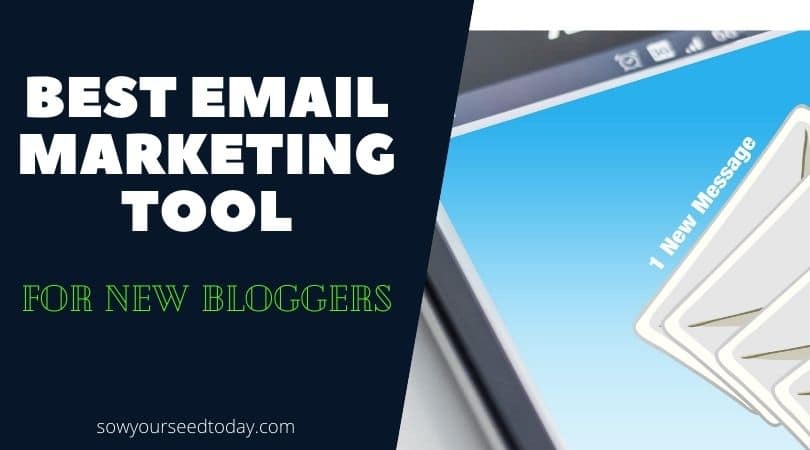 Money is on the list. Right?
A rookie mistake I made when I first started my blogging journey is to not start email marketing on the go.
Some suggest you wait to get traffic like 50-100 visitors a day before you start.
Don't make this mistake. Start it from day one. Note that every visitor that comes to your site has a 90% chance of not returning to your site. This is why you need to try to convert such visitors into a lead.
In my top best blogging tools for beginners, I will share with you my top best email marketing tool you can use to build your mailing list.
Best email marketing tools for beginners
Aweber tops my best email marketing tool for new bloggers for a couple of reasons:
It is free to use and when you are just starting out, it is wise to try to save as much as money you can – spend your money wisely.
But it is not the main reason because there are many free email marketing tools out there.
The main reason is that it is a rich-feature email marketing tool. In fact, with Aweber's free plan you have access to its email automation feature – what its key competitors like Mailchimp charge for money.
You can build up to 500 email lists for free, create landing pages, etc. The only downside is that they have an email sent limitation.
You can read my Aweber free plan review for more information.
Getresponse is a trusted and well-known email marketing tool business owners can use to grow their online businesses.
They now offer a free plan like Aweber and its other key competitors like MailChimp. Plus you get a 30-days free trial to test even their premium features before you decide to invest in it.
The basic plan costs only $13 per month with a lot of features to use and grow your business.
You can create your Getresponse free account here.
SendinBlue is also a free email marketing software you can use to build your mailing list.
It comes with unlimited email, automation and workflow features, landing page builder, etc.
Sendsteed is also a free email marketing tool powered by LeadsLeap, an advertising and lead generation platform.
With Sendteed, you can create stunning landing pages, and pop-ups, create and send emails to your subscribers.
It comes with unlimited email. But you are limited to the number of email campaigns to send on a monthly based just like SendinBlue.
This is another email marketing tool you can use for free. 1000 email list size for free, opt-in forms, and reporting features for free.
Premium plans start at $10 per month. You can read my Moosend review here.
Or…
Check out my top best email marketing tools for small businesses here.
#9 Blogging tool for bloggers: Membership site builder
As a blogger or affiliate marketer, you will need sometimes to build your own membership site either to build authority in your niche or sell your skills or expertise to your audience.
That can be coaching or consulting service, online course, or just some private downloaded resources.
You can offer free service or paid services via your membership site. This can help to boost your affiliate income because you can insert affiliate links on the service you offer. Mainly if you are offering online courses.
Here below are membership site builder tools you can use to get started:
This is an all-in-one marketing tool like Clickfunnels you can use to build an online course or membership site to sell any service you wish. The best part is it comes with a free version and even the premium version is cheap compared to key competitors like ClickFunnels.
You can read my Systeme.io review here for more information.
Groovefunnels is also an all-in-one tool that comes with tool suites like membership site builder, email marketing tool, funnels builder, etc.
Just like Systeme.io, it offers a free version. And the best part is you can get a lifetime license for the tool cheaper.
Check out my GroovePage review here for more info.
Conclusion
It is important when starting your online business or blogging journey to have the right tool at the right time. That will not only save time and money but can also speed up your business success.
Whether you are just starting out or looking to get started, considering these best blogging tools for beginners we listed here will help you be successful in your journey.
That being said, I hope you find this guide helpful.
If this is the case, don't hesitate to share it with your friends.
Do you have a question or want to suggest a tool you have used and find useful for new bloggers? Feel free to drop it in the comment section below.
Be an ACTION taker, SOW YOUR SEED TODAY.
To your success!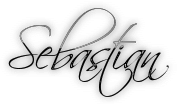 Related posts: