Are you looking to start your blogging journey but don't know which web host to choose from? Or it is an eCommerce site and you are overwhelmed by the number of hosting types and service providers available out there?
If yes, you are in the right place.
In fact, there are over 330,000 web hosting providers worldwide with 4 types of web hosting to choose from based on your business size.
And if you are a beginner and without any experience in the field, making a choice can be a real challenge with the increasing number of companies offering this service and also the different types of web hosting offered.
To help you make a good choice, we have gathered the top 5 best web hosting for small businesses in 2021 you can choose from and get started the right way.
But before we reveal our top best web hosting for 2022, we want to first show you the type of web hosting available out there and who can benefit from them.
It will help you make your choice easy if you know them.
Right?
So let's move on.
Disclosure: I want to notice that in the spirit of full transparency, this post contains affiliate links. This means if you make a purchase through these links, I may receive a small commission at no extra cost to you. I can get a commission from any company, but I only recommend products/services I truly believe will give value to my readers.
The different types of web hosting
There are many different types of hosting out there and each type comes with its features and price. Its ups and outs. And the one that is a good fit for your business depends on your business size.
Here below are the different types of hosting:
Shared hosting
As its name suggests, it is the type of hosting where the company that provides the hosting service shares a space of their server to you with other people.
In other words, your web host provider host multiple sites (yours included) on one server. This type of hosting is relatively low due to the fact the server resources were shared with many websites or businesses.
If you are just starting out, shared web hosting is the right hosting for you.
Not a good fit for a website with high traffic volume.
Advice: Before you buy a web hosting service with any company, make sure it is scalable. That means it offers options to not only upgrade to the higher plan, but it also offers other types of hosting you can witch to when your business grows.
Or… Make sure you can transfer your site to another web host company when needed.
Managed hosting
Managed web hosting is when your host provides leases you a dedicated server and takes care of all the technical stuff giving you hands-free to focus on your business development.
Here your web host takes care of administration, management, and support.
This service is for people who are not tech-savvy and don't have time to handle things themselves.
This service is a bit expensive compared to shared hosting.
Dedicated hosting
Dedicated hosting is when a hosting company leases a dedicated server to a customer.
Unlike managed hosting where the customer has to handle all the technical stuff.
It is the best choice for larger websites or businesses that require heavy resources.
Cloud hosting
Cloud hosting is a type of web hosting where your service provider puts your website on multiple interconnected servers at the same time.
Instead of hosting your website or app on a single machine, the cloud allows you to spread your data across virtual servers minimizing your website load and uptime.
Top 5 best web hosting services for 2021
1. SiteRubix powered by Wealthy Affiliate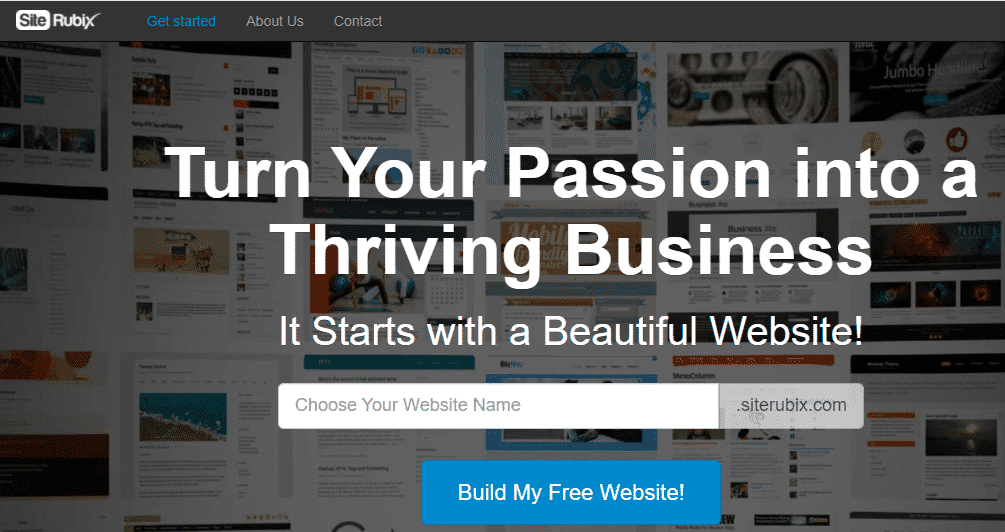 SiteRubix is a site builder tool powered by Wealthy Affiliate. This is where this website is hosted. They offer managed web hosting services giving their customers more time to focus on the development of their businesses.
It is not a stand-alone hosting service. The hosting service comes with the Wealthy Affiliate membership that costs only $49 per month.
And on top of the hosting service you get, you get access to their affiliate marketing training courses, premium keyword research tool, online entrepreneur community, and more.
In case you don't know what Wealthy Affiliate is and what it offers, I suggest you check out my unbiased review here to find out what you get for this price.
With Wealthy Affiliate, you can create up to 50 websites without any extra cost.
Wealthy Affiliate hosting features
Free SSL certificate,
Daily Backup,
Hacking prevention,
SiteSpeed Extreme Caching
24/7 SiteSupport,
Google Pagespeed Optimized?
DDoS Protection,
Image Optimization,
Dual Server Hosting Redundancy,
Amazon Web Services (AWS),
Instant DNS,
Host Owned Domains,
250,000 Monthly Visits,
Website Engagement Platform,
SiteContent Publishing Platform?
Duplicate Content Checker.
Pro of using Wealthy Affiliate hosting
Affordable service – competitors charge hundreds of dollars for less than what WA offers,
All-in-one platform to run your business under one roof,
No hidden cost nor upsell,
Free privacy protection and SSL certificate,
Top-notch technical support team.
Pro of using Wealthy Affiliate hosting
Hosting doesn't exist as a service – it comes with your membership,
No Cpanel access – all the maintenance and technical stuff are handled by the dedicated technical team.
2. BlueHost – The popular and best web hosting for small businesses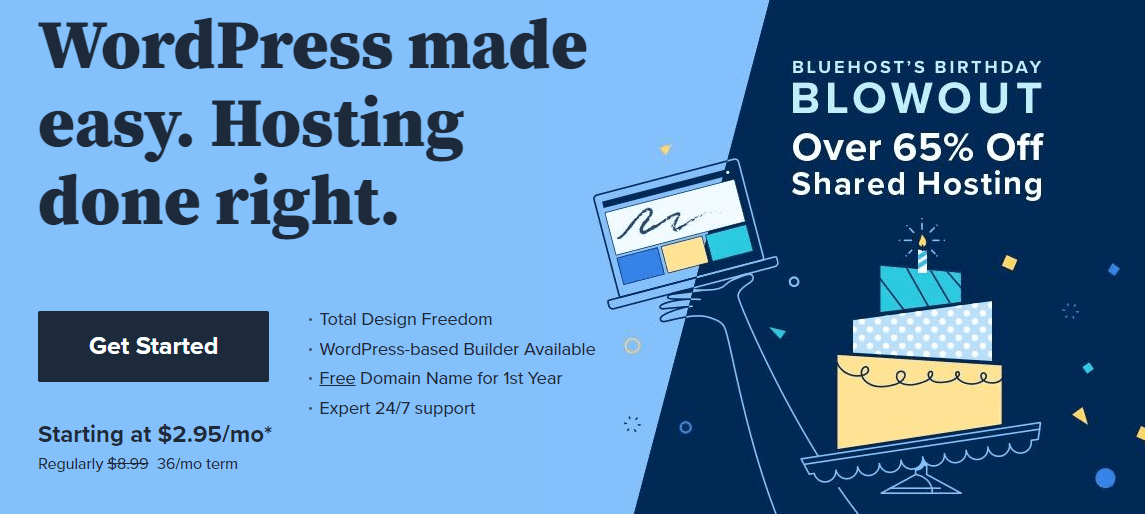 Created in 2002, Bluehost is an excellent web hosting company that power over 2 million websites worldwide.
Bluehost offers excellent services for an affordable price.
Indeed, with its shared hosting, it is quite possible to create all kinds of websites including eCommerce sites.
And at times e-commerce is on the rise, Bluehost is ideal for anyone who is on a budget and wants to start an e-commerce business.
Shared hosting at Bluehost is available from $3.95/month to $13.95 per month.
Different hosting types offered by Bluehost
Bluehost is a cable web host provider that offers 3 types of hosting customers can choose from or upgrade when their business grows:
Shared hosting – price started at $3.95 per month.
VPS hosting – price starts at $19.99 per month.
Dedicated hosting – price start at $$79.99 per month.
Bluehost web hosting features
a free domain name,
free CDN to help you speed up your website,
Free SSL certificate,
Free domain name for the first year (but charge $14 per year for privacy protection),
Unlimited disc space,
Unmetered bandwidth
The Pros of using Bluehost
Affordable hosting service when you pay for 3 years,
A reliable and robust web host provider (over 2 million customers),
30-days money-back guarantee,
Top-notch support team via chat,
Offers free anti-spam solutions,
Offer a free CDN to help your site load faster,
High uptime and fast loading speed
The Cons of using Bluehost
No monthly shared hosting option,
No free backup service for your site – you must pay for it or do it regularly for security purposes (manually),
Renewal price is a bit expensive,
Limitations in the basic plan
3. HostGator – Affordable Shared Web Hosting Service for beginners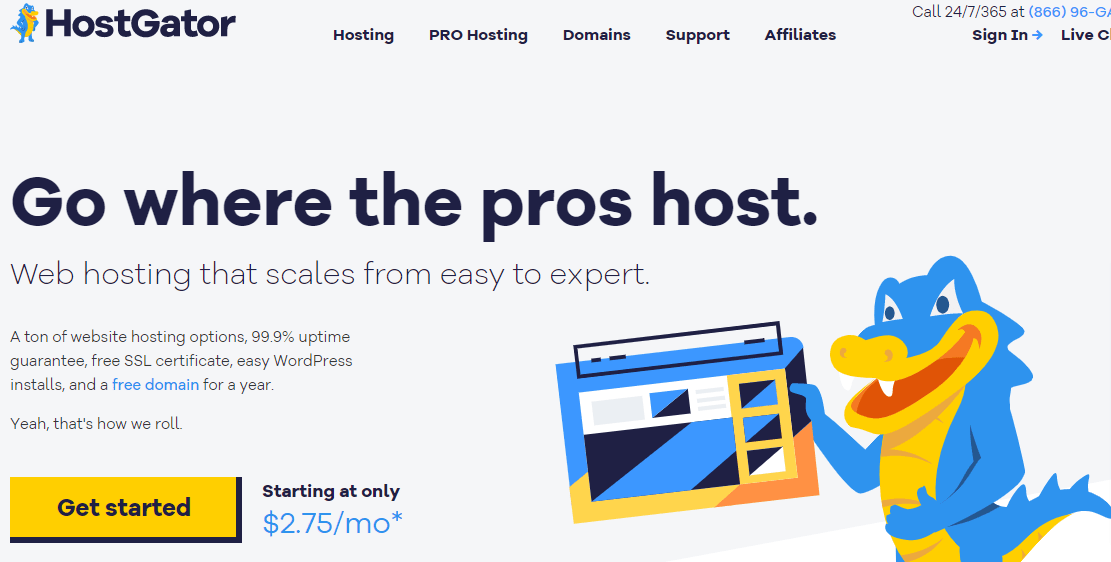 Founded in 2002, HostGator is a reliable web hosting provider and one of the biggest hosting companies in the world.
It powers over 10 million websites with over 850 employees around the world offering top-class support to clients.
Different hosting types offered by HostGator
Shared hosting plans: price starting at $2.75 per month.
Managed WordPress Cloud Hosting: price starting at $5.95 per month.
Cloud web hosting plans: price starting at $4.95 per month.
HostGator's Shared Hosting Plans
HostGator shared hosting plan comes in 3 different levels:
Hatchling: you can only create one website.
The Baby plan allows you to host unlimited websites.
Business: Just like the Baby plan, it allows you to create unlimited websites.
The best pick for small businesses and e-commerce such as unlimited email, dedicated IP address, and SEO tools.
HostGator Hosting Plan Features
With each hosting plan, you get the features below:
1-Click WordPress Installer
Free SSL Certificate
cPanel dashboard to manage hosting services,
Free SSL Certificate with Let's Encrypt
Free email accounts
24/7 top-notch customer support via phone, live chat, and ticket-based email.
Pros of Using HostGator
Affordable hosting plan for yearly membership, 99.93% uptime guarantee,
Good site Support
45-Day Money-Back Guarantee,
Site Security Features Available. …
Free Site Migrations (1 site),
Cons of Using HostGator
The monthly subscription is expensive,
Backups and Security require additional fees,
The renewal price is a bit expensive.
4. EasyWP – Best, and Affordable managed Web Hosting Service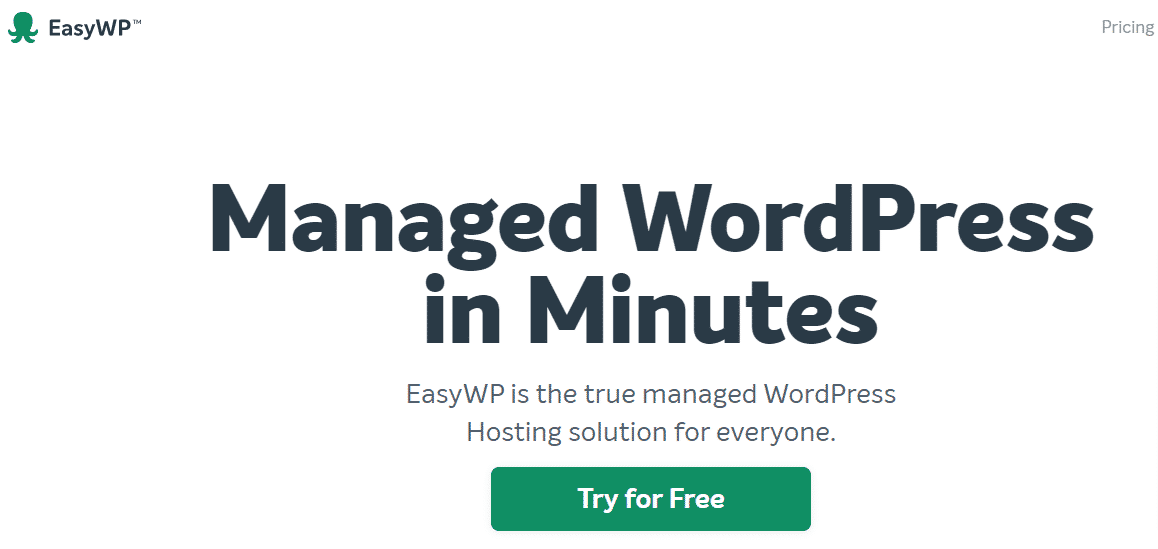 EasyWP is a web hosting service under the banner of Namecheap. Namecheap is one of the oldest domain name registrar companies. It offers reliable and affordable domain name services in the industry since 1997.
Ile most domain name registrar companies, they decided in 2000 to add web hosting service to their belts. Hence EasyWP was born.
It is a managed hosting service and the most affordable one in the industry.
In fact, their basic plan price starts at 1$ per month.
But be aware because in the basic plan important features like SSL certificates are not available for free.
Plus each plan comes with 1 website. That means for each website you create with EasyWP, you have to pay an extra fee.
That can become more expensive if you want to create more than 5 or 10 websites as the cost add up each time you create a new site.
EasyWP hosting features
EasyWP currently offers 3 managed WordPress hosting plans:
EasyWP Starter: The price starts at $1 for your first month then $3.88 per month. This plan comes with 10GB SSD storage, and 50K visitors/month. No free SSL certificate.
EasyWP Turbo: The price starts at $2 for your first month then $7.88 per month. This plan comes with 50GB SSD storage, and 200K visitors/month.
EasyWP Supersonic: The price starts at $3 for your first month then $11.88 per month. This plan comes with 100GB SSD storage, and 500K visitors/month.
Pros of using EasyWP
Pure SSD (fast storage) cloud hosting,
30-day money-back guarantee
Scalable web hosting service – Possibility to upgrade to a higher plan if your monthly users grow beyond the limitations of the Starter plan,
Free SSL certificate for your site security,
Free CDN for fast loading site in the advanced plan on the higher plan
24/7 top-notch site support via live chat with the Namecheap team,
Cons of using EasyWP
No automatic WordPress updates,
Value for money managed WordPress hosting,
The basic plan doesn't include a free SSL certificate – adding these features cost can make the service more expensive compared to competitors,
You need to create a separate account with Namecheap before you will be able to buy your hosting,
You need to pay an extra cost if you want a private email
Other Hosting types offered by Namecheap
Shared Hosting: price start at $1.08 per month for the yearly plan. The monthly plan costs $2.88.
VPS Hosting: price starts at $6.88 per month for the yearly plan. The monthly plan costs $8.88.
Reseller Hosting: price starts at $17.88 per month for the yearly plan. The monthly plan costs $19.88.
Dedicated Hosting: Monthly plan costs start at $46.88 and the yearly plan at $629.88.
5. Ipage – Best Web Hosting Services for beginners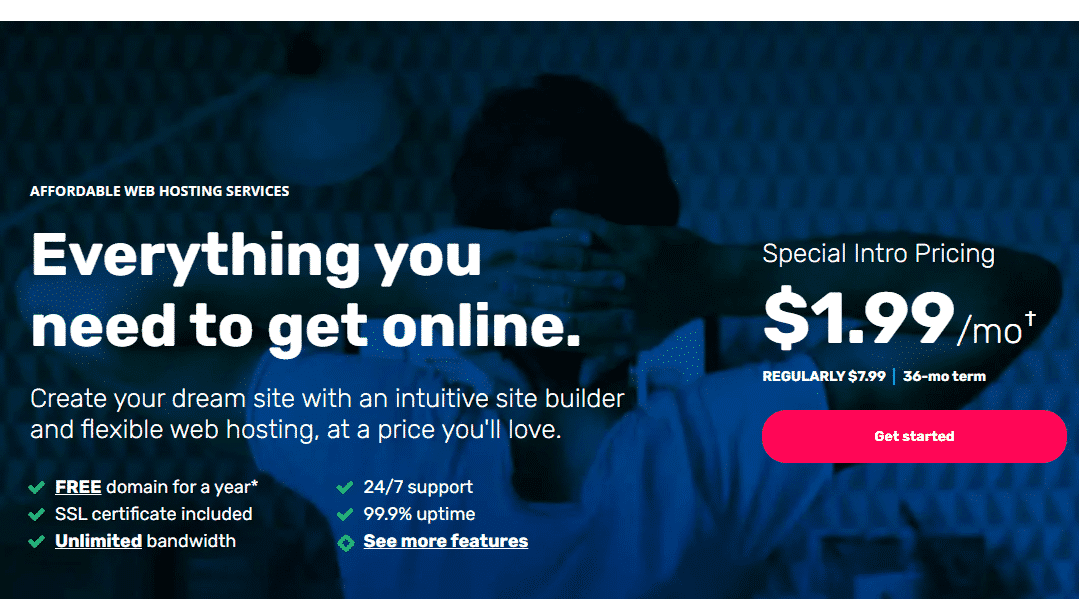 Founded in 1998, iPage is one of the cheapest shared web hosts you will love if you are on a budget.
Its promotional price starts at $1.99 per month if you choose to pay for 3 years and the renewal price starts at $7.99 per month.
This is when you go with the 3 years option.
If you choose to pay yearly at the renewal, Ipage becomes a bit expensive because you will be paying $9.99 per month.
Different hosting types offered by Ipage
Shared hosting: price start at $1.99 per month
WordPress hosting: price start at $3.75 per month ($7.49 at renewal price)
VPS Hosting: price starts at $19.99 per month ($24.99 at the renewal)
Dedicated Servers
Ipage hosting features
Each Ipage hosting plan comes with the following features:
A free domain name for the first year (but you will still pay $14 for a domain privacy add-on),
A free email address
Free SSL certificate,
Unlimited disk space,
Unlimited Storage,
Unlimited Bandwidth.
Pros of using Ipage
Affordable Hosting service provider,
30-Day Money-Back Guarantee,
Great Customer Support,
Free YellowPages.com Listing,
Cons of using Ipage
Too many upsell,
While companies like Bluehost, and Siterubix, just to name a few offer free site migrations, Ipage charges $150 for that service,
No one-click WordPress installation.
Conclusion
There are countless web host providers out there in the hosting industry. Each with its ups and downs.
We hope that by going through the pros and cons of our top best web hosting for small businesses listed above, you will be able to pick the right hosting service and the right hosting type for your business.
If you have a question, drop it in the comment section below and I will respond to you ASAP!
Be an ACTION taker, SOW YOUR SEED TODAY!
To your success!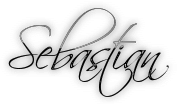 You may also like…