Have you been introduced to Adam Enfroy's Blog Growth Engine course and you are wondering if it is a legit online course? Or another hyped program?
If yes, you are in the right place.
In this Blog Growth Engine review,…
we will delve deeper into the following points:
Let's dive in.
Review Summary
The Blog Growth Engine course is a step-by-step blogging launch and growth blueprint by a six-figure blogger, Adam Enfroy. The course focuses on teaching you how to grow your blogging business with content marketing and link building. Adam walks his talk. Only the course cost is a bit expensive to most similar courses. You can go for it if you can afford it. But if you are just starting out as a new blogger and on a budget, you can try this better alternative below.
Is Blog Growth Engine legit?
I will be straightforward here. Blog Growth Engine is a legit blogging course designed to teach you how to build a profitable blogging business starting from scratch.
It is a step-by-step blueprint to starting and growing your blog faster and then turning it into a profit.
The course is a bit expensive. But that doesn't mean it is a scam.
As you know, every product has its target audience.
Blog Growth Engine seems to aim to target people who already have experience in blogging and want more advanced strategies to grow their blogs organically.
The reasons I say that can be found in the Blog Growth Engine course review.
So keep reading.
What is Blog Growth Engine about?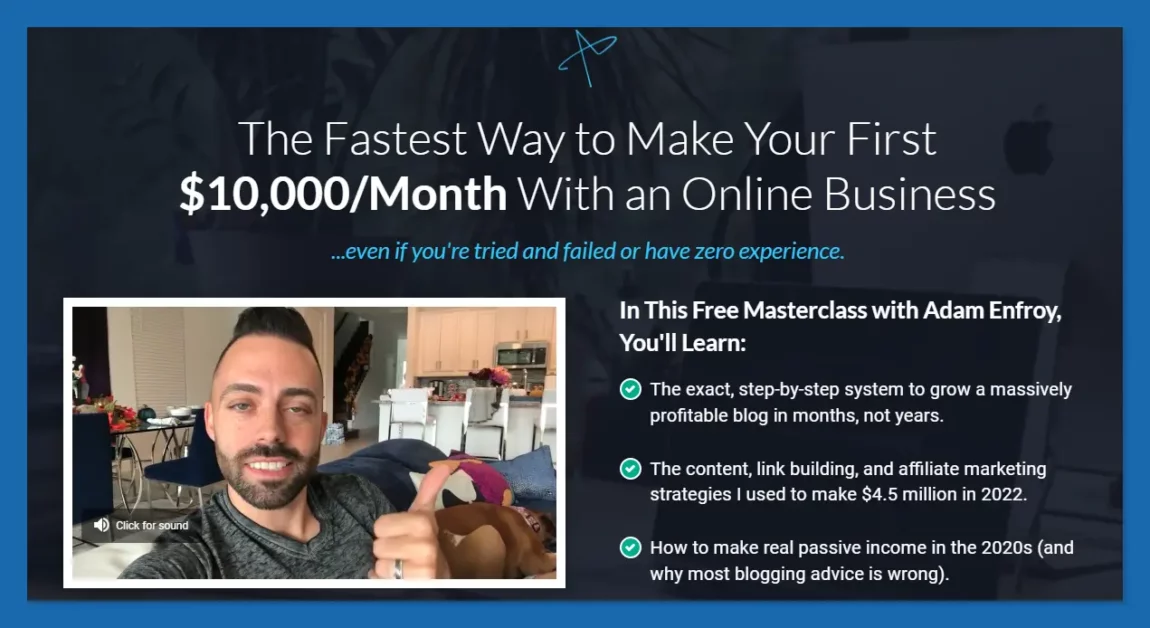 The Blog Growth Engine is a blogging course that teaches people how to grow a highly profitable blog from the ground up.
The course was created by Adam Enfroy, a six-figure blogger.
So this is not like any course where the owners teach what they are not doing.
When you join this course you will have access to a step-by-step blueprint on how to create, market, and grow your blog organically by following Adam's proprietary blogging growth strategy.
Now that you know what the course is about let's move into the next section of my Blog Growth Engine review to learn more about the owner.
Who is Adam Enfroy?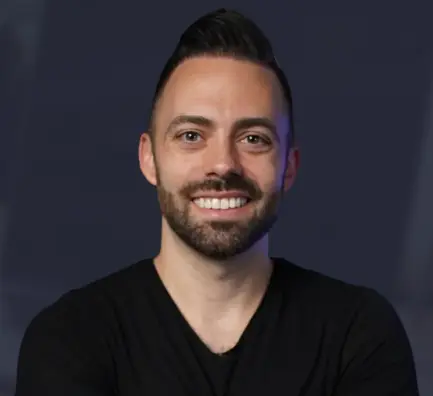 Adam Enfroy is a successful blogger and affiliate marketer.
Before he start his blogger career, Adam was working as an engineer in the tech industry.
But just like most of us, he found that the 9 to 5 GRIND is not the lifestyle he wanted.
In 2019 he launched his blog adamenfroy.com.
Just after 2 years, he managed to turn it into a six-figure income business.
His goal through this blogging training course is to teach people the same strategies he followed to grow his blog in a short time.
How does the Blog Growth Engine work?
As I said previously in this Blog Growth Engine review, the course teaches you how to make money with blogging.
So this is how it works:
You first need to buy the course to access the blueprint you will need to follow to get started.
Secondly, you will need to buy a domain name, web hosting, and other blogging tools to set up a professional and nice-looking website. All the instructions and guide is there to help you accomplish this task.
Once your site is ready, you will need to create in-depth and SEO-friendly content and then market your content.
This is called content marketing. And what you are required here to do practically is to build quality backlinks.
You can build such links by:
providing guest posts to other bloggers in your industry.
buying backlinks from quality backlinks service providers
creating quality and engaging content that will entice your readers to share with other people
The goal here is to get eyeballs on your site, build authority and then make money from your site.
As you know traffic is the lifeblood of any online business. No traffic, no money.
How much does the course cost?
The Blog Growth Engine course like Affiliate Secret and the Authority Hacker course are high-ticket products.
In fact, to get access to Adam Enfroy 's Blog Growth Engine course you need to get $2,997 out of your pocket.
This might be challenging for starters who are on a tight budget.
The good news is you can pay $1398 in 2 month installment or $1497 in 3 monthly installment.
But this is not all you need to get started with your blogging journey if you will follow what was taught in the course.
In other words to follow Adam Enfroy's footsteps.
So let's take a look at the extra cost involved.
When talking about blogging there are 2 basic and necessary tools you need:
A domain name: this is your address on the internet and the way people can find you online.
A web hosting service provider: This is where your site files such as text, images, videos, etc will be stored and delivered to y
our audience when they make a request by using search engines like Google.
Without these tools the idea of creating a professional website is impossible.
This is what you need to create a website.
If you want to grow your site you need more tools suite such as keyword research and competition analysis tools and more.
What you will learn in the course
The course is about how to start a blog but most importantly how to grow it faster.
With over 10 modules, 4 to 7 videos each,…
Adam through these training videos will teach you:
In a nutshell, you will learn how to create content, build backlinks, market yourself, and monetize your site with affiliate marketing.
Here is how the course was structured:
Module 1: Your Niche
This module is about choosing a niche.
Here in this module, you will learn why choosing a niche is important, what niches you should avoid, and what to consider when selecting yours.
Module 2: Your Mindset
Your mindset plays a big role when it comes to being successful in business.
Adam Enfroy in this module will the mindset you should develop as a blogger.
Networking with authority figures in your niche and branding yourself as an authority is a play in this lesson.
Module 3: Blogging Like A Startup
The reason Adam turned his blog into a six-figure income within his 2 years of blogging is that he decided to dedicate it as a start-up or business and not a simple hobby blog.
This is exactly the idea he wants his students to catch in this module.
Module 4: Decoding Search Intent
This module is about keyword research. And here you will learn how to do keyword research, why, and how to detect search intent behind those keywords.
This is important because not only it will help you drive targeted traffic to your site but also make money from it.
Module 5: Minimum Viable Website
What this module is about?
Don't go too far.
This module is about building your site, installing necessary plugins, designing your site, and configuring your site for SEO.
Don't worry even if you never created a website yet.
It is easy to do and the video shows you step-by-step how to get things done.
Module 6: Keyword Monetization
This Is a complementary lesson of module 5.
Here you will discover keywords with financial value.
Module 7: Blog Content Creation
This is one of the most important modules.
Adam will be teaching you how to create blog posts both your readers and Google will love.
He even goes deeper by showing you what Pilar content is and how to create and organize them.
Module 8: Link Building
Link building is another important part of this course. This is the way Adam Enfroy grew his blog.
And here he teaches students how to outreach and pitch their guest post ideas to other people.
Module 9: Affiliate Marketing And Blog Monetization Methods
Module 9 is about monetizing your blog with affiliate marketing and other means like ads, brand partnerships, etc.
In this module, you will learn how to make money with your blog by promoting other people's products.
Module 10: Scaling And Outsourcing
By outsourcing your content, you can dedicate your time and energy to where your business needs your attention.
In this module, you will learn how to outsource your content and then take your business to the next level.
You will discover in this series video when to outsource, where to find quality writers ad how to hire them, etc.
Module 11: Monetizing Your Skills with Service
As a blogger, you will acquire skills you can offer as a service to businesses for cash. It includes web design, content writing, etc. In this module, you will learn how to turn the skills you developed during your journey into a profit.
Who is the course for?
This Blog Growth Engine review won't be complete if we didn't go over what the sales page says.
The Blog Growth Engine course is for everyone who wants a step-by-step blueprint for starting a highly profitable blogging business.
It is also for people who really want to build a blog and grow it faster by following Adam Enfroy's proprietary blogging growth strategies.
But to be specific this is for people who are not on a tight budget.
Because not only the training costs thousands of dollars but you also need to spend hundreds of dollars on a monthly basis to grow your blog if you will apply the same strategies he taught.
So in mind humble opinion, this is not for starters – mainly for those on a tight budget.
If you want to test the water of making money online with blogging I recommend you look for a course with a low entry fee. Where you can learn the rope of blogging.
Blog Growth Engine Pros and Cons
Blog Growth Engine alternatives
There are reasons the Blog Growth Engine course might not be a good fit for you.
Adam did a great job by putting in place this blueprint for starting and growing a profitable blog.
But its high price tag is a con.
So if blogging is your area of interest and you want to build a profitable blog, this is my #1 recommendation.
The platform provides blogging and affiliate marketing training courses and tools suites you can use to get started.
This is the platform I use myself.
If you want to learn more about this platform before you make a decision, read this review.
Blog Growth Engine review: my final words
Adam Enfroy 's Blog Growth Engine course is a legit blogging course.
The training shows you the steps and strategies you can follow to build and grow a highly profitable blogging business.
The only downside is its price I found it expensive. Many will not be able to afford the cost. Not to mention the ongoing operation fees.
If you can afford the cost and are ready to invest a lot of money to grow your blog, go for it.
If you are not ready to invest $2k + in an online course but still want to start your career in this industry, you can consider this option.
That being said, I hope you found my Blog Growth Engine course review helpful.
To you… What do you think about Adam Enfroy's course?
Share your point of view with us in the comment below.
Be an ACTION Taker, SOW YOUR SEED TODAY!
To your success!