Want to make money online with CPA marketing? Don't like selling products to get paid?
If yes, this free guide for CPA marketing for beginners is for you as I will show how to get paid without selling anything online.
But before we get into the meat of the subject, let me be clear with you.
CPA marketing is not a get-rich-quick scheme and there is not a push-button system to make money online.
If you believe in such a claim you have to leave this page right now because I not sharing such a scheme on my website.
What to expect from me in this guide of how to make money online without selling products or services?
Here is what I will be covering in this guide to CPA marketing for beginners:
Help you to understand what CPA marketing is?
How does it work?
Advantages and drawbacks of CPA marketing,
How to get started with CPA marketing?
What is required to get accepted
Without further ado, let's dive in with our guide on how to make money online without selling products or services.
What is CPA marketing?
CPA stands for Cost-Per-Action or Cost-Per-Acquisition in Google's own terms. It is a marketing model where published get paid on a fixed amount of money when the required action settle by the advertiser was performed by the clients.
The required action was determined by the advertiser and it can be when someone submits a sign-up form (lead acquisition), when the customer signs up for a free trial of a product, download an app or any file, completing a survey, etc.
As an affiliate or publisher, you will get paid for a fixed amount when the customers complete the desired action. No matters if the customers buy the product or the service, you will get paid.
For example, if the desired action is to complete a free trial of a product that costs $100 per month, and the advertiser is ready to pay you $25 or $100 for that if you manage to get someone to complete the sign form you will get paid. No matter if the customer cancels his membership after the free trial or continues as a customer.
So it is a lucrative business model. All you need to do is to get visitors to complete the desired task or action and you can watch your income grow.
Sound good! Right?
Yes…
I think it relatively easier to ask someone to give their contact information like their email address or phone number in exchange for something (free App to download, try a product for free, etc) than to convince the same people to buy a product online (no matter its price).
But there are advantages and drawbacks to this marketing model.
So let's move into the next section of this guide on how to make money online without selling products or services to the ups and downs of this business model.
The pros and cons of CPA marketing
Based on our example above, if you know how affiliate marketing is, you can see that there are ups and downs of getting involved in this type of marketing.
? The pros
✔ You are not required to make sales to get paid
As I said earlier no matter the customers pay or not the product, you will get paid.
✔ Higher conversion rate with some offers
The conversion rate in CAP marketing may be higher because sometimes the offer doesn't cost the customers anything. That means more money for you.
✔ You can get started for free
Another good point of CPA marketing is that it doesn't cost you hard and a leg to get started. In some cases, it costs zero dollars to start making extra money online with this business.
✔ A vast array of enticing offers to choose from
There are many CPA networks and lucrative offers to choose from. No matter your niche, you can easily find an offer to promote to your audience and get paid.
✔ It is a good alternative to ads revenue
Another pro of CPM affiliate marketing is that it is a good alternative to CPC and CPM programs because you don't need to reach a certain number of clicks to get paid.
✔ It can be another income stream for your blog
If you are a blogger and your main income source is affiliate marketing (just like it is for me), instead of going with Google Adsense or any ads network to add another income source to your revenue, you can rely on this blogging monetization method. This can be an extra income source plus
? The cons
❌ You are leaving money on the table
The number one drawback of this marketing method is that you are leaving a lot of money on the table. Consider our example above. I am sure for a product that costs $100 per month, you can get 25% to 75% recurring commission if you promote it as an affiliate. Do you see what I mean? Yes, I think so.
❌ There are requirements to getting accepted in most CPA networks
Yes, you read me right. Most serious CPA networks have a strict restriction and getting accepted can be a challenge. But don't panic. Below you will know how to maximize your chance of getting accepted.
❌ You need a lot of visitors to make steady income with certain CPA offers
Yes, if you know it traffic is any online business lifeblood. And no matters what kind of business you are doing online, you still need traffic to bring your business to life. With CPA marketing, the rule is the same. And more importantly, you need more traffic to make a sustainable income compared to affiliate marketing.
❌ There are a lot scam CPA network
Another drawback of CPA marketing is that there are a lot of scam CPA networks out there. That means you can waste your time, money, and energy promoting an offer and not getting paid.
Some will reduce the number of your qualified leads to pay you less by declaring they are invalid; some will radically refuse to pay you as they don't work with any real advertisers
Now as you know the benefits and drawbacks of this business model, let's move on with our CPA marketing for beginners guide to find out how does it work.
How does CPA marketing work?
As its definition stands for, CPA marketing is when a publisher promotes an advertiser's offer for a fixed amount of money.
And there 3 parties involved in this business model:
The advertiser: The advertiser is the one that creates the offer. It can be a product or a service that solves a specific group of people's problems.
The publisher or affiliate (you and me): he is the one that promotes the advertiser's offer for the fixed amount of money this one is ready to pay for, once the desired action has occurred.
The CPA network: It acts as a middleman between the advertiser and the publisher. It is a platform where the publisher can sign up and choose the offer he wants to promote to his audience. It is also the platform advertisers can get eyeballs on their products or services.
In a nutshell, here is how it work:
you sign up with a CPA network and then choose an offer that fits your need and can help your audience solve their problems,
You promote the offer to your audience through your preferred promotional channel (blog, YouTube, Facebook, Instagram, email marketing, etc.),
Visitors click on your link and get directed to the marshland's page where they will need to complete the desired action),
They complete the required task,
The action gets validated and you get paid.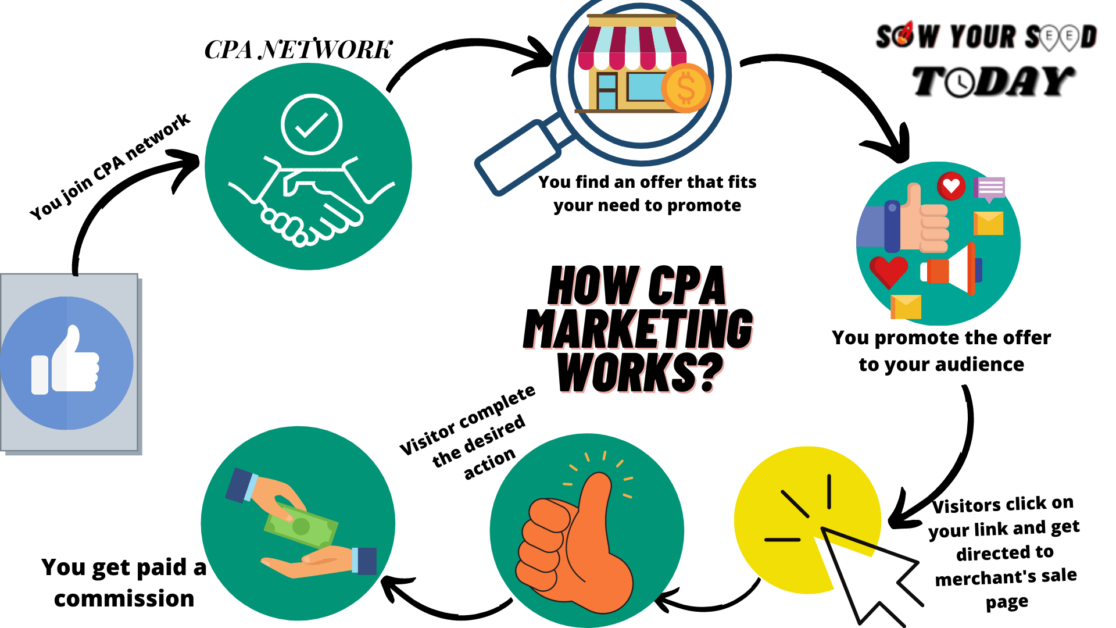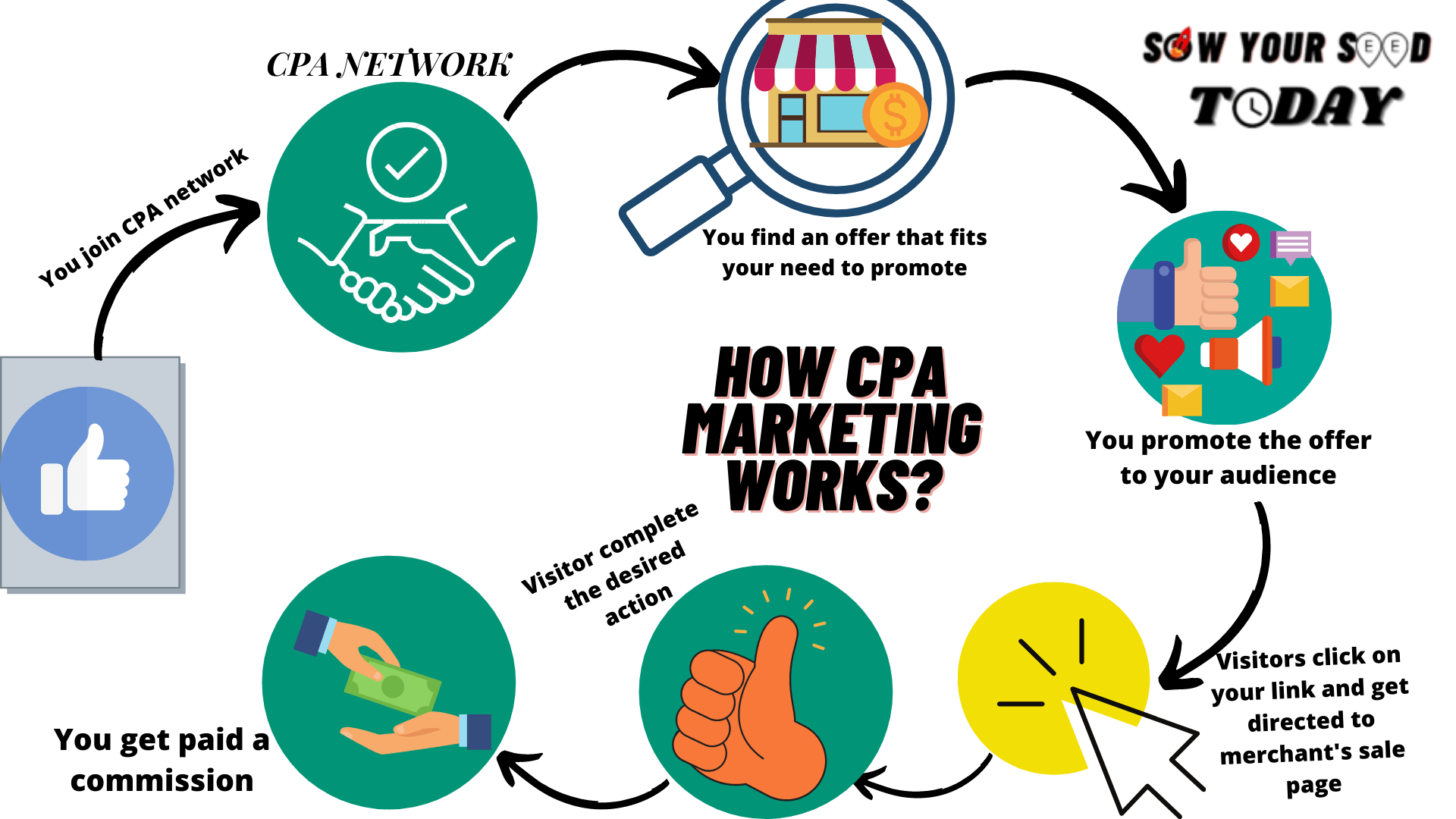 Just an important point before we move on.
Most CPA networks work in collaboration with other CPA networks.
Sebastian, how that is possible?
Let me explain to you a bit before we move with our guide to CPA marketing for beginners.
You know getting started with a CPA network is easy and everyone can do it (even you). You just need a good hosting provider like Bluehost, Kinsta, SiteGround, and software that can monitor and track your user's activities.
Then to go and sign up with the top CPA networks and then incorporate these offers on your own network. You pay your affiliates or CPA marketers less than what the top CPA networks pay you. And these where most will be disqualifying some of your leads in order to make more money.
Let's say, a health insurance site A pays $100 per lead. As a third-party CPA network, you sign up for this offer, add it to your own CPA network and pay others $60 per lead for that offer. When an affiliate promotes that offer, you will be making $40 per qualified lead. That is okay. But where scam CPA network suck is that instead of being honest, most will disqualify some of your leads to you less in order to make money from you.
This is why to help you avoid such a scam network, I will include on this guide of making money online without selling products or services, the top best CPA network to join.
But before that, let me show you how to get started with CPA marketing.
CPA marketing for beginners – how to get started?
To get started with CPA marketing, follow these easy steps:
If you already have a website or a blog up and running, go to the next step directly.
If not, keep reading.
Because…
One of the requirements to get accepted in most CPA networks is to have an existing audience you can promote the offer.
Some require not only to have a website but also traffic to be approved.
So your first step if you want to do CPA marketing and get paid, you will need an existing website, YouTube channel, or an email list.
Having an audience can increase your chance of getting your application approved.
If you don't have a website or a YouTube, a social media presence with good followers can also help in some cases.
You can learn how to start your own website here even if you are on a budget.
Build an audience
This step is very important because you need an audience to promote your offer. An audience means people who are following your business. They are your fans.
And after your site or YouTube channel is live, your next step is to build your audience.
You can do this by:
optimizing your content or blog posts for SEO.
That way, your site can get ranked higher on search engines and drive organic and free traffic on it, giving you the chance to get accepted on the top best CPA networks.
Related post: How to increase your website to 200% in a month.
Sign up with your preferred CPA network
Once you have your website up and running and also getting visitors to your website, the next step to getting started with CPA marketing is to find your preferred and best CPA network to join.
Here below are the top best CPA network to join:
With over 20,000 affiliates on their platform, MaxBounty is one the best CPA network to join. They offer training for newbies who are not familiar with affiliate marketing and the program offers weekly payouts.
Peerfly is a new and small CPA network but in terms of the quality of their service and payout, it has on the top list.
Just like MaxBouny, it offers training material for affiliates who don't know how to make money with affiliate marketing.
It weekly, bi-weekly, or monthly, and members can get paid via PayPal, Amazon gift cards, checks, bank wire, Payoneer, and Bitcoin.
That is great for people who are from countries where PayPal is not available.
Perform (formerly ClickBoth)
Perform CB is a reputable and worldwide CPA network that has paid over 1B dollars to its partners. It is classed as the top #1 best CPA network in 2021.
It offers free guides to beginners and pays weekly and bi-weekly through PayPal, Check, Wire, and Direct Deposit.
Sometimes top best CPA marketing networks are restrictive. However my goal today is to help you get started with CPA marketing.
So I have a list of CPA network that is easy to get started with. They are:
CPALead,
CPAGrip,
MyLead Affiliate Network,
FireAds,
AdscendMedia.
Choose your offer
You have successfully signed up with your preferred affiliate network. Congrats!!
You just now need to choose an offer to promote.
Here are a few tips to choosing the right offer:
Choose an offer that will add value to your audience's lives,
Choose an offer that has a high commission (mainly if you want to use PPC advertising to promote your offer),
Choose an offer that has a high conversion rate.
You have a high converting offer. That is great!
Now, it is time to start with serious things – promoting your offer. This is where the money comes from.
So it is time to drive traffic to your offer. If you have followed the previous step, you have now a website or YouTube channel where you can get eyeballs on your offers, and likely get qualified leads.
If you don't have a website or YouTube channel, but still want to make money with CPA marketing, you can check out my guide on how to do affiliate marketing without a website to get actionable tips.
Related post: Top best traffic exchange site to get sign ups in 2021.
Affiliate marketing vs CPA marketing
Most of my readers who reach out to me for help think affiliate marketing is about selling products or services. But the cold truth is that it is not about selling products. Affiliate marketing is about promoting other people's products for a commission and not selling products.
Now, what is the difference between affiliate marketing vs CPA marketing?
Both principles were the same – promote other people's products or services for a commission.
Where affiliate marketing is different from CPA marketing is that affiliate marketing requires the customers to buy the product before you get paid a commission.
However, with CPA marketing, when the customers complete the desired action, you will get paid no matters he buys the product or not.
Another difference between both is that with affiliate marketing you can make recurring commissions and the amount of money you make is based on a certain percentage (25% – 75% with digital products) of the product price.
With CPA marketing you get paid once and the commission is low and is based on the price of the product.
You can check out my step-by-step guide on how to start with affiliate marketing in 2021 here.
CPA marketing guide for beginners – Conclusion
CPA marketing can be a good income source and it is easy to get started. The complicated part is getting accepted by CPA networks and also getting your offer in front of your ideal customers or audience.
But no matter if you are just starting out or if you have an established blog or website, there is still the possibility of making money online with CPA marketing. Know that even if you don't have a website, you can use PPC advertising to drive traffic to your offer. Only it will cost you a huge advertising budget to make a steady income with your offer.
This why building a website or a blog can really be the best way to go for beginners.
The best part, it doesn't cost a lot of money to build a blog. Learn how to get started even if you are on a budget here.
That being said, I hope you found my CPA marketing for beginners' guide helpful.
Don't hesitate to share it with your friend or to leave a comment below.
Be an ACTION taker, SOW YOUR SEED TODAY!
To your success!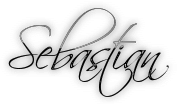 You may also like…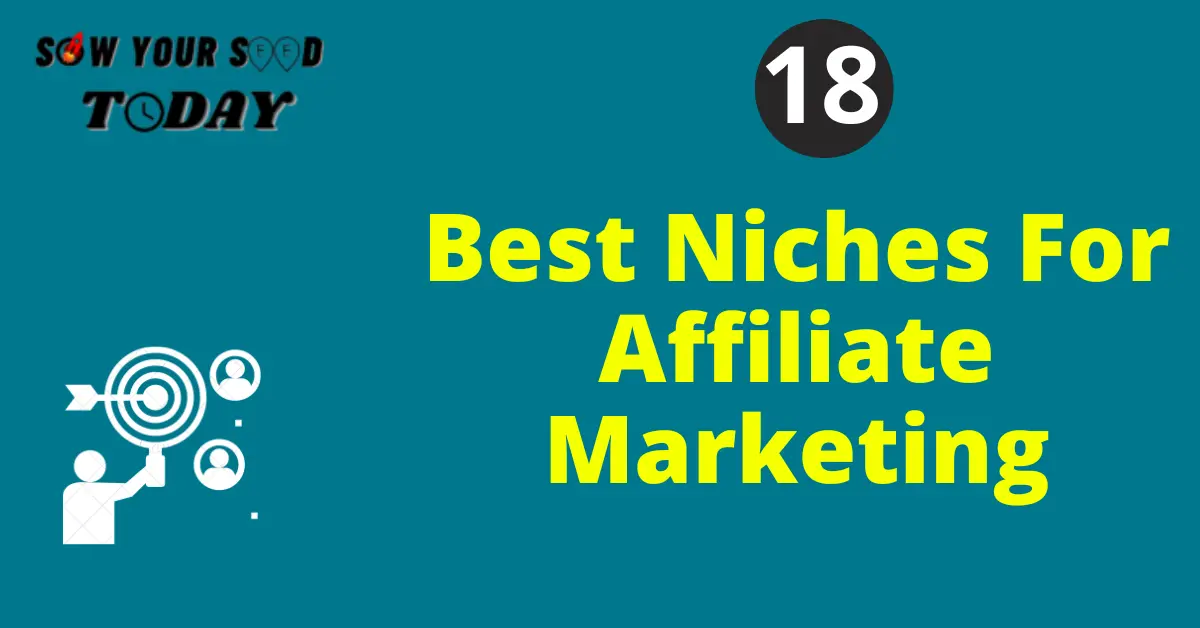 Affiliate marketing is one of the lucrative ways for online entrepreneurs seeking to generate passive…