Have you heard about Done for you services system by Ariella Iorio and you are wondering if it is a legit program that can help you make your first dollar online or a big scam trying to rip off your money? If yes, you are in the right place. In this done for you services system review, I will show you what the program is about, how it works the pros and cons and I will give you my final thoughts about this program.
Done for you services system review summary:
Product name: Done for you services system
Website: https://idesiremore.com/ariella
Owners: Wesley Virgin and Ariella Iorio
Product Type: affiliate marketing course based on Facebook advertising and ClickBank products promotion
Price: $857.45
Legit or scam? – Legit
Sow Your Seed Today rating: 40/100
Do I recommend this? Yes and No – Read until the end of the post to find out why.
What is Done for you services system about?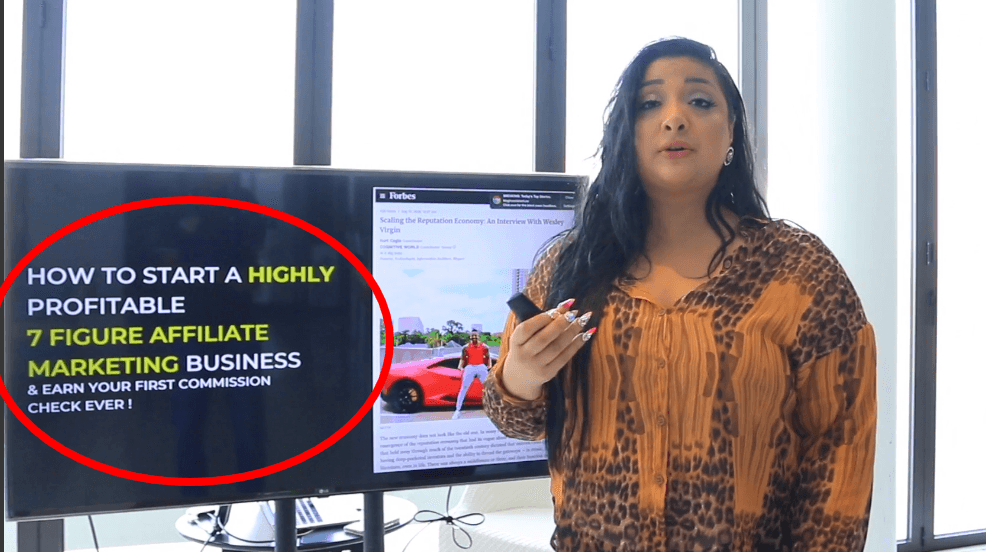 Done for you services system is an affiliate marketing course that teaches newbie how to promote ClickBank products (mainly overnight millionaire by Wesley Virgin) by running paid ads on Facebook.
Ariella, the co-creator of this course states in his webinar she will teach you the same strategy she used to grow his company from $0 profit to $1 million in only 5 months so that you can apply it to your marketing strategy and make 7 figure income.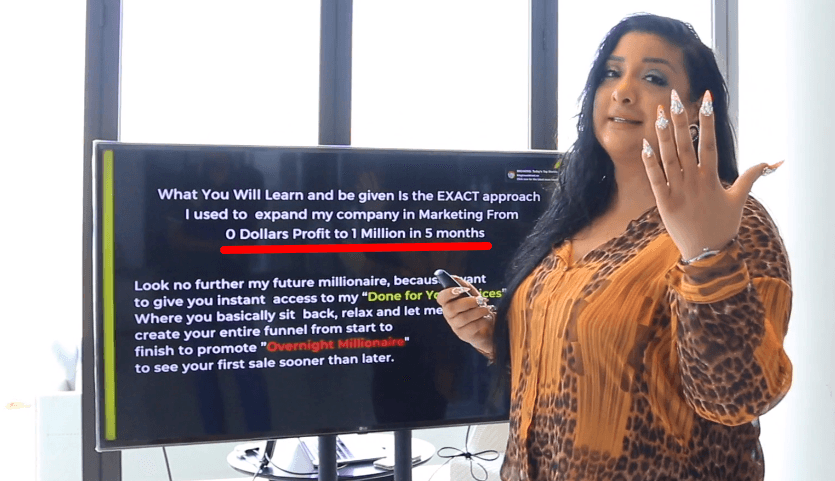 Who doesn't want a magic formula that will help him make a million dollars in 5 single months? Everyone wants this magic formula. Right?
But the meaningful question is that isn't just a bold claim or sale pitch?
I have a few years of experience in MMO space and as an affiliate marketer, I know that the process of making a huge amount of money like this one takes time.
I am wondering if she really realized what she is claiming when I know that on his YouTube channel with over 2 years old has only 352 subscribers and just about 4500 views.
We will discover very soon if it is or not!
How does Done for you services system work?
Done for you services system as I pointed it out early is about how to do affiliate marketing using Facebook ads. The main focus of the training is based on the promotion of ClickBank and JV zoo digital products. So in Wesley Virgin and Ariella Iorio training, you will learn how to do affiliate marketing using the most popular social media platform – Facebook.
They will teach you how to:
Create a Facebook page & business account,
Run ads that target a specific audience to promote the main product I mentioned above,
How to create a landing page.
As you can see it in the image above, Ariella will give you a "done for you" sale funnel designed to promote the Overnight millionaire program. so that you will use it when running your Facebook Ads.
If you don't know what the overnight millionaire about let me give you a quick briefing!
Overnight millionaire program is a program designed by Wesley Virgin, the co-creator of Done for you services system. In his Overnight millionaire program, Wesley intends to give people the mindset they must have to be a millionaire.
That brings me to this statement: this program is designed to promote Wesley's product as the marketing materials are already done and set up to specific product promotion – overnight millionaire system by Wesley Virgin.
About the Done for you services system owners (DFYSS)
Keep in mind that DFYSS is created by 2 folks: Wesley Virgin and Ariella Iorio.
Let's find out their track record to figure out if they can really help you make a 7 figure income as they claim.
About Wesley Virgin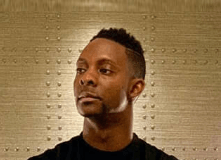 Wesley Virgin is a well-known and successful serial entrepreneur. His work and realization have been featured on Forbes, Entrepreneur, and BuzzFeed. Well-know with his overnight millionaire system product, motivator, and investor, he is one of the top innovative minds in the world.
About Ariella Iorio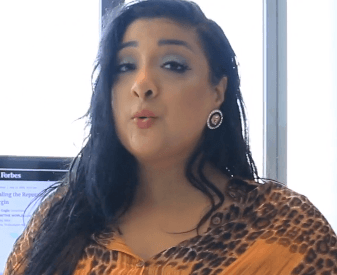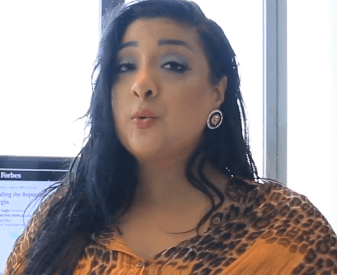 I didn't find information about Ariella Iorio.
But I found him on Youtube and as I pointed it out in the beginning, his channel has only 351 subscribers and his most viewed video has almost 4500 views at the time I was writing this review.
So I am very doubtful and skeptical about his statement.
Paid traffic vs free traffic: who is the best traffic source for affiliate marketing?
In this Done for you services system review, I want to give you a better knowledge about what this Done For You Service system by Ariella involves. I want you to know if this program worth your money or not.
So I gonna give you the advantages and disadvantages of both traffic source:
About paid traffic
Advantages
You can get an instant result because you can drive traffic quickly into your affiliate offer
You can reach your targeted audience easily
You don't need to learn about SEO
Disadvantages
You need to spend a lot of money on advertising to get your offer in front of your audience.
The conversion rate is low and you will lose a lot of money if you don't know how to play the right card at the right time!
You need to repeat the same scenario over and over again to make sales
Free traffic source
Advantages
It is free – you don't need to spend money to get traffic on your affiliate offer.
You have the possibility to give value to your customer and build a trust relationship with them – that increase your conversion rate.
The conversion rate is higher compared to paid traffic as you give them value first.
You get traffic 24/7 in no stop.
Needless to do the same work over and over to get results – you do the work once and you get paid over and over again.
You have the possibility to build multiple sources of income, unlike paid advertising where you need to focus on a single product.
Disadvantages
Unlike paid traffic, it takes time.
It requires a lot of work.
There is a learning curve – you need to learn SEO.
Is there customer support?
Yes, DFYSS has a private group designed for its members. Members can post their queries there and get help form DFYSS owners or other members.
Done for you services system review: pros and cons
Done for you services system pros
You get a landing page designed with your ClickBank affiliate link to promote.
Training materials provided and centered on how to promote a specific product to a specific audience.
You will know how to create a Facebook page and business account, set up and manage Facebook ads and create a landing page.
A Facebook private group support provided.
60-day money-back guarantee.
Real people behind the program.
Done for services system cons
I personally don't like DFY programs as everyone gets the same stuff and has to compete with other thousands of people.
You need to spend a lot of extra money on advertising to make it work (at least $100 for each ad campaign)
The training is very expensive for what you get when I know a training like this can be found for free out there on the web.
Bold claims and too hype sales system
I am not quite with Facebook support (
Can you make money with Done for you services system?
I cannot guarantee you will make money using any program – much less with this program.
It depends on your marketing effort. If you know how to run a Facebook Ads properly and are ready to spend hundreds of money on advertising, then you can make money with DFYSS.
If you are a newbie in the affiliate marketing I don't recommend paid advertising as a traffic source because you can spend a lot of money without getting any result.
And keep in mind you are not alone with the same offer in your hand, hundreds of people are promoting the same products to the same audience and you have to compete with them. This is one of the downside of this done for your services system program.
Is Done for you services system a scam?
I don't think Done for you services system is a scam. This is a legit program with real people behind, and the best part Wesley Virgin is a well-known serial entrepreneur. You will also get training and some online materials tools such as a DFY landing page to run your affiliate marketing business.
However, I found this training course very expensive. For example, Lurn.com (not an affiliate link) is a platform is running a free course on how to run Facebook ads properly and efficiently without wasting too much money.
Don't worry because I'm not affiliated with Lurn.com and I'm not selling you anything. You can sign up for free and find courses that interest you to apply. Spending money is an option and you do it at your own risk.
The best platform I recommend for a successful online business building is Wealthy Affiliate. It is also free to join and you will get 20 free lessons and tools to build your own online business.
As for how to set up a landing page, there are countless posts about it out there on the web. Just to said you can learn how to do it yourself and save your $857 for your advertising if this the traffic source you want to rely on.
But if you are a fan of DFY (Done For You) systems and are ready to pay for $857 to get Ariella's Done for you services system, and have a lot of money to spend on paid advertising go ahead and grab it right now.
Is there an alternative to Done for you services system?
Yes!! If you found DFYSS expensive and not too much value like me and you want an alternative to it, you can go with Wealthy Affiliate.
DFYSS is about only how to promote ClickBank or/and JV zoo products using Facebook ads that will add extra expenses to the product cost itself ($857,45$. Even if you get promotional materials, running Facebook ads will cost you hundreds of money and the downside is that you need to repeat the same system to make money.
If you really want to set up a long-term and profitable affiliate marketing business that will make you passive income over time, I recommend you to go with Wealthy Affiliate, my #1 affiliate marketing training company for beginners.
You will get an evergreen affiliate marketing training focused on how to drive free traffic from search engines on your affiliate offer and make money, website building, SEO and social media marketing and much more.
You will also get tools such as website builder, content creator, keyword research tool and access to over 2 million online entrepreneurs community and much more.
Check out my full review here to learn more.
Up to you…
Done for your services system is definitely not a scam, and you will get training and DFY materials to run your business. But you really need to weigh the cons and pros before you buy this product.
If my word count, I will suggest creating a website and focusing on SEO. This is a long-term focus and in the long run, you will drive tons of free traffic to your affiliate marketing website and then make a passive income on autopilot.
Doubtful?
Loot at the image below 👇👇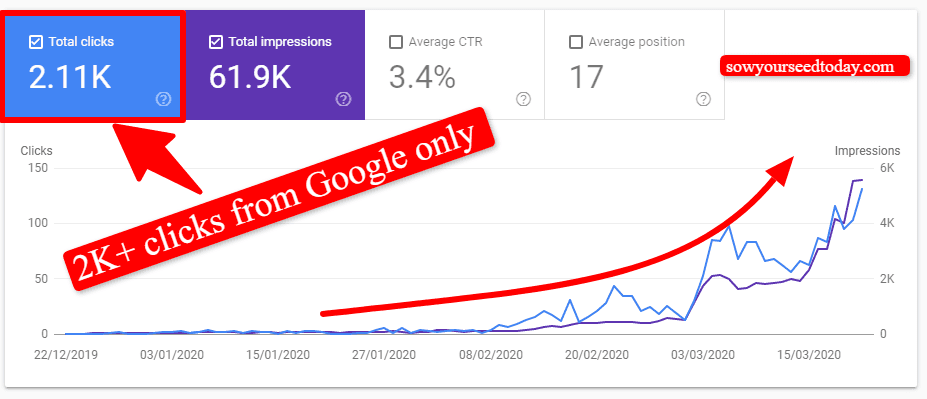 This is exactly how SEO or free traffic can boost your online business.
As you can see, I hit 100+ clicks from Google alone thanks to the Wealthy Affiliate training.
I hope my done for you services system review helped you know what Ariella's training course about, how it works and the most part you can make an informed decision about it. If you like this review, just click on the share button and share it with your friend.
In case you have a question about this review, just drop it down on the comment section and I will be more than happy to respond to you ASAP.
Be an ACTION taker, SOW YOUR SEED TODAY!!
To your success!!