Hi, and Welcome to my Ez SaleryZ review.
If you heard about Ez SalaryZ software and you are wondering if this software will help you build your membership site easily and generate a recurring passive income or not, you have come in the right place.
Throughout this Ez SalaryZ review, we will delve deeper into these following point:
what this software about?
What is good with Ez SalaryZ and what is bad so that you make an informed decision
And finally, I will give you my final point of view.
Ez SalaryZ review summary:
Product name: Ez SalaryZ
Product link: https://ezsalaryz.app
Product type: membership website software
Owners: Mosh Bari and Jason Fulton
Price: $27 per month + upsells
Launch Date: 2020-Mar-06
Launch Time: 9:00 EST
Sow Your Seed Today rating: 30/100
Do I recommend this? No – I will explain why
What is Ez SalaryZ about?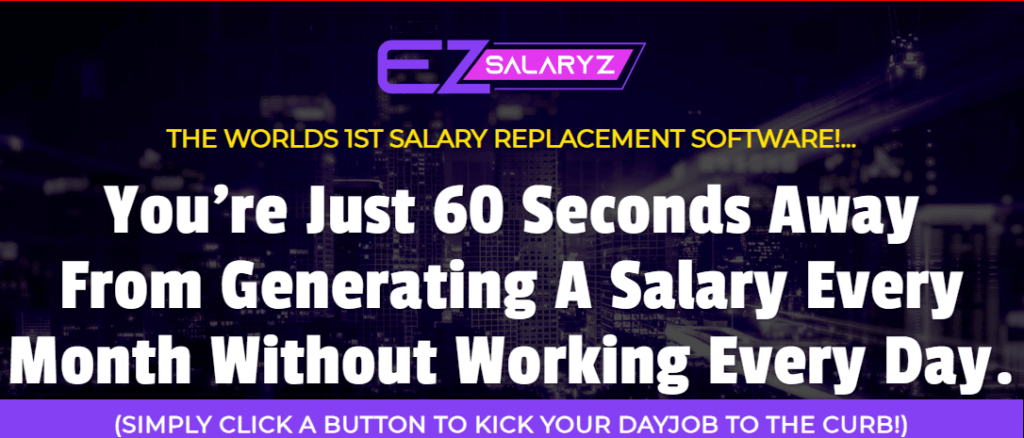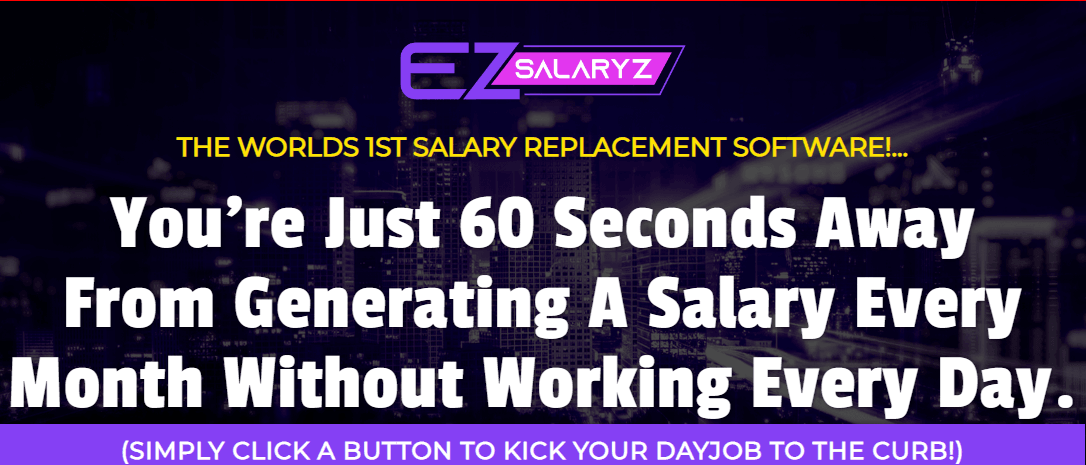 Ez SalaryZ is a new brand membership site software designed by Mosh Bari and Jason Fulton.
According to their claim, with this software, you will be able to create and run a membership website under a minute and start generating a recurring passive income every single month.
This is a new method for online entrepreneurs to build a passive recurring income in just a few clicks of their mouse and then make a huge profit every month.
Sound good! Right?
Theoretically, it sounds easy, but in practice, things are not as easy as you think.
Indeed, making passive income with a membership site is not just about setting up a membership site, sending traffic on it (if you can) and expecting people to sign up with their credit card.
But, since the main goal of the creators of these kinds of products is to make money from your purchase, and since their target audience is usually beginners, they will try to hide certain truths to you.
But do not worry. Even if many affiliate marketers are claiming this software as a ticket to financial freedom, just to earn a commission on your purchases, I'm here to tell you the truth about this product.
Let's move into the next section of my Ez SalaryZ review to find out what this software can do for you.
Ez SalaryZ Features?
As I pointed it earlier, this brand new software is about making passive income while building a membership site.
Here is what you can do with this software:
Create a membership site in a min
Time is money and each of us is looking to make better use of our time to boost our productivity. Others want to spend time with their families.
Yes, with today's advanced technology, it is possible to create a website in a minute. I don't deny that. But that's not the point. Could you monetize it as quickly as he claims? Absolutely not.
Possibility to integrate most email marketing software and build your list.
A could-based SaaS. So, you don't need to pay for a web hosting service. They claim you even need a domain name, but this is a sale pitch. Tell me if you are ready to sign up for a membership site with a domain name like this one: www.yourusername.ezsalaryz.com or www.ezsalaryz.yourusername .com.
Can you make a commission with a membership site like this one? Absolutely not. But the best part is that you can connect your own domain name. But what I don't like with cloud-based software is the fact I don't own my business. The day the owner will decide to pull the plug, you will lose your business.
Drag & Drop Sales Page Builder
With Ez SalaryZ, you will be able to create or design sales pages or just use pre-made sales pages to customize it and make it fits your needs.
Connect multiple payments gateways
Talking about a membership site, it doesn't make sense if you can connect payment gateways like Paypal and Stripe to collect members' subscription payments.
How much the Ez Salary software will cost you?
The Ez Salary software costs $27 per month. But there are upsells and you need to buy them if you are a beginner who didn't know how to make it work.
Ez Salary upsells
Upsell #1: EZ Salary Z – DFY Money Sites
This upsell will cost you $297. This is a Done For You (DFY) website they will create for you if you don't know how to go about it.
Upsell #2: EZ SalaryZ – Super Traffic Machine
This upsell will cost you $67. Without traffic, your membership site will not be known to the world. And if this happens, you know what will happen to your site. Right?
Upsell #3: EZ SalaryZ -100x Conversion Booster
This upsell will cost you $77. With this upsell you will be able to boost your Ez SalaryZ business by adding sale conversion tools into your site.
Upsell #4: EZ Salary Z – License Rights
This upsell will cost you $97 and gives you the rights of selling the software to other people and making 100% profit.
Who this software is for?
You may be noticed if you visited the sale page before you land here at Sow Your Seed Today. It seems this software is for anybody looking for some ways to make passive income on autopilot.
Right?
I am not exaggerating! Just look at this image below. this is a screenshot of the sale page. Does it make sense to you?

Who exactly this software can benefit?
You know, starting a membership site is a great idea for making passive income.
But before you get hooked on sales pages like this one, it would be wise to ask yourself this question: What value do you have to offer to your members?
Making money with a membership site, as I told you, is not creating the site, and start generating a passive income in 60 seconds as they claim.
You have to offer something of quality in return.
So I have to say, this software is for entrepreneurs who have something valuable they can offer.
It can be beneficial to those who are well established and have a trusted community on their side.
If not, if you are a beginner starting out and you hear it is possible to make money with a membership site, and then jump in, I warn you, you will be disappointed.
And the fact this software is cloud-based software, that means you don't own your business, I guess which savvy entrepreneur will build his membershiP site with Ez Salary.
Is there training provided?
Yes, for those who will buy this product, there are some training materials provided.
Here is what you will get inside the training:
In there training, you will learn how to find a profitable niche for your membership niche
How to create your own product to sell to your membership site subscribers.
How to use PLR and Whitelabel product to your own benefits.
How to set up your membership site, upload contents or products, set up payment gateways, etc.
Here is a screenshot of the training area: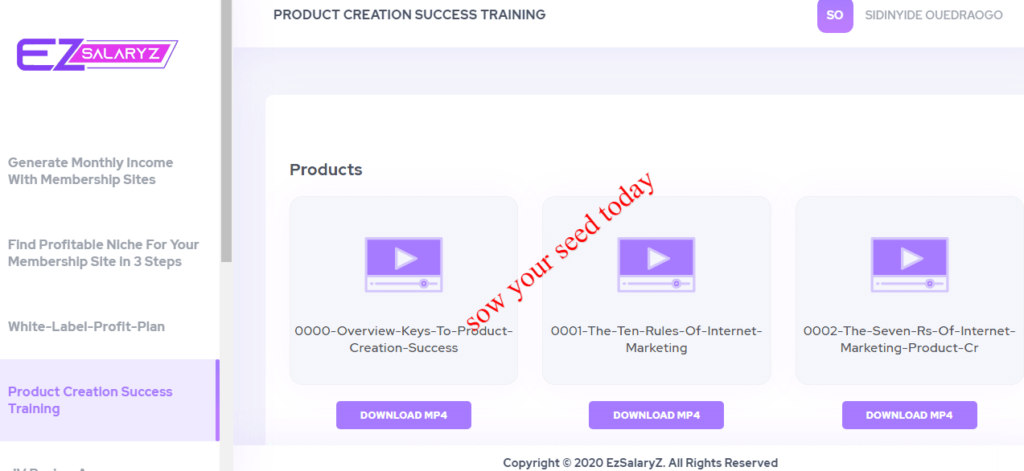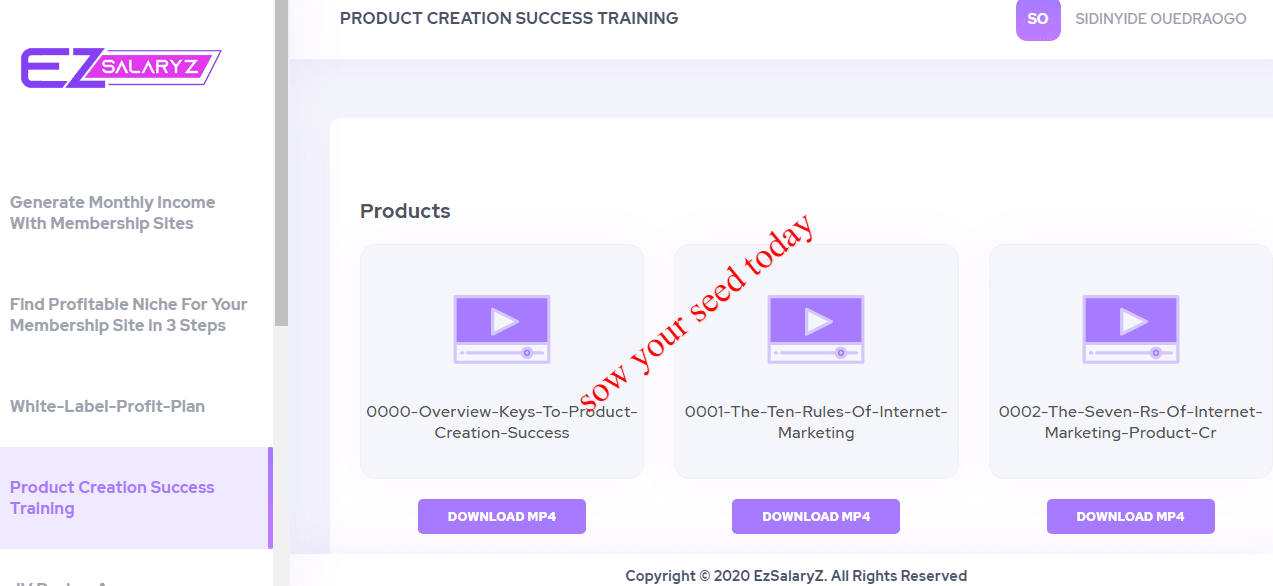 I've been through the training myself, but I can't find anything valuable to help you build a solid business with your membership site. Sorry.
For example, the training doesn't cover topics like SEO or how to set up ads campaign (even I am not a fan of paid advertising). All they tell you is how to post on Facebook, upload videos to YouTube,…
Ez Salary Pros and Cons
Ez SalaryZ Pros
✔ Great product idea
✔ Real people behind it
✔ 30-day money-back guarantee
✔ Training materials provided
Ez Salary Cons
❌ Bold claim
❌ They don't tell you the truth about it
❌Total value – they say the total value you get from your purchase is $14. 997 while they are selling it $27. Does it make sense to you? To me yes.
❌ A cloud-based software
My Final point of view
Ez SalaryZ is a software designed by online entrepreneurs. They had to create other products such as TrazeAll, DFYprofitZ, ProfitXPro, etc..
But what I don't like about these kinds of products is the lack of transparency with customers.
Of course, it can be a tool for those who already have a good idea and want to start a membership site, but not for everyone (especially beginners).
Once there is a 30-day money-back guarantee if you have a well-established blog and you want to give it a try go ahead and do it.
If you just started like me, or if you don't have a blog or website, I think the first step is to create a website, build a community around you and then detect one of their struggles so that you can build a membership site to meet their needs.
If you are here, it is because you are looking for some legit ways to make money online. Right?
Here is the platform that helped me add a 3 digit income to my day job salary.
I hope my Ez SalaryZ review helped you know what this software is about, what you get inside, etc. And the best part you have all the information that can help you make an informed decision.
If you have a question, drop it down in the comment section. I will respond to you ASAP.
Be an ACTION taker, Sow Your Seed Today!
To your success!