Hi and welcome to my Funnel base review!
If you are an Internet marketer, an online store owner, a small marketing agency owner, or just a blogger and are looking for a genuine way to improve your leads and sales conversion rate, you are in the right place.
Throughout this review of the Funnel base (FB), we will delve deeper into what it is, how it works, who is this software for, and the pros and cons so that you can make an informed decision.
Funnel base review summary: Company overview
Product name: Funnel base
Owners: Cindy Donovan & Kim Torrefranca
Website: https://funnelbase.net
Product type: social proof software + leads capture builder
Price: $27 + upsells
Sow Your Seed Today rating: 5/10
Do I recommend this? – Yes
What is Funnel Base about?
Funnel base is an all-in-one social proof software that can help small marketing agencies, internet marketers and eCommerce store owners skyrocket their sales funnels conversion rate without any coding skills.
Unlike other social proof software, FB not only allows you to boost your sales and conversion rate, but it also allows you to build your mailing list at the same time thanks to the sign-up form builder, requests reviews, and testimonials to your customers automatically.
What Funnel Base can do for you?
With this software, you will be able to:
Request video, image or text reviews, and testimonials from customers who purchased your products/services automatically.
Create pop-ups of any kind to get leads from your website's visitors and engage them with email marketing;
Show conversion and a live counter on your website and then entice visitors who are doubtful to place their orders.
Show the right message to the right people at the right time.
Create and display interactive coupons, social sharing buttons, and website feedback scores to your website visitors, and much more.
Possibility to integrate it with the most with all major websites and eCommerce platforms such as Shopify, WordPress, Woocommerce, Wix, Weebly, Zapier, etc, and autoresponders too.
Now you know how this software can do for your business, let's move into the next section of our funnel base review to find out how it works.
Related post: Systeme.io review – the best free Clickfunnels alternative.
How does Funnels base work?
This is user-friendly software and it is easy to get started with the funnel base SaaS system.
In 3 easy steps, you can grow your business:
1. Connect it to your website or online store.
2. Create, design and customize your notification campaign.
3. Generate more leads and sales and grow your business on autopilot.
Here is how your dashboard looks like once you log in to your FB account.


Once in your dashboard, you can connect it to any domain you own. It can be your eCommerce store, your affiliate marketing website, your sales funnel, landing page, etc.
To do that, just need to install funnel base pexel into your website by just copying and pasting a simple script code there.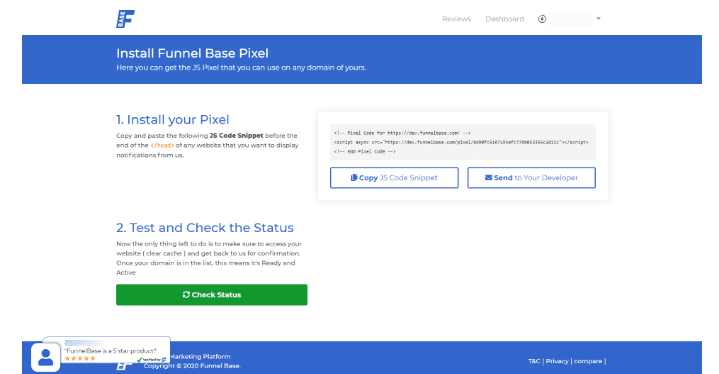 Once you installed the funnel base pexel on your website, the second step is to create a campaign.
You can create a social proof campaign, a lead generation campaign, or a retention campaign to engage your audience and boost your leads and sales.
Social proof campaign
Do you know what creates confidence and trust? Customers' reviews and testimonials. We all tend to do what other people do.
Right?
This is exactly what the Funnel base social proof campaign comes in.
For the social proof campaign, here is how it looks like: You have the choice to display your latest conversion, conversion counter, customer review or testimonials, or/and live counter to your website visitors.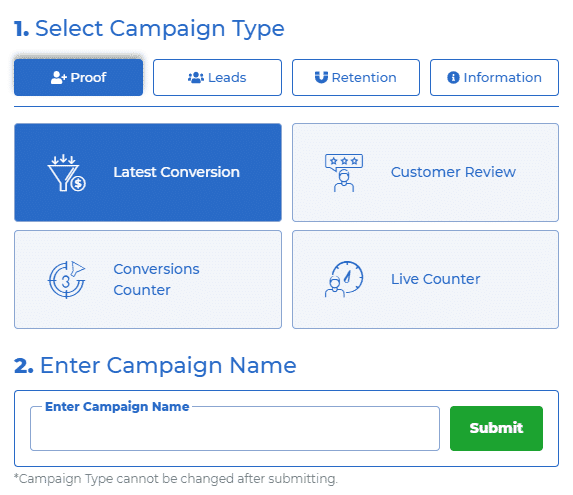 Funnel base is more than social proof software.
Leads campaign
Email marketing is very important when it comes to engaging and building trust with your customers.
With FB, you can create signups form like pop-ups to convert your website visitors into leads.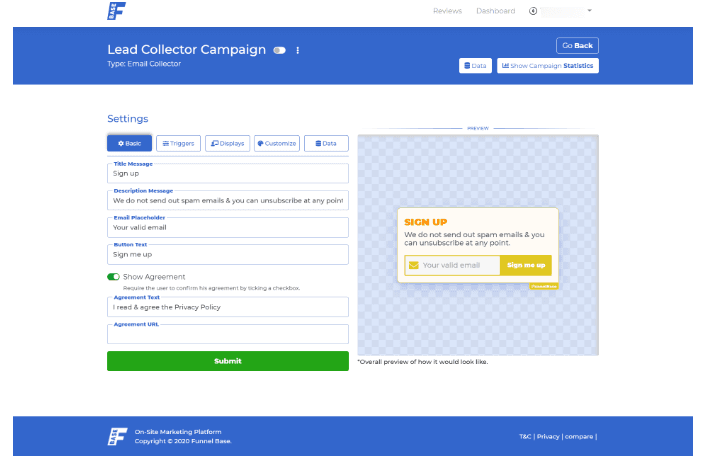 Retention campaign – Don't let your website visitors leave your website again without taking action again!
FB can help you engage your audience.
Here you can create discount coupons to increase your conversion rate. You have also the possibility to create and display social sharing buttons, to get feedback from your website visitors, etc.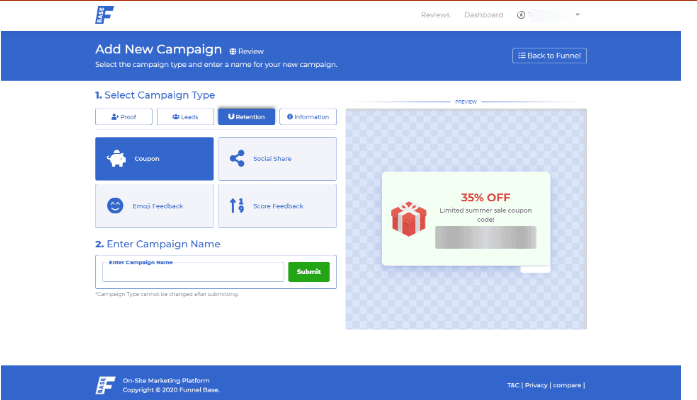 Let's now move into the next section of the review of the Funnel base to find out who this SaaS software is for.
Who is the Funnel base for?
The funnel base is for everyone who has an online business and is looking to increase his leads and sales conversion rate just using social proof.
Unless you are new in the online world, reviews and social proof build trust and can boost sales. This is exactly what FB comes for.
So whatever you are an online store owner, a small marketing agency owner, or an affiliate marketer, Funnel base can help you boost your conversion rate.
Now you know, who this product is for, let's move into the next section of our funnel base review to find out how much it will cost to you.
Related post: Getresponse review – best free email marketing tool
How much does the funnel base cost?
The price to get the funnel base software is $27. However, there are upsells.
Upsells #1: Funnel base premium: $37,97 per month.
Buying this upsell will give you more features such as the ability to integrate a video record button when requesting a review from your customers, remove funnel base branding, etc.
Upsell #2: Funnel base agency $67.97 to $97.97
This upsell unlocks all the funnel base features and gives you the ability to customize your campaign as you want.
This is a Software as a service (SaaS) – You don't need to download anything!
About the owner: Cindy Donovan
Cindy Donovan is a teacher on Udemy (with over 23 students), cloud-based software products (SaaS) creator. She already launched over 30 products (SaaS) that helped small business owners, affiliate marketers, email marketing list builders, and blog owners grow their businesses.
This is what people said about Cindy Donovan




Funnel base review: The Pros and Cons
Funnel base pros
A useful tool from trusted SaaS software creator
Affordable and reasonable price,
30-day money-back guarantee,
Possibility to generate leads at the same time,
Can work for websites that already have an established traffic.
Funnel base cons
2 upsells – I don't like upsells,
May not work if you don't have quality traffic,
Here is a demo of the funnel base.
Wrapping up and my final words
Funnel base is social proof software that will help you boost your leads and sales conversion rate just by designing social proof campaigns, leads campaigns, and retention campaigns.
With this software, you will also be able to create stunning pop up to collect your website visitors' emails and build a mailing list to get connected with your customers and sell to them more and more again.
If you have an existing business and you want to take it to the next level, don't hesitate to grab this offer.
This is a Software as a service (SaaS) – You don't need to download anything!
If not, it is time for you to get started. Build your own affiliate marketing business. For that I recommend you check out this platform. This is the platform I use myself and this website you are reading is hosted there.
You get evergreen affiliate marketing training, tools you can use to build your own online business – niche site, e-commerce store, portfolio site, and much more.
I think my funnel base review helped you know what it is, how does it work, who is it for, and more. I showed you the pros and cons of buying this product and I think from now, you are in a good position to make an informed decision.
Do you have a question, let me know in the comment section.
Be an ACTION taker, Sow Your Seed Today!
To your success,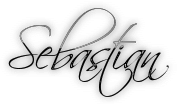 You may also like…