Response pros & cons and pricing will be covered in my Getresponse review of 2020!
Are you looking for the best email marketing software to building and manage your mailing list, send automated campaigns, and then build a trust relationship with your audience? And you are wondering if Getresponse will be the best email marketing software for that?
If yes, you are in the right place.
Whatever, you are an internet marketer, a freelancer, a small marketing agency, or just a blogger, building a mailing list can help you keep your audience engaged, and the best part sells to them over and over again once you managed to gain their confidence.
In order to give you an in-depth overview of the Getresponse email marketing platform I will try throughout this Getresponse review, delve deeper into these following points:
What is Getresponse about?
Getresponse Features and benefits,
Getresponse pricing,
The pros and cons of Getresponse email marketing software and my final point of view.
But before we get into the nifty gifty of the Getresponse review, I want to notice that in the spirit of full transparency, this post contains affiliate links. This means if you make a purchase through these links, I may receive a small commission at no extra cost to you. I can get a commission from any company, but I only recommend products/services I truly believe will give value to my readers. You can find my full disclosure here.
Getresponse review summary:
Company name: Getresponse
Product type: Email marketing software
Owner: Simon Grabowski
Website: https://getresponse.com
Price: 30-days free trial then $15 per month for 1000 emails subscribers size
Sow Your Seed Today rating: 9.7/10
Do I recommend this? Yes
What is Getresponse about?
Created in 1998, Geresponse is an All-In-One email marketing service provider, and a well-known and trusted company in the email marketing industry in all over the world.
Recently Getresponse added new features to their software which gives them a head start on some of its competitors. For instance, in addition to email marketing, you can now:
Host and run webinars to over 500 attendees,
Create and launch automated sales funnels,
Create landing pages and leads page
You have also the old features such as op-in or sign-ups builder, autoresponders, list segmentation and other advanced list management features you can use to run your online business efficiently.
Let's now move on to the next section of my Getresponse review to find out what this email marketing service provider has to offer.
Getresponse key features – How Getresponse can you grow your business?
As I pointed out in the previous section, Getresponse is an All-In-One email marketing software that offers customers all the tools they need to build and grow their email list and manage their contacts, increase their traffic and then boost their sales.
Here are the key features Geresponse can offer you:
1. Create high converting landing page
Before I show how the Getresponse landing page builder looks like, let me explain to you what a landing page is and his importance for your business.
What is a landing page?
A landing page also called a squeeze page, is simply a well-optimized web page or landing page whose purpose is to get visitors to that page to perform a specific action.
Either fill out a contact form, sign up for a free trial of a service, reserve a spot for an event like a webinar, and so on.
I can also be used to sell products too.
Getresponse landing page builder comes up with a dozen of beautiful and responsive landing page design library you can choose and customize it to make them fits your brand.
Whatever, you are trying to launch a new product or you just want to build your mailing list, with this feature, you will be able to design, host, and launch high converting landing pages that will generate leads and sales for you.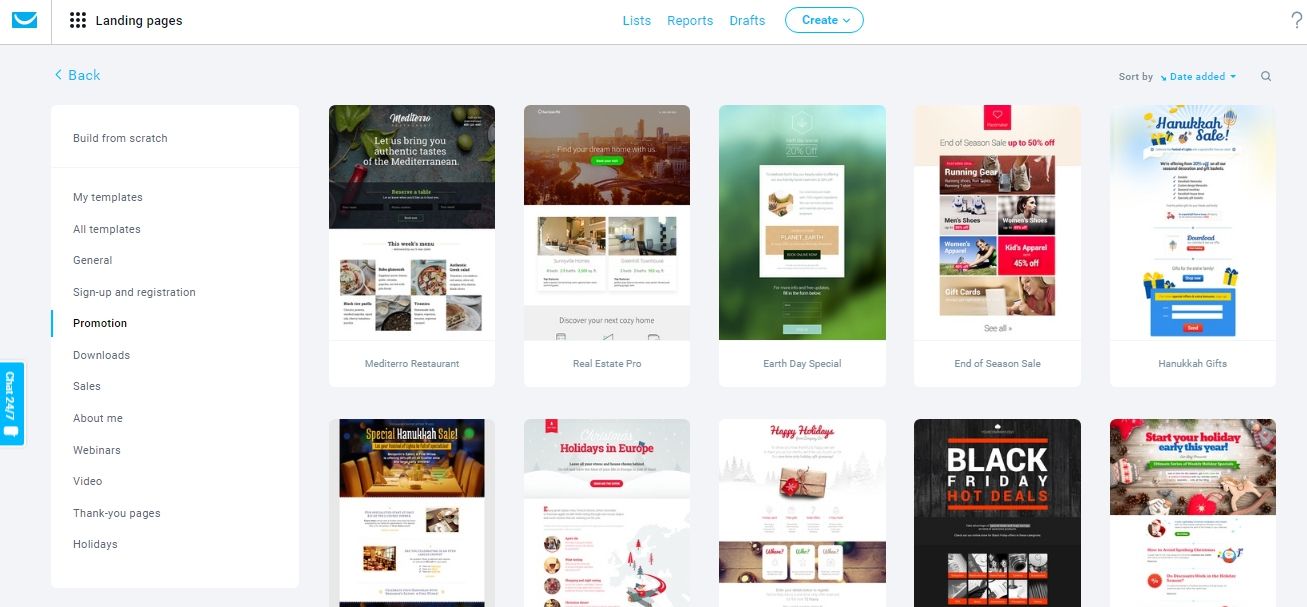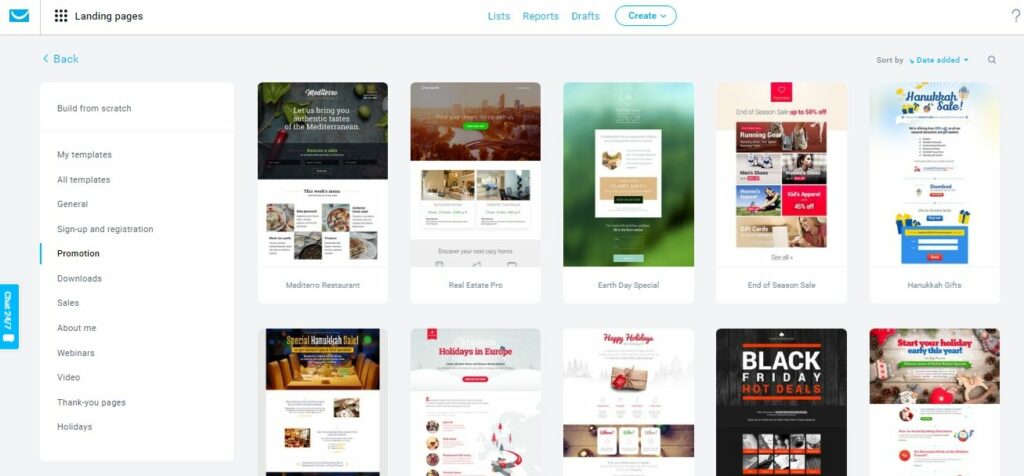 2. Create opt-in forms to collect your website visitors' details
Just like the landing page, an opt-in form allows you to collect emails from your readers and then build your mailing list.
With Getresponse pop-up builder, you have a wide range of predesigned beautiful and stunning templates you can choose, customize, and build attractive pop-ups form that will help you build your mailing list fast and efficiently.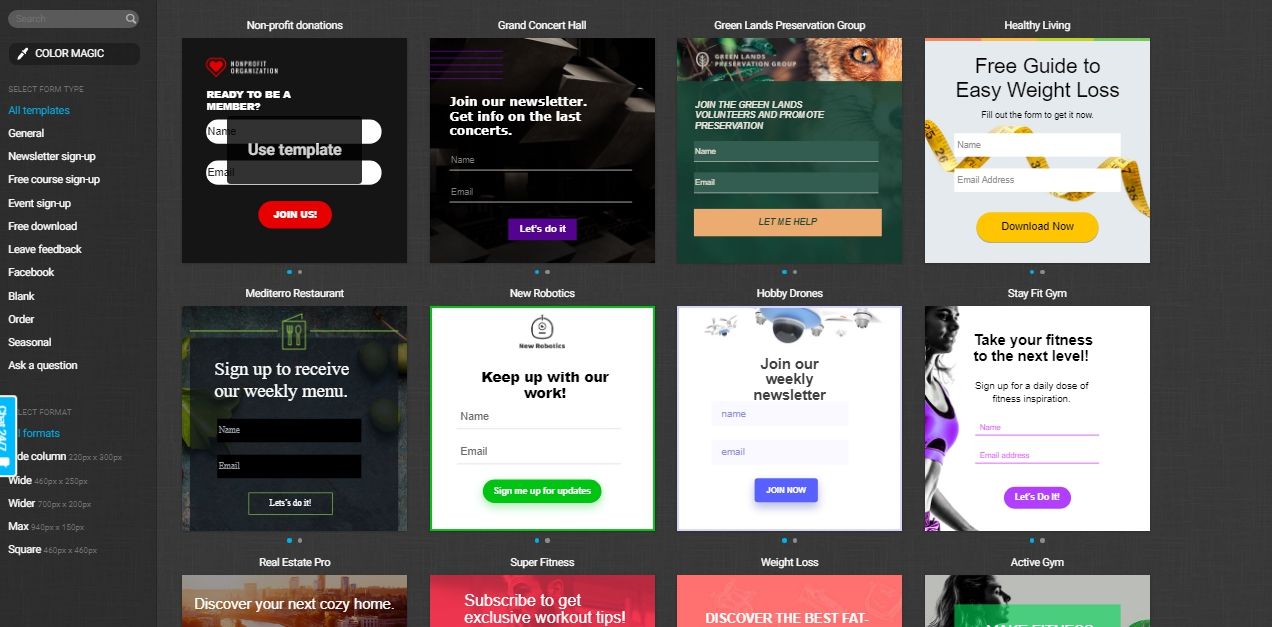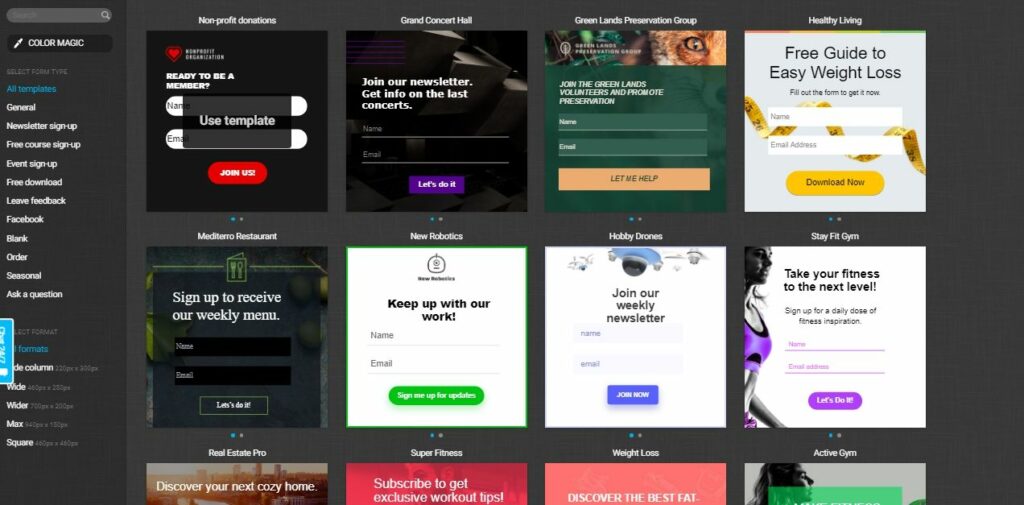 3. Getresponse auto funnel builder
A funnel, is a marketing terminology that illustrates the theoretical journey a customer from the stage, he discovered your business to the stage he purchased your product or service.
Whatever is a sale funnel, a leads generation funnel, or a webinar funnel, your main purpose as a marketer is to conduct the prospect to place in order or buy your product.
Image credit: JanBask Digital Design
Getresponse offers an advanced auto funnel builder panel that can help you build high quality and engaged leads generation, sales, and webinars funnels by choosing over 30 professionally-designed and conversion-optimized scenarios designed to sell, build contact lists, showcase your offers advantage and benefits to your audience.
Here are what you can do with the Getresponse auto funnel builder:
Create a sale funnel to sell your product and the possibility to integrate it with your eCommerce store, set up payment gateways to collect your customers' payments.
Create leads funnel to attract and convert new leads, grow and nurture your audience and then turn them into lifetime buyers.
Webinars funnel to share your expertise and knowledge with your audience, build a trust relationship with them and then sell your offer. Whatever it is your own product or an affiliate product.
4. Create and host webinars
Getresponse integrated a webinar software that allows you to create webinars and get your audience engaged. The best part is that all your webinars are hosted on their platform.
Here is what you can do with Getresponse webinar feature:
You can create and broadcast it on Youtube or Facebook without any extra plugin,
Chat with your attendees and get their feedback when communicating with them live,
You can showcase your product or service benefits by sharing screens during the webinar,
Sell your product or service to your audience by using a call to action button during the presentation,
Possibility to send replays, direct downloads to engage your audience or attendees who didn't have time to attend the live event.
Let's now, get into the next section of my Getresponse review to find out how much all these will cost you.
Getresponse pricing and free trial
Getresponse free trial
Getresponse offers a 30-days free trial on all their membership plans. Whatever the plan you will choose you will have a whole month to test it before you decide to invest your money.
Getresponse pricing is structured like this for 1000 emails list size:
| | | | |
| --- | --- | --- | --- |
| Plan | Monthly | Yearly | Bi-yearly |
| Basic | $15 | $12.30 | $10.50 |
| Plus | $49 | $40.18 | $34.30 |
| Pro | $99 | $81.18 | $69.30 |
Let's find out what you get inside each plan.
Getresponse Basic plan – $15 per month
Their basic plan starts at $15 per month for 1000 email list size and you can get a 30-days free trial here.
This membership plan comes with the following:
Access to a full email marketing solution,
Autoresponders to follow up your list subscriber automatically,
Possibility to create unlimited landing pages to build your list fast,
Unlimited automation templates,
You can create conversion-oriented sales funnels (1 for this plan),
Possibility to create unlimited lead funnels to capture lead from your website or from Facebook,
Facebook Ads integration that allows you to expand your business by reaching out to your targeted audience on Facebook from your account,
You can also Sell info products such as eBooks, eCourse, etc.
Getresponse Plus plan – $49 per month
The cost for this plan is $49 per month and it comes with everything in the basic plan and the following features:
Possibility to create unlimited landing pages to build your list fast,
Unlimited automation templates (5 workflows),
You can host and run webinars to up to 100 attendees, build more trust relationship with your audience and then generate more sales in your business,
You get also a Contact scoring & tagging feature that enables you to assign tags and score to your contact and build personalized and relevant communication with them,
You can create conversion-oriented sales funnels (5 funnels),
You can create conversion-oriented webinar funnels (5 funnels),
Possibility to add 2 users.
Getresponse Professional plan – $99 per month
This plan will help you optimize your results with professional automation and integrations.
It cost $99 per month for 1000 email list size and comes up with everything in the PLUS plan and the following features:
Unlimited automation builder,
You can run Paid and on-demand webinars to up to 300 attendees,
Create unlimited sales funnels,
Host unlimited webinar funnels,
Getresponse Enterprise plan
For the enterprise plan, you have access to all the features Getreponse offer and customer service. With this plan, you can generate high profits with solutions tailored to your needs. It comes up with everything in the Pro plan and the following features:
Deliverability consulting,
Webinars (max 500 attendees),
Email campaign consulting.
The bottom line: Getresponse is an all in one email marketing platform or software that offers all the necessary tools you need to grow your online business such as landing page builder, sales funnels builder, autoresponders, automation templates, etc even on their basic plan contrary to most of their key competitors.
Plus their price is the most affordable compared to their old competitors like Aweber, MailChimp, etc.
Let me show you the difference between Getresponse and some of their key competitors in the next section of my Getresponse review.
GetResponse vs Aweber Pricing
First off, both offer free 30-days trial. But Aweber requires a credit card to sign up for their free trial. With Getresponse, it is not the case. The winner here is Getresponse.
AWeber's plans start at $19 per month for just 500 email list size and Getresponse price starts at $15 per month for 1000 email list size. The winner here is Getreponse in terms of price.
But in terms of support, Aweber is the winner because it offers phone support. What Getresponse replaced with live chat.
GetResponse vs Mailchimp Pricing
MailChimp offers a free plan to up to 2000 subscribers. That is great if you are starting out and don't want to increase your business monthly fee.
As for their paid plans, for 1,000 subscribers you have to pay for $15 per month. Same to GetResponse in terms of price.
But in term of feature you get more with Getresponse.
Plus MailChimp didn't allow affiliate links in campaigns. One of the reasons it is not the best choice for affiliate marketers.
If I have to choose, Getresponse will be my first pick.
Check out my Aweber review of 2020 here for more information.
GetResponse Support
GetResponse offers 24/7 live chat support and email support in 7 different languages.
Unlike Aweber, there is no phone support.
But their technical support is incredibly helpful and responsive.
Getresponse Review: Pros and Cons
? Getresponse Review: Pros
✔ Getresponse is cheaper than many of its competitors as I pointed it out above. Mainly if you will pay for their yearly or bi-yearly plan, the discount you receive is huge.
✔ All Getresponse plans come with a useful landing page creator – that could potentially save you a lot of money.
✔ No message limits
✔ Good Value for Money
✔ Technical support is incredibly helpful – and responsive.
✔ Support is provided in a wide variety of languages.
✔ You can try out all the Getresponse features free for 30 days without the need to enter credit card details.
✔ Powerful automation and conversion tools to fully automate your funnel.
✔ No obligations – you can cancel your account at anytime
? Getresponse Review: Cons
❌ There's no 2-factor authentication at login.
❌ No phone support is provided.
❌ No refund policy even for their annual plans.
❌ Duplicate contacts count towards the monthly limit
Getresponse Alternatives
If Getresponse is not your first rodeo, here are Getresponse alternatives:
Aweber: It is the best pick for bloggers and small businesses. The price starts at $19 for 500 subscribers as I pointed it out earlier.
Moosend: Moosend is a new email marketing platform that offers a free membership plan to up to 500 emails. Their paid membership plan starts at $10 per month for over 1000 subscribers.
So cheaper than Getresponse in terms of price. And a better alternative to Mailchimp for affiliate marketers (as Mailchimp has affiliate link policy that prevents users from running their emails campaign without worries).
Must-read post: Sendsteed review: is it the best free email marketing tool?
My final thoughts
Getresponse is an all in email marketing platform designed to help internet marketer, entrepreneur, e-commerce owner, small & medium businesses grow their business.
You get all the tools you need in one room. That saves you not only money but also your time because all the hassle of login here and there is removed.
It is also the best for money email marketing software to use. That is a good point if you are on a budget and are looking for an all in one email marketing solution to grow your business.
I hope you found my Getresponse review helpful.
From now you know what Getresponse is, some of the features you get inside, their pricing, etc.
And I think weighting the pros and cons I highlighted here will definitely help you make an informed decision.
What email marketing solution do you use?
Have you used Getreponse (or are you using it)? Share your experience in the comment section.
Do you have a question, feel free, and let me know in the comment section.
Sharing is caring, share this review with your friends to let them know.
Be an ACTION taker, SOW YOUR SEED TODAY.
To your success.