Hello, and welcome to GramFree review and to my website
If you are here, change are you heard about GramFree on social media platforms or on forums. Or maybe you heard about it on Youtube. But you don't know what is GramFree.
But for security reasons, you decided to do your own research to find out if it's a legit program to make money online or another BIG scam.
All right.
As for me, I come across GramFree on Facebook. But since the Gram free company doesn't provide too much information on their site, so I took the risk to join in order to get more information to help you, newcomers, to be well informed about this program.
As you can see, here is my GramFree dashboard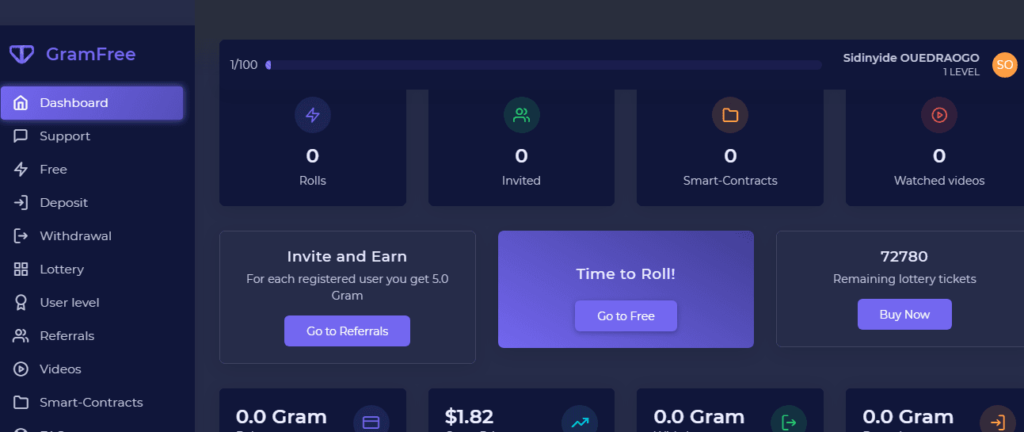 GramFree review summary:
Company name: GramFree
Website: https://gramfree.net
Owner: Unknown
Products/service: any product or service
Cost: free
Legit or scam? – Too early to judge
SOW YOUR SEED TODAY rating: 2/10
Do I recommend this? – NO, I don't recommend this as an earning program
What is GramFree about?
GramFree is a brand new Crypto Airdrop and a GPT (Get Paid To) website that rewards users based on their activities on the site.
Gram is a cryptocurrency based on a TON (Telegram Open Network) blockchain platform developed by Telegram. This platform is like Ecoin Official (an airdrop). They reward people with coins (Gram) based on some tasks such as referring new users, watching videos and playing games or lottery.
How does GramFree work?
GramFree is a GPT website and a Crypto Airdrop at the same time. That means you get paid for completing some required tasks.
It is free to sign up. Signing up is easy like 1,2,3 and you will get 10 Gram coins as a sign-up bonus. Once you sign up, your task is to refer as many people as you can and complete some tasks such as watching Youtube videos, playing games,… in order to get more coins (Gram).
Ways to make money with GramFree
There are many ways to make money with GramFree:
Referral program
You can make money by referring new users to the GramFree platform. You will get 10 Gram for each referral.
Watch videos
You can make money by watching videos. Each video you watch gives you 0.5 Gram.
Playing games
You can earn by rolling.
Post a promotional video on YouTube
You can create a promotional video on youtube and submit it to their appreciation. If your video matches their requirement and gets approved, you will get 5 Gram.
Here is a free recording tool that will help you create your Youtube video easily.
Click here to get it.
Is GramFree a scam?
I don't think it is the best time to judge. This is a new brand website that was launched a few days ago as I was writing this review.
However, there are some scam signs you need to take into account when joining this website.
For example, we don't know who is really behind this site.
Scammers always hide their identity so that they can release other programs and get people in again. So this is a red flag you must know.
Another red flag:
One of the users received a message from them telling him that they noticed suspicious activity on his affiliate link. According to the user, he has not done anything wrong with his affiliate link. He just used it in his blog content like the one you are reading right now.
You can find it on this Beer Money Forum thread.


And not to stay there, GramFree operates on 2 different domain names such as gramfree.net and gramfree.world.
GramFree payment methods
What I like about GramFree is the fact that they've put several payment methods in place for users.
These are the payment methods that are available on the GF platform:
Is there any proof of payment from GramFree?
If you've already registered, you've noticed it. There are proofs of payment inside the platform from the users themselves.
Some people claim to have earned more than $1000 with GramFree for free.

But the meaningful question you should ask yourself is the following: Since the platform is free. Where does the money come from? In other words, how do they pay members?
This brings us to another question that is not meaningless: Are all these payment proofs legit or fake? when you know that this site is new.
Before ending this GramFree review, I would like to show you what I like and dislikes about this new brand website.
GramFree pros and cons
👍GramFree review: Pros
✔ Free to use (but keep in mind your time is precious)
✔ Many payments method
✔ Minimum payment threshold is reasonable
👎 GramFree review: Cons
❌ Hidden owner
❌ Earning potentials are limited
❌ There is no information about the company on their website. The FAQ is only accessible once you have registered.
My GramFree FAQ
What is GramFree?
GramFree is a new brand GPT website that rewards users based on their activities on the site.
Is GramFree legit?
It is too early to judge the legitimacy of this website. This is a brand new website but as time goes on, we're going to update this post.
Is GramFree a BBB acredited company?
No. GramFree is not a BBB acredited company.
My final thoughts…
GramFree is a brand new GPT website and members get paid by completing some easy tasks. This is a case with this website that rewards people by reading emails.
However, I do not recommend this site as a way to make money online. It is true that because the site is new it is difficult to make a clear judgment on this site. But the truth is that even if the site is currently paying, it is a site that will disappear one day.
And I don't think that moving from opportunity to opportunity is a better way for you to earn a sustainable income online.
If you want a reliable way to make money online, I recommend affiliate marketing. This is the best way to generate passive income online and be financially free.
This is the way I am making a 3 digit recurring and passive income online while doing what I love.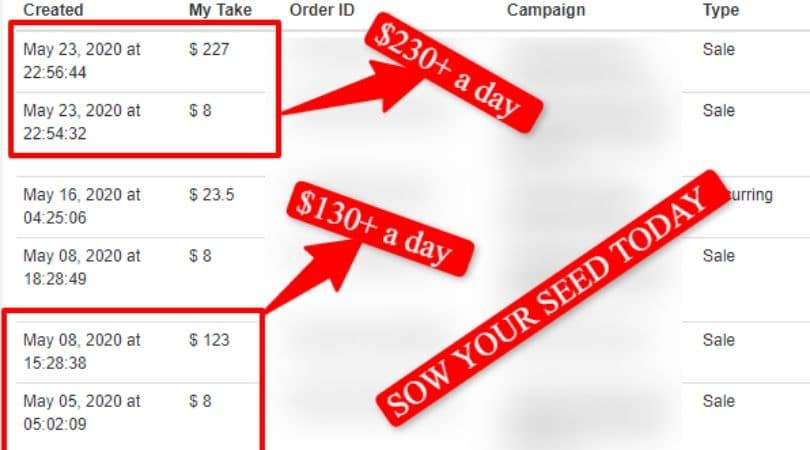 If your time is better than earning 0.1 Gram by watching videos, then affiliate marketing is what I recommend as a business model for you.
But keep in mind, like any business, you will need to invest in your business to make it work. You will need for example a domain name ($13 per year), web hosting (under $10 per month), affiliate marketing training (price varies) and at least a keyword research tool (at least $25 per month).
This is a lot off money if you will buy these tools induvidually.
Thankfully, there are All In One platforms that offer all these in one room, and price becomes affordable. With under $49 per month, you can create a profitable and long term online business that will generate passive income overtime for you.
I hope you found my GramFree review helpful.
From now, you know what is GramFree, how does it work and the best part you are in a good position to make an informed decision to shape your financial future.
Do you have a question about the GramFree platform or about this review, just drop it down on the comment section and I will reply you ASAP.
What experience do you have using this website? Let us know your thought on the comment section.
Sharing is caring! If you enjoy this review of GramFree, please share it with your friends!
Be an ACTION taker, Sow Your Seed Today!
To your success,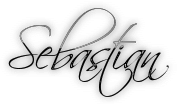 Pros
Free to sign
Many payments method
Cons
Hidden owner
Earning potentials are limited