If you are an Amazon seller and you are looking for the best Amazon product research and listing software you surely hear about Helium 10.
And if you are here, it is because you want to learn more about this software so that you can decide if this tool is the right one for your Amazon FBA business.
If this sound familiar to you, welcome to my Unbiased and honest Helium 10 review where I will show you:
What is Helium 10 about and used for?
What are the tools suite they offer, features and benefits,
How much the Helium 10 cost,
Helium 10 pros and cons, and alternatives.
Helium 10 Review Summary – Product Overview
Product Name: Helium 10
Product Type: Amazon product research tool
Owners: Manny Coats & Guillermo Puyol
Website: https://helium10.com/
SOW YOUR SEED TODAY RATING: 9.8/10
Do I recommend this? Yes and we got a 50% Off for you.
What is Helium 10?
Founded in 2015 by Manny Coats & Guillermo Puyol, Helium 10 is an all-in-one Amazon product research tool with over 1 million users worldwide.
This is an innovative tool with great features and an overall solution for Amazon sellers.
With the Helium 10 software, you can:
Find profitable and hot selling products,
Do keyword research and analysis to find easy to rank keywords your target clients are using on Amazon
Optimize your product listing on the Amazon center so that your target clients can find your products when making use of the Amazon search feature,
Find, track and calculate your product revenue and profitability,
Easily get your customers' reviews and feedback automatically – instead of following them up manually,
Run and manage your business effortlessly with the Helium 10 smart tools and their mobile App,
Track your keyword ranking, market data including even your profit, and then take action at the right time to stay up on the competition game, and much more.
Core Jungle Scout Features
Keyword Research
Every product needs to be promoted on Amazon.com in order to attract customers.
The single most important task for any business is to find the right keywords that will let you reach your target audience.
With Helium 10, you can find your best keywords quickly by conducting keyword research.
The keyword finder is designed to provide you with the most relevant and popular keywords for your product using the real data of product search terms that customers have used on Amazon.
The platform allows users to conduct keyword research in 3 ways:
Misspellinator: This tool uses an algorithm to find all the misspelled search terms. Each of these misspelled terms will be a potential keyword that you can capture in your listings to attract buyers to your product.
Cerebro: This is a reverse ASIN lookup research option that allows users to find a list of competitors' keywords by ASIN and you can use your findings to outrank your competitors.
Magnet: This tool reveals thousands of similar search terms using a single keyword you have entered. The tool will show suggestions by analyzing the product title, descriptions, and keywords that are being used by current sellers to rank with high search volume.
Product Research
Successful sellers know the importance of product research. You need to research your product thoroughly and make sure you are covered on all fronts. Helium 10 will help you find the right products that are most likely to sell within Amazon using these tools:
Blackbox: The platform offers a unique product database that offers the most up-to-date product data for all Amazon categories. With Blackbox, you are able to search millions of products in the database in just a few seconds.
Trendster: This tool shows you the real-time sales performance for all Amazon products. You can filter the results by unit price, sales volume, category, product popularity, and more to identify the best-selling products.
X-ray: The X-ray tool will show you a visual snapshot of your product sales and performance to identify the best-selling products with the potential to drive more sales.
Product launches
Launching new products on Amazon requires meticulous planning. You have to make sure that your product will sell well because it is often hard to recover a product that doesn't sell well.
Helium 10 gives you insights into the best time to get your product to the markets with details on sales units to reach Amazon's top page.
It provides you with all the important strategies that will help you launch a successful and profitable product with the utmost preparation.
Product Listing Optimization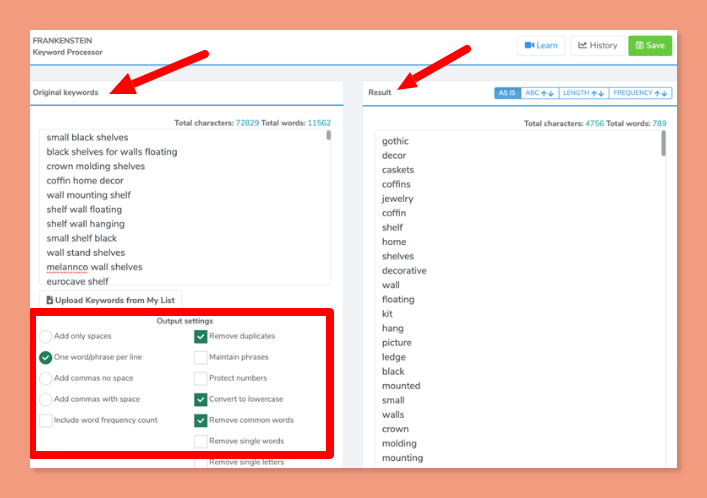 In your search to get to the top of Amazon, you will likely find yourself buried in a sea of competition.
Product listing optimization is such an important aspect of selling well on Amazon because it's what enables potential buyers to find your product first.
Helium 10 has all the tools you need to take your product listing from mediocre to magnificent:
Frankenstein: This algorithm organizes all your keywords into an easy-to-follow table. You can see the top 10 selling keywords and make sure you're not missing out on a set of important keywords.
Scribbles: Scribbles is a very useful tool that lets you select and save particular keywords for your product listings. You can add these keywords to the product title, bullet points, and description.
Index Checker: The tool allows you to search for the most popular keywords used by other sellers and explore how they rank in the Amazon results.
It provides helpful information on a product's competitors by allowing you to check which keywords your competitors currently use.
The tool also shows you the number of sellers who are currently using the keywords too.
Hijack Alert
Hijack alerts will give you advanced information about what is happening to your products on Amazon.
When the tool detects or suspects sellers selling counterfeit or fake products with your brand name, you will be notified—you don't want to risk losing your reputation by allowing counterfeits to take over your brand.
The tool will detect any fake or counterfeit products with your brand name. You will be notified with a detailed email on the details of the seller.
You can then consider all options you have in this case. For instance, you could: Hire an item evaluator to check the product quality and also contact Amazon to report the product listing for trademark violation.
Operations Management
The most important asset of any business is the people working in it. Your Amazon business relies on you and the tools you choose to make sure that your team's productivity levels are optimal. This can be achieved with various tools, but Helium 10 provides the following vital insights:
Refund Genie: Refund Genie will accelerate your refund process by automatically identifying returns. The tool will let you know when your products have been returned and help you to speed up the refund process with reimbursement requests. Refund Genie is an essential tool to avoid the slow refund process.
Inventory protector: Helium 10 will alert you when your stock is running dangerously low, so you don't have to worry about restocking products that are selling well.
Follow up: This tool lets you send automatic follow-up emails to increase ROI.
For instance, you can send emails about new products, shipping, or just general announcements to generate more traffic to your listings.
Helium 10 Pricing
Now you may be wondering how much the Helium 10 software costs.
Alright! We get you covered in this Helium review for 2022.
Helium 10 is a freemium Amazon product research tool with 4 premium subscription plans to choose from:
The Starter plan costs $39 per month ($339/year if billed annually),
The Platinium plan costs $99per month ($999 per year if billed annually),
The Diamond plan costs $249 per month ($2499 per year if billed annually); and
The Elite plan costs $399 per month.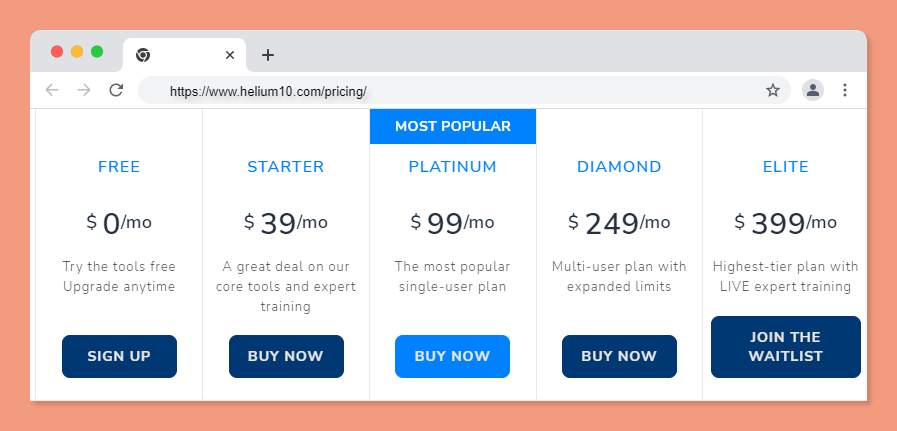 Let's now move into the next section of my Helium 10 review to find out why to
Helium 10 Pros and Cons
Helium 10 is a great tool. But it is worth pointing out the pros and cons too.
The Pros
✔ A free lifetime plan is available – try before you buy,
✔ A complete tools suite under one roof for your Amazon FBA business,
✔ Mobile App available to monitor everything going forward with your business,
✔ SEO-friendly tool to help you grow organically,
✔ Possibility to have access to the Freedom Ticket FBA course for free with your Helium 10 purchase,
Top-notch support,
✔ 30-day money-back guarantee.
The Cons
❌ The free plan is limited – you cannot expect much,
❌ You need to pay more money to get access to all the tools suite
❌ A learning curve involved,
❌Unlike Jungle Scout, they don't provide a supplier database.
Who is Helium 10 designed for?
Helium 10 is an incredibly useful tool for anyone looking to improve their Amazon business. The tools are designed to provide real business insights to sellers of all levels:
New sellers: New sellers will find Helium 10 extremely easy to use and understand. The platform is intuitive and with the guides available, even if you aren't a tech-savvy person, you can get started with Helium 10 immediately.
Existing sellers: If you are an existing seller looking to improve your sales and performance, Helium 10 will give you all the tools you need to make informed decisions.
It will show you what competitors are doing and how they are performing. In addition, it can provide you with important tools like Product Launch Tracker so your product can rank quickly on Amazon's top page.
Helium 10 alternative
Looking for Helium 10 alternatives? This is a great alternative tool if this software below is not your first rodeo:
Jungle Scout – Jungle Scout is also a great Amazon product research tool. only it does have all the tools suite offered by Helium 10. A great choice if you are on a budget and want an affordable option.
Read my Jungle Scout review to learn more.
If you still want more options, check out my top best Amazon Product research tools for 2022.
Final thoughts…
Helium 10 is a complete all-in-one Amazon product research tool with built-in marketing tools designed to help you start and scale your Amazon FBA business effortlessly.
From product and keyword research, and listing optimization to managing your Amazon whole business, the software will get you covered.
With over 1 million users, it is a no-brainer choice for those who are looking to build and grow their eCommerce business and can afford the cost.
The only downside is that if you are just starting out, you may see using the software a bit overwhelming. But with the available resource and training videos, you will end up getting familiar with the tools faster.
Don't just try to do everything yourself. Instead of trying to figure things out yourself, what the video to get familiar with the features so that you can exploit it at its fullest for your business.
Anyway, they are a responsive support team. Reach out to them if you need a hand moving forward.
That being said, I hope you found my Helium 10 review helpful.
Do you have a question, left it below in the comment section and I will respond to you ASAP!
If you are Helium 10 user, please share your experience with us.
Be an ACTION taker, SOW YOUR SEED TODAY!
To your success!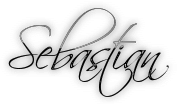 You may also like…