Do you want to learn how to do affiliate marketing without a website in 2020? If yes, you are in the right place.
Throughout this post, I will show you 10 smart ways to do affiliate marketing without a website and make money easily.
But before we get into the meat of how to do affiliate marketing without a website or blog, let's discuss what affiliate marketing is and why it is important to do affiliate marketing.
What is affiliate marketing?
In a nutshell, affiliate marketing is the process by which affiliate gets paid by promoting other people's or company's products or services.
Sometimes an image worth more than 1000 words. The image below explain the process.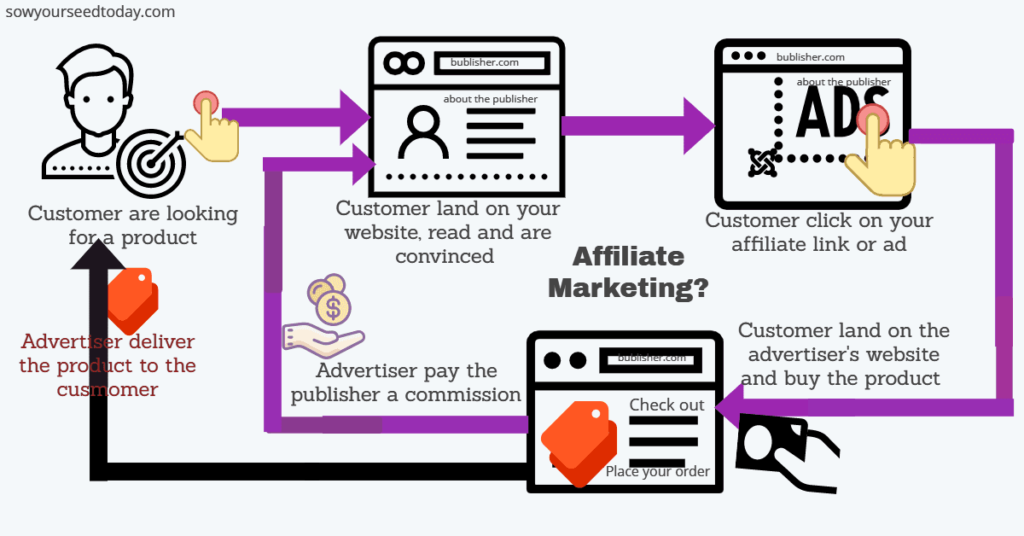 Why it is important to do affiliate marketing?
There are countless reasons to do affiliate marketing:
Affiliate marketing is a business model that can help you make a passive income online.
It is the most popular and reliable way online entrepreneurs used to make passive income online while working from the comfort of their own home.
The start-up cost is low
To start an affiliate marketing business, you don't need a lot of money. It is not a pay to play system like in the MLM industry where you need to invest money or pay for a product before you can promote it and make money.
Here you just need to sign up with a company in which you trust, choose the product or service you want to promote and the company will pay you a commission each time someone purchases this product or service via your affiliate link.
You can do it part-time
Affiliate marketing is a business model that you can do in your spare time. You don't need to quit your day job to do it.
Even if you are a full-time worker like me, you can use your free time or weekends to grow your affiliate marketing business.
Your role as an affiliate is to promote your business in order to drive a maximum of visitors to the company's product/service sales page and then get paid.
Your earnings potential is not limited
You have the possibility to promote several products in your niche and then build multiple streams of income without even increasing your monthly fee. The sky is your earnings potential limit. 
Now you know what affiliate marketing is and why it is important to do it, let's get into the subject of the day.
10 Best ways to do affiliate marketing without a website
One of the best ways to do affiliate marketing without a website or a blog is to write an eBook while placing your affiliate links within the content.
Let's say you have affiliated with a company that offers products in the weight loss niche. For instance, pills for weight loss. You bought these pills that helped you lose 10 pounds in 2 weeks.
You can create an eBook related to this niche and share your accomplishments with people who want to lose weight. In your ebook, you can not only teach your audience how to lose 10 pounds in 2 weeks, but you can also recommend affiliate products to your audience by putting your affiliate links in it.
If the information you share is useful and convincing, people will click on your affiliate links and pay the product or service that you recommend them.
What is important with an eBook is that: You can get people to share your ebook by offering giveaway rights or Private Label Rights (PLR) etc.
Related post: How to write an eBook and make money on the side?
2. Start Video Marketing on YouTube
YouTube is the second search engine after Google that affiliate marketers can use as an alternative to blogging. And I think this is the best way to do affiliate marketing without a website.
So if you don't want to create a website to promote your affiliate product, you can take advantage of one of this biggest and popular search engines to make money online with your affiliate offers.
For instance, you can start a video marketing channel by giving educational information, honest reviews in your niche products or services while placing your affiliate links when describing your video in the description section.
If your content is helpful and give value to your audience and if you can establish a relationship of trust with your subscribers, chance you are, they will click your affiliate link and buy the product you recommend them. Otherwise, people will switch to other channels.
Some basic tools you need to start a YouTube channel:
Screen recorder for product review and tutorial videos. Screencast -O-Matic is perfect for that.
A keyword research tool to do keyword research that will help you know what your audience is searching for and also analyze the competition level.
Keyword.io is the best keyword research tool for that because it allows you to get search volume, competition level, and other search metrics separately from YouTube, Bing, Google,…
After choosing the product you want to promote, you can join forums related to the niche of your product. Indeed, it doesn't make sense to posting your affiliate links on a forum related to weight loss while your products are about affiliate marketing tools and vice versa.
Once registered on forums related to your niche, set yourself an aim: help people by providing reliable and valuable information by replying to their questions. In this way, you will develop strong relationships, gain authority, respect, and trust with other users within your niche.
When commenting, whether on forums or blogs, be thorough and share valuable information. We all hate spam. So avoid spam by putting your affiliate here and there on treads or blog comments.
Otherwise, you risk having your account banned and your comments deleted. For example, you can insert your affiliate link in your signature. In this way, you don't need to place your link again when commenting on a tread. It will be displayed each time you leave a comment on a tread.
If you are on the make money online niche, you can join these forums sites:
Facebook is the largest network and the most powerful online advertising platform that has ever existed. Almost everyone has a profile. Then your prospects and your ideal customers are already there.
That said, you can create a group or/and Facebook page and set up Ads campaign to sell your affiliate product to your audience.
If you are not familiar with Facebook Ads, you can post information related to your business on groups you joined and people who are interested will certainly ask you for more information.
I often see people sharing their affiliate links directly on their timeline, expecting their friend will click on it and buy something. Nope! It is not by putting your affiliate link in front of your friend that they will buy your affiliate product. You need to help them first, build a strong relationship of trust with them.
You can often use your affiliate link within your group or fan page (not in your timeline). And the best way to do this is to cloak your affiliate link using a link cloaking tools like:
These companies allow you to not only cloak your links but also track the number of clicks you get on the link.
5. Invest in Pay Per Click (PPC) advertising
Pay Per Click (PPC) is an online advertising model in which advertisers pay each time a user clicks on one of their online ads.
An advertiser pays to place its ads on a website, search engines, social media, or any other digital platform.
These ads appear when people do research online related to your niche using a search engine. Each time the user clicks on this ad, it is directed to the advertiser's website.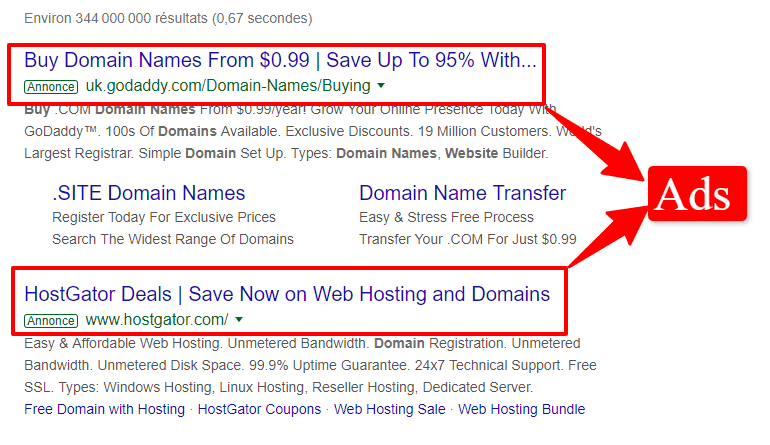 As an affiliate marketer, you can learn how to create advertising campaigns on social platforms such as Facebook, Pinterest, Instagram, or on search engines such as Google or Bing.
Want to learn how to be a successful Affiliate Marketer? Check out my #1 recommendation here.
The main platforms specializing in this kind of advertising:
I recommend Bing ads because it is cheaper and less competitive compared to Google.
However, you need some basic knowledge such as picking the right keywords to get efficient results in this advertising. Otherwise, you'll lose a lot of money.
Here is the best paid advertising training to join.
6. Advertise on Pinterest
Pinterest is a social media network you can share visual content. This platform works like other search engines and you can use it to promote your affiliate products.
All you need to do is create a business account and then create some boards where you will upload the pins you have created to promote the affiliate product.
PS: You need to disclose your affiliate link each time you use an affiliate link in your pin. Also shorting or cloaking your affiliate link with link cloaking tools like bit.ly, pretty link or Clickmagic is against their policy and you may be penalized for doing that.
7. Advertise on traffic exchange site
Traffic exchange sites are websites where advertisers need to view other members' ads in order to get their own ads viewed.
The only one gripe with traffic exchange sites is that visit duration is timed (5-30 seconds) and people are looking to view more ads to get more views in return. So they don't take the time to read your offer is about.
Pro tip: To take advantage of this advertising method, instead of creating your ads with your affiliate link and sending visitors to the sales page directly, create a leading page to get visitors' email addresses and then promote your affiliate offer to them later.
The only exchange traffic site that makes the exception is LeadsLeap. It is the only one I strongly recommend. Because there is no surfer timer and they provide online tools such as link tracker, autoresponder, and pop up builder you can use to improve your business?
You can also earn a bit of money while promoting your affiliate product or service.
Related post: LeadsLeap 3.0 review: is it a scam or legit
8. Promote your affiliate product via solo ads email marketing
There are some websites like Udimi that offer solo ads services online. In their platform, there are people who sell solo ads and the cost depends on the number of visitors you want to receive. It will certainly cost you some money.
But what is important with Udimi is that you can build your own list easily and promote your offer to your list subscribers. You can also sell your list as solo ads in the future.
9. Create a Hubpages
If you don't want to create a blog or website, you can create a hub page on the Hubpages website. They will handle the hosting of your pages. So you don't have to worry about that.
All you have to do is write content related to your product while placing your affiliate links there. Then you can start promoting your content.
10. Advertise on Instagram
Like Pinterest, Instagram is a visual social media platform where you can post images and videos.
You can create an account and start building a network by following other people.
You are wondering how to promote your affiliate product on Instagram?
All right!!
You can display your affiliate link in your Instagram Bio. You can also place your link under the description of your posts or place it on the image you post.
Over to you…
This is my promise of offering you 10 ways to do affiliate marketing without a website. You can find the one that suits your needs and start your affiliate marketing business.
However, these methods are time-consuming and they will not give you long-term success.
And the most common way that many people used to enter into the world of affiliate marketing is to build a blog or website that will help them to drive organic traffic to their website.
But life is a choice. Whether you choose to create an affiliate marketing website or to do affiliate marketing without a blog, what matters is to do it wisely.
Be an ACTION taker, SOW YOUR SEED TODAY!
To your success!!!