Do you want to get out of your 9 to 5 grind and start designing your own lifestyle? Are you tired of your daily routine and now want to work on your own terms by building a thriving online business while doing what you love?
If you answered yes to both questions, be happy because you are in the right place.
A quick presentation if this is your first time on this site.
I'm Sebastian, journalist, and side hustler.
I designed this website to help 9 to 5 workers to get out of their 9 to 5 grind while providing useful and trustworthy resources that will help them start their long-term and thriving online business on the right path.
And throughout this post, I will give you some tips and proven ways you can follow to get out of your 9 to 5 grind if this is your goal.
Without further ado, let's go straight to the point.
How to get out of the 9 to 5 grind and design your own lifestyle?
Let me be straight with you.
If you want to get out of your 9 to 5 grind, there are only 2 options:
1. Either you quit your day job and create your own business like Jeff Bezos, founder of Amazon.
or…
2. You start a side business that you build in your spare time and wait for it to bring you a substantial income before you quit like Nicole Buergers, founder of Bee2Bee Honey Collective.
But, like any choice, each of them has its upsides and downsides. But don't worry about it. I will give you further detail in the next section so that you can make an informed decision.
Gauging the 2 options
1. Option 1 – I am Felix Baumgartner, I quit
When I mention Felix Baumgartner here, I refer to his attitude, courage, and determination. He is the bravest man in the world according to Ban Ki-Moon, former UN Secretary-General.
To quit your day job and start your own business, you will need to have a plan and be confident that your project will be successful.
In fact, quitting your day job is a great risk if you don't have a solid plan.
Quitting your day job to start a new career in entrepreneurship requires preparation downstream. It requires a lot of courage, determination and a certain level of confidence in your project.
Because once you quit, you can't come back. So it would be insane to quit without a plan.
Ask yourself some good questions before you say, "Hey boss I quit".
For instance, check to answer these questions:
Do you have a plan you are sure to succeed in?
How long can your savings last if you no longer have a salary? 3 months? 1 year?
At what point do you think your project can bring you money? In 3 months? 6 months?
Option 2 – I am prudent, I start I side business
The best way to quit your day job with little risk is to start a side business and spend your free time to make it grow.
This is the best option if you don't have a solid business plan because it allows you to test the waters of your business idea. Here the risk is lower because you always have a job that allows you to cover your monthly expenses.
Yes, side business requires a lot of effort and dedication, but it offers you huge advantages and possibilities:
The opportunity to develop new knowledge and skills
A guarantee and financial security since you have a salary that covers your monthly expenses
The possibility to make extra money in addition to your salary.
The possibility to save more money and invest in new projects and thus build multiple streams of income.
Dedicated your free time to grow your side business and quit as soon as you are sure your side business is safely secured.
And the more your sources of income increase, the more likely you have to make a lot of money and the closer you will reach your goal of getting out of the 9 to 5 or your day job and being your own BOSS.
You are wondering which side business you can start alongside your day job to get out of your 9 to 5 life.
All right!
Before I show you some ideas to implement, I would like to teach you how to fish than to give you the fish.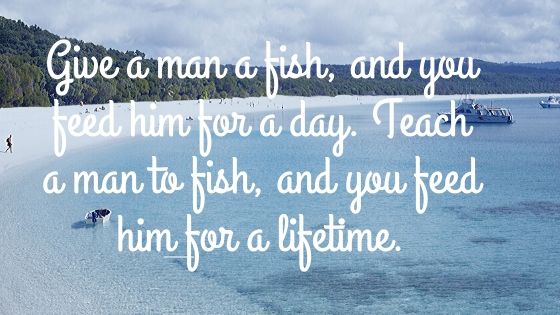 Have an entrepreneurial mindset
If you want to start a side business in order to quit your day job, you will first have to adopt an entrepreneurial attitude.
Yes! Starting a successful side business is adopting an entrepreneurial mindset, it's adopting a winner attitude.
That said, you need entrepreneurship skills that will help you identify an opportunity. It can be a problem or a gap that needs to be filled. As an entrepreneur, your role is to solve this problem or to fill this gap by creating value for people.
Tips and trick to help you broaden your horizon
Seek to resolve your own problems first: What is your daily biggest struggle or problem? Seek to find solutions to what bothers you every day. Other people may be in the same situation. And they are waiting for solutions!
Find a gap in the market: In the online world, you can take a niche and conduct surveys to find out if there is a gap in the niche or not.
To do this you need to:
Make sure that there is a market or there are people who are interested in the niche
Also, make sure that there is a gap in this niche.
Keyword research tools like Jaaxy can help you figure out not only how many people interested in your niche and also an idea of the competition level.
Observe and listen: With an entrepreneurial mindset you can find a business idea by simply listening or observing your surroundings.
What needs to be innovated or improved? Discover failures, deficiencies in management, logistics, customer management, etc.
Find a business idea by listening to your coworkers: Their complaints. What can you do to improve their living conditions? What added value can you bring to their lives.
Explore your passions or skills: What are you passionate about? What do you like to do in your spare time?
Can your personal skills help other people in their lives to feel better? Can it bring value to them? etc.
If you want to come up with a business idea in the online world this post will be useful to you.
Prepare your mindset
Pursuit your dream:
Stand out from the crowd, overcome your fears and doubts and be armed with courage, determination, and motivation to pursue your dreams and passion.
Don't try to leave your day job for the sake of the money or your co-workers only. Seek to find your way to happiness, to seek to live according to your passion.
Be positive and optimist
If before starting your side business, you already think about failure, you will certainly fail before you even start.
Mahatma Gandhi

A man is but the product of his thoughts what he thinks, he becomes.
Some side business you can start and get out of your 9 to 5 grind in 2 years
Start a business blog
lf you are a regular reader of my blog, you notice that I like to talk about blogging.
Blogging is an excellent online side business because it gives you the opportunity to do what you love, to follow your passion.
It gives you more flexibility and freedom. In fact, you can work wherever you want and whenever you want according to your free time.
It offers you the possibility to create multiple streams of income and thus maximize your earnings potential.
A blog allows you to connect with new people and other entrepreneurs around the world.
No geographical or temporal barriers
Related posts:
1. How to create a website and make money on the side
2. How to start a profitable blog with Bluehost from scratch
Start a freelance business on the side
Do you have writing skills? Are you a copywriter? If your answer is yes, know that you can build a business around your writing skills.
For instance, you can build a portfolio website where you will showcase your talents and attract potential customers
You also have the possibility of pitching to job board sites such as Fivver and Flexjob.
But to win the trust of your customers, you will need to have good samples. This is why having a site is often necessary.
It's the same if you have skills in graphics, coding, web design, etc.
You can check out these 2 posts and discover more side business ideas to start right now.
Related post:
1. 4 smart ways to earn extra money from home
2. How to make extra money from home
Wrap up…
If you want to get out of your 9 to 5 grind, you have two options:
Quit your job and start your own business. There the risk is a little high, and you should be well prepared.
Or to start a side business today while working full-time and wait for the right time to quit.
In my opinion, this is the least risky option if your side business does not go against the rules of your day job.
Indeed, thanks to the Internet and technology, you can work remotely, pursue your passion, work where you want and when you want.
What is your best way to getting out of the 9 to 5 grind? I will be happy to hear from you on this subject.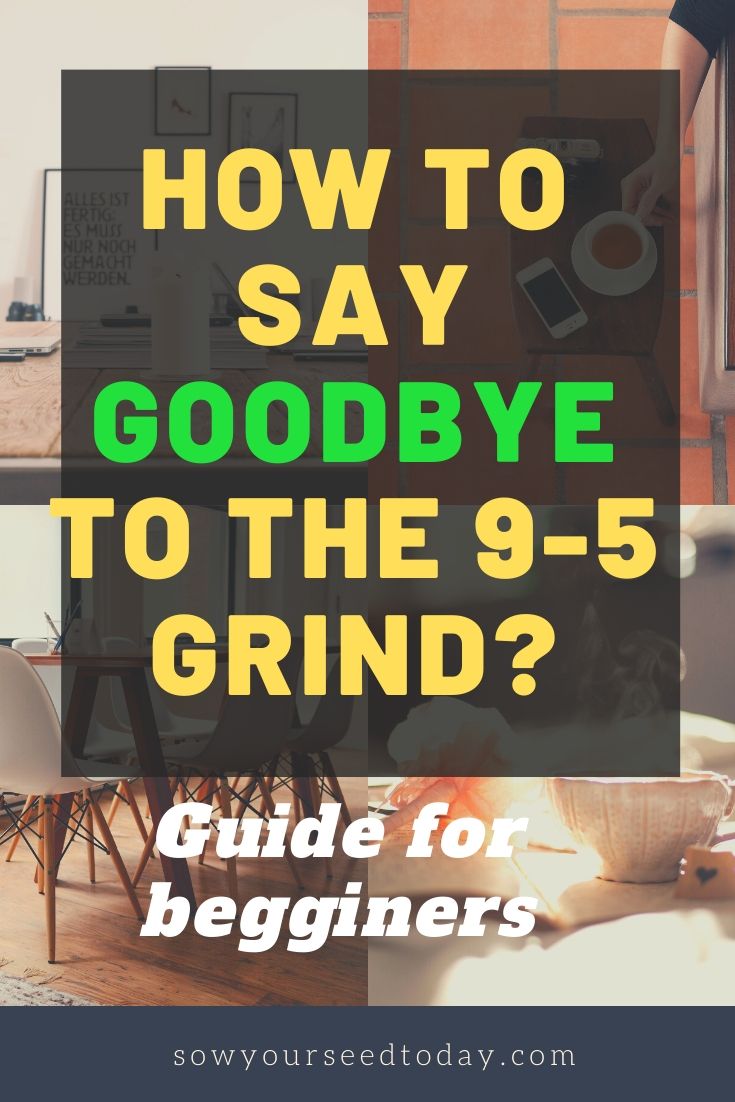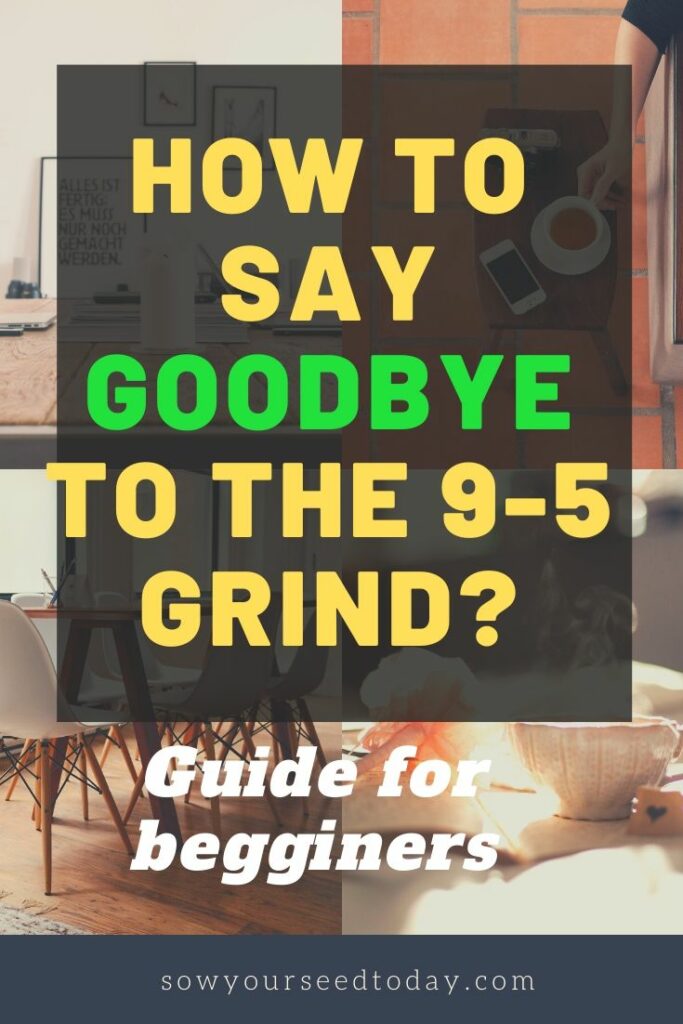 Be an ACTION taker, SOW YOUR SEED TODAY!
To your success!