So, you finally decided to join the blogging community by creating your blog with Bluehost? But you don't know how to start a blog with Bluehost in 2020?
If yes, you've come to the right place. Throughout this ultimate guide for beginners, I will walk you step-by-step to have your blog live today.
When I first started this blog in 2019 (just 1 year ago when I was updating this post), my goal was to make an extra income to supplement my day job salary and then over time quit my day job to be a full-time blogger.
But I wasn't sure I will be able to add a 3 digit and recurring income to my day job salary so early on. Until the day I was surprised making $130 a day with my new brand website.
To be honest, I didn't reach completely my goal of becoming a full-time blogger, but I am proud of my achievement.
So if you are planning to enter into the blogging sphere and you want to get started with Bluehost, I can tell you for sure you're making a good decision that will totally change your life forever.
Do I need to tell you that a website is an online real estate?
If you don't believe me, take a look at the following picture.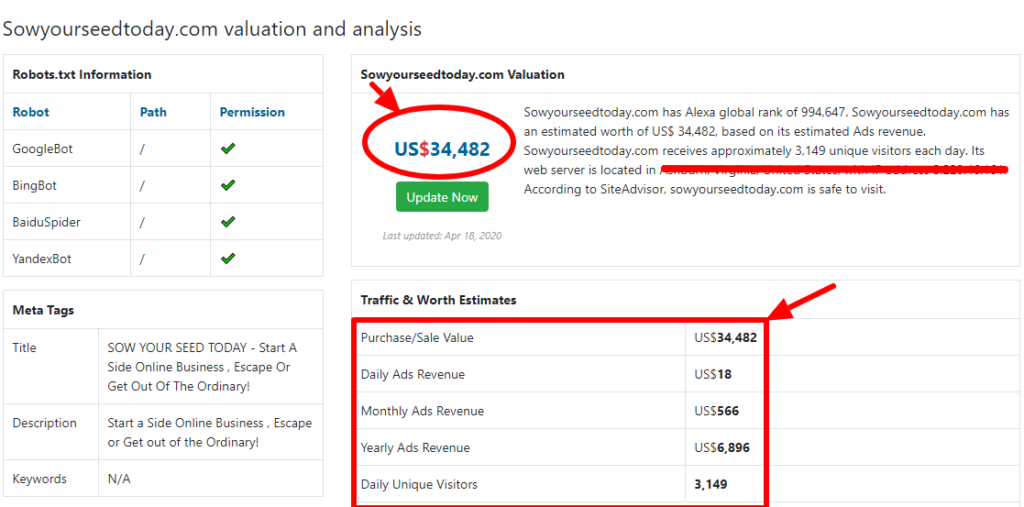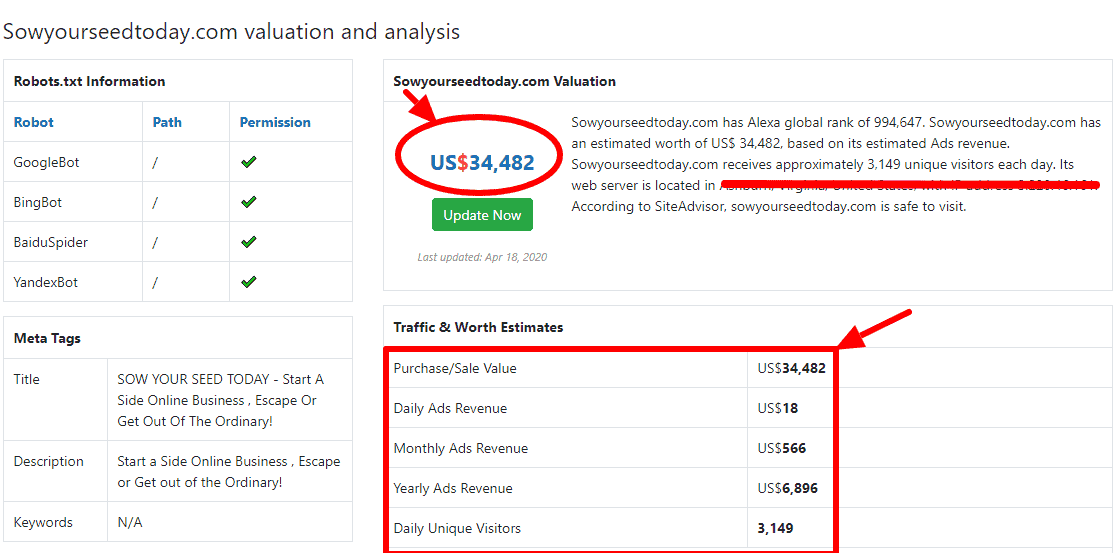 My brand new website of 1-year-old for $34, 000? Yes, it is! Go on Flippa.com you will find brand new websites that have been sold for 6 figure income.
Ready to start your blog with Bluehost?
Let's dive in!!
Disclosure: I want to notice that in the spirit of full transparency, this post about "How to start a blog with Bluehost" contains affiliate links. This means if you make a purchase through these links, I may receive a small commission at no extra cost to you. I can get a commission from any company, but I only recommend products/services I truly believe will give value to my readers.
Why starting your blog with Bluehost is a good choice?
First off, Bluehost is a reliable web hosting company with thousands of customers over the world. In this industry, Bluehost has a good reputation from companies and individuals.
As I mentioned in my previous post, before you buy a web hosting service with a web hosting provider, there are some criteria you must take into account to not compromise your business success.
For reminder here are these criteria (let's look for if Bluehost meets them):
Safety and Security
Is your site safe and secured with Bluehost?
Yes! Bluehost comes up with an SSL certificate that can protect your site and your visitors from cybercriminals and viruses.
Site speed:
Can you have a website with high speed to give your readers a good experience with Bluehost?
Yes! According to your business size, you can get a website with a speed that fits your business needs.
Support
When something is wrong with your site, can you get a quick reply from Bluehost to fix it?
Yes – Bluehost offers a 24/7 chat and phone support.
Features: Is Bluehost allows you to access your control panel? – to get an FTP account? – email account? etc.
Yes! You can get all these things with Bluehost.
What else?
Price: Bluehost offers an affordable price to its customers. With only 2,95$ per month, you can have your blog live today.
Plus, Bluehost is WordPress recommended hosting provider.
So choosing Bluehost as a web host provider for your online business is a good choice. They even offer a 30-day money-back guarantee. So you have nothing to lose.
Now you know the benefices you get by using Bluehost as your website host provider, let me now show you how to start your blog with Bluehost in 7 simple steps.
How to start a blog with Bluehost in 6 easy steps in 2020?
1. Choose a domain name
To create a professional website or blog, you need a custom domain name.
A domain is your internet address. It is the unique address that allows people to know your website, to distinguish him among millions of websites, and to come back when they want. The mine for example is sowyourseedtoday.com.
Here is my advice when choosing your domain name:
Keep it short and easy to pronounce. As a result, people can memorize it and return to your site if they want to.
Avoid a domain name with hyphens and numbers on it.
When it comes for your domain extension choice, privilege ".com" or ".net", ".org" and avoid domain name with ".xyz" which will not be ranked in Search Engines.
With Bluehost, you can get a free domain name for one year. But if you don't want to have your eggs in the same basket, domain name price ranges between $12-$15 per year.
You can get one for $8.8 with Namecheap (a reliable domain registrar company). It comes with domain privacy (keep your information private) and email forward accounts for free.
Now, you have your domain it is the time to set up your blog with Bluehost.
Related post: How to choose a domain name for your online business?
2. Set up your website with Bluehost
Start a blog with Bluehost is easy. Click this button below to open Bluehost in a new tab and come to follow this tutorial to get your blog live in 5-10 min.
Once the page is loaded, click on the "get started button" below (On the page you opened the link 😂😂). Yes, I specify because a lot of people have contacted me saying, "Sebastian, your the link refuses to open". haha…
1. Choose your hosting plan
Bluehost comes up with 4 membership plans:
The basic plan allows you to create 1 website and it comes with a free SSL certificate
Plus plan (unlimited websites and free SSL certificate)
Plus choice plan (unlimited website with free SSL certificate, domain privacy + protection)
Pro plan (unlimited websites with free SSL certificate, domain privacy + protection).
If you are starting out and are on a budget, you go with the "basic plan". When your business grows, you can upgrade to any plan you wish.
Otherwise, the Choice Plus plan would be a better option because not only do you get unlimited websites and domain privacy for free but you also get a Site Backup – CodeGuard Basic for free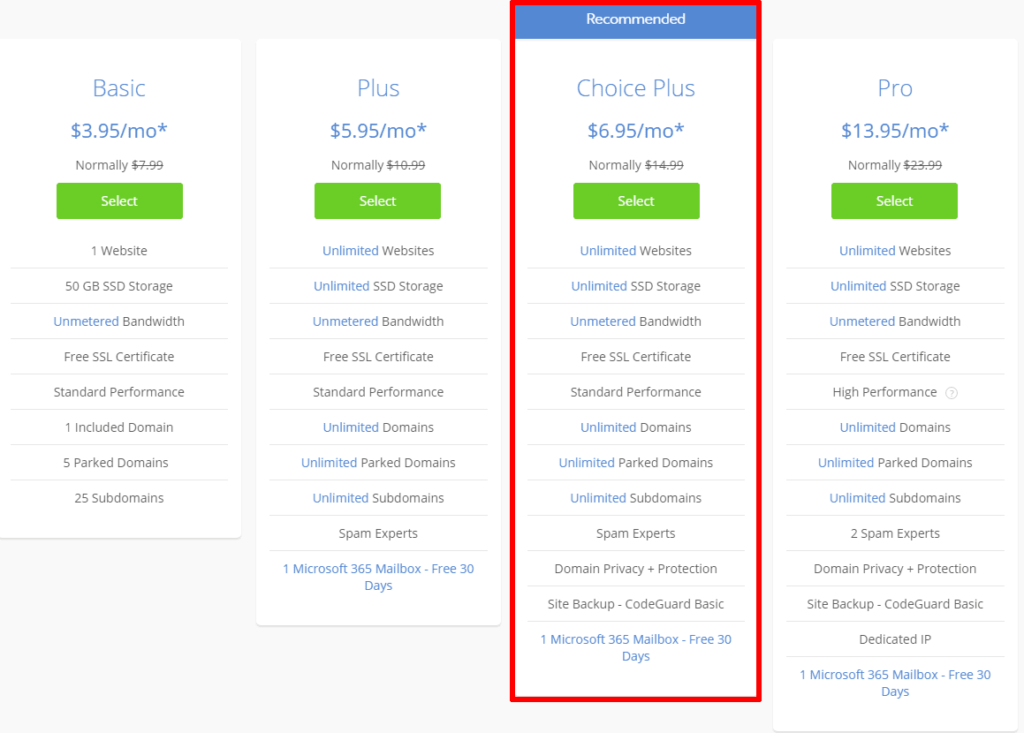 2. Choose/connect your domain name for your blog
Once you have chosen, the hosting plan that fits your business or based on your financial means, the next step is to choose a domain name, if you don't have one and want to register it with Bluehost.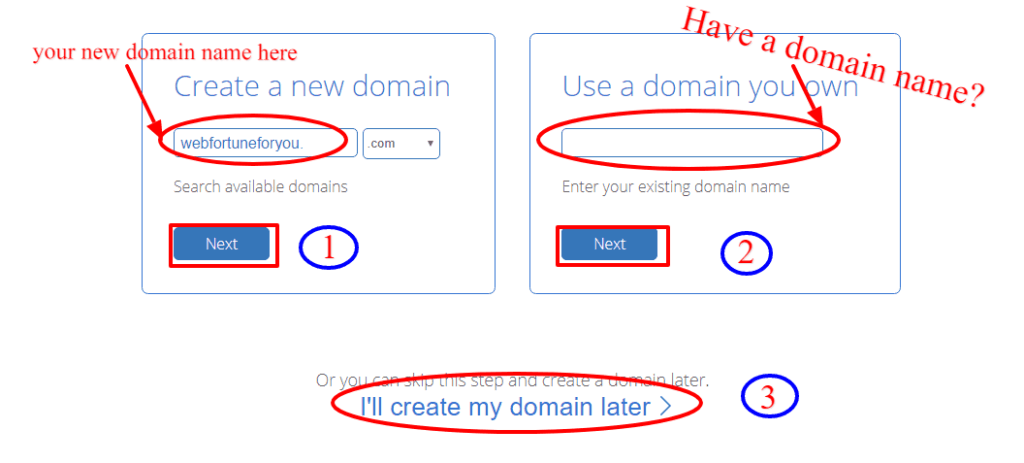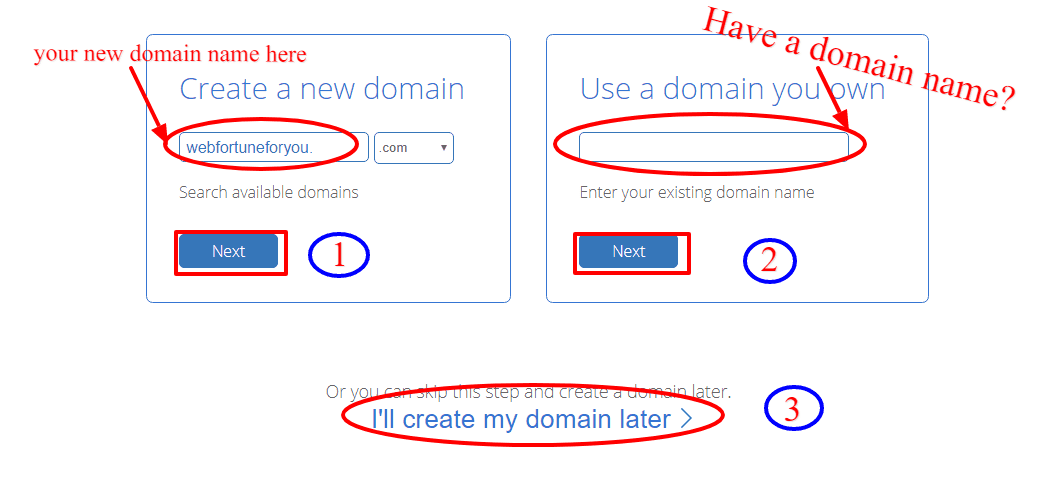 Just enter your domain name in box 1 (as highlighted) and click "next".
In case you bought a domain name with NameCheap or another domain registrar company, put it in section 2, and submit by clicking on the "next" button.
With the first option, if your domain name is available, you will see the image below and this leads us to the next step.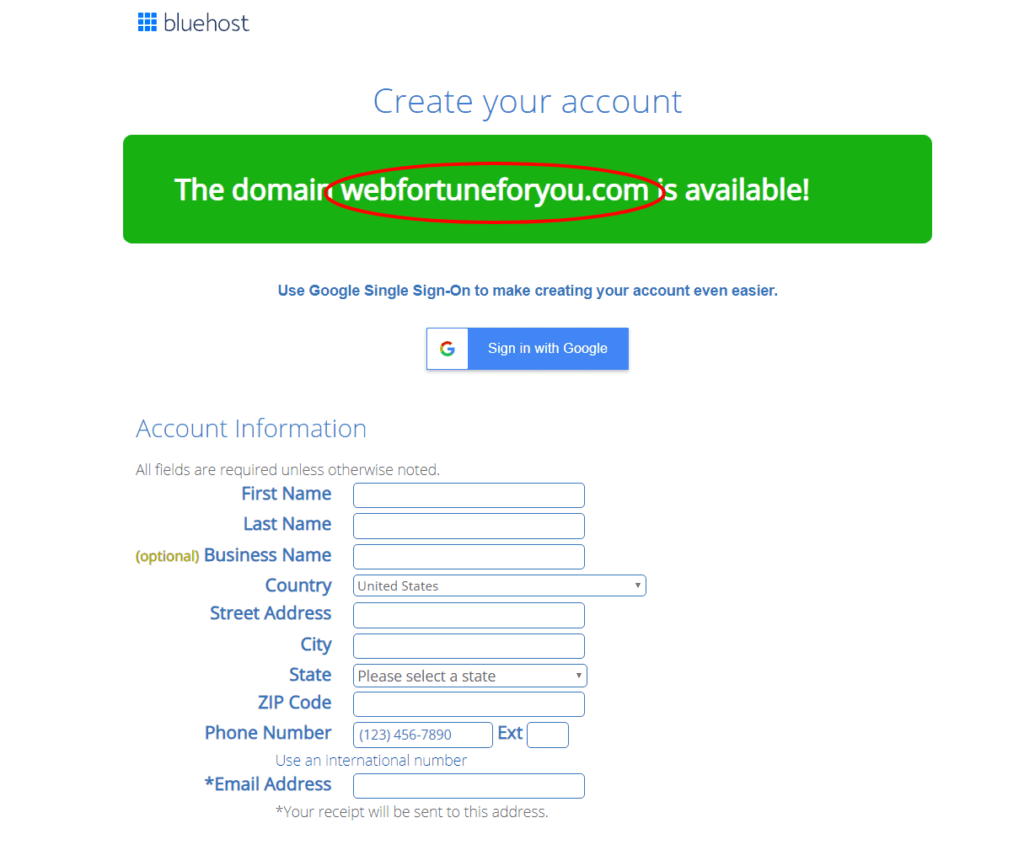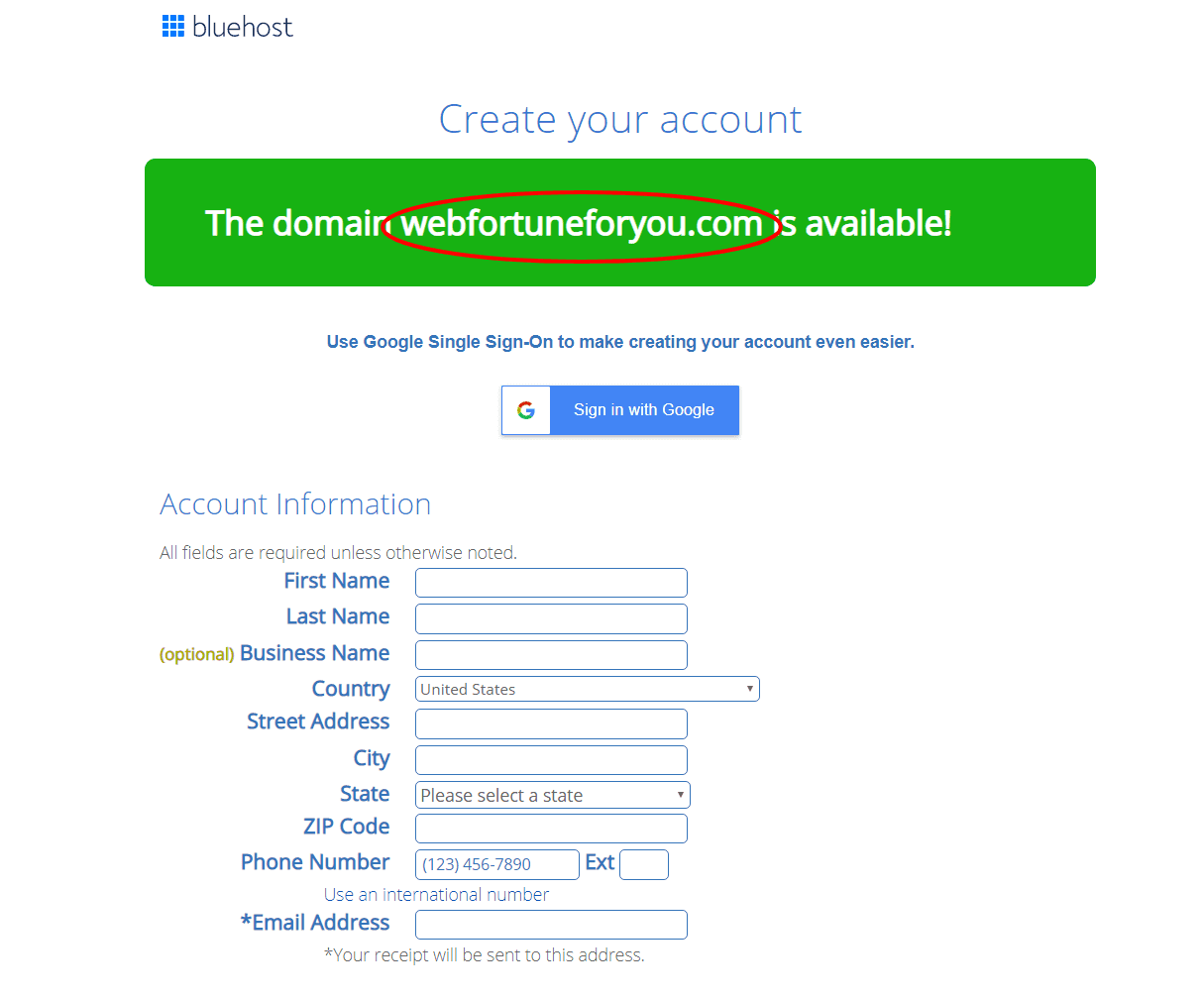 PS: if you don't have a domain name or if you have difficulties choosing one, click on "choose my domain name later". Once your account is created you can do it later.
3. Create your account with Bluehost
Now, it is time to create your account with Bluehost. Just fill out this form below when completing your details in the field required.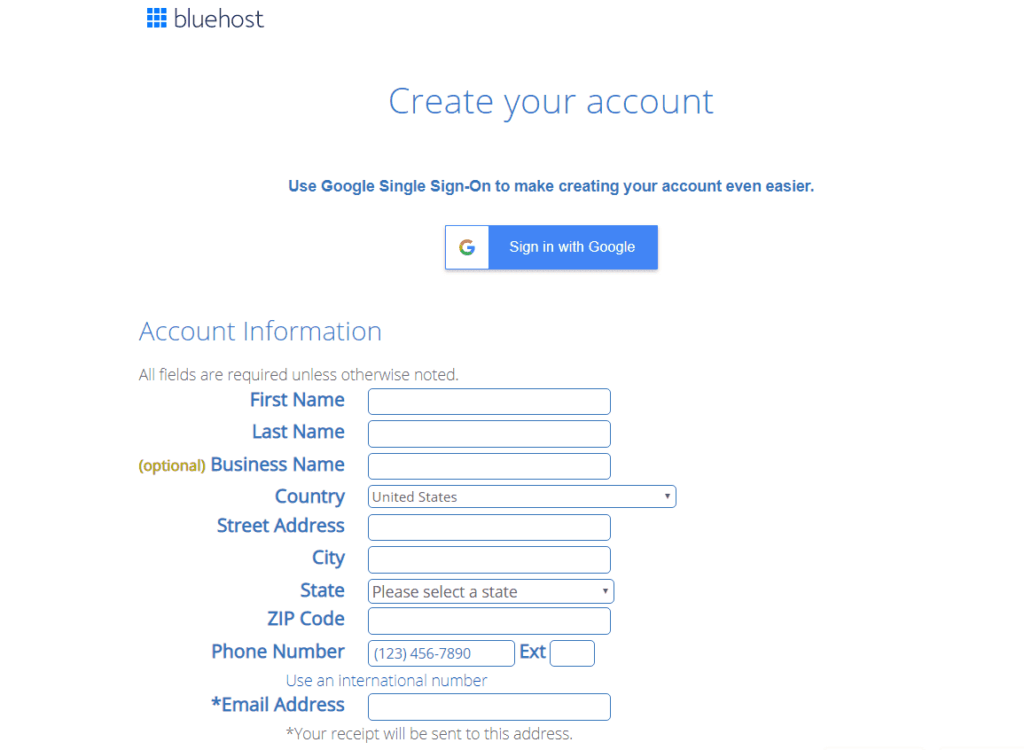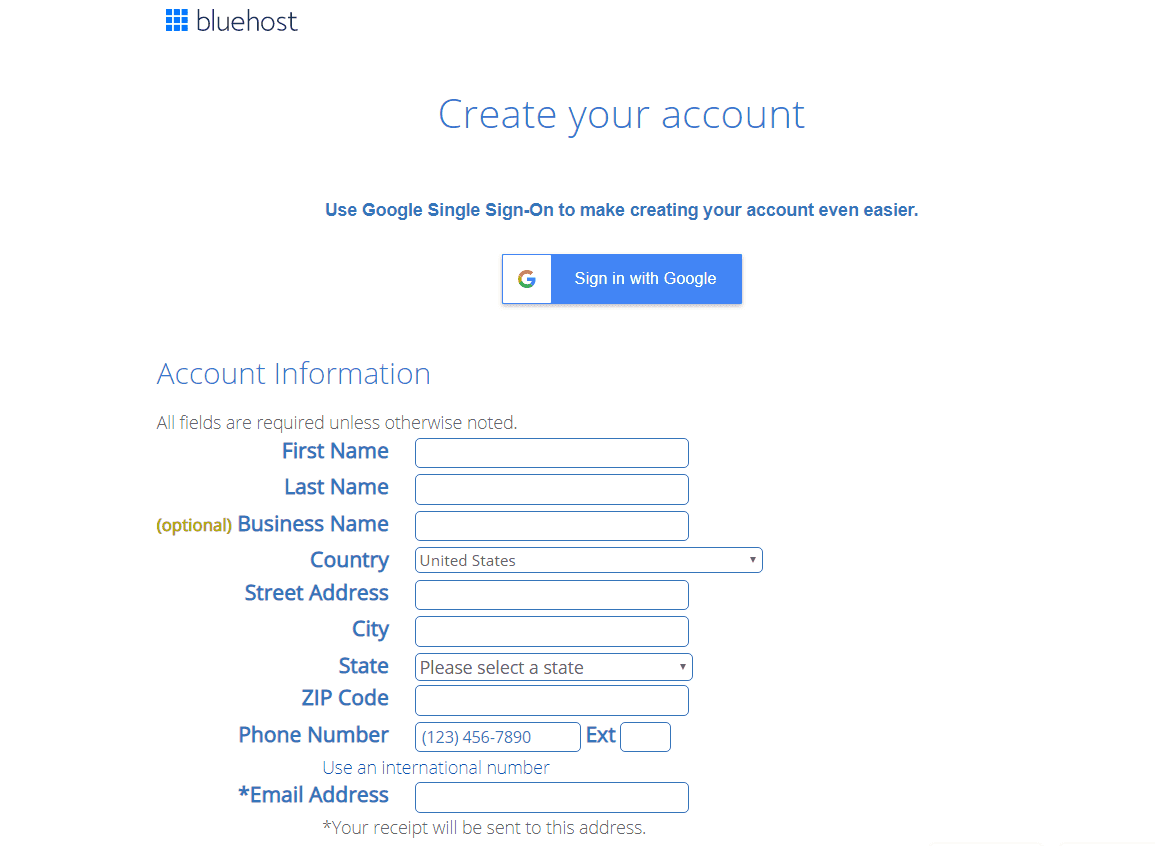 Let's move into the next section of my step by step guide on how to start a blog with Bluehost in 2020 to choose your hosting plan.
4. Choose your hosting package
here you can pay for your hosting service for 1, 2, or 3 years. Price extra varies according to the hosting package you choose. If you want to save more money, pay for 3 years.
If not, you can pay for 1 year.
I choose the Choice Plus plan and here is what it costs to me when I choose to pay for 12 months (1 year).
Only $89.40 to create your money-making website or your online assets estate that will generate passive income for you.
If you go for 3 years, it will cost you only $214.20. That is about $71 per year.
PS: It is the choice plus plan as mentioned above and it comes with unlimited websites. That means you can create and host unlimited websites with your hosting plan.
There are extra services you can buy if you want.
5. Fill out your billing information and validate
Choose how you will pay for your service: Is it with PayPal or with a credit card? If it is with a credit card, just provide your card information (credit card number, CVV2 code, and expired date) and hit the "submit button" to validate it.
6. log in to your control panel and install WordPress
Just go to Bluehost's main page and click the "login" button. Enter your account credentials and then hit "submit"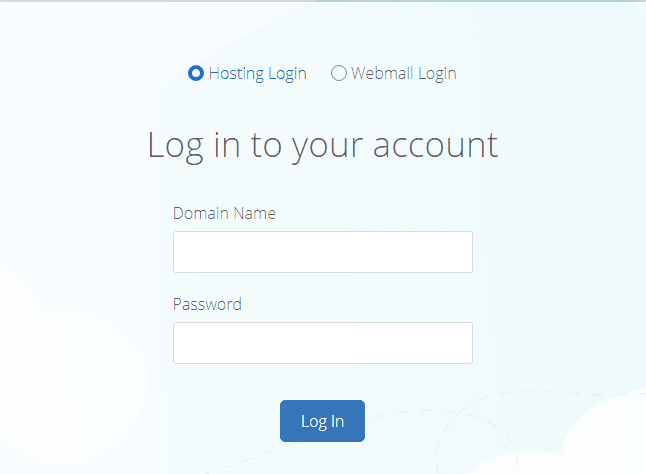 Are you on your dashboard now?
If yes, let's install your WordPress blog in one min. Once in your Bluehost dashboard, , you have two options to install WordPress: you can do it manually or by using the "one-click button".
We will use the second option: click on the "one-click-install" button.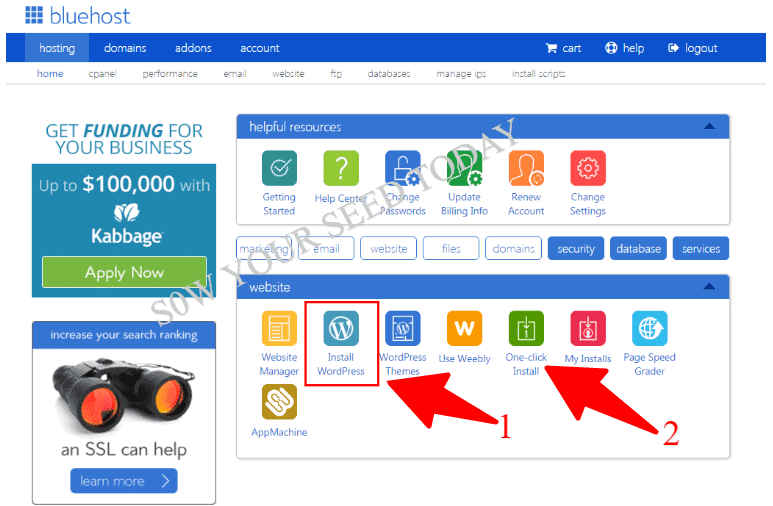 Congratulation and welcome to the blogging community!! Your website is live now!


Want to learn how to design your blog, visit this post.
Conclusion and my final word
Bluehost is a trusted brand in the web hosting industry and starting your blog with them is a good choice. And even more, their prices are really affordable.
With only about $214, you can host your blog for 3 years. It means that you don't have to pay a penny for it if it's only after the 3 years. Bluehost will not charge you for your hosting service until after this frame period. It is the costs of your domain name they will be invoiced from the after the first year.
PS: This illustration is based on the "Choice Plus3 plan and not the basic plan and it comes with unlimited websites and more great features.
It is up to you to decide according to the vision you have for your business what plan is right for you.
For instance, if you have a long vision with your business, I advise you to choose the "Choice Plus" plan. It offers you an unlimited number of websites (i.e. you can host as many sites as you want without extra cost – apart from the cost of your domain name) and also unlimited storage.
In addition, you get your domain privacy protection free forever and a 60% discount if you bought a 3-year membership plan. This allows you to save a lot of money during these 3 first years.
The best alternative to Bluehost
If Bluehost is not your first rodeo, HostGator is another best web host service provider you can use.
With only 2.75$ per month, you can get your blogging rolling in a min.
Up to you
I hope you found my step by step guide on how to start a blog with Bluehost in 2020 helpful. And you have been able to get your website live.
Sharing is caring! Don't hesitate to share it with your friends.
In case you have a question or need help to set up your website, don't hesitate to reach out to me via my contact page.
Be an ACTION taker, SOW YOUR SEED TODAY!!
To your success!