Welcome to my Pinterest Marketing guide for beginners.
If you are here, chances are you have started your blog or website and now you are looking for ways to build or to expand your brand awareness for the ultimate purpose of your business: boost your sale and revenue.
With over 200 million active monthly users worldwide, learning how to use Pinterest for your business is a great idea.
As Neil Patel said if you still think Facebook and Twitter are the be-all and end-all of social media marketing tools, think again.
Because Pinterest is not only the fastest growing and popular social media platforms growing social media platform but also the best for business to grow for several reasons:
A pin get more exposure and has a longer life than a Facebook post
A Pinterest pin if well optimized can rank higher on search engines and then attract visitors to your site
Every post you share is an inbound link for your site and with the right visual content, your pins can go viral. That increases your chance of getting traffic, leads, and generating sales
From now you know that Pinterest compared to Facebook, or Instagram is a social site your business should not overlook.
So in this mini-guide on how to use Pinterest for business, I will show you how to get started with Pinterest marketing the right way.
Here below is what I will be covering in this guide:
How to use Pinterest for business – in 2 steps
Step 1: set up the foundation – your account set up
First and foremost, there are 2 types of account you can create on Pinterest: a personal accounts (for personal use) or/and a business account ( for business use).
As a business owner, your first step to getting started with Pinterest marketing is to create your business account.
The rookie mistake most new bloggers make is to use their personal accounts for their business.
In fact, there are important features a Pinterest business account gives than a personal account such as:
Analytics,
Rich Pins,
Promoted Posts and much more.
So your first step to getting started with Pinterest marketing is to set up your business account.
Let's get this task out of the road on how to use Pinterest for business right now.
1. Set Up Your Business Account
To set up your Pinterest business account you have 2 choices: whether to create a brand new Pinterest business account or to convert your personal account into a business account (if you have a personal account already).
To create a brand new account, go to Pinterest for Business. Then click on the "sign up" button as below.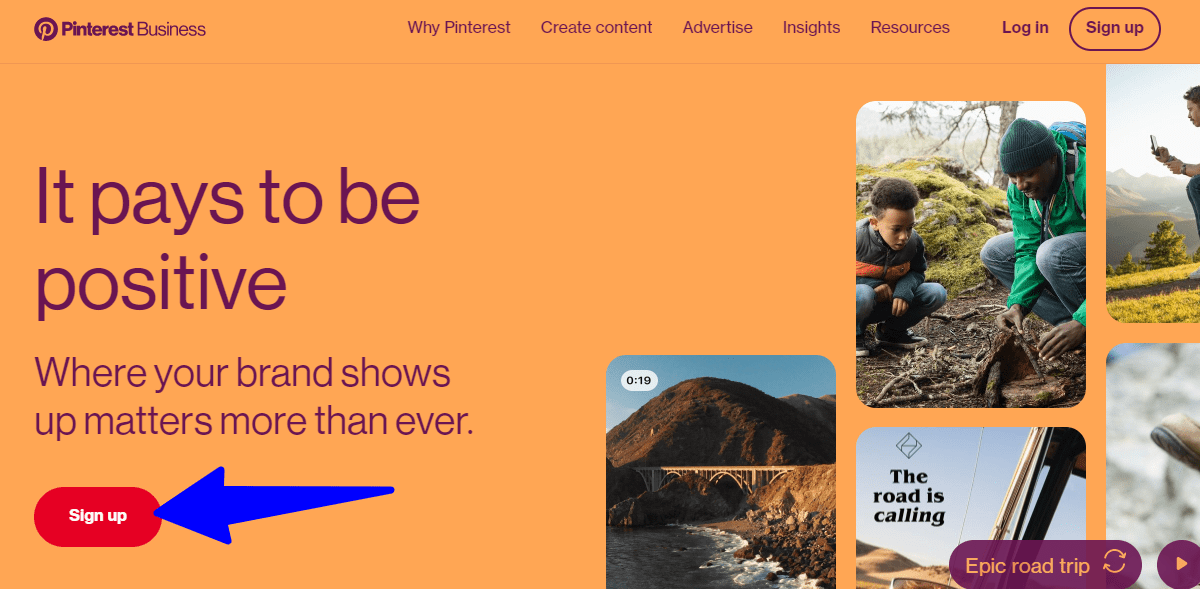 Then complete the details about your account (email, password, and age).
Read and accept if you agree to the Pinterest Business Terms of Service and then click on the "Create an Account" button as below.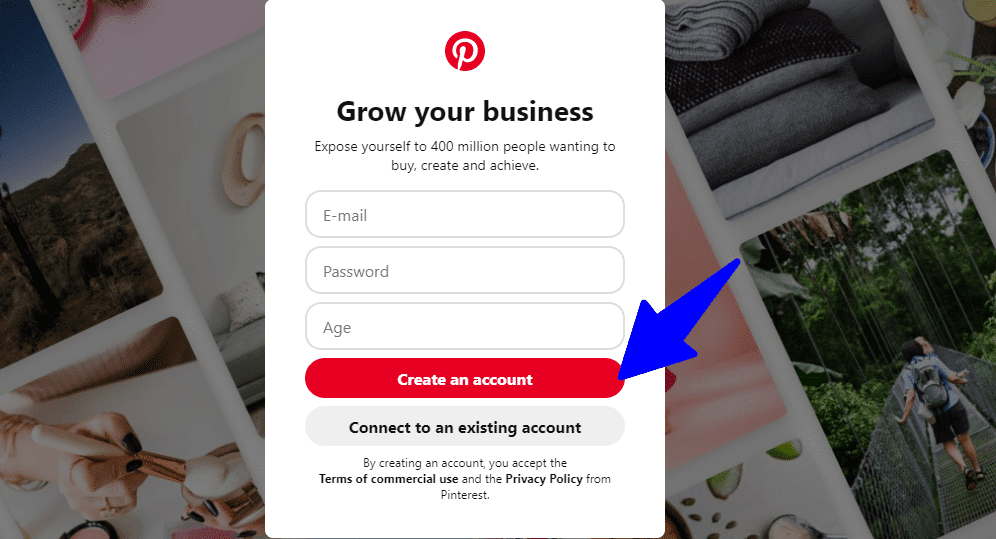 If you already have a personal account, you can turn it into a business account.
It is easy to do like 1, 2, 3.
Just log in to your personal account and then go to Pinterest for business.
From there, click on the "convert now" button.
Complete the information about your business, and then validate by clicking on the "convert to business account" button.
Pinterest will keep all your personal account information such as your pins, boards, and followers in the new one.
2. Help your audience and future customers connect with your brand – Complete Your Profile
Don't judge a book by its cover.
You heard this quote a million times.
Maybe! The trust is that Pinterest is a visual social media platform. Your design skills and creativity is what will help your business stand out from the crowd.
And your Pinterest Marketing starts with your profile set up.
So make your profile look nice by:
Uploading a nice photo of yourself or your business logo.
Choose a username that can help you brand a nice link for your Pinterest business account. Your business name will be "OK".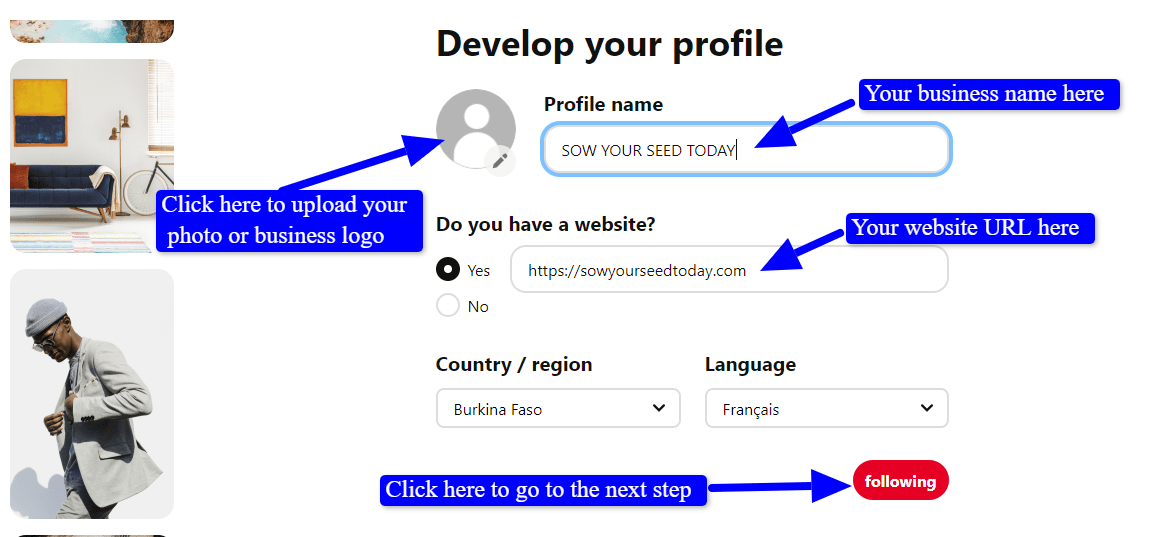 Then click on the "following" button to go to the next step where you will need to describe your business. In the next step, you just need to choose your business industry.
Select the one that matches your business or choose another if you don't find something that matches your business and precise your business field. I am in the internet marketing field. So I will write "internet marketing in this area.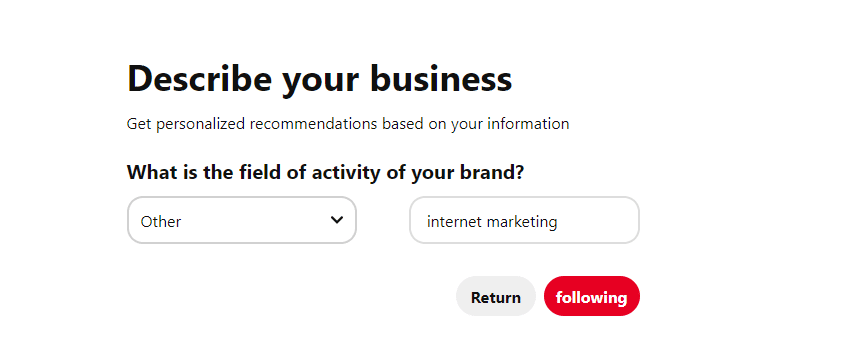 In the next step, you will still need to provide more information about your business. You have to choose if you are a blogger, E-commerce or merchant site, Creator, influencer, public figure or celebrity, etc.
If you are a blogger like me, just choose blogger and hit the "following button to go to the next step.
In the next step, you need to optimize your profile so that people can connect with you or even find you if they make use of the Pinterest search feature.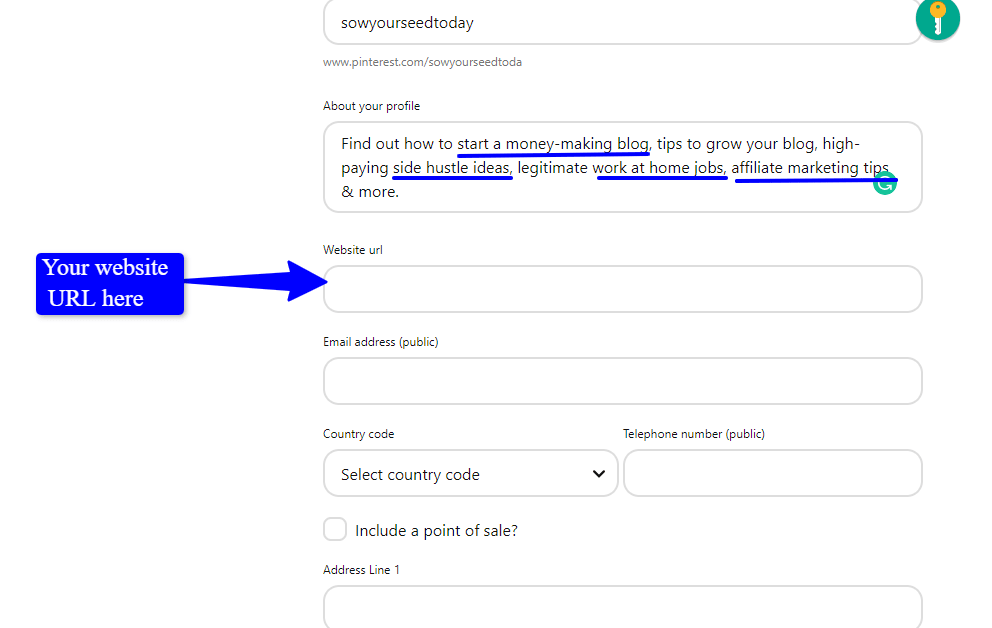 Here is how to do it…
Add a bio – a short description about your business while including keywords in it so that people can find you when they do a search. Even in the displayed name area, don't just add your brand name. Include keywords related to your business or what you will be pinning there as you see above.
Give people a reason to connect with you by adding details about your interest, location, and what you will be pinning in your account.
Add your website link and then claim it ( see below for more detail about how to claim your website with Pinterest).
3. Claim Your Website with Pinterest
You may be wondering why you need to claim your site with Pinterest.
Alright!!
Know that Pinterest is not just a social network but also a search engine like Google- a Visual search engine I mean just YouTube is a video search engine.
Verifying your site is important for 2 reasons :
1. It helps for your Pinterest account optimization,
2 It helps you have access to Pinterest analytics where you can know who is your audience, the link links they click, the pins that get more impression, repin, and clicks, etc.
Here's how to get it done:
Click on the "claim your account" button as below.
As you can see in the image below, you have the option to claim your website, your YouTube channel, Your Instagram account, and even your Etsy account.
Here you need to claim your site.
So let's click on the first button.
By clicking on this button a pop up like the one below will appear.
You have 3 methods to claim your site with Pinterest.
For simplicity, we will choose the first method where we just need to add the HTML tag in the header section of our website.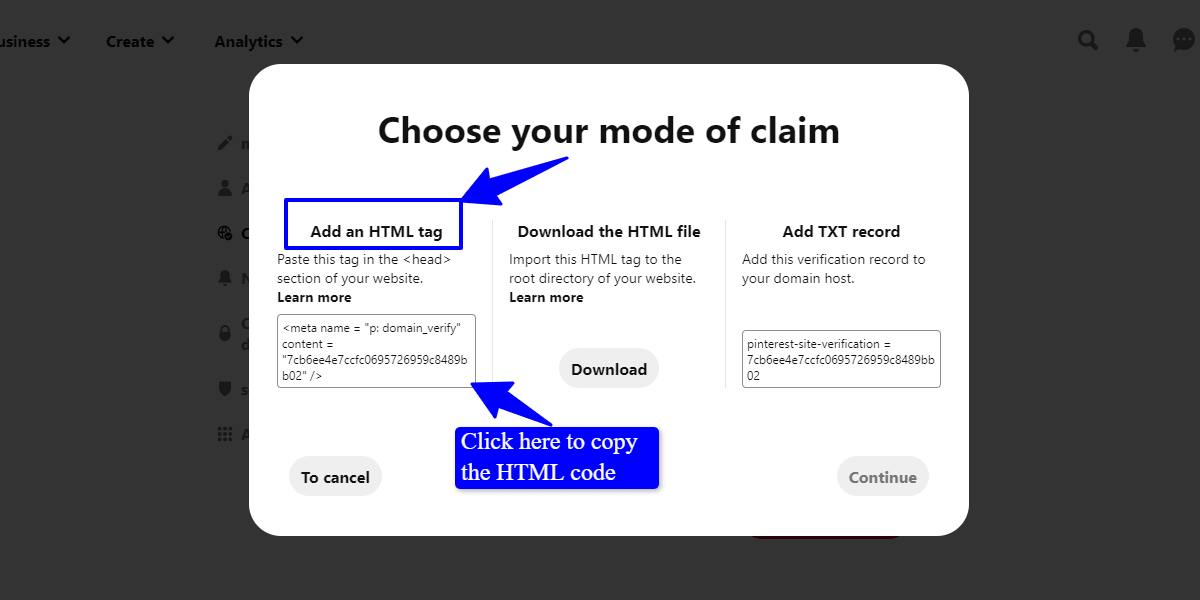 You need to copy the HTML tag. Once done, log into your WordPress dashboard, then go to appearance, then to the theme editor.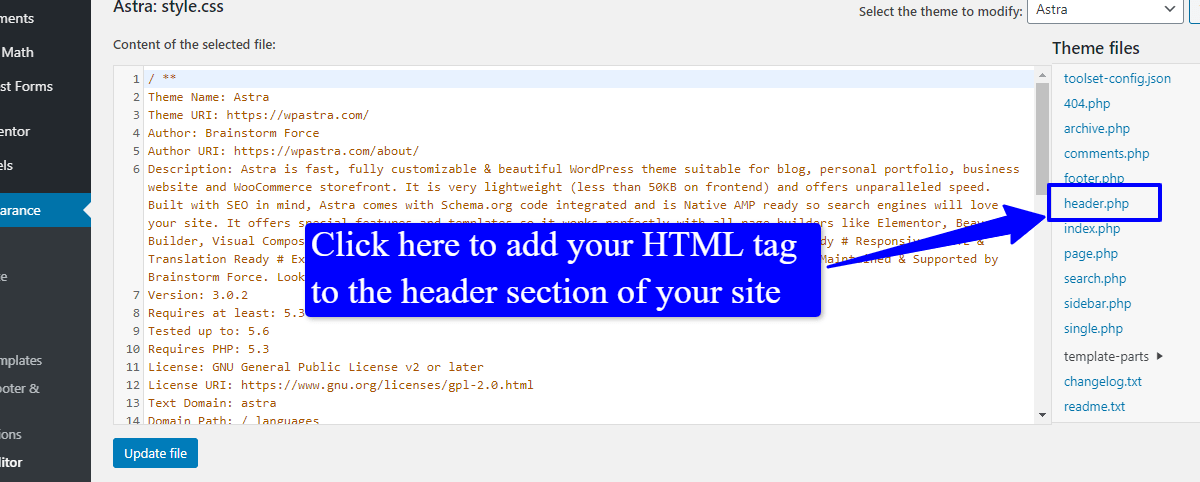 When you click there, you will see code like below. Locate the header section of your website as below. Then type just after the first header, and then type on "enter" on your keyboard and paste the HTML code there.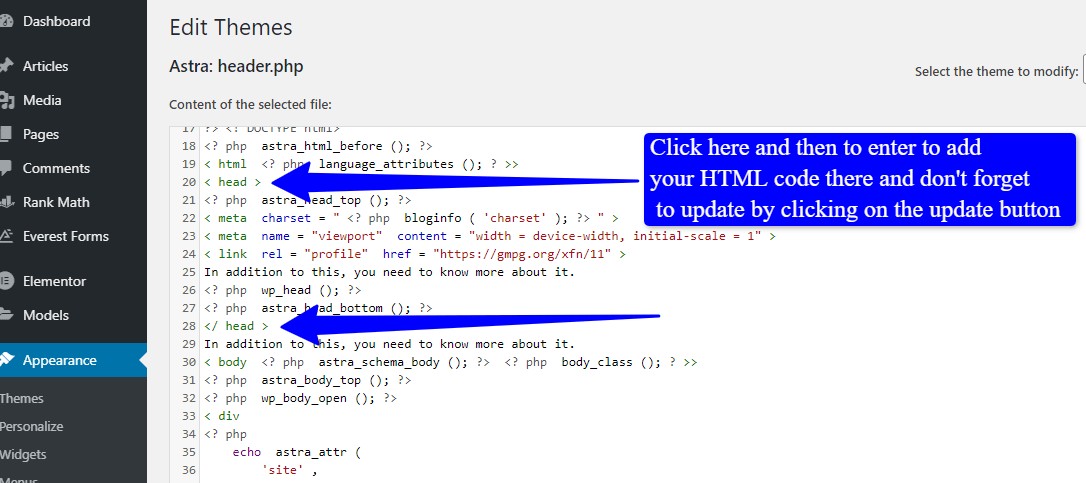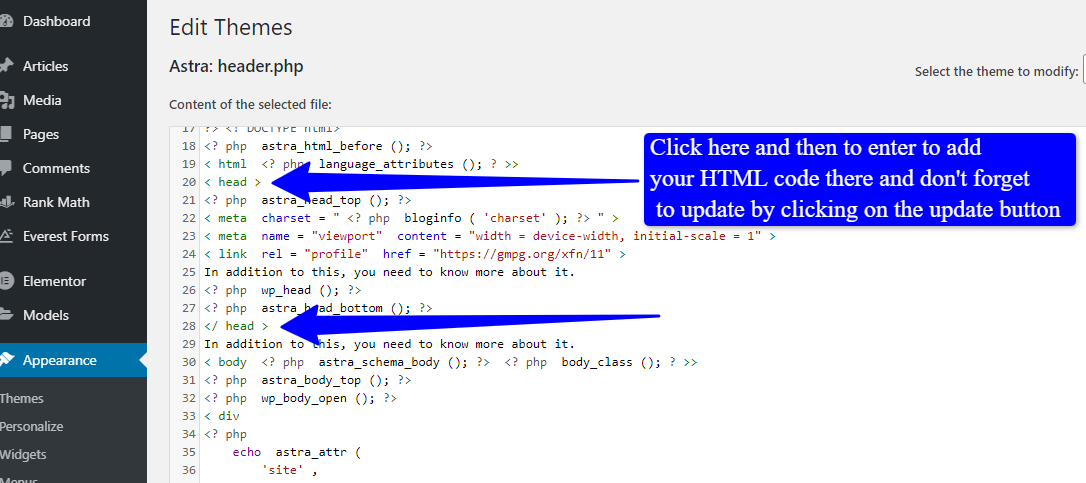 Once you have pasted the code there, just take look below at the page, you will see the "update file" button. Click on it to save your change.
After that, return to your Pinterest account, where you have copied the code. Click to continue and then add our site URL again and validate.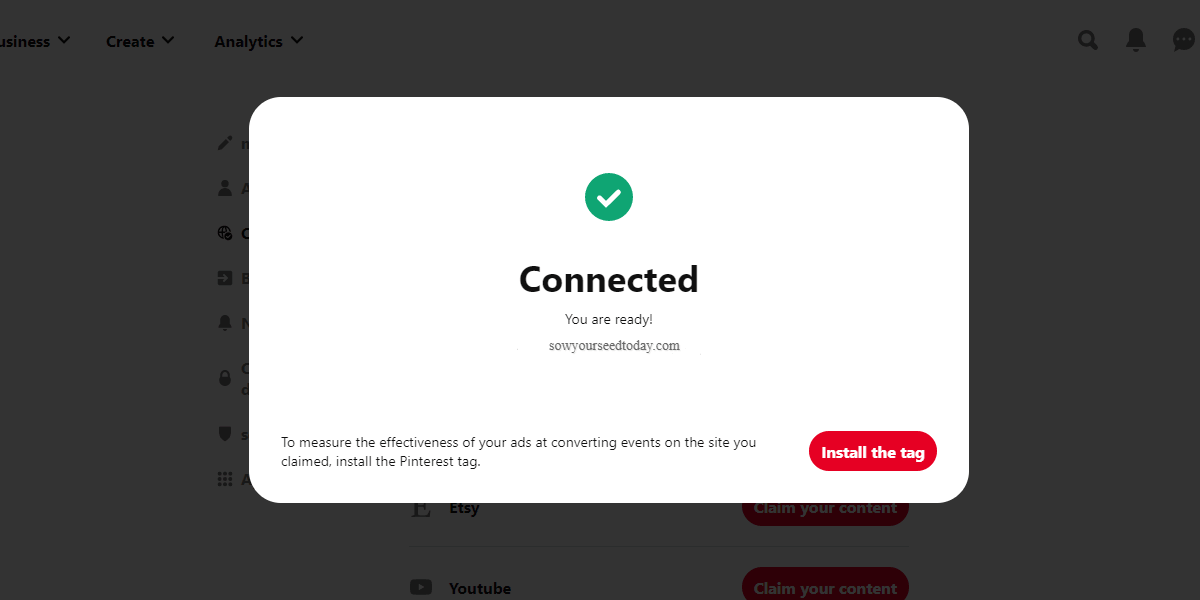 Hoop!!! hoop!!! you did it.
You should receive a message that says your verification was successful as above.
Once your account is properly created and your profile well optimized, the next big step is to make use of Pinterest marketing to drive traffic to your site and then generate leads and sales for your business.
So move with me to the next section of my guide on how to use Pinterest for business where I will show you how to market your business the right way on Pinterest.
Step 2: Advertise your business – Pinterest marketing guide (basics)
1. Create boards for your account
As for Pinterest, a board is where you save and organize your Pins. You can create boards based on your website categories.
For example my blog cover subject such as side hustle, blogging and affiliate marketing.
I can create boards like side hustle ideas, blogging for beginners, blogging tips, affiliate marketing for beginners, etc.
To create your Pinterest board follow this guide.

2. Create pins for your boards
Based on Pinterest's own term, a pin is a visual bookmark that you collect on board.
You can create a pin from scratch or save a pin of someone on your board (repin).
Note that Pinterest works as a search engine. It is even a visual search engine. So you need to optimize your pin for SEO so that your audience can find you when they do research on Pinterest.
It starts with your image file name. When uploading your image to your computer, name your file with your targeted keyword.
For instance, if my targeted keyword is about how to increase website visitors, and the image below is an image I will upload to pin, I will name it "how-to-increase-website-visitors".
Add your keyword into the title of your pin.
Add your targeted keyword and also related keyword into the description of your pin.
Add your blog post link in the "add a destination link" section. The keyword you will be using in your pin must be the same one you used for your blog post. You can also use a related keyword.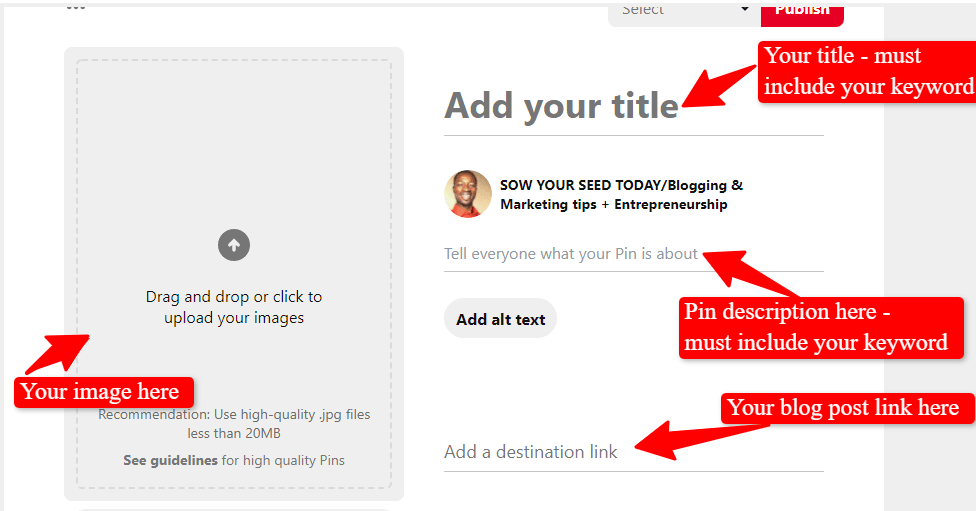 3. Apply for Pinterest rich pins
Pinterest rich pins are pins that have extra information attached to the pin.
There are 3 types of rich pins:
Product Rich Pins,
Recipe Rich Pins, and
Article Rich Pins.
For instance, article Rich Pins show the title, the meta description (snippet), publish date, and sometimes the author's name. In the feed, the article Pin shows the title of the post.
To apply for rich pin, go here and follow this guide from YOAST SEO to add the meta tag to your site.
3. Start following people in your niche and engage with them
The more followers you have the more exposure your pins will get if done right.
So you will need to start seeking followers. You can achieve that by following people in your industry.
Just use the Pinterest search bar, and then make a search using a keyword in your niche.
For instance, if I want to follow people in the affiliate marketing industry, I will do a search about affiliate marketing or "affiliate marketing for beginners".
Pinterest will pop up pins that match my search. What I have to do is to click on each pin and follow the people I want to follow.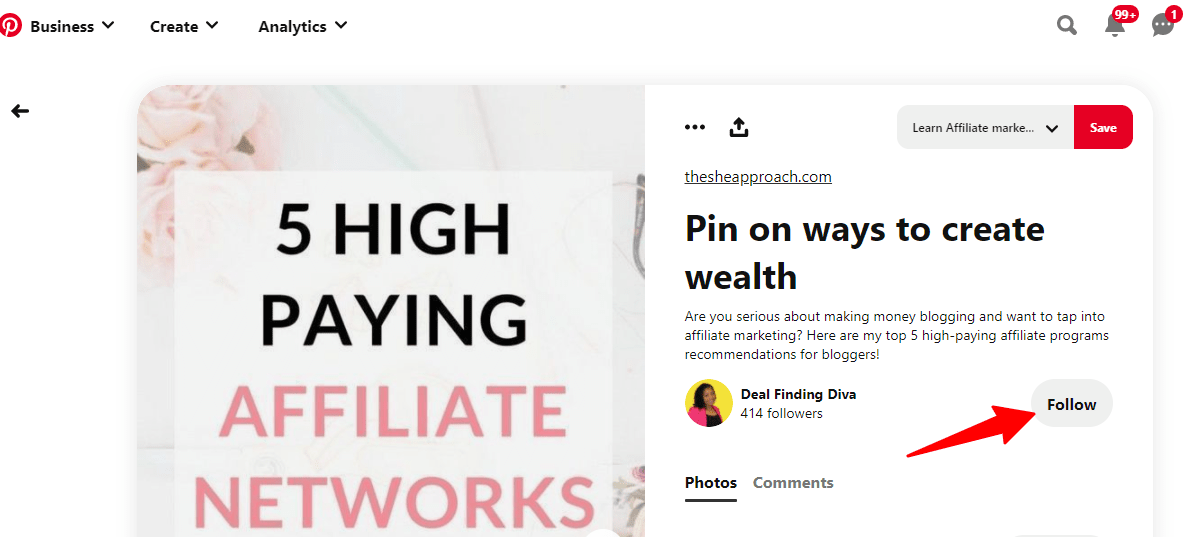 You will tell me but I want followers!
Yeah! Offers to others what you want them to offer to you. It is a social media platform at first glance.
If you engage with other people they will return the favor to you.
4. Join group boards in your niche for more exposure
Another way to increase your followers, have more exposure of your pins, and drive more traffic to your site, is to join group boards.
To find group boards, check out pingroupie and then inter a keyword related to your industry. You will get group boards related to that keyword.
Here below are results I got with the keyword 'blogging"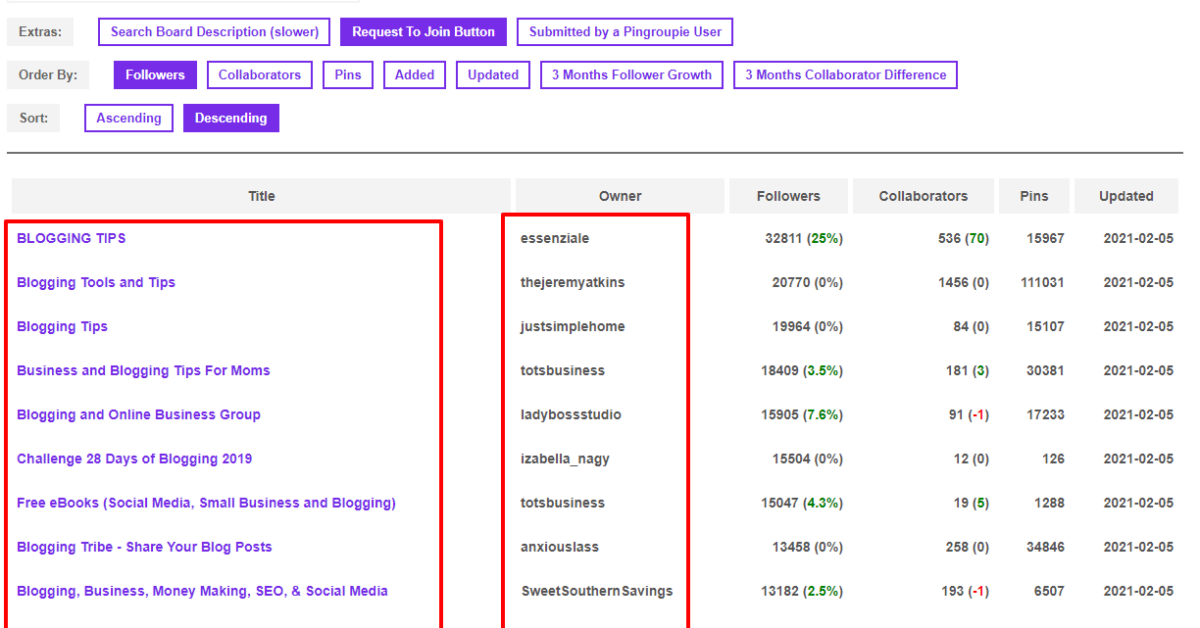 What you need to do is click on the group name, then click on the "visit this board on Pinterest" and then send a request to the board owner to join that board.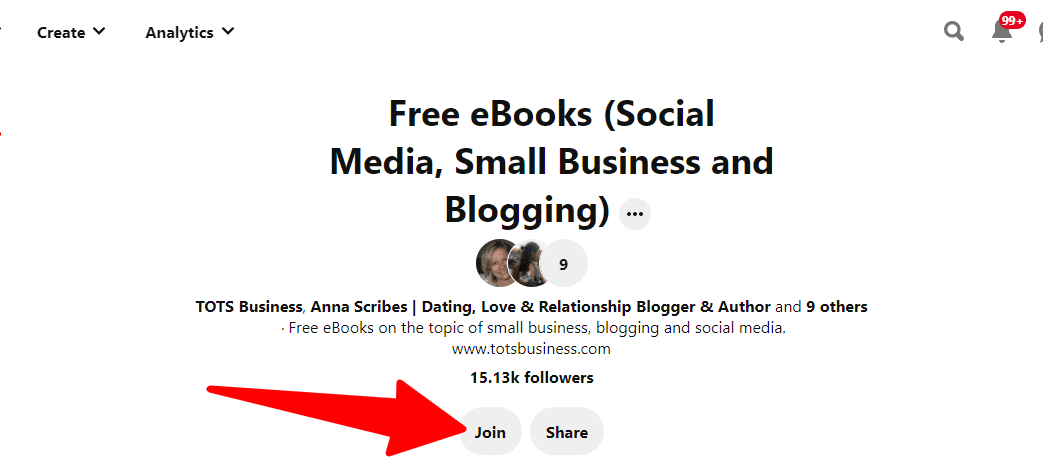 Most group owners require you send your request to them by email to get accepted. Do it if you want.
Some will approve and let you join their group board without reaching out to them.
5. Pin but don't pin to pin – pin for a purpose
That is easy to say than done. But if you want to make the best of Pinterest marketing, you need not only to pin on a regularly but also to pin with a purpose.
It is the outcome that matters.
If your goal is to drive more traffic to your site and generate leads for your business, optimize your top performing blog posts to increase your conversion rate.
Final Pinterest marketing tips
Create evergreen and interesting blog posts and then pin them on board,
Follow only pinners who have the same interest as you – same niche,
Pin when your audience is online. According to expert the best time to pin are:
Check out your Pinterest analytics to learn more about your audience: their gender, age, interest, what they like the most, etc and then give them what they want,
Optimize your pin for SEO,
Pin regularly, at less 30 times a day. Don't just pin your own content, pin other people's content in different boards.
Final thoughts on Pinterest marketing guide for beginners
Pinterest is a visual search engine and one of the most popular social media platforms businesses can use to grow their audience, brand awareness, and sales.
If you are looking to make your first steps in this wagon but don't know how to go about it, by following this mini-guide (on how to use Pinterest for business), you will be able to get started the right way.
That being said, I hope you found this guide helpful.
Do you have a question? Or Pinterest marketing tips or experiences to share with us?
Let me know in the comment section.
Be an ACTION taker, SOW YOUR SEED TODAY!
To your success!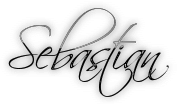 You may also like…
Do you have your own website or blog and now looking for affiliate programs to…