Want to know if Aaron Chen's Invincible Marketer course is the right one for you or not?
Read my honest and unbiased Invincible Marketer review for 2022 to find out.
In case it is your first time on my website, I am Sebastian. A am a full-time worker and a part-time blogger and my aim via this website is to provide to my audience information, tips, and in-depth products review to help them make an informed decision.
I have reviewed 100s of courses on this website and my goal is not to sell you this product but to give you my honest and unbiased opinion.
What to expect from me in this Aaron Chen's Invincible Marketer Course review?
Here are the points I will be covering in this review to help you make your decision easier:
Invincible Marketer review summary – company Overview
Product Name: Invincible Marketer
Owner: Aaron Chen
Website: https://theinvinciblemarketer.com/
Cost: $67 per month or $430 one time fee after your first payment
Overall Rank: 5/10
Is Invincible Marketer Scam? No
Do I recommend this? No there are better alternatives
You can check out my top best hand-picked courses to find the best alternatives.
What is Invincible Marketer about?
Invincible Marketer is an affiliate marketing training course designed to teach you how to build an affiliate marketing business and make money from it.
The course has been created by Aaron Chen, and he claims he will teach you how to become a successful affiliate entrepreneur throughout his training program. According to him, no matter if you have failed in the past with other courses or are just getting starting today, his training program will help you to create true freedom. "Failure is not an option with this program" – own word.
Sale pitches or reality?
I am confident affiliate marketing is a legit business model and it is possible to make a consistent and passive income from it.
But most of the claims here are just bold claims and sales pitches.
If it was easy as most gurus out there make sound everyone will be doing it and we all will be rich.
Right?
But that is not the point.
The primary question is still not answered.
What this course is about?
It is a digital marketing course combined with a personal development course.
So if you are the kind of person who doesn't like training where the owner talks more on mindset, but an affiliate marketing training course that shows you the "how-to" and implementation process, you will have to look elsewhere.
Because most of the training materials talk about the mindset and attitude to develop in order to be successful.
While this can be beneficial for some, it can be overwhelming for someone who wants a course that goes straight to the point.
Mindset, yes! But I think before you even start with any entrepreneurship endeavor, you must have that mindset first.
If it is within a marketing course you will learn all these basic things, I am sure your route could be too long.
I am not saying having mindset materials inside the training is a bad idea, but if you look at the training curriculum there are too several lessons that cover this subject.
Anyway, this is my own opinion. Though you can skip all the mindset training materials.
Who is Aaron Shen, the Invincible Marketer course owner?
Aaron Shen is an online entrepreneur and online course creator, YouTuber, and coach.
Before he starts working online he has been working as a full-time worker for 10 years.
According to him, he started his online journey in 2009, and like everyone he has made mistakes, lost money on too good to be true programs. But he learned from his errors and mistakes and managed to turn his failure into success in 2016.
Just like many course creators, after he had success with his affiliate marketing business, Aaron decide to teach other people how they can make money in this industry.
Seems his aim is to help his students dominate in their industry and be more successful. Hence the name "Invincible Marketer", combining a personal development training with digital marketing course.
That leads us to a meaningful question that deserves the right answer.
Can Aaron Shen walk his talk? Or it is another hyped and under-delivered product with a good commission just to lure unethical affiliates to just spread the word for a commission?
Just hold with me because by the end you finish reading my Invincible Marketer review you will be able to know if this course is worth it or not.
How much does the course cost?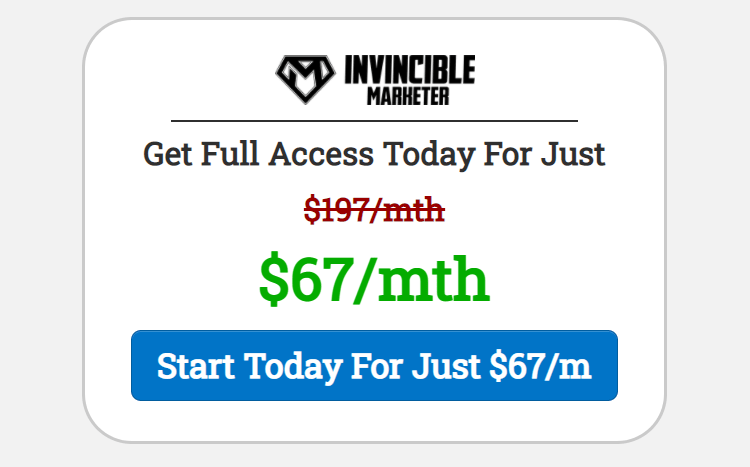 Aaron's Shen' Invincible Marketer course costs $67 per month with an option after your first-month payment to upgrade for a lifetime membership at the cost of $430.
So, after your first $67 payment, if you decide to continue and want to save more money, you can upgrade for the lifetime membership.
There is also an option to pay $145 monthly for 3 months.
Is it all your expenses to start with affiliate marketing if you join Aaron Shen's Invincible Marketer course?
The straightforward answer is a big NO. Because you need tools to run your affiliate marketing business (what I found normal and logical) and what you pay is just the cost to learn how you can get started the right way with affiliate marketing.
And depending on the promotional channel you will choose your ongoing yearly expenses could range from hundreds to thousands of dollars.
Yes, you read me right!
In fact, the course teaches you how to run your business with free traffic sources like blogging (as we do it) and also paid traffic sources such as Google ads, Facebook ads, and YouTube ads.
For your blogging start-up cost, you can check out this post. It doesn't require a lot of money to get started.
As for paid ads, it requires a huge advertising budget. Not an option for people on a budget.
That said, I think Aaron did a great job covering all these promotional methods. That gives students an option to choose the one that fits their budget capability.
But talking about blogging where SEO is a must-have skill you should develop in order to rank your site on search engines like Google, Bing, and Yahoo, can Aaron Chen be a good teacher?
I know he is doing good a good job on YouTube. As for blogging, he does have a website. Do your own research if this is the part of the course that interests you before you commit because most gurus just create add things just to increase the number of hours it takes.
Is there a money-back guarantee?
Aaron Chen offers a 30-day money-back guarantee. But this refund policy is bound with conditions I think are very difficult to meet. This is not a question-asked refund policy.
The Invincible Marketer owner, says that in order to qualify for a refund you should finish the program, get involved with their community, and show them you've implemented the strategies, and even after that, you still don't see it is worth it, then you can get your money back.
Here is his own word:
"We put our heart and soul into our products and we are confident in the information contained in them so we do require you to complete all the sessions, get involved with our community and build out your capture page and value series before making your refund request. If you have done so and can provide evidence of the work you have done laid out in the program and still don't feel like you got your money's worth, then we are happy to give you a refund within the 30 day period."
In my opinion, it is impossible to complete the training, and do all these things within 30 days.
That being said, I recommend you take your time to do your research, be sure this is what exactly you need before you commit, and don't join this program (including any program or products) with the intention to ask for a refund.
What do you get for your money?
If you buy the Invincible Marketer course here is what you get:
Step-by-step core training modules,
Bi-monthly coaching calls,
Done-for-you blueprints, templates, and handouts,
Expert mentoring,
Bonuses,
Community help and support.
Course overview – What do you learn in this course?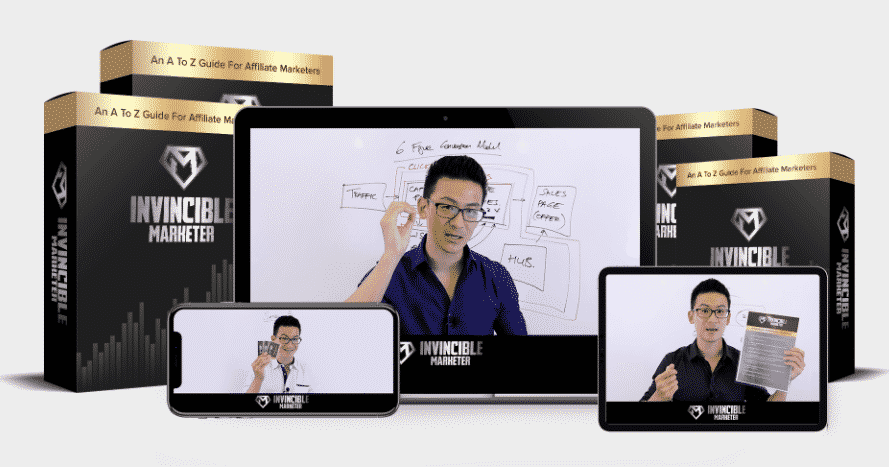 As I said, the Invincible Marketer course is a combination of mindset courses with affiliate marketing.
The course is packed with training videos that teach you the fundamentals of affiliate marketing, mindset and attitude to develop, strategies and blueprints to follow to start and grow a successful affiliate marketing business from scratch.
In this course you learn how to:
Choose a profitable niche and the right products to promote to others and make commissions,
Determine your buyer's persona, know your audience needs and problems they are facing, Create a high-converting sales funnel,
Write copy to pre-sell your audience,
Build an Email list and then run email marketing campaigns,
Drive traffic from native ads, banner ads, social media, and search engines to your pre-sale pages,
Build a website or blog to drive traffic from search engines like Google, Bing, and Yahoo,
Create a successful YouTube channel,
Provide more value to your audience, and more.
The mindset training covers subjects such as:
Goal setting and adjustment,
Developing a winning mindset,
Productivity hack, and much more.
You can watch the Invincible Marketer course review by the owner himself.
Who is this course for?
This course is for those who are looking to make money online with affiliate marketing. No matter if you are a 9 to 5 worker looking to start a side online business in this industry or just someone who is looking to work full time online, this is for you.
The training also covers several methods including blogging. So even if you are a beginner or an advanced affiliate marketer, you will have the chance to learn from Aaron.
Who is this course not for?
This course is not for you if you don't have money to cover the ongoing cost and also to buy tools and services to run your business.
In fact, there are a lot of bonuses including funnels templates, and what they don't tell you is that these DFY stuffs require an investment. You need to pay for the tools used to create these templates every month.
Example: Funnel builder tools like ClickFunnel or Kartra cost at least $97 per month. A cheaper alternative is this one that even offers a free plan with useful features certain paid tools don't offer on their basic membership.
The course has been hosted on Kartra and its basic plan cost is $99 per month. I guess it is their recommended funnel builder tool
So this course is not for people on a tight budget.
This course is not also for you if you are looking for push-button systems to make easy and quick money online. The claim of 30 and faster way to make money with his program is just a sale pitch.
Affiliate marketing is a rewarding and real business but it requires hard work and persistence.
Before you go for it, be prepared. Thankfully Aaron's Invincible Marketer course teaches mindset too.
Invincible Marketer Pros and Cons
The Pros
✔ Training cover both free and paid traffic source,
✔ Aaron Shen is a legit and an experienced affiliate marketer,
✔ Facebook Community access for support,
✔ Bi-monthly calls.
The Cons
❌ The cost of the training is a bit expensive,
❌ An extra cost on paid tools involved,
❌ 30-day work guarantee is a bold claim,
❌ Refund policy is bound with conditions,
Invincible Marketers alternatives
Invincible Marketer courses is definitely a legit course and the owner did a great job by putting in place this course to help people who are looking to make money online with affiliate marketing.
If this course is not your first rodeo, you can check out my top list of affiliate marketing courses to choose one that fits your need and budget to get started.
I hope you found my Invincible Marketer review helpful.
be an ACTION taker, SOW YOUR SEED TODAY!
To your success!
You may also like…