Welcome to my BuilderAll review for 2022.
If you are looking for answers to questions such as is BuilderAll a scam?, what is BuilderAll? Is BuilderAll worth it? etc, you are in the right place.
I have tested BuilderAll's platform for 30 days and I think as an email marketing and automation enthusiast, I can tell you if BuilderAll worth it or not.
So through this BuilderAll review, I will not only answer your question but I will also tell you if BuilderAll worth your hard-earned cash or if you should use BuilderAll or not.
I will also go through the features of their products, the pros, and cons of the BuilderAll platform so that you can make an informed decision.
A side note before we move in with this BuilderAll review.
BuilderAll has been created in 2011 and since then the platform has been updated several times. When I was writing this BuilderAll review for the first time (in November 2019), BuilderAll was at its 3.0 version. The software has been released in a new version called BuilderAll 4.0.
So know that this review is about the new version.
Is BuilderAll a scam? BuilderAll review summary
Company name: BuilderAll
Founder: Eric Salgado
Website: https://builderall.com
Products: All-In-One marketing tool
Price: $29.90 to $99,90 per month (with a $199 upfront fee)
Suitable for: Affiliate Marketers and Online entrepreneurs who need an All-in-One online marketing tool.
Is BuilderAll a Scam or legit: Legit
SOW YOUR SEED TODAY rating: 7,5/10
Recommended? Yes, if you are a BuilderAll fan.
Though there are better alternatives and cheaper options out there.
Check out my #1 All-In-One marketing tool for beginners here.
What is BuilderAll?
Created in 2011 by Erick Sagalado, BuilderAll is an All-In-One marketing tool provider for internet marketers who are looking to build and grow an online business while getting access to the essentials tools in one roof.
Indeed, with BuilderAll, you can build your online presence and have most of the marketing tools such as a sale funnel builder tool, autoresponder, membership site builder tool, etc in one place to grow your online business.
In a nutshell, BuilderAll allows you to create sales and webinars funnels, landing pages, lead funnels, videos, mobile applications, online courses, and websites.
It seems with the new version, you can have access to over 30 tools within the platform.
But are all these tool suite good and quality for your starting, launching, and growing your online business? Or it is just a selling point for Erick Salgado and his affiliates with no value to offer in each of these tools?
Stick with me till the end of my BuilderAll 4.0 review to know the truth.
BuilderAll tools & key features)
Know that BuilderAll 4.0 has 30 tools suite and I will not go into detail for each tool suite here.
BuilderAll tool suite can be grouped into 5 sections:
email marketing software,
Social media management, and
Video marketing design tools.
The Builders
This is the section where you can build:
Website for your business,
funnels such leads, webinars, and sale funnels,
Let's start with the builders.
cheetah website builder
This tool helps you build a website without prior coding skills. As Wix, their site builder provides a drag-and-drop editor that allows users to build a stunning website with no coding skills.
However, you need to know BuilderAll 4.0 is a stand-alone platform and you can't transfer your site to another web hosting platform like Wealthy Affiliate or Bluehost if you find that the service offered doesn't fit your needs.
This means that if par example you cancel your account, you lose all your hard work forever.
Flexibility and freedom are very important to me and I want anyone who is serious about starting a long-term business to take it into account.
So my advice is…
Whatever the platform you will choose to build your online business think in the long term and make a wise choice for your business. That's one of the reasons I said at the beginning that I don't recommend BuilderAll to starters if what they want is to build their online presence.
It is better to go with another company that will guarantee the success of your business than to compromise the future of your business by starting it with a company that does not allow you to transfer your hard work to wherever you want.
Remember that BuilderAll is not yet a well-established platform for hosting.
Version 3.0 comes with WordPress integration. That means you can now create a WordPress site with BuilderAll. If you already have a WordPress site you want to host on BuilderAll, that is possible with this recent update.
But what I said earlier remain. You need to stick with BA if you don't want to lose your hard work.
Funnel Builder
A Sale Funnel is an effective and efficient way to increase conversion rate and revenue.
With the BuilderAll funnel builder tool, you can create any kind of funnels, landing pages, etc for your outbound marketing campaigns.
In fact, you can create:
Lead funnel page or landing page and integrate pop up with it,
sale funnels to sell your products online,
webinars funnels to engage your audience and generate more leads and sales.
With the funnel builder tool, you have a wide range of templates available you can pick and create any kind of funnels you wise to market your online business.
App Builder
Having a mobile app is a great strategy to keep your customers engaged with your brand.
BA is the all-in-one marketing I know that offers this feature to users.
As I have mentioned earlier in this BuilderAll review, BA offers up to 30 tools. And the App builder is one of these 30 tools suites.
Just like their website builder, you can build a mobile app without any coding or programming skills by using their drag and drop Apps builder tool.
This seems a great deal for businesses and entrepreneurs who want to engage their customers while keeping them in the loop.
It can be tempting for freelance programmers or coders who build Apps for small and middle-size companies.
However, since this tool has been designed, despite the software updates, this tool hasn't been updated.
So if you are looking to build an Apps for business, BuilderAll is not the way to go.
You must look at other Apps builder tools for that.
Ecommerce store builder
Another tool suite, BA offer is an eCommerce building App. This tool allows users to create a stunning online store by using a drag and drop editor, integrate payment gateways such as PayPal, Stripe, etc to collect payment directly from their store.
This tool just comes with the new release and it is in partnership with Magneto, another online store builder tool.
The best part, you can integrate pop-up and build your mailing list on the go, set an affiliate program for your business, publish your store in the BA's marketplace to get other people to help you spread the word.
Email marketing tool
BuilderAll email marketing tool is called Mail Boss.
It is a tool you can use to send email campaigns to your subscribers. It comes with great features such as segmentation, automation, and more.
Users can build 5000 email lists to unlimited based on their subscription plan and then send unlimited email campaigns. This is because standalone email marketing tool like Mailchimp and SendInblue has monthly email limit users can send.
But when we look at the capacity of their email marketing tool like the deniability, the email editor design, etc this tool is far the best email marketing tool to rely on for your business.
In fact, with MailingBoss, you can't set SPF/DKIM records like you can do with other dedicated email marketing tools like Aweber, Moosend, ect to improve deliverability.
The worth part, unless you will use a third-party integration tool like zapier there is no way you integrate email marketing tools like Getresponse or Aweber with BA's Mail Boss autoresponder.
So if email marketing is your business's most important part, you will be doing better by looking for another tool like Getresponse.
Video Creation tools
The next type of tool suite you can access is the video creation and design tools.
This is a tool that allows you to create videos such as:
There are 2 tools in this category I will just name:
Mockup studio or design studio: it helps you create promotional materials such as videos you can post on Facebook, on your website, ebook covers, product catalogs, etc.
Animated videos: it allows you to create fully animated videos by adding animations, text, sound, image, and effects to make your video more interesting and catching for your audience. Thought stand-alone animation video Apps will do better.
Traffic management tools
I will not spend time talking about these tools:
There are 2 major tools here called:
On-page SEO report: this is just like an SEO plugin that helps you improve your SEO score and get your content optimized for SEO.
Unless it is the site builder you are using for your website, if it is WordPress, plugins like YOAST SEO or Rank Math will do the work for you for free.
Click map: This is also a tool I will not take my time talking about in this BuilderAll review. It is just a tracking software that tracks all your pages and shows you data about the click you get on links and videos on your website.
A tool like Google Analytics can also be a help if you are using WordPress and have access to such a plugin by hosting your site with BA.
Social media management tool
There are 4 social engagement tools that BuilderAll offers to help you build and engage with an audience on social media:
Facebook Chatbot Integration
This tool allows you to integrate a Facebook chatbot on messenger and interact with your prospects or customers.
You can connect it on Facebook messenger with an email marketing tool to engage your audience, build your email list and then turn your subscribers into customers.
Social proof
Social Proof is a great way to boost conversion as people tend to do what other people do.
BA has its own social proof tool you can integrate with your landing page, sales funnels, and online stores to boost your conversion rate.
Sitebot
Sitebot is just like the Facebook chatbot. It is a tool you can integrate with your website to engage your readers. The best part, you can collect your visitors' email addresses and then add them to your mailing list. A mailing list you can try to convert later.
We have done all the tools that BuilderAll offers to these customers.
Now let's move into the next section of my BuilderAll 4.0 review to find out how much all these tools suite cost.
BuilderAll Pricing: How much does it cost?
BuilderAll 4.0 has 3 membership plans compared to the previous version that had 2 membership plans:
The Builder Plan
Cost: 29.90$ per month
This plan offers you the possibility to connect 1 custom domain + 5 subdomains and comes with an SSL certificate. In addition, you have the following tools at your disposal:
Bump Sales, Upsales, and Down Sales,
E-commerce builder,
Full SEO On-Page Optimization,
Blogging builder,
DDOS Attack Prevention,
Website Daily Backup,
Email Scarcity Timers,
Email Marketing tool – build up to 5 000 leads (previously 10 000 leads),
A/B Split Testing,
Drag and Drop Email Marketing Automation,
Builderall Booking & Calendar App.
I appreciate the fact that this plan comes with a certified SSL and the ability to send unlimited emails.
However, one thing I don't like here is that even with $29.90 a month, you don't have access to their affiliate program. What I mean is that you can't recommend BuilderAll to a friend and get paid. I know that many refuse to mention that BuilderAll is an MLM company, and this attitude does not surprise me at all.
You may wonder how much money do you need to invest in order to access their affiliate program?
Good question!
That is what we need to invest in.
BuilderAll Premium Plan
This plan costs $69.90 per month. It locks almost all the tools and features the platform offers. But not all as there is another subscription plan out there.
With this plan, you have the tools mentioned in the previous membership plan and the following tools at your disposal:
WordPress 3-Click Integration,
Builderall Website Agency System,
WordPress 3-Click Integration,
Youtube Live Streaming Tool,
Facebook Live Streaming Tool,
Webinar Built-in Call to Action,
Builderall "right on time" and Evergreen Webinar Builder,
Builderall Professional E-learning Course Builder,
Builderall Unlimited Magazine Builder,
Professional Website Drag & Drop ChatBot,
Professional Messenger Drag & Drop,
SMS Messaging,
Builderall Telegram Automation App,
Builderall Directory Builder,
Builderall Private Chat Builder,
Builderall Video Hosting and Manager,
Cheetah Funnel Builder, and much more.
Funnel Club plan
This is the plan where you can have the chance to participate in their affiliate program. It costs a $199 up-front fee then $99.90 per month.
With this plan, you have access to all the features and tools BuilderAll offers with the opportunity to make a passive income by recommending the tools to other people.
You get access to the previous plan features and the following in the Club plan:
Weekly New Cheetah Strategic Themes,
Weekly New Nich Funnels added,
Special: Builderall Premium Affiliate Automatic Approval,
300+ Cheetah Strategic Funnels (quick editing),
10+ Builderall Premium Funnels,
20+ Niche Funnels for List Building (lead magnet included),
50+ Niche Funnels for Agencies.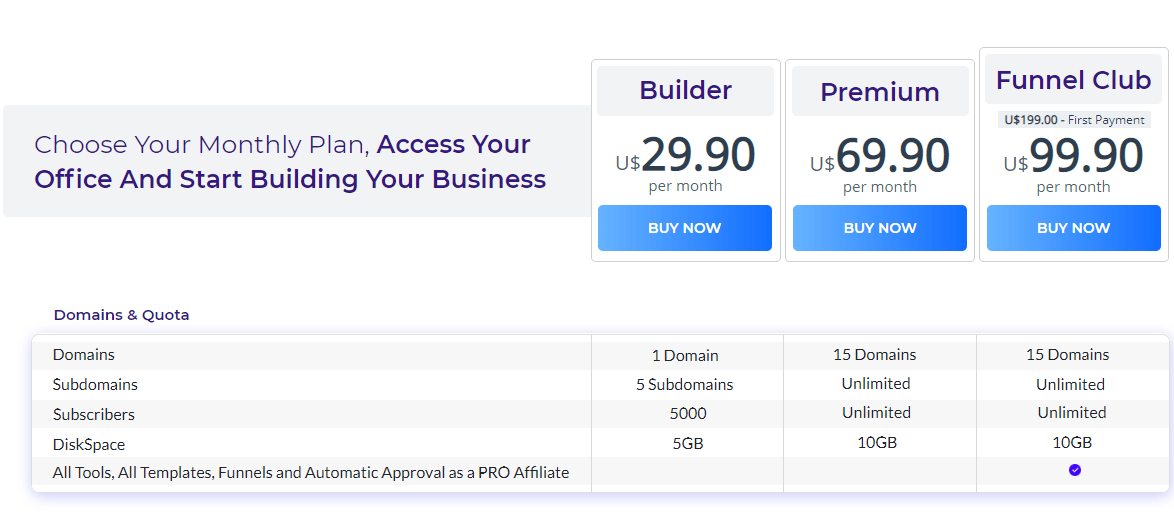 Does BuilderAll offer an affiliate program?
Yes, BuilderAll offers an affiliate program. You have 2 option if you want to become a BuilderAll affiliate:
Sign up as a BA premium customer and get approved automatically, or
Apply as a solo affiliate. If they find you are a good fit for their affiliate program, you have the chance to get accepted. Information such as your YouTube Channel, Social media profiles, number of subscribers are the information they want.
That means you need to be an experienced affiliate marketer before you qualify as a solo affiliate.
If you are started, I recommend you check out this training platform to learn how to become a successful affiliate marketer first.
Systeme.io and GrooveFunnels offer a 2 tiers affiliate program and you can join these affiliate programs for free. So if it an affiliate program you are looking to join, check them out because they pay 40% commission.
BuilderAll compensation plan
The BuilderAll compensation plan is simple. You are only paid on 2 levels deep. That is to say, you receive a commission on the purchase of your direct referrals and on the purchase of the referrals of your referrals.
You receive a 100% commission on the first month's purchases of your direct referrals and a 30% recurrent commission from the second month on all your direct and indirect referrals purchases.
This means that when you refer Pierre to BuilderAll and he subscribes to the Funnel Club membership plan, you will earn $99.99 on his first-month membership and about $30 recurrent commission. And if Pierre recruits Paul, you will still earn a commission of 30% on his effort.
But this is not all! They offer incentive bonuses to active affiliates.
Is BuilderAll a pyramid scheme?
No, it is not a pyramid scheme, per see. It is just a legit company that offers internet marketers online marketing tools they can use to build their business and make money alongside it via their affiliate program.
Can you make money promoting BuilderAll?
Yes. If you are ready to work hard, you can make money with BuilderAll. What is interesting is that they offer 100% on the first month's membership fees of your direct referrals.
But what you need to know is that this is not a get-rich-quick scheme or a magic program to become rich overnight.
Some people claim you can make $1000 in 3 months by joining their team or signing up with their affiliate link.
This is not true. They are simply looking to sell you BuilderAll software.
Many tell you that BuilderAll offers you all the tools you need to build a successful business. I do not deny that. There are certainly many tools that BuilderAll offers, but what people forget to mention is that BuilderAll does not offer you a keyword research tool for your blogging business.
If you are an Affiliate Marketer or a blogger, you cannot deny that this tool is one of the basic tools to build a successful business.
For PPC campaigns Google keyword planner is free a great tool. But this is for paid ads tool – not for organic traffic tool.
Just to let you know that you don't have everything and you will have to spend extra money to run your business properly.
Yes, there are free keyword research tools, but "knower" knows. Free tools are limited and will not lead you anywhere.
BuilderAll Pros and Cons
? The Pros of BuilderAll
✔ You can get all the tools you need to run an online business in one place.
✔ They offer a 30-day trial to test their service for just $1
✔ 30-day money-back guarantee
✔ Great features,
✔ Value for money.
? The Cons of BuilderAll
❌ No website migration capacity- Impossible to transfer your website to another web host if you want to cancel your account
❌ Pay-to-play system – you need to pay $69.90 each month to be part of their affiliate program.
❌ The company is too focused on adding more tools to its platform.
❌ The tools, as well as the interface, should look more professional.
❌ No free trial nor free plans like Systeme.io and GrooveFunnels
Is BuilderAll a scam?
Not at all. BuilderAll is not a scam. It is a legit company that offers you most of the online marketing tools at an affordable price to allow you to build and grow your business online.
But just because a company is legitimate doesn't mean it worth it?
So, is BuilderAll 4.0 worth it even if it is not a scam?
I think BuilderAll 3.0 is worth it. Considering their price and what they offer as tools, it's a deal.
However, weigh the pros and cons and make your own decision.
It is up to you to decide whether or not you should join BuilderAll 4.0.
BuilderAll alternatives (the cheapest ones)
If BuilderAll is not your first rodeo, here are the best alternatives to BuilderAll:
Systeme.io: Systeme.io is a new all-in-one marketing tool that comes with a free plan. Premium plans are affordable and value for money. You get access to a tools suite you can use to build and grow your online business in one place.
Check out my Systeme.io review to learn more.
GrooveFunnels: Just like Systeme.io, GrooveFunnels offers a free plan and a vast array of tools suite marketers can use to run their business. Right now they don't offer a monthly plan. They offer a lifetime deal. That means you can buy a lifetime license right and benefit from the upcoming update of the software.
Check out this post to learn more.
Getresponse: Getresponse is also another all-in-marketing tool out there. It is an email marketing-focused tool and can be a good fit for people who give more focus on email marketing.
Unlike both above tools, Getresponse doesn't offer a membership site builder tool yet. They have been introduced a site builder tool recently that make it becoming more and more a complete marketing tool for small and middle-size businesses.
Read my Getresponse review here.
Why I don't recommend BuilderAll to newbies
BuilderAll is not a scam, although it is not a pyramid scheme and despite the fact that their product is affordable I do not recommend it to beginners?
The main reason is:
There is no training that can allow you to build a successful online business from scratch
Their training is about how to use their tools and how to promote the tools.
BuilderAll does not teach you how to:
optimize a page for search engines (SEO),
attract traffic to your site,
convert them into customers and make money.
In short, they don't teach you how to build a profitable online business from scratch like certain companies like Wealthy Affiliate, Legendary marketer, Savage Affiliates, etc.
Every company has its role. BuilderAll offer tools to marketers. it doesn't teach you how to build a business.
So if you are just starting out, this tool is not for you. You need to understand how internet marketing work first.
My final word and thought
If you are a starter looking to start your online business, I don't think BuilderAll is the best way to go. Developing an online business is a long process.
BuilderAll is definitely not a scam and they offer many tools at an affordable price, but all these tools you will not need them at the beginning.
For example, you need to develop your site, attract readers before you need a lead capture page or an autoresponder to build your mailing list.
Unless you want to do outbound marketing. I mean using paid ads.
And when it comes to all-in-one marketing tools, I don't think BuilderAll is the affordable one because there are tools like Systeme.io and GrooveFunnels you can use. Ans they are cheaper than BA.
✍ Be ACTION taker, SOW YOUR SEED TODAY!
To your success!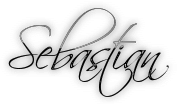 You may also like…