Is iMarketsLive a scam? Is "X" or "Y" a scam? These are the kinds of questions we ask ourselves when we discover a new opportunity for which we do not have enough information about it.
So, if you have heard about iMarketsLive and you are wondering if it is a legitimate company that you can join and make extra money on the side of your day job, you are in the right place.
Because throughout this review, I will help you know what iMarketsLive is and what products or services it offers.
Then I will show you IML's products and services and their cost.
I will also break down their compensation plan, the pros, and the cons of their service.
Finally, I will give you my honest point of view.
Is iMarketsLive a scam?: iMarketsLive overview
Company name: International Markets Live, Inc
Founder & CEO: ChrisTerry
Company website: https://www.imarketslive.com/
Company products & service: trading software, trading course
Cost: IBO – 15$/month; Platinium – 225$ up-front + 174,95$/month; Elite – 325$ up-front + 274,95$/month and upsells
SOW YOUR SEED TODAY rating: 30/100
Recommended?: NO – keep reading to discover "why?"
Here is my #1 legitimate company I can recommend – a beginner-friendly platform where you can learn how to build a long-term scalable business. You can even sign up for free – No credit card needed.
Check it out here (open in a new tab)👇👇
IMARKETSLIVE review: What is iMarketsLive?
iMarketsLive is an MLM company founded in 2013 by a man called Chris Terry, a Network Marketer who worked for Amway, another MLM company in the 90s.
It is a New York-based company that offers an educational service in the field of forex trading.
As an affiliate or iMarketsLive customers, you have the opportunity to learn from experts in this industry through their Live Trading & Educational Room platform.
There are also webinars every week and video courses available.
iMarketsLive products and services
FOREX and Cryptocurrency education – IMARKETSLIVE ACADEMY
IMARKETSLIVE Academy is the training portal of the iMarketsLive platform. They offer video courses on FOREX (The Foreign Exchange market) and cryptocurrency trading.
Terry claims that whatever your level in trading (beginner, intermediate or advanced trader) he and his team can give you the skills and knowledge you need to build real wealth wherever in the world.
Sound great?
Keep reading!! You will be surprised.
IMARKETSLIVE TV
Throughout their live session training via iMarketsLive TV (IML TV), subscribers can see how professional traders (Chris Terry, CEO of iMarketsLive and his team) trade in their way in Live, how they analyze the market,…
It is also through these live session subscribers get mindset and mentorship education they claim can help you build real wealth and freedom.
Huuummm!!!
IML harmonnics scanner: financial data and pattern recognition software
It is a software that scans the market to provide you financial data that will increase your chances of success in your trading operations. This software is available to all level membership.
IML Web Analyze
Like the previous, this is another trade scanner that iMarketLive provide to its users. And, as its name suggests, it is a web analyzer (Mobil App) that scans markets while providing FOREX and Cryptocurrencies market data to help you make the right decisions in your trade transactions.
Only available to Elite members. As a Platinum member, you need to pay an extra fee to get it.
Trade ideas
This is another service that Terry has put in place to charge members even more money. Even if it is not mandatory for members to pay for this service, it is still one of its strategists to fill its pockets.
Let's see what is it?
Trading ideas. You read it right! Ideas. It is still a form of additional education + trading ideas that you get directly into your mobile phone via their mobile App.
According to them, these are ideas that will allow you to have additional confirmation in your trading timeframe.
Do you now wondering what education they provide at the first level? I mean on the IML Academy & IML TV level. That's the question I'm asking myself too.
It's like a master who educates his students while keeping some information (let's say the most precious) for later statements: "Pay me more money to discover the secrets that will lead you to real success!" 🤔
IMARKETSLIVE membership plan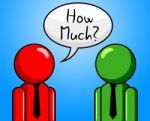 There are two membership plans at IML and an affiliate program called Independent Business Owner (IBO).
And guess what?
To share their service and earn a commission (to enroll in their affiliate program), you need to pay $15 per month.
As for their 2 membership plans, here are their prices and services associated at each one:
Platinum starter pack: $225 up-front then $164.95 per month
This gives you access to their educational portal, Harmonic Scanner + access to some of their trade ideas service. And what? MLM opportunity.
Elite starter pack: $325 up-front then $274.95 per month. This membership plan unlocks most of all the product and service iMarketsLive platform provides + MLM opportunity.
How much will it cost you?: iMarketslive compensation plan
As announced very early, IMARKETSLIVE company is an MLM company. Chris Terry, to build his empire, combined an MLM concept to his business. And here is the reason he argues to explain this.
Chris Terry

I was involved in Amway many years ago and have always loved the idea of working in a team environment, building a culture of excellence and of course creating a steady residual income stream. I knew that if we added a network marketing compensation plan to our affiliate model, we could allow people to take their residual income and put it into the markets… that's a powerful concept.
Really?
IMARKETSLIVE's compensation plan is 3 levels with a residual income (starting just after your 3rd level) that goes up to 8 deep levels (a 3×8 matrix).
– You earn a 30% commission on your direct referrals' subscription,
– 10% commission on your level,
– 2 5% on your 3rd level.
However, it should be noted that to earn your residual income and bonus that goes with it you will need to have and maintain a platinum 150 rank minimum, and that requires that you have 3 active members. That is to say, 3 members who have registered as platinum members.
And the levels range from Platinum 150 to Chairman 500. The higher your rank, the higher your bonus and residual earnings are.
Is iMarketsLive a scam? – iMarketsLive complaints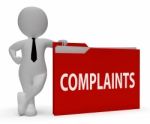 There are several complaints against iMarketsLive. But well before I show you these complaints, let me tell you that this company is not accredited by the Better Business Bureau (BBB). And as the picture below shows us, there are 44 complaints on the BBB website with up to 39 in the last 12 months.
Doesn't that mean a damn thing to you?
Then, keep reading!
IMARKETSLIVE claims that there is a refund for all those who are not satisfied with their service. Yes, we cannot deny that. Maybe members who ask to be refunded are refunded – maybe not!
But the image below shows us that to get a refund, you have to get up early and put on your shoes very well.
And what is surprising and strange, in response to a customer's complaint on the BBB website he states that: "Depending on the number of requests, and availability of supply, and times of transfer from supplier the process can take a little longer than intended."
No, no, no!!! There is no need to blame me!! See image below or check out this link to see it yourself.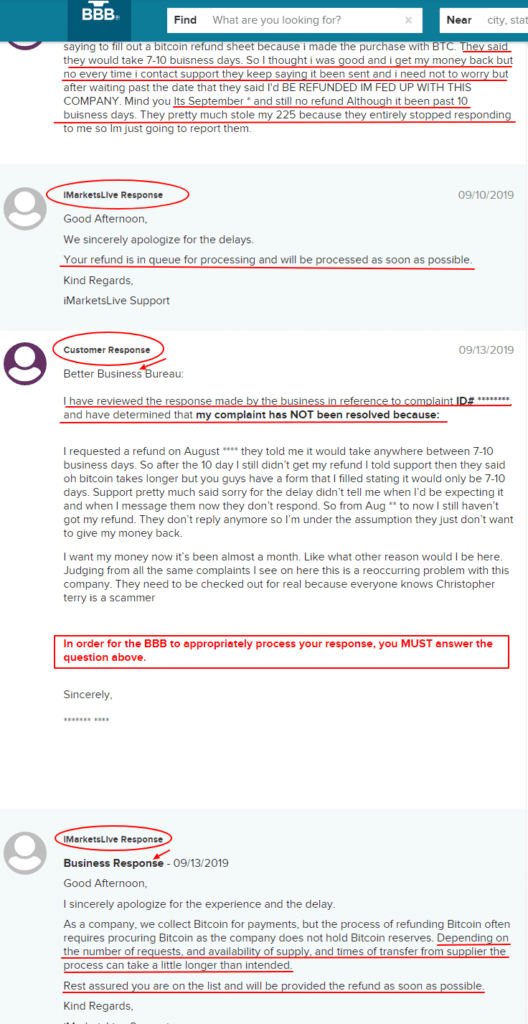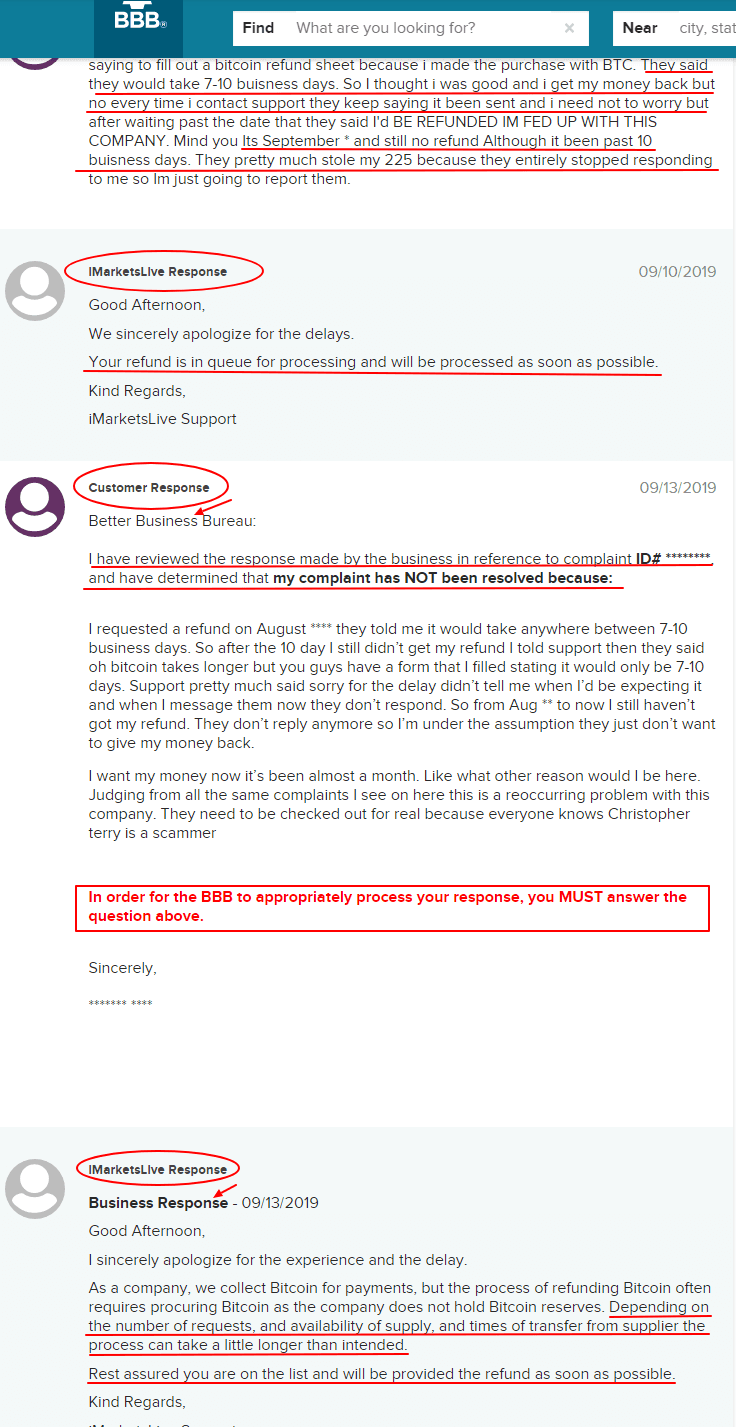 This is another complaint!!👇👇👇

What other said about iMarketsLive: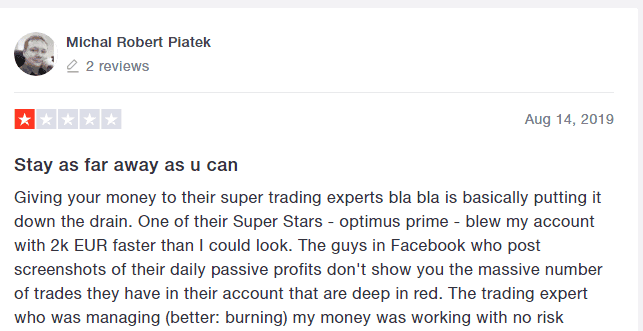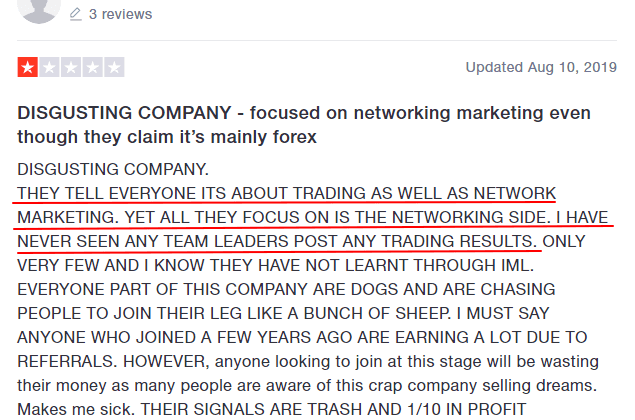 And…
If there are some bad reviews, maybe there are some good reviews – sure!!
Let's see what users say:
Some say it is a perfect program for beginners who want to learn FOREX trading as Chris Terry himself claims it, while others say it is not for beginners.
And you know what?
Some users recommend going with the elite package (325$ up-front + 274,95$/month) because other ones don't have enough info for a beginner.
What?? Then who is right?
Help me!! I am completely confused!!
See image below 👇👇👇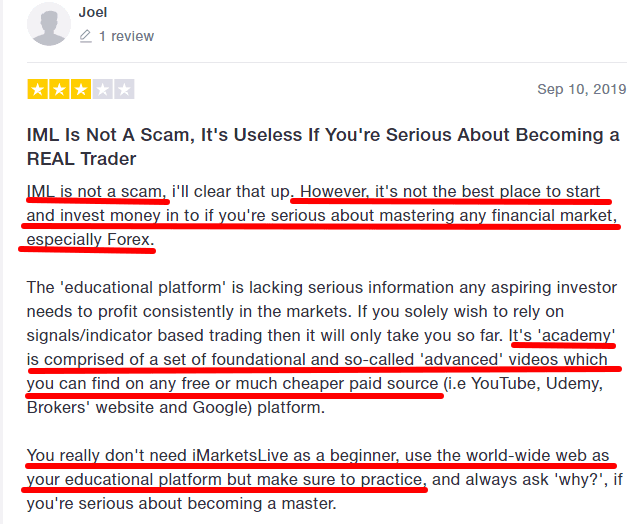 Still not convinced? Still wondering if iMarketsLive is a scam or not?
And what the hell is that?
See image below!!
A false review!! Just to get people registered. See yourself!!!
He's disappointed!!! He doesn't even know where to promote his business anymore! And it's on Trustpilot he's trying to promote his business.
Help me! I'm dying laughing!! 🤣🤣🤣🤣
👇👇👇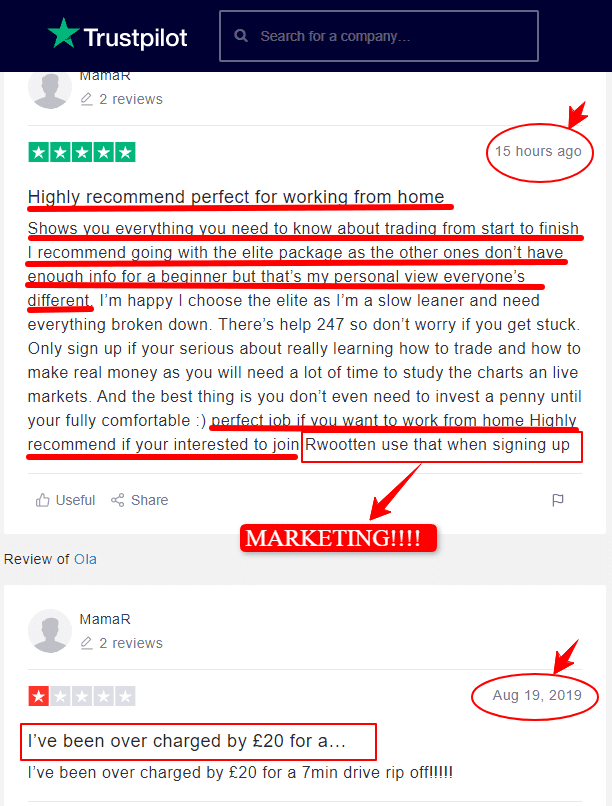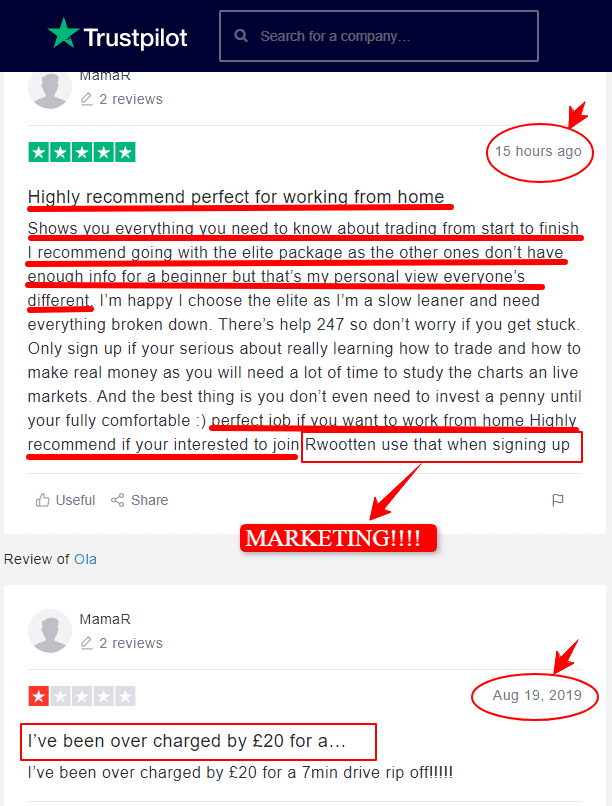 Does all this mean iMarketsLive is a scam or a pyramid scheme?
Not at all!!!!! Not for the moment anyway! IMARKETSLIVE is not a scam. It's an MLM legitimate company.
And as long as there is a product behind this company, and users pay for a service or product, in no way they can not be considered as a pyramid scheme or a Ponzi.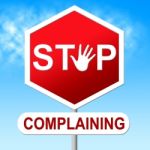 However, the Financial Services and Markets Authority (FSMA) warm us against this company. You can read them here.
IMARKETSLIVE Pros & cons
The Good: Is iMarketsLive legit?
Education: It is the most important in all fields. Your investment will bring you something.
Sure!!!
At least experience: bad or maybe good experience. And there is nothing that educates more than that. 😂
The bad: Is iMarketsLive a scam?
– You can lose money than you make
– IMarketsLive membership plan is very expensive
– Has poor rating from the Beter Business Bureau (BBB) and restrictions operations from The Financial Services and Markets Authority (FSMA)
My advice and final though
Do I recommend iMarketsLive as a way of making money online?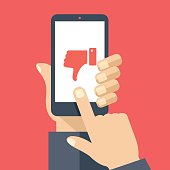 No, and NO!!!
If you are looking a genuine and proven way to make money in your spare time, I think joining an MLM company like iMarketsLive (IML) is not the way to go.
Especially if you're a beginner, my advice is to stay away from these kinds of companies. I'm telling you based on my own experiences. Not with this company here, but with a similar company that I will report on this site very soon!
Instead of investing more than $275 a month in a site like this, why not start your own online business?
Without being mistaken, what attracts people to this opportunity is not the quality of the training nor the products.
As you yourself have seen above, many of these people are trapped and instead of giving up they are trying to trick other people into it. And if you are not good at recruiting, you will earn absolutely nothing.
Tell me: Who can you convince to invest $225 or $325 to learn how to trade?
Everyone knows this – FOREX trading is a risk. You can win as you can lose a lot of money.
And believe it or not, those who succeed in the MLM industry are people who promote good products.
And they either have their own websites where they promote these products or they invest hundreds of dollars in advertising.
So, create yours here for free
Over to you…
I did my part. I told you what I think of this company while showing you other safer ways to make money.

So the final decision is yours. After reading this review, if you still want to join IML, then do so at your own risk.
If you have questions about this post: "is iMarketsLive a scam", don't hesitate to write it down on comment.
Are you a member or at least have you been a member of iMarketsLive? Share your experiences with us. Tell us what you think about this company.
You know the old song as well!! If you love this review don't forget to share it with your friends.
Spread the love! It could help someone.
Be ACTION taker, SOW YOUR SEED TODAY!!
To your success!!!
Sebastian!!