What if I tell you that you can build a website and rent it to businesses for cash?
This is what James Kuck teaches via his Digital Real Estate program and this is not new in the make money online space.
If you have been introduced to this program and you are wondering if it is the right program for you to make money you are in the right place.
In this James Kuck Digital Real Estate Review I will show you:
In this Digital Real Estate Review I will show you:
Without further Ado, let's dive in.
Review Summary
Digital Real Estate is an online course designed to teach you how to create a local lead generation website, rank it on search engines and then rent it to local business owners for cash. It is a legit course and the owner is a well-known expert in the field. Based on the startup cost and what is involved in putting the teaching into practice, we believe experienced marketers would greatly benefit from the course than beginners – mainly introverts.
Check out our top recommended training and beginner-friendly business model by clicking on the button below.
What is Digital Real Estate?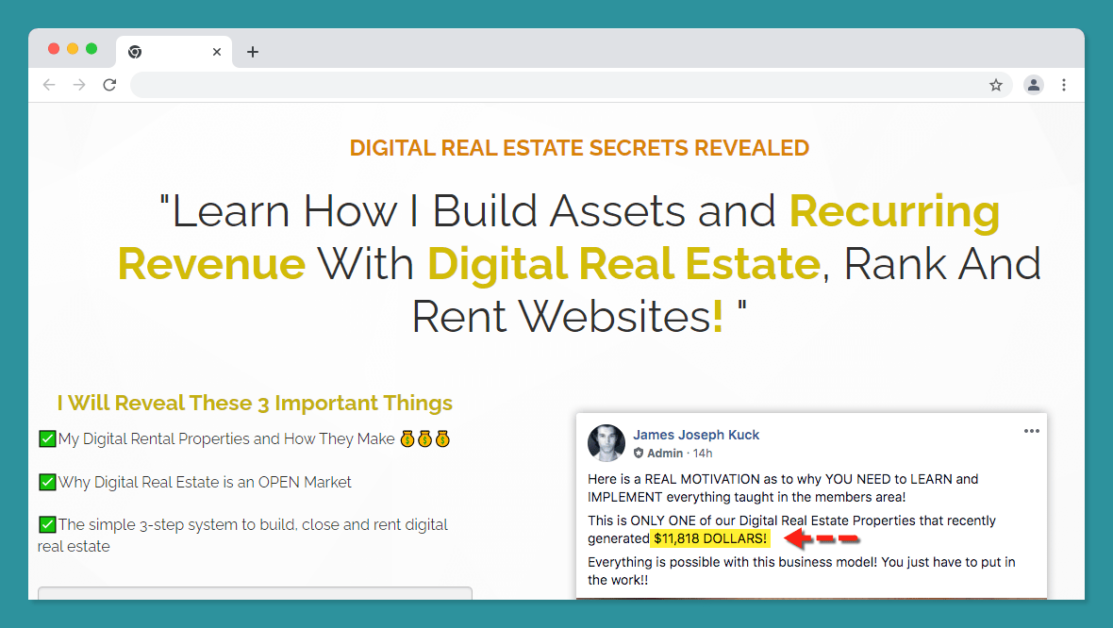 Digital Real Estate is an online course designed to teach you how to make money online by generating leads for local businesses.
The idea is to create a website, rank it higher on search engines like Google, and once it starts generating traffic to renting it to local businesses for cash.
How does Digital Real Estate work?
Basically, the program is about generating real estate leads for businesses in exchange for a commission.
And if I have to sum the process I can say the program has 3 stages:
The first stage is about building your website or online asset.
In this stage, you have to choose a niche and a domain name. These are the basic elements needed when it comes to building a professional website.
After that, you have to choose a location or the country you want to target.
And finally, you have to build and design the website.
The second stage is the development stage.
At this stage, you have to create SEO-friendly content so that it can be found on the SERPs.
And for that, you will need to practice on-page SEO and off-page SEO, and stay consistent in your content creation and its promotion.
The last stage is about finding clients to rent your website for cash.
This is the most important part of your business success because if you fail to find a client, it means that your goal of building and renting your site is a failure.
The good news is you have many ways to monetize your site. You can monetize it with affiliate programs, or flip it for cash.
Inside the course, you will learn how to build your local website, rank it and then find your potential customers to rent it.
Who is the owner of the Digital Real Estate program?
Unlike most scam programs where the owner hides their identity so that they can scam run with their victims' money, the Digital Real Estate program has a successful entrepreneur behind it.
And the best part, he doesn't simply teach, you do what he teaches.
But who is he?
James Kuck is the owner of the Digital Real Estate program.
He is a successful online entrepreneur, teacher, and YouTuber.
His YouTube channel has over 13.5k subscribers at the time I was writing this Digital Real Estate review.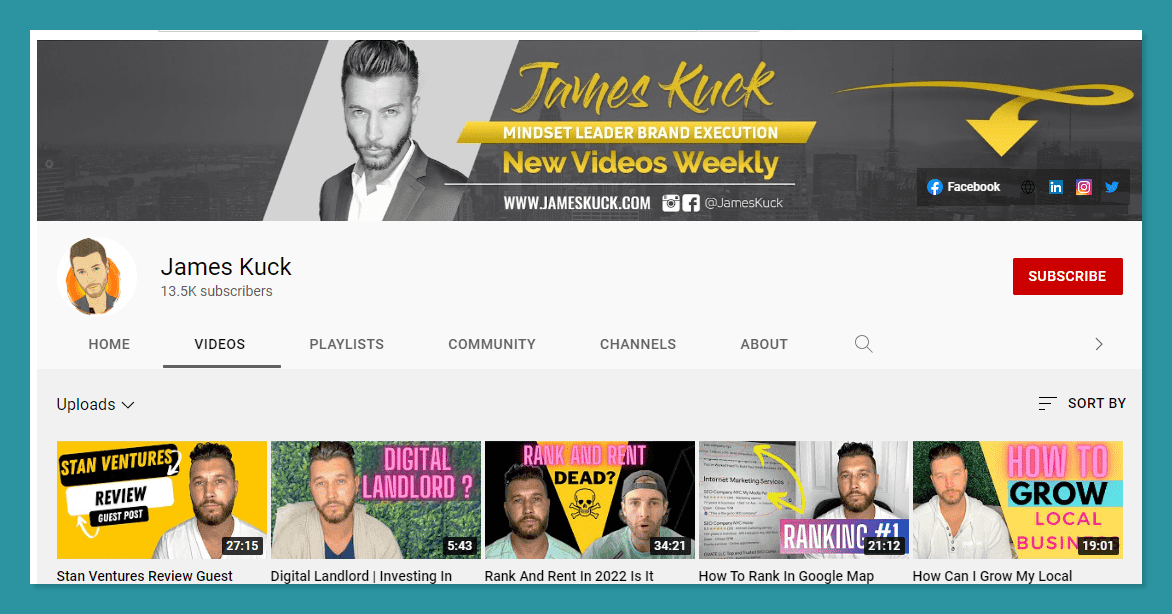 What you will learn inside this course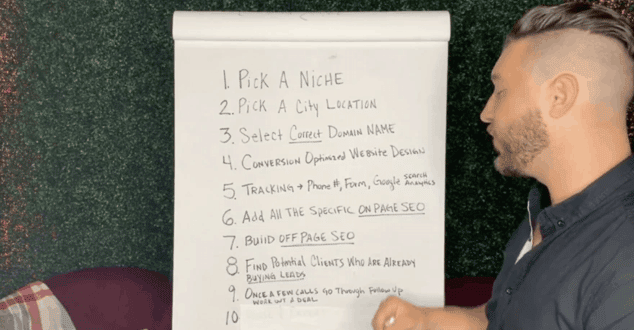 The course has been broken down into different steps:
Step 1 – Choosing a Niche
When it comes to building digital real estate your niche choice is one of the most important parts. It can make or break your business if not done right at the start.
Here you should choose something you like, and have knowledge or experience sharing with others.
And most importantly something that has the potential to yield profit.
Step 2 – Choosing the Location
The Digital Real Estate course is about building lead generation websites and selling the leads to local businesses.
So it is important to figure out from day one of your start which country to focus on.
Step 3: Pick a domain name
Your domain name is your address on the internet.
And since this business is about building a local website and renting it to local business owners you gotta choose a relevant domain name that not only matches your business idea but also that can have a local ranking advantage.
Inside the training course, James Kuck will obviously show you how to pick a relevant domain name to build your digital real estate asset.
Step 4 – Create, Design, and Optimize Your Website for both SEO and conversion
The next step in the process of building your digital real estate is to buy hosting and start building your asset.
There are many web hosting providers such as Bluehost, HostGator, etc that offer affordable hosting services to choose from.
Getting your website is easy and you don't need web development or coding skills to build it.
Inside the course, you will learn how to build your niche site from scratch, design it, and optimize it for SEO.
Step 5: Keeping track
Once your website is up and running, you now have to track its performance and fix any issues that could be preventing it from growing.
James Kuck, in this Digital Real Estate course, will show you how to use phone software to keep track of your website performance.
The software basically records every phone call log.
On top of this software, you will use Google Analytics to track your site visitors. This tool will help you know where your audience is coming from, how long they stay on your website, etc.
Step 6 – Step 7: Search Engines Optimization (SEO)
This is the most important part of your Digital Real Estate business success because if people can't find you when they do research on Google, your chances of generating leads with your business are zero, and no one will be ready to invest a dime in such a website.
The Real Estate Digital Course owner will teach you in this section of the course how to optimize your page for on-page SEO and off-page SEO.
On-page SEO refers to the practice of optimizing your pages for Search Engines, in order to rank higher and drive more relevant traffic from search engines.
As for off-page SEO, it refers to actions taken outside of your website (link building, social signals,…) to impact your rankings on the SERPs.
And James will guide you on how to rank your site and drive targeted traffic to it.
Step 8 – Find Potential Clients
Once your site is well optimized and getting traffic, the next step is to start pitching clients so that you can rent it and make money from it.
Here you will need to outreach to local business owners who can potentially benefit from your lead generation site, and make them interested in your service.
With the Real Estate Digital Course, you will learn how to find your potential clients and use your site data to make them interested in your service.
Step 9 – Closing a Deal
Closing a deal is not an easy task. Thankful with your site data, you can show instead of telling your customers how your service can help them grow their revenue.
But since most are still using traditional methods to sell, you will have to explain to them this new way of doing business, show them the potential, etc.
James will teach you how to approach your potential clients, track your outreach campaigns, and close the deal inside the training.
Plus you will be getting a sale closing script you can use when you find a potential client to pitch.
Step 10 – Rinse and repeat
Once you made your first sale, you have a road map now to follow to repeat the scenario and close more sales.
How much does the course cost?
The Digital Real Estate course costs $297 one-time at the time of this writing.
But this is not all your expenses because the course completion requires certain tools and most of them are not free.
For example, you will need a domain name and hosting service provider to create your website.
Thankfully the start-up cost of a website is not huge.
But here are other recommended tools you will need to invest in:
You will also need to set PPC ads and outsourcing budgets apart if you want to move faster in your business.
What do you get for your money?
Your investment gives you access to the course and other resources.
Here is what you get for your money:
Also, read the Freedom Breakthrough 3-Day challenge review.
Is Digital Real Estate a Scam?
The straightforward answer is no. Digital Real Estate is not a scam.
This is a legit online course designed to teach you how to build a local lead generation site and then make money from it by renting it to local business owners.
James Kuck himself is a well-known expert in this business model and what he teaches is a proven method that has the potential of generating a passive income for you.
That said, if you are interested in building a lead generation website, pitching potential clients, and renting it to them for cash, this course may be the right one.
It is reasonably priced, and the best part is it comes with a 14-day money-back guarantee, according to the owner.
Only there is something you should understand. Building a lead generation site is easy if you have experience with SEO but finding a potential client is not an easy task.
Plus, despite other business models like affiliate marketing, where you don't need to talk to someone here, you have to pitch clients via phone calls.
That may be intimidating for introverts and beginners alike.
James did a great job by compelling resources to help you, but knowing and practicing are 2 different things.
And not that you will be competing with other fellow students and other entrepreneurs who are doing this business model.
Yeah, there are dozen of courses that teach the same business model.
Here are a few of them:
Rank and Rent Club
Local Autopilot
BAM University
Digital Storefronts, and much more
Digital Real Estate Pros and Cons
Digital Real Estate alternatives
Building and renting websites for cash is a great idea. But instead of building and renting your site to businesses where you not only have to pitch clients to have interest in your service, but also dealing with them for support and even getting paid, you can monetize your site with ads or/and affiliate offers or simply flip it for a profit.
In fact, there are many ways you can make money with your site.
Here are better alternatives if you like this idea:
Wealthy Affiliate – This is an all-in-one platform that not only teaches you how to build and rent websites but also it provides all the tools you need to build your business without any extra cost.
They offer a free plan that allows you to build one website. But if you want to access more features and tools their membership plan starts at $49 per month with an option to pay $495 yearly.
Check out our top best affiliate marketing courses for more options:
James Kuck Digital Real Estate Review – Final thoughts
Digital Real Estate is a great online course that can be beneficial to people who are looking to make money online by creating and renting lead generation websites to business owners.
The owner, James gives you the knowledge and the steps to follow to create, rant, and get your first clients.
The course also is reasonably priced in my opinion.
The only downside is the monthly ongoing cost which can go to $200+. While you don't need to invest in all these tools from day one, they are part of your business operations fee and they should not be underestimated.
Another thing to consider before making any decision is if you are ready to pitch clients via phone or any means.
I discovered affiliate marketing in 2018, and in my humble opinion…
this is a beginner-friendly business model out there for a couple of reasons:
That being said, I hope you found my Digital Real Estate review helpful.
If you have a question, let me know in the comment section and I will respond to you ASAP!
Be an ACTION taker, SOW YOUR SEED TODAY!
To your success!