Are you looking to start an Amazon FBA business? And want to know if the Jungle Scout Amazon seller software is the right tool for you or not?
If yes, you are in the right place.
In this Jungle Scout review, we will delve deeper into the following points:
What is Jungle Scout about?
The Jungle Scout core features and pricing
The pros and cons, alternatives.
Without further ado, let's get into the meat of my review of the Jungle Scout all-in-one Amazon product research tool.
Jungle Scout Review Summary – Product Overview
Product Name: Jungle Scout
Product Type: Amazon product research tool
Owner: Greg Mercer
Website: https://junglescoutcom/
SOW YOUR SEED TODAY RATING: 9.5/10
Do I recommend this? Yes
What is Jungle Scout?
Jungle Scout is an all-in-one Amazon product research tool for amazon sellers. The software comes with a tools suite that enables you to:
Do niche and keyword research,
Create and optimize your product listings on the Amazon marketplace for maximum search visibility,
Discover trending products and brands,
Find and evaluate trending keywords,
Forecast sales and inventory needs,
Identify your competitors and spy on them on Amazon,
Manage your revenue with their accounting software that integrates with Amazon,
Automatically request reviews from your buyers,
product accuracy for keyword research and sales estimates,
And more.
Core Jungle Scout Features
Niche Hunter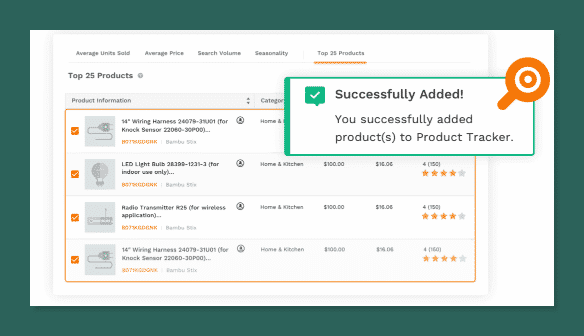 Jungle Scout helps you find profitable products to sell on Amazon. The first thing it does is look at existing products and determine which niches are the most profitable.
It does this by looking at how much money each product makes, what its demand is like, and its estimated revenue.
Jungle Scout then provides you with a list of the best selling items in each niche, along with other useful information including:
the number of reviews each item has,
the average ratings that it has received,
and the total amount of revenue generated using metrics like:
Product Category: In the Amazon marketplace, products are placed in categories. Jungle Scout shows you the category and sub-category in which each item is located so that you can easily navigate to it on Amazon.
Average Amazon sale price: This is the average price that each product is selling on Amazon. It's the price at which and crucially when Jungle Scout says it is likely to generate sales and thus be profitable for you.
Competition score: Jungle scout uses a rating of 1 – 10 and this is an indication of the Amazon product domination in the category. 10 is really high and you shouldn't go there. A score of 3-6 is great; the lower the better.
Listing quality score: Is your current listing on Amazon optimized for search? This is a test of how many keywords are in the title, description, and bullet points.
Opportunity score (overall rating): This is an indication of how good the product is from a "profit point of view". It depends on the revenue, demand, and a couple of other factors mentioned above.
Product Tracker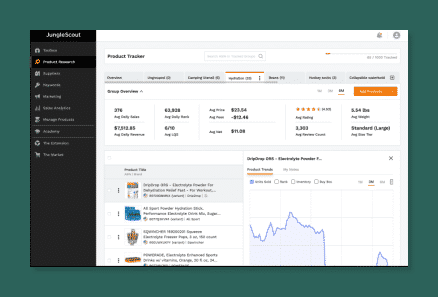 With a product tracker, jungle scout helps you keep track of every product that you are interested in selling on Amazon.
It also shows you how much it's making with all the data that is necessary to make a wise decision about whether it's worth pursuing or not.
It does this by letting you easily:
View all your products in one place: Jungle Scout tells you how many sales the products have had and how much revenue it has made for each of them. It even tells you the average daily revenue for each item.
Check how much each product is selling for on Amazon: It shows you the price that each product is selling for on Amazon, so you can easily make a determination about whether it's worth buying or not.
View how much money each product has made: You can see how much money each item has made and what the current sales rank is to give you an idea of its popularity.
This real-time report of sales trends, search volume, and sales history for a particular product will give you an indication of how much potential a product might have.
Jungle Scout Academy
Jungle Scout Academy is an online learning center that is dedicated to teaching you how to become a profitable Amazon seller.
It contains numerous tutorials that teach you everything you need to know in order to become highly successful. The training videos are perfect for new and experienced sellers to generate a successful Amazon business.
As a seller on Amazon, you are constantly having to make decisions about which product to choose and which items will be profitable for you. Jungle Scout Academy offers courses that will make the decision-making process easier and less stressful by providing you with a range of insights.
The courses are designed by Greg Mercer, who is the founder and CEO of Jungle Scout.
He is also a successful entrepreneur with experience generating 8-figure sales from Amazon. He understands that by using Jungle Scout to explore the profitability of potential products, you will be able to quickly discover which ones are worth buying.
By making use of the courses and tutorials, you will be able to make better decisions about which products and categories to go after.
You'll know what's hot and what's not, so you can evaluate different options before making a business d*ecision.
Part of becoming a successful seller on Amazon is to have the right insights and using the lessons from the Jungle scout Academy will improve your decision-making skills and enable you to make more profitable decisions.
Product Database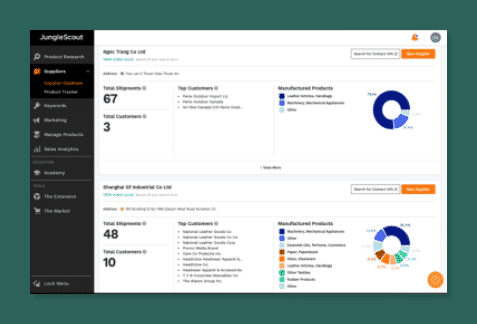 Jungle Scout offers a database of over 70 million active products on Amazon. This makes it easy to find new products to sell without having to go through the exhausting process of searching through every single Amazon listing. Jungle Scout makes searching and filtering easier by using several filters that help you find the products that are the most likely to be profitable.
If you have much experience, then this database is perfect for you.
It's a selection of the best products available on Amazon which should enable you to make logical decisions about whether an item is going to be profitable for you or not.
The database contains all the basic data that you need to know about a product, including product categories, reviews, and prices. You'll be able to see how many products are being sold and in what quantities.
This is perfect for people who have little experience or experience in a particular niche. You'll be able to find products using the filters that Jungle Scout provides so that you can then narrow down your search right down until you've found a product that's worthwhile buying.
Keyword Scout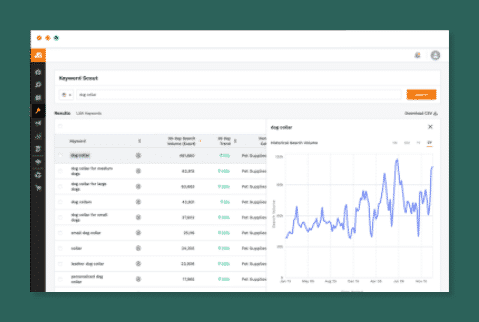 This tool helps you find keywords to use in the title or description of your product. It shows how many people are searching for that keyword every month. So you can determine how popular your product is going to be or not.
This tool allows you to access a wealth of Amazon data that will help you grow your online business and make it easier for you to sell products on Amazon. You won't have to worry about missing out on profitable keywords by not going down the list of thousands of items that are most likely to be popular.
The keyword analyzer is a good way to speed up your keyword research process.
You will have access to different search terms to optimize your product listing and improve the ranking to generate more sales. The tool also allows you to access niche keywords from real shoppers, product demands from each keyword, and understand the relevance of the keyword to your listings.
Must-read post: Top best Amazon FBA courses for 2022.
Jungle Scout Pricing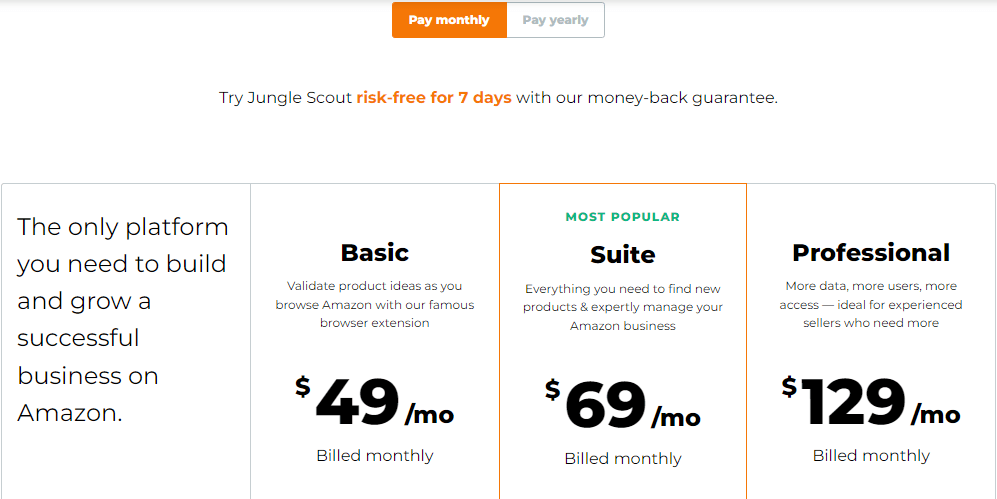 Jungle Scout is an all-in-one tool and one of the most affordable Amazon Product Research tools out there. It offers 3 subscriptions plans:
The basic plan costs $49 per month ($29/month if billed annually),
The Suite plan costs $69 per month ($49 per month if billed annually), and
The Professional plan costs $129 per month ($84 per month if billed annually).
Jungle Scout Pros and Cons
The Pros
✔ Top-notch customer support,
✔ Free training and webinars,
✔ Supplier Database that allows you to find reliable suppliers instead of going through the trials to find the best one
✔ Product accuracy for keyword research and sales estimates,
✔ 14-days money-back guarantee,
✔ Value for money all-in-one amazon seller tool.
The Cons
❌ No free trial,
❌ The monthly membership plan is a little bit expensive,
❌ Not very accurate compared to key competitors like Helium 10,
❌ Issues with compatibility reported.
Who is Jungle Scout designed for?
Jungle Scout is designed for both those who are just starting out and those who want to take their business to the next level. It makes the decision-making process easier and more accurate which will save you time, money, and energy.
If you don't have much experience in a niche, then using Jungle Scout is a great way of finding new products to sell on Amazon. You will be able to speed up the product discovery process and increase your earnings without having to do much work at all.
If you have experience in a niche, then the tools should save you time and money while boosting your sales profits. You'll be able to find products that are worth buying and then perform another analysis to ensure it will be profitable for you.
Jungle Scout Alternatives
Jungle Scout is a complete and affordable Amazon product research tool with a lot of useful features for sellers.
If this tool is not your first rodeo, here are the top alternatives:
Helium 10 – This is also an all-in-one product research software for amazon sellers. It comes with a tools suite and great features with more accurate results than Jungle Scout.
AMZ Scout – AMZ Scout is an Amazon product research software with almost all the features a seller would need. The tool is easy to use with reasonable pricing starting at $45.99 per month.
Final thoughts…
Jungle Scout is one of our top best Amazon Product Research Tools that provide tools suite and training for people who are looking to build a successful and striving Amazon FBA business.
The software is easy to use with an intuitive interface.
The only downside is its monthly membership plan which is a little bit expensive and data that is not totally accurate.
I hope you found my Jungle Scout review helpful.
If you have a question or want to share your own experience using this Amazon product research tool just left it below!
You may also like…