Welcome to my LeadsLeap 3.0 review. Is it a scam or a legit company to get traffic and generate leads? Discover it by reading this review.
If you have heard about leadsleap in social media or on traffic exchange sites, and you wonder if it's a legit program or another scam that's trying to get money from you, you are in the right place. Throughout this review, I will give you an insightful overview of the Leadsleap platform and my honest point of view.
LeadsLeap 3.0 review: Overview
Website: www.leadsleap.com
Founded: 2008
Product: Free Leads System, popup builder, OTO List Builder script, links tracking tool, etc.
Owner: Kenneth
Price: Free – $0, Pro – 19$/month promo offer/ $27/month
Suitable for: Affiliate Marketers, Network Marketers, and bloggers.
Sow Your Seed Today rating: 8/10
LeadsLeap 3.0 review
What is LeadsLeap?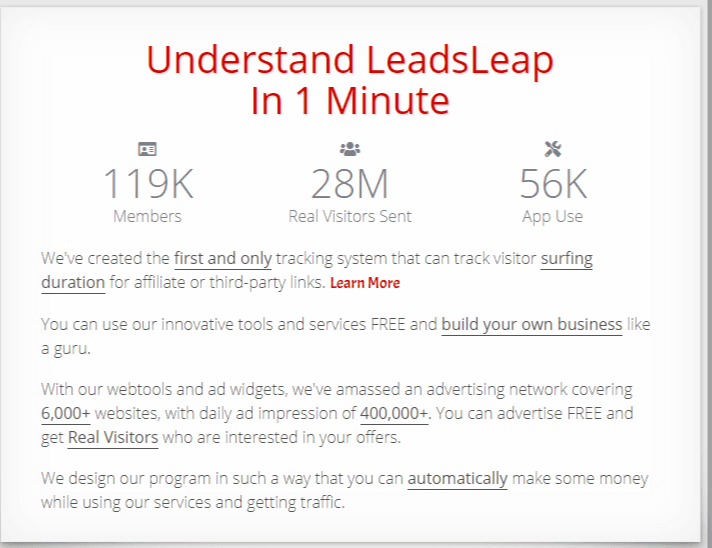 LeadsLeap is a traffic and leads generation platform you can use to build your online business.
Since its creation in 2008, this platform has seen a bit of development. Indeed, from LeadsLeap 1.0 to LeadsLeap 2.0, Keneth's advertising platform has been upgraded once more in March 2019 under the name of LeadsLeap 3.0.
In addition to being an advertising platform, "LL" offers also to its members' online marketing tools that are useful and beneficial for the improvement of their online business.
Finally, it allows its users to earn money through their affiliate program, revenue share program, and credits encashment.
What can you expect from LeadsLeap 3.0?
1. Traffic to your website or affiliate links
Kenneth claims his platform can offer you several sources of traffic. And it's true!!!
Leadsleap 3.0 review: Ways to get traffic with LeadsLeap
To drive traffic on your site, you have up to four ways:
1. Advertising on leadsleap platform
There are two types of ads on LeadsLeap: credit ad and pro ad.
1. Credit ad
This service is free and available to all members. Free members are allowed to submit a maximum of 3 ads. These ads will be displayed and viewed by "LL" members on the platform.
However, as a free member, you need credits to get your ads viewed by other members. You can earn these credits by way of watching other members' ads.
2. Pro ad
This service is only available for premium members, and as a premium member, you can post not only 10 credit ads but also up to 10 pro ads. Pro ads do not need any credit to be displayed and viewed by users on the platform. This is handsfree advertising for premium members. As a pro member, you get traffic and leads 24/7- no stop.
2. Get traffic from members' blogs
You can get traffic from other members who placed leadsleap widget on their website. Indeed, when you place leadsleap widget in your blog or website, 'LL" will display members ads on your website.
In return, your advertisements can also be shown on other members' websites. This offers you the opportunity to get visitors coming from their sites. You also earn credits as a reward when a visitor clicks on these ads on your site. It's a win-win system!
3. Get traffic from search engine
How does it work?
You need to write and, publish a review of a product or service you trust by using a targeted keyword.
When people make research on this product/service review, related to the one you have reviewed, "leadsleap social review page" gets ranked on Google.
This gives you a chance to have visitors on your product/service review page. Who knows if they won't sign up.
2. Free online marketing tools to improve your online business
In addition to the traffic you get, you have tools at your disposal for free.
1. Links tracking tool
How can this tool help to improve your business?
The Real Tracker is a tool that allows you to track your links. The reports the Real Tracker provides can help you understand how people respond with your offers. It also allows you to know if the traffic and clicks you get, come from real visitors or just from bot clicks.
Imagine you purchase leads on platforms like Udimi, and you don't have a tool to track the clicks you receive. You will buy bot clicks without knowing it.
2. Pop up builder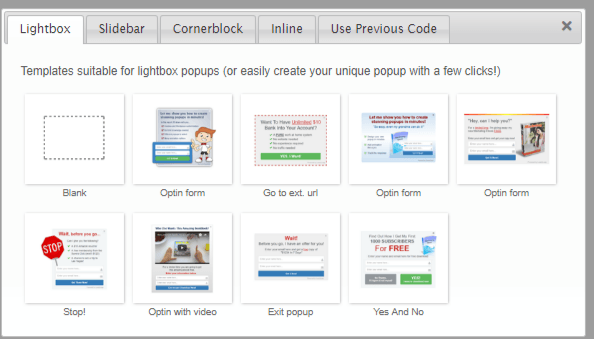 "Money is on the list"
Kenneth is generous with the tools he offers free of charge to "LL" users.
With their popup builder tool, you can create any kind of a pop-up to convert your website visitors into leads. Even if you don't have a blog or website, you can customize it with your affiliate link and, build your list when promoting your primary business.
3. An autoresponder – free
An autoresponder is a tool that allows you to collect visitors' information and, to send a series of messages to your list automatically. You can use it for example to promote a product or to send traffic to your site by reminding your subscribers each time you publish a new article. With "LL" you have an autoresponder – free that allows you to build your list and broadcast mass mail to them.
Note that leadsleap auto-responder does not allow you to set up automated follow-up messages such as a 7-day e-course.
To do this, you must use their List Builder script. However, you can send mass mail to your list by simply adding your SMTP server information to their autoresponder.
Many hosting service providers such as Bluehost, Hostgator, Wealthy Affiliate, etc, come up with an STMP account and you can use it for that.
4. OTO Liste Builder
The last tool that LeadsLeap offers its users free of charge and, which is not the least, is the OTO List Builder Script. This tool will also allow you to build leads automatically and, run your own online business.
Indeed, This PHP script comes with these features:
An auto-responder to build your list,
a mass mailer system to broadcast to your list,
one-time offer system to entice people to buy your offer,
PayPal payment integration to receive your payment,
and affiliate program to encourage subscribers to refer more people to your list when making 100% commission.
3. Earn money with Leadsleap
There are 4 ways to earn money with Leadsleap:
1. Daily active bonus
Leadsleap shares its daily earnings with its active members. Whether you are a free member or a pro member, you can benefit from this revenue sharing program (free member get 5% and, pro members get 10%) by watching a least 10 ads per day.
What you need to understand here is that these 10 ads you need to view daily allow you to earn credits first. And you have the choice of converting them into cash or using them to advertise your offers.
2. Credits encashment
Unlike other platforms that impose their members to use their credit earned for advertising purpose only, "LL" allows its members who do not want to advertise to encash their credits into cash. Once you have 50 credits into your account, you can encash it.
3. Participle to Leadsleap PPC program
LeadsLeap PPC program seems to Google Adsense PPC program -Google AdSense is better. To participate in this program, you need to add LeadsLeap PPC widget to your website or blog. In this case, each time someone clicks on these ads, you will earn credits and money on the side.
The amount of money you earn in this program depends on the quality of the traffic provided. It also depends on the profits generated by the platform during the week.
The percentage of profits that free members get is 15% of the earnings generated by "LL" during the week. As for premium members, it is 30% of these profits they receive.
4. Participle to Leadsleap affiliate program
As a member of Leadsleap, you can make recurring income by sharing the program with other people. If you are a free member, you earn a 25% recurring commission. As a pro member, you earn 50% recurring commission.
Leadsleap 3.0 review: pros and cons
What I like with Leadsleap
The platform is free to use,
There are many online tools which can help newbies and professionals to improve their business,
No timer count and people can earn credits every 5 seconds up to 3mn,
No push on free members to upgrade their membership – you can stay as a free member as long as you want,
Traffic source is not limited to leadsleap members only, and more.
What I don't like with Leadsleap
Earning potential in a revenue sharing program is limited,
"LL" platform is very confused for newbies-it will take some time to understand how the system works,
Your ads must be in English only – I don't like this!
Leadsleap 3.0 review: Is leadsleap a scam?
No leadsleap is not a scam! You have my word for that! Recently I earned a bit of money and, in the least of three days, I get paid.
Here is my payment proof!👇👇👇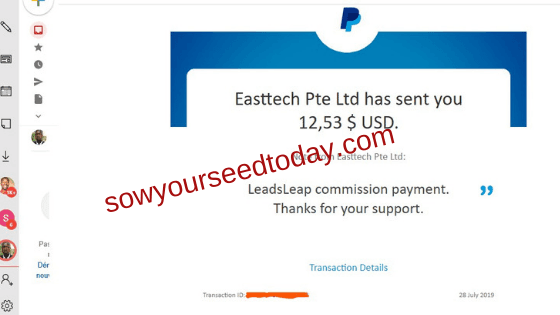 My final words!!!
Leasslaep is a legit company that can be useful to you in your online career (especially if you are starting).
My advice if you want to test Leadsleap is to register as a free member and, if you find that the platform fits your needs, then you can upgrade.
In any case, you have nothing to lose – "LL" comes up with 30 days money-back guarantee and you can be refunded if you are not satisfied.
I highly recommended you to give it a try!
Be an ACTION taker, SOW YOUR SEED TODAY!
Sebastian,
To your success!!