Welcome to my Modern Millionaires review.
If you have been introduced to this course and you are wondering if this course is a legit online course or a scam, you are in the right place.
In this review, we will take a close look at the course, and what they teach and we will find out if this course is worth it or not.
But before we move in, let me congratulate you for taking the time to check out reviews before you buy this course.
Doing so will avoid you from being scammed but also find a legit way to make money online.
Note: This review is based on research and the opinions expressed are mine. I am not affiliated with the Modern Millionaires program nor with the owners.
Modern Millionaires Review – Company Overview
Product Name: Modern Millionaires
Product Type: Lead Generation Course
Owners: Abdul Samed and Chance Welton
Price: $5000 to $25000
Is Modern Millionaires a scam? No
Sow Your Seed Today Rating: 5/10
Recommended? – No – read my review and find out
If you want to make a quick decision, let me address the pros and cons of this program.
The Pros
✔ 4 Rating scores from 230 customers on Trustpilot at the time of this review – but no guarantee they are all legit reviews,
✔ Trainers are a good track record,
✔ Over 20 hours of training course,
✔ Legit business model and proven to work if you have the resource and patience to work on it.
The Cons
❌ High ticket product with additional ongoing expenses,
❌ No refund policy,
❌ A lot of customer complaints,
❌ Non-transparency on the course pricing.
Examples of the Modern Millionaires' praises and complaints
The Praises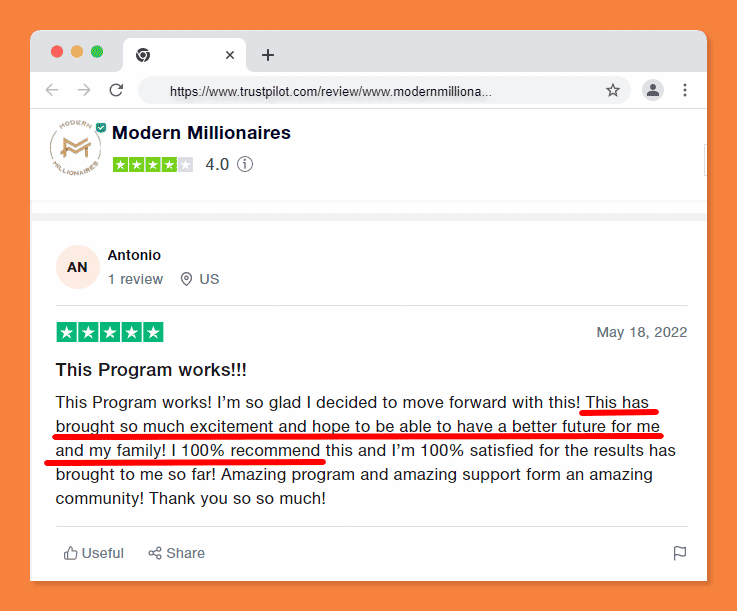 According to this customer, it is a great program that changed his life. But he doesn't tell us the way it helped him change his life.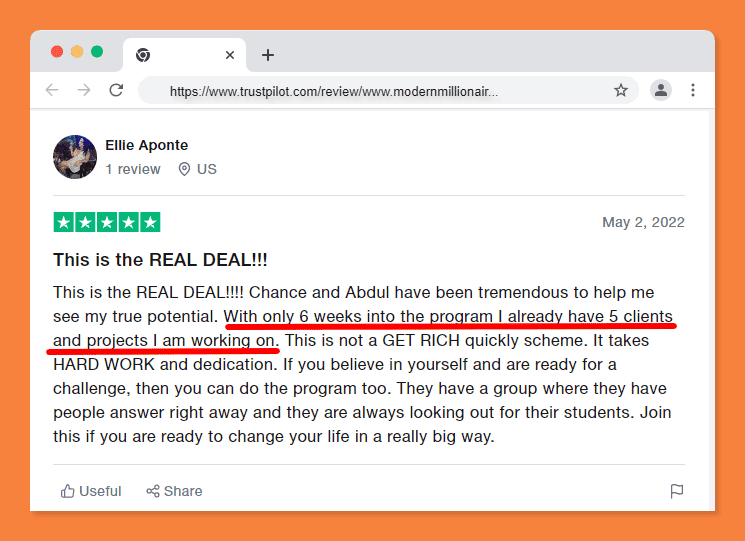 According to this customer, after 6 weeks into the program, he already got 5 clients. So he is getting results. It seems he is a hard worker because the training itself requires over 20 hours to go through. Not to mention the time required to set up the business itself, build brand awareness, etc. But I agree with him. Hard work and dedication are required.
Modern Millionaire complaints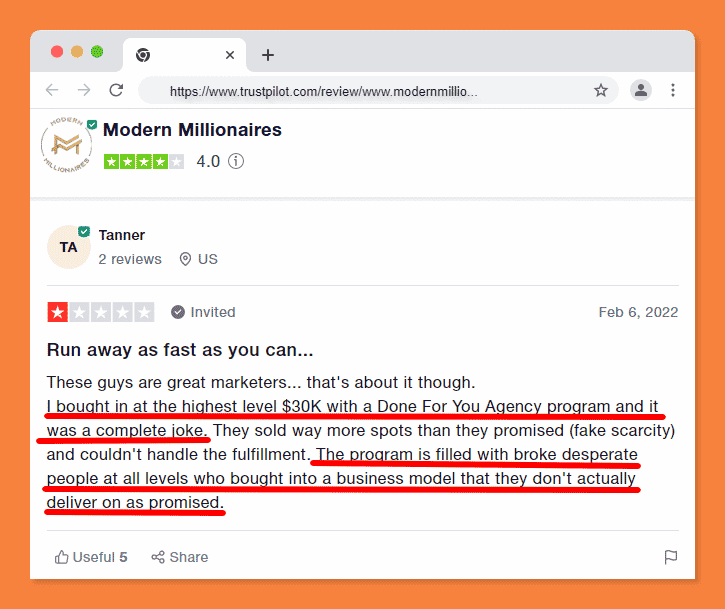 This customer warms people and invites them to run away from the program. According to him, he spent $30K with their DFY Agency program, but he is not satisfied with the product. Unfortunately, there is no refund with this program.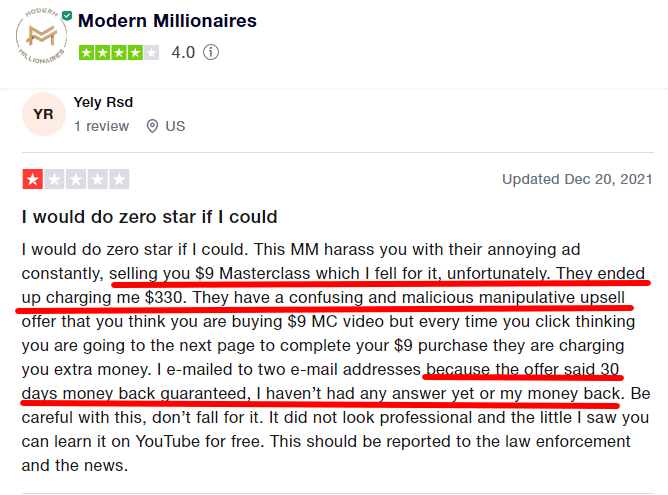 This customer is complaining regarding their aggressive sales tactics and no refund. Some reported they have been able to get a refund for their initial $9 investment – but not the upsells.
What is the Modern Millionaires about?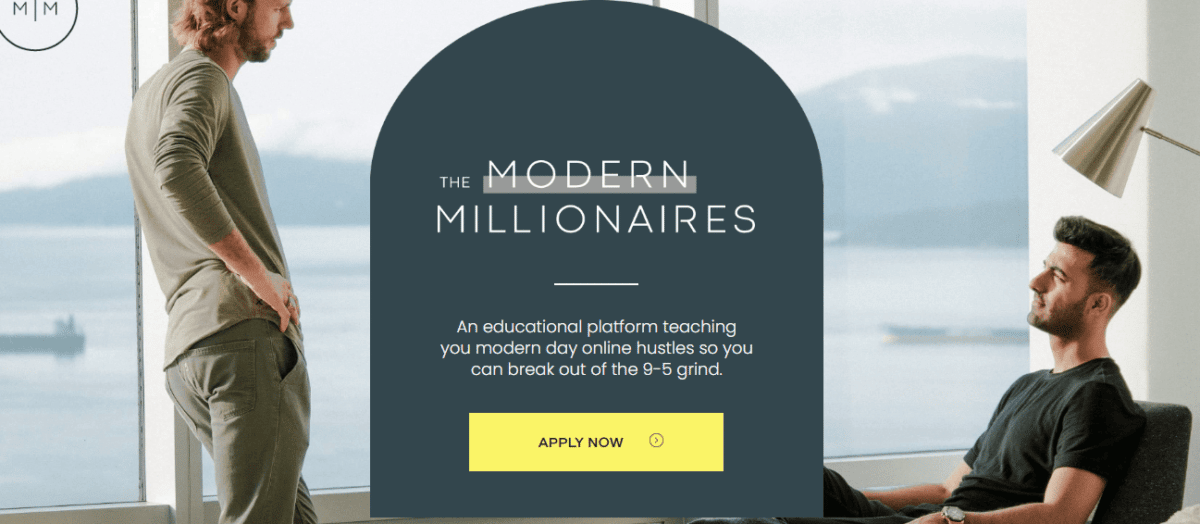 The Modern Millionaires is a lead generation training course that teaches you how to use Facebook ads or Google ads to generate leads for other businesses for cash.
In other words, the course is about building your own ad Agency. And your role here is to generate and supply leads to businesses and in return get paid for it.
This is another cool way to build extra income online.
But the idea is not new because thousands of people have been doing it for years now.
If you are wondering if Modern Millionaires is a scam.
Let me answer your question right now and straight away.
Modern Millionaires is not a scam and the business model they teach is legit and workable.
The question is not if it's a scam or not because as I said it is not a scam.
The real question? Is the business model they teach the right way for you to make money online in 2022?
In other words, is what the Modern Millionaires course teaches a beginner-friendly and cool way to make money online?
I have reviewed a product called Inbound Closer and it has almost the same principle.
And there are 2 challenges with this business model:
The first challenge is getting clients to trust your brand new Ad Agency.
The second challenge is getting results for your clients. Otherwise, they won't work with you.
Both challenge have been addressed in the course.
But another question remains. Can you really make money with the Modern Millionaires program?
Or it is just another hyped and too good to be true like most courses and programs out there?
Move with me in the next section of my Modern Millionaires review where we will take a close look at the course content.
What will you learn with the Modern Millionaires course?
Honestly, the Modern Millionaires course is an in-depth course
Module 1: Setting up the foundation
This module is about setting up your ad Agency website, the mindset to develop, and information about the business itself.
Module 2: Prospecting And Sales
This is an in-depth module I will just give you an overview of what you will be learning in this module of the course.
It is about sales and marketing.
And in this module you will learn:
How to study your industry,
How to find customers and effectively pitch them
How to generate leads for your business and manage your customers with CRM
How to use cold email to close deals with your prospects,
How to handle payment with your customers and much more.
This module shows you everything you need to know when it comes to getting clients for your ad Agency, managing them, and also keeping them – the way to getting paid over and over again for the same customers.
Module 3 A: Driving Traffic With Google Ads
The module is about Google ads. You will basically learn in this course how to run ads on Google either to generate leads for your business itself or for your clients.
This module also will give you more in-depth information and strategies to follow in order to start generating leads for your business.
Module 3 B: Driving Traffic (Facebook)
Just like the previous module, this module also is about traffic and lead generation.
But here instead of using Google paid ads, they will teach you how to use Facebook ads to generate traffic and leads for your business.
Module 3 C: High-level training
This module is just a combination of the previous module where you should combine the 2 strategies taught in these modules in order to generate more traffic and leads. This is where you will be putting into practice what you have learned in Modules 3A and 3B.
Module 4: Auto-Pilot
In this module, they will show you how to automate your entire business.
How much does the Modern Millionaires course cost?
There is no standard price to access the Modern Millionaires course or to enroll in their course.
Before you enroll in the course you first need to book a call with their sales team.
It is in the conversion they will tell you how much you should spend to access the course.
As for my research, it seems there are upsells and people complaints about having been charged more than the others.
The bottom line is they don't sell their program based on the product but on the way it will change your life and based on your budget.
How does the Modern Millionaires program work?
As I said previously the Modern Millionaires is about helping local businesses not only generate leads but also sales for their businesses.
And the idea behind this business model is that there are businesses who don't know online advertising or marketing like creating a beautiful and stunning website or funnel designed to turn their visitors into leads and sales, copyrighting, email marketing and automation, paid ads, etc.
Or if they do, they don't have time to do all the stuff that can get them their desired results.
This is where you as an ad agency come into play.
And here you will be acting as a middle man.
Your role is to bring the results to your clients and in return get paid for this service from your own clients that are local business owners.
So basically you should be good not only at pitching and prospecting clients because this is the way to bag your own clients.
But you should also know:
How to run paid ads that get results because clients won't spend their money for no results.
How to create copy that sells because if your ad messaging is not tailored to your clients' clients needs it won't convert
How to high convert sales funnels and landing pages for a better conversion rate.
How to follow up with prospects and customers
How to connect things together and automate your entire business.
Can you make money with the Modern Millionaires program?
The business model itself is a legit business model and has the potential to make you money.
The course was designed to teach you everything from building your ad Agency website to getting clients and generating leads for your clients.
It is easy on paper but practically there is a lot of work to be done in the backend.
For example, you need to develop your business reputation.
If you don't have results to show gaining clients' trust will be difficult.
So…
Who is the Modern Millionaires Course for?
As for the owners, this is for those who want to make a passive income online and for beginners and advanced marketers alike.
But trust me it is not totally passive income and even worse you have in some cases to follow up.
In my opinion, this program is for people who already have experience in digital marketing and are good at working with businesses, making calls, and prospecting.
Anyway if running a digital Agency is the business model that interests you, they have a load of resources that can help you get started the right way.
Only don't expect to make quick and easy money.
The Modern Millionaires Course alternative
If you are an introvert and your goal is to build a passive income online, then you may want a better alternative.
Because with an Ad Agency, your income is not purely passive – to be honest. Plus with the method, they teach you will need to rely on paid ads to run your business. That can become too much money to spend along the way when you consider the tools you will need to run your business.
Here are better alternatives:
Affiliate Marketing – This is basically promoting other people's products for a commission. And you can build a niche site designed to promote physical products from Amazon, eBay, or any company you wish and get paid a commission. Or build an affiliate marketing website to promote digital products.
Here is my top recommended affiliate marketing platform:
Lifetime free membership,
A good track record,
4.8/5 rating score from customers on Trustpilot,
Training and tools provided,
Over 15 years in business with thousands of success stories,
A supportive and dynamic community with over 2 million members, and much more.
Want more options, read our top best affiliate marketing courses for more information.
Final thoughts
Running your own ad agency platform can be a great way to make money online. The Modern Millionaire course is also an in-depth course that teaches how to get started the right way.
But honestly, their pitch is purely salesy. Things are not easy as they make them sound in their live webinar.
And while paid ads can be a fast way to reach out to your target clients, if not done right you may be losing money.
And when the extra cost like buying tools to run your business adds up, it becomes too risky without even mentioning the hefty $5000 to $8000 you need to invest to access the course materials.
If you are just starting out and you want a genuine and beginner-friendly way to make money online, take a look at this program. This is the platform that helped to go from zero to 4-figure monthly income online.
I hope you found my Modern Millionaires review helpful.
If you have a question don't hesitate to let us know.
Be an ACTION taker, SOW YOUR SEED TODAY!
To your success!