Who doesn't want an easy way to make a passive income online?
Who doesn't want a system that closes sales on autopilot with less effort?
If such a system exists, I would be the first using it.
Welcome to my Multiple Income Funnel review.
If you have been introduced to this program, and you are looking for an unbiased, and honest review to make an informed decision you are in the right place.
Personally, I have been invited to join the system by a friend. And after watching the sale video, I was surprised by the bold claims Mark Mills is using to lure people to join this program.
He makes it sound good and easy.
I believe in business automation because I use these tools to run my own business. And while technically you can automate your business thanks to marketing tools out there, trust me there is no 100% autopilot system.
Not sure? Read my review till the end and you will understand my point.
In this review, I will show you:
What is the Multiple Income Funnel about,
Who is behind it?
How does it work?
How much do you need to invest in this program?
What you get for your money, alternative, and my honest point of view.
Multiple Income Funnel Review – Company Overview
Product Name: Multiple Income Funnel
Product Type: MLM Marketing Funnel
Owner: Mark Mills
Price: $49 per month plus ongoing monthly expenses
Is Multiple Income Funnel a scam? No
Sow Your Seed Today Rating: 4/10
Recommended? – No – read my review and find out
What is multiple income funnel about?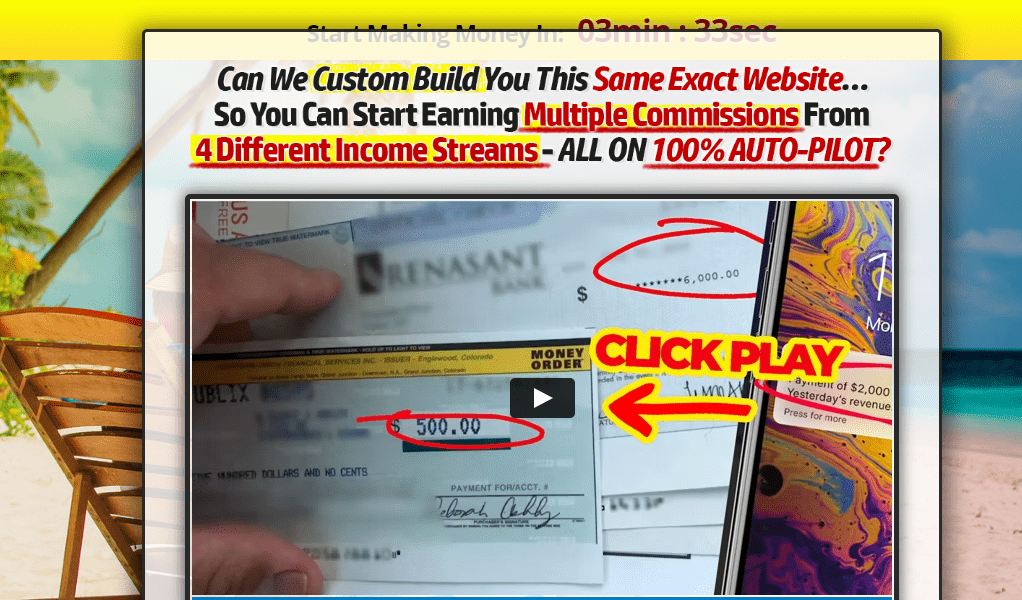 The multiple income funnel is a program designed by Mark Mills, a well-known and successful internet marketer.
As the program names suggest, the multiple income funnel is a marketing funnel that allows you to build multiple income streams from one funnel.
As for the owner inside the Multiple Income Funnel program, there are 4 programs that can make you money on autopilot.
But there is a catch.
Yeah because these programs will cost you hundreds of dollars if you want to profit from them when you bring someone into the Multiple Income Funnel System.
Otherwise, you would be passing commissions to the owner or your referrer.
So…
But the most important question you should ask yourself…
Is the Multiple Income Funnel a scam?
Or, is it a legit program that can make you money on autopilot with a little effort?
Stick with me on this Multiple Income Funnel review as we will be answering this question.
Who is Mark Mills?
Mark Mills is an internet marketer with over 10 years of experience in the industry.
It seems he is specialized in creating plug-and-play systems for people. It is not an assumption. These are his own words in the sales video.
And yes, he is right because the following scheme have been created by him:
Instant Payment Method,
Instant Income Method,
Secret Income Formula, and other similar programs.
To be honest, Plug-and-play systems are great if you have experience in the marketing industry because the tools used are not free and when it comes to traffic generation, you have to buy the clicks.
And generally, those clicks don't convert well and you can end up losing your hard-earned cash. And the ones who will be making money are those on the top of the pyramid.
In the end, when you run out of money, you have to quit. Sadly all your invested money is lost because you cannot get it back.
How does Multiple Income Funnel Work?
As I said previously, The Multiple Income Funnel program is a DFY marketing funnel you can use to build your email list while promoting the funnel itself.
According to him his formula (that is AS + MSI + TT = Easy Money) is a way to make easy money online.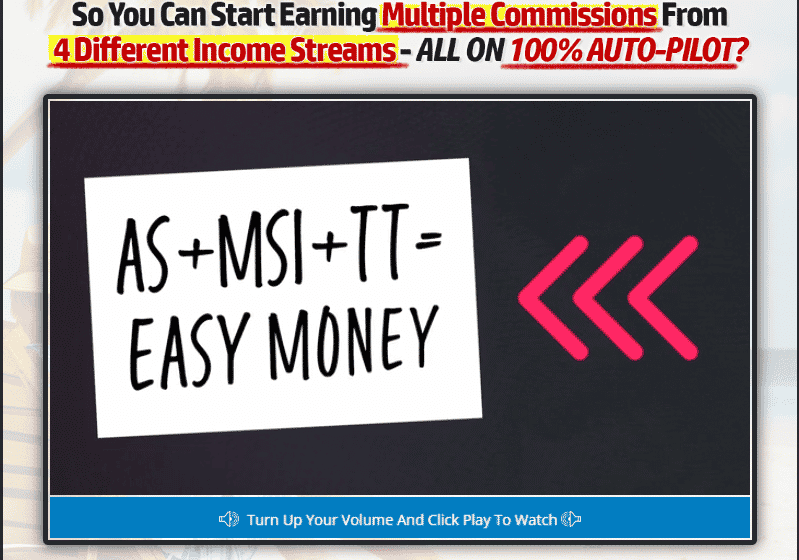 Because of all the hard work, the selling is done for you and you just have to sit back and collect the commission.
AS stands for Automated System. The Automated System is the product itself and it costs $49 per month.
MSI stands for Multiple Stream Of Income. Their multiple income streams cost hundreds of dollars to activate.
TT stands for Targeted Traffic. Their alleged targeted traffic cost thousands of dollars.
Inside the program, there are 4 programs that you basically need to join if you want to make money
for the whole funnel. Otherwise, when your referral joins the program and purchases one of these
programs you won't get the commission. I don't know who will get the commission but I guess it is the product owner or/and your sponsor.
These programs are:
Don't worry we will get into details about these programs and the reasons you may be losing money if you don't buy all of them.
Here is how the program works in a nutshell: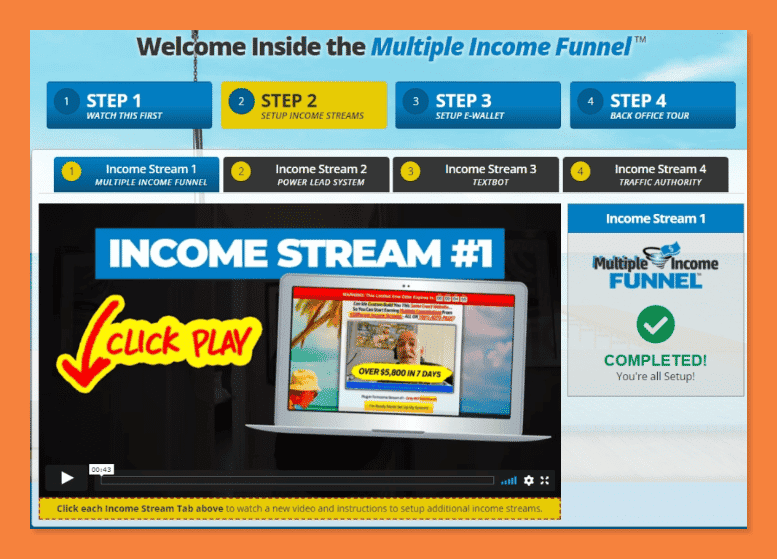 But how much money do you need to get started?
Multiple Income Funnel cost
The Multiple Income Funnel cost $49 per month.
But as I said previously in this Multiple Income Funnel review, you will need to spend more money to make the system work for you – mainly if you want to automate the system as it stands.
Here are the income streams or programs inside the Multiple Income Funnel program you should join:
Power Lead System: Power Lead System is a marketing software you can use to promote your business. Since it is a tangible product you can use for your own business, I don't see a con. However, it is an MLM company and a pay-to-play business model. Here you are required to buy the product and also pay a $23 + monthly fee in order to qualify for a commission. So if you want to activate this income stream you have to add another monthly fee (about $54 per month) to your Multiple Income Funnel membership fees.
PS: This program replaced Easy1Up, an old and high-ticket MLM program. Meaning that all the programs that are currently inside the funnel can also replace at the convenience of the owner – forcing you to leave the old one and join them if you don't want to lose commissions.
TextBotAi – This is messaging software that sends automated messages to your subscribers. It is used inside the program as a way to generate traffic. And it is the cheapest program inside the marketing funnel. It cost only a $100 one-time fee. But keep in mind you need to buy "usage credits" to use the software. Plus the Software doesn't send you traffic. Contrary you should send traffic on it. And since it is a marketing tool, it is one of the valuable products inside this funnel. What I don't like is that just like Easy1UP, it is an MLM program where you are required to pass some of your sales to your sponsor.
Traffic Authority – Traffic Authority is a platform that provides high-ticket traffic packages you can buy and get traffic to your Multiple Income Funnel program. Depending on the package you buy you can get paid a commission when your referrals end up buying these packages once they join MIF. But there is something here I don't like too. Just like Easy1Up, you don't get commissions from your referrals who bought a higher package than the one you bought. Meaning that if you want to greatly profit from the system, you have to buy one of the highest packages.
Here are the different packages offered:
Basic Traffic Package costs $220 for 170-190 clicks
Bronze Traffic Package costs $440 for 340-380 clicks
Silver Traffic Package cost $660 for 510-570 clicks
Gold Traffic Package costs $1097 for 850-950 clicks
Platinum Traffic Package costs $2197 for 1700-1900 clicks
Titanium Traffic Package costs $4297 for 2400-3800 clicks
Diamond Traffic Package costs $8397 for 8100-8400 clicks
OMP Wealth – OMP Wealth is a program I have seen in many marketing funnels.
In 2021 I came across a marketing system called Profit Passport, created by David Dunckel, one of the guys who are giving testimonials in the Multiple Income Funnel sale video.
This program flagged and it seems the gurus partnered together to come up with this new marketing system.
Sadly, it is this way these gurus make their money.
As for the program itself, it is an MLM company that helps you get loans. Their subscription package costs range from $2000 to $27,500. As you can see it is a high-ticket program. But in order to qualify for a commission, you have to buy one of these packages.
Is Multiple Income Funnel a scam?
To be honest, Multiple Income Funnel is not a scam. This is a legit program with the potential to make you money if you can afford the cost of going through all these programs.
It is a marketing funnel designed to help you build your email list while promoting the entire system.
So the program is not a scam per se. Only inside the funnel, there are questionable products and pyramid schemes where the only ones who make money are the ones on the top of the pyramid.
And if you look deeper into how the system itself works, you will see that the program itself looks like a pyramid scheme because there are no tangible products here.
A simple question to help you understand my point: What do you get for your $49 per month investment?
You will say a website!
Well,…
But what you don't know is that you don't own anything in the system. On the Sale page, Mark Mills makes you believe that you will get your own custom website. But in reality, you get just an affiliate link – the same funnel, the same opt-in pages, squeeze pages, etc.
I have reviewed hundreds of systems like this one and most of them don't exist anymore – leaving people with frustrations and empty pockets.
And honestly, I don't think there is something that justifies the $49 per month ongoing fee.
Multiple Income Funnel Pros and Cons
Multiple Income Funnel Pros and Cons
The Multiple Income Funnel alternatives
I guess if you are here, your goal is to make money online.
There are many ways you can make money online. Some require a lot of money to start and some require a low start-up budget.
Mark Mills has done a great job by setting up a marketing funnel you can use to build multiple income streams using one funnel.
But as you have noticed, the problem with this system is that you need to invest hundreds of dollars along the way to make it work.
In fact, all the programs inside the system have been well selected by the owner in the way that when you join and refuse to invest, he gets most of the commissions when your referrals purchase these products.
If your goal is to build a long-lasting and profitable online business you own and have control over click on the button below to learn how you can build a passive and consistent income online without recruiting and without spending thousands of dollars.
Final Thoughts…
Multiple Income Funnel is definitely a scam. But in my humble opinion, this program isn't worth it.
This is just a marketing funnel you can build yourself, promote any products you wish, and make money online without being dependent on this system which will force you to start over again once it gets flagged.
That being said, I hope you found this Multiple Income Funnel helpful.
If you have a question or any experience to share, let me know in the comment section below.
Be an ACTION taker, SOW YOUR SEED TODAY!