If you are looking for an honest and unbiased Online Marketing Classroom review for 2022, let me tell you that you've hopped into the right place!
Throughout this review, I will show you:
What is the Online Marketing Classroom about?
How much does it cost and what you get in return for your investment,
The pros and cons and my final point of view.
Online Marketing Classroom Review summary: company overview
PRODUCT NAME: Online Marketing Classroom (OMC)
OWNER: Steven Clayton & Aidan Booth
WEBSITE: http://onlinemarketingclassroom.com/
TYPE OF PRODUCT: Affiliate marketing course + tools
COST: $37 per month – $97 per month/ $1497 for 2 years
SOW YOUR SEED TODAY RATING: 6/10
DO I RECOMMEND THIS? Yes and no, read to find why?
What is Online Marketing Classroom?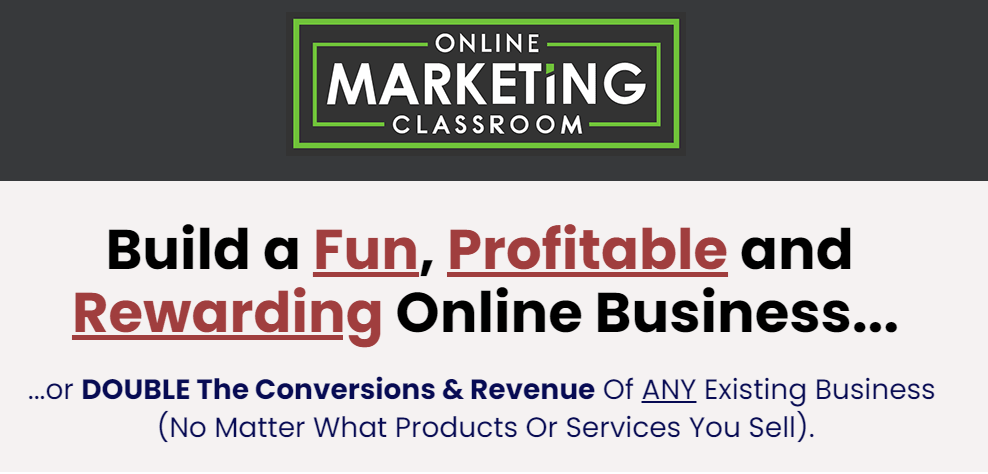 Online Marketing Classroom is a membership site designed by Steven Clayton & Aidan Booth and it comes with:
Training courses that teach you how to make your first dollars online through affiliate marketing, eCommerce store, or dropshipping and consulting business.
A software tools suite that helps you automate your business,
Workshops or webinars, and more.
It also comes with tutorials, manuals, and cheat sheets that show you the process you need to follow to build a profitable online business. These resources will also teach you:
How to design landing pages to attract your audience and get them to opt-in into your mailing list,
How to do email marketing in order to nurture your leads and then turn them into buyers.
Also, read Wealthy Affiliate review for 2022.
Who are Steven Clayton & Aidan Booth?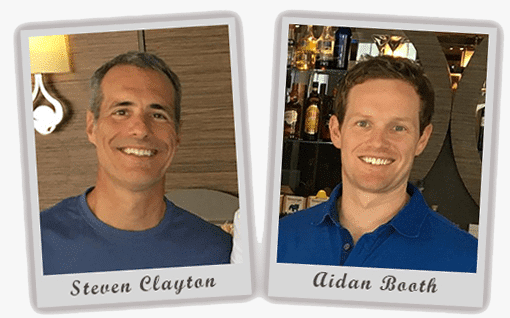 Steven Clayton & Aidan Booth are 2 successful and serial entrepreneurs who work together from 2015 until now.
Aidan Booth has almost two decades of experience in the internet marketing and eCommerce field.
Former CEO of one of the well-known companies – Fortune 500, Steven is an expert in PPC advertising, SEO, and internet marketing.
Since 2015, these two entrepreneurs have combined their talents and expertise and have created several programs such as:
100K factory launched in 2015
100K Factory Ultra in 2016 (the same course updated)
100K factory revolution in 2017 (an update of the same course)
7 figure cycle launched in 2018
These products or programs at their launch created a lot of buzz but to be honest I didn't see success stories about these programs.
And even their recent product The Kibo Code has not been appreciated by most of the people who bought it.
Don't get me wrong.
Here below are some complaints about this program.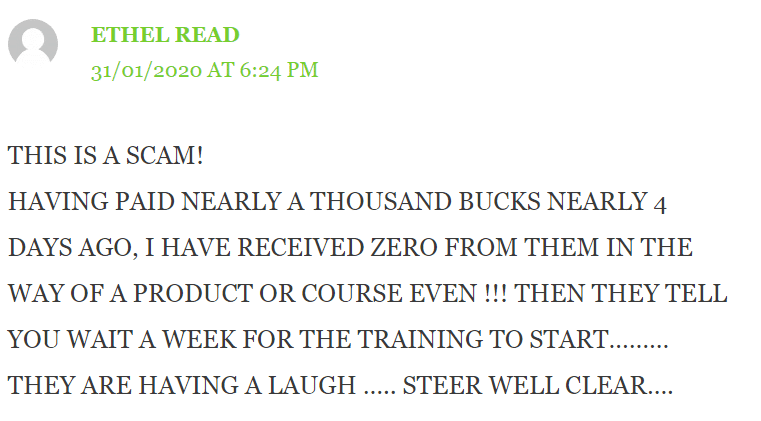 I don't say the OMC is not a good program. But it is something that is worth pointing out since this platform has been founded by the same guys.
How much does the Online Marketing Classroom cost?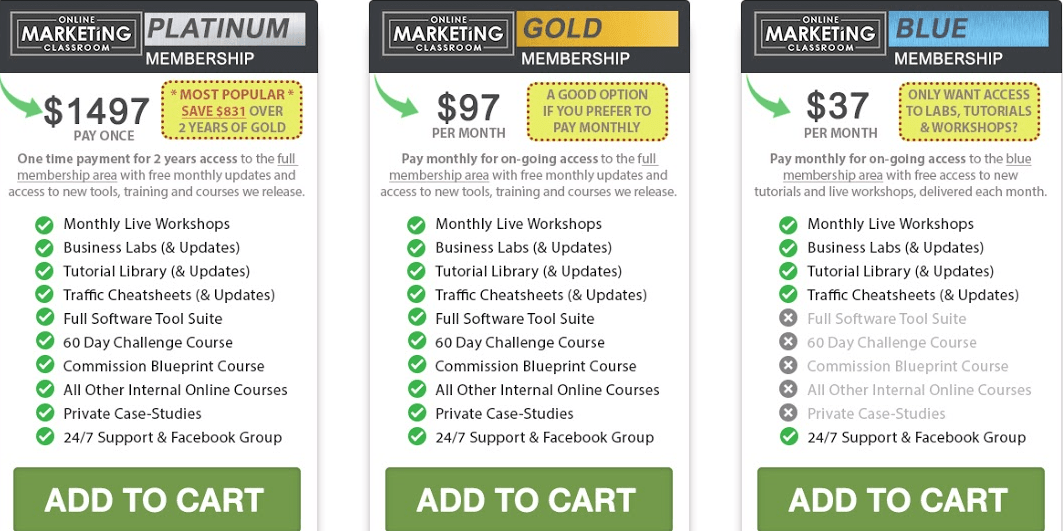 The OMC has 3 membership plans:
Online Marketing Classroom Blue Membership cost you $37 per month
And here is what you get:
workshops: a monthly webinar where you can learn new strategies you can apply to your business to get good results
labs: this is training that teaches you different ways you can make money. It covers affiliate marketing, dropshipping & eCommerce, and consulting business.
Access to tutorial library and traffic cheatsheets,
You also get access to their Facebook private group where you can get your ongoing questions answered by other members.
Online Marketing Classroom Gold Membership costs $97 per month
This membership gives you access to all the Blue membership features and the following features:
commission blueprint course,
Online Marketing Classroom Platinum Membership cost $1497 for two years
This membership gives you access to the same features in the Gold membership.
Though it only helps you save more money.
What's inside the Online Marketing Classroom membership site?
As I said earlier, the OMC is an educational platform and online tools provider.
The features you can get are based on your membership level.
For instance, the Blue Membership that costs you $37 per month gives you access to limited training and tools. If you want to get access to all the features and benefits of the OMC membership, you need to invest either$97 per month or $1 497 for 2 years.
Here is what you get.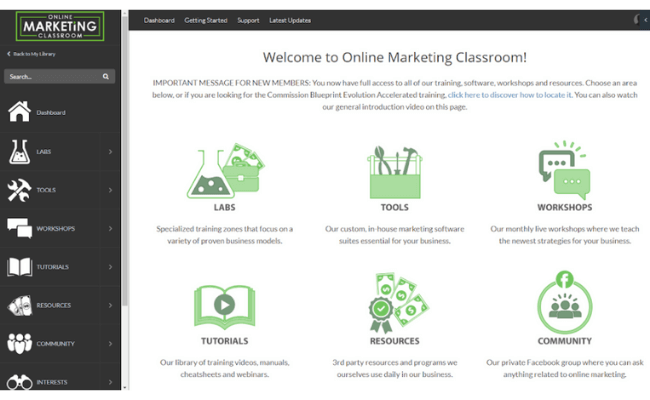 7 Full Business Labs that cover several ways to make money online
Each business lab comes with cash-flow cheat sheets, traffic cheat sheets, a toolbox, support, and a tutorial library.
This is what you will find inside the Online Marketing Classroom Business Lab:
SEM Lab,
Affiliate Marketing Lab,
Amazon Whitelabel Lab,
Management Lab,
AliExpress Dropshipping Lab,
Info Product Lab,
Kindle Lab.
45 Tutorials as well as webinars replays focusing on subjects such as:
Traffic and lead generation and the way to convert them into buyers,
Blueprints and action plans to fast start your business,
How to make money online faster following their quick cash method training,
Branding and Product Tactics,
List Building and Funnel Secrets,
On top of that, you have the following training too:
Commission Blueprint Evolution
This is another training course that teaches you how to do affiliate marketing throughout email marketing.
They teach the one-page affiliate marketing formula where you just need to create a lead funnel or landing page you will use to get leads and then try to convert these leads into buyers via email marketing.
So…
But the heck here is that if you are new in the online marketing world and you don't know how to generate leads for free you will need to spend thousands of dollars on paid advertising to get leads. And then after that try to convert these leads by providing value. That will come overnight.
60-Day Challenge Course
The 60-Day Challenge course comes with over 50 training videos and Steven Clayton & Aidan Booth will teach you throughout this course how to create a profitable eCommerce store within a 9 week period.
This course is structured like this:
Niche and product selection – week 1
Store set up and Optimization – week 2
Facebook set up and traffic generation using paid ads – week 3
Ad images and videos creation with a case study – week 4
Website conversion, Facebook page optimization and Facebook ad strategies – week 5
Fulfilling orders and upselling – week 6
Scaling your Ads, duplicating ads sets and product feeds – week 7
Extended scaling and email list building using Kaviyo – week 8
Clarification videos based on the question they got during the 8 weeks training – week 9
It is 9 weeks step-by-step video course and you will get access to tools you can use to build your online store.
Natural Earth Kitchen Case-Study
This is also an affiliate marketing online course by Steven Clayton & Aidan Booth that teaches you how to make money online selling other's people products.
It is about selling physical products on platforms like Amazon.com.
You will be learning in this course:
How to design high converting landing pages, lead capture and sales funnels,
How toç create viral content,
How to sell physical products,
How to develop digital products,
How to launch crowdfunding campaigns and more.
Tools suite
These tools suite offered in your membership area is only accessible to Gold and Platinium members.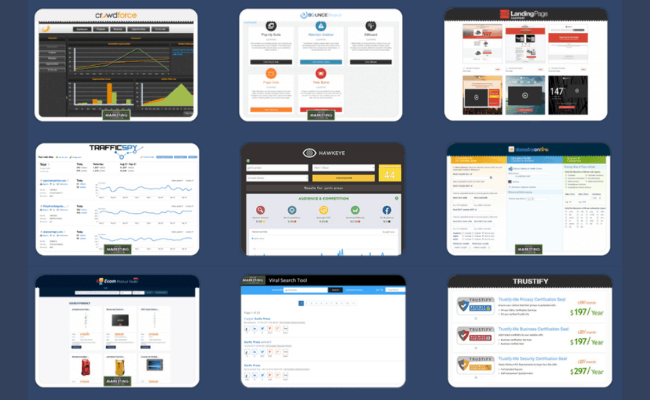 Here below is the tools suite you can get.
Crowd Force – A traffic generation tool that helps you attract your potential audience
Bounce Braker – a conversion tool
Landing Page Launchpad – a drag-and-drop landing page funnel builder
Traffic Spy – an analytics tool that will help you analyze and measures your campaigns
Hawkeye – a product finding tool
Domains On Fire – a domain name research tool
eCom Product Finder – another product finding tool for an eCommerce site
Viral Search Tool – a tool that helps you find hot content ideas
Blackbird – is an Amazon marketing tool
Who is the Online Marketing Classroom for?
They claim even you are just starting out, or are already in business selling digital products, physical products this is for you.
For my little experience and based on what they teach and the tools provided, I think this platform is for you:
If you are ready to get at least $37 per month out of your pocket because there is any free trial offered,
You are an experienced affiliate who is just looking for advanced training and tools to scale your business to the next level.
You are ready to invest thousands of dollars in paid advertising as they didn't teach SEO.
If you are a full beginner and you are on a budget, I don't think the OMC is for you.
In fact, the one-page affiliate marketing system is designed for people who already have a marketing background and who know how to generate leads for free.
Or at least are ready to invest their money in paid ad campaigns. That is the way for them to generate leads for their business because no traffic, no leads. So no sales and commission.
And getting leads is winning half of the battle because you need to build the "know like trust" factor with your subscribers in order to be able to convert them into buyers.
Trust it or not, most successful marketers started their journey with a website and then scale it with other methods like email marketing and paid ads as they grow.
That is the way they learned most of the skills needed like copyrighting, traffic generation, marketing, etc.
Online Marketing Classroom pros and cons
What I like
Step-By-Step Training Videos and Tutorials,
Live Facebook Community and Email Support,
Marketing Software Tools provided,
Reasonably Priced,
60-Days Money-Back Guarantee.
What I don't like
Extra costs involved like advertising budget and tools (if you choose the basic plan),
No Free Trial,
I am not a fan of DFY systems,
Accurate testimonials are missing
Also, read Click Wealth System review.
The Online Marketing Classroom alternative
The OMC is a great program and it covers several topics and you get tools to build your business.
However, the tools provided will be useful to you if you know how to generate traffic and leads throughout search engines like Google. This is what this program is missing and the tools provided didn't allow you to build a WordPress website you can use to run your affiliate marketing business.
Not to mention you need to invest $97 each month to be able to use these tools.
What I find a bit expensive compared to a similar platform like Wealthy Affiliate.
So if you are looking for a better alternative Wealthy Affiliate would be a good fit for you.
Here is WHY:
You can join it for free and test it to find out if it is a good fit for your business before you invest a dime,
Hundreds of hours of affiliate marketing training (video and text formats),
You can attend weekly live training or webinars,
There's a huge library of member-contributed training,
They offer premium cloud managed WordPress hosting with high uptimes and speed (create and host up to 10 sites),
Keyword research tool provided ($19 per month value),
One-click WordPress website builder,
2 times cheaper compared to this one,
The community is larger at 1.4 million+ people,
Dedicated tech support,
Instant support through a live chat,
Tons of real-life success stories,
They've been established longer (15+ years),
One on one mentoring,
Extremely beginner-friendly.
This is the course I followed and thanks to the strategies and SEO tactics taught inside this course I managed to scale my website organic traffic to over 2k visitors (daily basis) in 9 months from my start.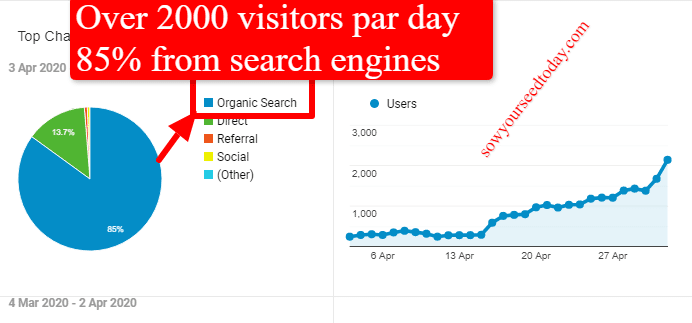 Online Marketing Classroom review: Final thoughts
Before you jump into any business, seeking to acquire the skills needed to be successful is a good choice.
This is what I did before I venture into the affiliate marketing industry. And thanks to this platform, I realized my dream of making passive income online through affiliate marketing thanks to their training and tools provided.
I admit Steven Clayton & Aidan Booth did a great work designing this online course and marketing tools you can use to build your online business. That is a great idea and this is exactly what you need in order to be successful in any business.
However, the tools provided in my humble opinion are not a good fit for beginners who are just starting out.
The reason I say that traffic is the lifeblood of any online business. The owners cover traffic generation in the training. But the traffic source taught that is Facebook paid ads will cost you an arm and leg.
What I mean here is that it will cost you a huge advertising budget because you need to pay Facebook in order for them to show your ads to their users.
What I recommend is to go with a free traffic source and the best free traffic source that convert better is organic traffic (from search engines).
And you can achieve that with a website.
I hope you found my Online Marketing Classroom review helpful.
If that is the case, don't hesitate to share it with your friends.
Be an ACTION taker, SOW YOUR SEED TODAY.
To your success!
You may also like