Post updated on Mars 30, 2021.
Hi, and welcome to my Perpetual Income 365 review.
Are you looking for an honest and unbiased review of the Perpetual Income 365 affiliate marketing course to find out if their course can help you make $432 per day as they claim?
If yes, you have come to the right place.
Throughout this review, we will delve deeper into the following points:
what is the perpetual income 365 is about?
How does the Perpetual Income 365 work?
the price to get the course,
the pros and cons of perpetual income 365, and my final point of view.
Perpetual Income 365 review summary: Company overview
Product name: Perpetual income 365
Product type: Affiliate marketing course combined with done for you stuff.
Owner: Shawn Josiah (previously Hidden)
Reason: When I first made my review on February 02, 2020, I assumed Shawn Josiah was an alias because he didn't show up in the sales video.
website: https://perpetualincome365.com
Price: $9 for 14-days trial, then $47 per month.
Sow Your Seed Today rating: 65/100
Do I recommend this? Yes and No – I will explain why.
What is the Perpetual Income 365 about?
The perpetual income 365 is an affiliate marketing course combined with software where the owner claims he will show you the hidden secret company like Netflix used to grow their business from $130 dollars to $403 million in just 1 year.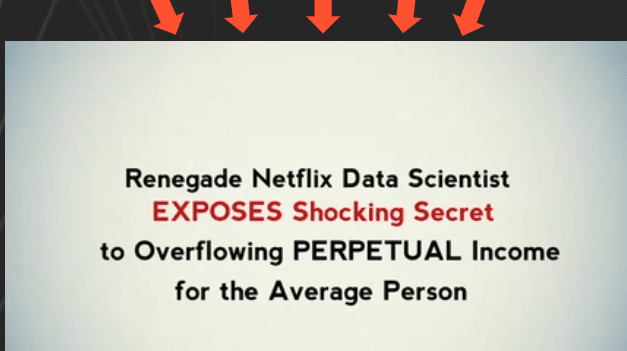 According to the narrator in the sales video, in just a few minutes you can get your affiliate marketing business up and running and ready to generate a minimum of $432 a day thanks to the secret they will show you in their course.
When you land on the sales page, the first thing you will see is a warning. That the registration expires in 24 hours.
That is not true. It's just a marketing strategy. Close the page, come back after a week or a month, and you'll still find it there.


A repeat this is a marketing tactic to lead you to take action right now ad there is nothing bad about it.
But behind the claims in the video,…
What exactly is the Perpetual income 365?
First off, there is no secret or magic formula for making money online. A Done For You system or not, you need to invest in yourself, do the work if you want to make money with any program.
The truth is Perpetual income 365 is just an affiliate marketing course that will teach how to make money with affiliate marketing through email marketing and solo ads marketing.
Personally, I am not a fan of solo ad for 2 reasons:
It requires a huge advertising budget and there is no guarantee the clicks you get will be turned into subscribers and then into buyers.
And even if you manage to get leads from your campaign, the odds of turning these leads into profits will not happen overnight because you first need to build trust with your new subscribers before they buy from you (contrary to what the narrator in the sales video claims).
I prefer using traditional paid advertising methods such as Bing, YouTube, and Google ads because I can target the audience I want based on their location, age, interest, etc. That leads to a better ROI compared to solo ads that I don't know for sure if the clicks I am getting are specific. An online course that teaches you how to drive traffic this way is the Super Affiliate System.
But as you know traffic is the lifeblood of any online business. And if you can drive targeted traffic to your offer, then likewise you can get leads and sales.
Affiliate marketing using email marketing is a proven way you can use to make money online but it is not a get-rich-quick scheme.
What I want you here to know is that don't just sign up based on the claim, but be prepared because you still need to use your brain and think outside of the box to make it work for you.
The bottom line, most tasks have been done for you and what you need is to drive targeted traffic to your funnels, nurture your leads and make sales.
Also, read Six Figure Mentors review.
How does Perpetual Income 365 work?
As I said previously, this program is about affiliate marketing training that comes with "Done For You" stuff such as landing page, Follow Up Emails templates, etc.
Here is how it works in a nutshell:
You join the program throughout ClickBank and, pay PI365 product, and now what you need to do is to watch the training video that will show you how the program works and how to get traffic using solo ads networks.
The next step is to create/choose your landing page (2 default to choose with upgraded option) using your domain name and the software will automatically upload and connect a 31 follow-up emails sequence to it.
Then come to the next step where you are required to sign up with Getresponse ( extra expenses some promoter didn't tell you- at least $15 per month for a 500 email list size), connect it to your landing page, and your money-making funnel is ready at this stage.
But without targeted traffic or people visiting your landing page, there is no money to make. Right?
This is why they teach you how to get traffic and their focus is using solo ads networks like Udimi to start sending traffic to the landing page you have created.
Once someone opt-in to receive more information, they will be introduced to a 31 emails sequence designed by the Perpetual Income 365 owner, Shawn Josiah to sell the program itself. Any work is required from you during this first month when your new prospects opt-in into your mailing list.
Some co-reviewers state Shawn Josiah will show you trusted solo ads sellers where you can get better ROI. My guess! If all the members are directed to the same sellers, that means almost all the Perpetual Income 365 members that will follow his advice are going to promote to same offer to the same audience. Can you imagine what will happen in this scenario? I guess you know.
And some say it is the best opportunity and the easiest way to make money because you don't need to create a website. Is it really easy as they claim? Or they are just looking to get a commission from your purchase?
I guess it is the next because, if their claims are proven, why didn't use the program instead of using their blog to promote the offer to you. Some just invested $9 to try just the program and they use it as a selling point – just to get your trust. They didn't use it. And what makes me a little bitter is the fact they didn't tell you what is involved in this program.
Now that I myself can do the sale, hold some important information and sell the product to you to just make money as they do.
But I won't! I tell you the truth and what is required on your part, to make this program work for you.
So let's move into the next section of my Perpetual income 365 reviews to find out how much it really costs you to get started.
How much the Perpetual Income 365 cost?
The Perpetual Income 365 costs $9 for your first 14 days and then a $47 ongoing monthly fee if you wish to continue with the program.
But…
There are upsells to up to $297.
Here they are:
Perpetual Asset cost $127: With this upsell you are allowed to get 5 advanced landing page templates. These templates will help you increase your conversion rate.
5 Clicks Profit Activator cost $197: This upsell gives you a customization option and comes with a marketing strategy that can help you increase your conversion rate. In fact, it allows you to display visitors' country flags, spots available display, and also the possibility to track visitors. Just like you see on the Perpetual Income 365 sale's page.
Email ATM cost $297: It comes with these features:
Content Fountain that re-write email swipes automatically for you,
Spambox Filter that cloaks your affiliate links to avoid your email being treated as spam and landed on your subscriber's spam folders instead of in their inbox,
Possibility to broadcast to your list just a few clicks of the mouse.
And it is not all your expense because you are required to buy clicks from solo ads networks if you don't have an audience (a blog or YouTube channel that gets traffic, an email list, good followers on Facebook or Instagram, etc).
Another expense involved is an email marketing tool and the recommended tool is Getresponse. This is where you will upload the DFY email scripts and send emails to your subscribers and it is not free (you get a 30-days free trial but after that, you will be charging on a monthly or yearly based).
Getresponse cost $15 per month (basic plan) for 1000 email list size and the price goes up to $25 you have more than 1000 subscribers.
So your expenses on a monthly based are at least $47+ $15 + your advertising expenses.
Also, read Done For You Service System Review.
How to make money with the Perpetual Income 365 program?
There are many ways to make money with this program.
You can make money by promoting the program itself. This is what the DFY funnels were built for
And for every sale you make $23.5 (50% recurring commission).
You have also the option to promote other ClickBank's product or any affiliate program you want to your subscribers.
This is the good point of the program because your mailing list is your asset and no one can take it from you.
While the owner claims $400+ a day, I want you to have a realistic expectation when joined the program. It is not a get quick scheme but a real business where you need to put the work in, work consistently to reap the reward later.
What do you get inside?
The Perpetual income 365 is a DFY affiliate marketing system (a software) that gives you ready-made tools you can use to promote the product itself and then any ClickBank products you want using email marketing and solo ads.
Here is what you get in a nutshell:
Ready-made landing pages of your choice and their software host these pages for you,
An email follow-up sequence for 31 days,
A guide to solo ad traffic,
Bi-weekly training,
Access to their Facebook community and coaching,
DFY email swipes,
Link tracker,
DFY content spinner,
30-days email automation,
Product sourcing training.
Is the Perpetual Income 365 a scam?
You know judging a program as a scam gives me headaches.
Here is how Wikipedia define a scam: scam = confidence trick
A scam or confidence trick is an attempt to defraud a person or group by gaining their confidence.
But I think it depends on how you define a scam.
If for you, a scam is when someone takes your money and gives you nothing in return, then Perpetual Income 365 is not a scam because you will get something in return (training + DFY software from your money).
However, if a scam has a deeper meaning than that (as it is for me); Let's say someone takes your money and promises you that your investment will give you so much back in return. Then, in this case, Perpetual Income 365 is a scam. Because the owner in the sale video not only promises he will reveal a secret big company like Netflix use that will help you make passive income. However, it is just something taught years later (email marketing using solo ads).
The more their promise of $412 a day is a promise that is far from being a reality given the methods taught in this program.
Scam or not a scam, I found some red flags you shouldn't ignore.
Perpetual Income 365 reg flags I discovered (Updated)
Reg flag #1: Fake testimonials
In the introductory video, you will see people giving testimonials they made money using the Perpetual Income 365 software.
It is the case with this lady. She stated she made $428.17 on her first day with this program. Really?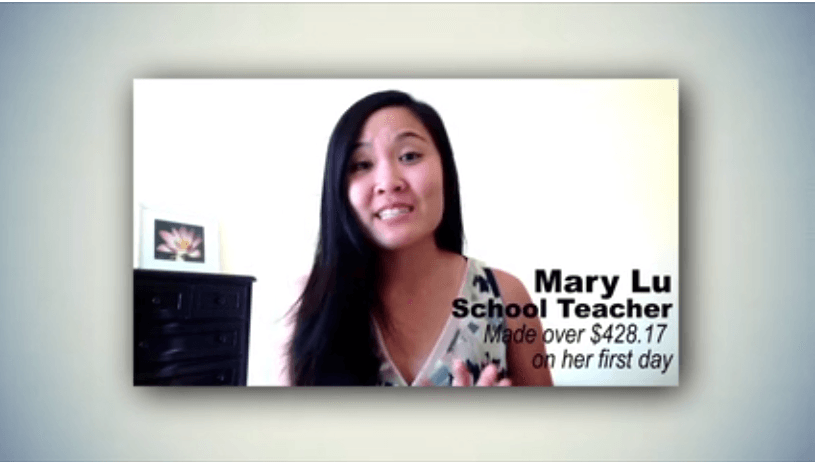 This is false because this lady is just a spokesperson on Fiverr. See the image below.??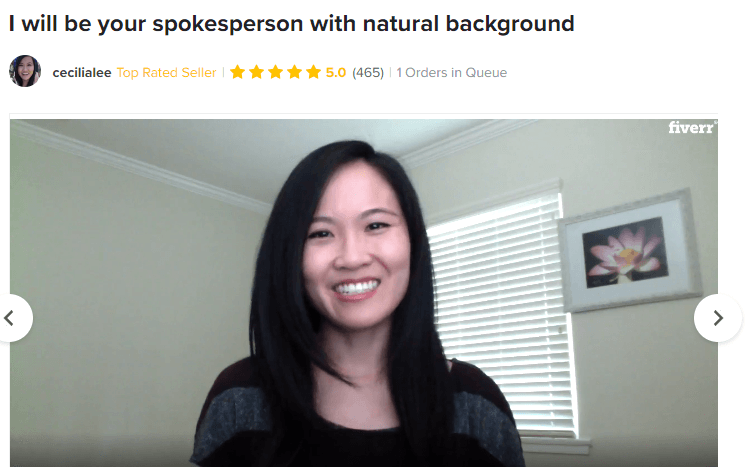 As you can see in the image above, this person is a spokesperson on Fiverr. The Perpetual income 365's owner surely paid his service to give a fake testimonial on his program.
She is not alone, here is another fake testimonial from a man called Andy.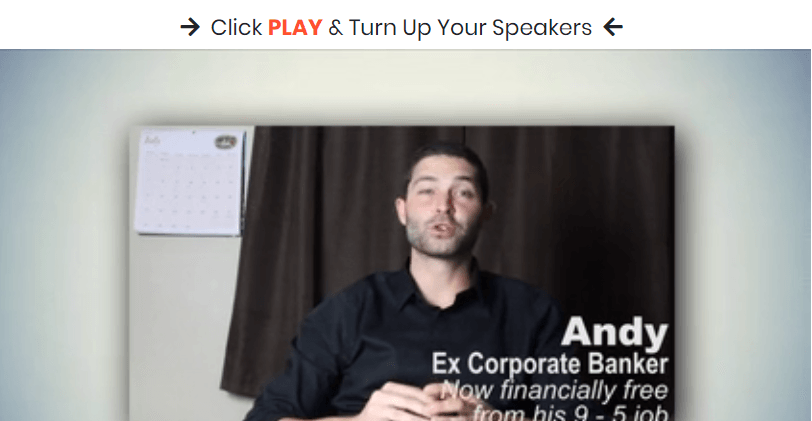 As you can see in the image below, this guy is also a spokesperson on Fiverr.??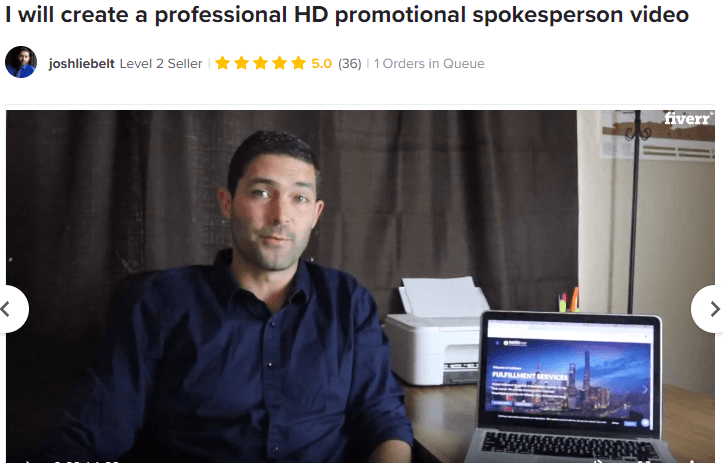 This is not new in the MMO space because scammers know that testimonials will increase their sales conversion rates. That's why they always use such testimonials fakes to try to convince people.
Side note here before we move into the next section of my Perpetual Income 365 review for 2021.
Using testimonials from actors on Fivver is not new in the online world. When a product is new and doesn't have any track record, most entrepreneurs use this as a marketing tactic. So take this with an open mindset!
And since the program has been launched almost 1 year ago so far, the meaningful question is that do people have success with the program?
Red flag #2: Hidden owner (Update: Owner is Shawn Josiah)
When I was writing this review, I thought to myself the Shawn Josiah is just an alias and not the real name of this program owner based on the red flags I discovered.
In full transparency, I discovered later he is the real guy behind the Perpetual Income Program.
So let see who he is and his business track record.
About Shawn Josiah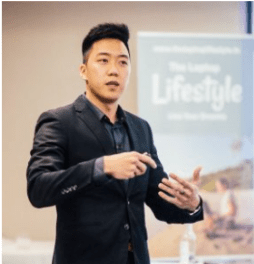 Shawn Josiah is a successful internet marketer who has been able to enter into the ClickBank super affiliate circle. He also won many launch contest such as:
Private Cash Sites Launch,
BankRamp Launch,
Wealthy Agency Launch,
Les Brown's 12 Laws of Success Book Launch, and many other launches.
When I have checked out his social proof, I have noticed he didn't have a lot of followers like certain course creators I have reviewed here.
For me, this is not an issue. The best part, he is a real person and also present on various social media platforms.
That is a good point because we know the owner doesn't have the intention to scam people.
Plus he has experience in the internet marketing field. So you will be learning a lot from him.
In the launch of the course, he used fake testimonials as you can see above.
But…
Are there real testimonials that can make us trust his program?
When looking for real testimonials I come across their affiliate page and the one who is making more money with the program is the one below.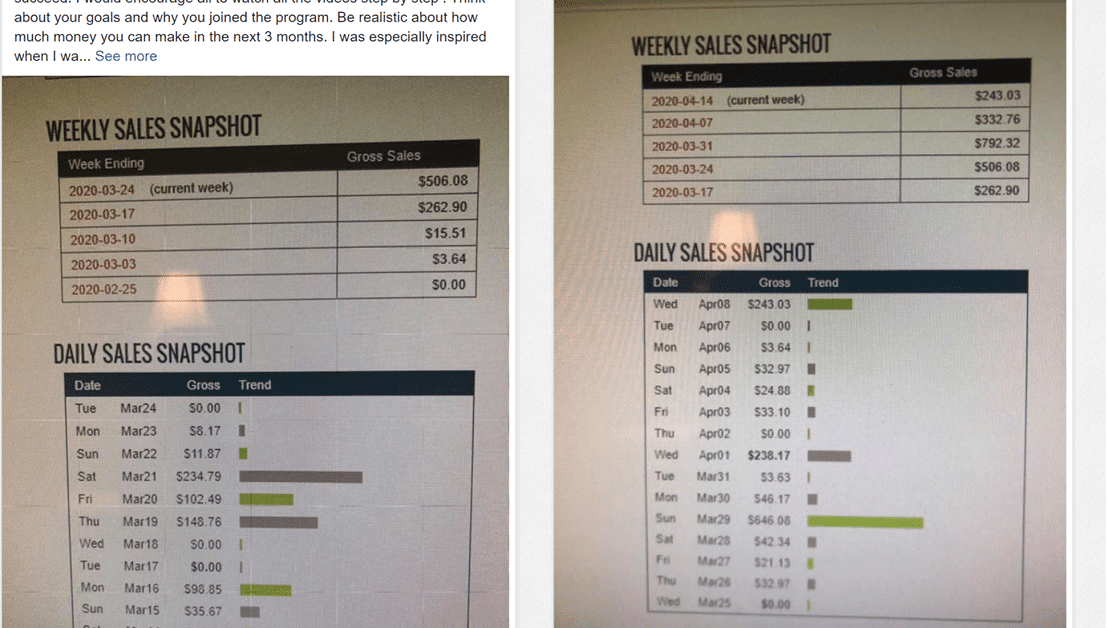 Another results I found that worth sharing is the one below: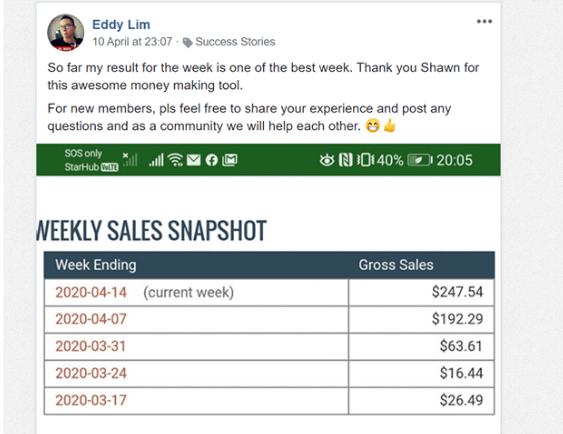 So there are people who are making money with the program.
The Pros and Cons
Perpetual income 365 pros
6o-days money-back guarantee throughout ClickBank,
"Done for you" emails follow-up sequence to use for 31 days,
"Done for you" Landing pages,
Training materials provided (about traffic generation using solo ads),
An email list is an asset and you are free to promote your existing business or any program you wish to your subscribers after the PI365 31 days follow-up.
Perpetual income 365 cons
Over-hyped and bold claims,
Used fake testimonials at their start.
My Perpetual Income 364 review's FAQ
What is the Perpetual Income 365 is about?
The Perpetual Income 365 is a Done For You affiliate marketing software combined with training that teaches you how to make money selling other people's products using email marketing and solo ads marketing.
Is Perpetual Income 365 a scam or legitimate?
No. Perpetual Income is not a scam per se. And I think due to what you read till here, the question is not if Perpetual Income 365 is a scam or not. Since you got something in return for your money we can't call it a scam. But… Is the program worth your money? This is what matters here. But it all depends on how you define a scam as well. Personally, it is a product I don't recommend for the reasons listed below.
Can you download the Perpetual Income 365 for free?
No. The Perpetual Income 365 program comes with software though, but you are required to buy the program to get access to it.
How much the Perpetual Income 365 will cost me?
The Perpetual Income 365 cost $9 for a 14 days trial then $47 per month. But it involves extra costs such as email autoresponder (at least $15), and ongoing advertising expenses (at least $100 per month to be realistic). Not to mention the upsells.
Does Perpetual Income 365 offer an affiliate program?
Yes, the PI365 offers an affiliate program throughout the ClickBank affiliate network. So if you want to promote the PI365 program you need to first sign up with ClickBank, or Digistore24.
Who is the Perpetual income 365 for?
Technically, this program is for everyone though. But practically if you are from countries restricted by ClickBank or Digistore24 and you can't create an account to promote their product, this program is not for you.
How to sign up for the Perpetual Income 365 program?
My final thoughts
The Perpetual Income 365 program is definitely not a scam in my opinion.
Shawn Josiah is a successful internet marketer who has been able to enter into the ClickBank super affiliate circle.
With his Perpetual Income 365 course, he aims to teach you how to start and grow an affiliate marketing business using email marketing and solo ads. And I admit he did great work by creating a Done For You affiliate marketing software that cut almost the hard work for you.
Affiliate marketing is a great business model many online entrepreneurs including myself make money online.
So if after reading this review you want to try this program, you can go here and get started for just $9 for your first 14 days.
But while you are still here this is another program I found better alternative:
Over 15 years in business,
You can access an evergreen affiliate marketing training,
Access to online tools such as hosting and keyword research you can use to build your own online business,
Access to a dynamic and supportive online entrepreneur community,
Ps: This platform costs $49 per month and you get more value for your money. This is the same platform that hosts this website you are reading right now. The best part you can try it for free before you decide to invest even a dime on it.
Check out my unbiased review here for information.
I think my Perpetual Income 365 review helped you know what exactly this course is about, and the best part, based on what you read, you can make an informed decision.
What do you think about the Perpetual Income 365 by Shawn Josiah?
Looking to hear from you in the comment section below.
Sharing is caring!
Don't hesitate to share this post with your friends if you like it.
Be an ACTION taker, Sow Your Seed Today.
To your success!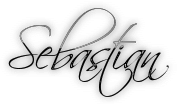 You may also like…
Welcome to my Fat Stacks review of 2023. Want to know if the Niche Site…