This is my honest and unbiased Project life mastery review.
So if you have been introduced to one of Stefan's courses and you are looking for an honest review to make an informed decision you are in the right place.
In this review, we will be talking about Stefan James, the Project Life Mastery company owner and the different courses he offers,
The cost of each course and what you will be learning in each course,
The pros and cons and my final point of view.
Even if you are looking for an answer to a question like "is Stefan James a scam", this review will get you covered as I am going to talk about the owner of the PLM program and his business track record.
But before we dive in let me congratulate you for checking my Project Life Mastery review.
There are a lot of fake and self-made gurus in the online space and checking for people's opinions before you buy any seemingly legit program will save you time and money.
Without further ado, let's dive in and find out what is the Project Life Mastery is about.
Project Life Mastery review summary: company overview
Company name: Project Life Mastery
Product Owner: Stefan James
Website: https://projectlifemastery.com
Product Type: Online courses
Price: $37 – $997 per year
Is Project Life Mastery a scam? No
Recommended? No
What is Project Life Mastery about?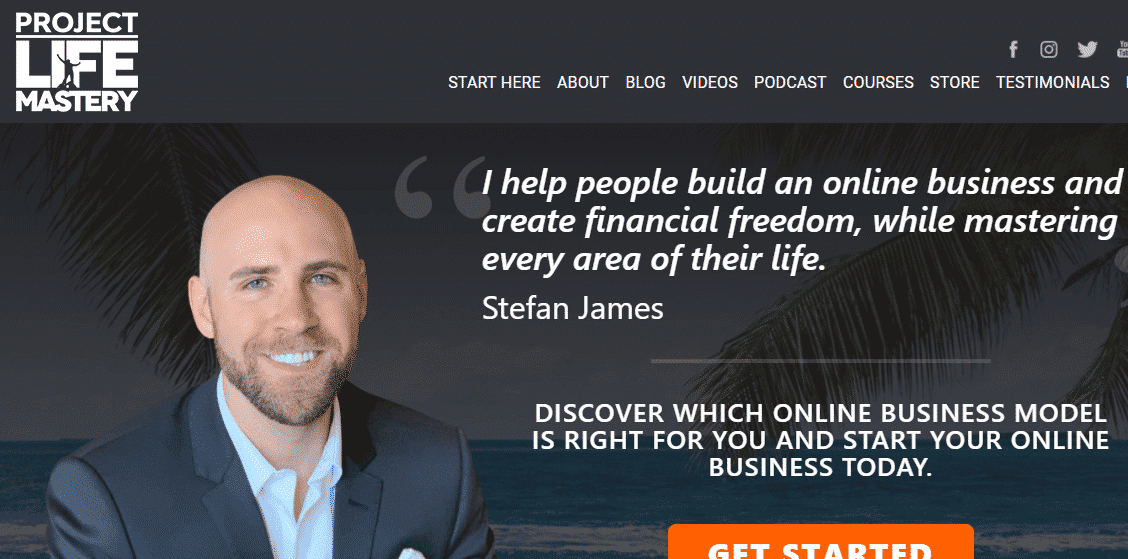 The Project Life Mastery is an online education platform designed by Stefan James. The platform hosts online courses ranged from affiliate marketing, FBA, Amazon book publishing, and personal development courses.
Stefan James promises to help you master every area of your life that stands for building a healthy and wealthy life.
I have reviewed one of Stefan's courses recently called the affiliate marketing mastery course. This course is the Project Life Mastery's affiliate marketing course and you can read it here.
Now, let's find out who is Stefan James.
Who is Stefan James?
Stefan James is a successful and well-known internet marketer who have thousand of fans and followers on most of his social media profiles.
For instance, his YouTube channel has over 1 million subscribers and his videos thousands of views.
He is the owner of Project Life Mastery where he teaches aspiring online entrepreneurs how to live a better life.
The courses cover not only online businesses but also personal development courses to help you have the right mindset and have control of your emotion and life.
You can learn more about Stefan James here.
Is Stefan James a Scam?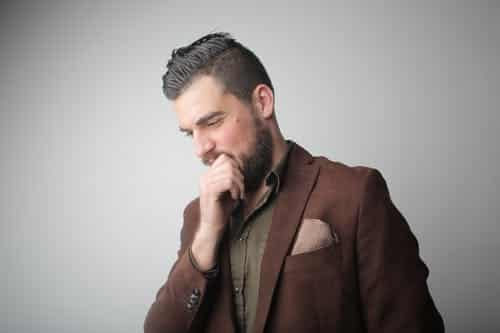 The straightforward answer is no. Stefan James is not a scam or a scammer.
As I said in the previous section of my Project Life Mastery review where I am talking about the owner of this company, James is a successful internet marketer and he started his online journey at his young age and by the time he was 24 years old, he is making a six-figure income with his online business.
He makes most of his money from his courses, coaching, and also with affiliate marketing.
So…
None of his courses is a scam and he is not a scammer.
What services or products the Project Life Mastery offers?
Project Life Mastery is an educational platform and here are courses Stefan James offers:
AFFILIATE MARKETING COURSE
AFFILIATE MARKETING MASTERY
James offers only one affiliate marketing course that is affiliate marketing mastery.
This course costs a $997 one-time fee and was designed to teach you step by step how to build your own affiliate marketing build and make passive income online by selling other people's products.
You can read my Affiliate Marketing Mastery review to learn more about this program.
Price: $997 one-time fee.
AMAZON BOOK PUBLISHING
This category has 2 courses:
MASTERING BOOK PUBLISHING
This course is about Amazon publishing and was designed to teach people how to enter into the ebook Publishing business even if you are a full newbie in this industry.
According to Stefan, even without marketing skills, this course sets you for success.
Price: $147
MASTERING BOOK MARKETING
This course is for people who have already in the ebook Publishing industry and struggling to get sales with their business.
It is an online marketing course that teaches you how to effectively market your products online.
In other words, you will learn how to market your books on Amazon by following Stefan's simple marketing tips.
Price: $997 per year or $97 per month.
THE 24 HOUR BOOK SYSTEM
This is another Project Life Mastery course under the Amazon book publishing category.
This ebook is about how to effectively and quickly write your ebook ready to be published on most of the publishing platforms like Amazon KDP, Draft2Digita , LuLu, etc.
Price: $27
AMAZON FBA
People think Project Life Mastery offers FBA courses.
However, this platform doesn't offer Amazon FBA courses.
Courses that were listed on the PLM's website are FBA courses Stefan recommends to people and if they buy these products he makes money. This is called affiliate marketing. And as I said, affiliate marketing is one of Stefan James's income sources.

These Amazon FBA courses are :
AMAZING SELLING MACHINE
The Amazon Selling Machine is an Amazon FBA course that teaches newbies and advanced e-commerce owners how to start and grow their e-commerce business with the leading e-commerce platform in the industry (Amazon).
The course has been designed by Mike, Rich, and Dan and they teach you how to start and grow your own Amazon FBA business from the ground up.
MARKETPLACE SUPERHEROES
This is not a course created by James himself. It is just a recommended Amazon FBA course they recommend.
This is a cheaper alternative course to the Amazon Selling Machine course recommended by the Project Life Mastery owner.
So if you are on a budget but still want to start selling on Amazon, you can try this course.
It was designed to give you a step-by-step blueprint on how to get started with Amazon FBA.
A perfect course for beginners who are just starting out.
ONLINE BUSINESS
Stefan James online business courses were subdivided into 3 courses:
ONLINE BUSINESS MASTERY ACCELERATOR
Want to accelerate your online success?
This course is for you. In this course, Stefan reveals his cutting-edge online business and marketing strategies to help you grow your online business faster.
On top of the core training you have access to, you will also get monthly coaching and mentoring from James himself.
This is the best way to getting all your questions answered.
Price: $47 per month or $497 per year.
ONLINE BUSINESS MASTERY MASTERMIND
This is a coaching and mentoring service. It is one of Project Life Mastery's products and here in this program, you will have the chance to have James and his girlfriend Tatiana help you take your business to the next level.
Price: unknown
KNOWLEDGE BROKER BLUEPRINT
This is another affiliate program James promotes.
This is a training course where you can learn from Tony Robbins and Dean Graziosi how to turn your knowledge into a highly profitable online business. It is a course design to teach you how to start your own coaching or mentoring business from scratch.
SELF-DEVELOPMENT
As you know the Project Life Mastery is about helping you live a better life and also to be a better version of yourself.
Stefan James personal development or self-development courses were subdivided into 2 courses:
LIFE MASTERY ACCELERATOR
Life Mastery Accelerator is a self-development coaching program with training materials to help you be a better version of yourself.
This is a personal development membership program.
Price: $29 per month or $297 per year.
MORNING RITUAL MASTERY
This is also a personal development course where Stefan shows you how a simple, everyday morning ritual can change everything in your life.
Price: $37
Is the Project Life Mastery a scam?
No. The Project Life Mastery is not a scam per se. It is a legit online training platform where you can find courses ranging from self-development, affiliate marketing, and eBook publishing courses.
The only downside is that most courses are high ticket products and I doubt the quality of these training materials.
In fact, instead of mastering or teaching one business model like most platforms, James is trying to be in several industries.
The pros and cons of the Project Life Mastery
? The Pros
✔ Stefan James is not a scam – he is a successful internet marketer with over 6 years of experience. So you will be learning something from him,
✔ All his training courses come with a 30-day money-back guarantee.
? The Cons
❌ Not focusing on a specific domain – trying to master everything in life is being not good in any area,
❌ Some training materials are expensive and involve extra cost,
❌ Stefan list some of his recommended courses with his own course. As an educational platform, I would like to see only his own courses under this section and his recommended courses elsewhere. Or to list them under a section recommended courses instead of adding them with his course as they were created under the banner of the Project Life Mastery company.
Alternative to the the Project Life Mastery
If for any reason the Project Life Mastery courses are not your first rodeo, here are alternatives to consider:
Wealthy Affiliate: this is an all-in-one platform that offers Affiliate Marketing training courses and also tools you can use to start and grow your online business from the ground up.
So needless to spend extra money on tools after you have acquired the required skills to build your own online business.
The best part, unlike most affiliate marketing courses out there the entry barrier is very low and when you compare the features it offers you will see you get more value for your money.
This is the platform I use myself and you can read my unbiased Wealthy Affiliate review here.
Entre Institute: Just like The Project Life Mastery, Entre Institut offers several online courses ranging from affiliate marketing, coaching, and e-commerce like selling on Amazon and eBay.
Read my Entre Institut review for more information.
You can also check out my top best affiliate marketing training courses to pick one that fits your needs to get started if it Affiliate Marketing you want to start with.
If it Amazon FBA business, you can check out the Amazon FBA Ninja course.
The Project Life Mastery review – final thoughts…
The Project Life Mastery course by Stefan James is a platform that claims to teach you how to build an awesome lifestyle.
In other words, James aims to teach you how to master every aspect of your life starting from your daily routine, health, emotion and finance, and profession.
Stefan James is definitely not a scam but trying to waffle every aspect of life for me doesn't make sense.
I will be okay with him if he focused on teaching people one or 2 business models.
He made millions of dollars doing affiliate marketing and selling his courses and that through free and organic traffic.
When you take a look at his projectlifemastery.com it was been registered in 2011 and this website is driving free traffic.
If there is a course among these courses I will recommend, it is the affiliate marketing course.
But since this course cost you a woopie $997 while there are other (even better) affiliate marketing courses out there where you can get started for a fraction of this price why not recommend it over these courses.
That being said, I hope you found my Project Life Mastery review helpful.
Don't hesitate to leave a comment and share this review with your friends.
Be an ACTION taker, SOW YOUR SEED TODAY!
To your success!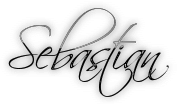 You may also like…
Welcome to my Super Affiliate System review of 2022. Have you been introduced to the…