Welcome to my Rain Money review.
One of my friends on Facebook sent me his Rain Money affiliate link while telling me: "I discovered a site where you can make at least $2000 per month. It is a legit site"! I know this is his marketing strategy.
All right!
I checked out his link and what is it? It is a site called Rain Money that effectively states that people can make on average $2000 per month as a social influencer. ??
I remembered at a similar site called Kash tree I reviewed in my previous post. And I was wondering if it's not the same people who run Rain Roney.
So I started doing some research on the authenticity of this site that promises heaven and earth to those who are looking for ways to earn money online.
So if you are here to find out if Rain Money is a scam or a legit way to earn $150 per day while promoting it, you have come in the right place.
In this review of Rain Money, I will show you what Rain Money is and how it works.
I will also show you what I discovered about it, and the pros and cons of this site.
Do you want to discover what I found about Rain Money?
Yes?
Then, on the trail with me!! You will be surprised!
Rain Money review summary:
Company Name: Rain Money
Website: RainMoney.co
Product type: Another GPT (Get Paid To) Site
Owner: Unknown
Cost to join: Free to sign up
Scam or legit: BIG SCAM
SOW YOUR SEED TODAY RATING: 1/10
Do I recommend this?: NO – Stay away from this site
If you are looking for a genuine and proven way to make money online make sure you check out my #1 recommendation company where you will build your own long-term and successful business.
What is Rain Money?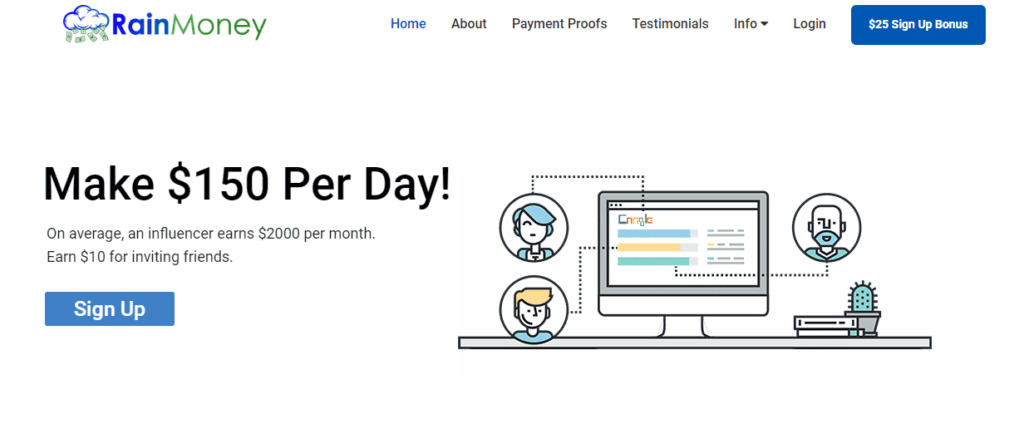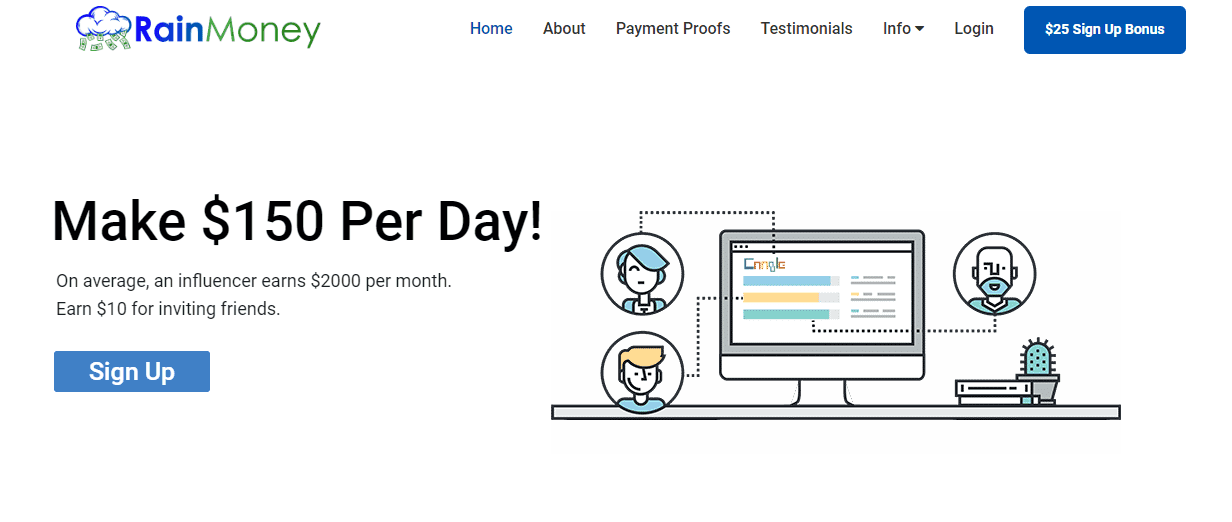 Rain money is a site similar to Kash Tree that claims you can make $150 per day just for signing up, referring your friends, completing easy tasks on their website, promoting them by creating YouTube videos, etc.
They also claim you can make money with them that will replace your day job. Is this claim right or just their strategy to scam you and waste your precious time?
How does Rain Money work?
Rain Money, as I mentioned in the introduction, is a site running by the same folks as Kash Tree.
Even if it is not the same folks who manage this site, they are all the same: 100% …
Just like Kash Money and Paid4clout, Rain Money claims that you will earn $25 just by signing up on their site.
Once you have signed up, here are ways to make the money rain, as their name suggests (Rain Money):
Refer your friends to their site: You earn $10 just by referring someone to the site.
Create promotional videos and post them on YouTube. For this task, they claim that they will reward you up to $50 per video.
Promote Rain Money on Social Media such as Facebook, Instagram, and Twitter by publishing promotional posts. Each post you publish allows you to earn $10. And you can do it every 48 hours.
Sound too good to be true!
And it's not over yet! If all these things aren't your stuff, here's another way:
Complete survey tasks on their site and earn $30 on each survey.
Also, read my Legendary Marketer review to find out it can help you make real money online.
Rain Money review: what I discovered
There are some red flags of Rain Money I discovered and I will expose them to you.
Red flag #1: their claim about creation date is false
Rain money lies about their creation date. On their page "about us", they claim Rain Money was founded in 2013. Really?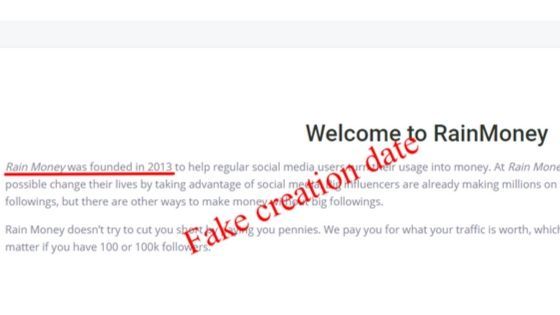 This is not true. WHOIS, a trusted service that provides information about domain names registration, tells us that their domain name has just been registered on August, 8th 2019. See image below ??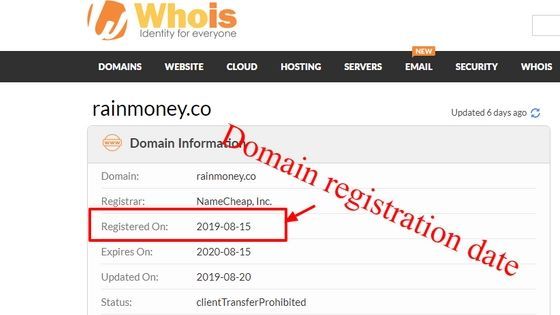 Reg flag #2: Fake testimonials
It is not uncommon to see scam sites using false testimony to seduce as many people as they can. And Rain Money will do no other way.
As you can see in the image it is the same people who are in almost all of their scam sites testifying that they have used the service and have been paid. All these are fake.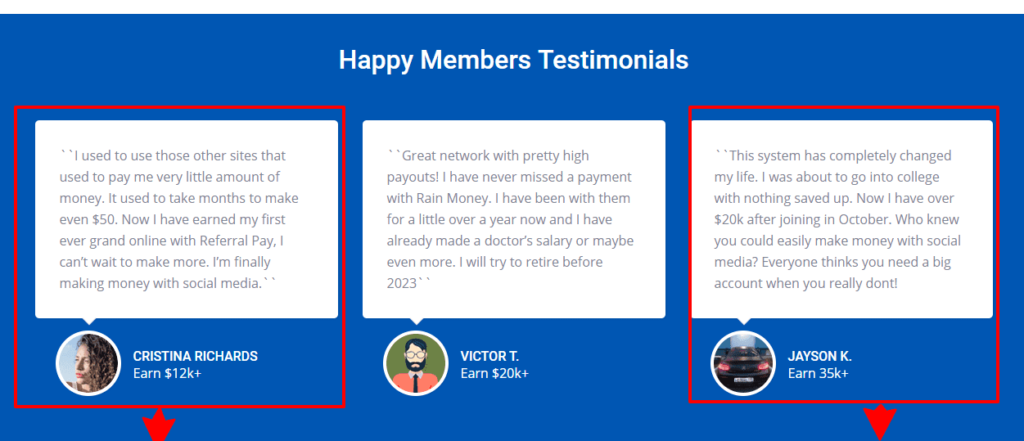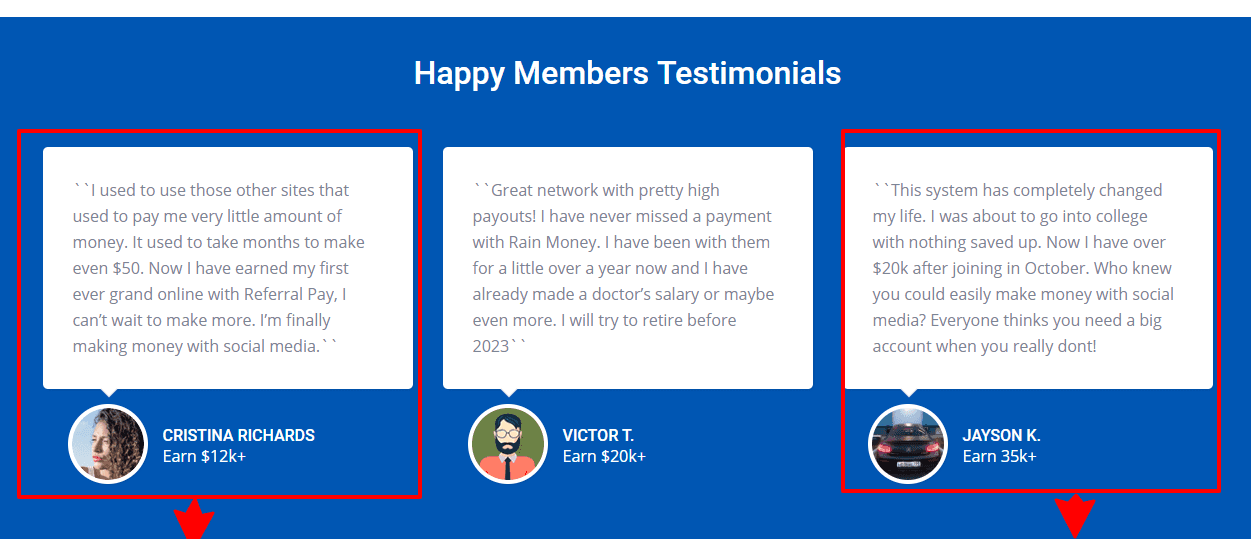 These are the same images found on sites such as Kash Tree and Paid4clout that Rain Money owners use here as testimonies to make you believe that Rain Money works.
I know a lot of people get fooled because of video testimonials, but in reality, these are just fake testimonials.
Another great review: Crowd1 review – legit MLM or Pyramid scheme?
Red flag #3: Fake support team
Another thing that proves that Rain Money is not reliable and scam is their so-called support team. When you look at his images, are they real people?
Can a company that has paid so much money to its members refuse to reveal its team to its users?
They have hidden their identity because they know for themselves that what they are doing is not legitimate.


Red flag #4: Fake payments proof
Just as they use false testimony to lure people, they also use bogus payment proofs for the purpose of convincing you to register and to invite others to register too.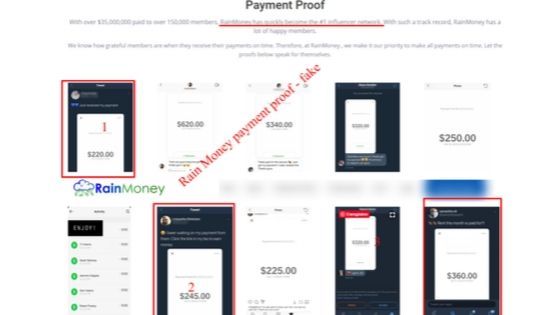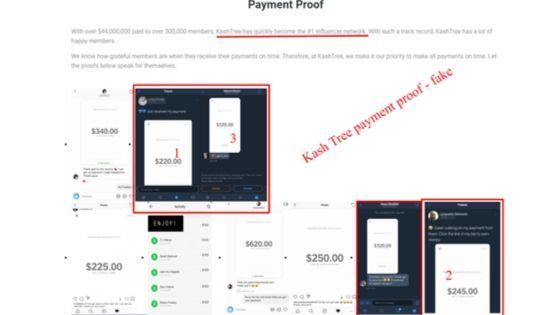 Is Rain Money a scam?
When it comes to saying whether or not a site is a scam, I have a hard time expressing my opinion.
But everything leads me to believe that Rain Money cannot make money rain as he claims. Rain Money is a scam. A BIG Scam just like Kash Tree, Paid4clout, KidsMoney, etc.
Rain money review: Pros & cons of Rain Money
Rain Money Pros
I like the fact that they used the quote from Steve Jobs in their site by saying this: "Your time is limited, so do not waste it living someone else"s life." See the image below. ??


This is advice in my opinion.
Rain Money cons
They steal people information to make money
They make money but they don't pay members
Conclusion and my final word
If you're on this site because you want to know if Rain Money is a scam or not, I think you have the answer to your question: Rain Money is a scam.
But before I leave you, let me tell you this
I admit that it's frustrating when you discover something you believe in and in the end you find that this thing isn't worth it.
I too have been where you are now. Often frustrated because I can't find out something legit and affordable to me. Yea!! Until I conclude that there is no legit way to make money online.
But if there is one thing I have done that has brought me to where I am today(an online business owner), it is the fact I never give up. I've always wanted to know how people make money online. Then don't give up too. Keep moving forward! Someday you'll find a way!
I discovered a legitimate company, the one that hosts this site you are reading now.
It may be the end of your search if you try it today. Because with this company you will discover the best ways to earn money online.
Above all, they will help you build your own online business that will help you make a sustainable income.
Read my full review about it here.
I babbling enough and want to hear from you
Have you tried Rain Money or a similar site to it? Share your experience with my readers in the comment.
Have you enjoyed reading this article, share it with your friends. It will help them avoid falling into their trap.
Related posts:
Onpassive review – legit MLM company or another pyramid scheme?
Home Business Academy review – best and legit course or scam?
Online Marketing Classroom review – Best and legit course or scam?
Be an ACTION taker, SOW YOUR SEED TODAY!!
To your success!!