Welcome to my Sendsteed review.
If you're wondering what is Sendsteed, or how Sendsteed can help you take your online business to the next level, you've come to the right place.
Or if maybe you are looking for the best free email marketing tool to build a mailing list, then you are welcome because LeadsLeap has found the solution for you.
Now there is no excuse. You can do email marketing with Sendsteed by LeadsLeap which is a complete List Management System tool you can use for FREE.
In this Sendsteed review, I will show you:
Pros and cons and my final point of view.
For Your information, Sendsteed is a free email marketing tool designed by Leadsleap for its users.
In case, you don't know what Leadsleap is about, you can read my full review of LeadsLeap here.
With that being said, let's dive right in.
Sendsteed review summary:
Company name: Sendsteed
Website: https://sendsteed.com/
Owner: Keneth
Products/service: Email marketing and list management tool
Cost: free – $19
Legit or scam? – Legit
SOW YOUR SEED TODAY rating: 8.5/10
Do I recommend this? – Highly recommended
What is Sendsteed about?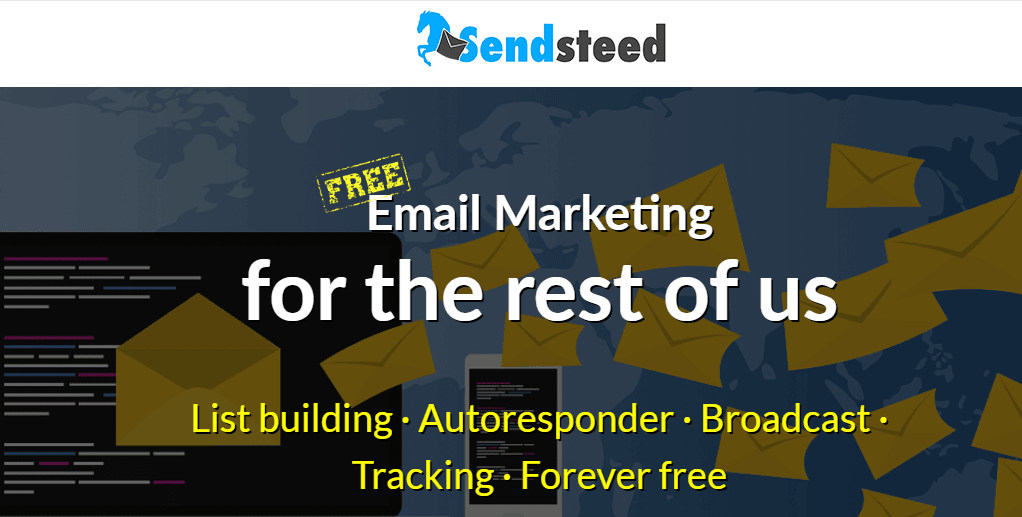 Sendsteed is a free email marketing solution designed by Keneth, the LeadsLeap advertising platform owner.
This is a new complete list management system that will help you build your mailing list, broadcast your list, set up a follow-up message such as e-course series and send to your list fully automated.
The best part with Sendsteed is that it is totally free of use and you are not limited in terms of the number of the email list (list size) or the number of messages you can send per month.
Plus, unlikeMailChip and MarlerLite which does not allow you to include your affiliate links in your campaign, Sendsteed allows you to do that.
Now, you know what is Sendsteed, let's move into the next section of our Sendsteed review to find out how it can help you develop your email marketing campaign.
Sendsteed features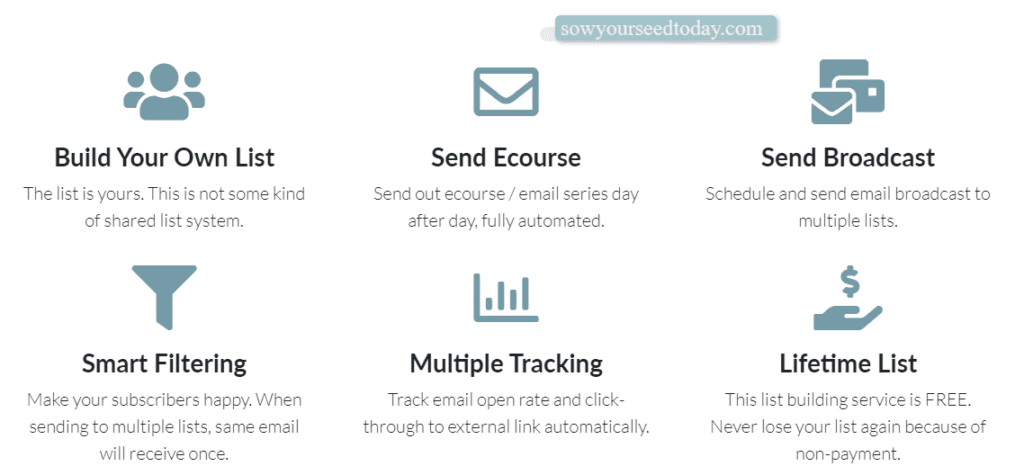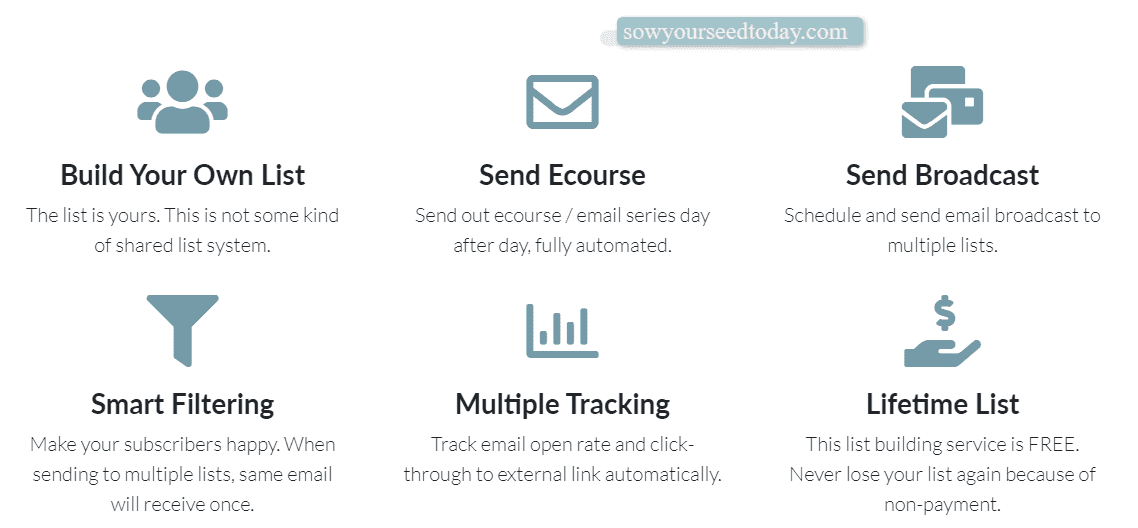 Like any email marketing tool, Sendsteed offers you all the convenience and features that most email marketing tools offer.
Indeed,…
you can create popup forms to collect your website's visitors emails and then build a mailing list with no limit,
You can schedule and broadcast mass mail to your list,
You can track and analyze email open rate,
Track and analyse and external link click-through rate,
Set a follow-up emails such as eCourse,
Plus it is free of use and the list you build is yours. No more lost lists due to non-payment and shared list system where you don't own your list.
Let's talk about these features one by one
1. List building
Email marketing starts with a list building. Without a mailing list, you will not be able to set up an email campaign.
Right?
In order to build an email list, what you need is a lead magnet and an opt-in forms.
If you are a beginner and you don't know what is a lead magnet, here is how Investopedia defines a lead magnet:
A lead magnet is a marketing term for a free item or service that is given away for the purpose of gathering contact details; for example, lead magnets can be trial subscriptions, samples, white papers, e-newsletters, and free consultations.
So to be simple, it is just an offer you can give away to your prospective customers in exchange for their email address.
As for opt-in form, it can be a landing page or a simple popup.
Sendsteed didn't offer contact or opt-in form builder.
Thankfully LeadsLeap before they released Sendsteed offered an emails capture tool called PopupXpert which allows users to create opt-in forms and all kinds of popups to collect emails.
Here below is a popup I designed with LeadsLeap Popup builder that will explain much more both marketing terminology.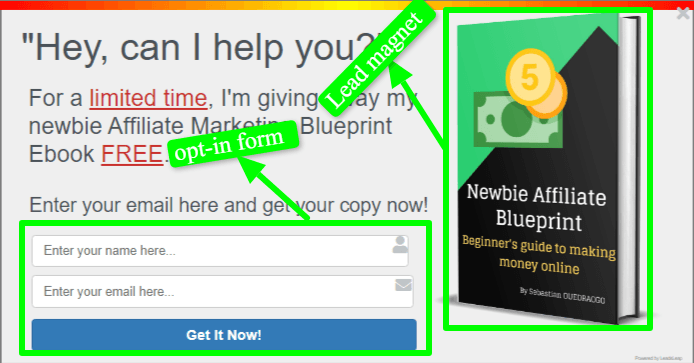 2. Set up an autoresponder
An autoresponder is an automated email sent immediately after someone has opted-in into your mailing list.
With Sendsteed, you can set up an autoresponder and when your website's visitors or prospective customers opt-in for your mailing, Sendsteed will send them an automated email. This can be a welcome email that contains your give away or freebie's download link.
3. Broadcast mass mail to your list
Before Leadsleap was released to LeadsLaep 4.0 Alpha, members cannot send mass emails to their mailing list.
Unless they connected an SMTP (Simple Mail Transfer Protocol) server to their list management system or used their OTO list builder script.
Now, with the release of Sendsteed, free & pro members can do it.
Free members can send up to 10 broadcasts to their mailing list. As for pro members they there is no limit.
And like most email marketing tools, Sendsteed tracks your subscribers' activities such as email open rate and link click-through rate that help you have a better understanding of who is an active subscriber and who is not.
Plus, it separates your mailing list into active and inactive subscribers.
For inactive subscribers, LeadsLeap has a system in place that limits the number of emails they can receive per month.
Free members can send a specific message to their active subscribers and pro members 2.
This approach is good but there is one drawback: Sending one or two messages to inactive subscribers reduces your chance to engage them and turn them into active subscribers. I find they could easily forget you. That's my thought.
Their broadcast editor is basic when I compare it to traditional email marketing tools such as MailChimp or Getresponse, but I found it very intuitive and useful.
Because you can personalize your email (by using the smart greeting feature) and the best part they have a smart filtering feature that prevents you from sending 2 emails to the same email address.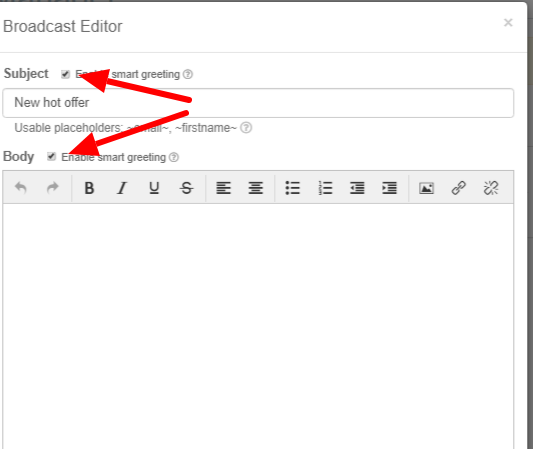 Perhaps you don't understand what I mean.
If that is the case, let me explain it to you.
Let's say you have two mailing lists:
one dedicated to people interested in blogging and one dedicated to people interested in freelancing or side gigs.
Now suppose someone has subscribed to both of your mailing lists with the same email address and you want to send out a message announcing the release of a new product you have created or maybe you want to give a gift to your entire list.
Without a filtering system, when you will send your message, everyone on your two mailing lists will receive two messages. Isn't it?
That's where Sendsteed's smart filtering feature comes in.
The system will automatically filter duplicated emails in different lists.
4. Set up a follow-up email series
Here we are. As an affiliate marketer or a blogger, sometimes you need to run a 7-days course or an educational email series with your subscribers or to set up an automated series of messages that will be delivered automatically to your subscribers. It may be a series of emails to new subscribers or inactive subscribers (or vice versa).
Sendsteed allows you to do that efficiently.
You may be wondering how much it cost.
Don't worry I won't end my Sendsteed review without talking about it.
How does Sendsteed cost
Sendsteed is absolutely free of use. This is a new feature Kenneth added to the LeadsLeap platform and it was designed for its members.
If you want to use this free email marketing tool, all you have to do is to first join LeadsLeap. The best part is that is free and you can use both (LeadsLeap platform and Sendsteed) without spending a dime.
Sendsteed review: Pros and Cons
Sendsteed review: Pros
✔ Free of use
✔ Possibility to track your email open rate and click-through rate
✔ Possibility to customize and personalize your email campaign to engage your subscriber
✔ No mailing list size limit
✔ No broadcast and numbers of email per broadcast limited
✔ Autoresponder and follow up email series made possible
✔ No affiliate link use restriction in their term of use
Sendsteed review: Cons
❌ Broacast editor need improvement
❌Sendsteed is not a stand alone email marketing platform – you need to sign up to LeadsLeap to use it
❌Number of email you can send to your inactive subscribers is limited (twice per month)
Sendsteed FAQ
What is Sendsteed?
Sendsteed is a new brand email marketing tool Powered by LeadsLeap. This email marketing tool offers all the basic standard list management system offer.
Can I use Sendsteed without being a LeadsLeap member?
Absolutely not. This tool was designed for Leadsleap members only. If you want to use this free tool, you need to join LeadsLeap.
How much Sendsteed cost?
Sendsteed is free. And you don't need to invest a dime to use this tool. However, if you want to send a follow-up email series, you need to upgrade your account to Pro. This is will cost you only $19 per month. What I found very affordable when I consider what you get inside and compared to how competitors charge users.
Is Sendsteed a scam?
No. Sendsteed is not a scam. This is a legit free email marketing tool you can use to build or develop your online business.
What kind of content I am not allowed to send using Seedsteed email marketing tool?
You can send all content related to businesses. And you can even include affiliate links on your email campaign.
However, you cannot, use Sendsteed or LeadsLeap service for spam, HYIP, pyramid, Ponzi, scam, obscenity, adult, dating, gambling or drug-related content. you can
Wrapping up and my final words…
Kenneth is a generous online entrepreneur I know. I have been a member of LeadsLeap for 2 years.
And since then I've seen the platform improve and new features added, making it an all-in-one advertising platform for Internet marketers.
From LeadsLeap 3.0 (released last year) this year LeadsLeap presents a new figure with more features under the name LeadsLeap 4.0 Alpha.
And the newcomer from Sendsteed make it very attractive for internet marketer.
If you are looking for an email marketing tool to build your mailing list, or if you are looking for an all-in-one platform to develop your online business, LeadsLeap will be an excellent choice for you.
You can read my LeadsLeap review here.
I hope you found my Sendsteed review helpful.
From now, you know what Sendsteed is, the features it offers.
I leave the final decision in your hands.
Do you enjoy my review of Sendsteed? Please, share it with your friends.
If you have a question or an experience to share with us about Sendsteed or LeadsLeap, please, drop it on the comment section and I will respond to you ASAP.
Be an ACTION Taker, Sow Your Seed Today.
To your success!