Welcome to my SFI affiliate center review!!!
If you are looking for answers to questions, such as:
what is SFI or Strong Future International?
what is the SFI affiliate center?
…, you are in the right place.
Because in this SFI affiliate center review, I will answer all these questions and will also share my own experience with you hoping it will help you make an informed decision.
Make sure you read this review to the last page. That will avoid you spending your time and money on a program that doesn't even deserve your attention.
SFI Affiliate Center review summary:
Company name: Strong Figure International AKA SFI
Company website: sfiimg.com
Owners: SFI Marketing Group
Products: Partner with Triple Click store
Business type: Affiliate Marketing + MLM
Price: Free to start and then $$ to participate in their MLM program
Scam or legit?: Legit
Is it beginner friendly program? – NO
SOW YOUR SEED TODAY rating: 40/100
Do I recommend this? – NO (with some good reasons)
What is SFI known as Strong Future International?
SFI, known as Strong Figure International, previously Six-Figure Income is a company that claims, you can make a six-figure income online and be financially free promoting their Triple-click store products or/and building a customer's team thanks to their MLM opportunity.
Created in 1998 by Gery Carson, SFI is a US-based and an MLM company that sells over 10, 000 products of all kinds over the world.
Ways to make money with SFI Affiliate Center
There are 3 ways to make money with SFI:
1. Make money with SFI their E-commerce Affiliate (ECA) program
SFI offers multiple ways to its members to make money online and their ECA program is one of these ways.
What is their ECA program about?
SFI ECA program a an affiliate marketing program where SFI affiliates, mainly online store owners can make money by marketing their Triple Click store products.
And every time a client buys a product via your ECA affiliate link, they get a 25% – 50% commission depending on your affiliate status for a lifetime. That means if your referred customer buys a product today, even if he comes back 5 years later and pays for a product, you still earn a commission – as long as you are still a member of SFI.
This method of making money with SFI as I said previously is suitable for eCommerce store owners who want to park some SFI products in their online stores.
But the hic with TripleClicks products is that products are overpriced and sometimes a low quality compared to a store like Amazon.
Don't get me wrong!! I don't state that to turn you away from SFI. That is the truth!!
Let's just check out an item on the camera & accessories category on the TripleClicks store. A digital camera costs $125$ on the TripleClicks store. That gives you only 914VP. VersaPonits (VP) is what helps you boost your SFI rank and the amount of money you can make on SFI depends on it.
Don't worry about this now. We will talk about the importance of these VPs and see why SFI attached these points to their products on the next section. See the image below! 👇👇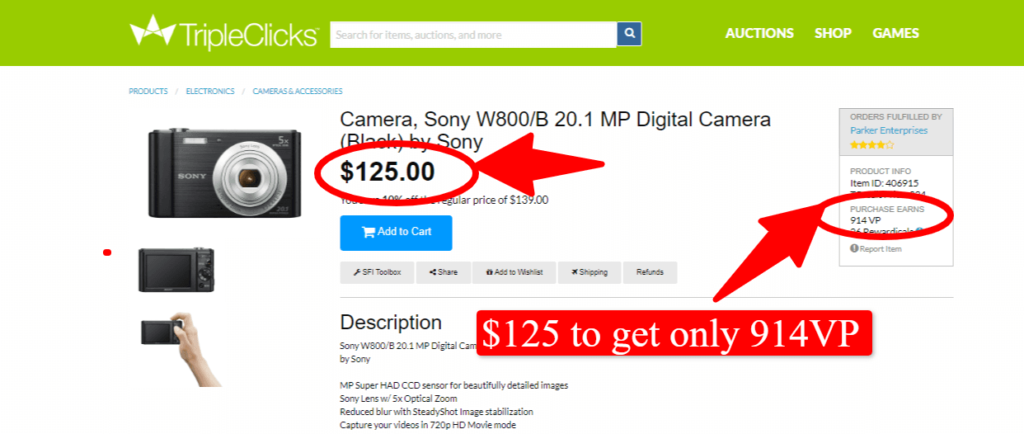 Let's just browse on Amazon store and see how much does the same product costs?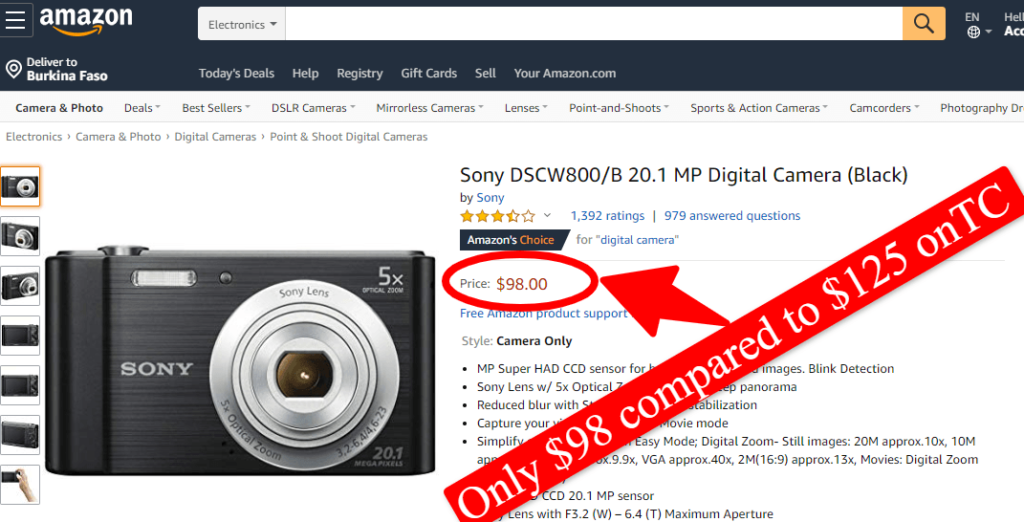 Isn't the same product? Yes, it is the same product with the same characteristic.
As you can see, the same item costs only $98 compared to $125 on the TripleClicks store.
Can you convince me to buy this product there? You won't even if you are the best marketing expert in the world.
So I wonder how you can convince someone to pay for a product on the TripleClicks store if the person knows that they can get the product half as cheap on stores like Amazon.
That's why SFI offers its members another opportunity to make money. And that lead as to our 2nd way to make money with SFI.
2. Build a team by recruiting people -MLM
The business model we talked about in the previous section is affiliate marketing and if the company offers products that are low quality, overpriced or don't give value, it would be difficult for affiliates to market it and especially for the company to stand up to the competition. Isn't it?
In my own opinion, if a product is so good, I feel like it should be able to stand on its own legs and attack the marketplace. Right?
So it is not surprising that SFI combines a multi-level sales system with affiliate marketing!!
How does the SFI MLM program work?
Like any MLM company, you need to build a team by recruiting new people, motivating them to recruit other people as well in order to earn money. If you can recruit and duplicate the same system you can't make money in this industry. Don't get me wrong – this is the truth about MLM business.
And at SFI, you as well as everyone in your team need to buy the core product/service SFI recommend in order to make money.
SFI is free – Can you really make money with SFI without spending money?
We read everywhere and even SFI states that everyone can join free and make money for free. SFI is free! Yes, it is free to join.
But the truth is that it is difficult or even impossible to earn money with SFI without spending money. Indeed, to participate in their MLM program, you will need to maintain at least an Executive Affiliate (EA) rank. This requires 1500 VersaPoints (VP) each month.
In their launchpad training, they will teach you how to collect VersaPoints by completing daily tasks. These tasks will give you 10VP each day. That is 300VP each month. This means that you will be short of 1200VP.
To get this 1200VP and be an EA that qualifies you on their MLM program, you will need to buy products that have 1200VP volume on the TripleClicks store to qualify. I will show you how much it cost to get these 1200VP soon!
I am lazy and I don't like this hassle. How to do?
If you don't want to log into your SFI back office every day to complete your daily task, the only option is to buy a product that has 1500VP volume on the TripleClicks store by setting up an auto-delivery item.
And guess what? Most of these daily tasks to complete are just sales funnel. The objective is to motivate you to spend your hard-earned cash on their store.
Sales pitches everywhere!!
Sorry, it is free to join!! Just sign up and see yourself!👇👇

Testimonials that will entice you to trust them!👇👇

Carson, the SFI founder is an expert in marketing. Every experienced marketer knows the importance of repetition and good testimonials in advertising.
On each page of the daily task, you will see testimonials like this one above. The problem is that all these people don't succeed in SFI but they will give good testimonials because they see that every day. I myself gave a good testimonial to SFI and it will be featured elsewhere in someone else's dashboard.😎
Now if these testimonials and sales pitches convince you and you are ready to join their MLM program, here is what you will have to spend each month to keep your position as an Executive Affiliate:
Keep in mind you need to maintain at least 1500VP each month to qualify for their MLM program!
Let's browse again on the TripleClicks store, and see what items can give you 1500VP?
You are noticed that with our previous item (Sony W800/B 20.1 MP Digital Camera), costs $125 and the VP attached is 914 only.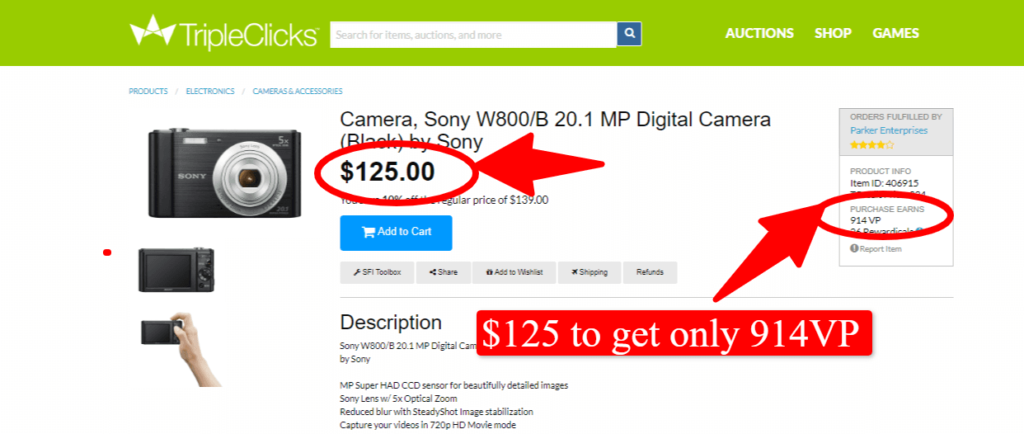 As you can see, if you want a real product even spending $125 each month doesn't allow you to participate in their MLM program.
Really?
Yes really!! As I said it is free to join. Join and discover the truth yourself.
Let's leave the cameras & accessory category and browse on the TC (their intern currency) category.
That brings us to this page below!👇👇👇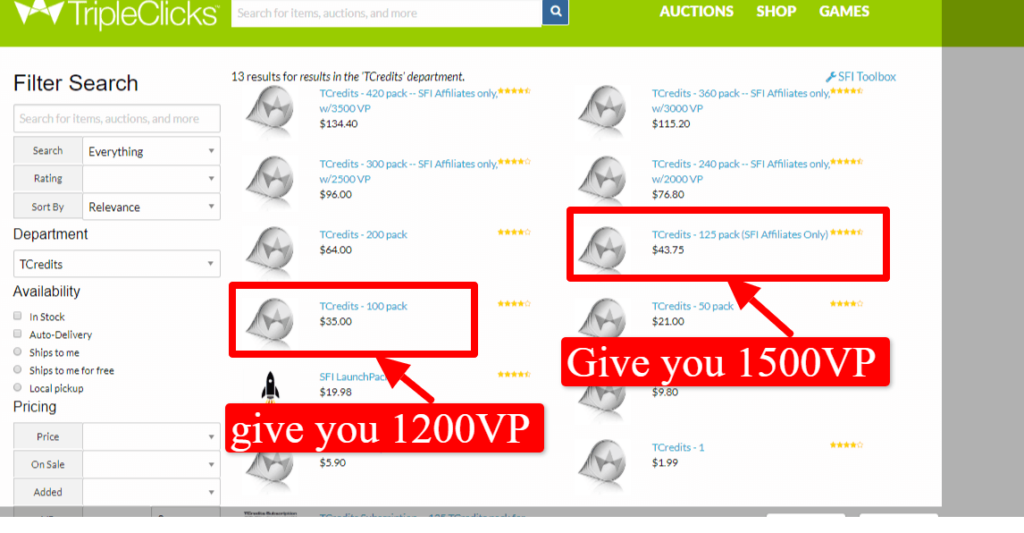 As you can see in the image above, if you want to maintain your EA rant at SFI, you need to spend $35 or $29 per month if you set it up as an auto-delivery item. That gives you 1200VP and you will need to complete your daily task to get the 300VP to fill the gap and be qualified.
Again if you are lazy and want to avoid the daily hassle, you will need to spend $43.75 or $36.25 per month if you set it up as an auto-delivery item. That gives you 1500VP each month and that qualifies you to the MLM opportunity.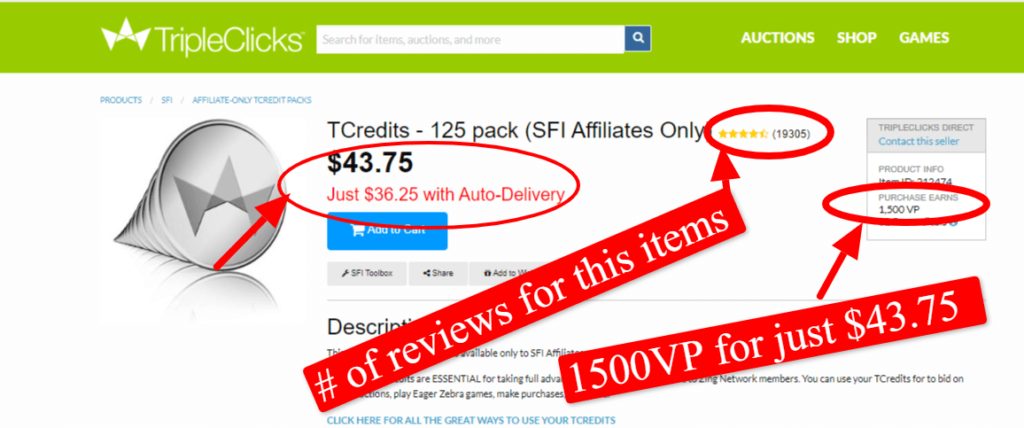 I want you just, to consider these previous images above. You may be noticed that the Sony digital Camera costs $125 and the VP attached is only 914. And you can't set it up as an auto-delivery item. Right?
However, the TCredits – 125 pack cost only $43.75 and the VP attached is up to 1500VP.
Why this wide difference between these 2 items?
Why despite the fact that the price of the digital camera multiplies more than 3 times higher than the price of the 125 pack TC, you can't have 1500VP?
This is the truth!!
The core product of SFI is its TCredit, PSA (leads), S-Builder Co-op Unit & Tcurrency. And this is what makes SFI money and can help them to reward their members. So Strong Future International emphasis is marketing on these items. Members are encouraged to buy these items over other items.
Also, these TC are not tangible products but only their intern currency members will spend by playing games or bidding on auctions.
The rest of the products are sourced from wholesaler sites such as AliExpress. That is why their products are overpriced.
3. Make money through their PPA program
PPA known as Pay-Per-Action is an online advertising pricing model where the advertiser pays the affiliate for leads that perform the desired action. This desired action is determined by the advertiser in advance and it can be an action such as click on links, newsletter sign up, buy a product, etc. So the affiliate is rewarded each time the desired action has occurred.
SFIPPA program allows its members to make money by referring people to their website. You make $1.50 for every qualified referral, but SFI state the amount of money you make can go up to $10 per lead.
When can you make $10 per referral?
When your referral is from the US or Canada and when he achieves the rank of Team Leader within 90 days of signing up.
It may be noted SFI didn't specify what Team Leader rank your referral may achieve in order to qualify you to this $10.
Whereas, there are many Team Leader rank at SFI. It goes from Bronze Team Leader to Diamond Team Leader.
To qualify for the Bronze Team Leader, your referral must have a minimum of 3000VP (1500VP from sales/purchase) and 3 PSA.
Since you know ways you can make money with Strong Future International, let's now find out how much money you can make from it.
SFI Affiliate Center review: How much money can you make with SFI?
In this SFI affiliate center review, I cannot guarantee you could make $100 or $1000 per month. The truth is that the amount of money you can make depends on your ability to recruit new referrals, your digital marketing knowledge level, and your devoted time in your SFI business.
Unlike what SFI itself says that you can start making money within hours joining their program, I warn you can even spend a year without making a dime.
And if you think Strong Future International AKA Six Figure Income will be your golden ticket to financial freedom, you are wrong.
SFI Affiliate center review: My experience with SFI – WHy I left SFI?
I joined SFI, know as Strong Future International AKA Six Figure Income in 2018.
After taking a month to complete the daily tasks and to understand a little how SFI works, and motivate by the testimonials I see every day, I decided to give SFI a try. But I left after 6 months of hard work for one reason:
SFI doesn't give value to members
As you have already noticed, SFI does not have any real or tangible products to which the number of VersPoints reaches 1500VP or can be set up as an auto-delivery item.
I set up an item that can help me not only have TC but also PSAs (Personal Sponsored Affiliates) and CSAs (Co-Sponsored Affiliates). PSAs and CSAs are what I call SFI leads that SFI assigns to members who decide to pay for.
Here is the item!! 👇👇

This item comes with 8 PSAs + 7 CSAs and 350 rewardicals tokens.
Let it be said, let it be done. After placing the order, I received my PSAs and CSAs in less than a week in my account.
If you have been a member of SFI, you may know the benefit of PSA and CAS for your SFI business.
But the problem is that none of these referrals are active. They didn't log into their SFI back office, let alone complete a task.
Is SFI a Scam?
I see people claiming SFI affiliate Center is a scam. Perhaps because they failed like me. But honestly, SFI is not a scam as they have products on the back end. Even more, SFI is a free program you can join with absolutely no obligation to pay anything. It is a legitimate program that has been in Business around 1998. And even on Better Business Bureau, they maintain an A+ rating!
But as I emphasized here, all thing is done inside, you will invest your money once inside. And let me warn you!! As what happened to me, your investment is not a guarantee you will make money. And the main issue I have against Strong Future International is the fact they don't give value in return to member's investment by emphasizing their marketing on products with no value.
I just want to share with you my SFI upline a few words when I approached him on WhatsApp. As you can see in the image below, she made money with SFI (I know that) but she failed.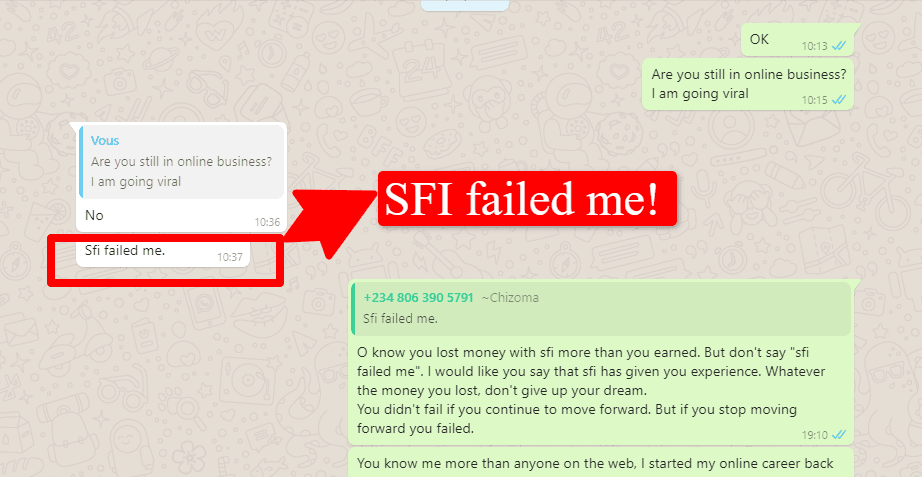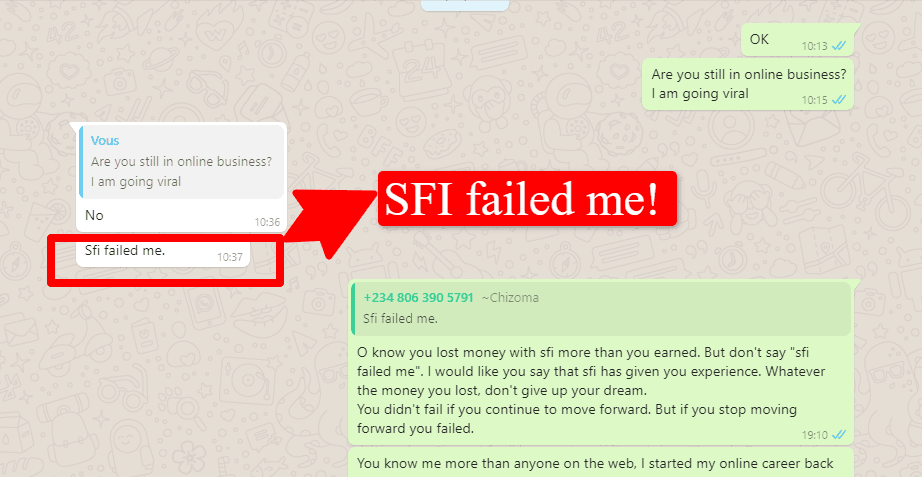 SFI pros and cons
What I like about SFI
Free to join and credit card needed
Training material provided
Solid company track record
Offers many ways to its members to make money online
What I don't like about SFI
Pay to play business model – you need to invest if you want to participate in their MLM program
Heavy emphasis on recruitment and its core products with no value promotion
Training is not beginner-friendly and has based on the SFI promotion and not to helping users create his own online business
Is there an alternative to SFI?
Yes, there is an alternative to SFI. I stopped to promote SFI when I realize they don't give value as I pointed it above.
While continuing my research, I came across a program called Wealthy Affiliate. And this platform has really changed my life. Thanks to this program currently. I am running 2 online businesses that helped me add a side income to my day job salary.
So if you want a proven way to build a profitable and long-term online business just check out my #1 recommendation for you. I am sure you will thank me one day!!
What is provided?
Web hosting: up to 50 websites
Domain name registration: $13 to $15 no upsells
Affiliate marketing training for beginners, advanced and seasoned affiliate marketer
Content creation tool that will help you create content, check grammar errors, check duplication content from your WA dashboard before you publish it directly to your WordPress dashboard.
Coaching from experts in the industry
An amazing online entrepreneurs community to build a business network
and much more.
Make sure you check out my full review about Wealthy Affiliate here.
Over to you
I think this SFI Affiliate Center review helped you to understand what SFI is and you have now a better understanding of it. You may know if SFI worth your hard-earned cash or not.
Now, it is up to you to join or avoid it.
If my word count for you, stay away from this platform. The only reason I said that is the fact they don't give value. Also, they don't give you training that can help you create your own business.
Why I don't promote it? I can! But I learned so much since my online career, I think SFI is not worth promoting.
I promote programs that give you value on return to your investment.
And Wealthy Affiliate is the best program where you can learn everything about running a profitable online business. And even more, they provide quality tools that will help you succeed in your online journey.
If you think SFI is worth promoting go ahead and start promoting them.
But if you are convinced SFI doesn't worth your time and your hard-earned cash, give Wealthy Affiliate a try. Free, no credit card needed!!
Be an ACTION taker, SOW YOUR SEED TODAY!!
To your success!!