Looking for an honest and unbiased Systeme.io review to make an informed decision?
If yes, you are in the right place.
Without a doubt, every online marketer needs more than 2 tools (if not tools suite) to run an entire and successful online business.
And we all need not only easy-to-use tools that make our lives easier but we prefer best for money tools.
Right?
Though there is no point in paying $100 for tool "A" when there is a better alternative "B" that will only cost you half of what you invest for tool "A".
Right?
If you hear about the systeme.io all in one marketing tool and you want to learn more about this online tool, its features, price, pros, and cons, so that can decide if this is the tool you are ever looking for, you are in the right place.
Throughout this review of Systeme.io software, I will show you the features, price, the pros and cons of Systeme.io (SI),
What the systeme.io is about?
Who this software is for and who it is not
And I will give you my and honest and final point of view.
The Systeme.io review summary: Company overview
Product name: Systeme.io
Owner: Aurelien Amacker
Website: https://systeme.io
Product type: All in one marketing tool (autoresponder, funnels builder, blogging system, etc)
Systeme.io pricing: $27 – $97 per month.
SOW YOUR SEED TODAY rating: 9/10
Do I recommend this? Yes
What is the Systeme.io is about?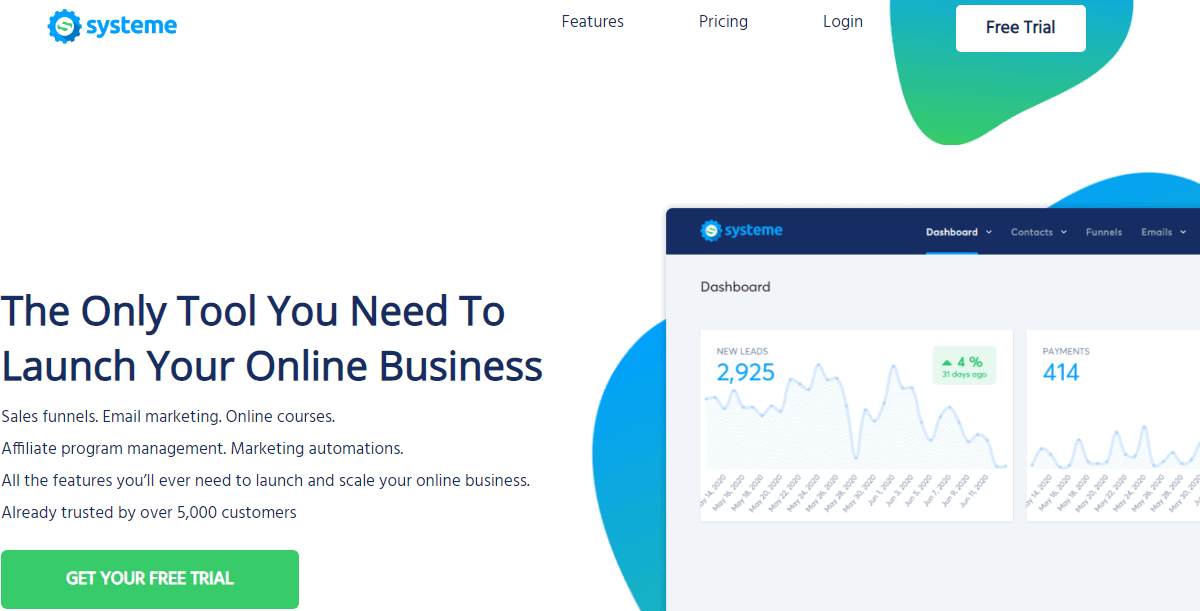 Created by Aurelien in December 2017, Systeme.io is an all-in-one SaaS software that regroups all the tools an online entrepreneur would need to run an online business.
The platform allows you to create beautiful and high-converted sales and leads funnels that will give your audience a good impression of your business and make them opt-in into your mailing list or buy your product or service.
It comes with the following features:
Pop up builder that can help you build your mailing list efficiently, possibility to incorporate with your sale funnels
An email marketing and list building management system with visual workflow capacity to help you automate your business,
A blogging system allows you to create stunning and SEO ready website for search engines,
Membership site builder with the possibility to integrate payment gateways downsell or upsells,
An evergreen webinar feature, etc.
This is the best and affordable alternative to Clickfunnel and perfect beginners friendly tools to use for your online business even if you are just starting out.
About the systeme.io owner Aurelien Amacker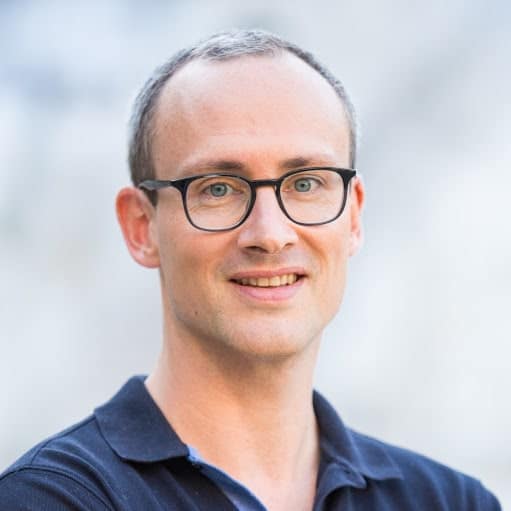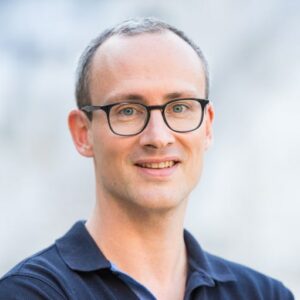 Aurelien Amacker is a French entrepreneur and is the CEO and creator of systeme.io.
Very well known for his book "Je vis de mon blog (making a living blogging)" and his blog "Read Me I'm Famous", Aurelien used multiple tools (like most of us) to manage his business when he was a coach.
For example a web hosting service for his website,
Landing page builder like Leadspage.
But he soon realized that these tools didn't allow him to accomplish some tasks that he would have liked to do without mentioning the hassle of login here and there and the cost of money involved (a bit expensive).
One of these limitations I can mention is the integration of these tools with other tools that sometimes create bugs, and often do not work properly. This is frustrating and stressful.
That's when the idea came to him to set up a system that could meet his needs (having everything he needed under one roof) and the needs of other people who certainly have the same problems as him.
Hence the birth of Systeme.io.
Systeme.io key features and benefits

Systeme.io is complete online business management systeme.io It is an in one marketing platform that offers online entrepreneurs all the necessary tools they need to start and grow an online business under one roof.
Here are the key features of the systeme.io SaaS software
1. Leads, sales, and webinars funnel builder
One of the key features of SI is its funnel builder that allows its users to design stunning and conversion-oriented funnels to generate leads and sales for your online business.
With a drag and drop builder and 100s of pre-made templates creating a funnel whatever it is leads or sales funnel is ever easy to do.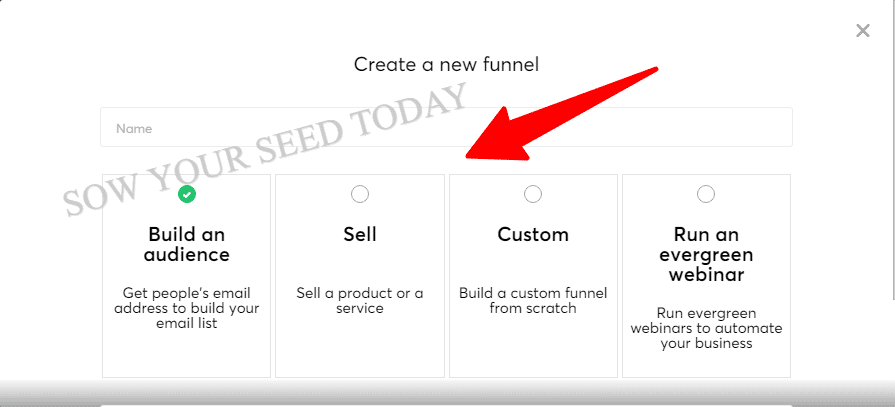 As you can see in the image above, you can create 3 types of funnels with the Systeme.io funnel builder tool:
Leads funnel to build your email list faster,
Sales funnels to sell your products (digital or physical – you choose),
Webinar funnel to build a "know like trust" factor with your audience and generate more leads and sales.
Leads funnel
It comes with dozens of pre-made and beautiful templates ranging from video, text format funnel, you can choose and go.
Here is a screenshot of some of the leads funnel templates.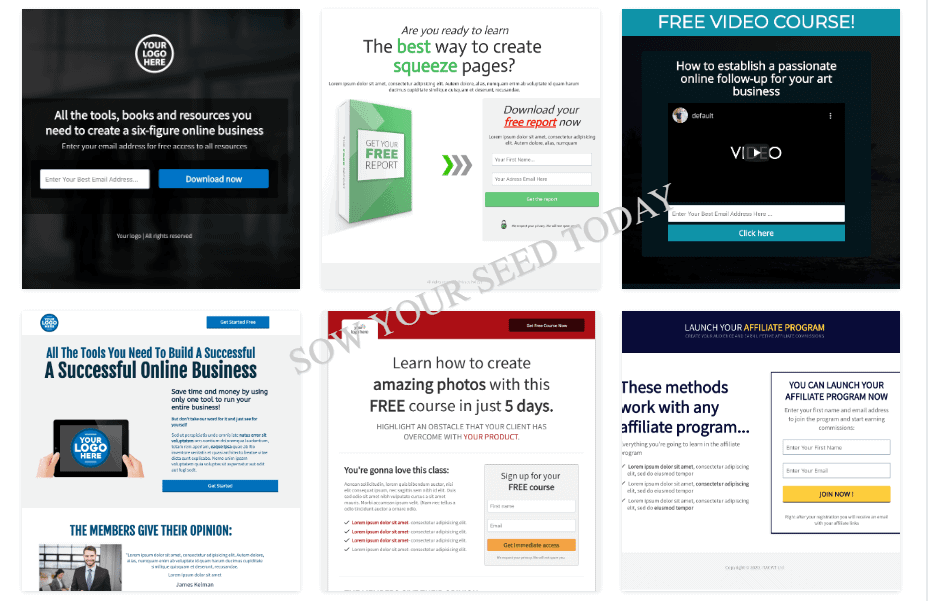 And what I like with the Systeme.io funnel builder features is that you can:
Split test your funnels and choose the one that performs the best with your audience.
Automate your funnels using tags or trigger your subscribers based on certain conditions and send them relevant messages.
Get your funnel report such as numbers of view, open rate, and sales, etc.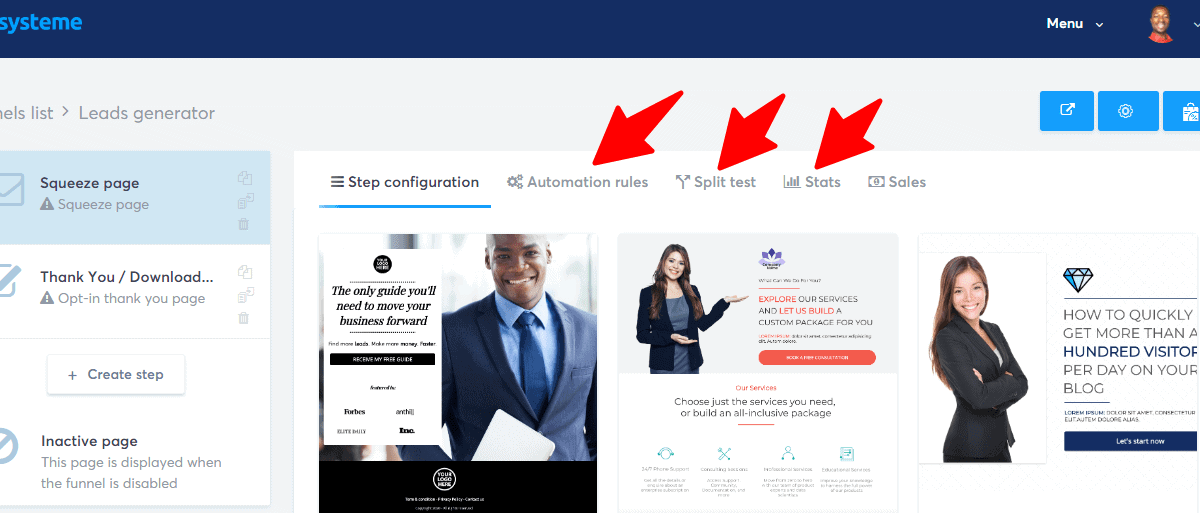 And what about the sale funnel builder?
Amazing!!
Just take a look at the image below!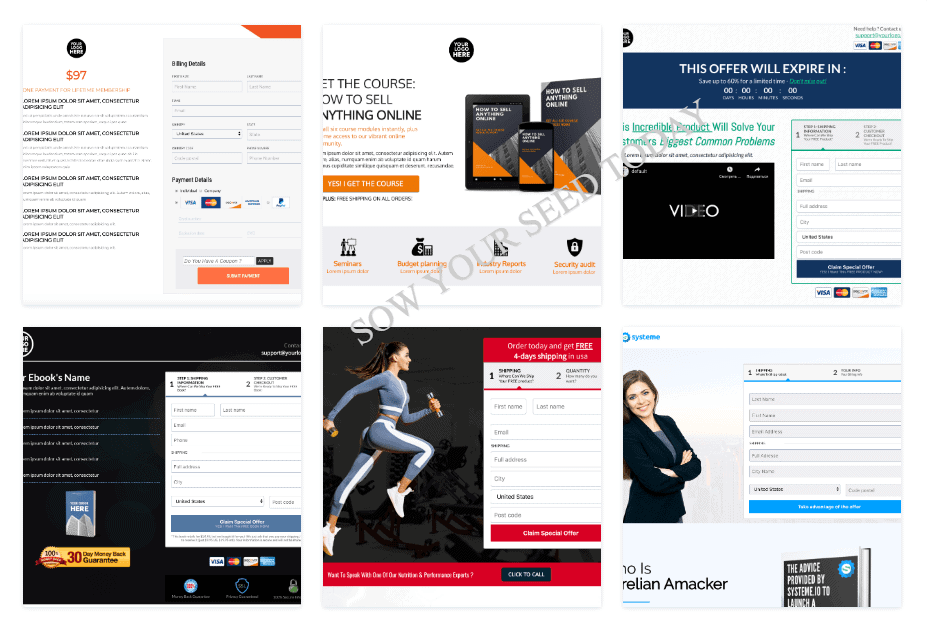 Systeme.io has in their sale funnel template library dozens of stunning and beautiful sales funnel templates you can choose and make it your own using their drag and drop funnel builder.
You can start one from scratch if you want.
And the best part it comes with downsell and upsells options and the possibility to directly send your product or service into the Systeme.io marketplace to get people to promote your product/service for a commission.
So if you have a product (physical or digital products) and you are looking for not only an all-in-one tool to sell your product but also to set up an affiliate program to get people to help you expand your business, this is the best part to start.
Seriously though, don't just take my word for it!
Create webinars funnels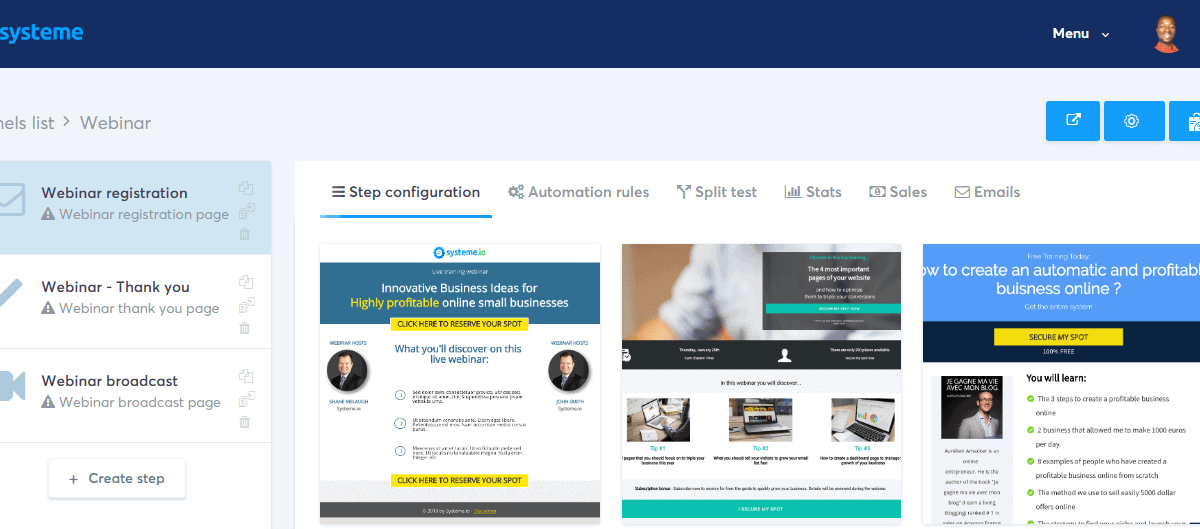 Webinars funnel is the strategy veterans marketers and entrepreneurs like Anik Singal and Russell Brunson use to generate more leads and sales for their business.
Because people nowadays buy from people they know, like, and trust, Webinar is a great way to generate more leads and sales. it helps you to connect with your audience, to share your story, build a "know like trust" factor, and generate more leads and sales.
With Systeme.io running a webinar is easy. You just need to record your webinar and choose how often you want it to run.
The registration, follow-up, and delivery of your webinar are all handled by the platform, making a typically frustrating and tech-heavy process super simple.
Let's now move into the next section of my Systeme.io review for 2021 to discover another tool suite this CRM and marketing tool offers.
2. Email marketing
Email marketing is not dead. It remains one of the most effective ways for businesses to build a trust relationship with their customers and make more sales.
And without this tool, your funnels don't make sense unless you use a third parties email marketing tool such as Getesponse or Aweber or any email marketing tool to integrate with the Systeme.io software.
Though in this case, we cannot consider the SI as an all in one marketing tool. Right?
Aurelien has made it possible by integrating an email marketing tool into its software system that allows users to accomplish almost all the tasks that a standalone email marketing tool can do.
In fact with the systeme.io email marketing tool, you can segment your subscribers using tags, build multiples list, edit your emails campaigns using their email editor (not a drag and drop editor), broadcast to your list in a few clicks of the mouse or schedule email marketing campaign based on your subscribers' behaviors such as email opened, clicks, etc or to send timely messages to your subscribers.
It also comes up with reporting features. That helps you measure and analyze your campaigns and improve your campaign for better engagement.
But it must be recognized that since the tool is not a tool dedicated to email marketing only, it is not as efficient as stand-alone email marketing tools like Aweber, Getresponse, or Mailchimp.
But rest assured because the best has been done to offer you a better quality service. The part you can build up to 5000 email contacts and send unlimited emails per month. Stand-alone email marketing tools like Mailchimp charge over $50 per month for the same number of contacts.
Honestly, apart, the lack of visual email templates, the email marketing tool alone is even good for money.
Another feature I want to address in this System.io review is the email automation feature.
3. Email automation and workflow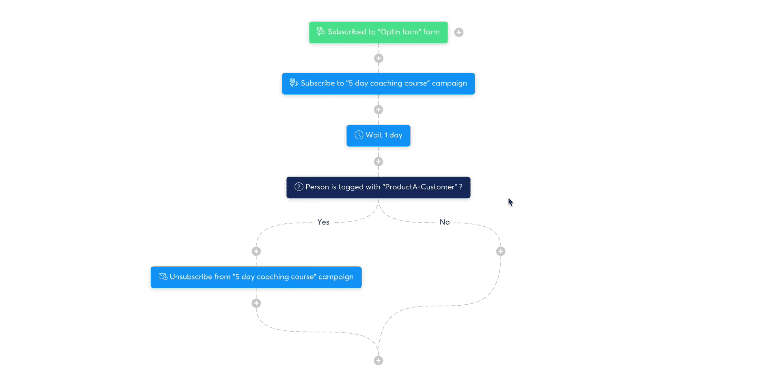 Time is money and I am sure everyone would like a tool that can help him save more time and energy. Mainly if you are a full-time worker like me and don't have a lot of time for your side business, this feature can be useful become a must-have.
Right?
I thought so. Because you can use this feature to schedule and automate your message for 7 days or even more.
And yes, here you can segment your list using some tags, and then send drip campaigns to your subscribers. That means getting relevant messages in front of the right person at the right time.
You can just add a trigger to your email campaign. In this way when someone opts into your list the system will send him or her relevant messages based on your trigger. It also allows you to create complex workflows where the system decides which action to perform basis on the condition you have set up. That leads to more engagement, trust, and sales for your business.
4. Create an online course or membership site
Want to build your own membership site and sell your skills to the world? You will love this feature.
With the Systeme.io membership builder, creating a membership site is ever easy to do even if you don't know how to code.
What you just need to do in order to get your membership site ready and rolling is to go to the membership tab, click on "create a membership site" and then you can add your content (video and/or text format), structure them by module, chapters and so on.
And the best part, you can perform a drip content series where students get access to the new content on a daily basis or whichever time period you want.
When it comes to payment gateways, you can integrate PayPal and Stripe into your membership and give a good shopping experience to your clients or students. Want to upsell or downsell to your clients and increase your CA? Systeme.io gets you covered.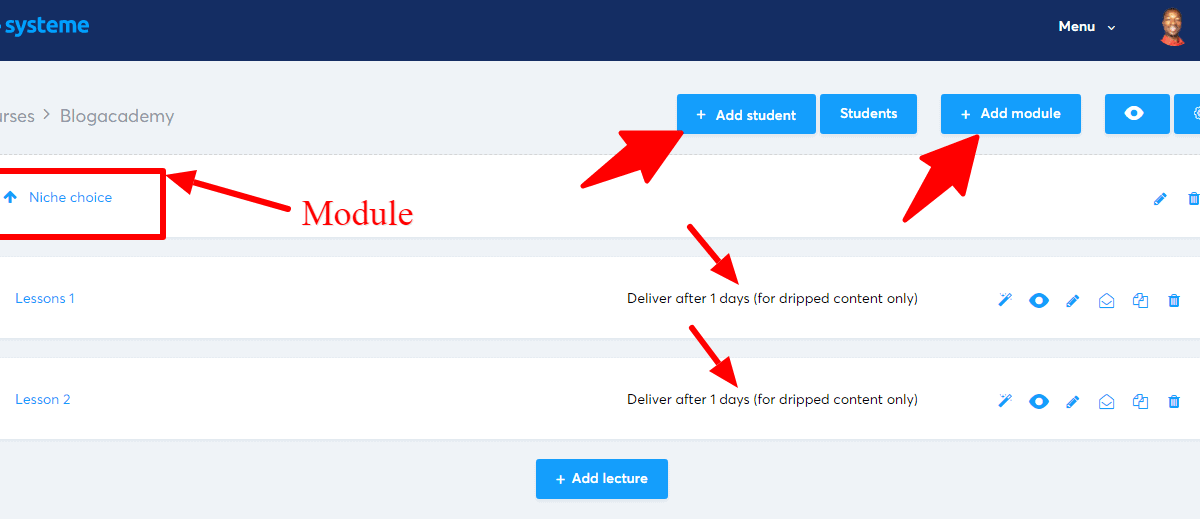 5. Create a blog or website
I can ignore this tool suite of the SI tool in this systeme.io review. This is the last tool but not the least tool in the systeme.io software.
As a blogger, it is undeniable that blogging is a great way to drive organic traffic for your product or affiliate offer, advertise your business, build brand awareness, and expand your business.
Like Clickfunnel and Groovepages, the Systeme.io all-in-one tool allows its users to build any kind of website or blog. Whatever it is a portfolio website, a business website, or a simple blog, their site builder is a great tool that can help you create your website, create SEO-friendly content that will rank higher on search engines, and drive a ton of traffic to your funnels.
6. Run your own affiliate marketing program
Have you dreamed to have your own affiliate program where you can get hundreds of people promoting your product/service?
With the Systeme.io affiliate management feature, this was made possible and with this feature, you can set up an affiliate program and get people to help you expand your business. Whether it's your online courses that you have set up on your membership site, eBooks, and others products, that have been made possible.
Even if you are just starting out and don't have more followers, you can get people to help you reach your targeted market easily.
Because not only the Systeme.io allows you to publish your product/service directly on their marketplace where you can have hundreds of affiliates to help you sell your product/service but also it is a built-in affiliate management system – that means every one of your subscribers or customers automatically becomes an affiliate.
You may be wondering, how much all these tools suite will cost you? A $97 per month like the ClickFunnels software? Or $99 per month like Kartra?
Let's get into the next section of this Systeme.io review to find out how much does the systeme.io software cost.
How much does Systeme.io cost?
The Systeme.io is the cheapest all-in-one tool compared to its key competitors such as Clickfunnles, Kartra, etc.
It comes with 3 membership plans:
1. The start-up membership plan
It cost $27 per month and comes with the following features and benefits:
5000 email list with the possibility to send unlimited emails,
You can create unlimited funnels and blogs,
Create 3 membership sites with unlimited students and run your own affiliate program,
Email automation and workflows available, PayPal integration, and much more.
2. Webinar membership plan
This membership plan cost $47 per month and allows you to:
create 5 membership sites,
build 10 000 emails contacts,
run 3 evergreen webinars,
split test your funnels and much more.
3. The Enterprise membership plan
It costs $97 per month and it gives you unlimited membership sites, unlimited webinars, 15,000 contacts, and 1-on-1 coaching sessions.
As you can see, whatever the plan you chose, you get value for your money. Even with the startup plan, you get all the necessary features and tools suite to get started your online business.
The only downside is the fact you can't connect a custom domain to your blog or membership site.
But if you want more value you can upgrade to the higher plan that allows you to do that.
Who is the systeme.io for?
The Systeme.io software is for you if:
You are looking for an affordable Clickfunnels alternative,
You are just starting out and want an all in one tool to run your online business,
You are looking for an affordable lead and sale funnel builder for your product or service,
You are looking to create a membership site or your own online course,
You have products you sell and want to set up your own affiliate program and get people to help you spread the word,
You are a blogger and want an affordable all in one tool to run your business.
Who is the Systeme.io not for?
As with most all-in-one software, you don't get advanced features as stand-alone tools or software. That being said, if you want for example advanced automation and reporting for your email campaigns look elsewhere and go with a stand-alone platform like Aweber (free for 500 email mist size) or Getresponse (30-days free trial). This is when you don't want all the tools suite offered but just email marketing tools with advanced automation and reporting.
To be honest, Systeme.io is missing a bit when it comes to email marketing – this is my own experience.
For example, the platform doesn't have email template users can use to create their emails or newsletters. You need to create it from scratch by using a plain text editor. So if your business needs nice looking email editor, you will not like this tool.
Systeme.io is not for you if you are an entrepreneur that already has existing accounts on other platforms like ClickFunnel, Groovepage, or Karta because of a lack of migration of these platforms.
Another thing I deplore is the lack of integrations. I would like to be able to integrate my own or preferred autoresponder or email marketing tool with the funnels I created using the Systeme.io funnel builder. Marketing tools like Clickfunnles and Kartra have this feature users can use to run their business efficiently and smoothly.
Unfortunately, I can't do it with Aurelien's SaaS software. I can understand because it is a new platform that is building up. Hope in the future we will see improvement in this area.
Also, read Getresponse review.
Systeme.io affiliate program?
Systeme.io offers an affiliate program and everyone can join for free. The best part, it is a 2-tiers affiliate program. That means when your customers promote the software or any product in the marketplace you will get 5% of their earnings.
Note that it is not an MLM program. You just get paid based on the sales of your direct referrals. That is all.
Plus you don't need to be a customer in order to be able to promote it.
The Pros and Cons of the Systeme.io
? Systeme.io pros
✔ Great value for money,
✔ The most affordable all in one platform in the industry,
✔ You get all the necessary tools under one roof to run your entire business starting from funnels building to email marketing and running your own affiliate program,
✔ Chat and email support available,
✔ Training resources available.
? Systeme.io cons
❌ Less third-party integration capability,
❌ The support team sometimes suck,
❌ No email editors templates
Systeme.io vs ClickFunnels
Comparing Systeme.io with Clickfunnel is like comparing a tiger with an elephant.
In fact, ClickFunnel is an old sales funnel and online marketing platform and a leader in this industry while Systeme.io is a new platform that is growing slowly.
But both allow you to create funnels and use automation and workflow features to run your business smoothly.
When it comes to pricing, Cickfunnel is expensive because its basic plan costs $97 – which is the Systeme.io enterprise plan that gives you all the benefits and features of the tool.
And…
While Clickfunnels tend to upsell you by offering more "shiny" features, live training and masterminds, and expensive upgrades the Systeme.io gives you plenty of resources to help you start and grow your online business without any upsell.
My Systeme.io review's FAQ
What is Systeme.io?
Systeme.io is an all-in-one platform that offers online entrepreneurs the necessary tools they need to run an entire online business under one roof for an affordable price.
About Aurelien's Systeme.io free trial: how long can I try it for free?
Systeme.io offers a 14-days free trial. During your free trial period, you have access to all the features. That gives you the opportunity to test it and figure out later if the tool is a good fit for your business or not without spending a dime.
Is Systeme.io a scam?
No. Systeme.io is not a scam. This is a legit all-in-one platform that can help you start and grow your online business.
How much does the Systeme.io cost?
The Systeme.io basic plan costs only $27 and offers you all the necessary tools you need to get started right now. The webinar plan costs $47 and allows you to run evergreen webinars and add custom domains. As for the Enterprise plan, it cost $97 and you get full access to all the features and benefits the tool offers.
What tools can be integrated with the platform?
Here is a list of Systeme.io integrations and software that integrates with Systeme.io:
Shopify,
Paypal,
Stripe,
Zapier, and
Wufoo by SurveyMonkey.
With membership plans to choose?
That depends on your budget and where you are with your online business. Personally, since the basic plan doesn't allow you to add a custom domain, I recommend you go with the Webinar membership plan or the Enterprise plan. It is still a deal in my opinion when I consider what you get inside and also when we know Clickfunnel's basic plan starts at this price with more limitations.
My final thoughts
Systeme.io is a new all-in-one marketing software and funnels builder tool entrepreneurs can use to start and grow their online business with a little investment.
The platform gives you access to all of the necessary features and tools you need to run a successful online business.
In fact, the tool enables you to create, lead & sale funnels, run evergreen webinars on the go, set up email autoresponders, send newsletters to your subscribers, and more at a fraction of the cost.
If you are looking for a Clickfunnels alternative in terms of cost, in my opinion, this tool is a good fit for you.
My Systeme.io review ends here.
What do you think about Aurelien Systeme.io's SaaS software?
Have you tried or used it. Share your thoughts or experience in the comment section below. Do you have a question, let me know in the comment section.
Be an ACTION taker, SOW YOUR SEED TODAY!
To your success!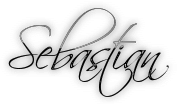 You may also like…
Welcome to my Moosend review for 2021. Looking for an honest and unbiased Moosend review to make an informed decision? If yes, you are in the right …
Without a doubt, email marketing is one of the best ways to build a trust relationship and grow an online business.And with the high demand …
Looking to grow your online business using an all in one business solution, but on a budget? Here are the best ClikcFunnels alternatives you can …
Looking for Aweber free plan review to make an informed decision? If yes, you are in the right place. I have reviewed Aweber in the past you …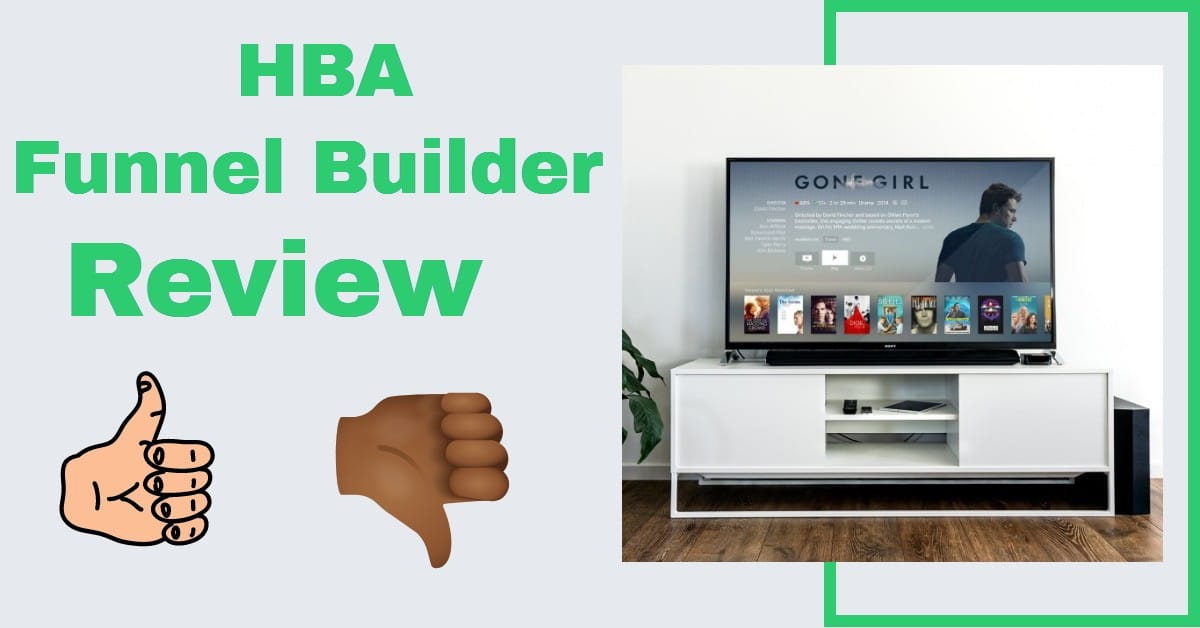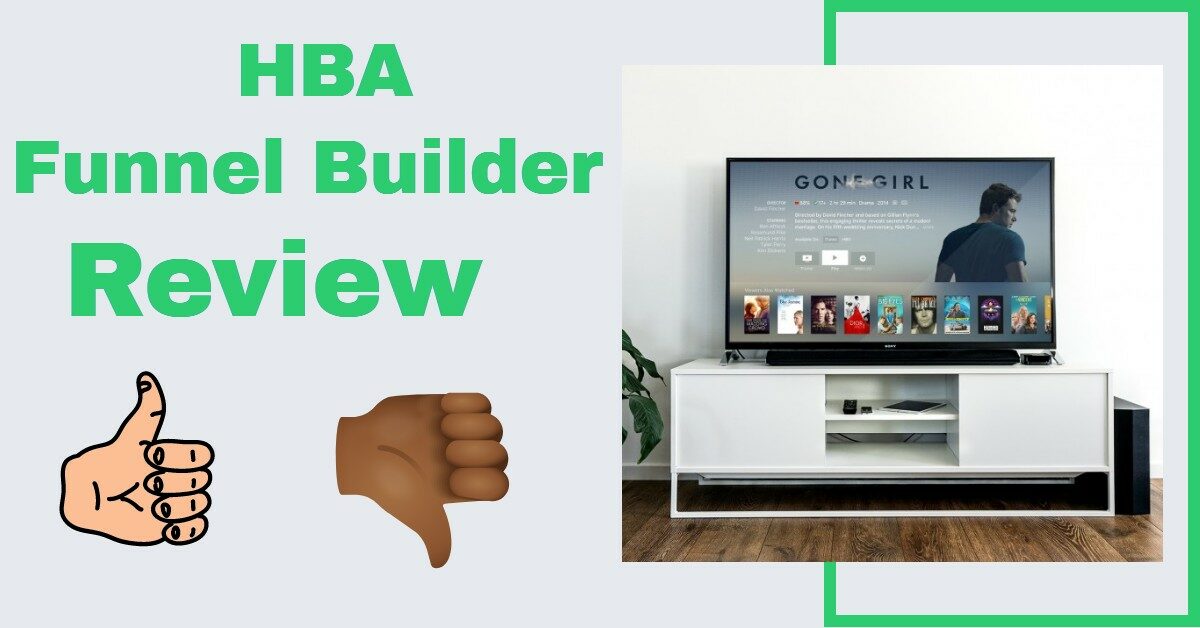 Have you heard about the HBA Funnel builder and you are wondering if this funnel builder tool worth the price tag? If yes, you are …
Looking for an honest and unbiased Aweber review of 2021 to make an informed decision? If yes, you are in the right place. In this review, I …